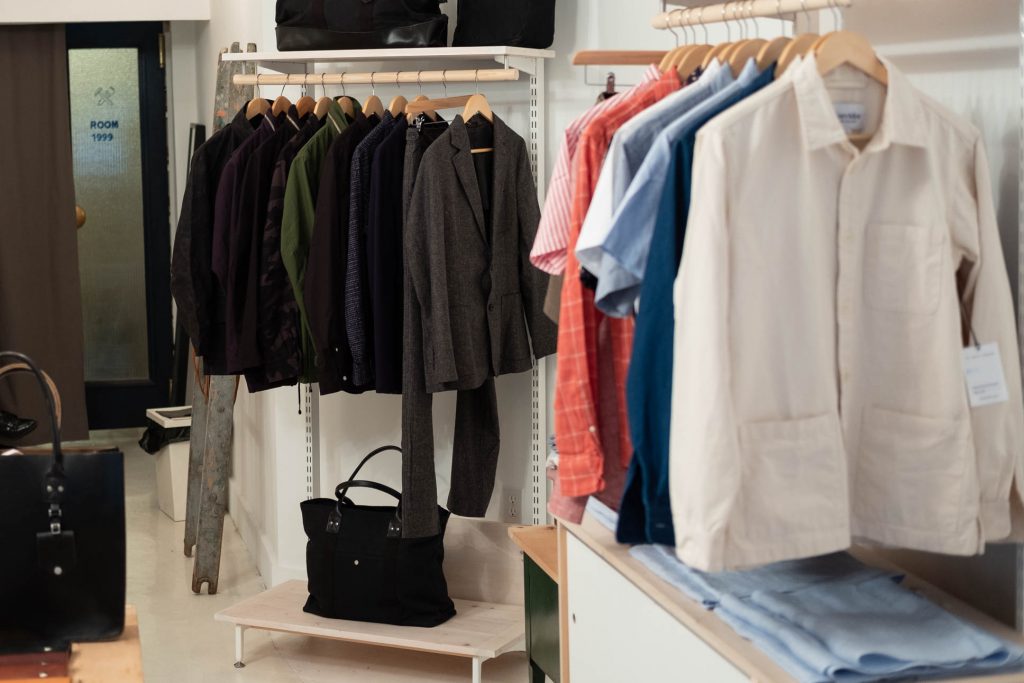 Our Brand Spotlights are where we share the stories of the people behind the brands that we carry. More than just buying a product, we want the Withered Fig experience to be deeper in purpose and meaning. We want you to know the people behind the brands that have made this their living. It is the men and women, from the top to the bottom, the owners, the designers, the cutters and sewers, that encompass everything that each brand is. As such, we hope that the stories we share will not only help you learn a little more about what makes each brand unique, but also encourages you to pursue your passions as well.
INTRO
---
Corridor NYC really shines in their shirting and their ability to use unique fabrics in a subtle form. The benefit of that comes in being able to wear a shirt appropriate for many occasions, while at the same time being much more interesting than your standard button-up. Coming from government work, where fashion is often an afterthought, owner Dan Snyder sought to create a shirt that fit just as well as it looked – their signature three-panel fit, a fit that is slim without being constricting. For us being in the greater Washington D.C. area (specifically Northern Virginia), we certainly can appreciate Corridor's role in bringing fit, quality, and aesthetic to the workplace.
We sat down with Dan Snyder [D], founder and designer of Corridor NYC, at their studio in NYC to talk about his design philosophies, the nitty-gritty of nurturing a brand, and how he stays focused on cultivating Corridor's aesthetic.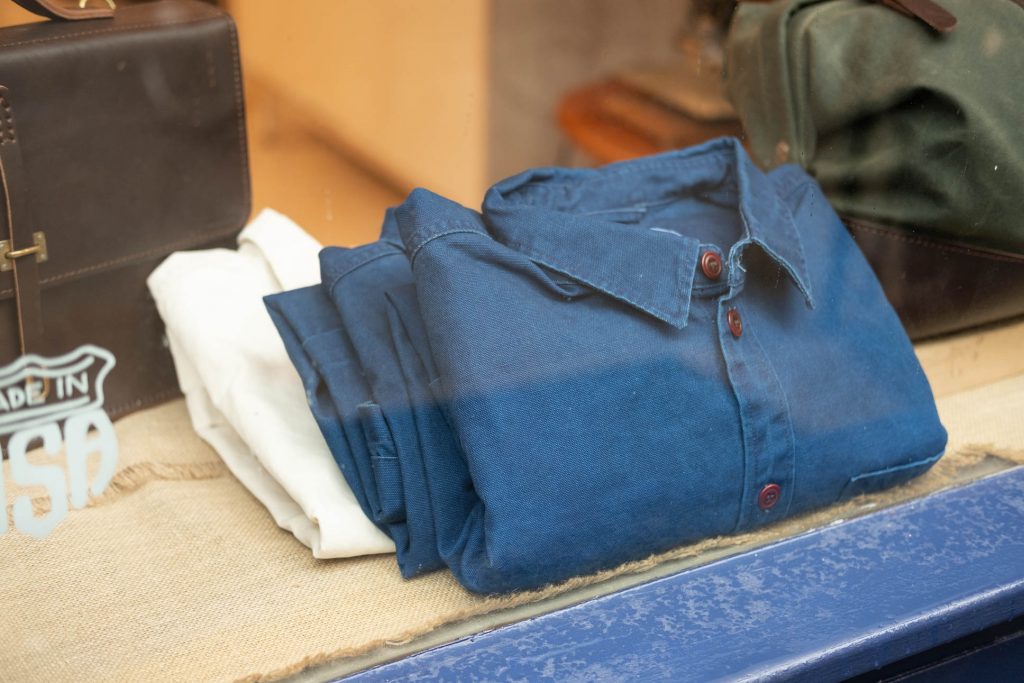 IDENTITY
---
Could you give us a brief intro of what Corridor is and how the company has grown since it started in 2013?
D: Corridor is a New York based company that's focused on a Northeastern aesthetic, mixed with a city vibe. It marries a little bit of prep with more modern city-centric sensibility. We believe we make modern interesting clothing that is also accessible.
Corridor started from me making shirts due to my interest in making shirts. Corridor has grown in an incremental and organic way, season after season. We are currently made throughout the Northeast – we make a lot in Philadelphia, Brooklyn, and Connecticut; and new for AW18, we're utilizing factories in India, Peru, Italy, and Portugal for certain shirts, sweaters, tailored outerwear, and sweatshirts. It kind of depends on wherever we feel the best product can be made, that's where we make it.
"New American Sportswear" is how you describe Corridor; could you explain a little more about how this description came about?
D: I don't view Corridor as a heritage brand. I don't make raw denim or really crusty clothes – clothes that you could wear getting on a motorcycle and riding away. That is not the aesthetic that I am after. Sportswear to me is a bit more sophisticated, it is modern, it is forward-looking rather than harking back. It is kind of like smart-casual clothing, clothing that you can dress up and dress down. The question becomes how do I get to that point. Really a lot of it comes from being a city-centric brand. Especially being a Northeastern city-centric brand, you have aspects of Europe coming, you have aspects of Americana, and aspects of prep. It is kind of forward-looking, rather than looking to more of a heritage shape or silhouette. So sportswear to me is this smart-casual modern type of dressing.
What shaped your aesthetic and vision for Corridor's style? How did you get to that vision and avoid chasing mainstream or heritage styles?
D: I was never a raw denim guy, nor interested in motorcycle culture, which a lot of heritage brands hark back to. Coming from the East Coast right outside Baltimore, my whole life has been living up and down the Northeast corridor. So it's been this very concentrated view of, what is contemporary menswear; what is the kind of prep aesthetic that came in about 10 years ago; and before that there was this influx of tailoring. So I was more influenced by prep, tailoring, and the Northeast, which has led me in this direction. For me, my focus has always been shirting since that's what I am able to make, and I found the most interesting to make, so it is kind of marrying the two.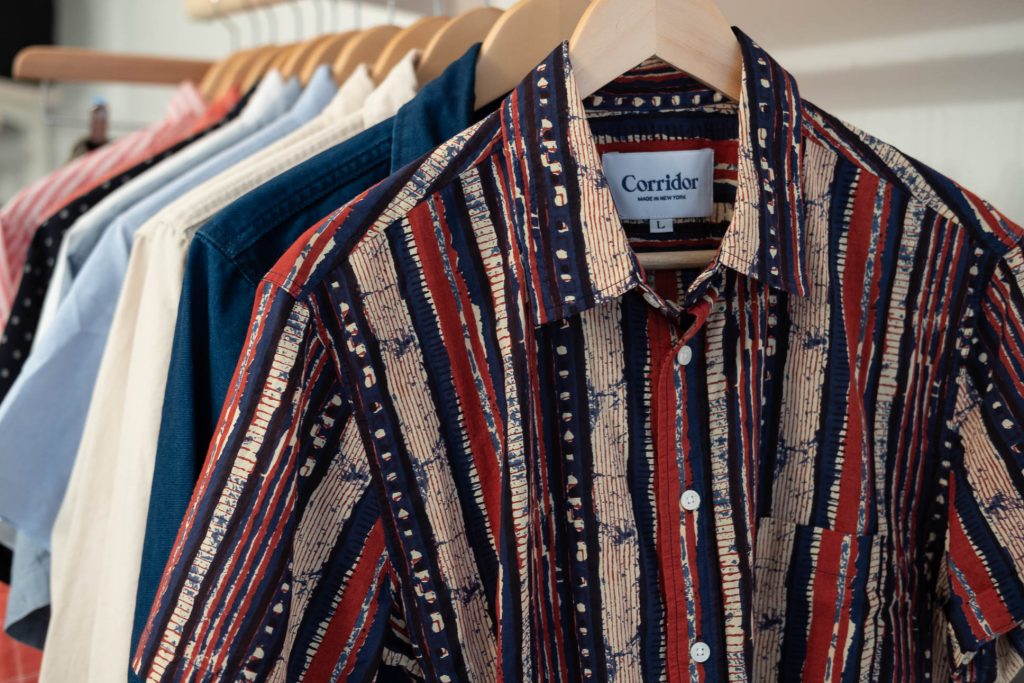 CRAFT
---
You mentioned tailoring and shirting. We know that Corridor started from you not being satisfied with the suit you were getting. Can you share more about your initiative and what the learning process was like?
D: Originally I was more interested in the craftsmanship of it. I had gone to this tailor and seeing what they did, I became interested in the craft. That came even before the aesthetic. I was interested in how this stuff is made, and it turned out that I was good at the act of making it. As I made more stuff I began to understand what made the shirt look good. That's why I think Corridor is very organic because it all came from me making stuff, making shirts. It didn't come from going to fashion school, but rather me getting to a point and making it. From there, I kind of just learned from the inside out – how do you make a shirt, what makes a good shirt, and what are the attributes of a good shirt.
In a way, it's as if you take a bottom-up approach towards making shirts and designing shirts, rather than going to fashion shows and looking for what is trending.
D: That's right, and I still don't think I am focused on trends at all. I do believe in being forward-looking. My product came out of making an individual great piece, rather than a great collection. Now I am getting to a point where I understand how individual piece works within a collection, but I'm still very focused on what makes an individual piece good, what makes it valuable, what's the price of it, what makes it interesting, and what drives this piece, rather than what makes this collection good. I care much less about the collection than I do about the individual pieces.
How many pieces are you making for the coming season?
D: My earlier seasons were like 30-40 pieces per collection, and now they are like 120 pieces per collection. Also, I want people to be able to buy into the brand. So I am now making hats and smaller items that I think are still the same vibe, still the same quality, still the same amount of design and time put into it. I made this bucket hat, which I can't tell you how many hours I have worked on this bucket hat. I think people can still get a lot from these smaller items, and I think it's important to have this kind of more democratic selection so people can get involved even though they can't necessarily afford it yet. And I am making 8 different types of bucket hats, so if you don't like one, there might be another one for you if you like the bucket hat.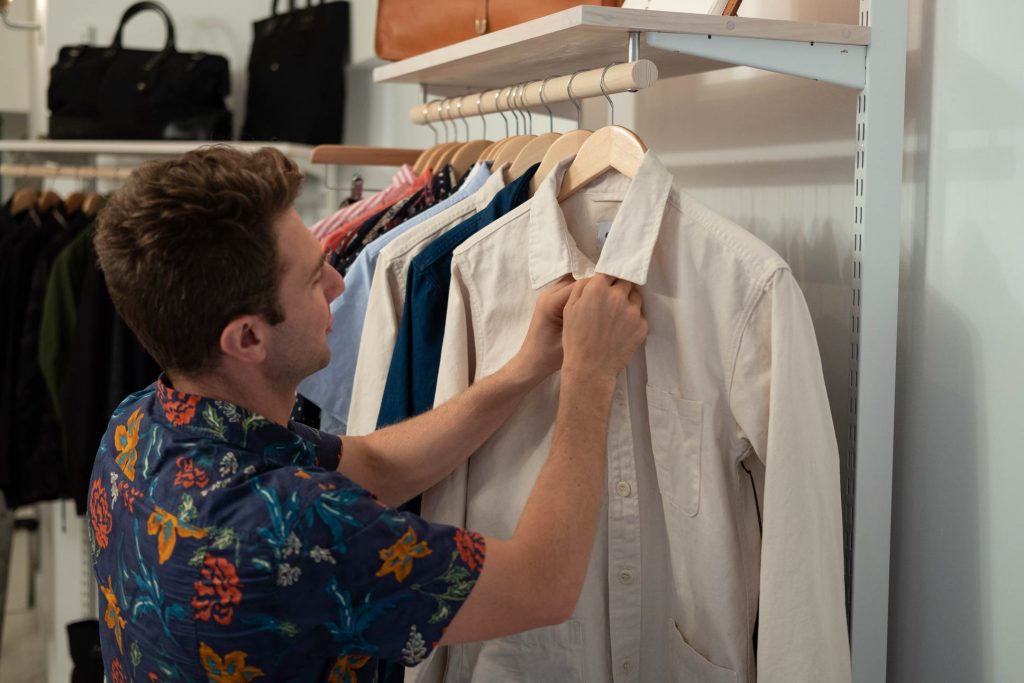 Is there anything that you have been planning for and are really excited about?
D: For this Fall/Winter, we are using a lot of more blue ends. We have always been obsessed with fabric, and mostly in shirts. Shirts are really what we do, so we started using a lot more wool shirting – wool you can wash and dry. Everything that we make we pre-wash and pre-shrink. Somehow we got hands on this cotton-wool blend shirt that is super soft, really interesting, and that is coming out for Fall/ Winter. We have been playing a lot garment dyed clothes as we started dying and bleaching our clothes three seasons ago with our duck dyed indigo overshirt where we would take it as a supersaturated indigo canvas and we would enzyme wash it to take the color out. So I became interested in this kind, what you can do to a garment post cut and sew, so we started then doing rather than just taking color out, we started putting color in. So we are doing these garment-dyed shirts, and also we took our very first small step into denim, so we are using a denim shirt for Fall/ Winter. That's Cone denim and we bleach wash it to take a minimum amount of color out of it, but still, has a depth to it.
How much extra time does it take you for this process?
D: It takes twice amount of time. Also, it takes an effort to get the bleach correct, there is a lot of research that goes into we are supposed to bleach this. So for me, this is the perfect shade of blue for Fall/ Winter, it feels chambray but still feels denim. A lot of times we do this, we call them perfect denim shirt, and they are very bleached out, they bleach out all the color. We wanted something that is a little bit richer, so we do a lot of bleach testing, so the research and development to get to this level take a while.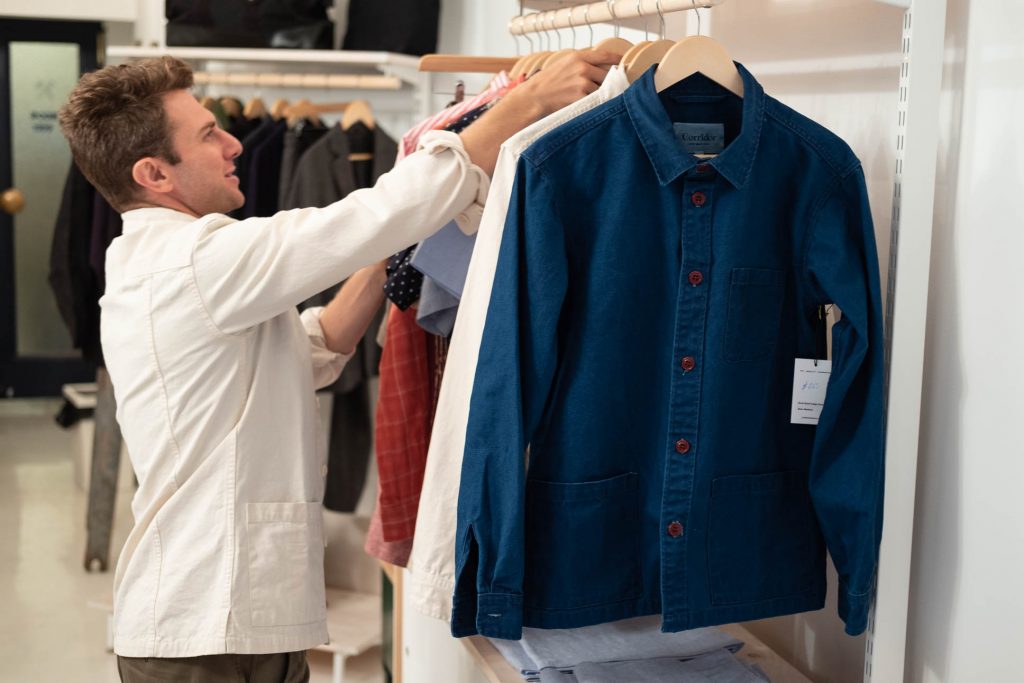 VISION
---
You have this philosophy of being centered to your vision and choosing to move slowly and not reacting to trends. But at the same time, you also put a strong focus on customers and specifically wanting to create something for the customers out there, instead of specifically for yourself. How do you take constructive criticism and while maintaining your vision?
D: I think I have a very strong aesthetic. I know what I like, and I am very focused on that. At the same time, it is very important to take criticism and feedback, and pivot slowly to what people want. If I wanted to make exactly what I want to make, every shirt would be $275 dollars, but that's not being realistic. So you have to understand the market and pivot to what people are willing to spend, what they like, what they consider to be valuable, and understand where you fit in. The market tells you that by what pieces sell. The market tells you that by the feedback from wholesalers and individual customers. I think it's a really hard problem to both have a vision and stay open to feedback.
I am reading this book right now called "Ego is the Enemy" by Ryan Holiday and it talks about modern Stoicism – the idea being, to not let your ego get in the way of making better decisions, but at the same time trusting yourself in making good decisions. So where is that point and where do you fall in that line? A lot of people end up making bad decisions because their ego become so strong that they are unable to take good feedback or good advice, but where does that end? Where does good feedback end, and where does your inner compass begin? That's difficult and I think that is a struggle that people will always have, but it's a constant shift in addressing it.
Do you have any practices to help yourself stay central to that mantra and focus on the vision?
D: The biggest thing that I have learned in the business and in personal life is not to be reactive. Being reactive and thinking too fast is a problem. I think that's how you get yourself into trouble. In your personal life and in design as well, you want to think deeply about it, and take people's feedback and ruminate on it. And if you still believe your gut to be true, then you go with your gut, but you have to take it and think about it. I think it's one thing to hear feedback or noise, and react quickly and change direction – to me, that would always be a mistake. But I think taking feedback and thinking about it – not talking to another person about it – but really taking it and thinking about it, I think that is always a good choice. It is really about how you react.
Since starting Corridor, have you had missed opportunities where you felt you could have pushed further or been more aggressive; or simply felt that you should have pushed into certain directions more?
D: I went into this business without any experience, and so I made a lot of mistakes. I had seasons where I did a very small collection because I had this very edited idea about what I should put out. I think that edited idea was wrong because the customer wants choice and they don't necessarily want my choice. They want their own choice, so making a lot of stuff is important because it gives them their own choice. It is like consumers like the Corridor universe and the aesthetic, and if they don't necessarily like these 10 pieces, that's fine; but if I make 40 pieces, and they are within my aesthetic and what I conceived to be good taste, then they'll find something within these 40 pieces. Without variety, there is less choice. People want to make their own decisions, so building out variety is important.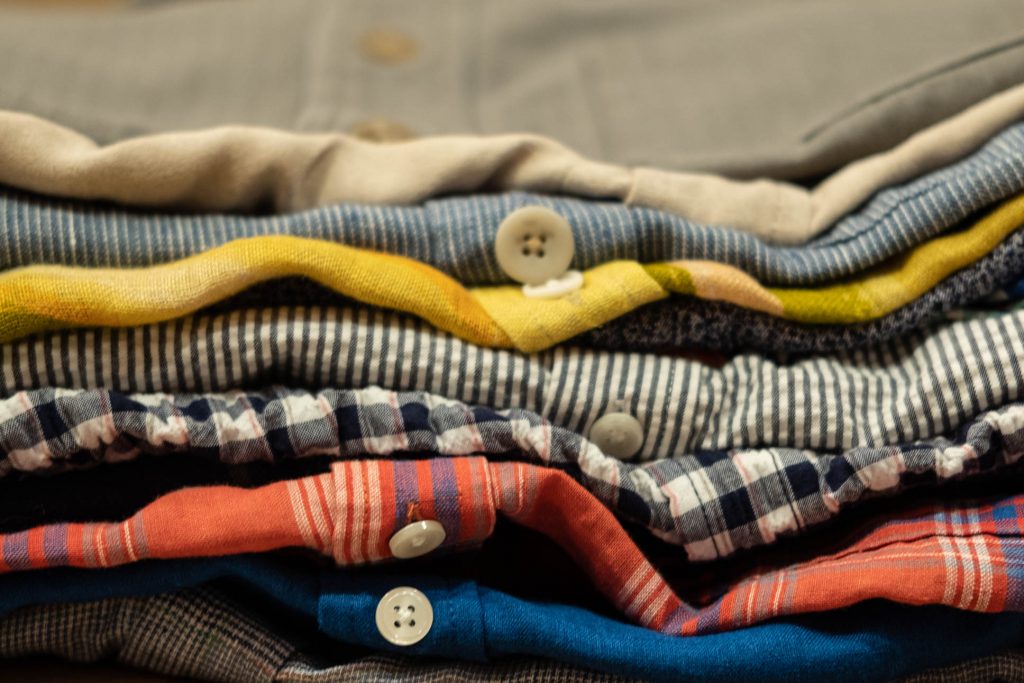 PERSONAL
---
Withered Fig is based in Northern Virginia and a lot of people are government contractors. It seems like coming from government work and moving into an entrepreneurial job seems vastly different. How did you make the transition?
D: I was lucky because I went to graduate school, where it gave me the time necessary to figure this stuff out. I was at Tufts and had this idea for the brand, and I was able to work on it a lot of hours a week because I was able to dedicate a lot of time to it. Upon graduating I went to a different government contractor in New York, and I worked on the brand for almost two years while working full-time.
It was very hard to leave the nest of this very stable life, but I only did it when I knew that it was real. I had an approval of the concept – I had enough stores and enough people buying it; I knew that it was real and it could work; and it was finally to a point that I knew that this was what I really wanted to do. I think it is one thing to start a business with a lot of investment, or you have a family safety net, and then you can jump right into it full-time. But if you don't have those kinds of safety nets, and those levels of security, I think it's necessary that you start your business part-time.
Honestly, I think most entrepreneurs start their own business as a side hustle, I was listening to this podcast, called "Loose Threads", and there is a luxury, direct-to-consumer footwear maker called Paul Evans. He has a very similar story, he's a finance guy and he worked for his finance jobs for two years while bootstrapping his company. I think it's admirable, and I think it's the way it should be and it's the true proof that a company could work.
What would you say are some of the biggest differences between government work and working for yourself?
D: I work more now, but I enjoy my work much more. What's been interesting running Corridor is, if you have a small business, you have to learn everything. You have to learn photography, photo editing, web design, everything the business does I need to know how to do it because otherwise, you need to hire somebody. The aesthetic and photography are consistent because I did it, I touched basically everything in the company and that allows the aesthetic to feel very native.
How many people, full-time or part-time, are helping you now? Can you share a little about how it has been being a small business owner?
D: As a very small company, it is important to stay lean. We have 2 full-time employees, we are lucky to be in New York so we have fashion interns, and then we have a lot of contractors. Contractors for accounting, for sales, for just about everything so that we can kind of expand and contract as we need. Staying lean for me is very important, and I actually think we don't need that many people to do a good job, it's just that we need to work more efficiently and work hard.
Does it ever feel like you are off work? What are some things you enjoy outside of Corridor, passions, hobbies, things you do to relax?
D: I would tell you that the work I do now is that I like doing it, so it doesn't really feel like it used to be at work, and I have worked at corporate jobs. My first job out of school is at IBM and that feels like a job. This really doesn't feel like a job anymore, there are hard moments and a lot of things I don't like to do, but I don't feel like it's work anymore. I feel like I am just striving, which is just a strange thing to say.
There are times I get away, of course. I exercise, I see friends, I have dinner, but I really like what I do and I feel very fortunate, so I am happy to come in every day.
For those who want to visit your store in the Nolita area, what are some hidden gems and favorite places you would recommend?
D: I like this coffee shop called abraço. They are very focused on value. A Thai place called Somtum Der, it's not expensive and it's a Michelin star. There's this Indian place called Malai Marke, which is different from tons of cheesy Indian places in East Village that are not very good. There's a Chinese spot called Spicy Village, their spicy chicken tray is amazing. Scarr's Pizza in Lower East Side is popular and it's a good slice. Also, there is this weird spot called Cactus Store, which is just a space between two buildings. It has a greenhouse and it sells cactus. Self-Edge for a great pair of jeans, obviously. The Lodge in East Village carries Men's accessories and C'H'C'M is a good Men's shop. And of course, be sure to check out Corridor store on Mott street!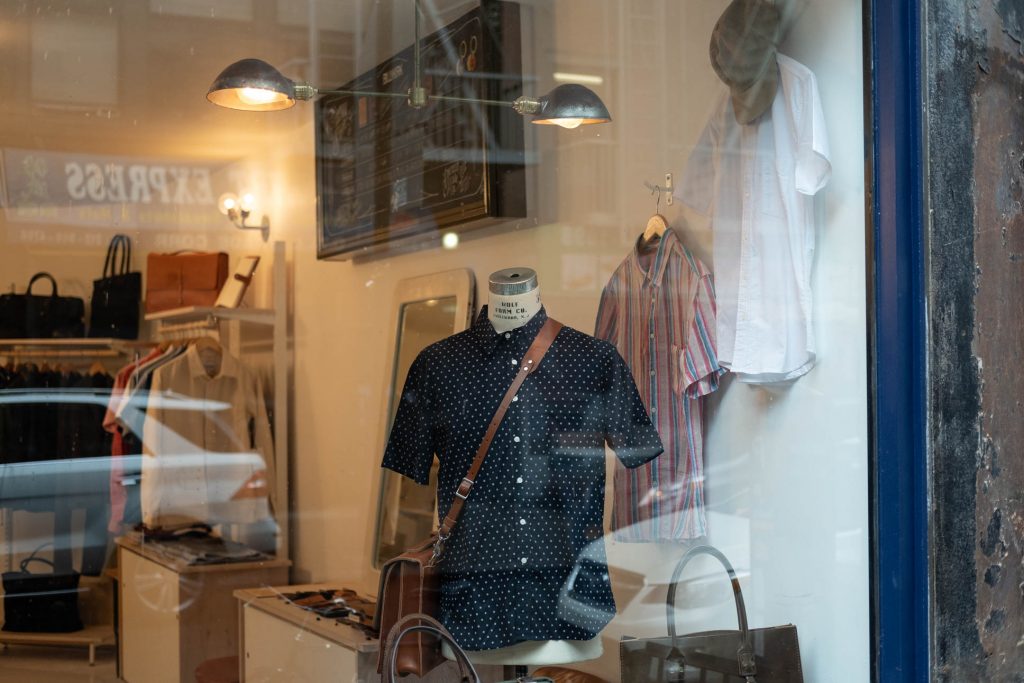 You can find the latest Corridor offerings over on the Withered Fig store. Also see the latest Corridor FW18 in our lookbook.