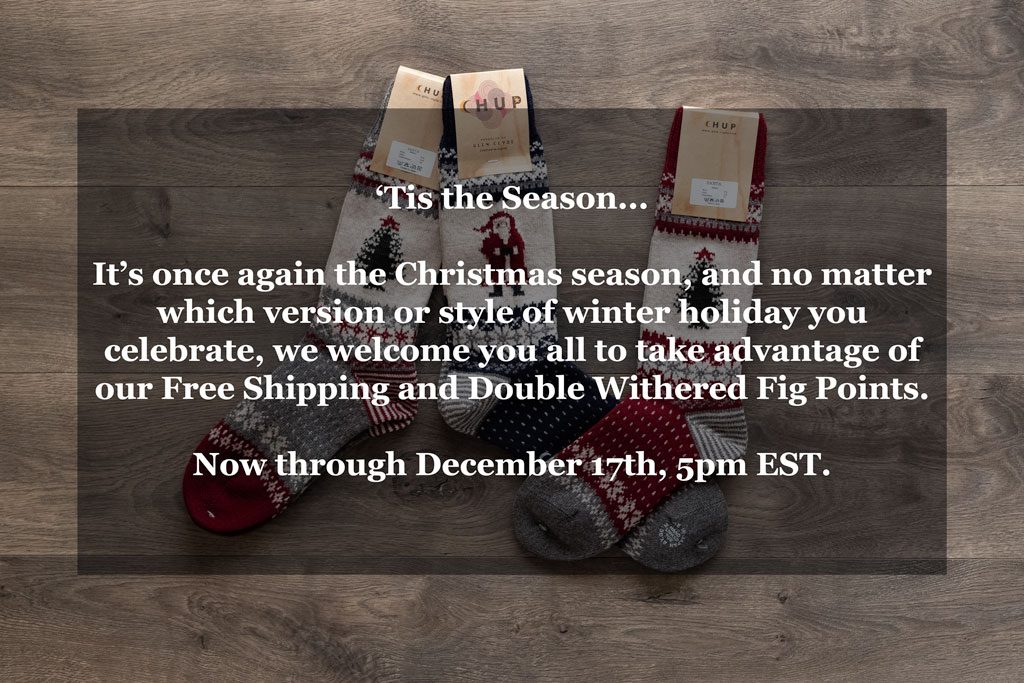 Christmas is upon us, and for us that means sending out the final orders for the year, but also – and more importantly – taking time off to be with family and friends. Whether you celebrate Christmas or one of the many other winter celebrations, we encourage you to peruse our website early, and then spend some joyous times with those around you.
Free Shipping and Double Withered Fig Points
From December 12 – December 17, 2018, all domestic orders ship free and receive double Withered Fig points.
Details:
The promotion is applicable to all items on our website.
This promotion can be combined with the existing welcome code for first-time newsletter subscribers and purchases.
Free shipping applies only to U.S. shipping addresses. Orders under 1 lbs will be shipped via USPS First Class Package; orders above 1 lbs will be shipped via USPS Priority Mail. For international orders, please email us at info@witheredfig.com for a discounted rate during this promotion.
Please note that orders placed after December 17th (5:00 pm EST) may be delayed until after the new year. Take note of the order deadlines below.
Withered Fig Schedule and Shipping Deadlines
This year, our own shipping deadline will coincide with our schedule, rather than the USPS shipping deadline (*exception for pre-orders as noted below). For all orders to the contiguous U.S., Alaska, and Hawaii, orders must be received by:
Monday, December 17, 5:00 pm EST 
Orders placed after this time will be processed, packaged, and ready for shipment on Friday, January 4, 2019. As a small business, we appreciate your patience and understanding for the inconvenience, as we spend some time with family and friends. Thank you to all who have supported us and continue to support us.
Viberg Pre-Orders
For those who have placed pre-orders on our Viberg for Withered Fig Aged Bark Roughout 'Marvington' Service Boots, we are on schedule to receive the boots by mid-December, and we will process the pre-orders for shipment from December 17 – December 20 (depending on delivery date to us), in time for the USPS deadline. This is the exception to our Withered Fig schedule, as we will work to ensure all pre-orders are received in time for Christmas.
Thanks for a great year, and we look forward to serving you in 2019!