Viberg for Withered Fig Aged Bark Roughout 'Marvington' Service Boot is our first boot we introduced back in May 2018. For our first make-up, we wanted something that would have broad appeal so that more customers could take part in this first release. At the same time, we didn't want anything too common that you could easily find elsewhere (think CXL + Dainite Sole). Absolutely nothing wrong with those, as I own a pair of Natural CXL + Dainite Sole boots. Nevertheless, we converged on this make-up while enlisting ideas and feedback from our good friends, @cuffington and @marvaments.
These posts are part of our Worn series where we highlight and showcase some of the pieces we proudly carry to show how they wear over time. Not only so that you have a better idea of what to expect – or look forward to – as you wear them in, but also to have a larger space for us to go into what makes each unique in its own way.
INTRO
---
Being our first Viberg make-up, we wanted to come up with something that hit that balance between new/unique, but not vastly weird or different for the sake of being different. It's one of the hard things we've learned and continue to deal with in coming up with new make-ups. We think the Aged Bark Roughout (RO) leather and the overall stylistic choices we made hit that middle-ground. The boot breaks in like a champion, wears well with denim and most chinos/trouser combinations, and is soft on your feet – about as close as you can get to a sneaker-like feel with a boot.
I've run these through the ringer for the last nine months, averaging 3-4 wears per week in that time. However, most of the wear is in the afternoon and evenings for just a few hours as I run errands. But I also have taken these on a couple longer trips (two weeks in Japan) and long days where they've gotten in a good 12+ hours of walking (NYC).
I'm indeed biased, but might I be so brazen as to say these should sit alongside the Natty CXLs of the world as far as the classic, must-own, boots to anchor your collection.
STYLING
---
While fit is king, we always like to address styling first as that's the first thing that typically attracts someone to an article of clothing or a pair of boots. Make no mistake that this is a casual boot. From the casual Morflex compound to the roughout leather, these make for the perfect pair to throw on when you're out for a quick errand or looking to meet up with your buddies, all the while looking as if you put in some effort and thought into your appearance.
We always like to throw down some random knowledge (or more lightly, random information) whenever we can. So I'll point you towards this research that was done several years back on shoes and first impressions, conveniently titled, "Shoes as a source of first impressions." I never read the actual full paper, but there were several articles written about it around that time, which grabbed my attention. A quick Google of that article will bring up several others that provide some commentary on it, so take a gander. But from what I gathered, it was basically pointing out that first impressions can be and are likely made based on the shoes/boots you wear; additionally, assessing personality and characteristics of that person can also be made based on what you're slipping onto your feet.
Circling back, the point is that while these service boots are casual, they bring enough style to your run-and-gun outfit such that it's effortlessly good. It's likely the combination of the color (deep rich orange-brown) and the texture (a bit of nap) that really gets your feet a second glance. I've had more compliments on these boots by random strangers than any other boot I own. Maybe I just live in an area that loves that Aged Bark RO, but more likely is that the leather speaks for itself.
Now the only thing that I really don't do that often is pair this boot up with my favorite non-denim pants, the Railcar Camel Flight Trousers (see a review of these here). While I have done it, it's not my favorite combination to do as I personally like to break up the color on my legs and my feet. However, I don't think it looks bad at all, just a different look that I tend drift from. See here and here for examples of when I've worn them together. So what works? Denim by far; and that's another reason why these should be staples in any footwear collection.
FIT & SIZING
---
These boots come in the lesser-made 1035 last, basically a cross between their 2030 and 2040 lasts; taking the sleekness of the 2030 and combining it with the wider toe box of the 2040. I've done the 2030 and while I do enjoy the slim look of that last, I think the additional space of the 1035 works for me, especially since it still looks relatively slim and not too bulbous.
I've got 10E Brannock feet, with my right foot slightly wider than my left. For Vibergs, I size down half a size (to 9.5) in both 1035 last and 2030, to accommodate the wider feet and also because I prefer a slightly roomier fit than a slightly tight fit – that's pure preference. If you look in the picture below, I point out where the top of my toes are; basically leaving about an inch of room at the top. I can certainly go down to 9.0 if I had to, and it will fit and feel OK, but I think my feet tend to swell more throughout the day than perhaps others do, and so I prefer keeping it slightly more spacious. Keep in mind that this is not the general advice we give, as we tend to say size down one from your Brannock, unless you have E width or higher. But even then, some people may find one size down a better feel based on their preference of having their boots on the tighter end, or perhaps I should say snug.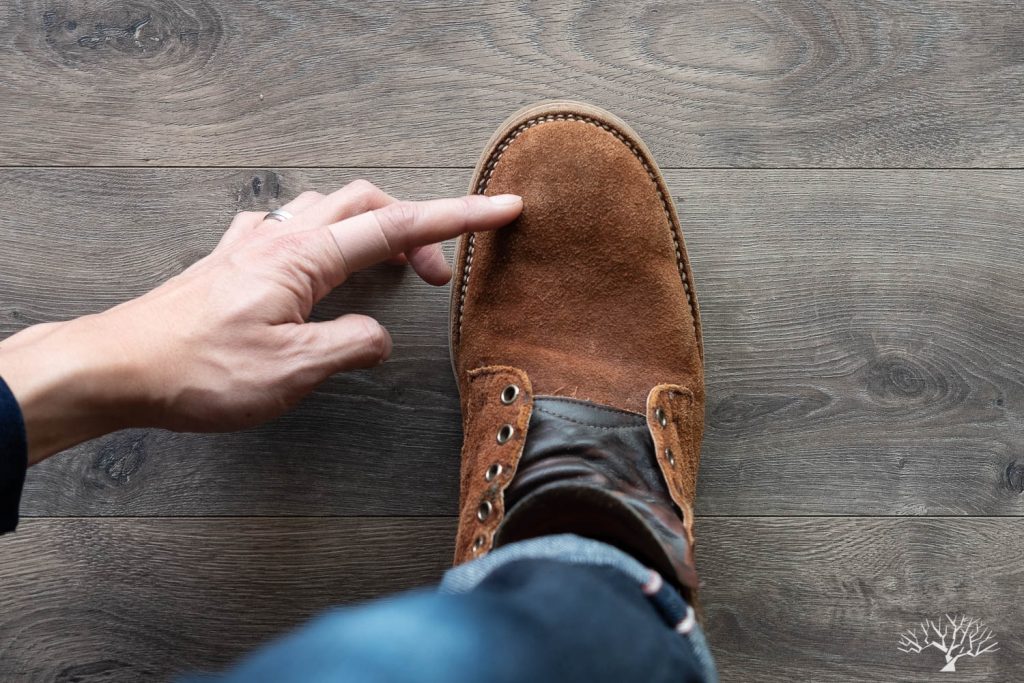 The boots have loosened up a little with wear, but it really only becomes a problem with thin socks or dress socks. This is another consideration to take into account – if you primarily stick to lighter/thinner socks, than a full size down is probably your winner. I generally use medium-to-thick socks and keep my laces tied tight, so the post-breaking in of the Aged Bark Roughout leather doesn't phase me. The last thing I'll say about fit is that originally the toebox was rubbing on the sides of my feet (the bunions), but now it's completely molded to my feet and has softened up nicely. Accordingly, if your boots feel like they're rubbing just a little on the sides at first, with this leather at least, giving it a few weeks should soften up some of that structure.
COMFORT & TRACTION
---
For the most part, comfort really comes down to the outsole, and this is the most comfortable boot I own. That Vibram 2060 sole does wonders for you. Straight out of the box, there's minimal break-in as you'll feel like you're as close to walking on clouds as you possibly could be, while still in a pair of boots. It really is a whole different feel when comparing to something with a hard rubber compound like a Dainite or Commando sole. The Morflex compound is very lightweight and not too dense, which does make for a comfy ride, but wears down quite quickly. In less than 9 months, I'd say I've worn through about half of the outsole in areas where my feet strike the ground (noticeably apparent on the heels). It'll probably need a resole within the next 6 months, which ain't too bad. But comparing that to other hardier soles, you can probably get much more life out of them.
Traction wise, these basically have none. Let me rephrase, it has none when it counts. In dry weather and light rain on concrete pavement or sidewalks, you're generally fine. Watch out though when it starts raining hard and you've worn down the outsoles to where portions of it are smooth as a baby's butt. One area where I'm sometimes caught off guard (aka, lost traction while walking) is when I'm on crossing a crosswalk and the painted stripes on the ground turn into miniature ice skating rinks for me. Okay, it's not that bad, but do be careful. Something about that paint and the Morflex just don't go well together. Lucky for those in generally drier areas such as California, as these are good to carelessly run around in. For me in Virginia, they can be year-round boots, but I just need to be judicious in my pace and steps that I am taking during the rainier seasons.
LEATHER
---
The Aged Bark RO leather is damn rugged looking. Coming out of the Seidel Tannery, this leather has a lot more nap than suede and chamois roughout – the two I have personal experience with. Out of the box, a lot of the nap is in hibernation; but once you get kicking, putting them on and taking them off, they will naturally come out of hibernation. This is especially noticeable on the heel.
One small detail that I'm glad we made the choice in doing was choosing a leather tongue that was not the same as the overall upper leather, reversed or smooth. Instead, we went with the Brown Oil Tan leather to contrast the vibrant orange-brown roughout. The contrast leather breaks up the look a bit by adding in a different color. It's a similar choice we continued with in our second boot, the 145 Oxford Mushroom Chamois RO – although in that case it comes across as more tonal than "contrast", we nonetheless termed it 'contrast' to underline that it was not just the smooth-side of the same leather.
When it comes to cleaning, Viberg recommends using a wire brush to go after the dirt, and following up with a suede brush to restore some of the nap. Full disclosure, I've done neither. As I've worn it, I've only given it a light brushing every few months with a horsehair brush. I'm not sure it does much other than get some very loose particulates off, but I'm happy with the condition it's in.
NINE MONTHS
---
While the leather starts with that deep and rich orange-brown color, as it wears in and the hairiness comes out more, it gives off more of a pale look. Perhaps it's some of the crocking from denim, and also generally getting dirtier, but it definitely looks like it has lightened up a bit, especially in the counter.
One of my favorite parts of this leather wearing in is in the upper where the boot wraps around your ankle (midway up the shaft). As you can see, the height of the boot has collapsed about less than ½", with some creasing stacking up right below the ankle area. I haven't really gotten much noticeable creasing in the toe box, as I originally expected, but that might just be more common if it was smooth-side-out.
If I keep wearing these at the rate I do, I'll probably hit a resole around late summer or early fall 2019, when I'll have to decide what I want to do with the sole.
Lastly, you may be wondering what the hell is a 'Marvington?' Well, Marvington is what you get when you take our good friends @cuffington and @marvaments, using their Instagram handles and doing a switch-a-roo and mash-up, we come upon 'Marvington,' simple as that! This boot was designed in concert with them – a little bit of personal preferences and likes, mixed with practical realities of creating something that has appeal beyond just us three. Cheers to these two gentlemen for helping bring this boot together.
Viberg for Withered Fig Aged Bark Roughout 'Marvington' Service Boots are available on our web store here. If you don't see your size in stock, e-mail us for information on possible restocks.