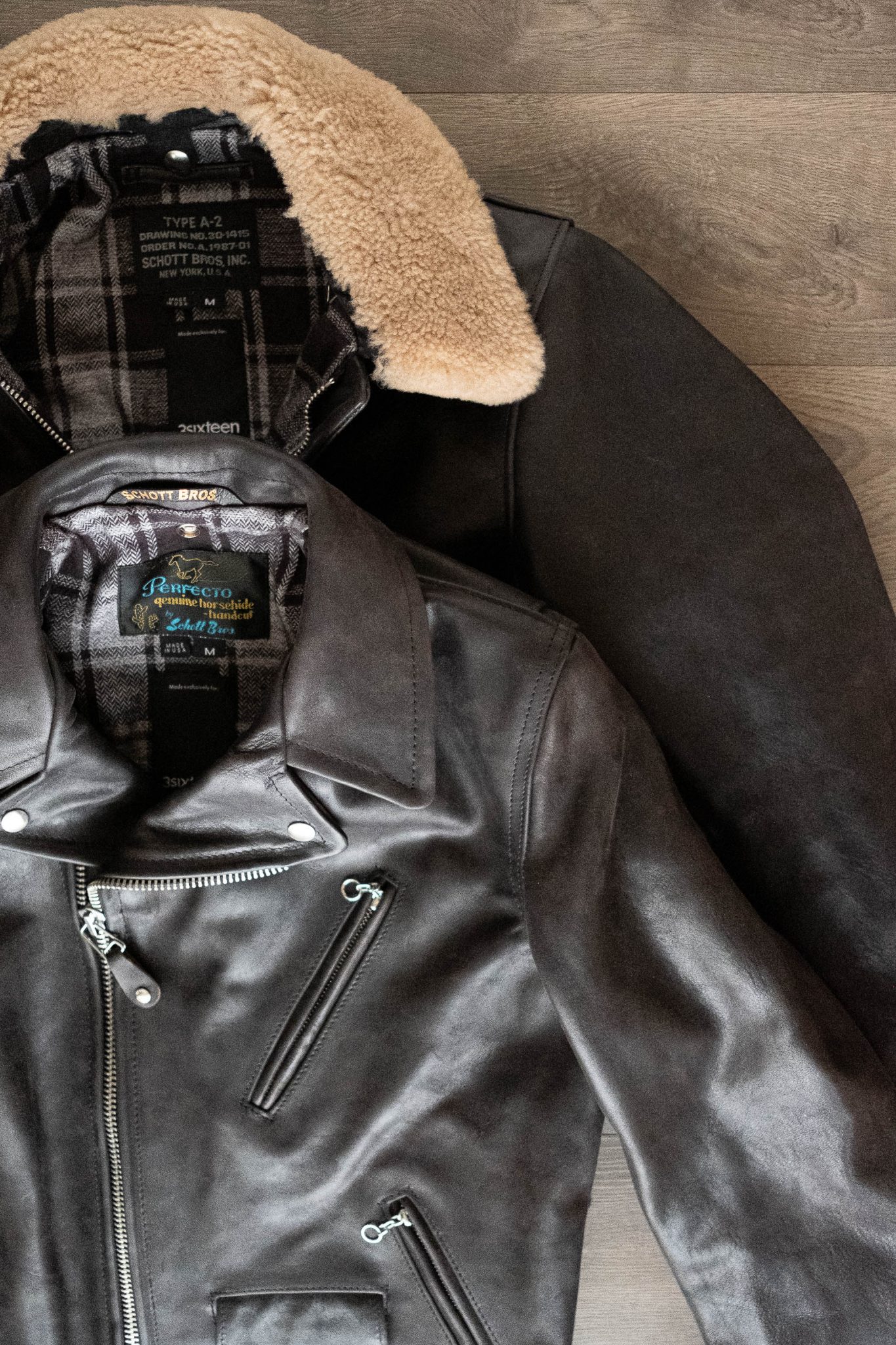 3sixteen and Schott NYC come together for their fourth year collaboration, featuring the beloved Perfecto Jacket and a new A-2 Flight Jacket, both in a tea-core chromexcel horsehide leather. Despite us being relatively small and having never carried any leather jackets before, we were delighted and honored when 3sixteen reached out to us to ask about our interest in being one of the select retailers offering this release. We will be releasing the Schott for 3sixteen A-2 Flight Jacket and Perfecto Jacket (January 2020 Edition) this coming Friday, January 31, 2019 at 12:00 pm EST. Read on to get some of our thoughts on these two new jackets.
Also be sure to check out our Lookbook for these 3sixteen x Schott collaboration jackets here.
The Leather
---
The first thing that catches your senses when you pull each jacket out of the box is that unique and striking leather smell. Most people will probably find this leather smell quite lovely. It's certainly noticeable at first, but once you get it on I think your nose quickly gets used to the smell. In any case, just something we noticed but not anything significant that would deter anyone from picking up a leather jacket. It is a leather jacket after all.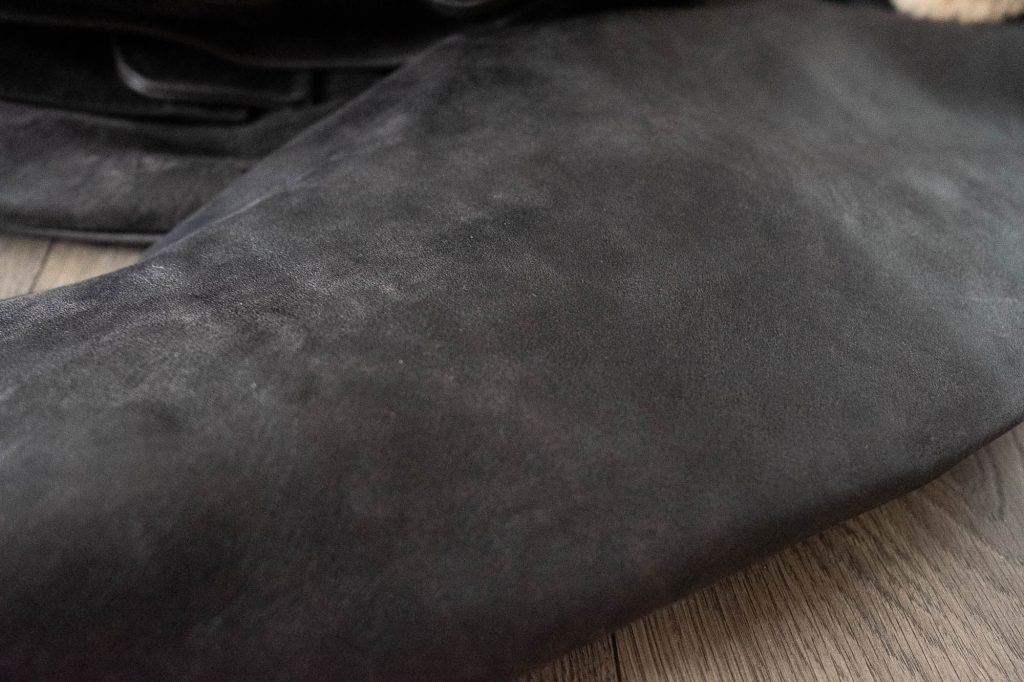 The leather comes from the famous Horween Leather Company in this custom tannage tea-core chromexcel horsehide. Essentially, the tea-core horsehide has an underlying brown layer that begins to peak through as the leather is worn in. This leather starts out predominantly black – although with hints of brownish undertones in direct sunlight from the get-go – and over a longer period will begin to reveal more and more of those brownish characteristics. 3sixteen stated that this leather was especially milled to give it a softer, more supple hand. To that, we can attest to. Unlike other chromexcel leather that you typically see in the wild – especially on boots – with its heavy pull-up and shine, this tea-core chromexcel exhibits a muted and matte look, with texture and complexity in its appearance.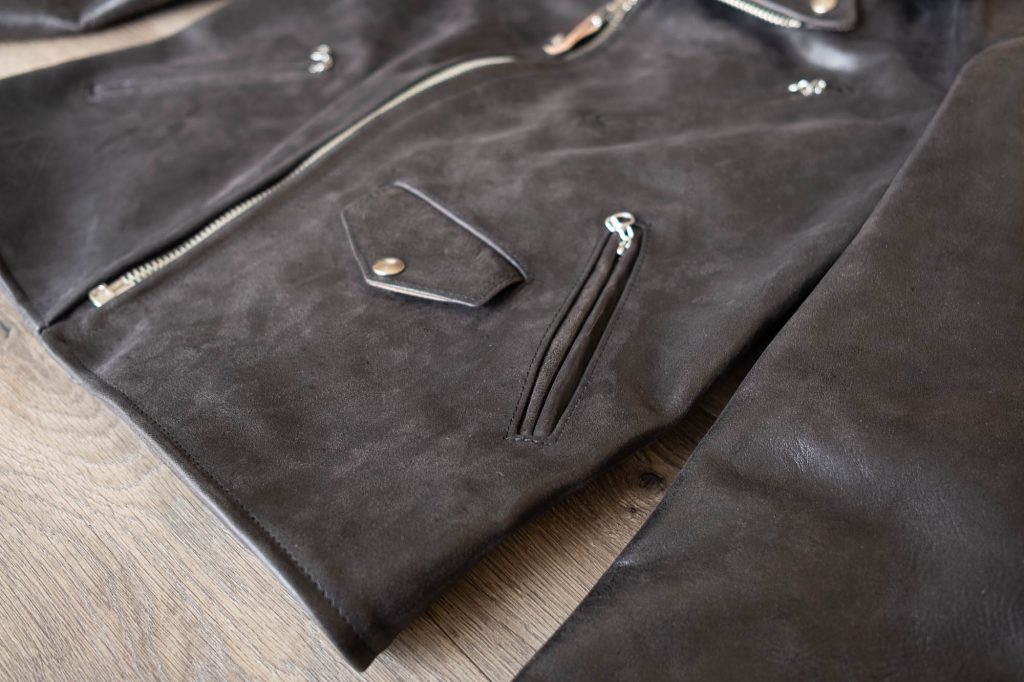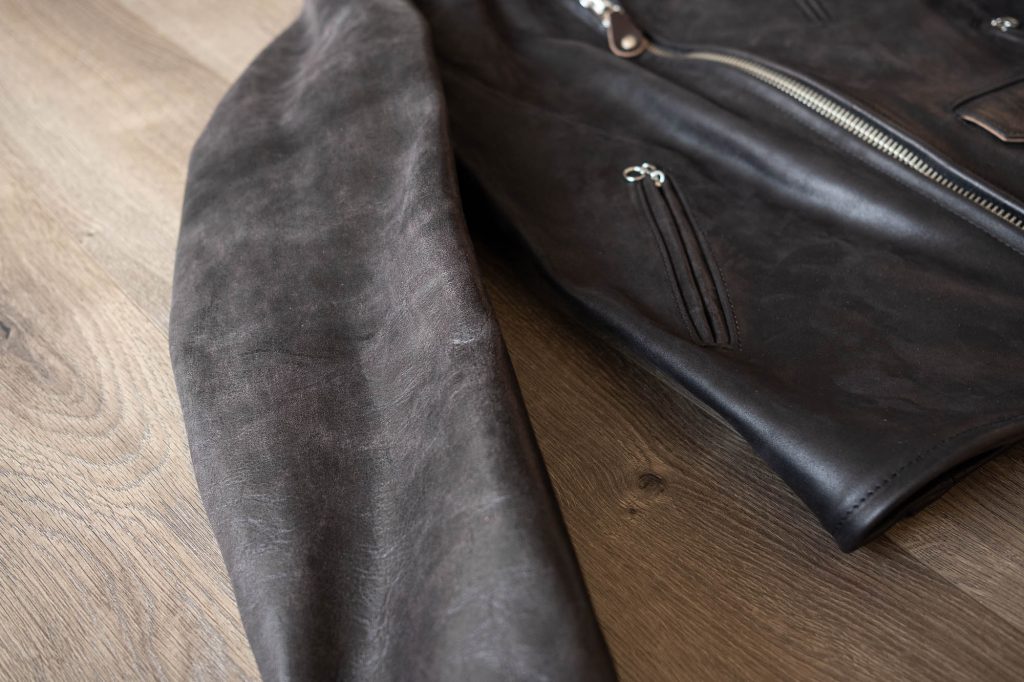 Lucky for us, one of the jackets we received (Perfecto Jacket in XS) has quite the brown characteristics right off the bat. While we are no leather experts, we do know that the process in creating this type of chromexcel leather is long and involves multiple steps. What that means is that it's not uncommon to have inconsistencies from hide to hide, whether it's from the original hide itself, to how the chemicals and oils interact with the hide and each other, to the drying, hot-stuffing, dyeing, and more. So with that, we took the opportunity to get some photos of side-by-sides with another jacket that is much more black. We would be remiss if we didn't say that the photos seem to accentuate the differences much more than it looks in-person. Nevertheless, the XS jacket should give readers an idea of how this jacket might age over time.
Fit and Sizing
---
Moving on from the leather itself to the fit and sizing. In general, based on 3sixteen's sizing recommendations as well as our own experience in trying them on, we recommend most folks take one size down from their typical 3sixteen tops size. For example, if you typically wear a Large in 3sixteen Crosscut Flannels or Fatigue Overshirts, you will likely size down to a Medium for both the Perfecto Jacket and the A-2 Flight Jacket. The Perfecto Jacket is cut a tad more slim than the A-2 Flight Jacket, so that's another small detail you can toy around with, but we still recommend most size down one. Horsehide does not stretch much at all, so do not expect any stretching when you are sizing the jacket. With that said, obviously people have their own preferences as to how they want their leather jacket to fit. We tend to think leather jackets look and feel the best when they are slim and form-fitting.
However, there are some cases where we think you could take your typical 3sixteen tops size. If you are on the larger end of your size (e.g. if you typically wear a Large in their tops and it fits very slim and you are afraid of washing due to shrinkage), it's possible that taking the same size could work. That said, it will probably still be a tad roomier than you may prefer. Another situation where it might make sense is if you are again, on the mid-to-larger end of your size and either want to wear something more substantial underneath as part of your layering, or if you are tall (6'0" and higher) and would like the extra length in the body. We would still caution you if you are in this category, as leather jackets are generally accepted as a jacket that has that high-waisted look, rather than a jacket that hits below your waistline. All-in-all, we would say the majority of folks should continue to size down one from their typical tops size for these Schott for 3sixteen collaboration jackets.
Just to further underline the sizing question, I took some photos of myself in both Small and Medium size jackets for both the Perfecto Jacket and the A-2 Flight Jacket. I am typically a Medium in most 3sixteen shirts and jackets, coming in at 6'0" and 180 lbs, and about a 39″ chest. 3sixteen shirts, such as the Crosscut Flannel and Utility Shirts generally fit me well, neither too slim nor too large. However, sometimes they do run a tad roomy and I will choose to shrink them a little in the washer/dryer. The photos below are meant to steer you towards sizing down one, but if you find the slightly relaxed look to be what you're after, all the more power to you.
On the A-2 Flight Jacket comparison, you can see how on the Small, the sleeves are cut a little slimmer through the arm and the length of the sleeve is shorter. The overall body is also slimmer by a tad. In general, sizing down one should be a must for most in the A-2 Flight Jacket.
The Perfecto Jacket sizing comparison is a little tougher. It may be hard to tell, but the sleeves on these are actually pretty similar in length for both the Small and Medium (as you see below, the sleeve for Large and X-Large are the same length as well). The Small is nominally slimmer than the Medium, so the fit is not quite as distinct between the two as we saw on the A-2 Flight Jacket. In general, we could see how some folks might like the Medium for a still slim but more relaxed look; however, we're of the mindset that leather jackets should be worn slim and tight to the body. In the Perfecto though, you may be able to see how if you are on the larger end of your size, it might make sense to stay the same size rather than sizing down.
Finally, some size charts for you because who doesn't love to nerd out about numbers? Keep in mind there is a give-or-take of around 0.25-0.5″ depending on how flat we can get the jackets and how tight we pull across. In general, these measurements were taken with the jacket at rest (not pulled extremely tight), so there is probably some "slack" in them if the measurements look a bit on the small side. Again, we should reiterate that most folks should take one size down.
A-2 Flight Jacket Size Chart
| | | | | | |
| --- | --- | --- | --- | --- | --- |
| | Chest | Bottom | Shoulder | Sleeve | Length |
| XS | 20 | 15.5 | 16 | 25.5 | 25.5 |
| S | 21.5 | 16 | 17 | 27 | 25.5 |
| M | 22.25 | 18 | 17.5 | 27.5 | 25.5 |
| L | 23 | 19 | 18.5 | 28 | 26.75 |
| XL | 24.25 | 20.5 | 20 | 27.5 | 27 |
Perfecto Jacket Size Chart
| | | | | | |
| --- | --- | --- | --- | --- | --- |
| | Chest | Bottom | Shoulder | Sleeve | Length |
| XS | 19 | 17 | 15.5 | 25.5 | 25.5 |
| S | 20 | 18 | 16.5 | 25.25 | 26 |
| M | 21.5 | 19 | 17 | 26 | 25 |
| L | 22 | 20.5 | 18 | 26 | 26.25 |
Details Across Both Jackets
---
Looking inside the Horween tea-core chromexcel horsehide leather is a plaid flannel lining that is woven by the same mill that produced 3sixteen's FW17 Utility Shirt fabric. It's a light, brushed Japanese flannel in a herringbone check pattern. Given the weight of the leather jacket, a lighter flannel was chosen to not add additional weight to the overall piece.
Though past Schott for 3sixteen collaborations featured Good Art hardware in the form of snaps on the back, this Perfecto and A-2 Flight Jackets come with a blank male snap on the back of the jacket. The blank male snaps can accommodate both old and new Good Art snaps (as well as any other universal snaps you may find in a 18 mm size). This change was a conscious decision given that the premium for this leather already commanded a higher price point and this was one of the details that 3sixteen skipped in order to keep the jacket at a lower price point. In general, the sacrifice of the hardware for this killer leather is a worthwhile trade, and yet it still leaves open the possibility for the wearer to add a Good Art snap should they choose. You can find Good Art snaps on Self Edge here.
One last detail that is common across the two jackets is the stirrup-shaped zipper pulls. These zipper pulls are mirrored after the same pulls you will find on 3sixteen's hoodies and jackets.
A-2 Flight Jacket Details
Now onto the specifics of each jacket. New for this iteration is the modified A-2 Flight Jacket. 3sixteen mulled through the archives of Schott's past designs and settled upon this A-2 Flight Jacket with a subtle 3sixteen application to the fit and styling. Compared with Schott's traditional Flight Jackets, these have been slightly lengthened in the body while still maintaining the higher-waisted look of your typical Flight Jacket. As well, hidden side entries to the front flap pockets were included for extra functionality. Our favorite detail for this A-2 Flight Jacket is the detachable sheepskin collar that can add that extra flair with it on, or take it off for a more streamlined all-black leather jacket look. As far as pockets go, the A-2 Flight Jacket has two front flap pockets secured by a hidden snap button, and an interior horizontal pocket on the left chest/stomach for additional everyday carries.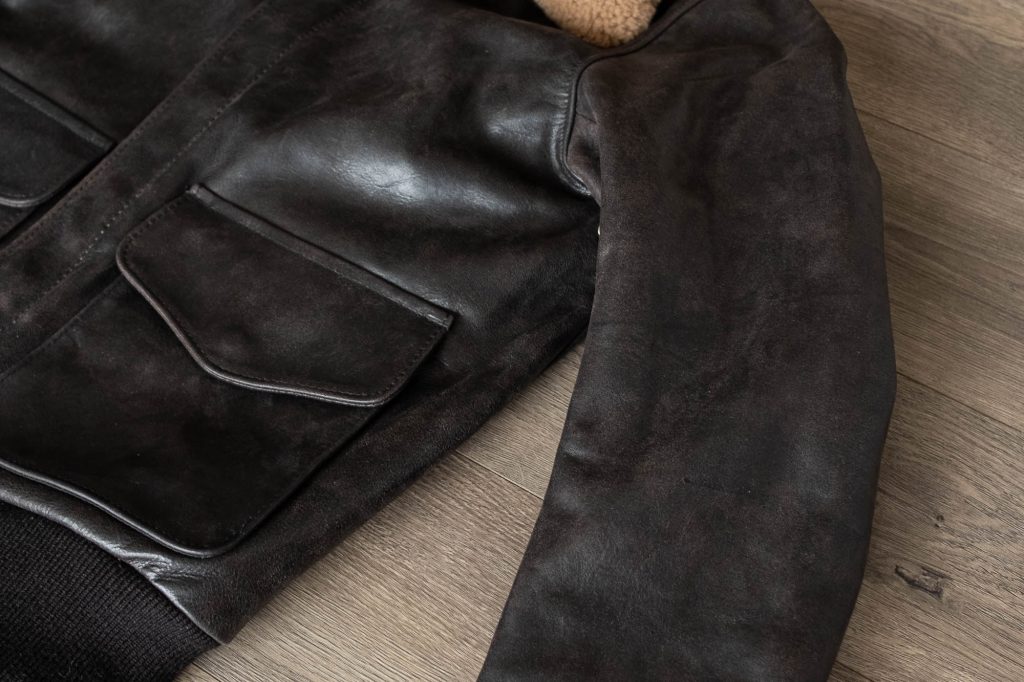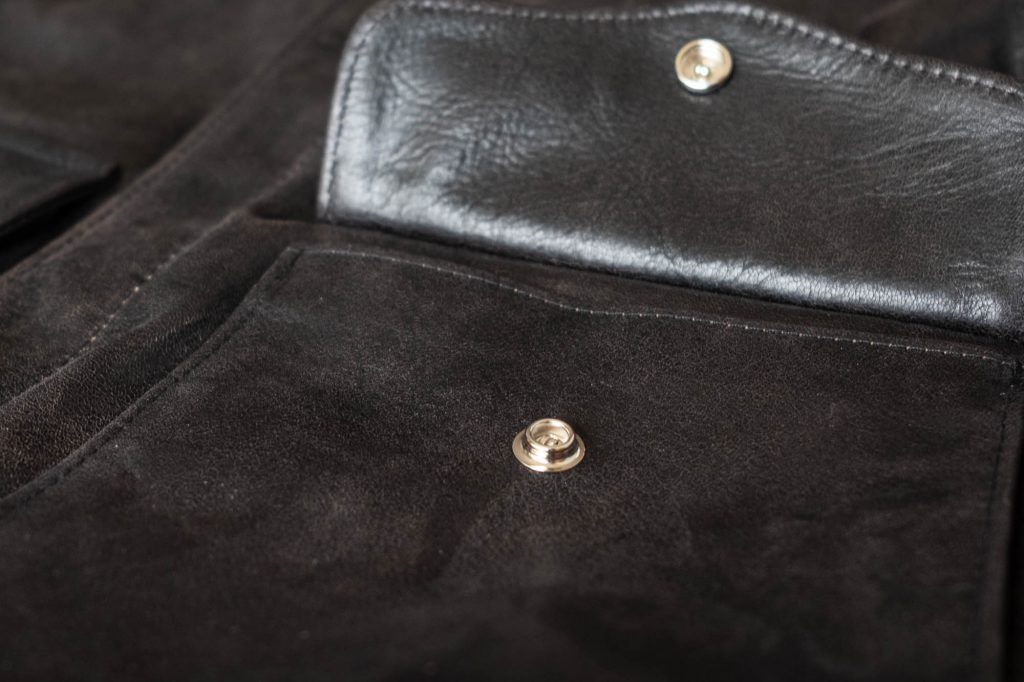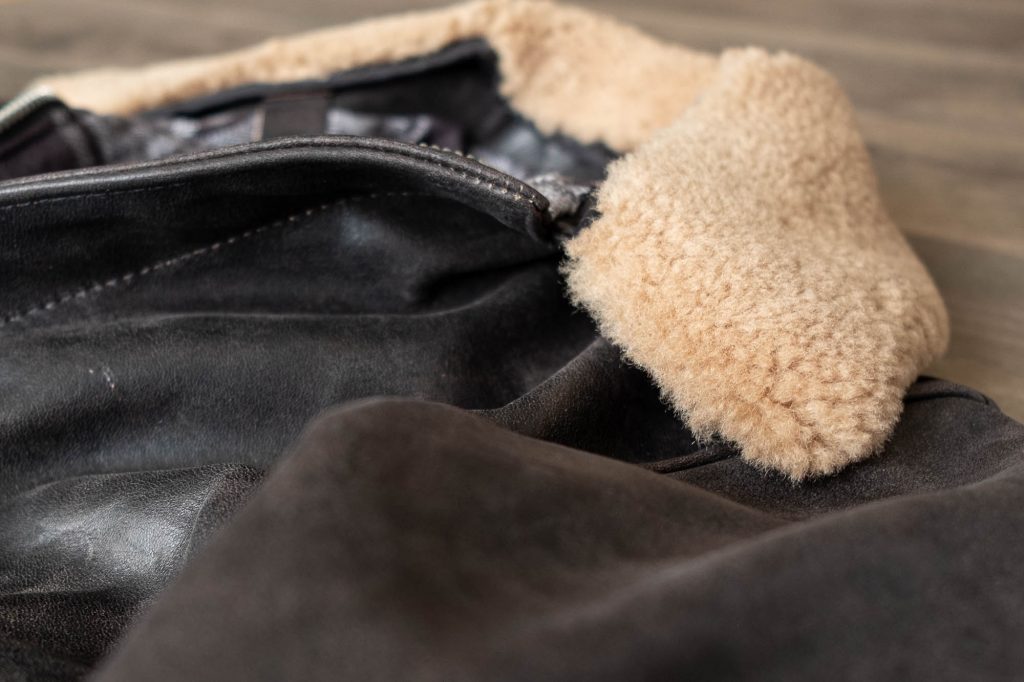 Perfecto Jacket Details
On the Perfecto, much of the standard Schott 519 Perfecto Jacket details apply – asymmetrical zippered front; two snap down lapels and one snap down coin pocket on the left pane, all with nickel hardware; three slanted zippered pockets with circular pulls; and sleeves that can be zippered up or down for easy access and just a little more flair. On the inside, you have the custom plaid flannel lining as mentioned above, but also an interior vertical pocket for whatever accessory your heart desires. Although the 519 is cut quite slim, the bi-swing back panels provide some additional movement as needed – whether that's for you actually riding on a motorcycle or just needing that extra reach to grab that beer.
While some may find the shoulder epaulets and belt buckles on other leather jackets part of "the look," we personally find this version – minus these two details – a much cleaner look that we can appreciate.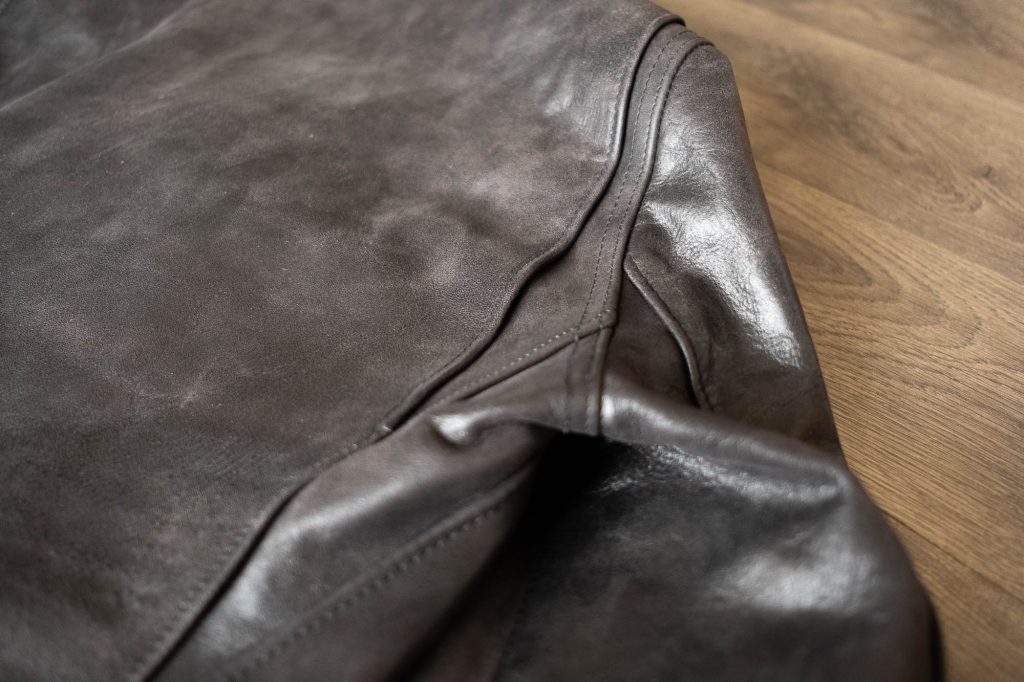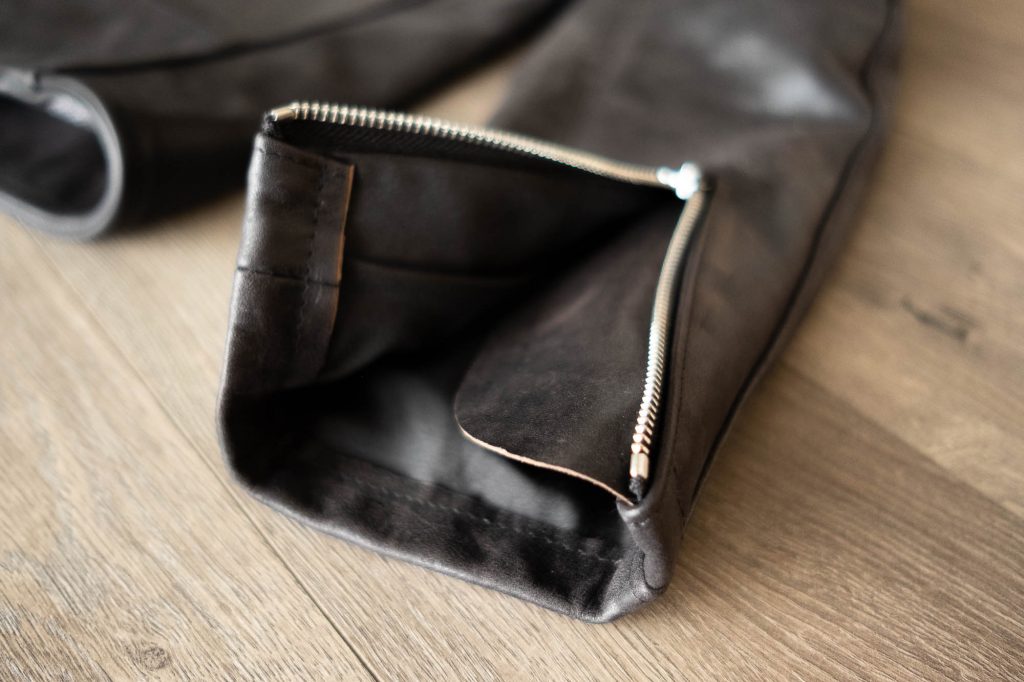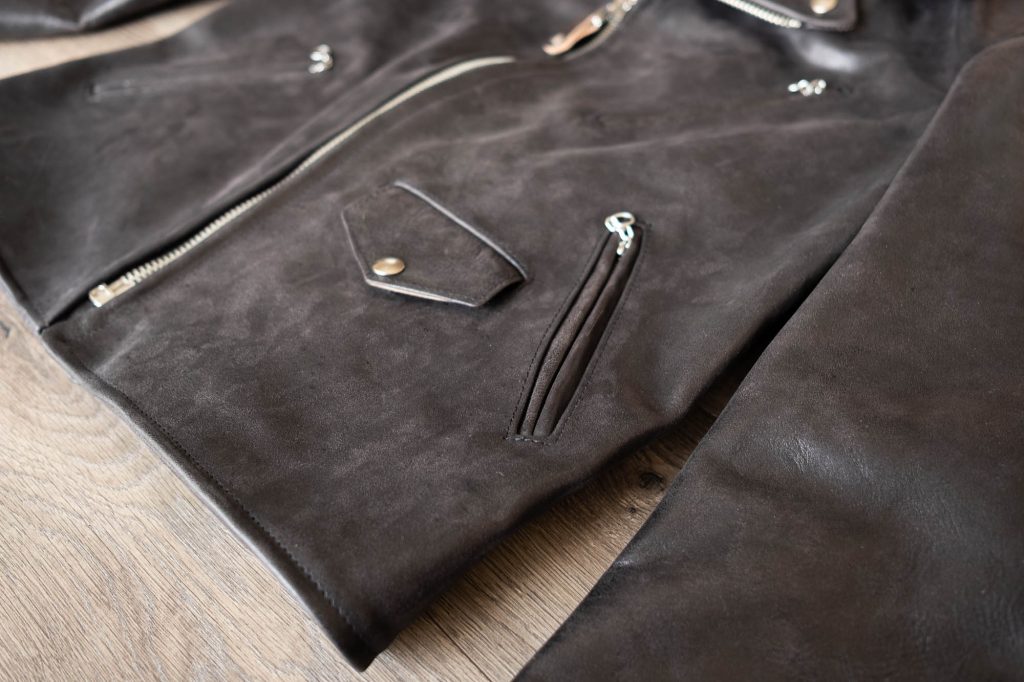 ---
The Schott x 3sixteen A-2 Flight Jacket and Perfecto Jacket will be available on Withered Fig on Friday, January 31st at Noon EST. Please check our New Arrivals or our 3sixteen Page promptly at Noon EST to catch them when they drop. Please email us prior if you have any questions on sizing and double-check measurements, as exchanges will be unlikely given the limited stock.