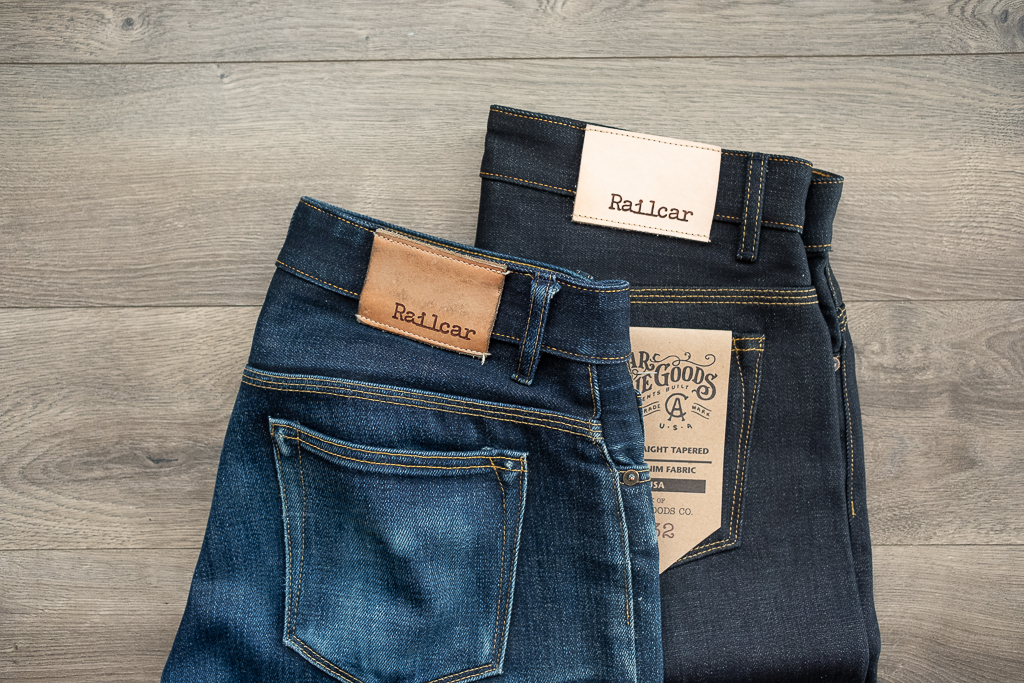 Railcar Fine Good's Journeyman X034 is their 16.5 oz proprietary denim that they ran from 2017 to 2019 before discontinuing the fabric in late 2019. While it has been discontinued, you can still find this Railcar denim on our store in select sizes, as well as from other retailers who may still have remaining stock. We wanted to highlight how this pair has worn in, even though it may be hard to find this pair if your size is OOS. These Worn series are simply a way to document and showcase some of the garments we proudly carry to show how they wear over time.
INTRO
---
The Journeyman X034 Super Slub Proprietary Denim never seemed like it gained quite the popularity that some of Railcar's other pairs get (just based on Instagram posts, but I suppose that's a limited sampling as well). Nevertheless, I would guess that it might have to do with how the initial denim looked fresh out of the box. Over time though, it developed very nicely with vertical streaking, some different shades of indigo, and the slub that unravels with more wear. This pair is definitely one that takes a little bit of warming up before it really hits it out of the park. However, as you'll see below you can get beautifully rewarded with some dedication. Read on below as I go into a little bit about the styling, fabric, fit, and how this pair is after two years.
STYLING
---
The styling section for denim is a bit tougher to get some useful commentary on, as denim is denim. Perhaps you can separate into light/washed denim and dark denim, which is what I'll sort of get at here. As I mentioned above, the X034 fabric starts out very dark and inky. It's quite the difficult denim to photograph at first, as everything just looks dark blue with none of the weft peaking through. You can sort of see that during some of my initial photos here and here.
Early on, I found that the dark denim meant I really needed to find some contrast for my outfits. Personally, I think the darker the denim, the harder it is to pair with other clothing. In the first photo above, you'll see that my outfit was pretty dark, up and down. The classic "Canadian tux" – appropriate as I was visiting Frank up at Viberg in Victoria, B.C. – with the denim on denim was fine, although it may not be for everyone. In the second photo linked above, I went with some lighter colors – grey and some light reds – to balance out the overall look. I really like how that looked, and in general I would say a bit more contrast in the overall outfit is generally how I like to approach selecting pieces to go together.
I think early on, and by early I mean within the first year or so, you can definitely use this pair as a pair for the office or more nicer situations where some darker pants are appropriate.
FIT
---
Railcar denim comes in two cuts – the Spikes and the Journeyman. This pair is the Journeyman cut, which has a higher rise and roomier leg throughout. If you peruse my old photos, you'll see that the pair as it is now, has a bit more taper. I sent these into Railcar for their tapering services as I've come to appreciate the higher rises and roomier fit up top. However, I still enjoy a nice taper, so when I can't find that, I'll usually just pick up the fuller cut and get it tapered after the fact.
I could have worn the Spikes cut if I wanted, as it also fits my body pretty well. Despite not claiming to be a strong tapered cut, I find that the Spikes cut is one of the more aggressively tapered "slim taper" cuts. For those who want a slim pair of jeans and are just fine with a low-to-medium rise pair, the Spikes is probably the better one for you.
Now back to the Journeyman X034. I sized down from 32 (my normal size in most pants/denim) to 31 for the Journeyman. If you have experience with Railcar's Spike's fit, you'll likely want to size down one from your Spike's size as these do have a bit more room – especially if you are looking to maintain the slim fit. If you're just looking for something more relaxed, you could probably take your same size as you do in the Spikes.
My size 31 started out with a 16.25" waist, which over time and after a few washes and wears, has settled at 16.8-16.9" waist, depending on how tightly you pull the waistband for the measurement. For the thighs, they haven't changed much and are still around the original 12.5" measurement (I did not get the thighs brought in during my tapering service, just from the knees on down). For reference, I am 6'0'' and 175 lbs.
On the type of fit, I would call it a slim straight fit generally speaking. However, it does have a slight taper, so it's not completely "straight." For those who want something not too baggy and more along the lines of "regular" cuts, the Journeyman will likely be right down your lane.
FABRIC
---
This fabric is currently noted as a 16.5 oz denim, but it was initially sold as a 15 oz denim. I'm guessing that when Steven at Railcar first brought in this denim, it was advertised as 15 oz. But at some point later, he measured the fabric himself, and it turned out to be a little heavier. This puts this one in the tweener range between mid-to-heavy. Although I would definitely say this one still feels like a mid-weight.
Inky, dark, hidden slub, and a bit dry looking. That's how I'd describe this pair brand new. Inky and dark because it just has such a deep indigo color that even with its white weft, you really don't see that peeking through at all. Although the name of the denim has "Super Slub" in it, I wouldn't say the slub is readily noticeable at first glance. You really have to get close to see the slub and irregularity. It's definitely got slub, but given some of the other crazier denim on the market over the last few years, I'm not sure I would say it's quite "super." For those who aren't looking for something too crazy, this works just fine. Just enough texture to give it some interesting characteristics.
As far as the dry looking comment. I think it's in contrast to some other denims that have more of a wet/sheen look to them. These have somewhat of a matte look and feel to them at first, only after wear does it really begin to shine.
The fabric takes a bit of time to soften up and get a nice drape. I'd say at first, the starch and the fabric itself lend to some unnatural creasing/folds, but upon your first wash that should remove most of those issues.
TWO YEARS
---
Having owned the Journeyman X034 pair for about two years, it's probably one of my favorite pairs that I've gotten pretty good fading out of. The fit of the Journeyman also works well for me (after tapering), which adds to my appreciation for this pair. These have  softened up to be very comfortable and no longer have that initial starchy/stiff feel. I would say with the X034, I was a little hesitant at the beginning with how things would turn out. The fabric has quite a different feel than other denim at the start. Feeling it in your hands, it sort of feels like a poly/cotton blend fabric as it has sort of a hard/crisp feel to it. Not soft and plush feel that you would expect from cotton. It's sort of hard to describe, but once you feel it you'll probably get what I'm saying.
I think I have given this pair between 5-7 washes, although I'm not exact on the number. In general I take the approach of wearing a pair of raws for six months, and then washing once per month thereafter. However, I've dropped off the wear in these over the last year as I've started to break in my Iron Heart IH-888s, so I definitely haven't been washing them once per month.
I love how the fabric has faded beautifully, revealing a lot of the slub that was previously harder to see, and the vertical streaking in the denim. Probably my favorite area is the upper thighs and top block where the whiskering occurs. Pretty interesting is the areas around the pockets where the indigo has faded to reveal a lot more of the weft, but at the same time it shows as a brownish turquoise color, which gives it that vintage look.
There are areas where they are almost white, such as where my phone resides in my pocket and the knees. These aren't too particularly exciting, but I do like seeing how the fabric has broken loose around the corner edge of my phone. My guess is that there will be some hole there at some point with continued wear.
Some other neat details are the hidden rivets on the back pockets, which are now coming through as you can see the copper rivet in the photo below. While there are no raised belt loops, you can still see how certain parts of the belt loop have faded more, probably due to me sitting in a chair and rubbing that area more.
Overall it's holding up quite well after two years. That said, I don't do anything too crazy like mountain biking or anything too active. Nevertheless, I'm happy that the knees aren't looking like they are anywhere near a blow-out and the crotch is just starting to show some significant wear. In comparison, the Railcar Flight Trousers seemed to start wearing down a little quicker, although I've probably gotten more wear in them as well as them being a lighter fabric.
Despite being a 16.5 oz denim, it works quite well for the summer days ahead. I just cuff them up a bit higher and get a nice breeze on my ankles (see fit pics above). They definitely don't feel as heavy as a 16.5 oz once broken-in, and I'd readily say they are similar to how a 14 oz might feel. With that said, I'll probably be rotating these in a lot more this summer, interchanging them with the Flight Trousers and my Iron Hearts that I'm working on (21 oz in the summer!).
You can find our full Railcar denim collection and other Railcar pieces on our store here. The Railcar Fine Goods Camel X034 Denim is available in the Spikes Fit here and the Journeyman Fit here.
Limited Promotion – Buy Railcar's X034 Denim, Receive $40 Gift Card to Your Brewery/Roaster
Similar to our ongoing promotion for local customers in support of local small businesses in Virginia, D.C., and Maryland, we are offering a gift card to your local brewery or coffee shop/roaster. Mention in the comment box at check-out that you read this blog post and include your favorite local brewery or coffee shop/roaster near you, and we will send you a $40 Gift Card* to the brewery/roaster you mention. This promotion cannot be combined with other promotions such as the 10% discount for newsletter subscribers. Promotion ends May 15, 2020.
*Promotional $40 GC terms and conditions:
Offer available to residents of the United States of America (billing and shipping address must be in the U.S.)
Gift card will only be issued for a local brewery or coffee shop/roaster that has the ability to purchase gift cards for $40 online. Restaurants, other retail stores, and services are not eligible.
We reserve the right to ask you to provide another business if we deem it to not be primarily a brewery or coffee shop/roaster, not "local" enough (i.e. do not ask for a gift card to a national chain such as Starbucks), or if we think that brewery sucks
$40 GC will be issued within 48 hours of your purchase of the Railcar Fine Goods Spikes X034 or Journeyman X034 denim
Offer cannot be combined with Withered Fig points or use of Gift Cards (i.e. only credit card purchases), and cannot be combined with other promotional offers such as the 10% discount for newsletter subscribers.
Offer valid only when a comment is left at check-out mentioning this blog post and your brewery or coffee shop/roaster of choice (or email us after the fact within 24 hours)
Offer valid on orders made through May 15, 2020