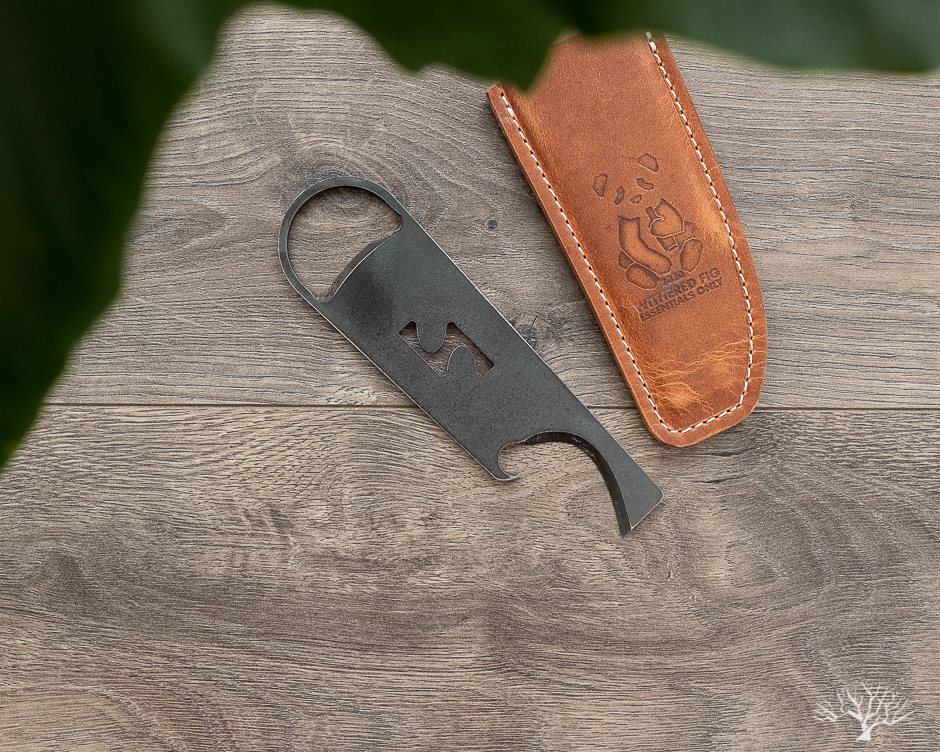 This Friday at Noon EST, we're releasing the Essentials Only Bottle Opener, a collaboration piece between High Side and Withered Fig. Made out of high carbon steel and machined to take on all bottles, even those with wax, these are an essential accessory for these essential only times.
One of the things that we love at Withered Fig is beer. You may have realized this through our Instagram posts and stories, or through our pop-ups where we often hold them at a beer garden or beer bar. Naturally, we've always been on the lookout for a way to meld the two worlds of menswear clothing and beer. Over time we came to an idea with our good friends at High Side to release a collaboration bottle opener – the Essentials Only Bottle Opener – with a nice full-grain leather sheath protecting it. We figured something like this would find appeal among both groups of people, regardless of their affinity for the other. What better way to enjoy your beers and bring to your next bottle share, than with a clean bottle opener and a nice leather to keep it protected?
With the pandemic over the last few months, the plans were temporarily put on hold. But after we revisited this project and considered the world we live in – that beer has been deemed an essential item by pretty much every state in the US, and that a lot of breweries are now able to ship beer, whereas before they were legally not allowed to – we thought, no better time than now to proceed with this project.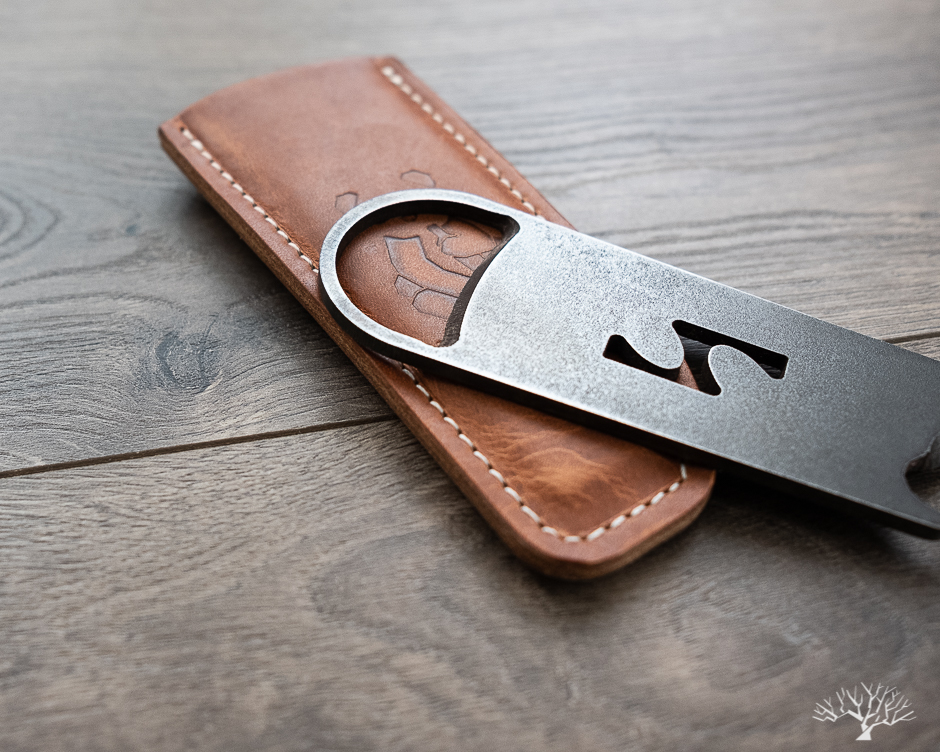 Additionally, along the same lines as our effort to support other small businesses during these uncertain times, we wanted to give back to the community, especially those who have experienced the greatest impact by the coronavirus situation and the resulting health and economic effects.
100% of the profit* of the initial run of these bottle openers will go to a local non-profit organization here in Fairfax, VA called The Lamb Center. The Lamb Center provides daytime drop-in services for the poor and homeless through food, clothing, job training and employment, and administrative assistance, and encouragement and counseling. High Side has previously worked with this organization, and after reading about what they do, we were on board. We believe their comprehensive approach towards homelessness is the most effective investment into these people's lives to help get them back on their feet and towards a more better future.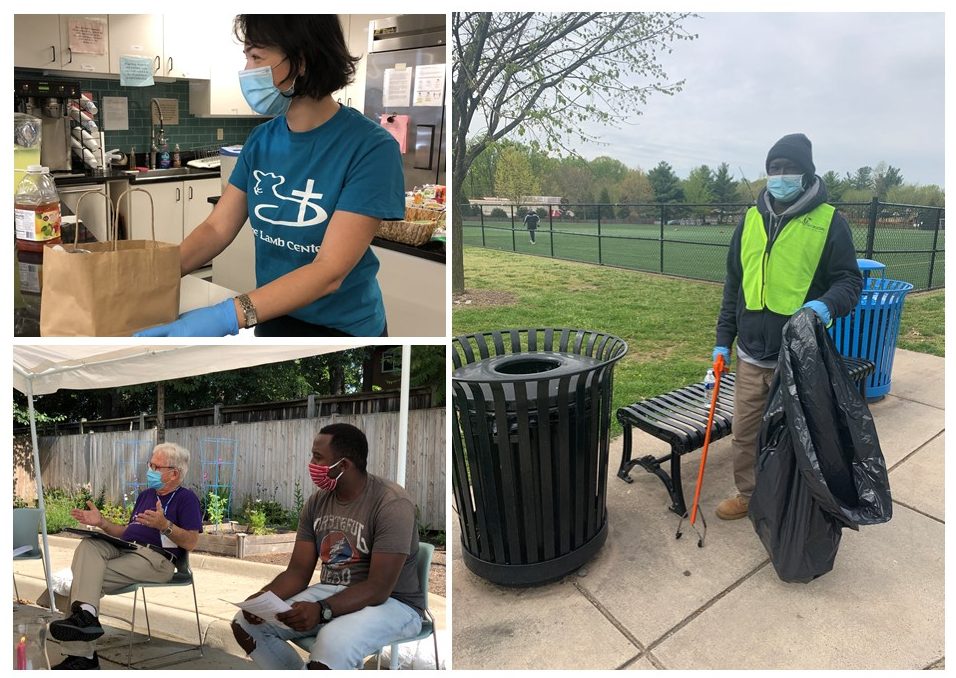 One of the things we thought was very cool to see was how The Lamb Center uses their resources to not only help the homeless who come to them, but to also see them use their resources to give back to the local Fairfax, VA community. As you can see here on their News page, over the last year they have been involved in the community clean-up of waterways and storm water to prevent further pollution from entering into streams. It's a net benefit to the homeless who utilize their services, but also to the greater community.
Now about the bottle opener. Everything has been done at the small business level with personal connections built over the years. High Side reached out to their friend JP, a local digital fabricator here in Northern Virginia, with a focus on architectural signatures of the built environment and a heavy leaning towards public art. However, JP was kind enough to dedicate some of his precious time in working with High Side to design this A36 High Carbon Steel bottle opener, with a traditional bottle opener on one end, and a custom designed wax cutter on the other end. The wax cutter end went through several design iterations, with minor and significant changes, to come to the final iteration. JP fabricated these pieces using a 5-axis waterjet cutting head to get the precise angles needed for that perfect cut. We think you'd be hard pressed to find a cleaner wax cutter for your bottle shares than this one here.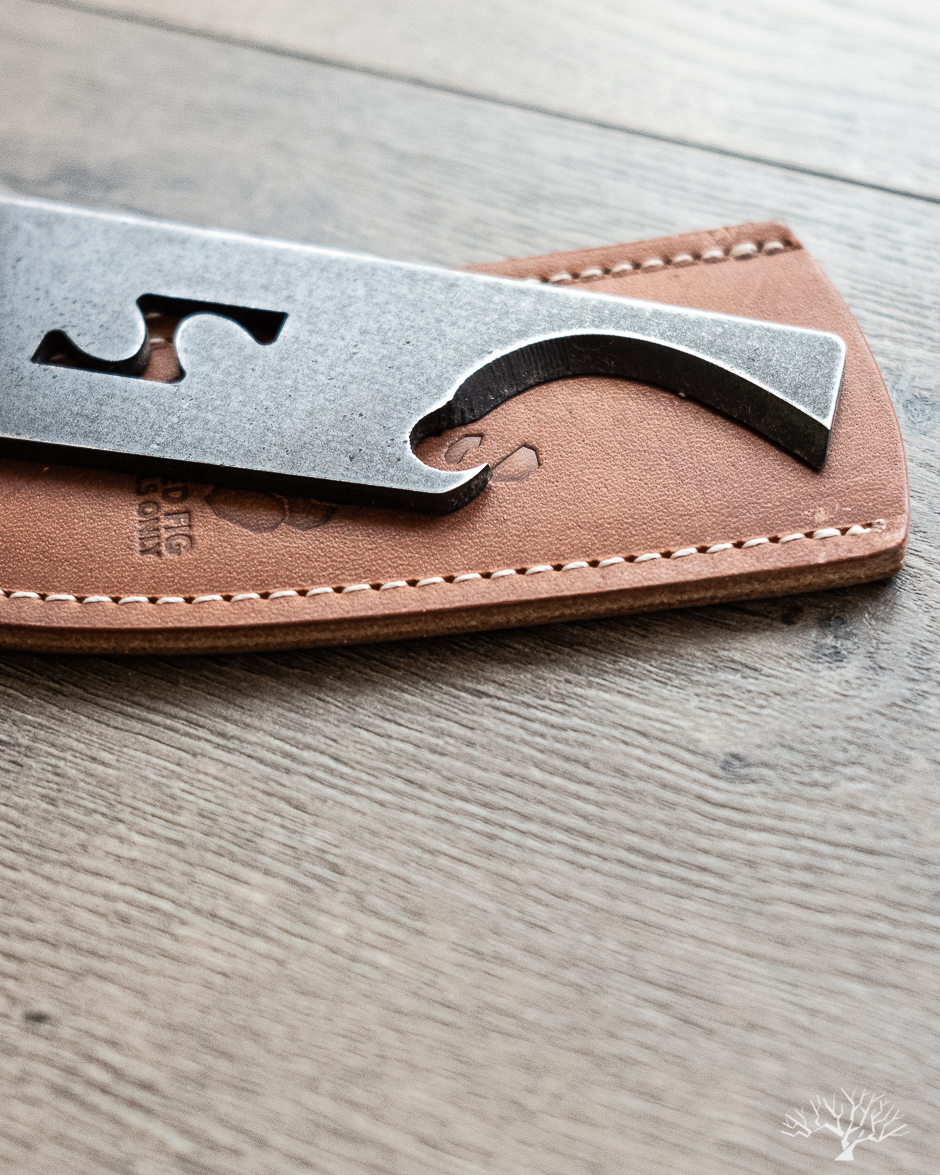 For the leather sheath, I reached out to Bill and the team at District Leather in Atlanta, GA. I first met Bill several years back and he introduced me to his leather line-up of wallets. I've always thought his work and specifically stitching were some of the cleanest I've seen hands-down. Naturally, we've always wanted to work with Bill on some products for Withered Fig, but as is common in life, "life happens" and we get busy and things fall the the wayside. However, with this project we felt the time was right for us to work with Bill in bringing this bottle opener to realization. We selected the Horween Natural Dublin for its highly waxy and oiled look and feel. The high wax content also gives the custom-designed stamp some variation in how it looks, whether you want it to be more noticeable or less noticeable.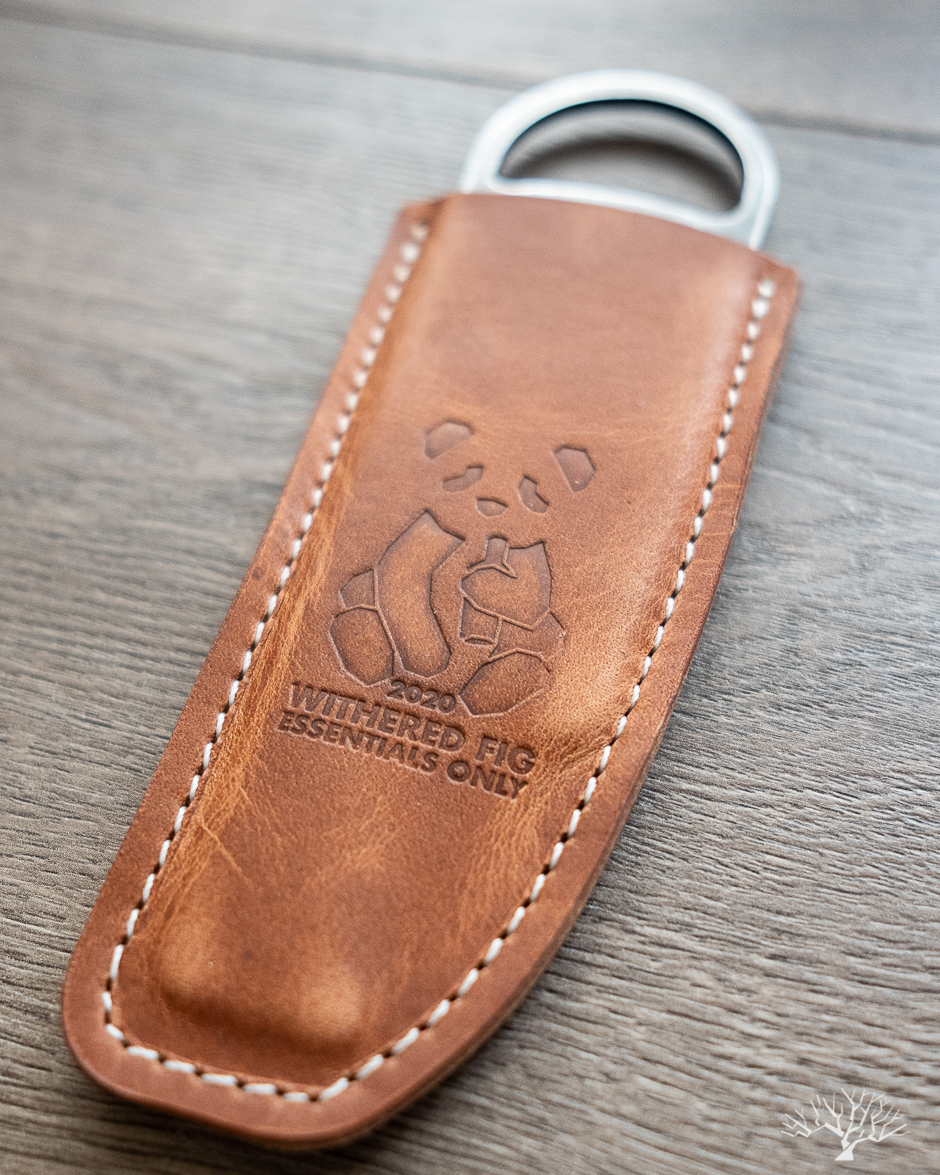 The stamp was designed by my wife, and shows an image of a panda holding a bottle of beer, with our name and the "Essentials Only" lettering beneath, which we thought was a fitting representation of life today. Beer, essentials only.
The inspiration came from one of High Side's collaborations from their 2 year anniversary, this one with Back Bay's Farmhouse Brewing. Panda Named Dan is a 12% ABV imperial stout with toasted coconut, caramel, pandan, and aged in Tarnished Truth Bourbon Barrels. I've had it, and it is absolutely delicious; and word on the street is that there may be some more being stored for future releases! Because of the pandan – a common fragrant leaf used in a lot of cuisines in Southeast Asia – used in this stout, the play on words of Panda-named-Dan came to be. Accordingly, we ran with this idea given that this collaboration bottle has a wax seal, which makes for the perfect use of the wax cutter on this bottle opener.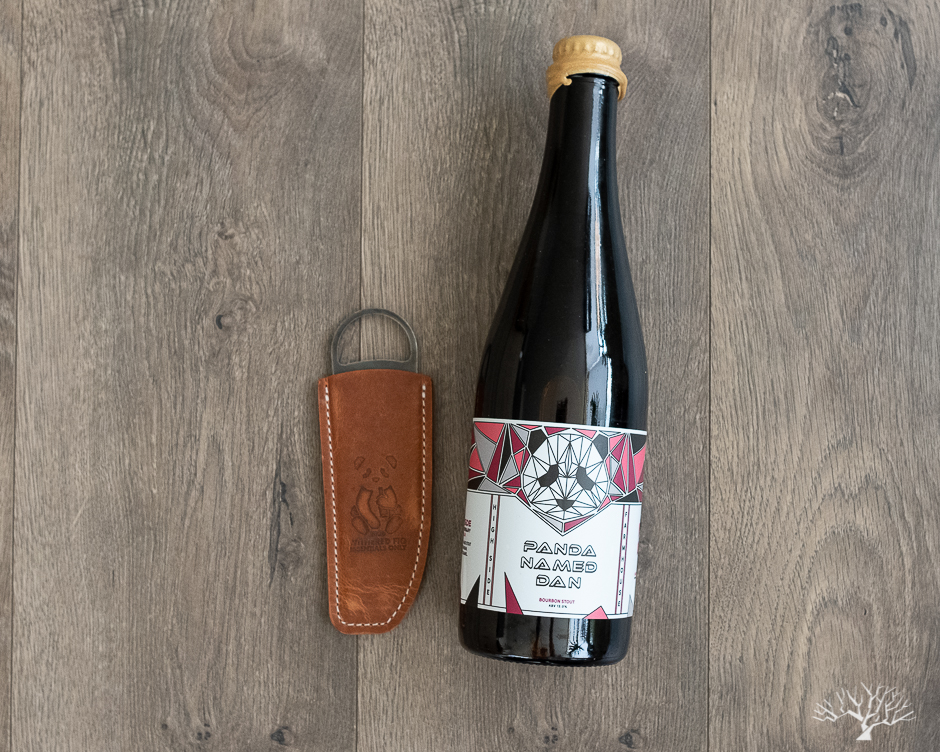 The Natural Dublin leather will age beautifully over time, developing a deeper and richer brown/orange color. As it breaks in, you'll get more of a sheen on it, creating some nice highs and lows in different lighting. Whether you're a into leather or not, we think the Natural Dublin leather will find appeal among many folks due to the noticeable grainy appearance and the oils it naturally exudes.
The Essentials Only Bottle Opener will retail for $45 and release on our Withered Fig website this Friday, July 24th at Noon EST. If you are a local customer, you can select the local pick-up option at High Side (City of Fairfax, VA). Because of our intent to donate the maximum amount per unit, we are charging a flat $4 shipping fee for USPS First Class rather than offering free shipping; for international orders, please contact us for a custom shipping quote.
Special thanks to Nathan Chung who generously helped with the creation of the video above!
*The profit is the retail price, minus the costs of producing the bottle opener, leather sheath, and packaging and shipping.