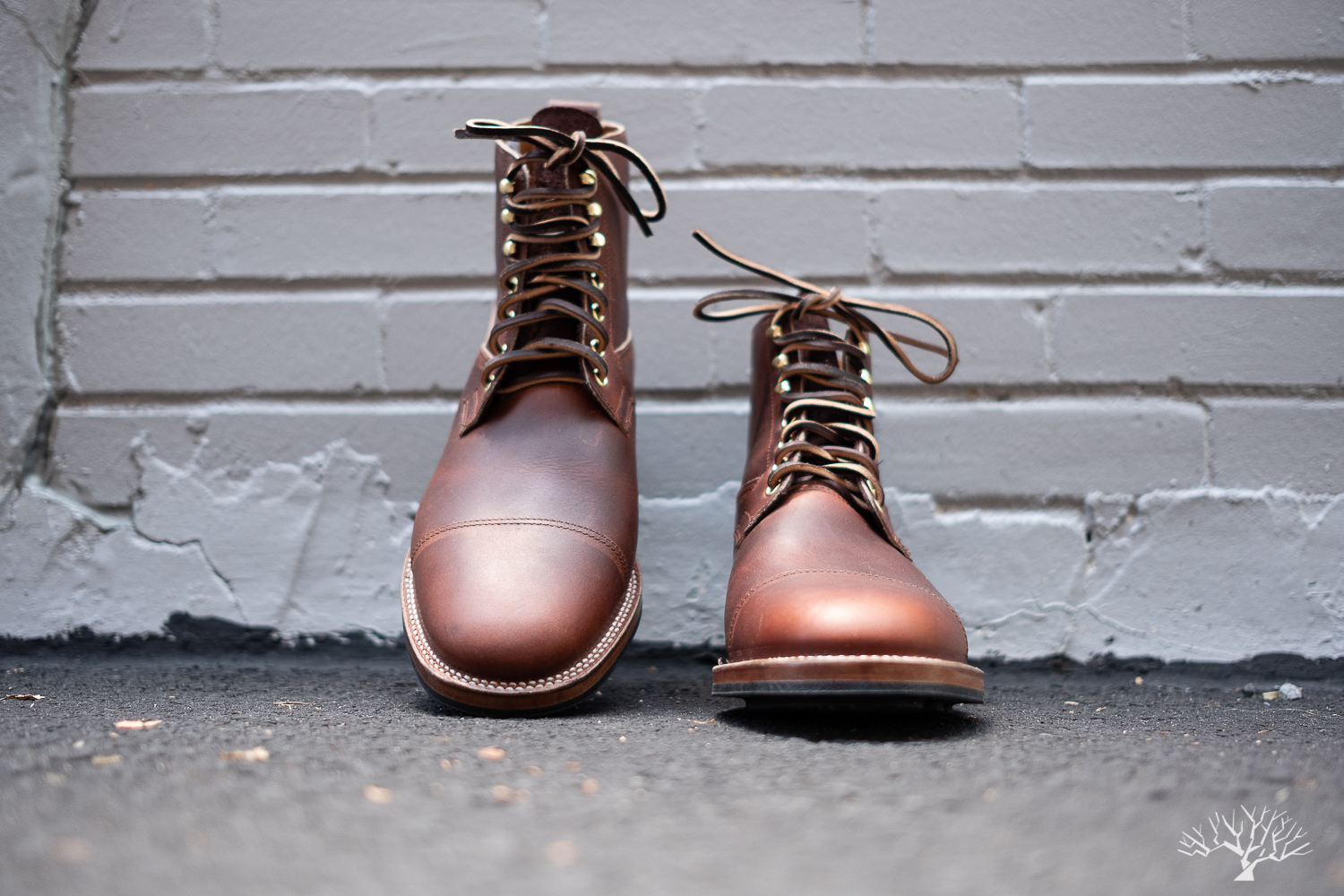 Introducing the Viberg Saddletan Chromepak Country Boot in 2030 Last and Ridgeway sole, the latest in our iterations of Viberg for Withered Fig. We're calling this the "Prairie" Country Boot because of meaningful reasons that we will not delve into. Anyways, as we retire a couple of our favored Viberg styles, the 145 Oxford and the Bobcat Boot, we might just start switching gears by making more use of the Country Boot style, another one that we feel like has been under served in the overall makeups out there. But before we get too ahead of ourselves, let's talk about this specific pair.
These were designed in conjunction with our friends @imustbefrank, @thread.and.steel, and @tichoblancoshoes. One of the first things they did was convince us that our stubbornness on sticking to the 1035 was foolhardy and that we were missing out on servicing a large portion of Viberg customers. They ain't wrong, but that doesn't mean we're wrong either! Anyways, after a long-fought battle, we relented and figured we could give it a try. After all, it is 2020 and what better year to do something crazy like a 2030 Last? What we pulled out of the bag was a beautiful leather that is seemingly harder to find on makeups these days, but nonetheless continues to have a healthy following.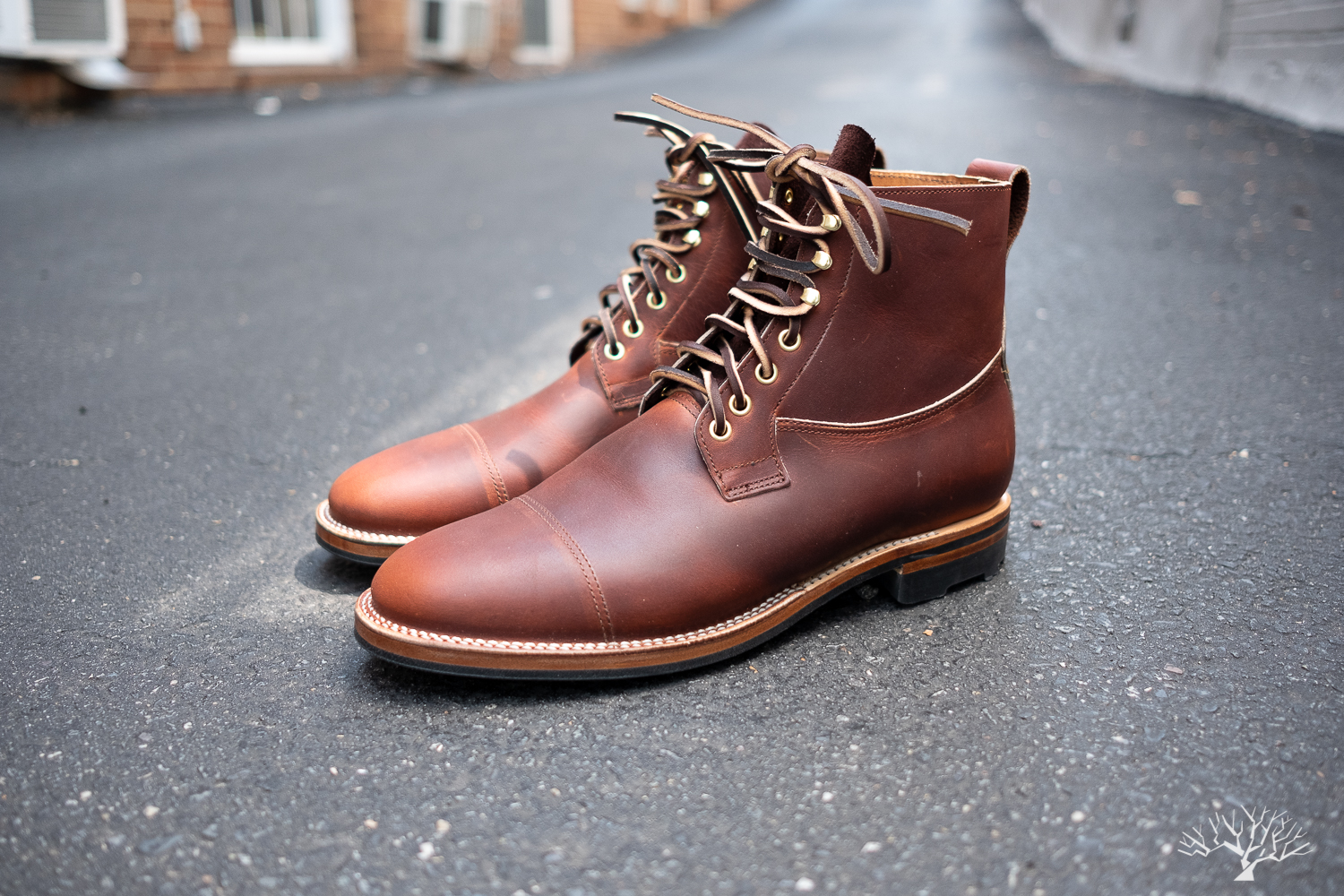 Releasing Friday, August 7th at Noon EST on Withered Fig, the "Prairie" Saddletan Chromepak Country Boot w/ Ridgeway Soles.
Viberg for Withered Fig Exclusive
Saddletan Chromepak (Horween USA)
2030 Last
Ridgeway Sole
Brass Eyelets (x4)
Brass Speedhooks (x3)
Alternate Tongue in Brown Oil Tan Roughout Leather
Faux Cap-Toe
Unstructured Toe
Natural Leather Midsole
Stitchdown Construction
Includes a pair of Rawhide Laces
Includes a pair of Brown Flat Waxed Laces
Made in Victoria, B.C., Canada
As you may have noticed with our offerings, we've tended to go after some of the lesser-used Viberg styles as we think there's a lot left to explore with them. According to Viberg, the Country Boot style is based on a traditional British hunting boot, with a 6-inch pattern that is slightly taller than their Service Boot, and features an interlocking eyestay, and 360 degree vamp for increased waterproofing. From our perspective, we love the extension of the taller shaft and with the unstructured toe, it makes for a very sleek looking boot. That said, there are some obvious departures that make this a sleek-but-not-quite-dressy-boot. The pull-tabs and the speed hooks are the most obvious departures.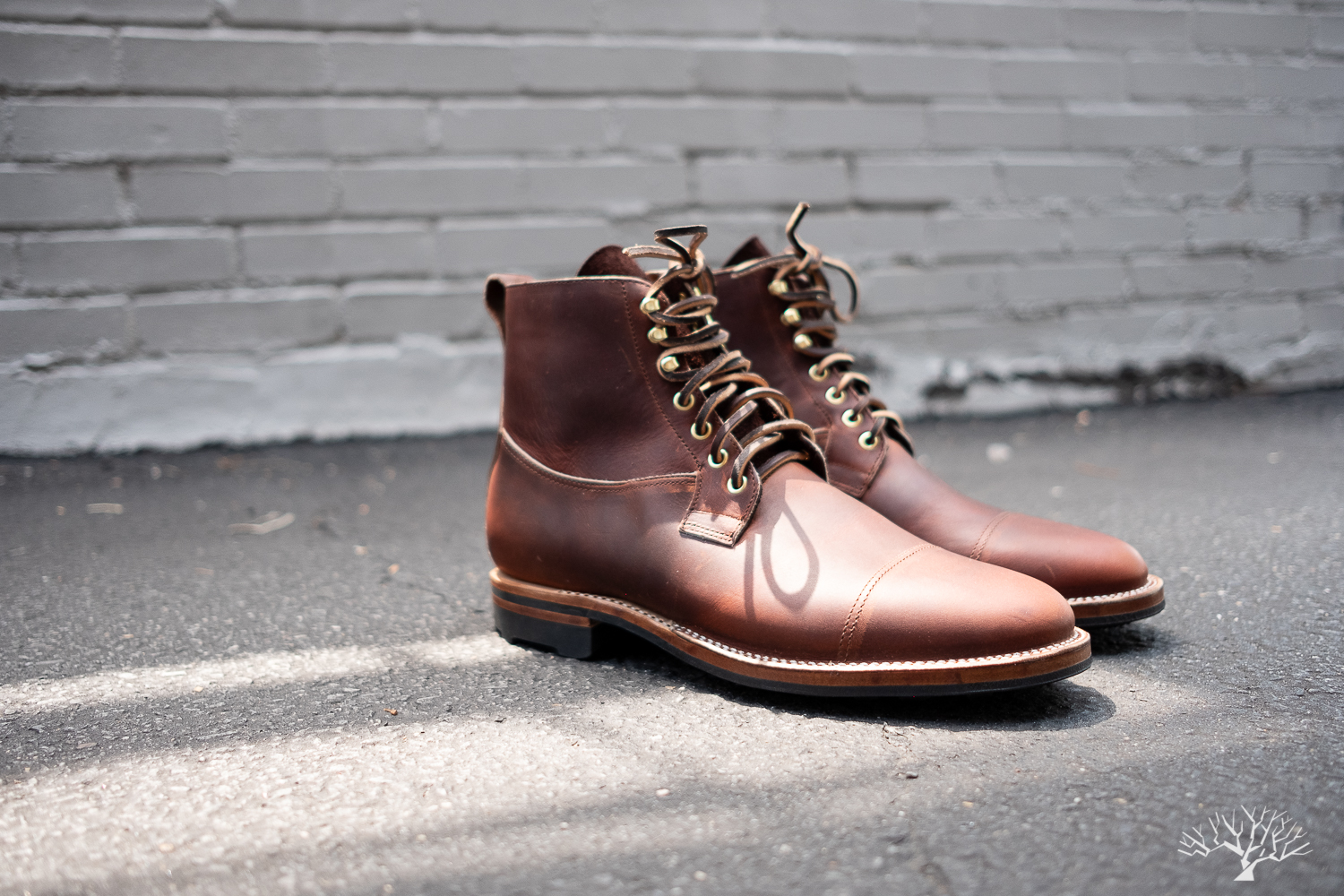 The Saddletan Chromepak leather feels fairly sturdy in the hands, and has a matte looking finish. Like Horween describes, the feel is smooth and waxy, although not too waxy that you are left with residue on your hands. Given the oils and wax, it has quite the variation in its appearance. You'll find that the high-wear areas that get more creasing will lighten up more, while the rest retain that deep brownish-burgundy color. Additionally, out of the box the leather shows a little more random markings, some of which are natural, but others of which we think are from the construction and handling of the boot.. Nothing some buffing and care can't take care of. But to be honest, similar markings will likely appear as you naturally wear them in. Chromepak is probably one of the more harder-wearing smooth-side leathers out there, which makes this a great pair to beat up and do some outdoor work in. And honestly, out of the many Chromepak leather boots we've seen, they do look better with wear. These Saddletan Chromepak Country Boots should hold up well and any nicks and scuffs simply add to the characteristics of your pair.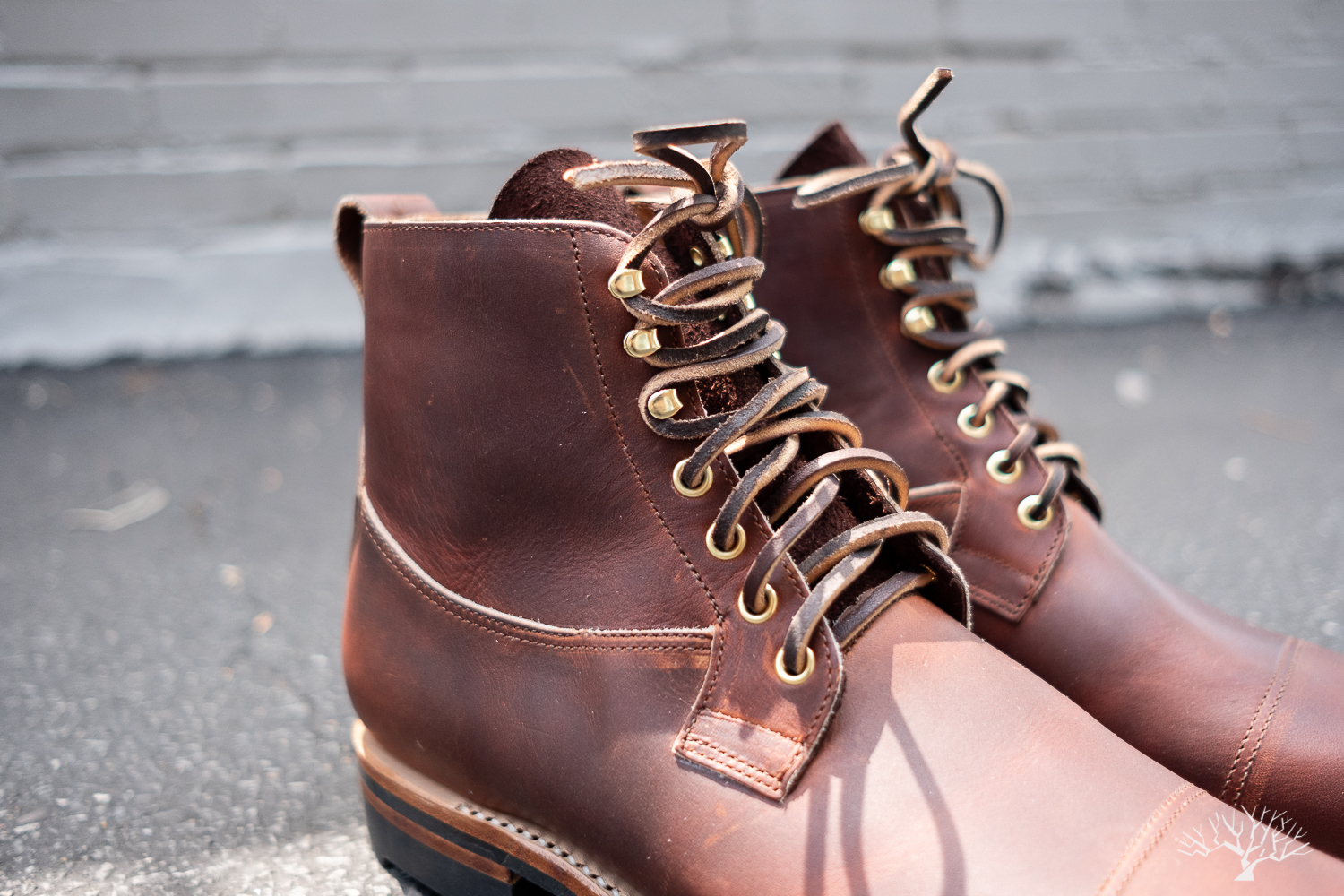 The Ridgeway sole is a first for us, and in general will be the default options for us if we're looking for a rubber half-sole option in lieu of the more commonly seen Dainite sole. In this specific case, the Ridgeway gives the boot a nice lift off the ground, while maintaining some of that sleek aesthetic. Certainly a Dainite would keep it even more low-profile, but we think the trade off in comfort is well worth the switch.
Our selection of the speed hooks was in part due to our desire to to have that sleek-yet-workhouse look and feel to it. Not necessarily meant for formal occasions, we think the Saddletan Chromepak Country Boot is much more suited as a daily driver in the concrete jungle of Manhattan, or on your next stroll through the prairies of the Midwest. And while the pull-tabs are standard on the Country Boot style, we would simply point out that we like how Viberg's pull tabs are relatively lower-profile than some other pull-tabs on the market. It reduces the possibility of your pants getting caught right above it.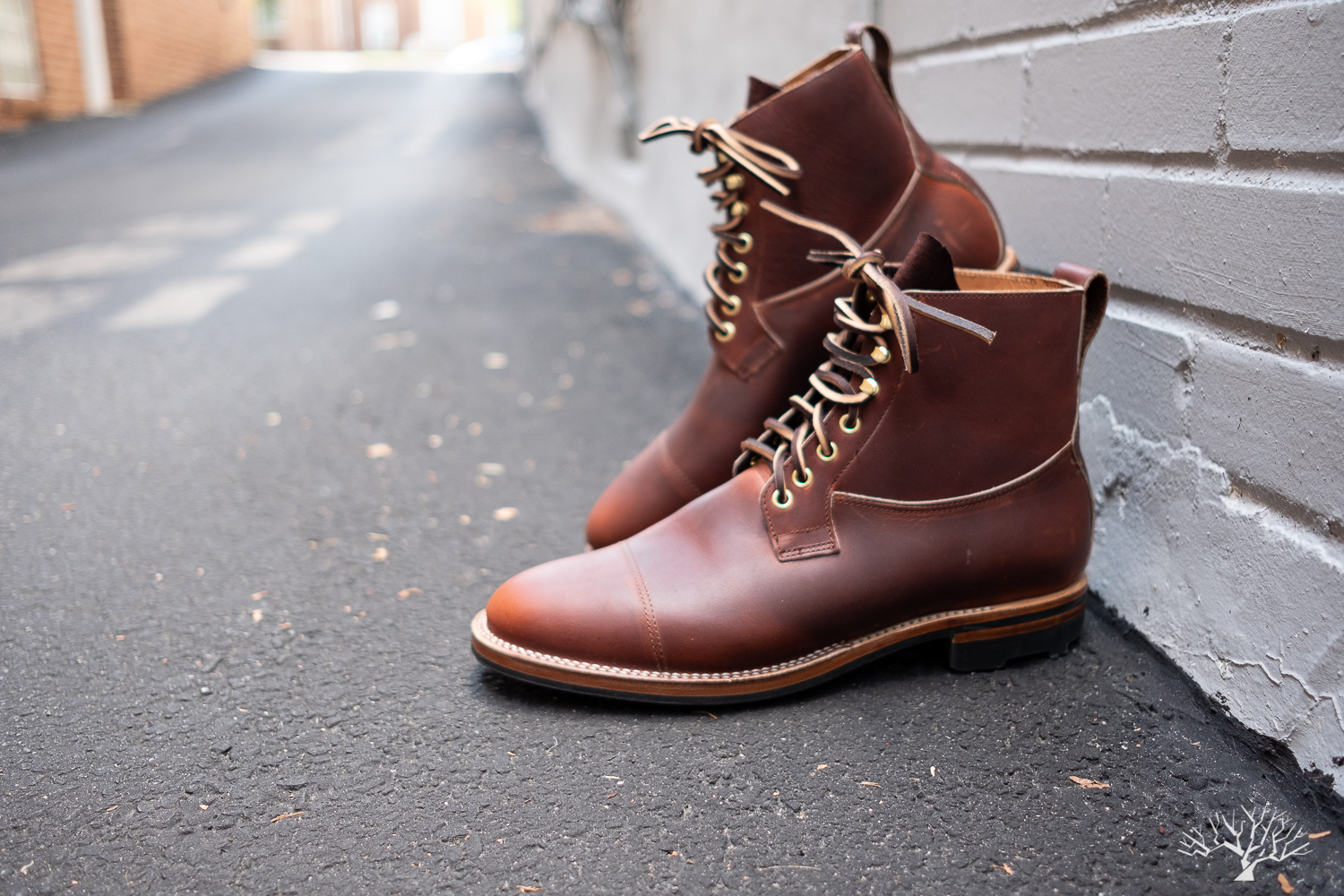 Sizing-wise, our general recommendation for these 2030 Country Boots is our typical 1 down from your Brannock size. If you already own a pair of 2030 or 1035 Service Boots, we would recommend taking the same size. The Country Boot style does have the feeling of being a bit larger/longer than the Service Boot style, but most people should not size down just because of that. We would say a small percentage of folks who currently only take 1/2 down from Brannock and desire a slightly snugger fit, could go down 1/2 size for a full 1 size down from Brannock. This should give you a slightly snugger fit.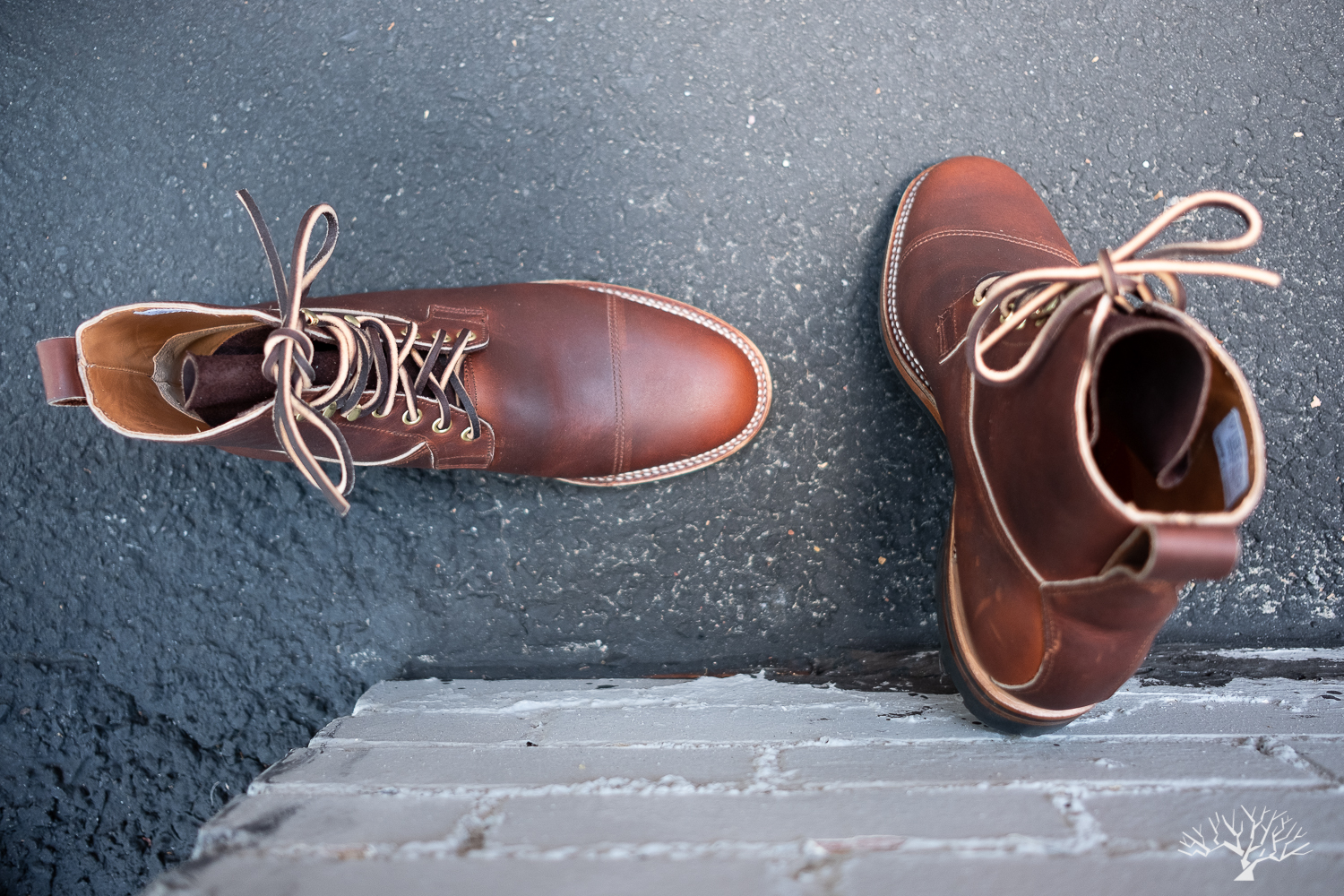 With that, we'll leave you with some comments from our friends @imustbefrank, @thread.and.steel, and @tichoblancoshoes. As many in the IG community can attest to, the people are really what makes the community special. Meeting people from all walks of life and having a common interest, to then working on a make-up together is what it's all about! Just some random dudes who love boots and have the opportunity to do something together. Thanks to Frank, Alan, and Patrick for being a part of the Withered Fig family!
As many of you know, I worked as an employee at Viberg Boot and worked first hand alongside Brett Viberg. I've also had the pleasure of meeting Richard (Withered Fig owner) in person several times. I was thrilled when asked to collaborate on this project with Richard and my other boot pals, Alan and Patrick. The Country Derby Boot is an underused boot pattern/model in my opinion. It has a both rugged and sleek look to it. The Ridgeway Sole will provide you with the traction you need to go stomping through the forest, then give it a quick clean up and head to your local coffee shop in the city. And what can you say about Chromepak leather, both so strong and versatile, it looks great all around. It only gets better with age as the oils and wax break up and mold together. You can be sure that I will put these boots through their paces, living out in the country myself. These will be my go to for Fall and Winter boots.
– Frank (@imustbefrank)
Model: From the beginning of the Prairie boot, Frank, Patrick, and I all knew that we wanted to design a model that wasn't a service boot. While the three of us have had numerous models of Vibergs, only one of us has a Country Derby Boot in their current collection. When we all realized that most of us were missing the model, we decided that we had to design a County Derby Boot. From the taller height, gusseted tongue, and longer vamp, we knew it was going to look great with whatever leather we chose.
Leather: Anyone that has talked to me likely knows that Chromepak is my favorite type of leather. When we were deciding on what leather to go with for this makeup, I immediately knew I wanted it to be Chromepak. It seems like Viberg hasn't used it in a few years, so I was excited about the opportunity to bring it back into their lineup with this Saddle Tan shade. When I received these Country Derby Boots, it confirmed my love for it even more. The depth of color that you get from Chromepak is unbeatable. From an almost deep purple to a bright reddish hue, it's ever changing depending on sunlight and wear. Any scuff seems to show the brightness of the shade which is guaranteed to look even better with age. I've been wearing these for about a week now and they've already broken in wonderfully.
Additional Features: All of us are suckers for tongues that are different than the rest of the boot. Whether it's a different leather all together or reverse what is currently used, we just wanted it to be unique. For the Prairie boot, we decided to use a Brown Oil Tan Roughout. The sole was an automatic agreed upon choice with Ridgeway being a favorite for all of us. Eyelets also weren't too much of a discussion since we all didn't want blind eyelets and were keen to add some contrast.
Sizing: I found the sizing for these to be a tad bigger than my service boots of the same last and size. I'm not sure if it's the Country Derby boot model or if it's just sizing inconsistency. I'd say if you like your boots to be tighter than go down another half a size. If you want a little room stick to your normal Viberg sizing. I went with my normal 2030 size and just threw in an insole and it works great.
– Alan (@thread.and.steel)
I have been a big fan of British country boots for years. Something about the marriage of a utilitarian boot meant for outdoor use with a certain level of refinement has always made sense to me and been a pillar of my style. With this saddle tan chromepak country boot we leaned into that country aesthetic but made it more North American with a great shade of chromepak. I'm still going to wear them with tweed trousers but I'm not hunting pheasants in them. Mostly they'll get worn on hikes in the rocky meadows of rural New Jersey. Chromepak is a leather that looks significantly better with a lot of wear, part of the inspiration for these came from Frank and Alan's other well broken in coffee chromepak boots. The heavily oiled leather has a super unique feel and matte finish that makes them stand out from other country boot options. The shiny brass hardware provides a pop of contrast and the Ridgeway sole provides a ton of grip while maintaining a sleeker profile.
– Patrick (@tichoblancoshoes)
As always, thanks for reading and supporting our Viberg for Withered Fig Releases!
The Prairie Country Boot will retail for $700 and be available in sizes 6.5 – 12. Releasing Friday, August 7th at Noon EST on Withered Fig. Shop our Viberg collection here.