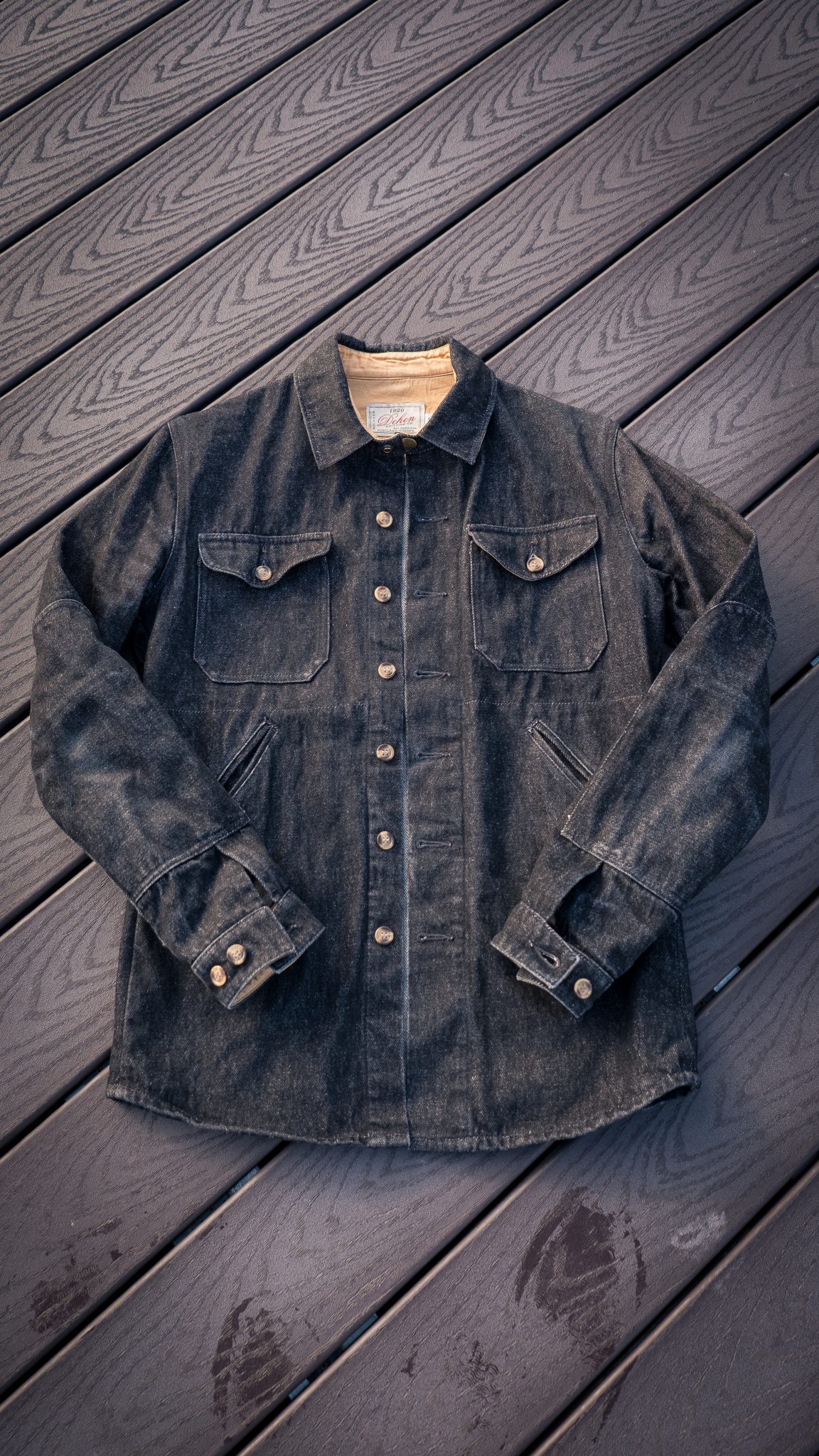 We've got a one year review of the Dehen 1920 for Withered Fig Black Denim Crissman Overshirt lined up below, courtesy of our guest writer John, aka @newenglandmenswear. We love putting out these Worn series, as they can really highlight some of the unique characteristics of an article of clothing. Unfortunately, time and available torsos are often an inhibitor for us in being able to pump out more of these. Fortunately, in the case of the collaboration with Dehen 1920 for our 2019 Black Friday Capsule, John picked up our Black Denim Crissman collaboration piece and has put them through quite a few cycles. We reached out to John to see if he'd be interested in being a guest writer for this latest in our Worn series, which he happily obliged. We are so thankful for awesome customers who support the few collaboration pieces we've done. Now, read on below for John's take on this beautiful Crissman overshirt.
INTRO
---
Dehen 1920 has become a pretty recognizable and popular brand, especially in the last decade or so, with the heritage style enthusiast. They produce a range of phenomenal outerwear, with notable pieces including their N1 Deck Jacket, Flyers Club, and Varsity jackets, as well as an impressive selection of cardigan and crewneck sweaters.
Dehen has been producing their popular Overshirt, the Crissman, since 2015. Its versatility as a layering piece, as well as a wide spectrum of available fabrics, have made the Crissman an iconic piece of the Dehen catalog. The Withered Fig exclusive 14oz black denim Crissman is a beautiful combination of style, fit, and fabric designed to elevate the already-exceptional makeup.
I've owned my personal Crissman for just over a year, and recently gave it a much-needed wash. It was, and still is, an undeniable favorite in my closet. I'll try to go into some of my favorite notes about the style, fit, and fabric below, as well as an update as to how it looks after a good year of ownership.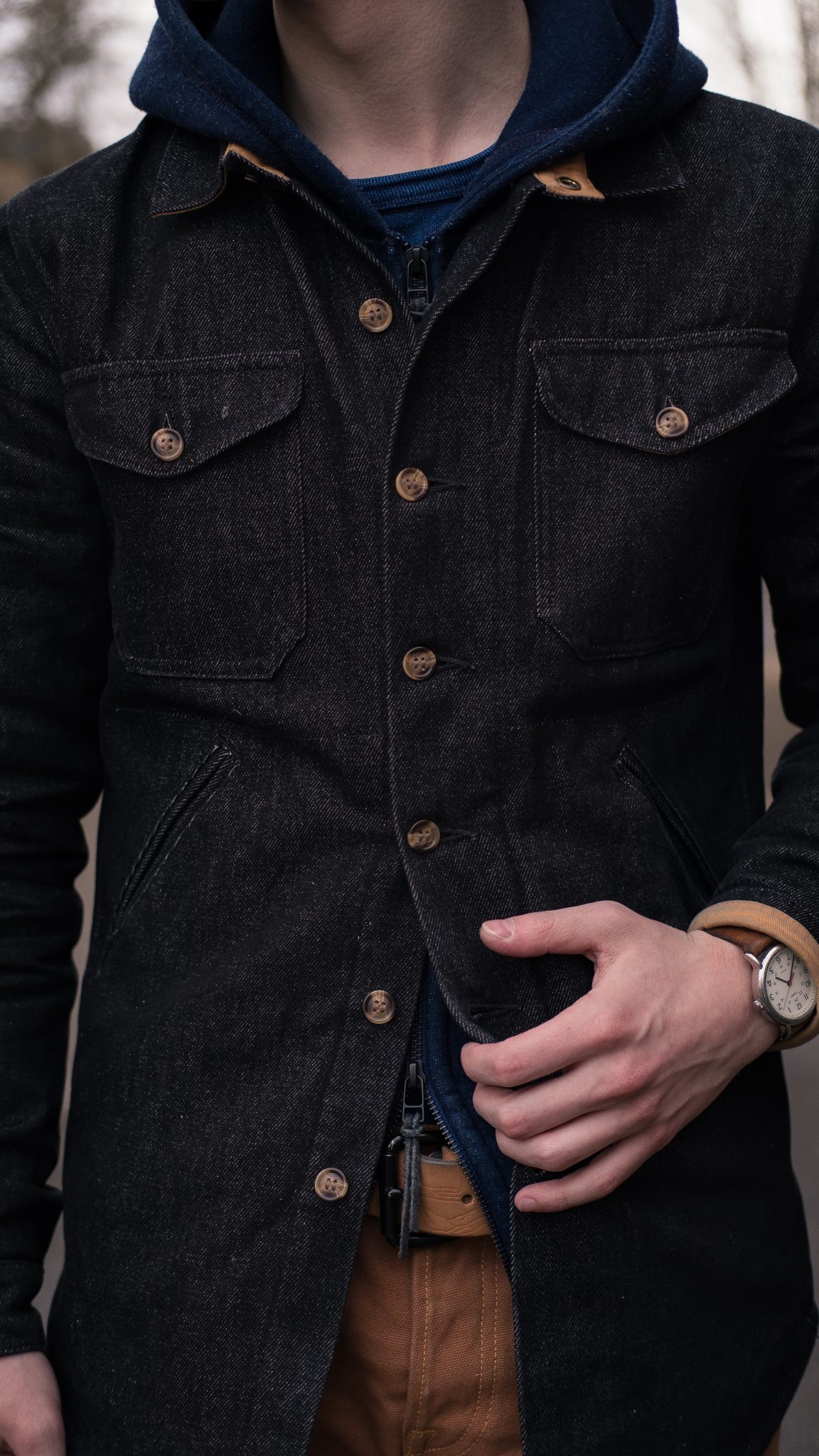 STYLING
---
Black denim is black denim. It's exceptionally easy to pair black denim jeans with other colors, but I'll admit, I was a little nervous about how well I'd do incorporating the color as an outer layer; I typically stick to earth tones in my wardrobe, which has made black a bit of a challenge at times.
I should never have worried. The black warp/white weft combination is very forgiving as a color scheme when worked into multiple-color outfits. The addition of the marbled acorn buttons, as well as tan lining on the cuffs and collar, provide a nice contrast of color that breaks up the black. The denim itself doesn't have an "inky" black color – it's almost "bright" in a way, as well as black denim can be. I have found that I do enjoy pairing it with whites and greys, but it also matches very well with tans, greens, and blues in the right outfits.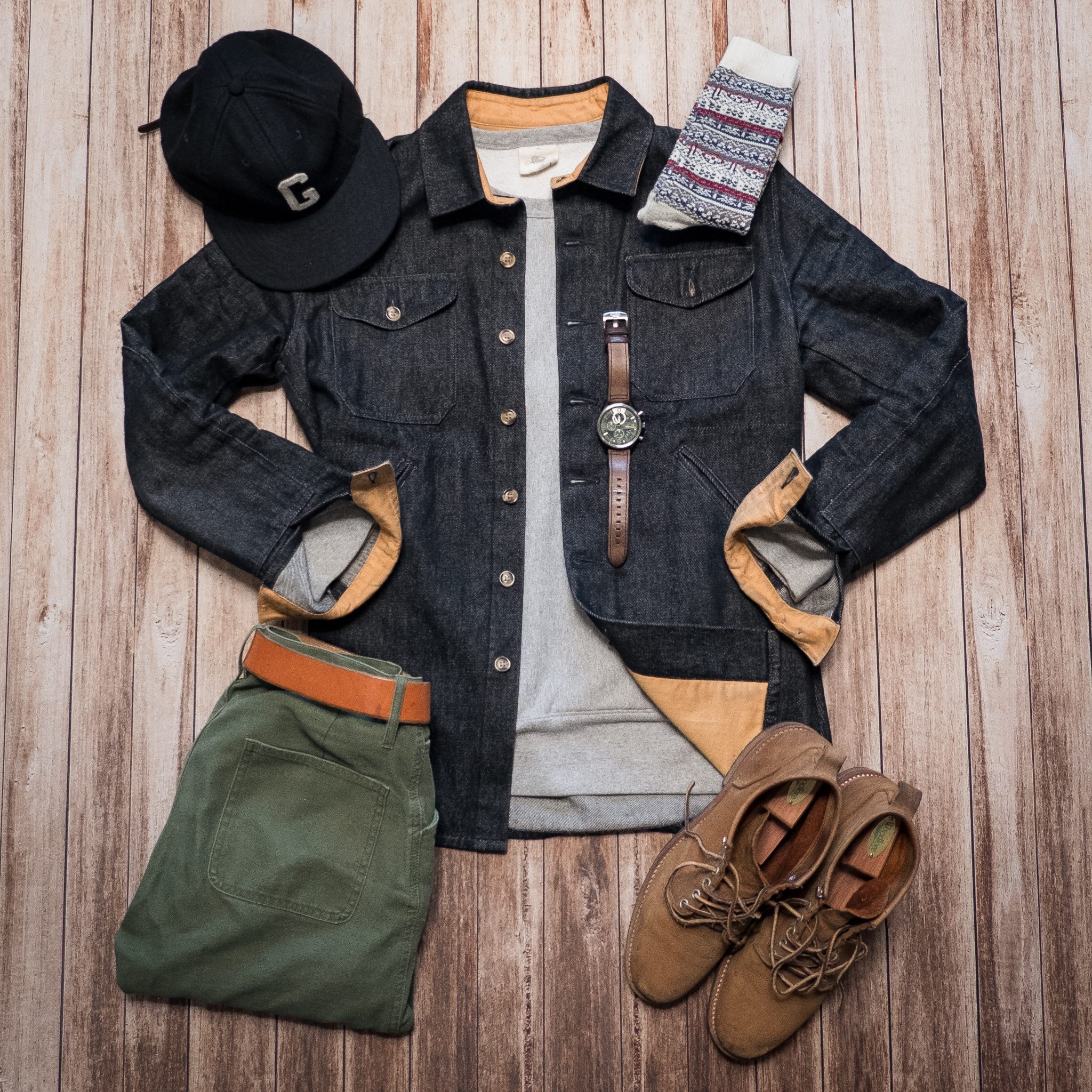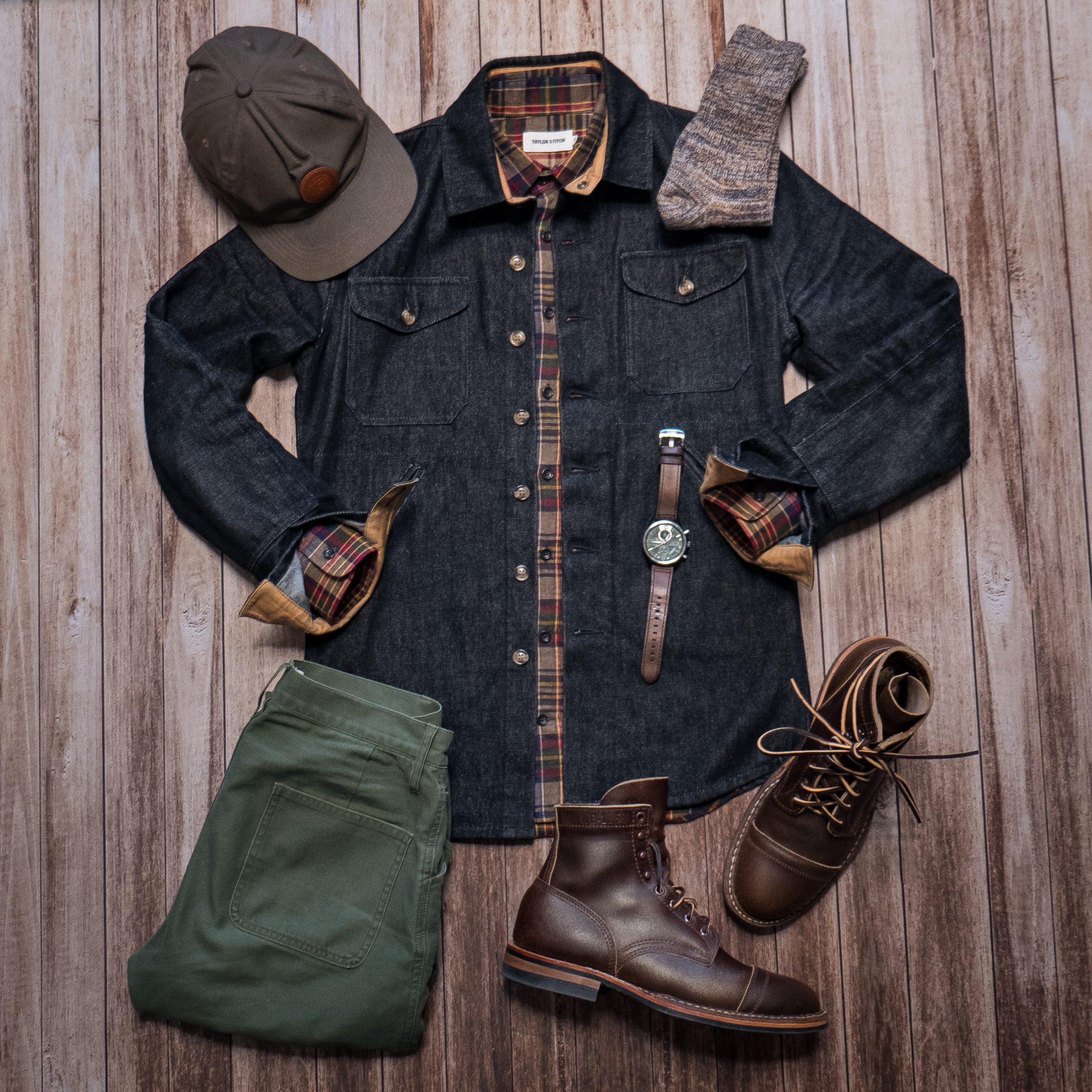 The beauty of the Crissman is that it's right at home in casual outfits, but it has the ability to dress up – albeit slightly. You're not going to wear this to any black tie events, but it's been right at home with me in the classroom. If you're going to a job with any type of business-casual attire allowed, this is going to be real easy to work with, I'd estimate.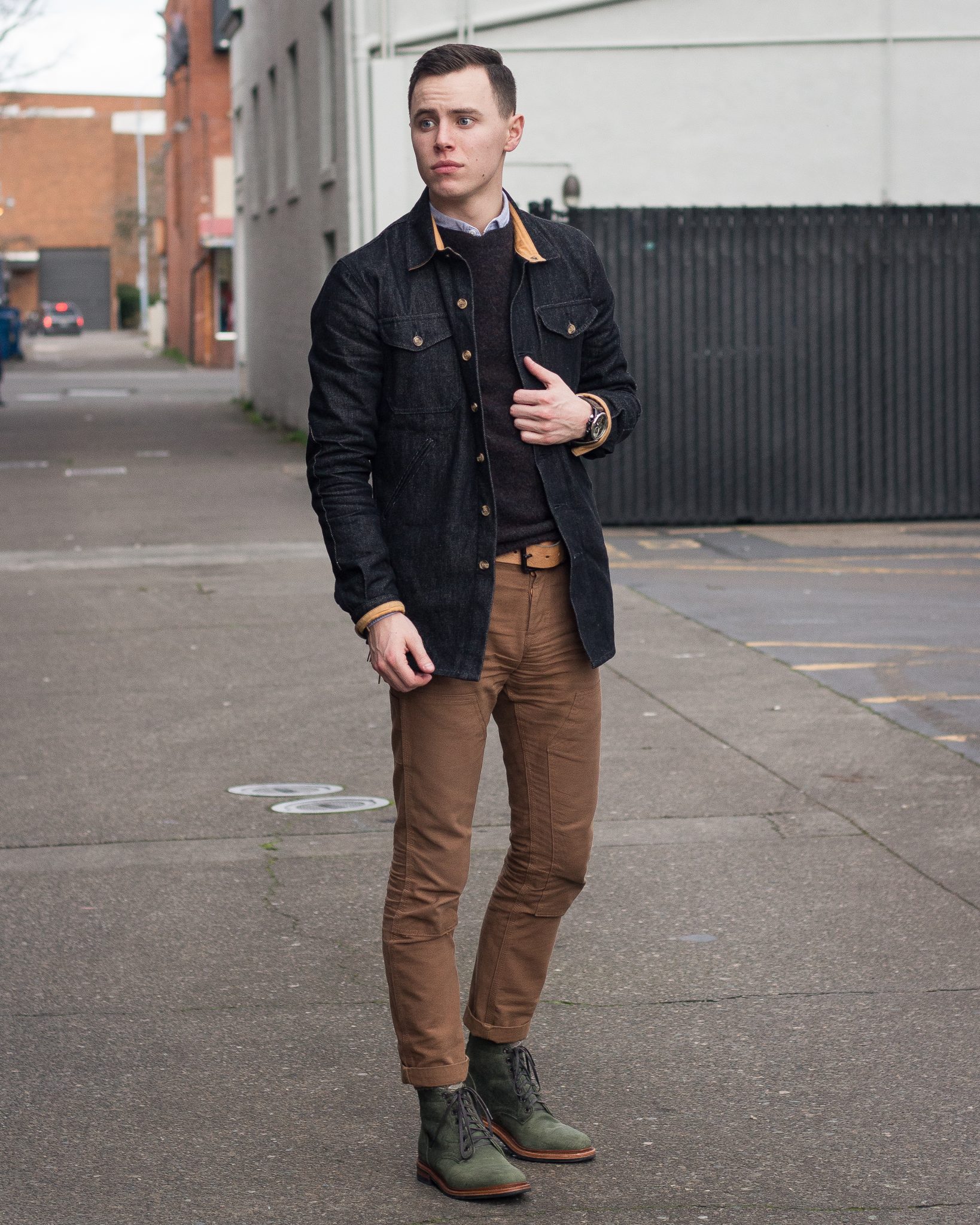 FIT
---
The original Crissman sizing fits pretty big, so I was really happy to see that Withered Fig developed their own fit for this version. I'm 5'9' and about 140 pounds, and the small in the WF fit is right on the money for me. For reference, I take smalls in a lot of my other Dehen gear, but fit an XS in the standard Crissman fit. The small fits slim over a shirt and second layer, like a sweater or sweatshirt, and easily layers as its own second layer, over a flannel or t-shirt. If you are looking for a slim fit, I'd say to stick with your traditional size. For a fit similar to the traditional Crissmans, you might want to size up.
I didn't notice a lot of stretch in the shirt with increased wear, but I did feel that it shrank slightly with a cold wash and hang dry. Any shrinkage in the chest or shoulders feels like it's expanded back out after a couple wears, but the sleeves and body length definitely had a slight shrinkage to them – which is why the elongated WF fit in those areas out of the box was a treat.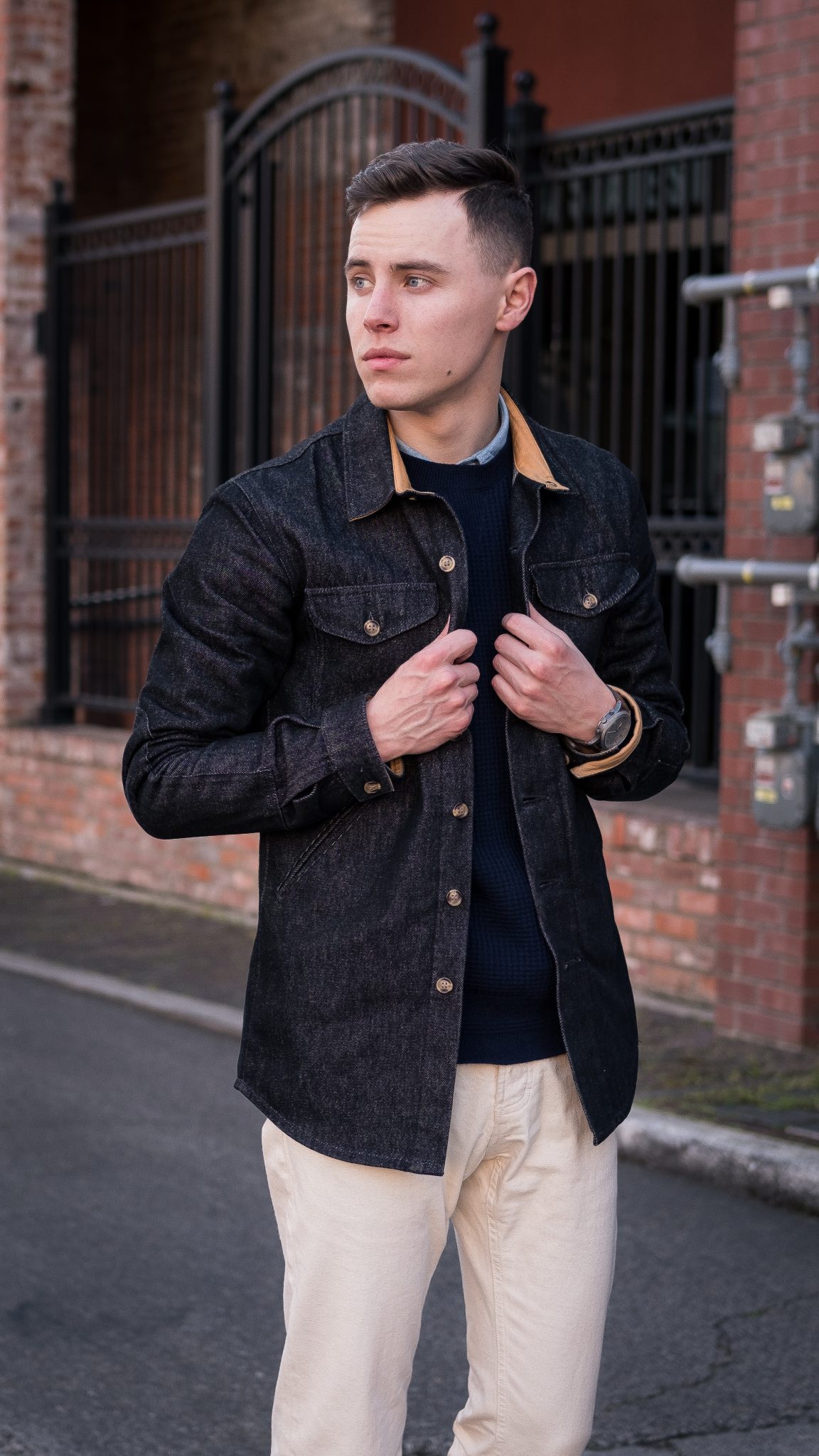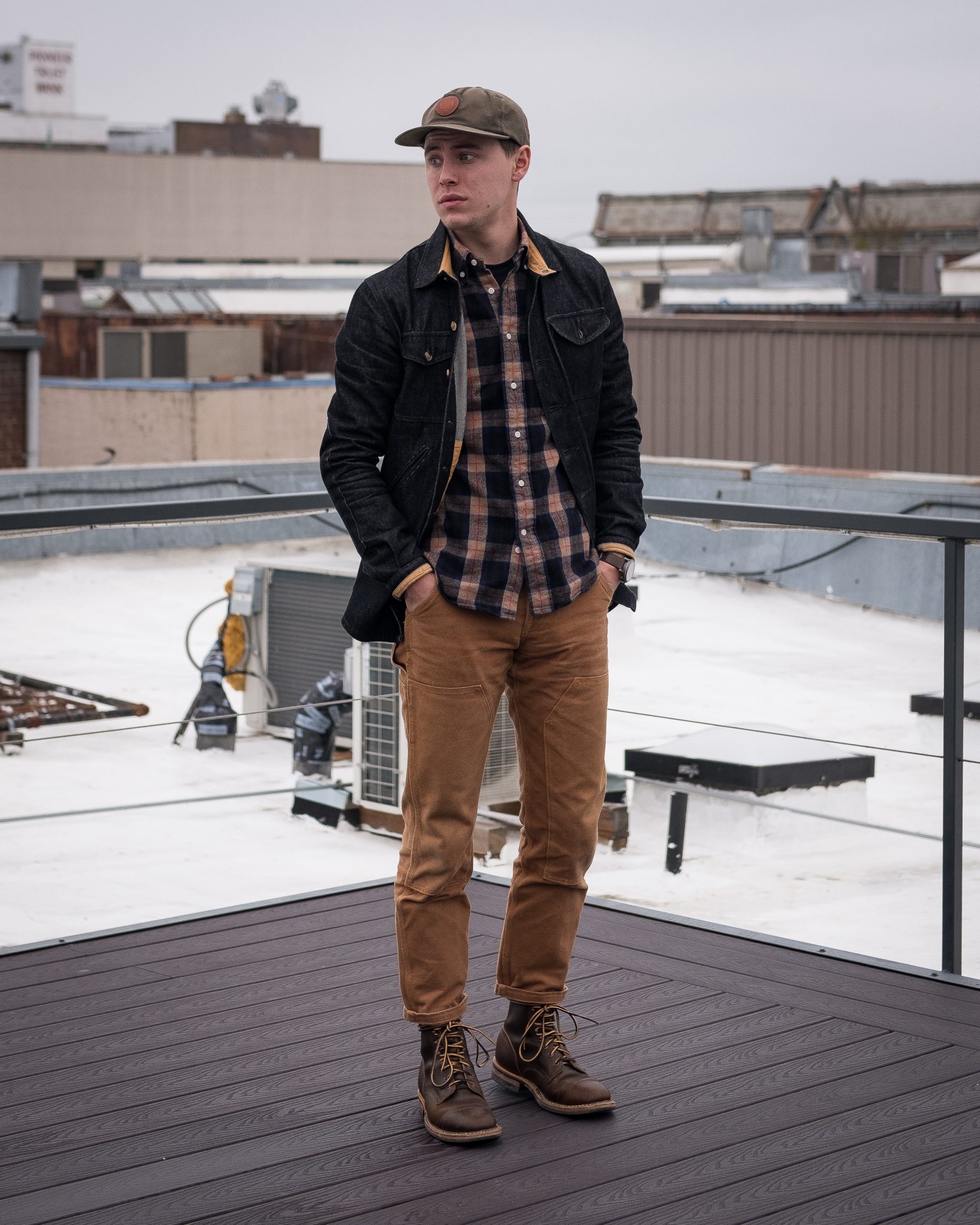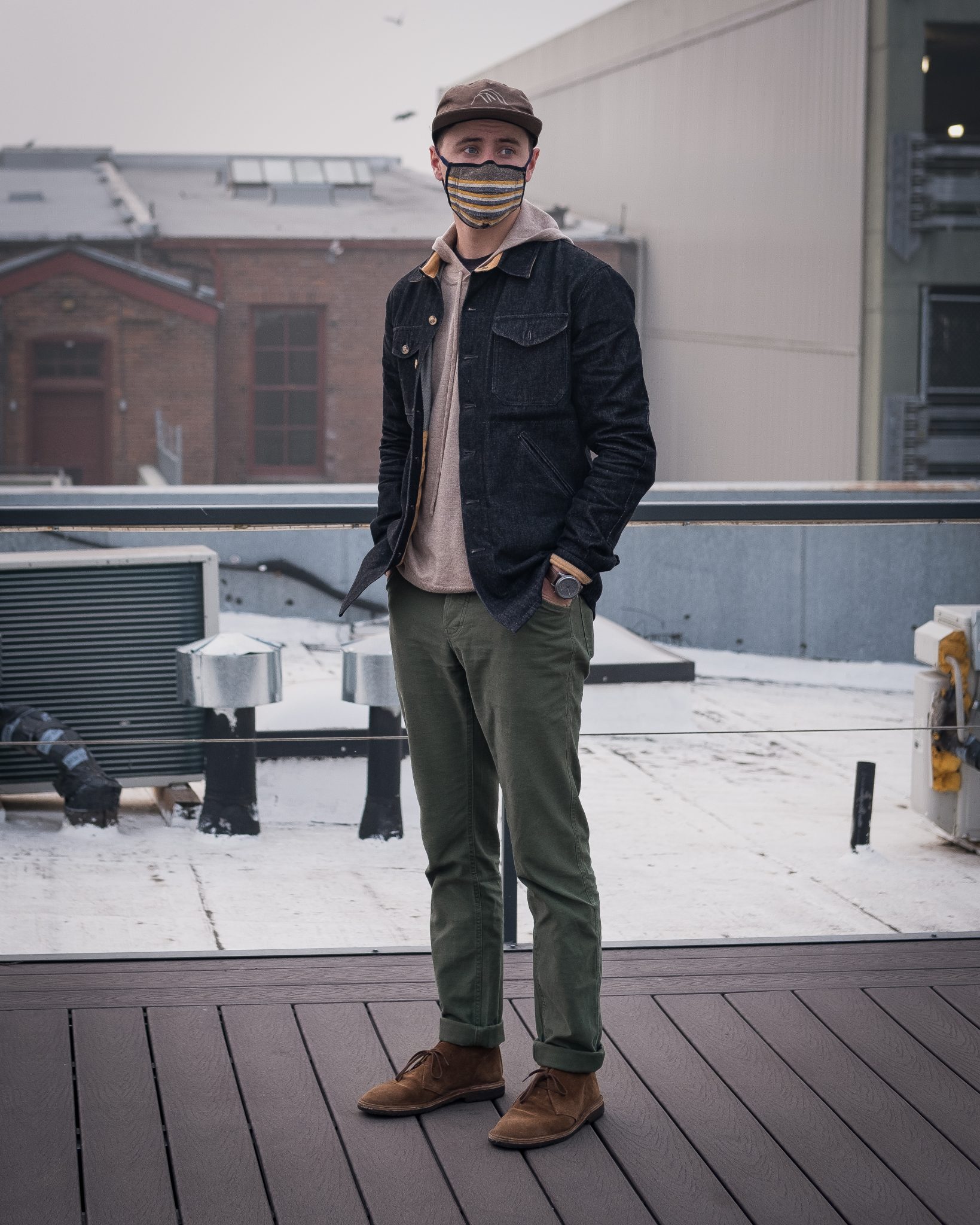 FABRIC
---
The 14oz denim is special on this overshirt. It's not so heavy that you can't layer it, but not so thin that you feel like it's out of place as a fully outer layer. I'd say that on its own, it's a pretty dependable layer down to the 60 degree range. Throw it over a sweater or sweatshirt, and you can increase that into even colder temperatures.
By lining the collar and cuffs, the shirt feels comfortable against your bare skin; that might sound a bit weird, but it's never a good feeling to have to adjust your shirt so that a rough outer layer isn't uncomfortable. I've worn this over a t-shirt only multiple times, and never felt that the fabric provided any discomfort.
Naturally, a great point about denim is the fact that it softens with wear – the sleeves on this aren't lined, so you can definitely feel the impact of the denim softening. I had a chance to see some unworn editions on my last trip to the Dehen 1920 factory, and I was pretty surprised at how stiff the fabric is when unworn. It's really a treat seeing how well the denim wears in.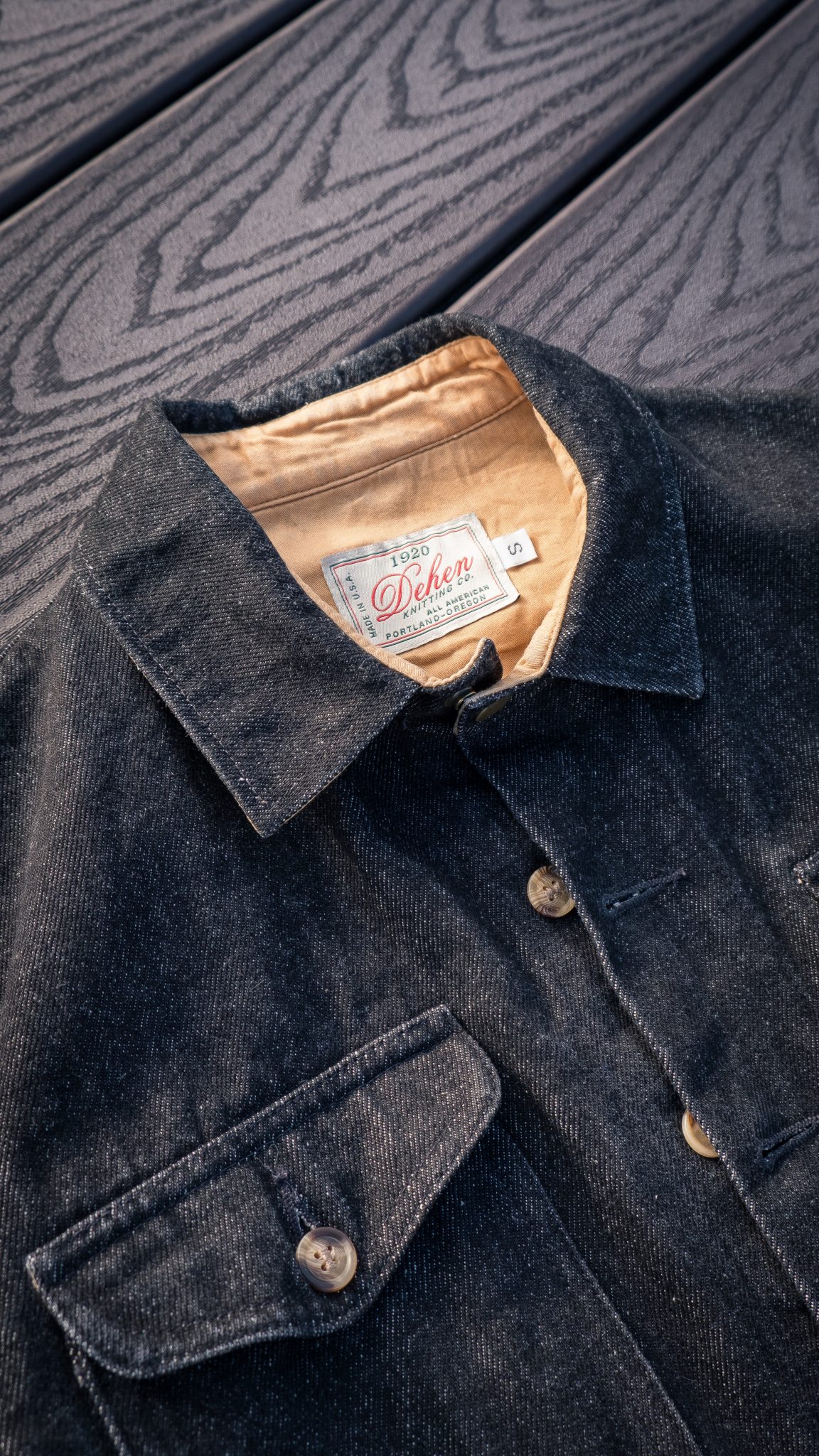 ONE YEAR
---
2020 has been a tough year for putting together outfits and breaking in pieces, especially the ones that look best after a few wears. With that said, I'd estimate that I've worn this overshirt somewhere between 50-75 times in the year I've owned it. It's been on a cross-country trip, in and out of my classroom, and on multiple outdoor excursions with me. I've always felt that it's an easy piece to throw on – it doesn't really matter what else I'm wearing, because it really does go with just about anything.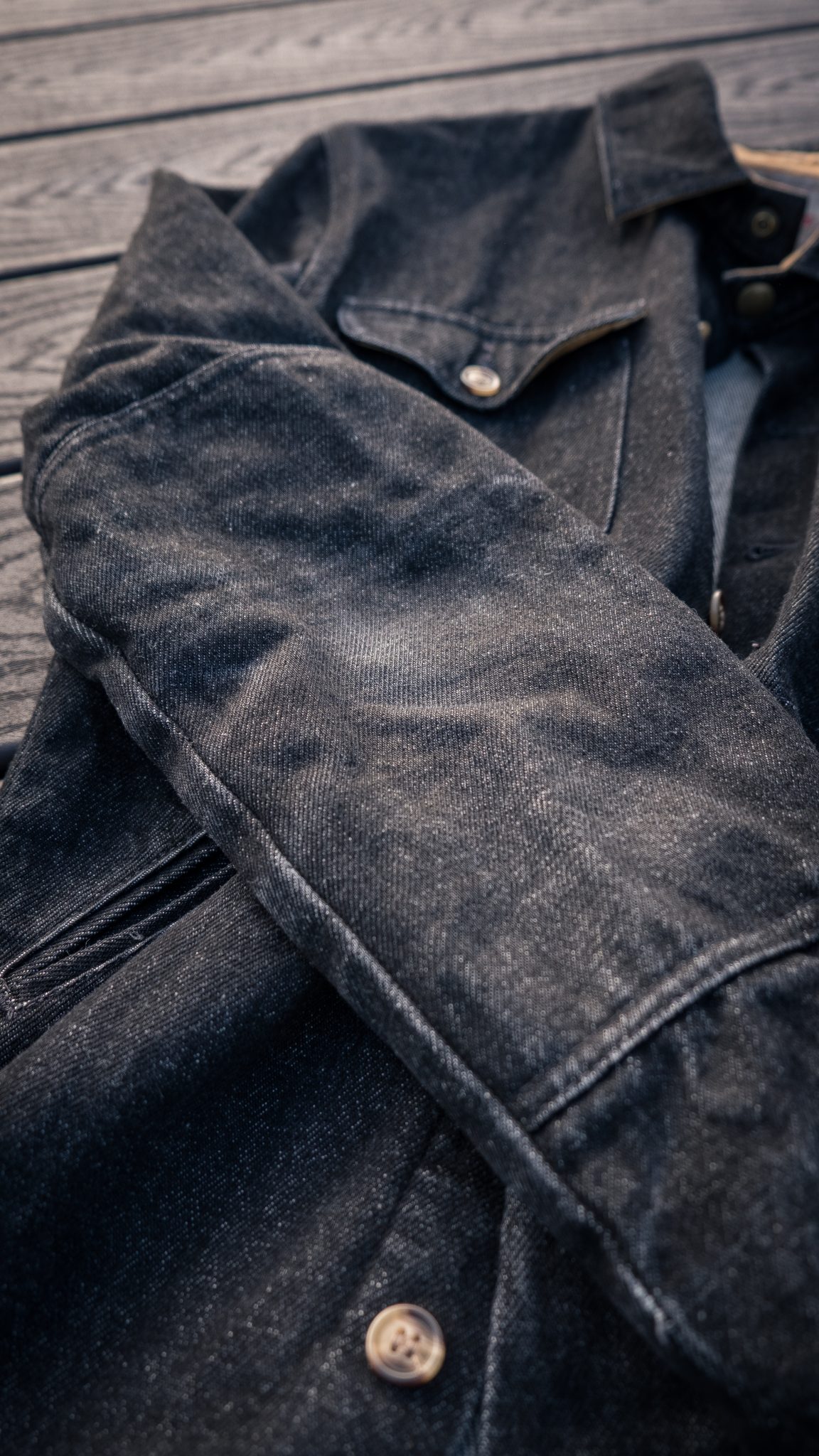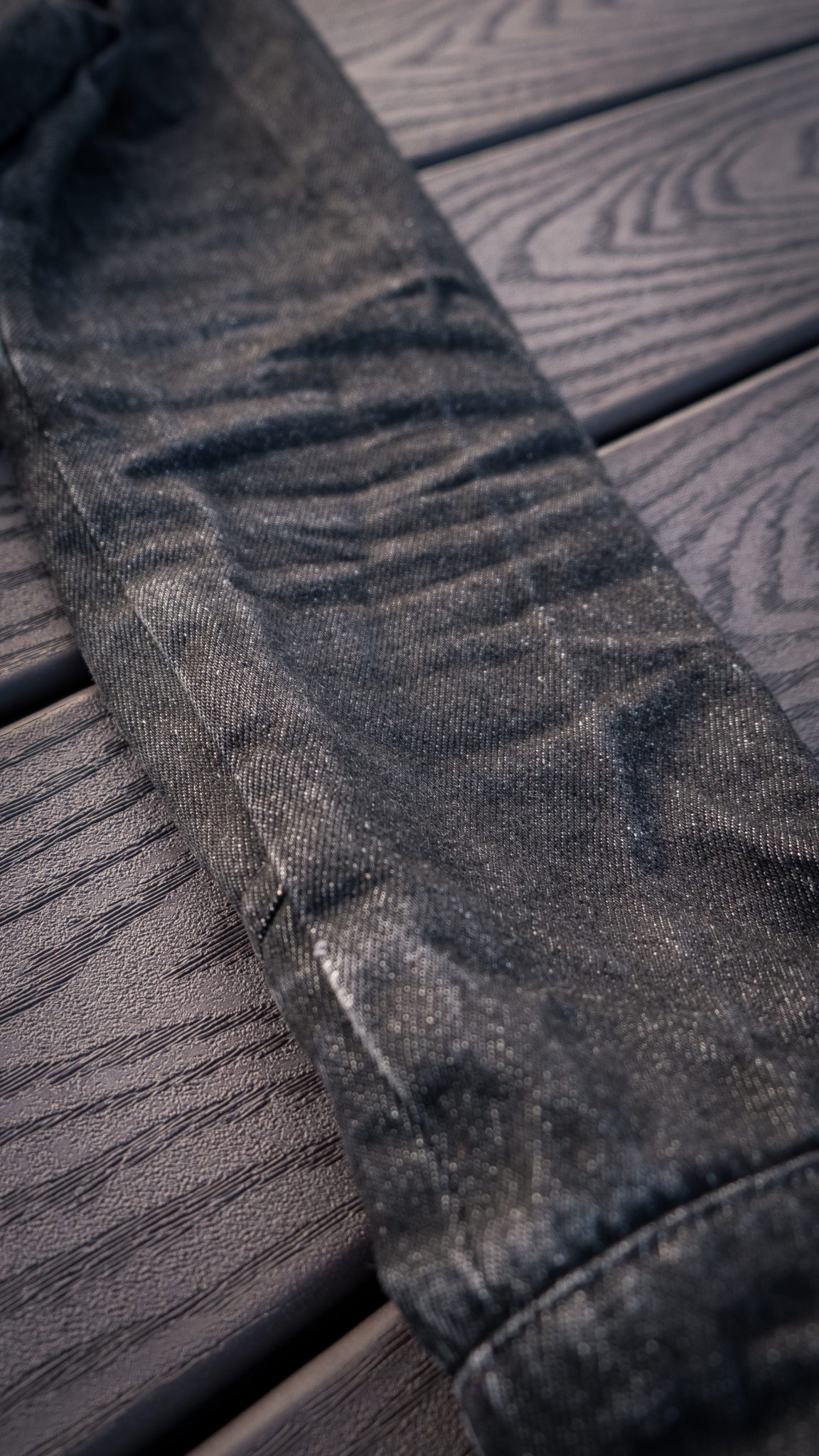 I'm not great about washing outerwear pieces, and I do consider this to be more of an outerwear piece. As a result, I gave it its first real machine wash and hang dry in the last month or so. The denim has definitely faded a bit in some of the high-wear areas, like the elbows, cuffs, and hip pockets. The greys that are produced as a result really do look great; sometimes black denim doesn't wear in beautifully, but this really does. I was insanely happy with how it looked following that first wash; it essentially reignited my interest in wearing it in – just like that feeling when you get a new piece of clothing.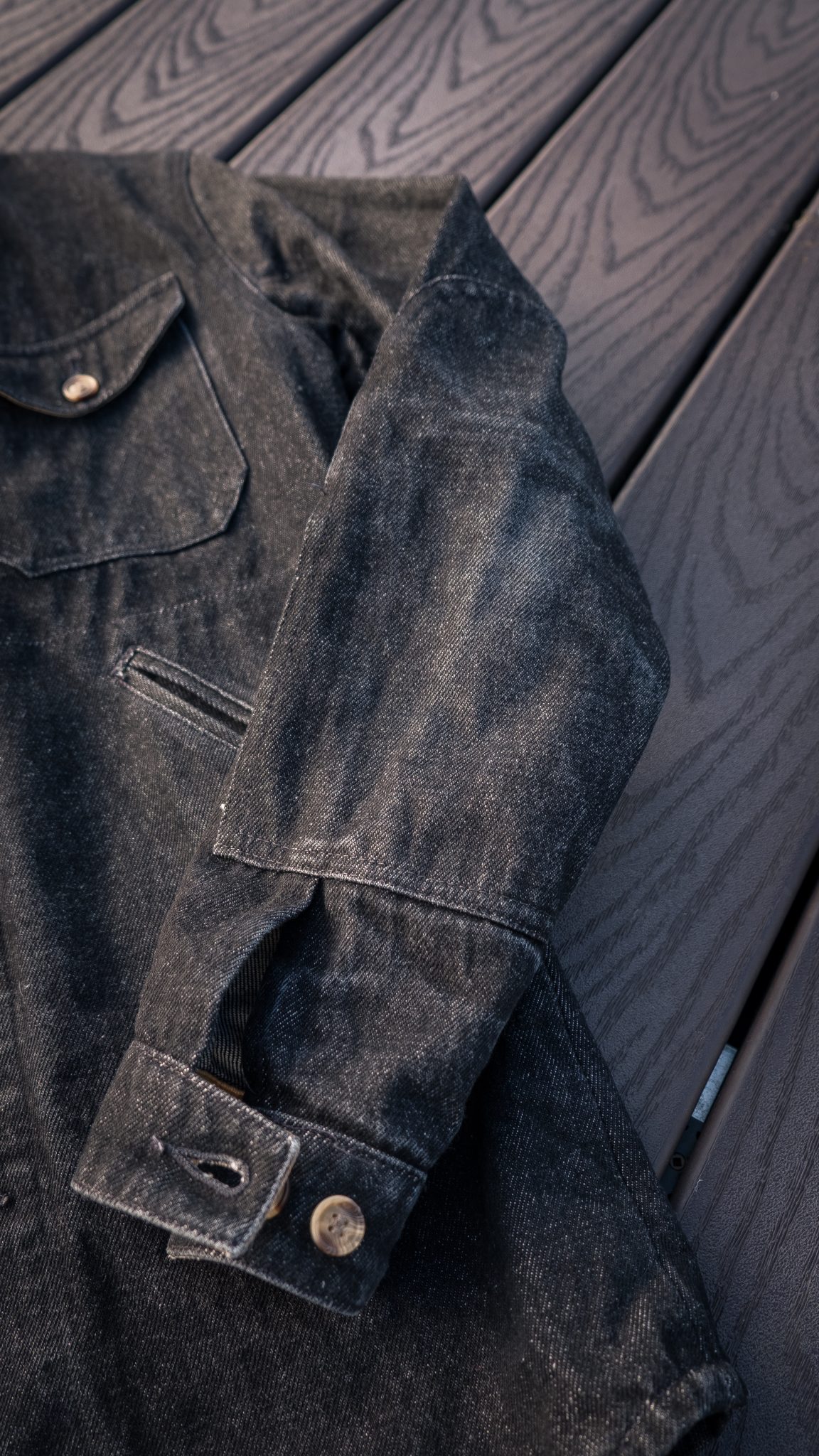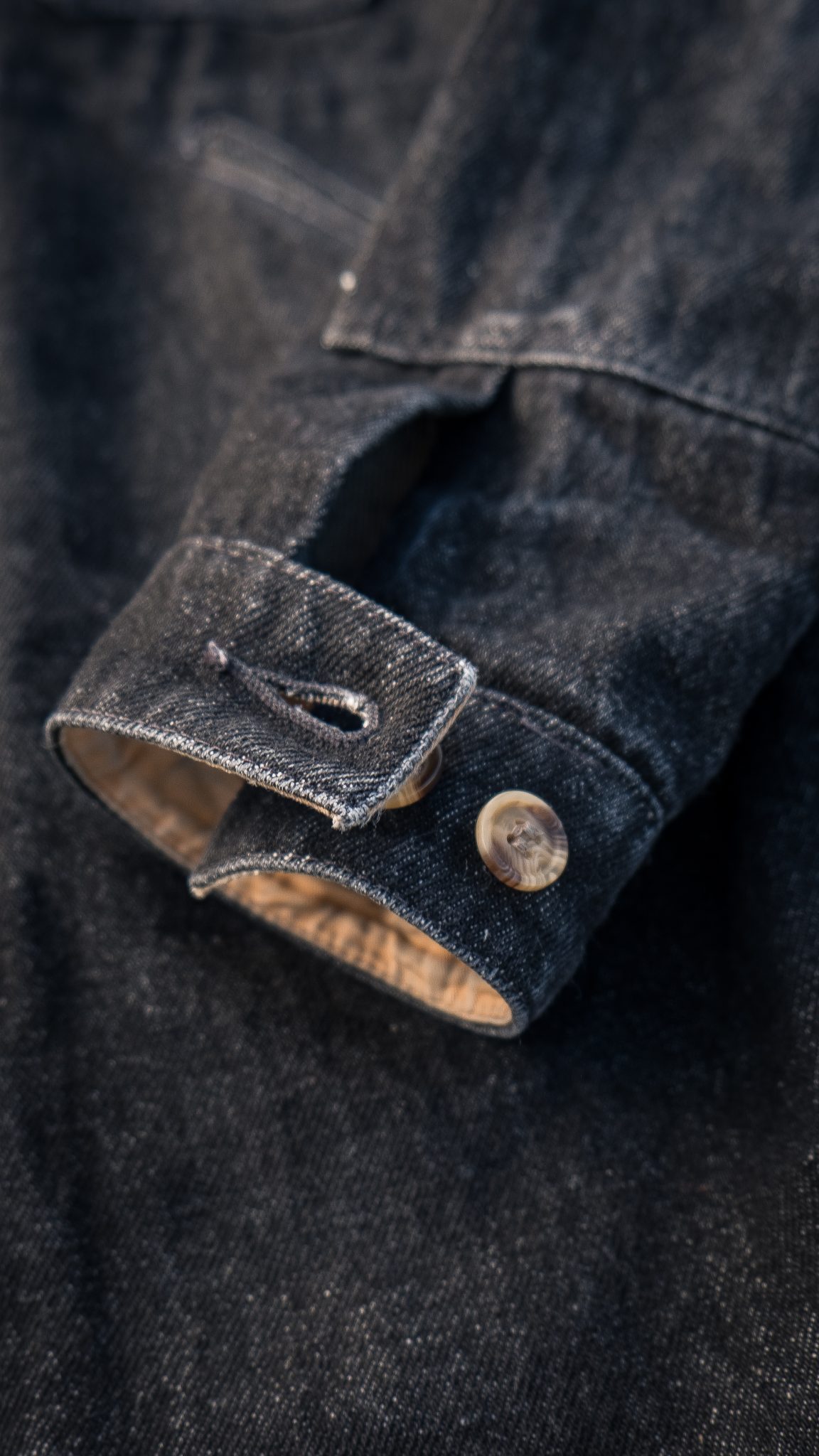 As I said, the fabric out of the box is pretty stiff, and it got some of that stiffness back following the wash. That went away after one good wear, and it's now back to the nice soft feel that it had pre-wash.
I expect all my Dehen gear to hold up to use well, and this is no exception; I was almost surprised that it had already been a year since I picked this up. I expect this piece to remain a staple in my wardrobe for many years to come, and really can't wait to see how it looks at the 2, 5, 10, and even 20-year marks. The only thing I'm concerned about is making sure I can still fit in it.
---
The Dehen 1920 for Withered Fig Black Denim Crissman Overshirt is available now in select sizes that remain on our webstore here. While we have been able to restock some sizes throughout the year with excess fabric, the remaining stock we have now is all that will be available, and this collaboration piece will not be restocked. Shop our full Dehen 1920 collection here.