UES is a new brand for Withered Fig that we brought in Fall 2020. Their Heavy and Extra Heavyweight Flannels get a lot of attention for their heft and solid value, but their 400 lot denim is what originally attracted us to this brand. Most pairs of denim you will find on their Instagram showcase this 400 lot denim, which we carry in the 400T and 400S cuts, and reveal how beautiful they look after some washes and wear. Although we've only got a four months on this pair, it's lightened a decent amount, and so we wanted to document how this pair shows before we get too far along.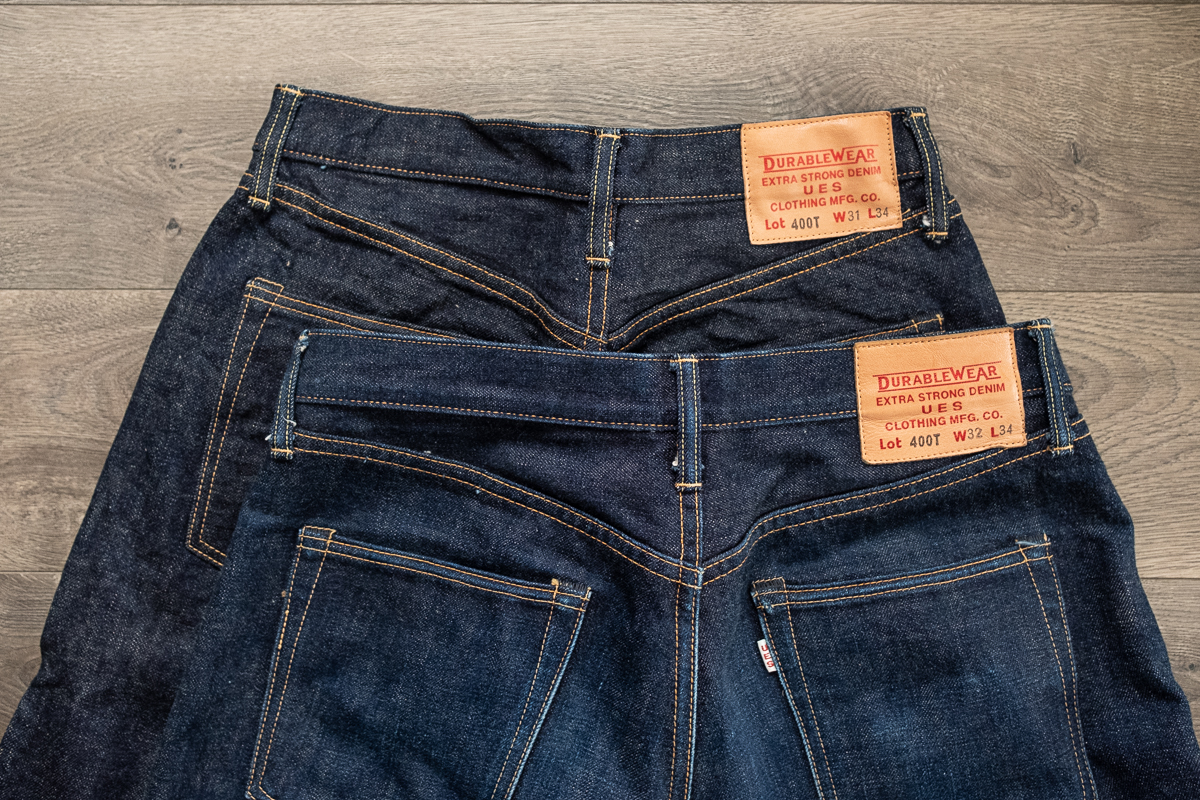 INTRO
---
The UES 400T denim is one of their newer cuts of their standard 14.9oz 100% Zimbabwe cotton selvedge denim, which is their main fabric used across many different cuts as well as in some of their denim jackets. For those new to UES, they are a small Japanese company based out of Osaka, Japan and with relatively little exposure in the USA. They produce the 400 lot denim in six different cuts/styles from relaxed cuts to slim tapered cuts. For this review, I will be focusing on the Tapered cut (400T) as far as the fit, but all other aspects obviously apply to the other cuts in the same fabric. For those looking for a pair that fades well and will produce a washed out vintage look, this pair might be right up your alley.
STYLING
---
The UES 400T denim comes in your standard indigo warp, white weft combination and is a fairly common shade of indigo you'd find off the rack. Accordingly, I'll keep this section fairly short. As with most other denim of this color, it makes for an easy one to pair with any of your other clothing that you'd typically wear with denim. You can see how I paired it here with my Iron Heart Khaki Corduroy Jacket – which is one of my favorite looks – that is, the corduroy jacket with a white tee and denim. Another here with some lighter/brighter colors on top, always a nice combo with indigo denim. In general, it's hard to go wrong with anything you might have. As it fades in a little more, I'd anticipate it only looking better when considered with your overall outfit.
FIT
---
The UES 400T denim is their tapered cut, with a decent top block and slight taper from the knees on down. The rise is on the medium-to-high end with an adequate amount of room in the thighs for those who need that space. The taper on the 400T is not as strong as I typically like, but it's certainly no issue for those who don't want a super strong taper or a slim leg opening. In general, because my Viberg 145 Oxfords and Slippers are part of my regular rotation, I tend to like just a tad more taper than what the 400T offers. If I was just in boots all the time, the taper off the rack is probably just fine. I wore these for the first four months without any changes, but once I gave it my first wash, I sent it in to Railcar to get them tapered. So the Fit photos you see here are more tapered than what you'd see off the rack. You can see how the original pair looks on the product page here.
These generally fit true-to-size (TTS), meaning you can take your typical denim size. I generally consider my regular denim size as 32, and it may go up or down 1 depending on the brand and the specific cut. For example, I wear 32 in Railcar Spikes, Iron Heart 555, Shockoe Standard and Slim, and 3sixteen CT and SL cuts. However, due to the slim cut in the thighs, I wear 33 (one up from my "regular" size) in the 3sixteen ST and NT cuts, as well as if I wore the UES 400S (Slim Straight). Additionally, due to how much more room there is in the top block, I wear 31 (one down from my "regular" size) in the Railcar Journeyman. The 32s in the 400T fit pretty spot on for me, and given that these are one-washed, I did not have to worry about how much it may or may not shrink after a wash. These will stretch about 0.5″ to 1″ in the waist upon several wears, and other high tension areas (crotch, upper thigh, etc.) may loosen up just a tad, but not so much that you can expect to stretch that area out a full size larger.
But as always, please check the measurements and compare to your best fitting pair. As a reminder, how we measure our denim is posted on the Measurements Page.
FABRIC
---
As I hold a new pair in my hands, what sticks out to me the most is the nep and the unevenness of the weft that peaks through the warp. UES notes that due to their old style shuttle looms with old dyeing methods, the result is this fabric that has an uneven nep and dye. I'm not sure if it's because these are one-washed from the factory and so it has a wavy look and crunch to it, but there is an unevenness to the indigo dye that makes it not as uniform as other pairs we stock. It truly is unique in that sense. The hairiness of the fabric is also hard to ignore, as you might be tempted to try and run a lint roller over your pair once you get it, but it's one hundred percent normal and gives it a slight gray / muted tone to the overall look.
As we note on the UES 400T product page, at face value, this is a no-frills pair of denim. It doesn't pack any of the ohhs and ahhs you might see from other types of specialty denim in terms of slub or color, but it still packs a bunch of details beneath the surface. Small details that only denim folks will really care about, things such as raised belt loops, raised back pocket and front pocket hems, hidden rivets, orange and yellow threads for different seams, and a nice larger(er) canvas pocket bag to fit your extra large mobile device.
The pockets on these are one thing that I truly appreciate when compared to other Japanese denim brands. Too often, I find that the Japanese brands tend to have smaller pockets which means the larger phones of today tend to feel too large in your pocket. This is a welcome change on the UES 400T denim.
FOUR MONTHS
---
I've probably given this pair a good 40-50 days of actual wear, and just this one wash recently at the four month mark. The denim has softened up as expected, and feels much lighter than I would expect for a nearly 15oz fabric. It makes for a comfortable pair that I think is well suited for year-round wear. Although it probably is better suited for the Spring through Fall seasons due to how light it does feel.
As far as the fades, the knees have gotten the most wear, with some white and light blues showing. The crotch area has also naturally seen quite a bit of wear, with some whiskering starting to come in on the front. Most of the raised areas (belt loops and pocket hems) on the back side are also showing some nice fading.
The initial light grey/white hairiness that was readily apparent at first is now a bit more subdued. I'm sure washing it had something to do with that. That said, anytime you get within a 1-2 feet of the fabric, you still see all the hairs and fibers sticking out, and even more so when you have sunshine directly on it. It's a really cool fabric to look at.
I typically wait until the six month mark to wash for the first time, but I got some food on it and figured I might as well take the opportunity to wash and get them tapered a little more. If I get regular wear in, I typically will wash my pairs once a month thereafter, so these should considerably lighten up over the next year as I get in another 8-12 washes (of course if I don't wear them enough, I will probably skip a wash).
---
The UES 400T Tapered Selvedge Denim is available on our webstore here; and also available in the 400S Slim Straight cut here. If your size is out of stock, please e-mail us as we plan to have regular restocks of this style each year. Shop our full UES collection here.