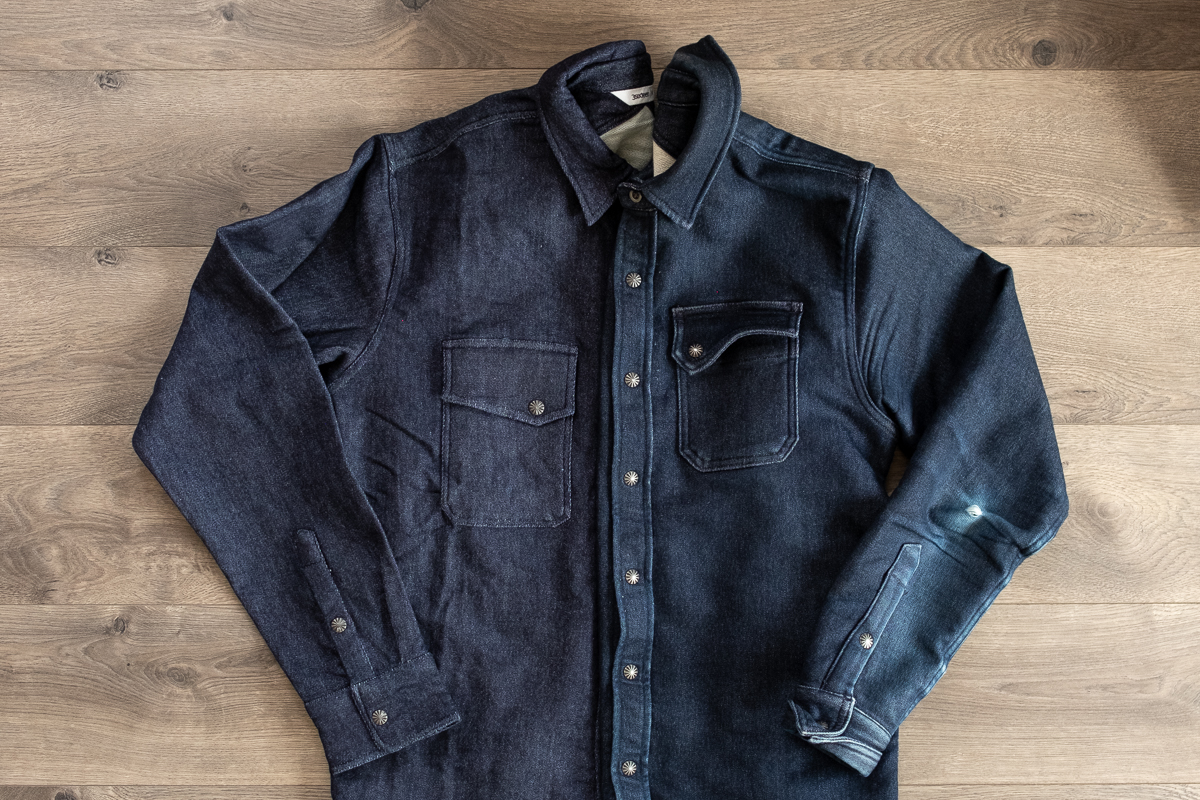 3sixteen's Indigo Knit Crosscut Flannel first debuted as part of their FW17 collection, and after three long years makes its return in both an Indigo Knit and a Black Knit. The Indigo Knit Crosscut Flannel, also referred to as the Selvedge Fleece Crosscut Flannel, will be available on our Withered Fig webstore on Friday, March 12 at Noon EST.
INTRO
---
The 3sixteen Indigo Knit Crosscut Flannel has a special place in Withered Fig history. Fun fact, it was the first item ever sold on our online store back on September 29, 2017.
This piece has gone through three years of wear, and has been hands down the most worn 3sixteen shirt in my wardrobe. There is usually a point each winter where I reach for this piece in the November/December timeframe, and from then on it could be the Indigo Knit for days straight before I take a break from it. It's such an easy piece to throw on, so it naturally has seen a ton of wear; and I think the photos show that accordingly. How often do you see a 3sixteen shirt that has holes in it due to wear?
After a long three years, the restock has finally arrived and we're excited to see the next round of these Indigo Knit Crosscut Flannels find a home. Read on below for details on styling, fit, fabric, and general impressions after three years.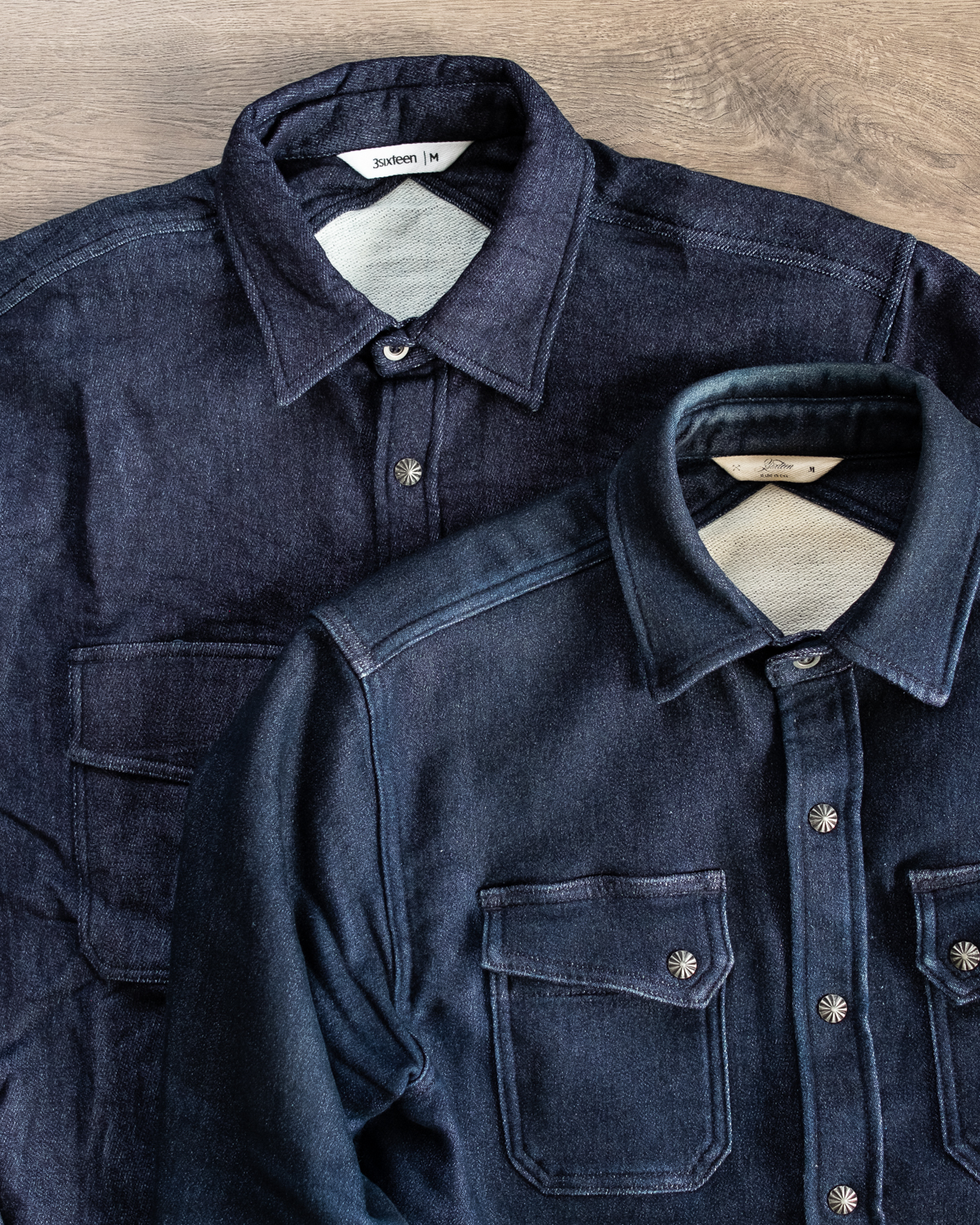 STYLING
---
Let's be honest. Who really needs another blue shirt? I'd venture to say the majority of folks reading this article would raise their hands if asked if you have enough blue shirts. Of course, everyone knows the blue shirt predicament is much like Pringles, once you pop, you don't stop.
Let's start off with the style that I think is often under looked in our niche of workwear and a rugged casual look. Throw on a vintage-looking flannel and a pair of denim and you're set, right? However, I'd like to venture away from that for a moment. For this piece, I've actually worn this shirt quite often in more "business casual" situations with a nice OCBD tucked into some chinos, and some dress shoes. It's especially nice during the cooler months when the temperatures cool off and you want a light layer, while still looking nice, but don't want the extra weight and beefiness that comes with a jacket. For the styling below, I paired it with a blue oxford and pair of olive chinos, and finishing off with some slippers.
For something a bit more casual, I like throwing it over some Railcar Flight Trousers accompanied by a henley. Perfect for going out, but also at home when you have guests over and don't want to be completely head-to-toe in sweats. Not to say there is anything wrong with pairing the flannel with a pair of sweatpants, because that's exactly what I do as well. This works well as your main shirt or an overshirt – but due to the snugness of the fit, I tend to only wear it as an overshirt when I just have a tee underneath.
FIT
---
As you'll see in the size chart below, the fit of the 3sixteen Indigo Knit Crosscut Flannel is slightly slimmer than your typical 3sixteen flannel or other button-up shirts. Just comparing their most recent 3sixteen Drunk Check Crosscut Flannel (CCF) to the Indigo Knit CCF shows an average difference of about 0.5-0.75", with the Indigo Knit being smaller. Of note is that these Indigo Knit Crosscut Flannels do come from the factory pre-rinsed, so you should not expect any more shrinkage. As well, due to the slight elasticity in the fabric, you can probably get away with slightly smaller measurements than you are used to, especially if you do want a slim fit. Accordingly, we recommend most people take their typical 3sixteen shirt/tops size, except if you are on the larger end of your size you may want to size up.
For reference, I am 6'0'', 175 lbs, and about a 39" chest, and I wear a Medium in this Crosscut Flannel, which is the size I wear in all 3sixteen button-up shirting.
Overall, probably due to how it's slightly tighter all around, this is one of my best fitting shirts all things considered. It feels slim and tailored, but at the same time it also doesn't. It doesn't because typically slim and tailored means I'm a bit restricted in my movements. But this, the fleece, the slight stretch, is simply perfect.
As always, please double check measurements and compare to your best fitting shirt.
3sixteen Indigo Knit Crosscut Flannel – Size Chart
| | | | | | |
| --- | --- | --- | --- | --- | --- |
| | Chest | Bottom | Shoulder | Sleeve | Length |
| S | 20.25 | 19.5 | 17.25 | 25.25 | 27.6 |
| M | 21.5 | 20.5 | 18.6 | 25.5 | 28.9 |
| L | 22.25 | 22 | 19 | 26 | 29.5 |
| XL | 23.25 | 22.25 | 19.75 | 27.5 | 29.75 |
| XXL | 24.75 | 24.5 | 20.8 | 27.25 | 30.75 |
FABRIC
---
The fabric on this shirt is an amazing indigo selvedge fleece. Not quite the same as 3sixteen's Indigo Heavyweight Sweatshirts though; no, this is lighter-weight and also of the French Terry nature, rather than a true fleece on the interior that has a soft, brushed, and fuzzy feeling. To be sure, you likely have a lot of blue and navy shirts in your wardrobe. But how many do you own that have that same wear and fading potential, with no slop, and yet comfortable as hell. I'd be willing to bet, zero, maybe one.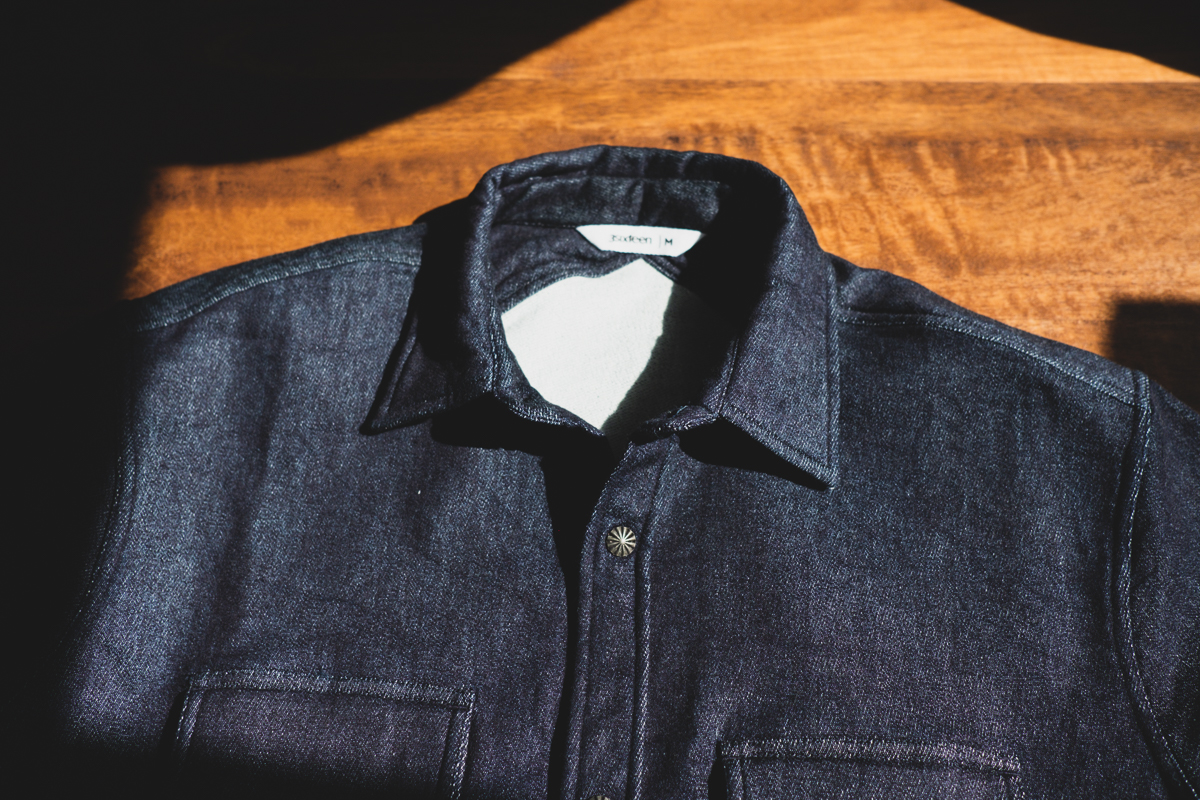 Off the rack, it looks pretty uniform with a subtle heathering. The colors change between indigo and a purplish hue depending on the angle. There's a very slight rainfall vertical striping effect as well. 3sixteen describes this fabric from Nihon Menpu as a twill face with contrasting yarns for the face and underside.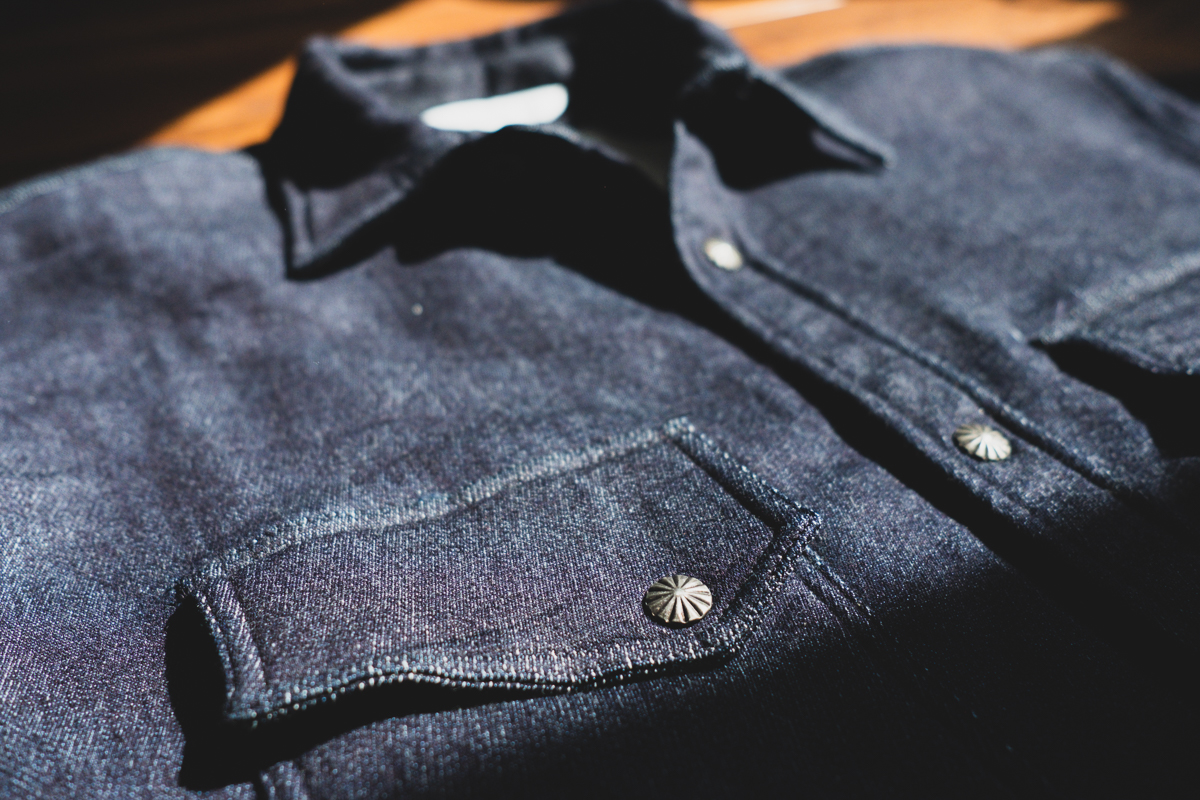 On the elasticity, the fabric has quite the give to it. Using a super accurate method of laying a measuring tape on the ground and laying the shirt on top, and pulling each side of the chest, I measure an additional 2-3" in width when I pull at the sides of the chest. This should give you an idea of how much "stretch" there is (it retracts back, not a permanent stretch).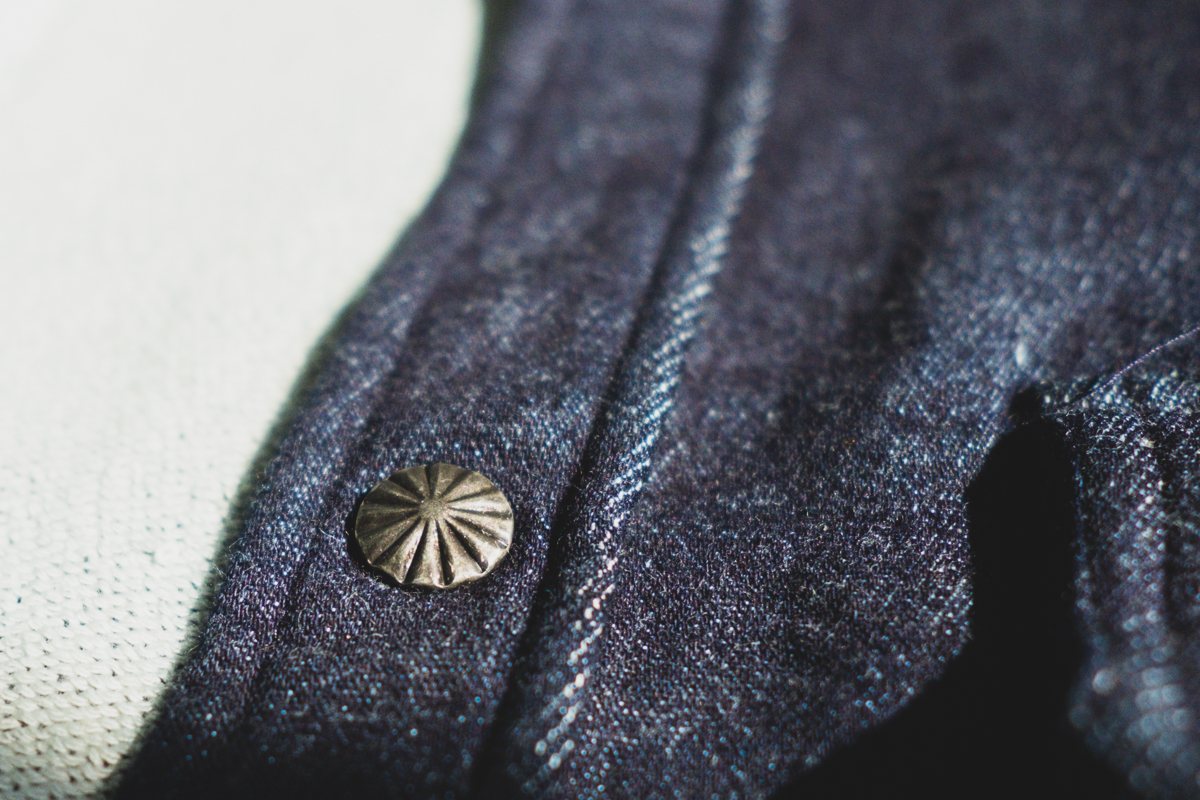 The aged pewter snaps, or concho buttons, are a nice detail and really bring together the overall look. Had they been black or white snaps, we'd guess the shirt would have a bit more of a contemporary/modern looking. But with these pewter snaps, it brings out a nice vintage look as if you pulled this out of the thrift store.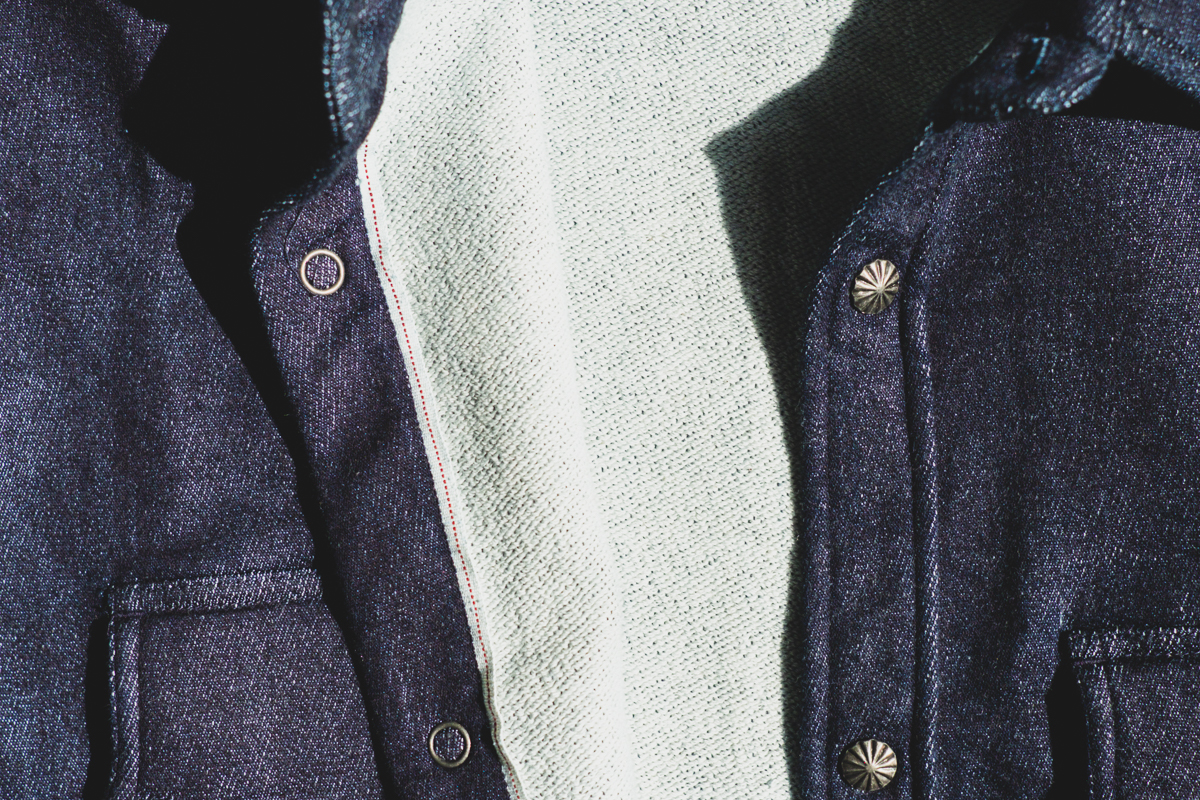 A look underneath the hood shows that it truly does have a fleece fabric. As noted above, it's more similar to a French Terry fleece with its knit loops on the backside. It gives the piece a nice balance between keeping you warm but also to some degree, moisture wicking and breathability (as opposed to a true fleece back).
While we are here on the topic of the fabric, we'd be remiss if we did not note that this second run of the Indigo Knit Crosscut Flannel comes out of their Made in India program that 3sixteen started last year. While the selvedge fleece fabric still comes from Japan, the cutting and sewing was finished in India.
As a brief background, 3sixteen's main production in San Francisco is generally geared and perfected for denim and some of the harder/tougher/rigid fabrics. However, when dealing with some of the softer, slippery, and delicate fabrics, while their factory in San Francisco could technically do it, they just weren't well equipped to excel in these types of garments.
3sixteen's decision was based both on ensuring whoever was the best at making a garment – whether it be in the USA, India, or Peru – had the opportunity to make that piece of clothing; as well as making the best use of transportation logistics and minimizing the time and resources required to move materials back-and-forth across the world.
For additional information on 3sixteen's San Francisco production, read their Made in the USA article here. Additionally, 3sixteen's write-up on the Selvedge Fleece Crosscut Western is available here.
THREE YEARS
---
Having this three year old Indigo Knit Crosscut Flannel next to a brand new one gives us a unique perspective on this release. While we always like to talk about the potential for a garment to fade, wear, age, and so-on, it's not often we get the chance to follow-up on a seasonal piece, and at the same time offer another run of the product. Overall, it is interesting to see them side-by-side as it was less contrast than I originally thought. The overall shade of the indigo is still rather dark, and mainly in the high wear areas do you see some of the more sky-blue and sharp contrasts with the white core peaking out. One of the notable differences between the new one and the three-year old one, is that the purpleish-hue that it starts out with is mostly gone. Instead you see a bit more of a greenish/turquoise-hue to it.
My absolute favorite part of the shirt are the sleeves, especially as you get towards the wrist and cuff areas. I folded over the end of the cuff as it was a little long; and I love how you get a little extra wear around the edges of the cuff, which adds to the highs and lows that you see. The overall appearance is still somewhat close in it's dark indigo, but the high wear areas will get much lighter and reveal the white underneath.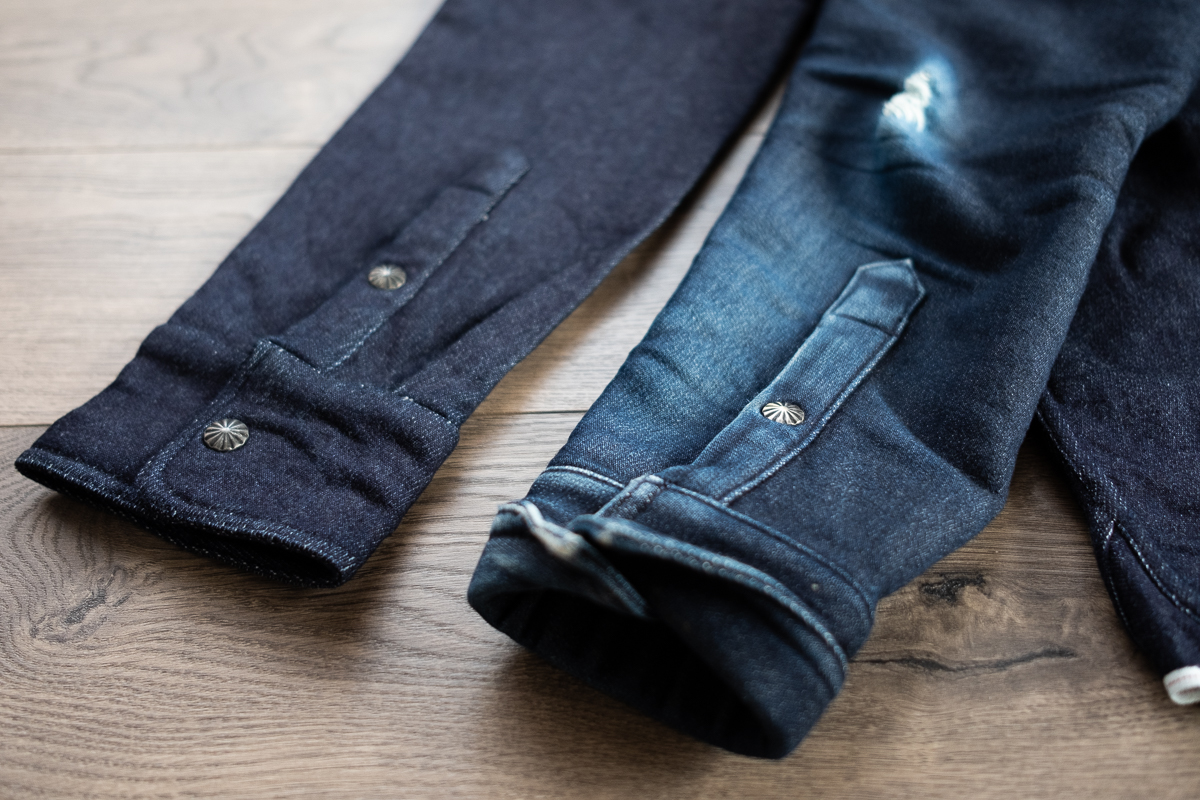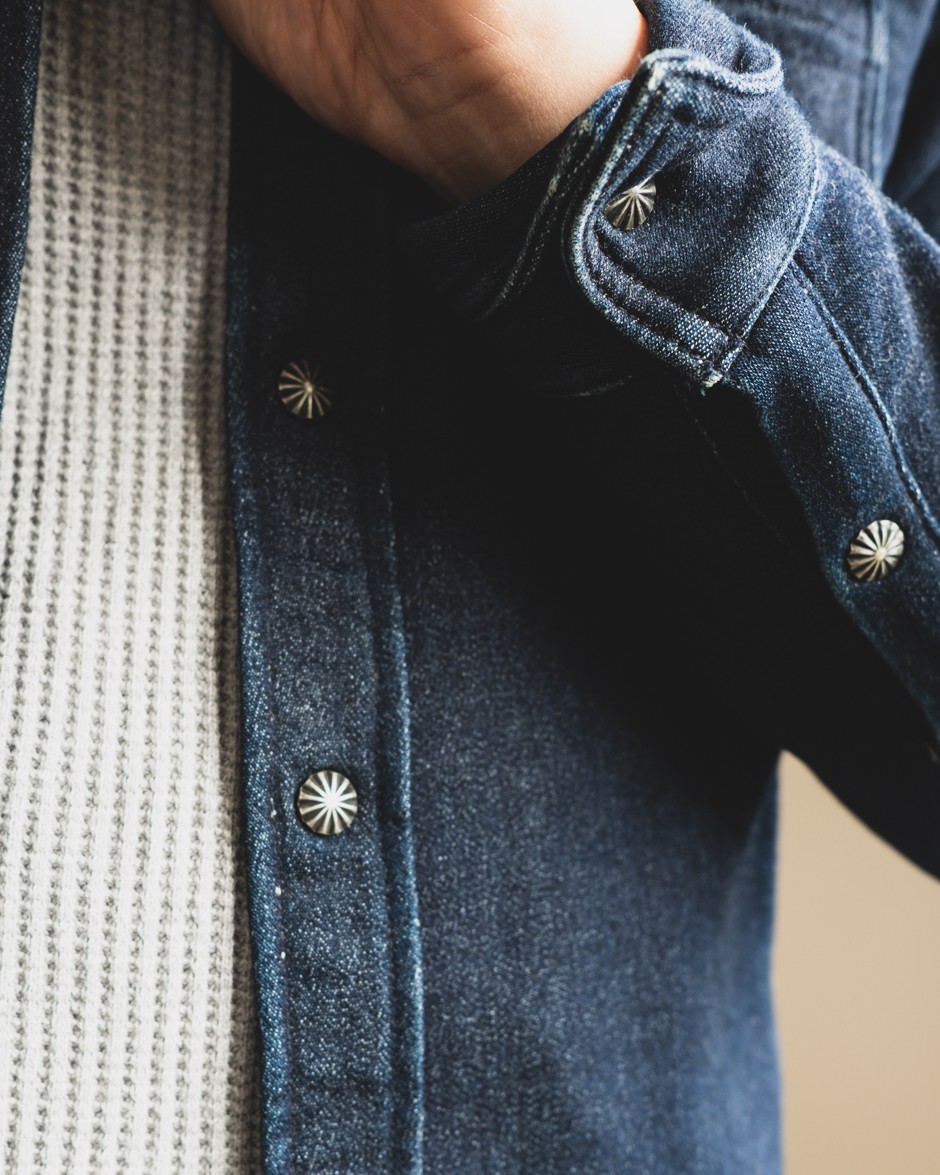 I tend to travel with this shirt a lot. For when you don't want to look completely unkempt but still want to be comfortable on the plane, this fleece Crosscut Flannel has served me well. Not only does it feel good while traveling, it doubles as a "nice" shirt that I can wear when I get to the destination for some of the "nicer" dinners, all without having to pack an extra shirt.
I'm pretty sure I've given this shirt one wash, but don't quote me on that. It's been so long and I never really kept track, but comparing the original measurements to the measurements of my shirt now, it is smaller; so I think this has gone through at least one cold wash / hang-dry. However, as it stands now, the elbows have started to wear through the outer layer and the loose white threads are barely holding it together. I'm not sure what I'll do to extend the life of the elbows, but some sort of elbow patch will need to be in the works.
With a fix on the elbows, there will be much more life in this shirt, and you bet I'll be making good use of those extra miles once it's patched up. Until then, I'll be taking it easy and probably won't be doing any washes just quite yet.
---
The 3sixteen Indigo Knit Crosscut Flannel will be available in sizes S-XXL on our website on Friday, March 12 at Noon EST, and will retail for $285. Also available will be the Black Knit Crosscut Flannel. Shop our full 3sixteen collection here. If you have Withered Fig points you'd like to use, we ask that you pick up the shirt at release time, and e-mail us after or leave a note at check-out indicating that you'd like to use your WF points.