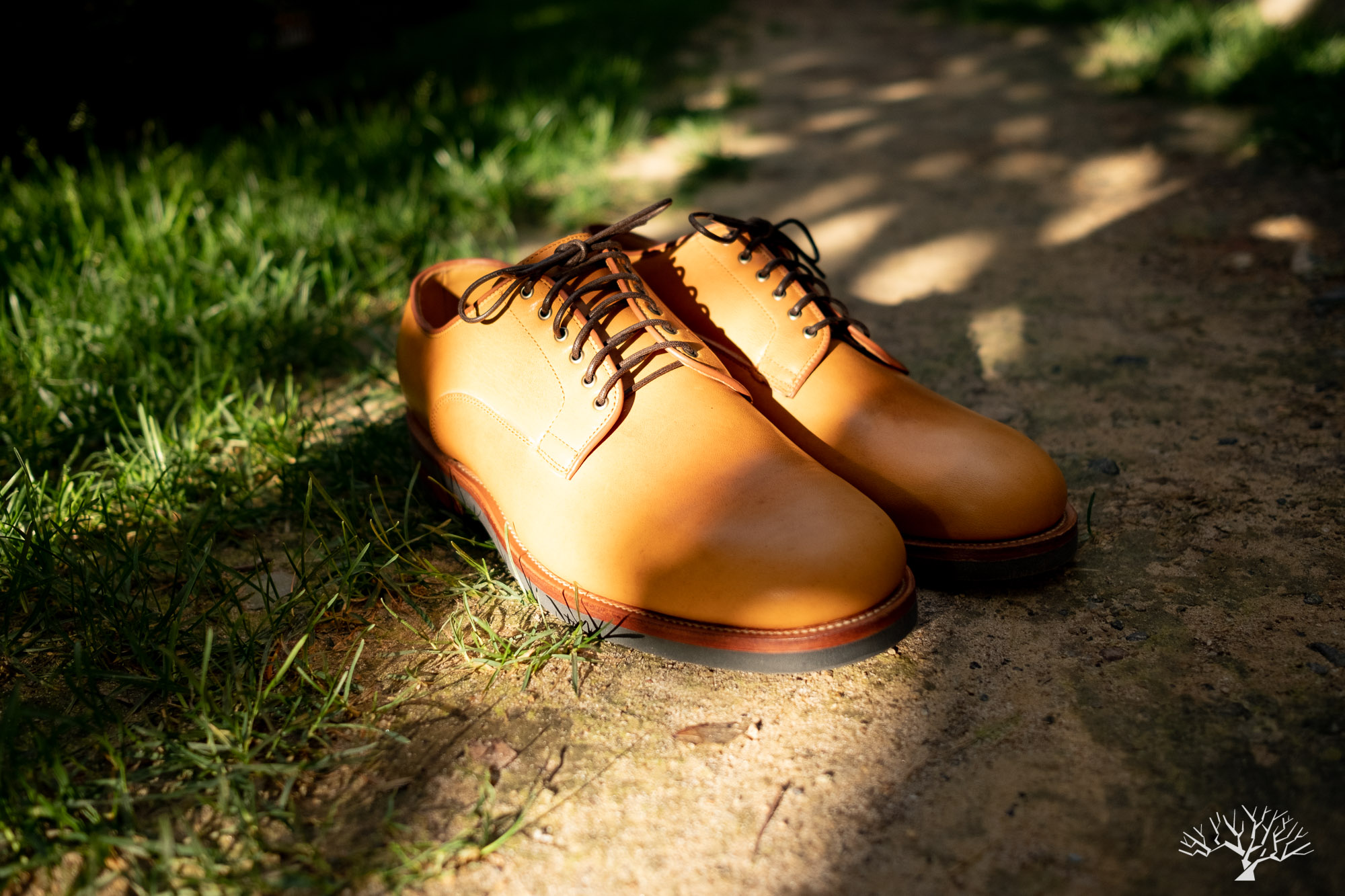 Our latest pair on Lactae Hevea this season is this Viberg for Withered Fig Shinki Camel Latigo Horsehide Derby Shoe. Releasing Friday, June 18th at Noon EST in sizes 6.5 – 12.
Viberg for Withered Fig exclusive
Shinki Camel Latigo Horsehide (Japan)
1035 Last
Black Lactae Hevea Crepe Sole
#2 Antique Brass Eyelets (x6)
French binding
Kip Lining
Partially structured toe
Natural leather midsole
Channeled Insole
Goodyear Welt Construction
Includes a pair of Brown Round Waxed Laces and Brown Flat Waxed Laces
Includes Viberg Dust Bags
Includes Viberg Polishing Cloth
Includes 1oz bottle of Viberg Shoe Cream
Made in Victoria, B.C, Canada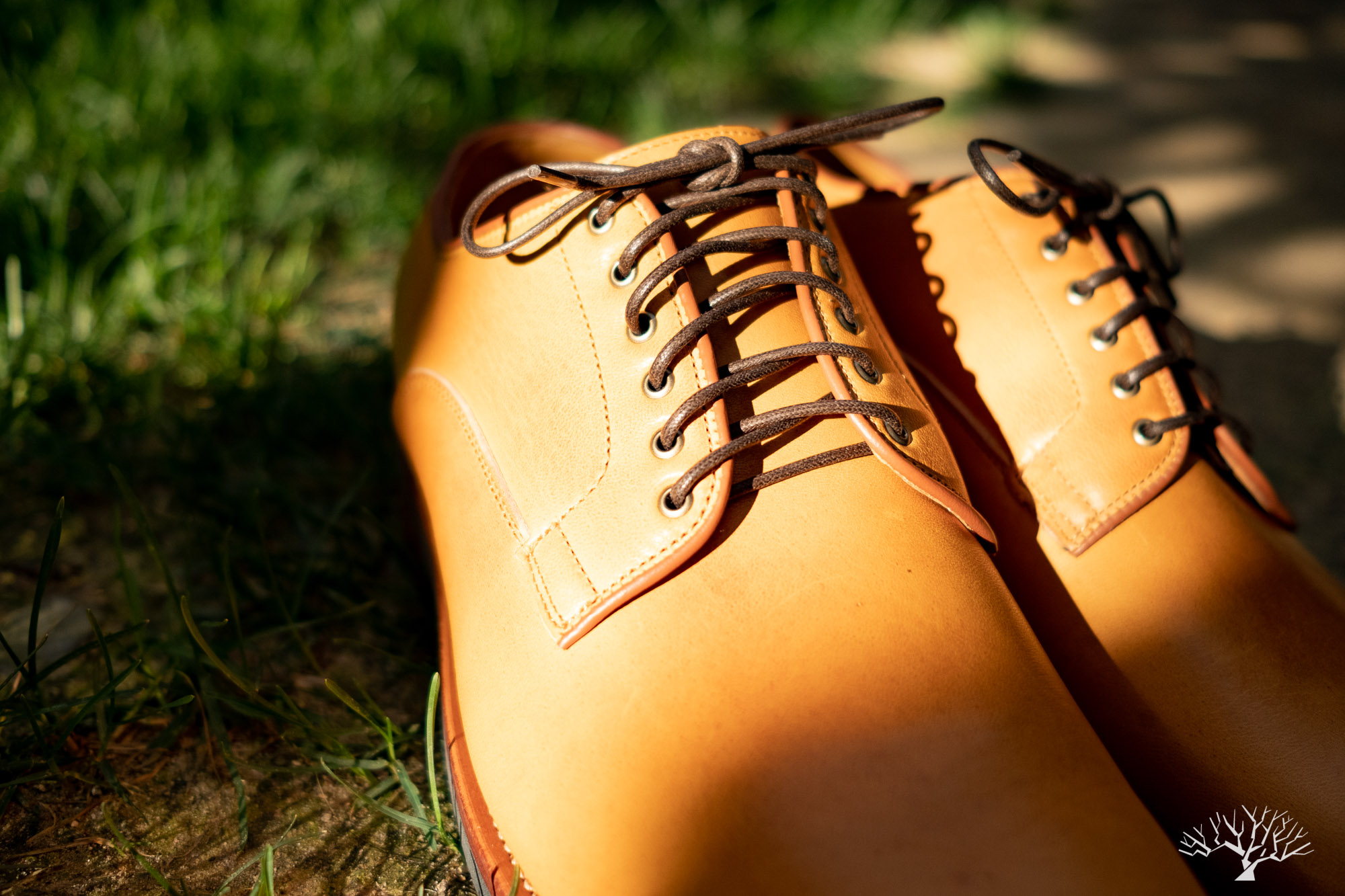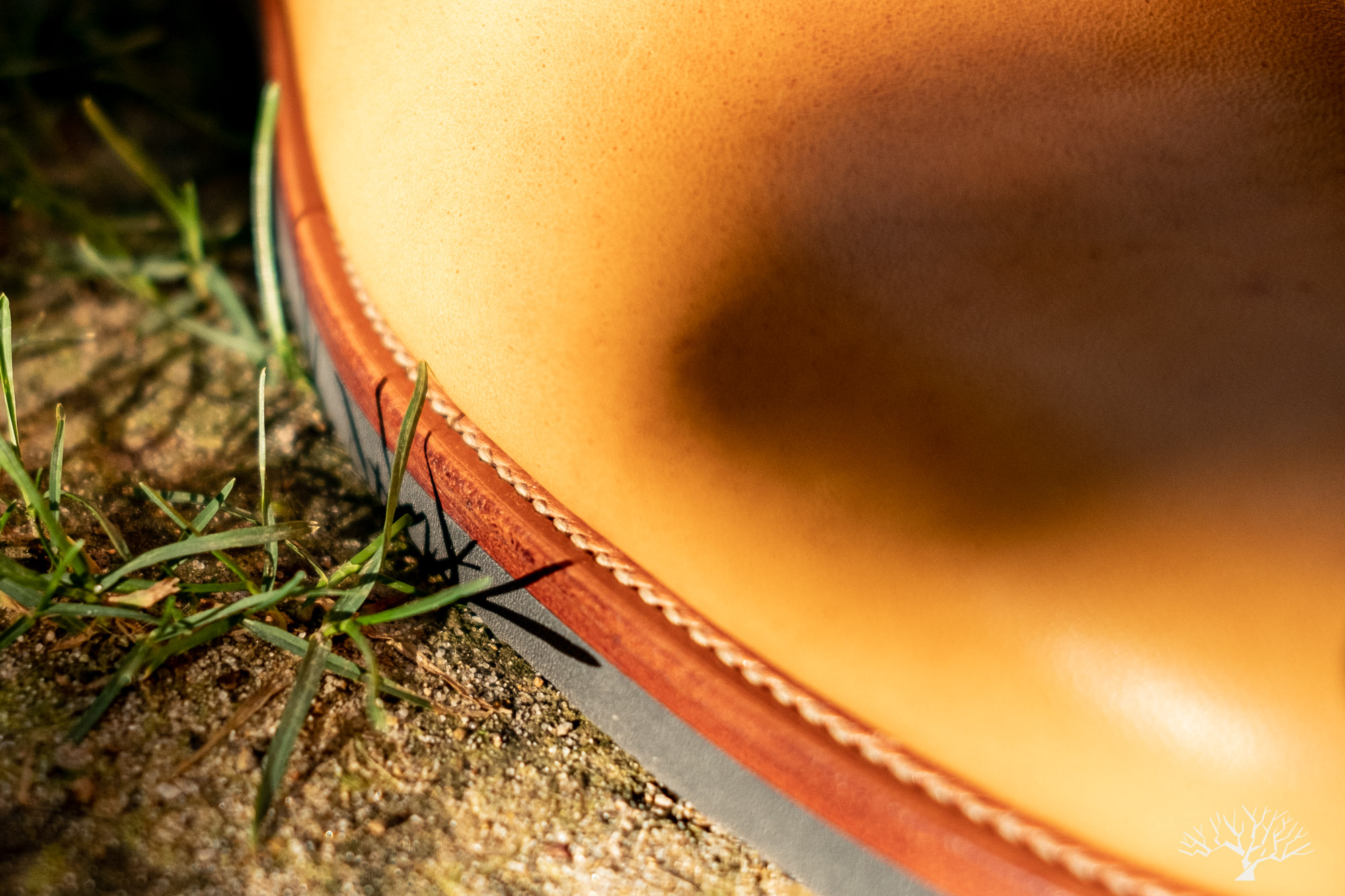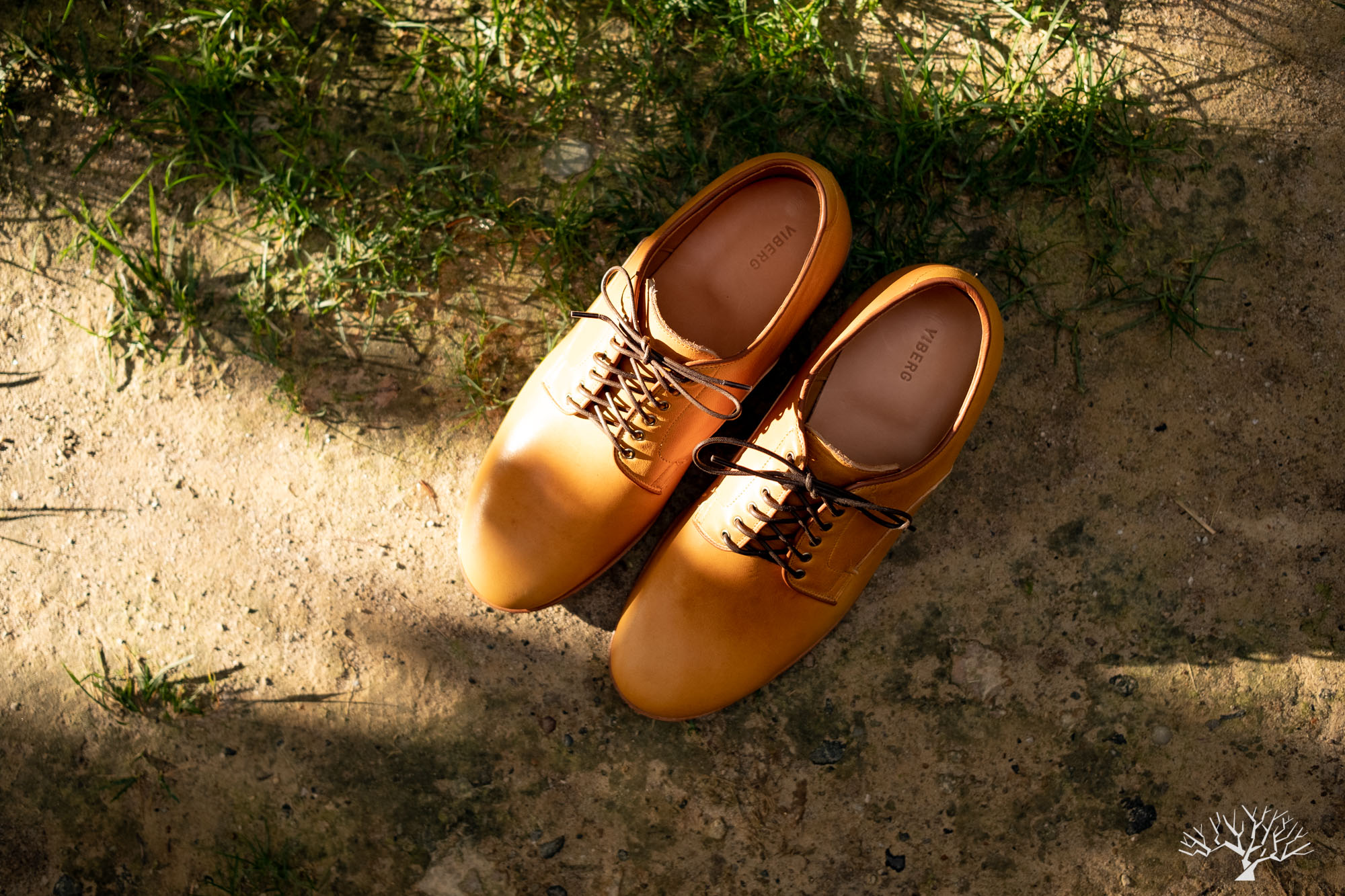 This Viberg Derby Shoe is our first time carrying this specific style. After our infatuation and subsequent retirement of the chunky and slightly more casual 145 Oxford, we figured it was time to bring back something suitable for summer days that isn't quite a boot, but also not quite a slipper. Here we've got the classic low quarter pattern shoe with an open lacing that gives it a casual flair over the closed lacing of the oxford (nevermind the terminology confusion you might get when figuring out Viberg's use of "Oxford" and "Derby – what you see is what you get).
Much like the leather on the Shinki Olive Latigo Horsehide Slipper, this Camel version – also from the Shinki Tannery – is soft and supple, malleable and flexible, and has some subtle but noticeable grain for a beautiful appearance. As seen in the photos this leather has a bright appearance with a nice pop to it. The color also has a bit of depth, as you can see a few different shades of the orange, tan, and gold, in different areas of the shoe. We've seen a few photos of this leather worn in, and it definitely displays some patina-worthy characteristics – beautiful creasing and areas that darkened from general wear and probably also some sun. One might say, these would make for a killer patina project (hint, the coming Stitchdown Patina Thunderdome competition). This Shinki leather is so attractive that even flies will be flocking to see it up close.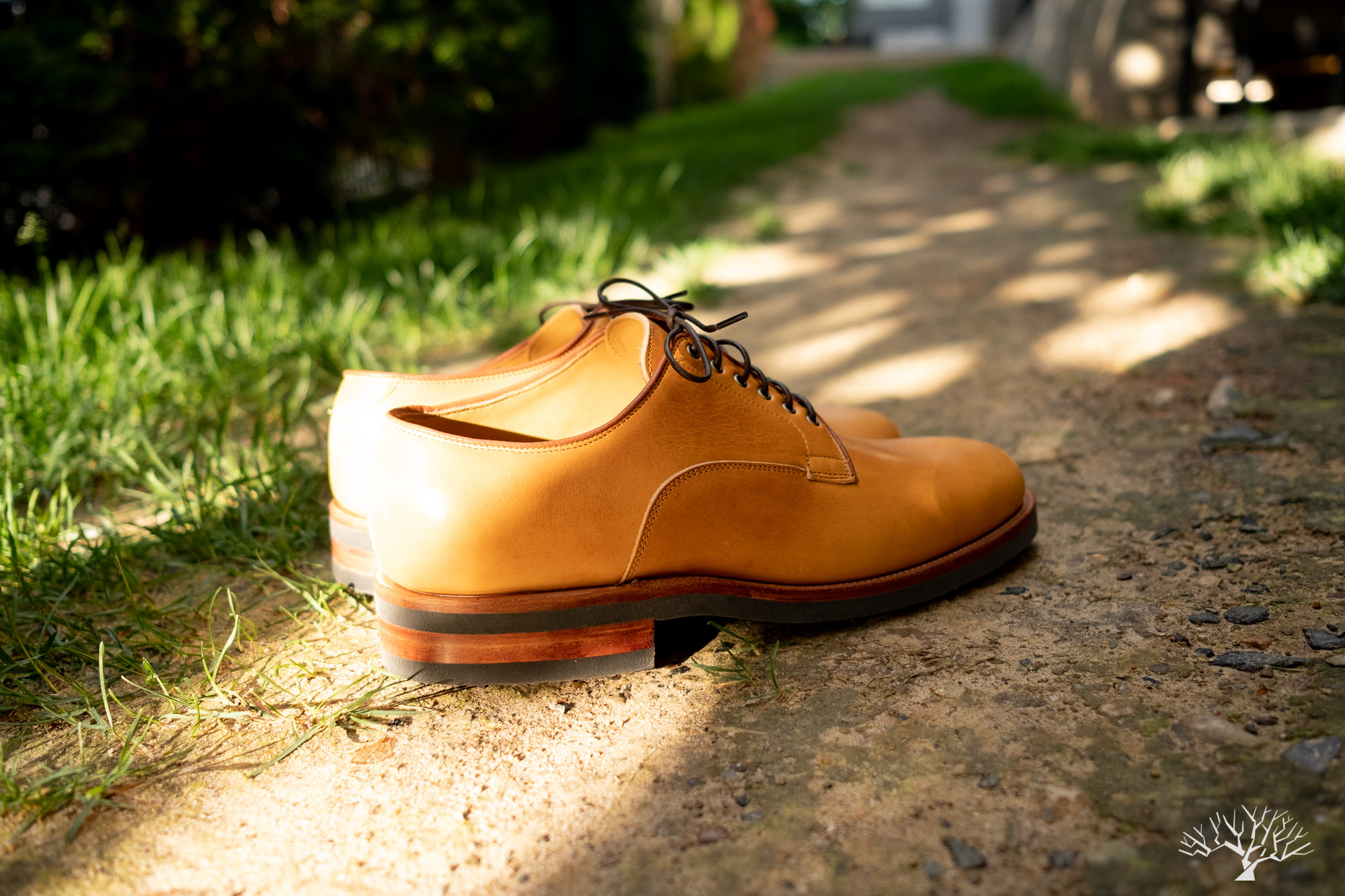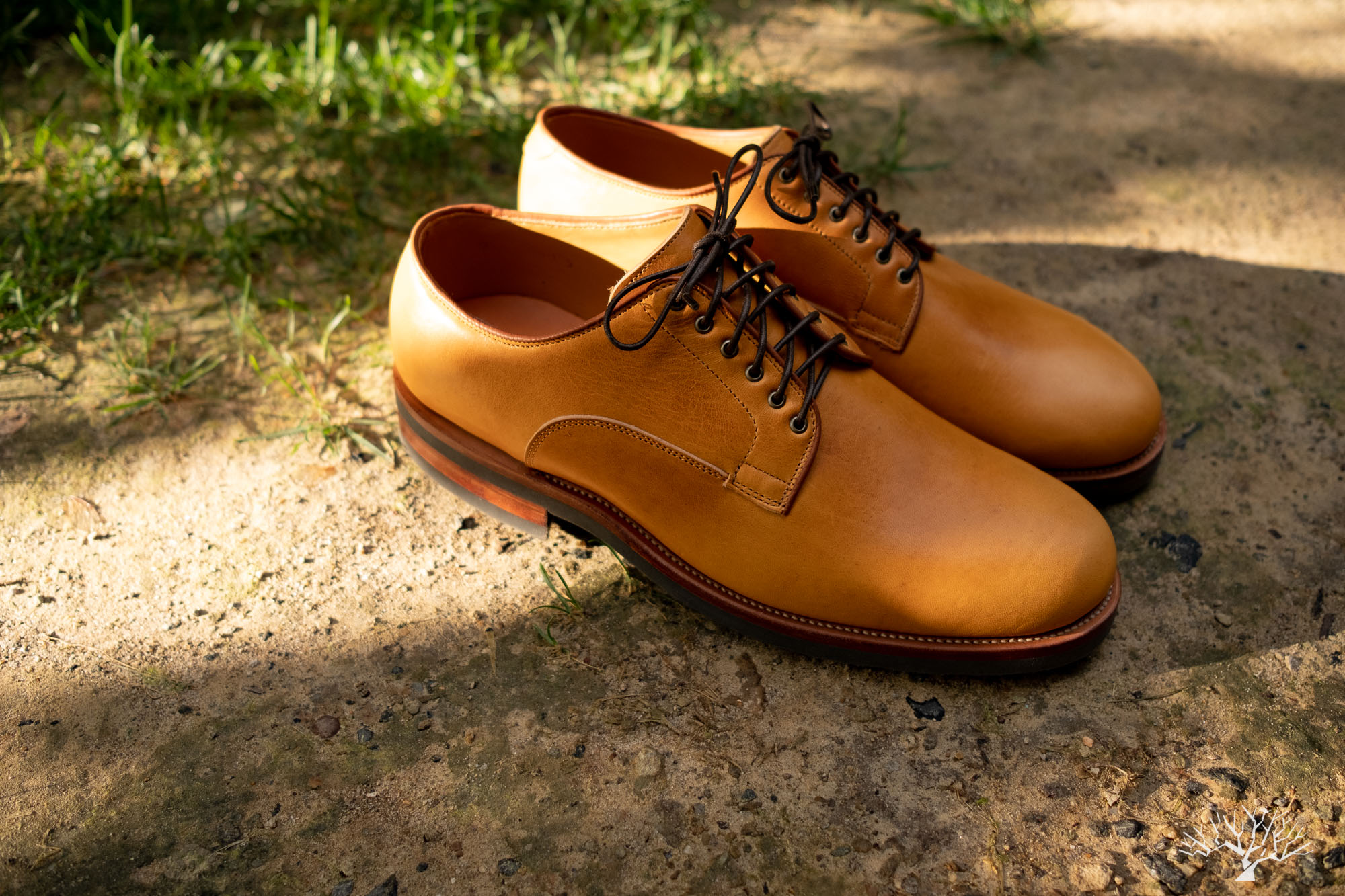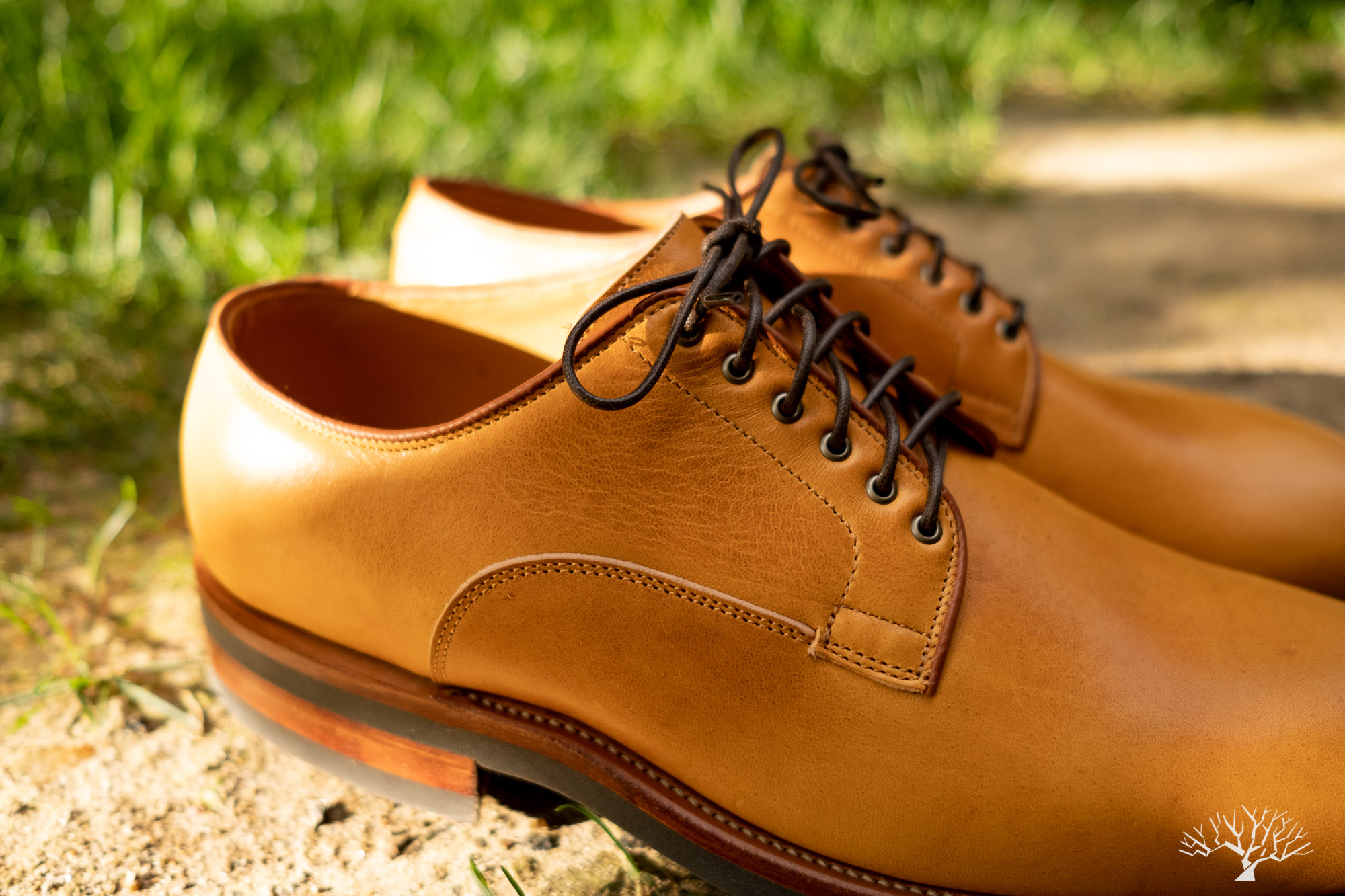 We're on our fourth of five special make-ups that are sitting on top of the Lactae Hevea sole. We've received tons of positive feedback on the Lactae Hevea soles, generally along the lines of being the most comfortable pair of boots/shoes they've owned. We're sure that these soles were made for your summer plans, whether they're local or foreign. You can be sure these will travel just as well, if not better than most any other Goodyear welted boot or shoe that you own. For this pair, we've gone with a nice contrast look with the black colored crepe sole, and a more tonal upper with the six antique brass eyelets. Overall we'd call it a refined casual shoe, with its clean golden upper leather and the soft rubbery feel of the Lactae Hevea sole.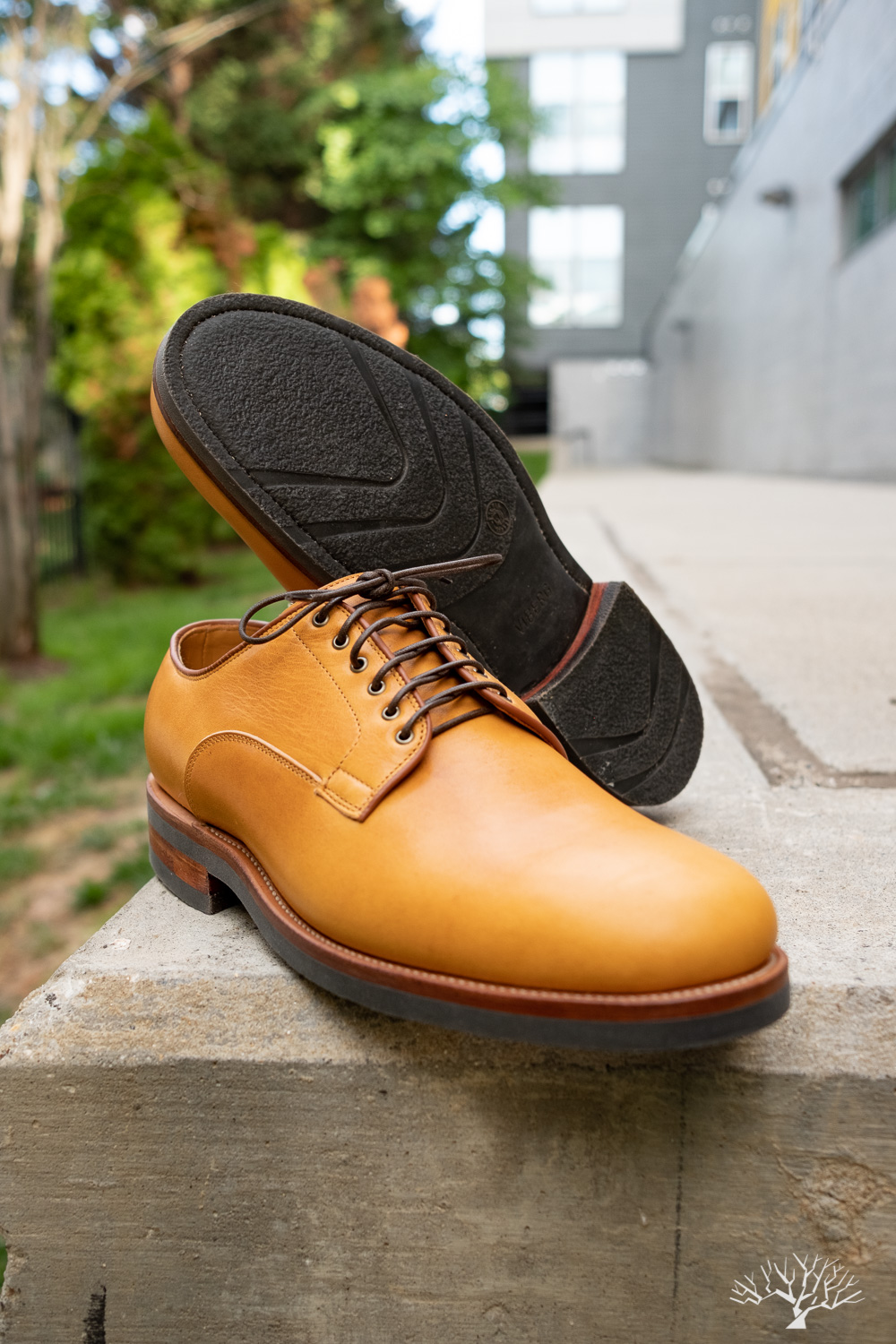 From our experience, sizing the Viberg Derby Shoes is generally the same as their service boots. We recommend going down either 1 or 1.5 down from Brannock for these 1035 lasted Derby Shoes. I am a 10E Brannock and generally wear 9 or 9.5 in Service Boots depending on the last and make-up. For these Derby shoes, I can wear a size 9 (1 down) if I want to wear them with thick socks and have a generally more spacious fit; or I can wear a size 8.5 (1.5 down) if I am wearing with no socks or very thin socks for a snug but comfortable fit. Wearing medium-to-thick socks (like CHUP) in the size 8.5 is very snug and would probably be uncomfortable after I started walking around in them and my feet started to swell. However, there is decent room in them if I wear with thin socks or sockless. My preference would probably be to go with thin socks and size 8.5, given that I'd mostly enjoy wearing them in the summer time with some ankle showing.
Aside from sizing, some other factors to consider are whether you are on the smaller end or larger end of your size (i.e. a 10.25 Brannock or 9.75 Brannock) and adjust accordingly. The difference between a 0.5 size is small but noticeable if you are on the cusp of one or the other. In general, if you are on the larger side of your size, you will almost certainly do well with just sizing down 1 from Brannock (and not going down an additional 0.5).
For additional sizing questions or otherwise, please send us an email. As usual, for Withered Fig points we ask that you pick up the Viberg Derby Shoe at release and send us an email afterwards to apply your WF points as a refund.
The Viberg for Withered Fig Camel Latigo Horsehide Derby Shoe on Lactae Hevea Sole will retail for $875 and be available in sizes 6.5 – 12. Releasing Friday, June 18th at Noon EST on Withered Fig. Shop our Viberg Collection here.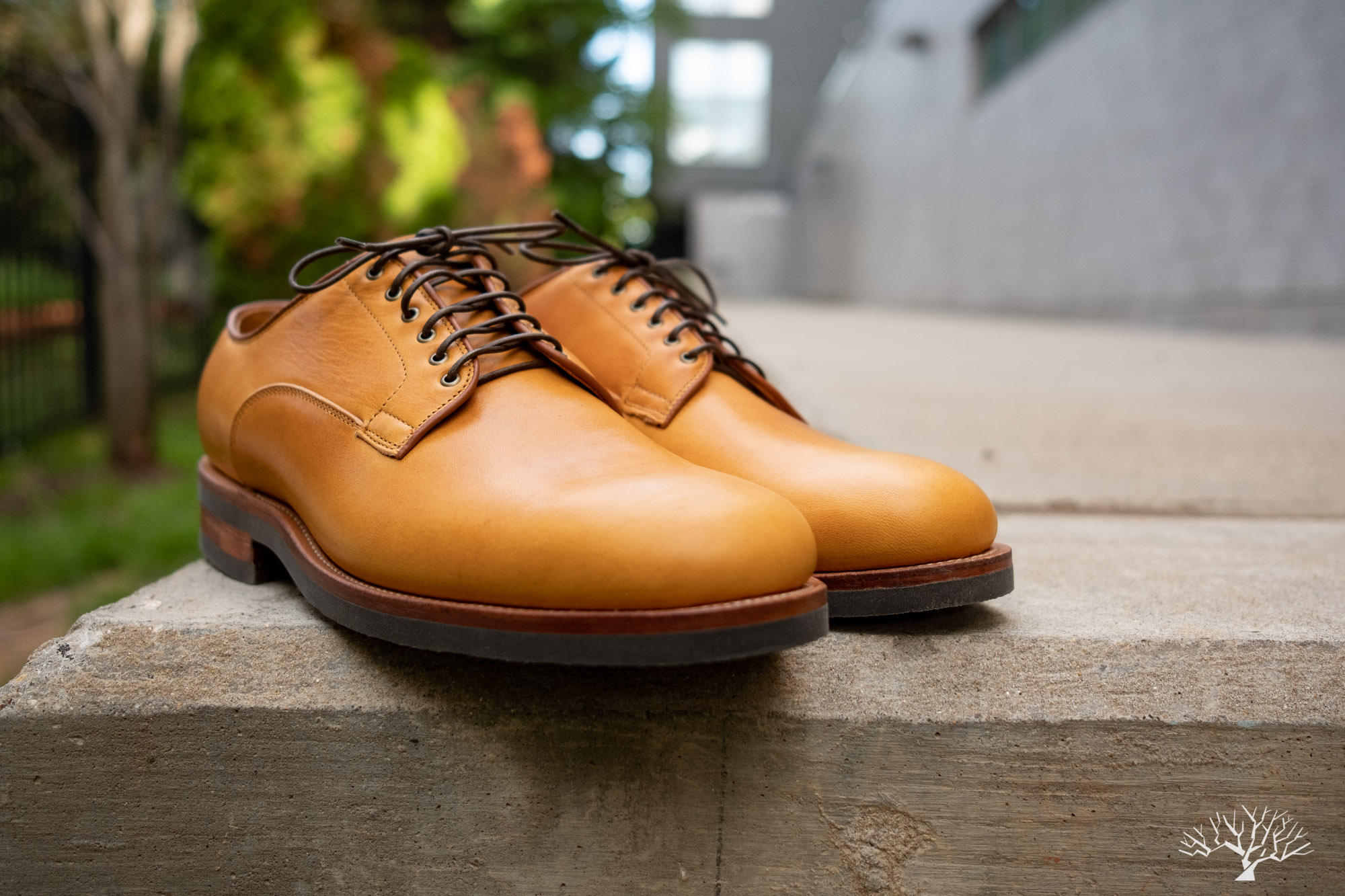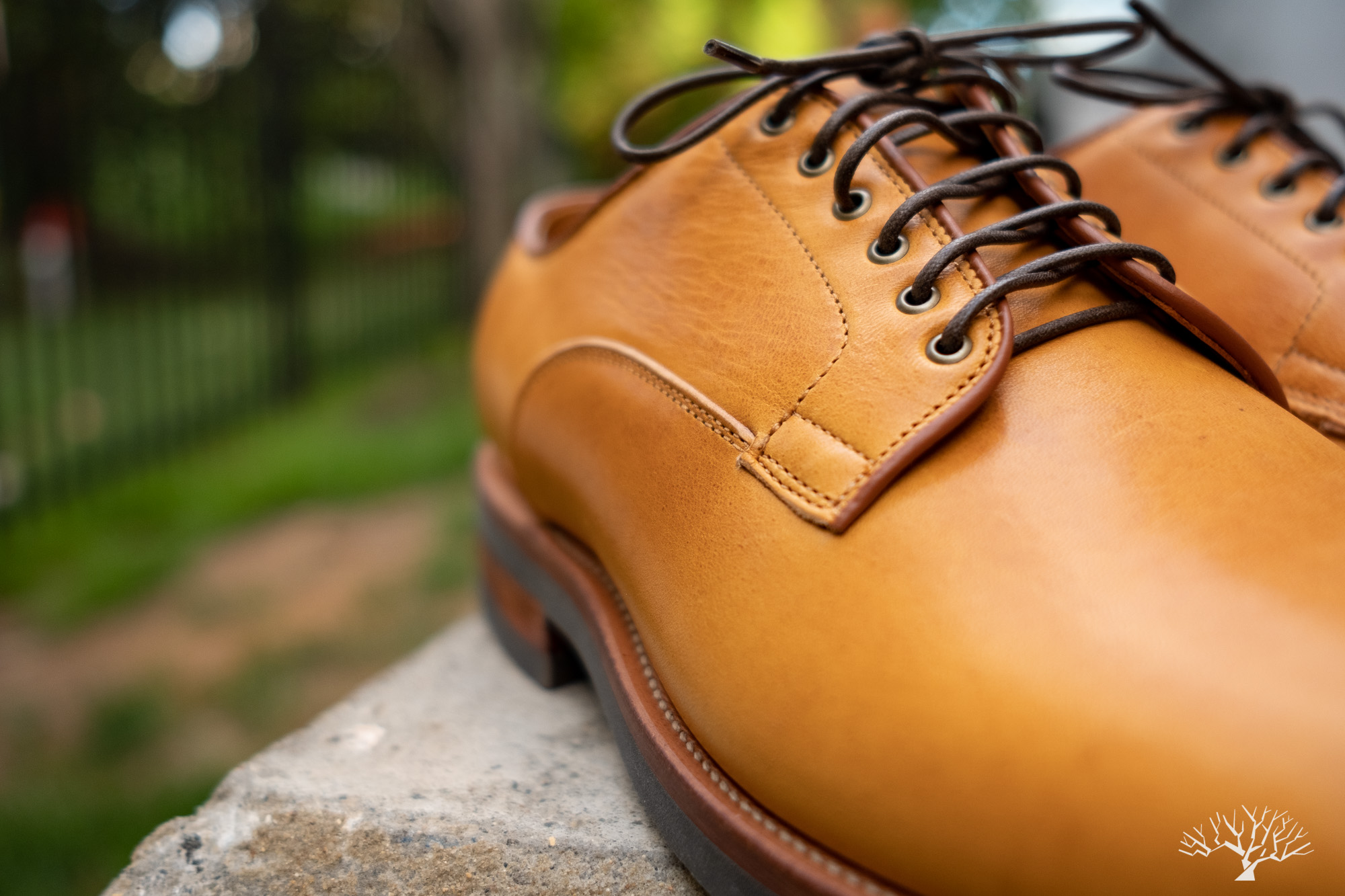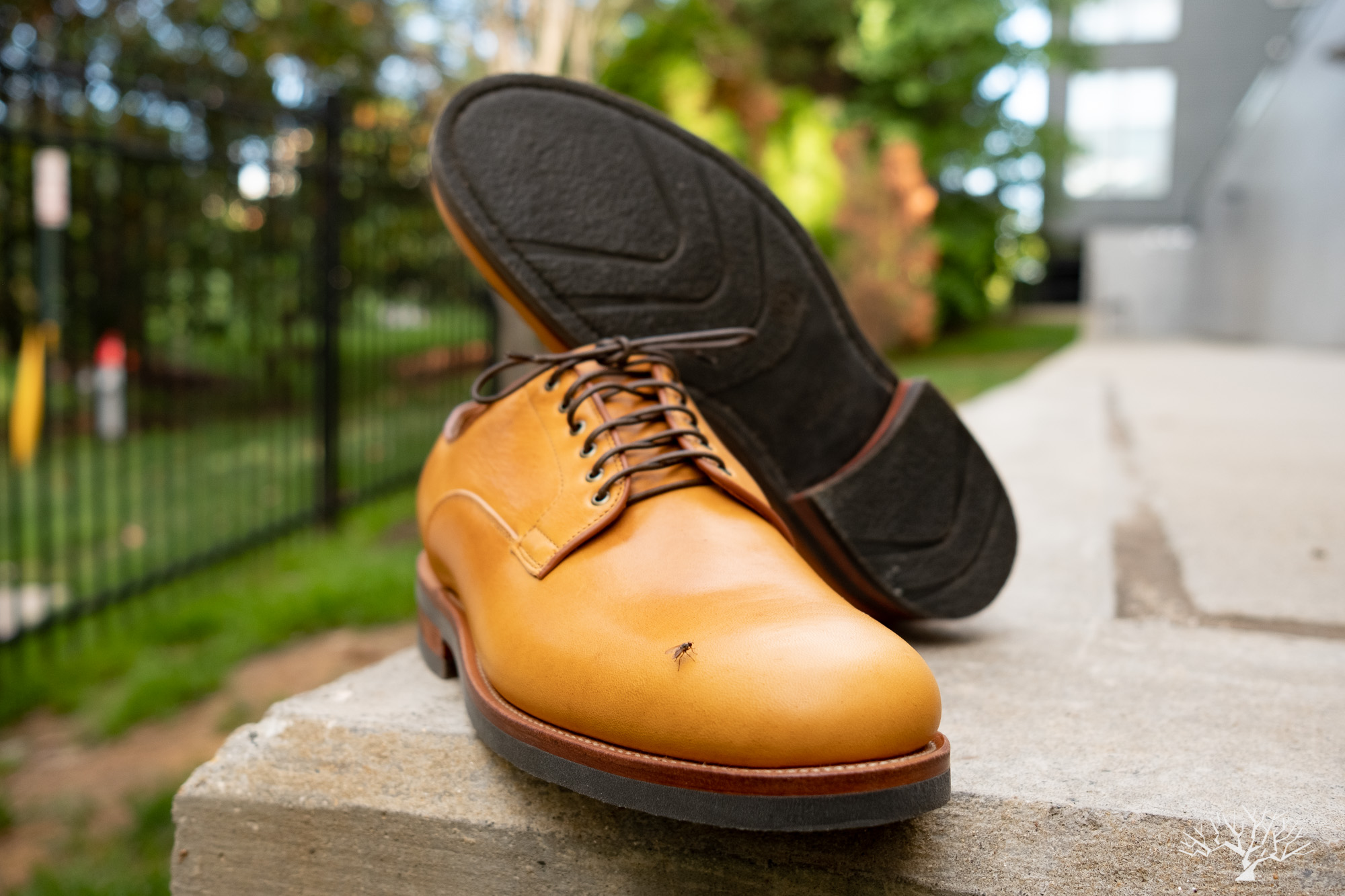 *Fly is not included in your purchase.