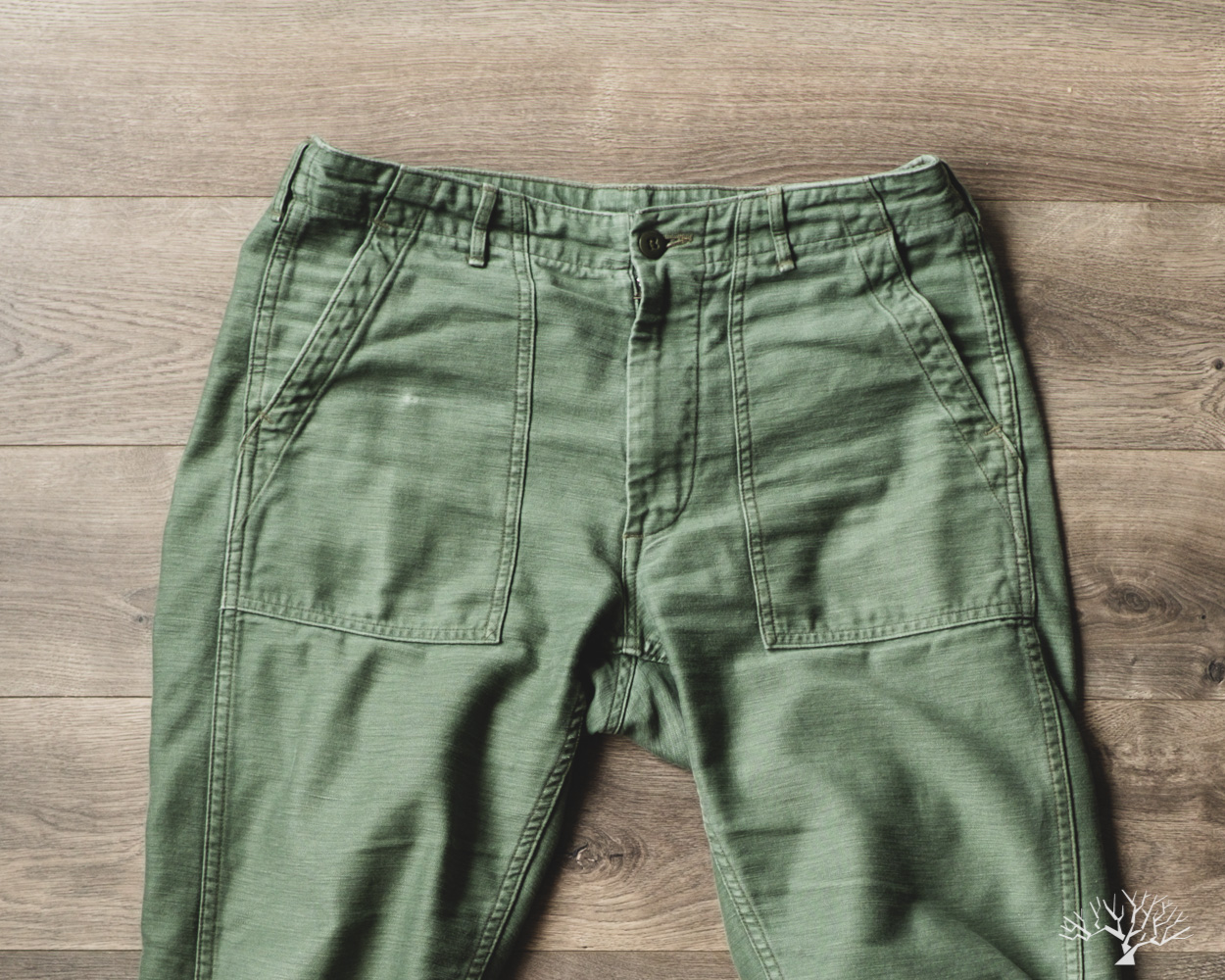 We've been big fans of orSlow for quite some time, especially after coming across their Fatigue Pants in that beautiful shade of olive/green, but with a pastel-like brush to it. The appearance is soft on the eyes and unlike any other. Accordingly, I went ahead and picked up a pair before we brought it in just to give it a whirl. Nine months later and these are going strong, with no signs of wearing out. We've written up a review and a definitive guide on orSlow Slim Fit Fatigue Pants sizing.
INTRO
---
We're all in need of some olive chinos, trousers, pants. I'm sure each of us already owns a pair. The problem is, the orSlow Slim Fit Fatigue Pants is unlike any other in terms of size, fit, and appearance.
These have been a staple of orSlow's lineup for year on end, and by far are likely one of the most notable and easily recognizable styles that they carry. The texture and color are what really got me when I first saw them. As we'll get into down below, the fabric has a uniquely horizontal streakiness to it, which really comes out more as you wear it in. However, getting into a pair of these trousers was a bit difficult, as the orSlow Slim Fit Fatigue Pants sizing seemed to be all over the place and with the limited numerical sizing, that meant there was some wiggle room between sizes if need be. We'll get into all of this down below, including the usual details on styling, fit, and fabric.
STYLING
---
My favorite shirt(s) to pair these Fatigue Pants with is any sort of blue shirt. Whether that be a blue chambray shirt, an indigo denim jacket, or some other navy-colored button-up, you name it, all good! That said, I try to be mindful in adding a 3rd element to the outfit, whether that's an undershirt or base layer showing. Looking at the photos below, all looks well in general. However, I've found that I personally don't like the appearance of just two solid colors. It can look a bit like "too much color." A white/neutral color underneath the blue shirt/jacket works well to break up the overall outfit into a few layers and sections. Here are a couple of examples of me wearing the orSlow Fatigue Pants with some blue tops unbuttoned, here and here.
Alternatively, going with white or black tees/tops also works very well. Here I've paired the pants with a 3sixteen Garment Dyed Charcoal Tee and the 3sixteen Type 3 Stonewashed Double Black Denim Jacket. As you can see, it is indeed quite versatile and I've chosen to highlight them here with the orSlow Loopwheel Hooded Sweatshirt.
These strike a nice balance between not being too straight-legged, while not being too tapered, which can restrict versatility. Instead, these have a moderate taper that allows it to work well with boots as well as less chunky footwear (low-top sneakers, slippers, etc.).
FIT, SIZING, AND MEASUREMENTS
---
Now to the fun part of figuring out your size. If you want to skip all the details and nuances, you can hit our summarized recommendation a few paragraphs below in the too-long-didn't-read (TL;DR) paragraph.
I had a hard time figuring out what size to get despite all the various measurements posted online from various websites. That might have actually added to the uncertainty since every retailer measures a little differently, and so I had a bunch of differing measurements. That said, I feel like I ended up with the right size (3 | L), but I just as easily could have been happy with a size 2 | M. First off, we'll lay down some groundwork with the size table and conversions. I believe most retailers just use the numerical "JPN" size, but I may have seen one or two websites where they were listed as the letter sizes. As you can see, there are three sizes and each pair of pants does have a tag that lists all 3 (JPN, USA, and EUR). USA and EUR sizing are the same though as far as the tagged size.
| | | | | | | |
| --- | --- | --- | --- | --- | --- | --- |
| JPN | 0 (XS) | 1 (S) | 2 (M) | 3 (L) | 4 ( XL) | 5 (XXL) |
| USA / EUR | XXS | XS | S | M | L | XL |
Because orSlow is a Japanese brand, we've also chosen to use the "JPN" sizing for our website, just as we do for all our other Japanese brands. With that out of the way, here are the actual measurements. You can find how we measure by going to our Measuring Guide.
| Size | Waist | Front Rise | Back Rise | Thigh | Thigh (2″ down) | Knee (13″ down) | Hem | Inseam |
| --- | --- | --- | --- | --- | --- | --- | --- | --- |
| 0 | 13.5 – 14.5 | 10 | 15 | 11.6 | 10.8 | 8.2 | 7 | 29.2 |
| 1 | 14 – 15 | 10.5 | 15 | 12 | 11.4 | 8.5 | 7.2 | 29.5 |
| 2 | 15 – 16 | 10.75 | 15.75 | 12.5 | 11.6 | 8.8 | 7.5 | 30.75 |
| 3 | 16 – 17 | 11.25 | 16 | 13 | 12 | 8.8 | 7.5 | 31.75 |
| 4 | 17 – 18 | 11.5 | 16.75 | 13 | 12.25 | 9.6 | 7.5 | 33 |
| 5 | 18 – 19 | 12.5 | 17.5 | 14 | 13 | 9.75 | 7.5 | 33.25 |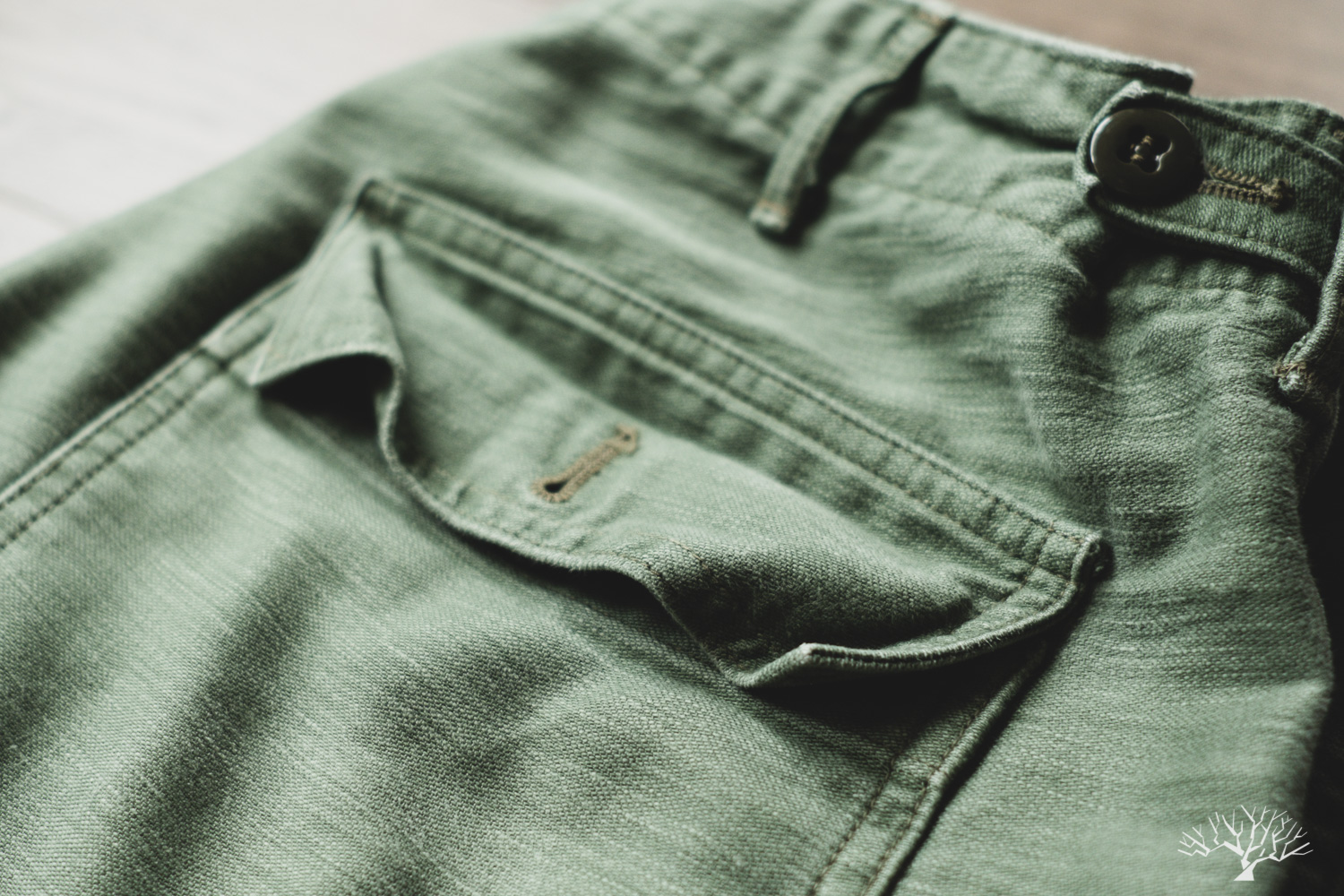 The range of waist measurements you see for each size is a good approximation of the range you will see depending on whether you use the adjustable button waist tab or not. There are two adjustable waist tabs on each side of the waist, with each tab tightening the waist by about 0.5″ (when laid flat). So overall, you can get 0.5″ or 1″ reduction in the waist. For example, I currently wear size 3 and without using any tabs the waist is approximately 17″, which is much too loose for me. Therefore, I do use both tabs to bring the waist down closer to 16″. This means that most people will be able to go between a couple sizes, depending on whether they want the additional length in the inseam, and perhaps a slimmer cut through the legs.
I picked up a size 3 given the measurements I found online, and they work well for a true Fatigue Pants fit. Meaning, I think fatigue pants generally are meant to be a little more relaxed and not super slim. However, I can wear a size 2 just fine, although it is a little snug at first around the waist, and the legs are slimmer throughout. So, it really is a matter of how you want them to fit – a little more relaxed or a bit more slim. Swipe through the next couple photos to see how the size 2 and 3 brand new fit on me, as well as how the size 3 fits after 9 months.
How about the shrinkage and stretch? Well, before you wash them they will stretch out. This fabric has a decent amount of give to it, stretching in the waist for sure, but also throughout the legs as you wear them in. After a few hours of wear, the waist will generally stretch out 0.25-0.5″; after a wash, the waist will come back in about 1″. The net result over time (after repeated washes and wears) has been about 0.25″ in a permanent stretch in the waist. What that means is that if your pair is snug at the beginning, it will loosen up just right over time. If your pair is already quite loose (even with using both side tab buttons), then you may want to consider sizing down and not using the adjustable button tabs. I've provided another table below showing the measurements brand new, after wear, and immediately post wash.
| Size 3 | Waist | Front Rise | Back Rise | Thigh | Thigh (2″ down) | Knee (13″ down) | Hem | Inseam |
| --- | --- | --- | --- | --- | --- | --- | --- | --- |
| Brand New | 17 | 11.25 | 16 | 13 | 12 | 8.8 | 7.5 | 31.75 |
| Post Wash | 16 | 10.75 | 15.5 | 12.6 | 12.2 | 9 | 7 | 30 |
| After Months of Wear | 17.25 | 11 | 16.5 | 12.8 | 12.4 | 9.4 | 7.25 | 30.5 |
| Net Change | 0.25 | -0.25 | 0.5 | -0.2 | 0.4 | 0.6 | -0.25 | -1.25 |
You can see that the inseam length is where the biggest change was (-1.25″). Everywhere else you get a smattering of changes. The one thing to note is that the "After Months of Wear" is after a couple weeks of wear again; but once you throw it into the washer/dryer once more, it'll shrink back up to the "Post Wash" measurements.
There is a decent ebb and flow to the orSlow Slim Fit Fatigue Pants sizing and fit. Fresh out of the dryer (I've been throwing them in the dryer) they do tighten up quite a bit. If I want a slightly slimmer pair of pants for going out or if I know I'm traveling for a week out of town, I'll tighten them up just prior to going (and also to clean them up).
TL;DR
Each adjustable button tab on the left and right side of the waist will allow you to tighten up the waist by 0.5″, for a total of 1″ if using both tabs (which is why our waist measurements have a 1″ range). In general, for true relaxed-fatigue-pants fit, go with the pair where your typical waist measurement falls near the mid-range of the above. If you're right on the border between the two (i.e. you wear a 16″ waist, which falls on both size 2 and 3) then you can generally take either depending on if you want a more relaxed (the higher size) or slimmer fit (the lower size). Alternatively, you can use the conversion table above and take the same USA letter size as you do in American branded tops, for a second check on sizing. For example, if you wear Medium in most American branded tops, take the USA Letter size M in the Fatigue Pants (which converts to size 3 on our product page). You may also be able to take the USA Letter size S in the Fatigue Pants for a slimmer fit.
FABRIC
---
What catches most people's eyes about these orSlow Slim Fit Fatigue Pants is the fabric, which they call the Original Reverse Sateen. It is their exclusive and custom fabric that comes in a beautiful olive shade that is easy on the eyes. Due to the pastel-like shade of olive, it is one of the more unique pairs of olive trousers out there on the market, which tend to be dominated by deep and bold olive shades. On top of the color, the fabric has a pretty neat horizontal streaky appearance to it. The streaky appearance comes from the slub, or irregularity, due to the uneven yarn that is used. orSlow states that the result gives it a heftier/thicker look.
The fabric is well-balanced from the factory in terms of feel. It's neither super soft, nor super dry and rigid. You never really feel the slub since it is a "low-pile" slub. These are easy to break-in and wear from the start and you'll find no qualms with them.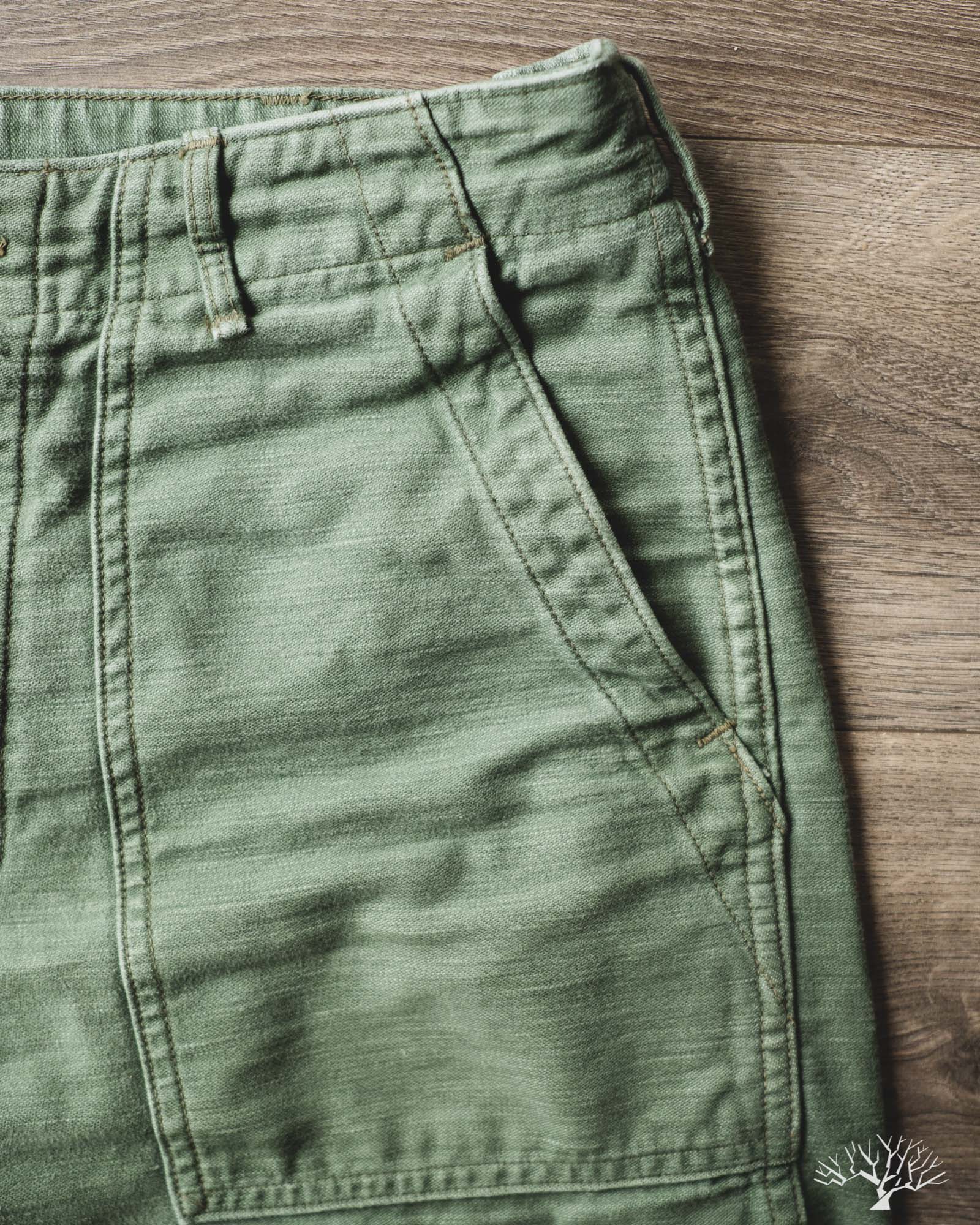 NINE MONTHS
---
The single thing that has impressed me the most with these pants is the durability. I've worn these for nine straight months, generally giving them a 6-8 hours of wear each day, for at least 4 days per week. I'll wash every 2-3 weeks, throwing these into a machine wash warm and machine dry warm/hot. Typically with this rate of wear over many months, I would expect to see some very visible fraying and areas where the wear really has started to set in, and where holes might eventually appear. Usually for me, that is around the crotch area for the usual "crotch blowout." To be sure, there are some signs of fraying on the seams, but those are reinforced and typically are not the area that blows out first; rather, it's generally the area on the interior thigh just next to the inseam that blows out. Luckily, so far, there's no signs of weakness.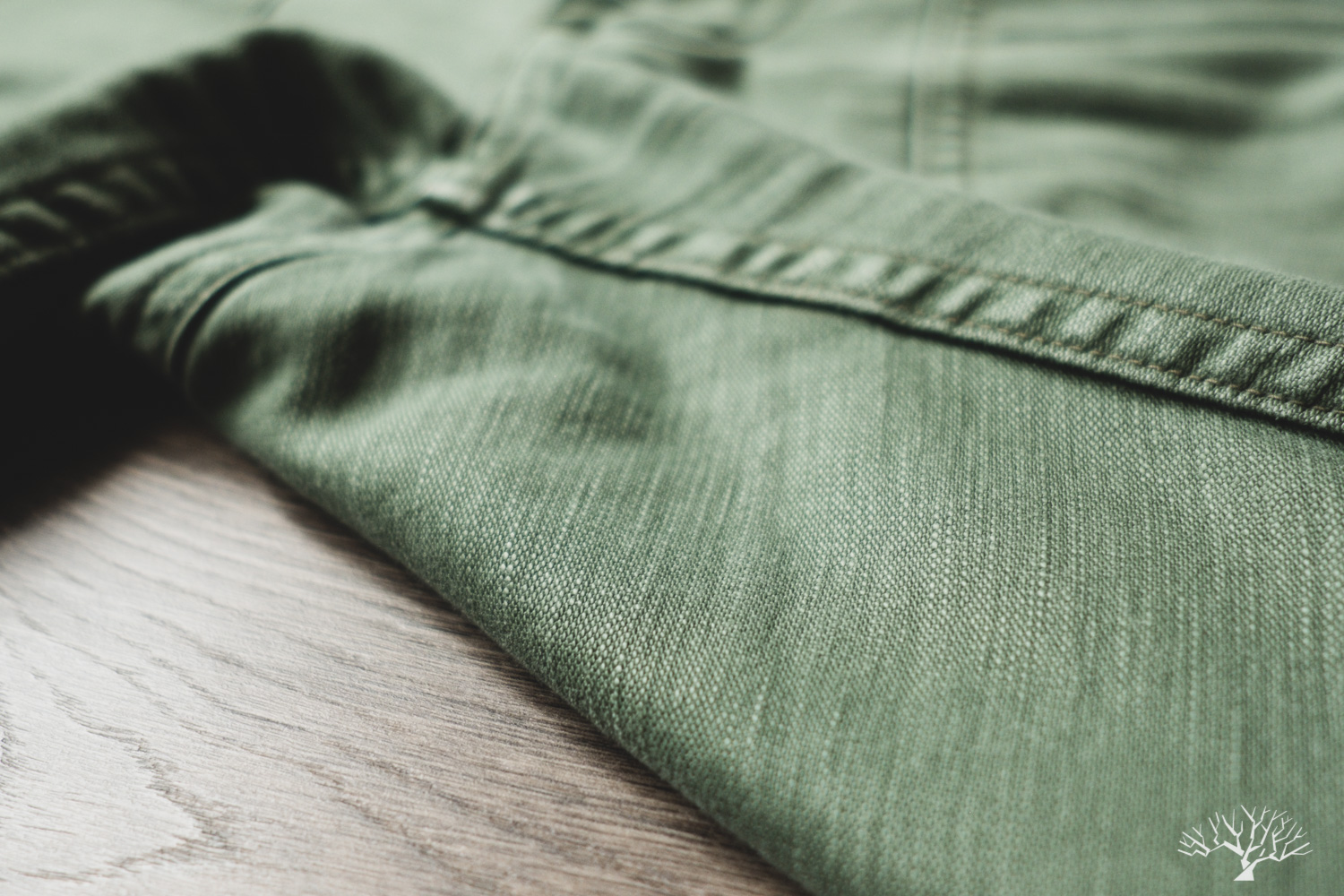 The color of the fabric has faded considerably. The olive has turned into a much lighter shade, which I'll again call a pastel-olive. The white core of the yarn has begun to peek through as well, which really accentuates the horizontal slub/streaking. The shortening of the overall inseam hasn't been noticeable at all for me, since I tend to double or triple cuff the bottom. I do love the cropped / cuffed look with these, which gives your ankles room to breathe, or just to give your footwear the attention it deserves. While it is called a "reverse sateen," which typically makes you think of a shine or shininess, I actually don't think these have a shine at all. At first, they might have a little bit of sheen to it that you could call out if you really wanted to, but now that it's been worn and washed many times, it's definitely more of the typical muted cotton look.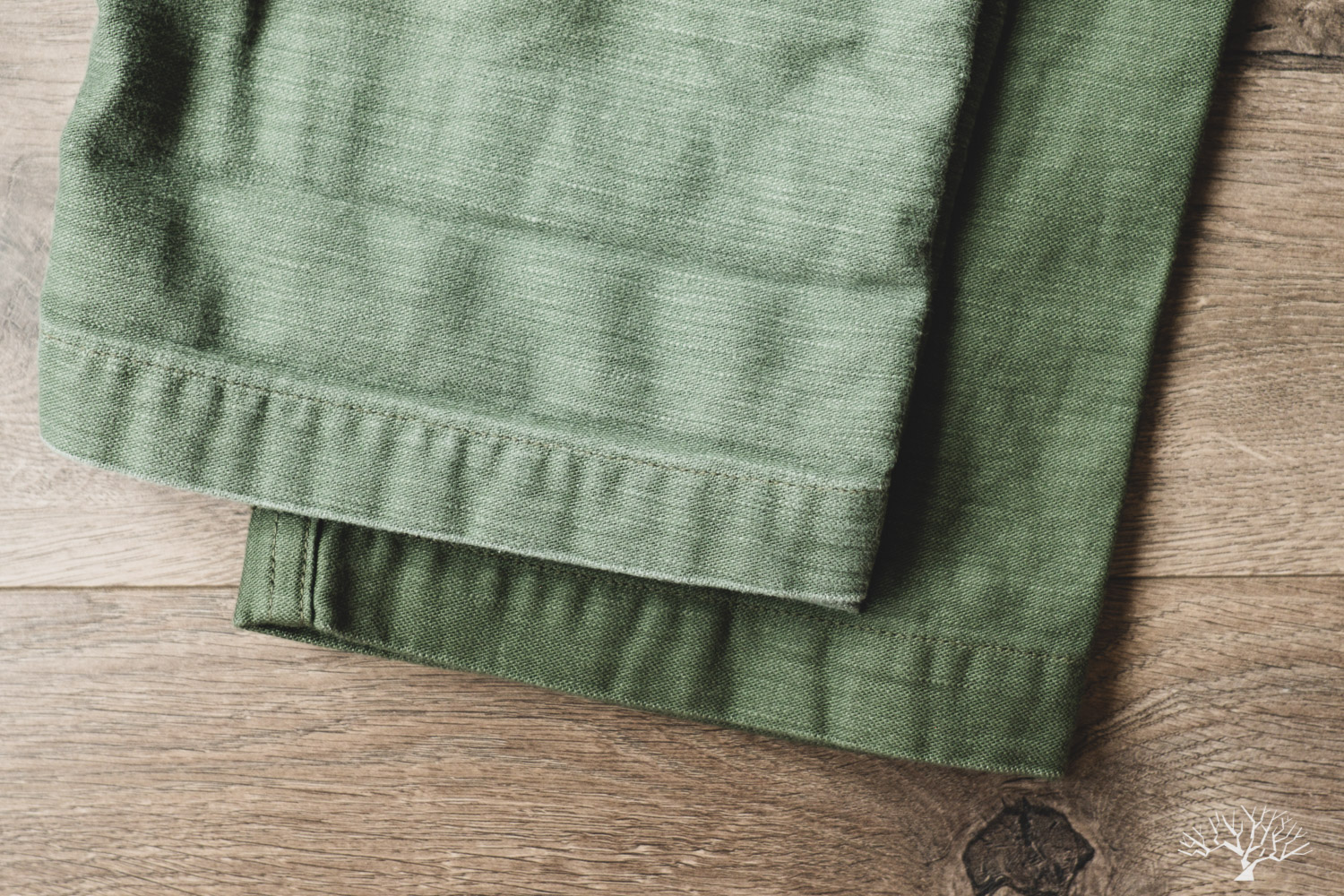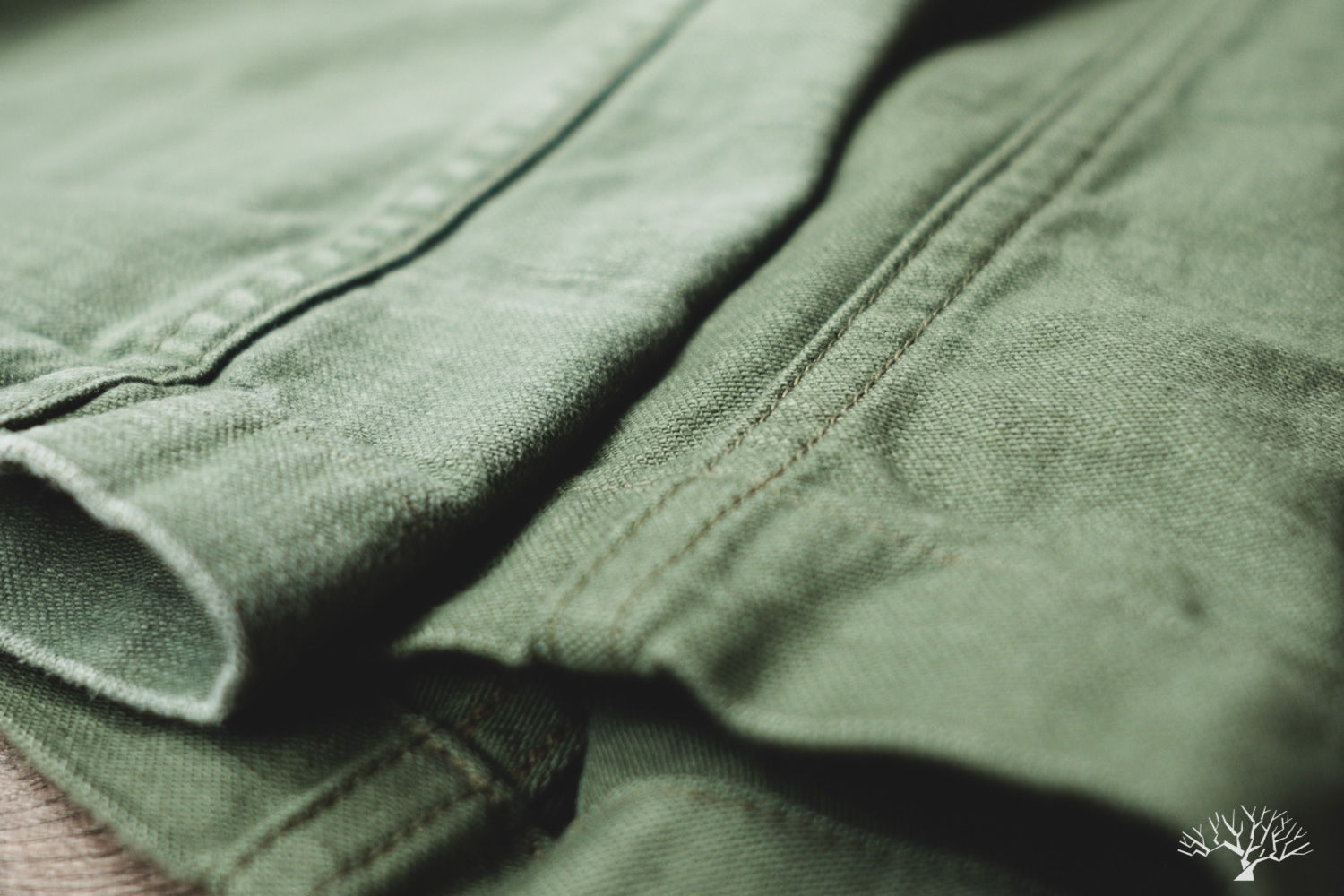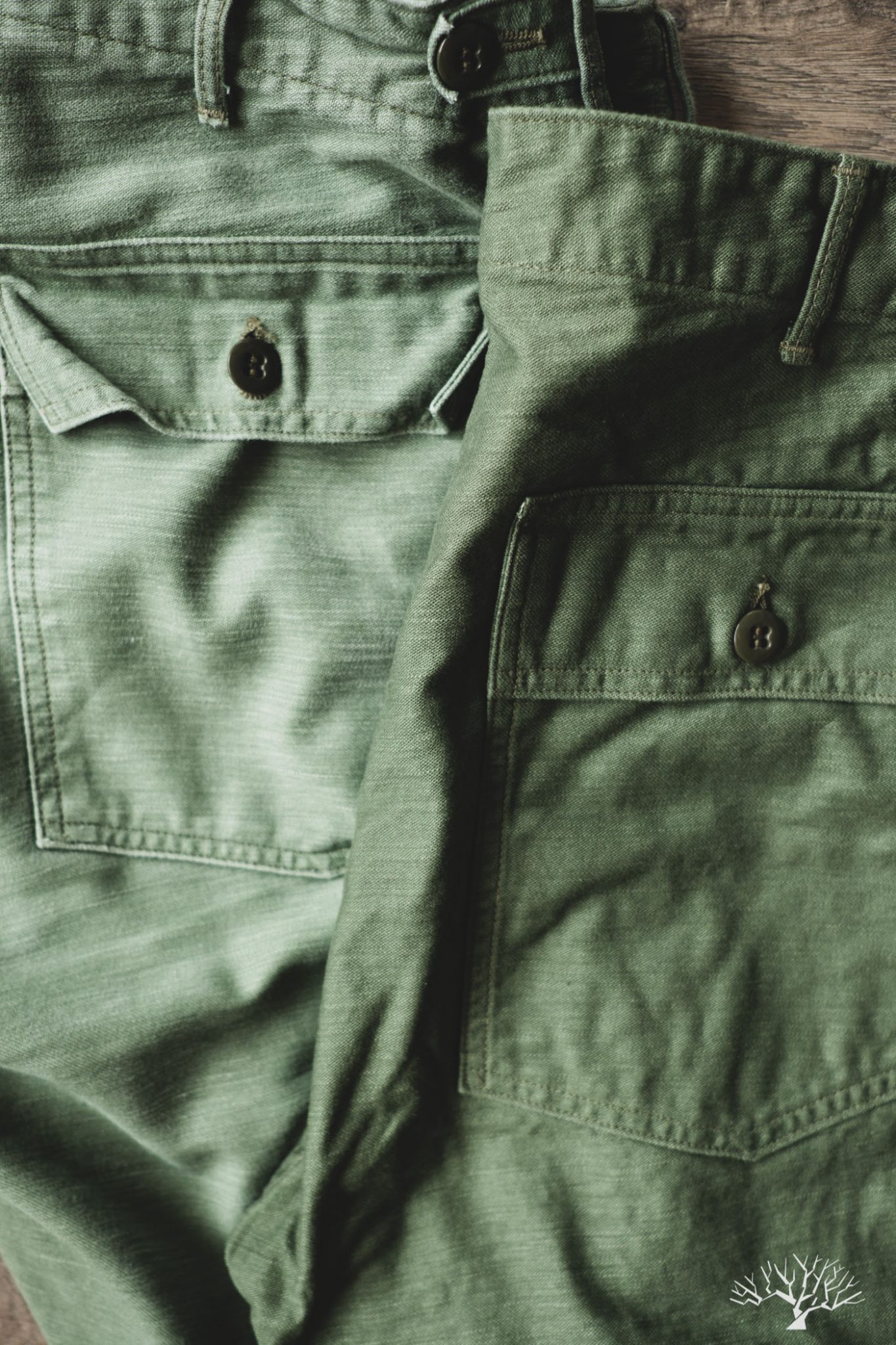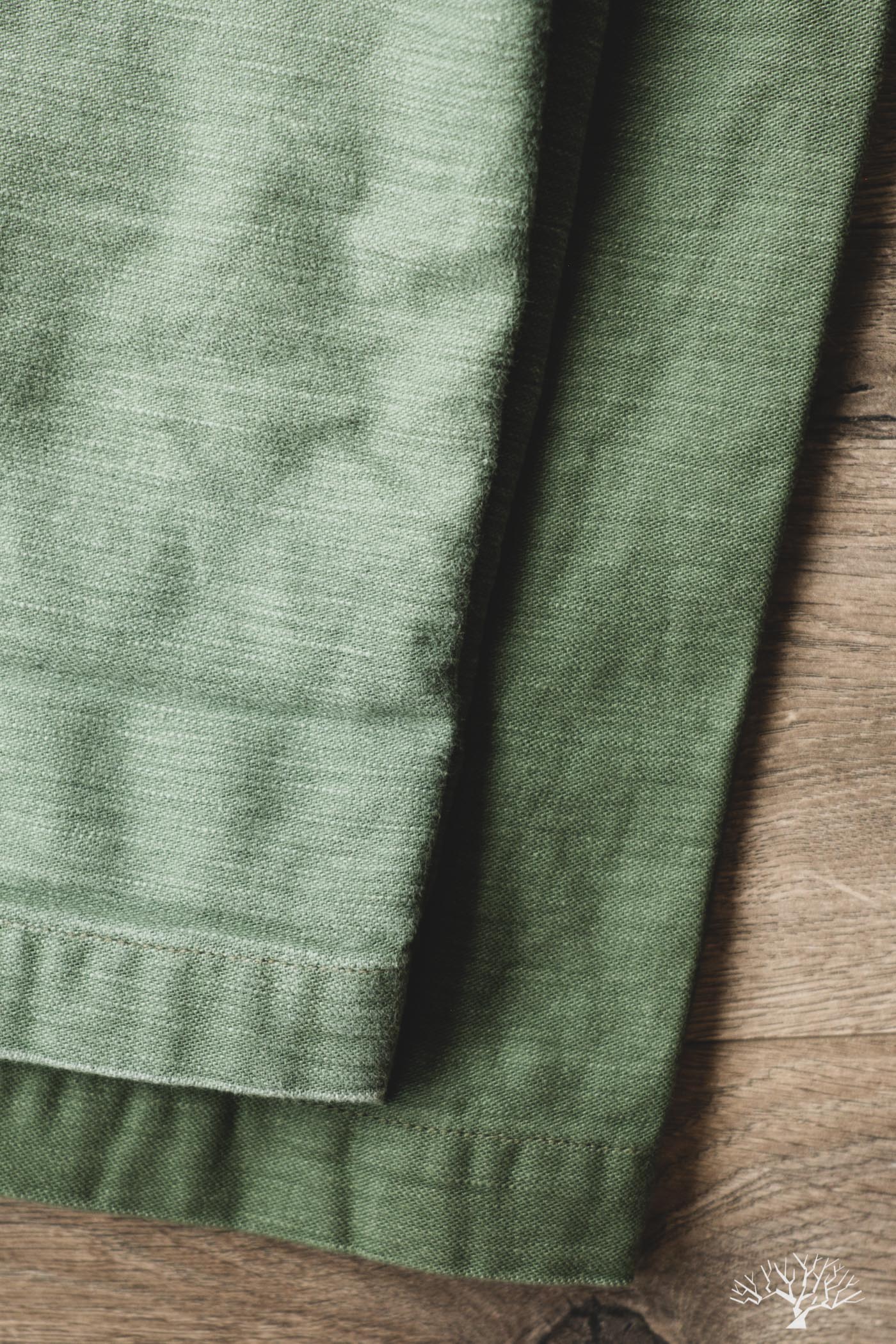 As far as fit, as I alluded to above, I generally go 2-3 weeks without a wash, and then throw these in the washer/dryer to tighten them up and give them a nice clean. Whether it's because it's just that time, or perhaps I want to tighten them up for nicer occasions, the wash method does that just fine. After few weeks of wear, it definitely stretches back out and will look much more relaxed. Given that most of my denim tends to be a bit more fitted/slim, these are a nice alternative for when I want something more loose-fitting, relaxed, with a bit of air throughout. I'd be hard pressed to find a reason to not recommend a pair of these Slim Fit Fatigue Pants to anyone. There's surely a spot in your rotation for this classic and well-constructed pair of pants. Hopefully this was helpful in figuring out the orSlow Slim Fit Fatigue Pants sizing, and if you have more questions definitely reach out to us at info@witheredfig.com.
---
Shop our collection of orSlow Fatigue Pants, available now on Withered Fig. If your size is missing, you can email us to see about reserving your size. You can shop our entire orSlow collection here.