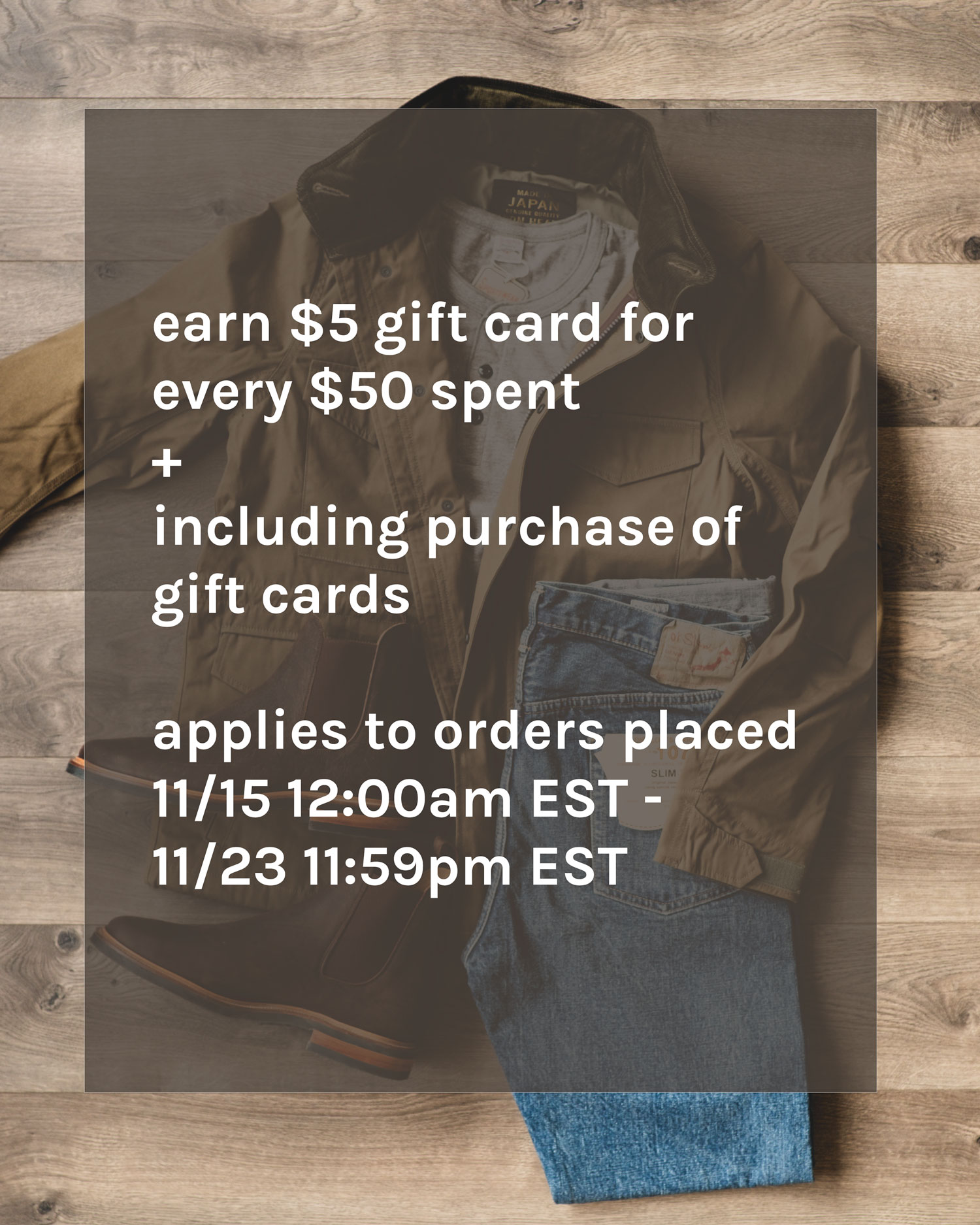 We're in our favorite time of the year where we take some time to reconnect with family and friends, and to reflect on all that we can and should be thankful for. For us, we are always thankful for your new and continued support. We are thankful for our brand partners who have overcome many supply chain and rising material costs over the last year. And we are thankful for this being our 4th year in business, serving the online community as well as our local Northern Virginia customers.
Similar to last year, we're kicking off this season of Thanksgiving with you earning a $5 gift card (GC) for every $50 spent on all orders placed starting Monday, November 15 at 12:00 am EST through Tuesday, November 23 at 11:59 pm EST. All orders also means new GC purchases (must be paid by credit card/Paypal/etc; i.e. no endless GC loops).
Read on below for full details on this promotion and obligatory terms.
Earn $5 Gift Card for Every $50 Spent
Earn $5 back in a Withered Fig gift card for every $50 spent, including purchase of gift cards (shipping charges and sales tax excluded) in a single order. Gift card amounts are issued in increments of $5 (e.g. $110 purchase earns $10 GC; or a $170 purchase earns $15 GC)
No code necessary. Gift cards will be emailed after orders are fulfilled within 72 hours. Gift cards have no expiration date
Gift card purchase options are currently denominated in $20, $50, $100, $250. If you need a custom amount, please email us
This promotion applies to all qualifying orders placed from Monday, November 15, 2021 (12:00 am EST) through Tuesday, November 23, 2020 (11:59pm EST)
This promotion cannot be applied to orders placed prior to the qualifying period (i.e. no retroactive application of this promotion)
Welcome Code, Withered Fig Gift Cards, and Withered Fig points cannot be used in conjunction with this promotion (if used, no GCs will be issued for that order)
Withered Fig Gift Cards are not redeemable for cash and can only be used as payment toward future orders Withered Fig online store. Gift cards cannot be applied to qualifying purchases – may be used on future purchases only.
Exchanges and returns for store credit are possible for full-priced items. Items with any discount are final sale, no returns or exchanges.