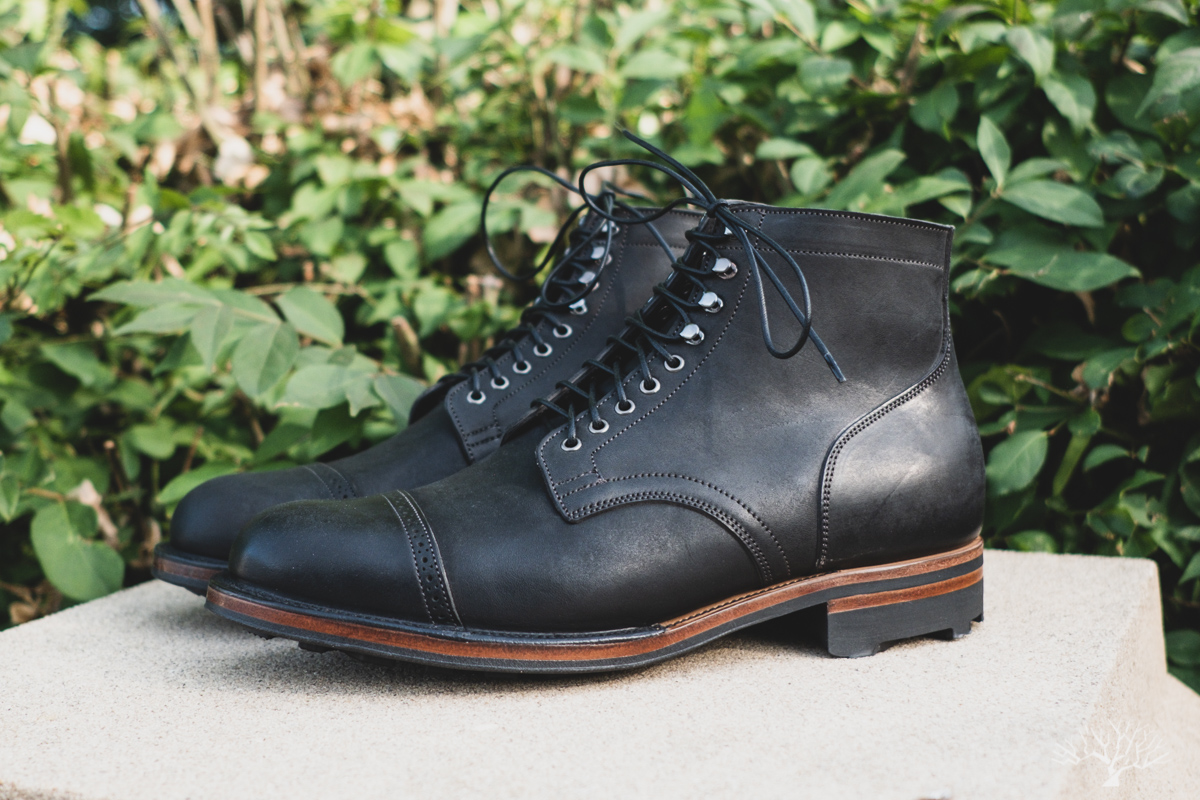 The Viberg Black Waxed Horsebutt Service Boot is our second special make-up for this summer. Releasing Wednesday, June 22nd at Noon EST in sizes 6.5-13 (ex-12.5).
Viberg for Withered Fig exclusive
Black Waxed Horsebutt (Maryam, Italy)
2030 EE Last
Ridgeway Sole
Standard Set-in Tongue
Self-tongue
Brogue Cap Toe
5x #2 Gunmetal Eyelets, 4x Gunmetal Speed Hooks
Partially Structured Toe
Natural Leather Midsole
Stitchdown Construction
Includes a pair of Black Flat and Round Waxed Laces
Includes Viberg Dust Bag
Includes Viberg Polishing Cloth
Includes 1oz bottle of Viberg Shoe Cream
Made in Victoria, B.C., Canada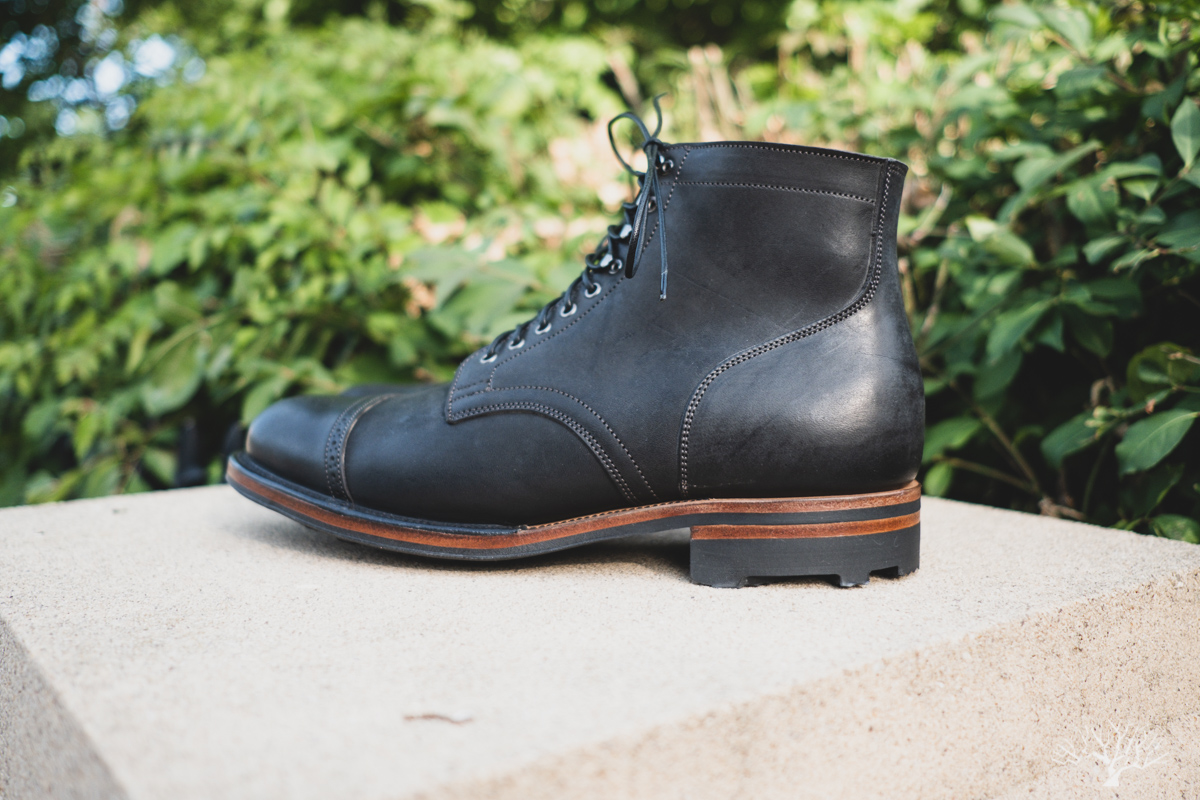 We've always pondered about a smooth black leather make-up, and we finally got to one that we love. It's black, but not completely black. It's black, but not blacked out. It's black, but not deep black. Just about the right amount of dark tones and accent colors to make these another pair that fits our bill for a Viberg exclusive. The main thing that attracted us to this Maryam leather was the slight matte finish that gives it a smokey-gray hint to the appearance. The leather has quite a bit of variance in grain and the smoothness of the leather, with some shine depending on the angle and portion you're looking at. Rather than a completely blacked out pair (typically done through a darker midsole), we instead kept the natural colored midsole, which adds a nice contrast to the look and gives you that New York City look without the full-on black outfit look. Shout-out to all our New York City fans! We still love you.
Aside from the leather, the other highlight with these Black Waxed Horsebutt Service Boots is the EE-width toe boxes that we opted for. Long gone are the days of D or E widths, we want room and we want them now (apologies to all you smaller width feet). With Viberg's expanded toe offerings, we definitely wanted to give the 2030 a roll with a EE-width box, and it does not disappoint. It's got the room of the 1035 but with the slightly more sleek shape of the 2030. That said, it still looks quite beefy relatively speaking. As an E-width connoisseur myself, the expanded toebox was a welcome addition to the usual 2030 width that does feel a tad cramped for me.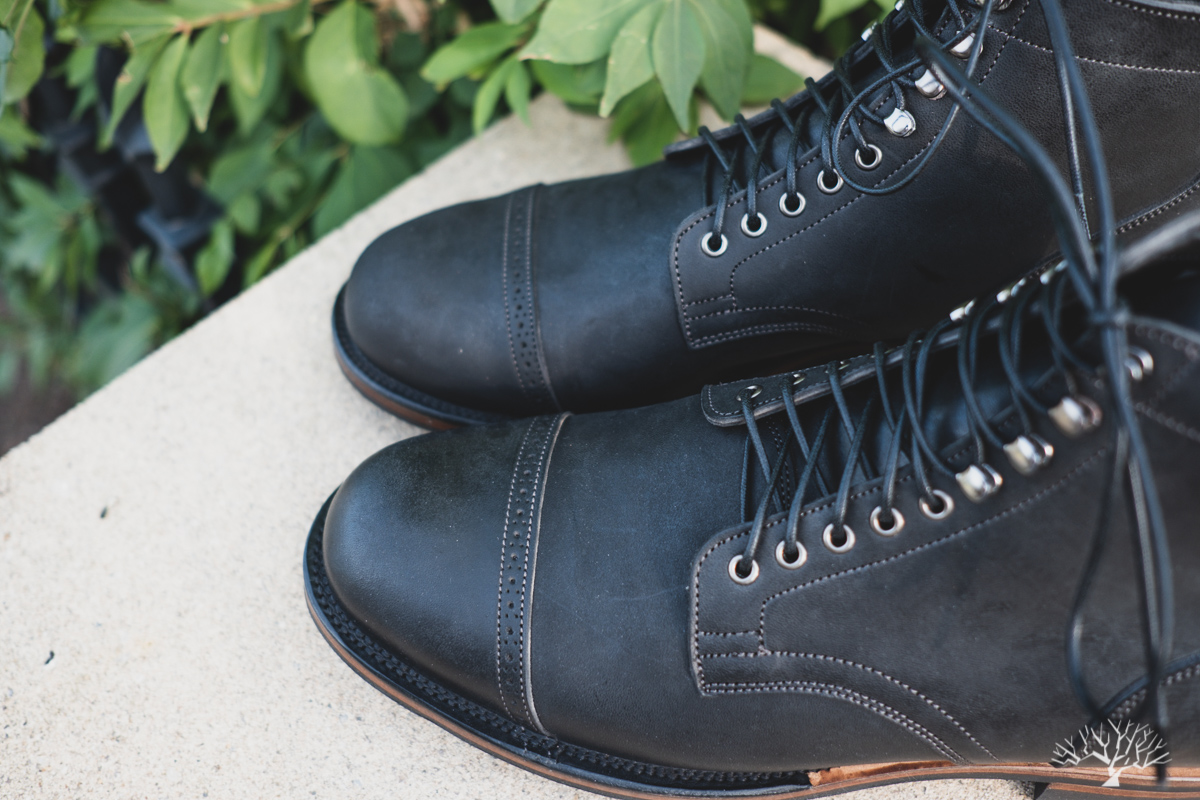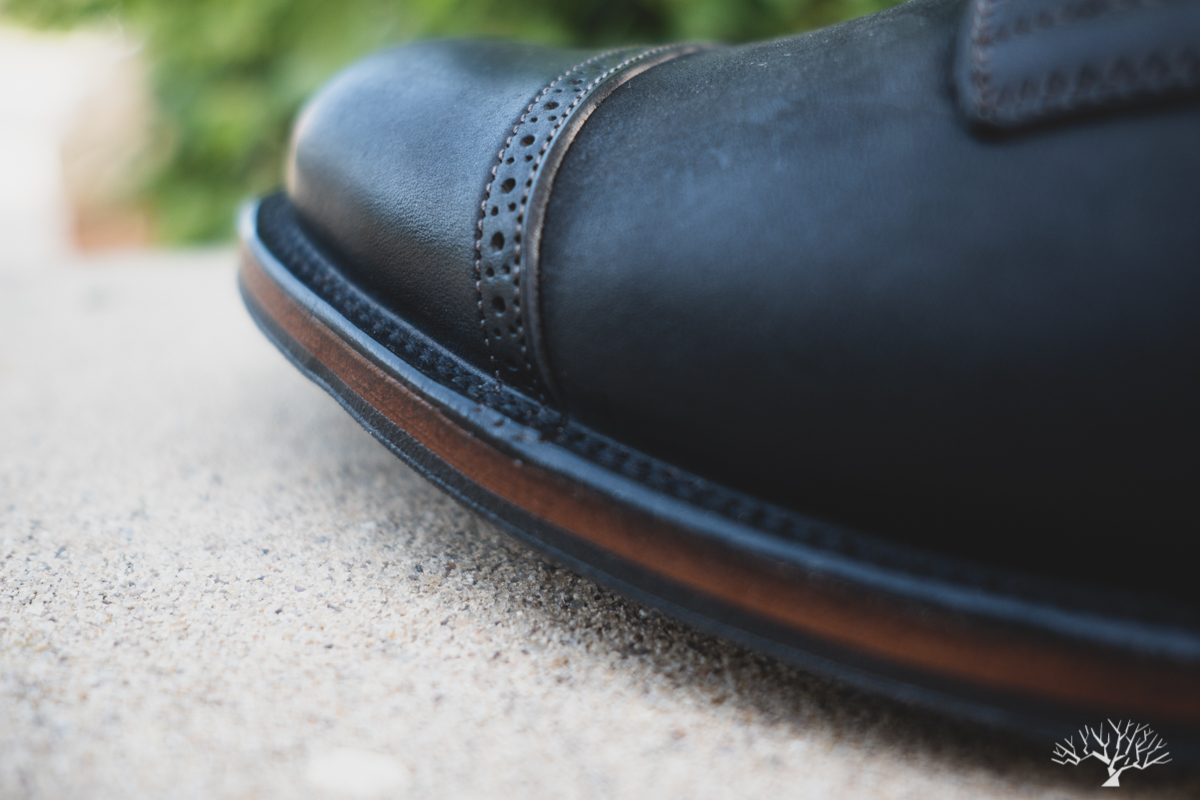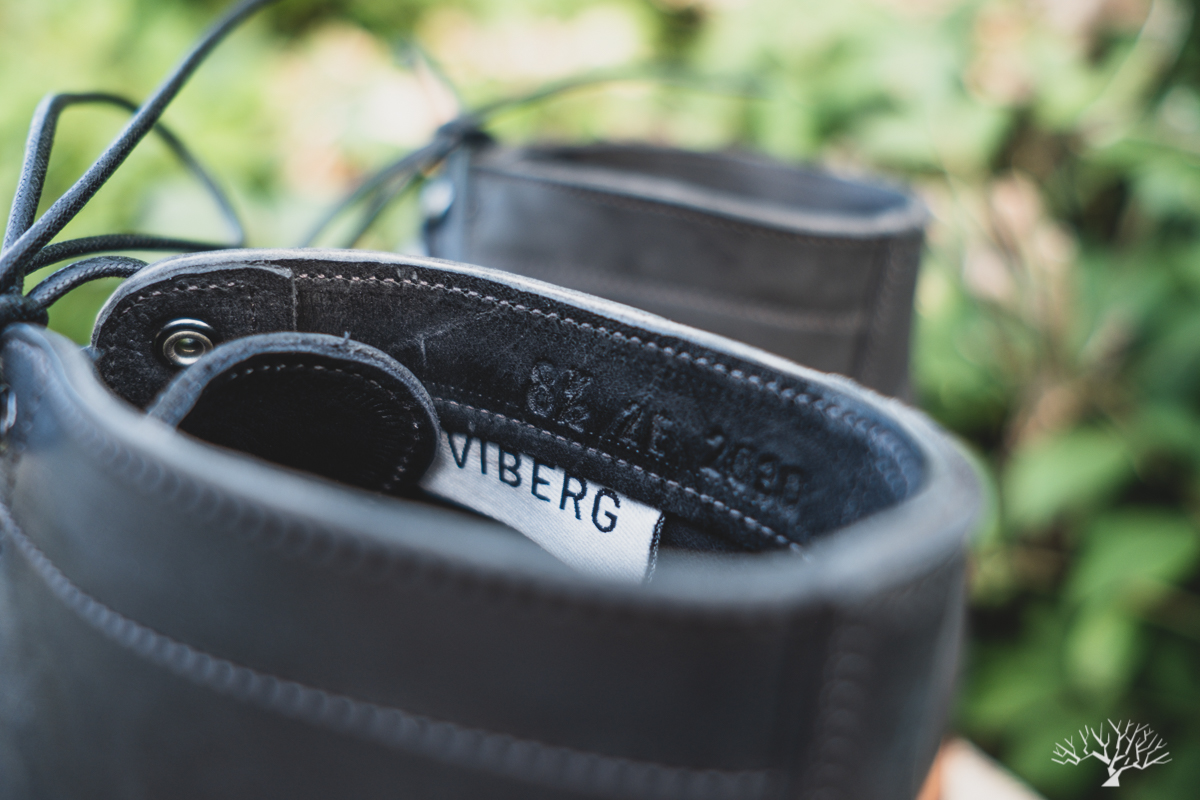 We topped off this Viberg Service Boot with some Ridgeway Soles and a mix of eyelets and speed hooks for ease of wear. These come raw and unlined so that you can experience that full skin-on-skin contact (the inside leather is actually quite smooth and nice). The pair will come with your choice of a black flat waxed lace or a rounded version for those who want a little more symmetry in their lacing.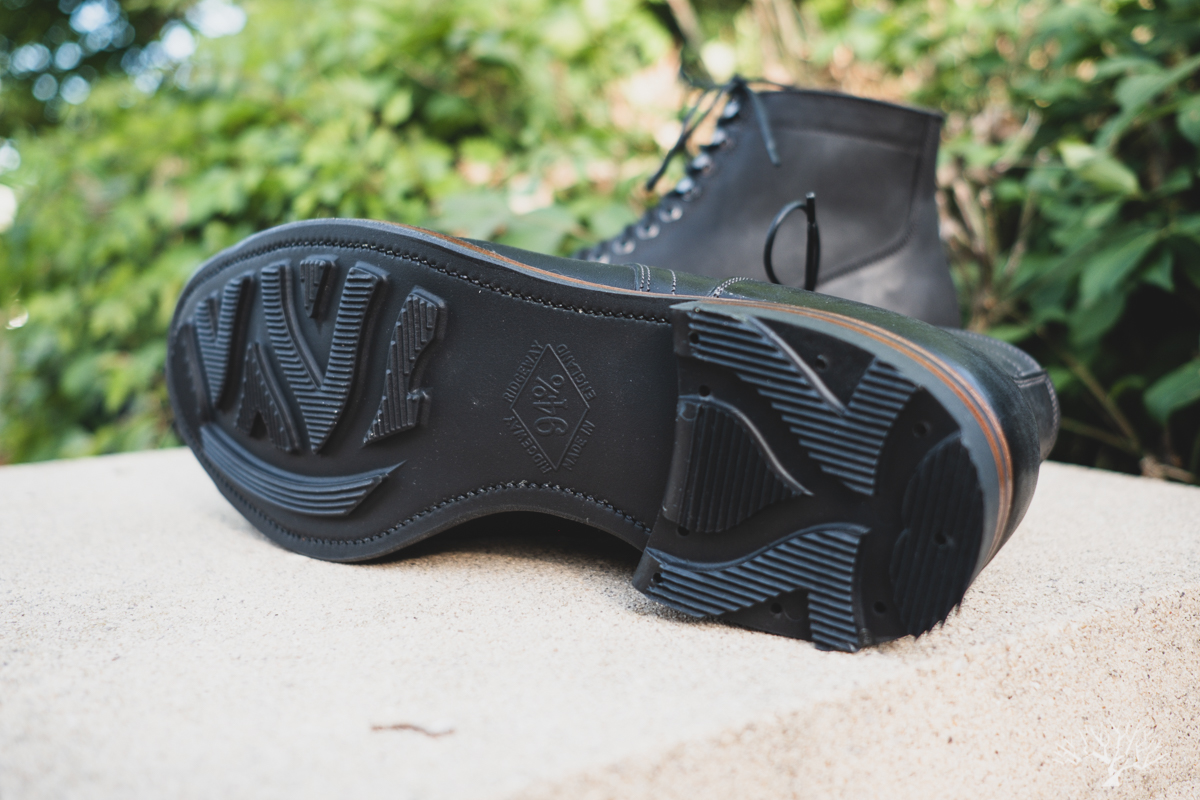 On sizing, these are pretty standard 2030 Service Boot sizing. We recommend taking 1 down from Brannock in almost all cases, of course if you have your own unique quirks when it comes to sizing, you'll know best. The main thing to keep in mind is that if you previously sized down only 0.5 to perhaps get a more accommodating toebox, you might want to go down a full 1 down given the EE-width last.
The Viberg Black Waxed Horsebutt on Ridgeway Sole will retail for $820 and will be available in size 6.5 – 13 (ex-12.5), and will release on Wednesday, June 22nd at Noon EST. Shop our Viberg Collection here.