Our Brand Spotlights are where we share the stories of the people behind the brands that we carry. More than just buying a product, we want the Withered Fig experience to be deeper in purpose and meaning. We want you to know the people behind the brands that have made this their living. It is the men and women, from the top to the bottom, the owners, the designers, the cutters and sewers, that encompass everything that each brand is. As such, we hope that the stories we share will not only help you learn a little more about what makes each brand unique, but also encourages you to pursue your passions as well. 
INTRO
---
Dr. Sole has quickly become a familiar name in the boot collector's world. Blending traditional looks and the latest materials, Dr. Sole specializes in developing outsoles and has gained a reputation for repairing and rebuilding shoes.
Just on the heels of our chat with Chao-Yung Lin [Lin], founder and designer of Dr. Sole, our friends over at Stitchdown had also recently concluded their interview with Dr. Sole. Without repeating some of their well-detailed backstories and insights into Dr. Sole (we encourage you to give it a read!), we took a deep dive into other aspects of their story, including Lin's favorite resole experiences and Dr. Sole's upcoming projects. Additionally, as part of our 5 Year Anniversary collection, Dr. Sole has partnerned with us to create the Game Changer boot in a limited and exclusive run in Black Nubuck Leather.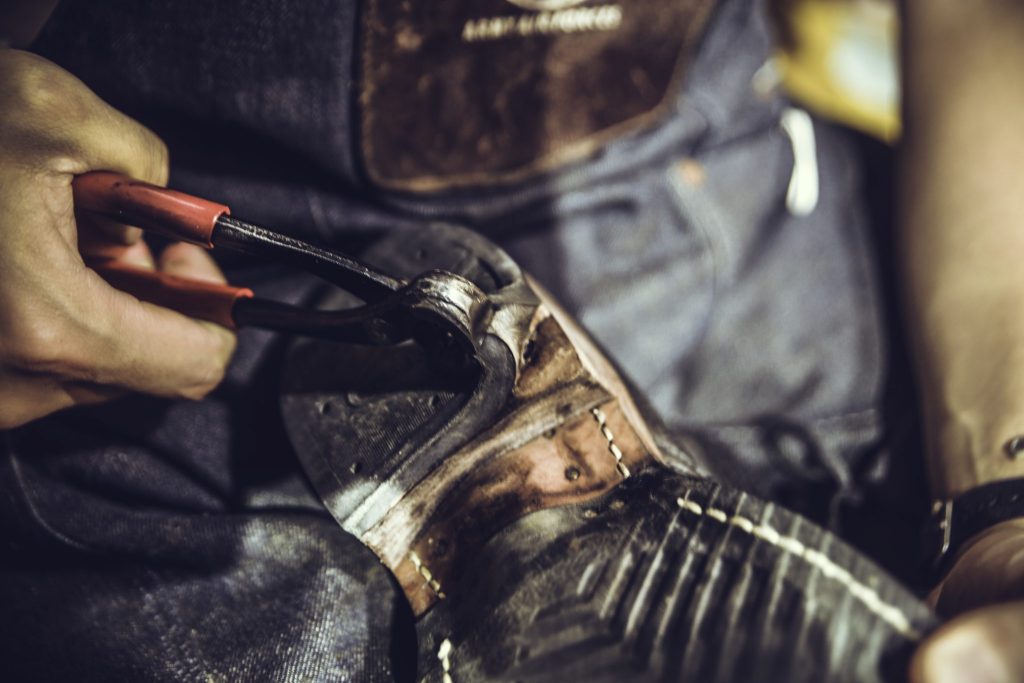 BUILDING IDENTITY
---
What's the quick and dirty on the beginnings of Dr. Sole and how it came to be? As well, how has Dr. Sole evolved and changed over time?
L: It is an interesting story to tell. In fact, I am not the person who established Dr. Sole; I am more like the person who found and activated it. My wife, Betty, and I both went to the University of Denver, where we earned our master's degrees in Marketing in 2011. We moved to China right after we finished the master's program just as Betty's father, Johnny, had a stroke and wished her to accompany him during his latter days. It was also Johnny's plan that we could work with him at his rubber sole factory in Southern China.
Johnny began his career at a very young age. In 1972, he worked as an apprentice at a rubber sole factory in Taipei, Taiwan, when he was 16 years old. After 20 years in the sole industry, he established his own sole factory in Southern China in 1992. Since then, the factory has been making rubber soles for many renowned footwear brands worldwide for 30 years. It seemed that establishing a brand was a dream for every manufacturer who had been making things for other brands. Johnny was no exception. He came up with a brand name and registered it in 2008 – Dr. Sole – which was Johnny's nickname. However, though the brand name was registered, at the time, Johnny and his team had no clue how, or the capabilities, to begin operating a brand. The brand ended up being forgotten until I found it when Betty and I began our job in the factory.
I was quite excited to know that Johnny had the idea to operate a brand, as Betty and I had just earned our master's degrees in Marketing. I thought to myself that it was a great opportunity to put what we had learned in school into practice and to enter the game I am passionate about – work boots – by activating the Dr. Sole brand. My motive was quite simple. The sole-making circle had been dominated by Vibram for several decades, and I thought it could be an opportunity for a newcomer with a strong manufacturing background to create some ripples in the water. I proposed the project to Johnny, and he was also excited about it. In December 2011, I revived the Dr. Sole brand by launching our very first product – Super-grip half soles. What's funny was that we ended up not working for Johnny; I would say we "accidentally" founded our own business with Johnny's initial support.
Back to your question, there were indeed some changes that made Dr. Sole different from its founding stage. In 2013 we moved Dr. Sole's headquarters to our hometown, Taipei, while Betty was pregnant. It was also a time when more and more people in the field of work boots became more familiar with Dr. Sole. Despite the relocation of the headquarters, our manufacturing was still done by Johnny's factory. In 2014, we started offering in-house resole services, known as "bench-re-built" service, which has been a great channel for more boot lovers to learn about us.
Our first order was shipped to the United States in 2012. Since then, we have gone on to sell our products to 34 countries worldwide. Except for providing the products under the Dr. Sole brand, we've also been making custom soles and heels for many brands and bootmakers in the field of heritage work boots, many of whom we can't reveal due to confidential agreements. In some of the past partnerships we provided, including in 2018, we were honored to have the chance to make custom soles and heels for Wesco's centennial boots. We look forward to providing our products, either under Dr. Sole's brand name or working as a supplier for major makers.
If I have to name something that has not changed, our products are still designed and made for the heritage work boots that I am still passionate about!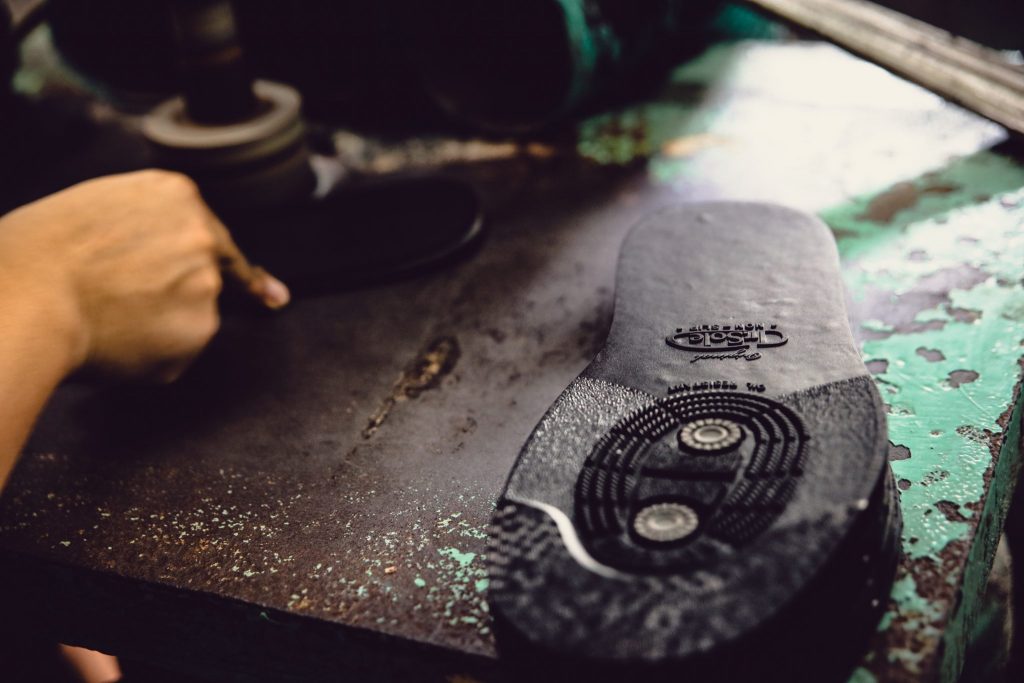 With over a decade of experience in resole work, designing and manufacturing soles, and now producing your own in-house footwear, were there any opportunities that you felt you missed?
L: We started with designing and manufacturing soles, and then providing boot repair and custom services. We also worked with existing footwear brands to make exclusive boots using our soles and heels. And since 2021, we have been producing our in-house footwear. For me, this is a natural evolution. All these are interwoven and focus on one main character – our rubber sole.
I am involved in all these projects, and they all take up my time. When I spend more time on one project, other projects would be less taken care of. The best example of this is that as the resole business has grown and demands more of my attention, so the speed of launching the new styles of soles has slowed.
Currently, resole work takes up most of my time, approximately 70-80% of my working hours. However, this is the least profitable work among all projects as each resole work requires attention to every single customer, making each case an independent task to finish. But this is also why resole is so fascinating to me! Hence, it is my goal to make myself spend more time on other projects while still ensuring all the resole cases are well taken care of.
Has Dr. Sole's growth over the last decade influenced or affected your roadmap for the brand?
L: Thanks to the explosion of social media, I enjoy watching our customers, including footwear brands, cobblers, shoemakers, and individual consumers all over the world share their boots with our soles.
The more people use our soles, the more chances we have to receive reviews and feedback, which we value a lot. We can always improve our existing products or develop new products by taking feedback from our customers. For example, the launch of our #1220 Super-grip full soles and #1230 Super-grip half heels was a response to American cobblers and Indonesian bootmakers who always wanted to have a thinner version of our existing full soles and heel caps. In the past, I could only design or modify our products based on my personal experiences or intuition. But now, I feel like I have access to a think tank that I can always inquire about.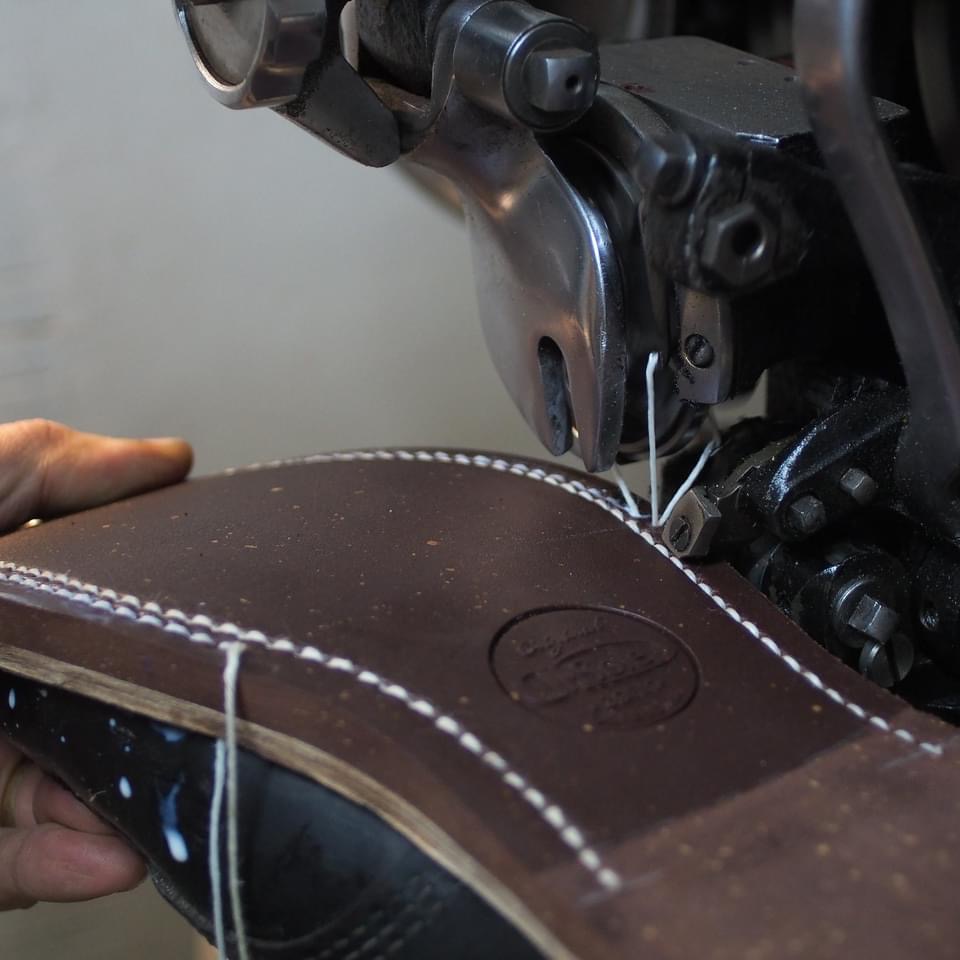 DESIGN & MANUFACTURING
---
Can you highlight some of your soles that are inspired by vintage pieces? How do you approach the design of vintage-inspired pieces?
L: I have been collecting vintage shoe parts, such as Cat's Paw, Biltrite, O'Sullivan's, Gro-cord, and so on, since my two-year stay in the States. These vintage pieces happened to become some of my initial inspiration and a role model to follow when I started the Dr. Sole brand.
I could always refer to the tread pattern design and size setup on the vintage ones when I was designing the products at the beginning of Dr. Sole's brand building. Except for the design, some of our best-seller rubber compounds were inspired by vintage pieces. For example, the raw cord and cork-filled compounds. The vintage pieces are always a great inspiration, but I don't pursue the exact reproduction of them for a couple of reasons.
First, most of the vintage pieces are still owned by other companies, some of which are still major players in the market, such as Vibram (owns Gro-cord), Goodyear (makes soles under the same brand name), Biltrite (owns Cat's Paw), and so on. It would make us a counterfeit maker if we made the exact reproduction of them. We used to get requests to make the exact reproduction of Cat's Paw half soles, but we had to turn them down.
The second reason is that I think it is just boring to do so. However, we can still take reproduction requests if the customer can prove they own the brand or have the license to make them. We are making soles and heels under a "used-to-be-dead" vintage brand for a Japanese shoemaker as they showed us that they've revived and registered the brand name in Japan.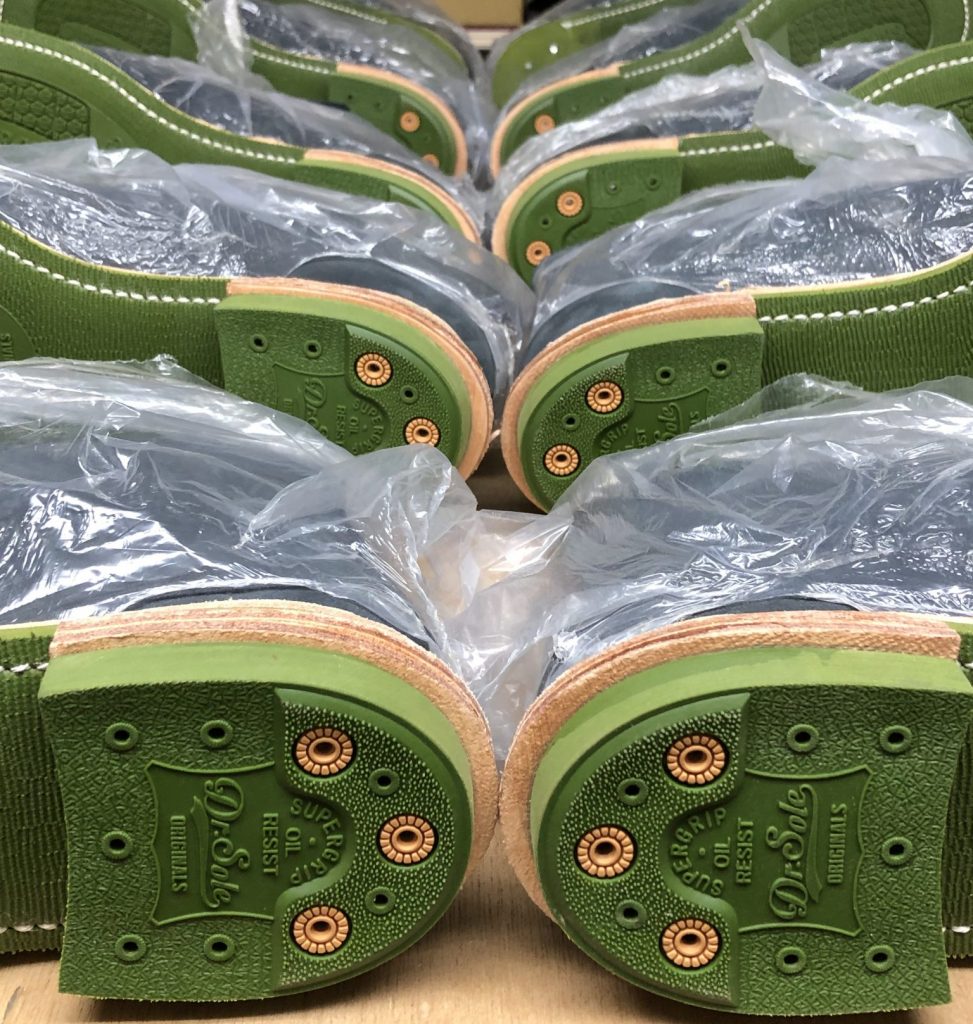 There are a lot of traditions and boundaries to be followed in making a sole. What kind of problems or issues do you deal with in manufacturing soles, and how has technology played a part?
L: With the help of modern technology, such as CNC carving and 3D printing, it is indeed much easier for a sole maker like us today to produce mold than the ancient sole makers decades ago. However, I would say it is instead a limit for us. Most of the design of our soles and heels are inspired by vintage pieces, in which most of the tread patterns were made by hand-stamping on the mold. That is, the patterns were not always consistent and clean. But for me, this imperfection is an attractive beauty that can only be found in vintage pieces.
However, the mold-makers in our mold-making department hate to do hand-stamping because it is very time consuming and requires experience to get it done nicely. Sometimes, it is difficult to have the vintage-like touch even though we've hand stamped the patterns. I still use CNC to make the patterns when necessary, but I still prefer to make the patterns via hand-stamping to achieve a vintage-like feel and touch.
You place a lot of importance on reducing the environmental impact of your brand. Can you tell us about what you have done, how things are going, plans for the future in this regard?
L: When it comes to environmentally friendly measures, we can never do enough. The further we go, the more we find we are not doing it sufficiently.
We are happy to see the factory has taken a more positive attitude toward recycled materials. Since we are no longer involved in the operation of the sole factory (it is now owned and operated by Betty's older sister since Johnny's passing in 2016), I don't really have much power to affect the policy-making in the factory. But there are some measures we've taken to make our factory one of the very few sole factories that pass all the environmental regulations. For example, the factory changed the power supply system from coal burning to biofuel. As well, we also upgraded the air emission system.
Except for the green initiatives in the factory, there are some small green measures that we've taken as a brand. For example, our team had considered using cardboard boxes to package our heels, similar to what Cat's Paw did in the past; their heels were sold in boxes. It is no question that fancy and well-designed packaging would make our products more attractive and vintage-like. However, I am still unwilling to do so as I think it produces excess waste. Other than this, we always ship our products and resoled shoes to our customers with used packaging while we can. The used packaging might look less attractive, but I am kind of proud of it.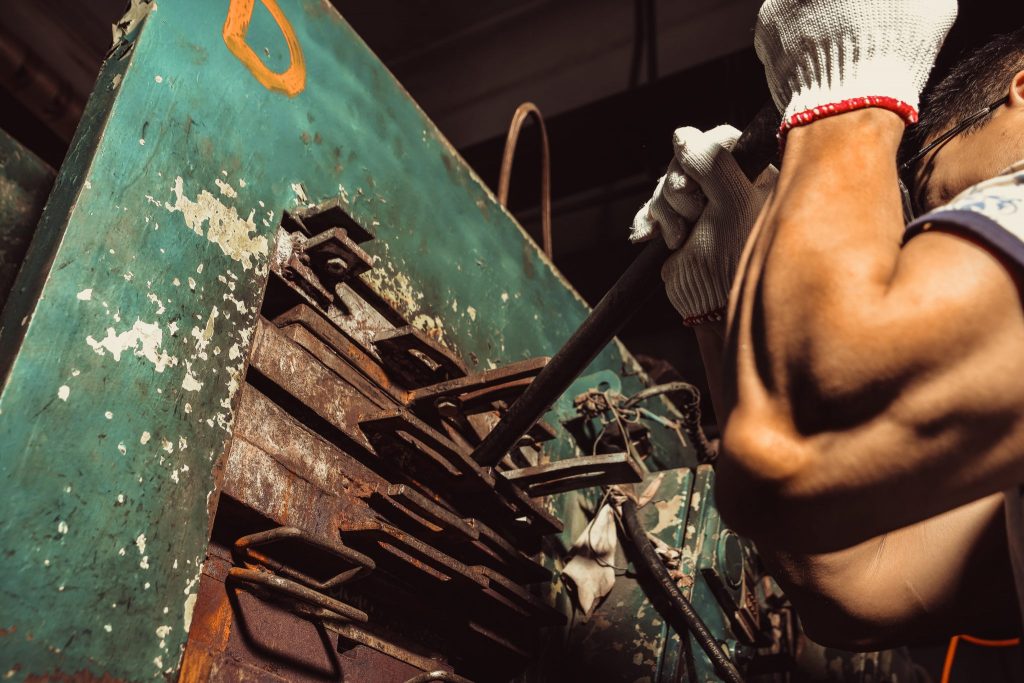 REPAIR & REBUILD
---
You've noted that 80% of your time is devoted to resole work, which has helped you understand the ins-and-outs of boots and what customers are interested in. What are some trends you see coming over the next several years as far as customer interests, and how might that influence the direction of Dr. Sole?
L: It is true that we can see the trend changes via shoe repair. During the 1990s to the early 2000s, sprung toe styles (toe bump) with thicker soles were popular. Later on, since 2008 or so, the flat toe profile became mainstream. Every boot-lover wanted to have a pair of flat-toed engineer boots. And now it seems that people are getting tired of flat toes. The sprung toe is back to the game. We can see this change from the boots that customers send to us. We used to re-last many boots into flat-toed styles, but now more and more customers have chosen to re-last their boots with toe reinforcement (structured) rather than soft toes.
As for the prediction of the potential trends, I am very optimistic about the popularity of the boots built on anatomical lasts, for example, the Munson last or the Modified last of Alden. I personally have become a huge fan of Modified last ever since I experienced them because they are extremely comfortable. It is a last that might not fit most people, but when it fits you, it is one of the most comfortable last. I can walk in the shoes built on the Modified last all day without fatigue. I have the same experience with the Munson last. Unlike the Modified last, the Munson last was designed to fit most people.
What I am trying to express here is that the trend in the work boots will be moving toward a lighter, comfier, and physically healthier way. This will surely affect how we design our in-house made footwear. That's why our second house-made boots – the OZ Troopers – that we released in 2022 are built on the Munson last.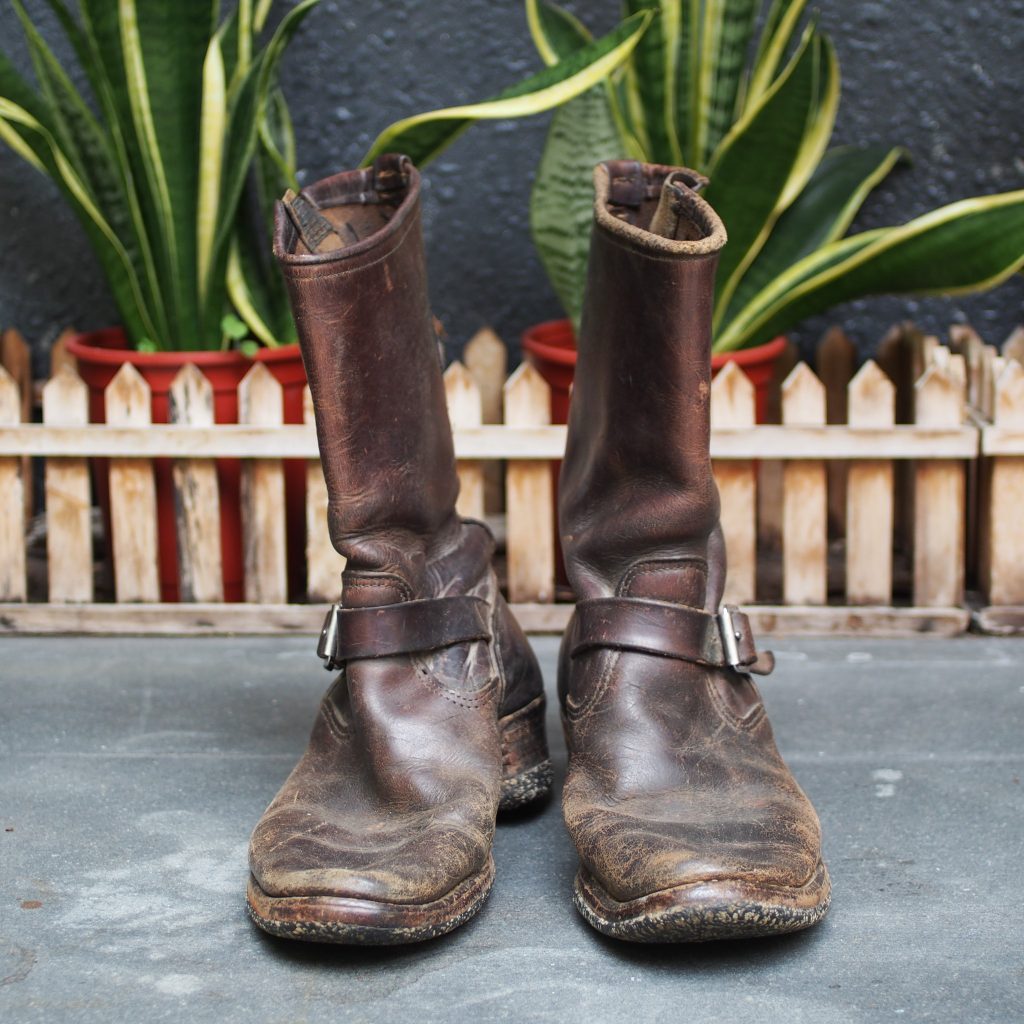 Obviously, not all resoles are alike. Can you share a few pairs of boots/shoes that were very challenging to resole or restore to its original condition? Any unique stories of bizarre resole requests?
L: To be honest, we enjoy working on challenging cases, especially the very old vintage boots. Nothing can compare to the sense of achievement of bringing those old boots back to life. The oldest boots we've worked on are nearly 100 years old.
We took a resole case from Eric Kvatek, who was once a vintage hunter and now a commercial photographer. He has been shooting for brands like Kapital for a long time. He sent us two pairs of engineer boots dated from the 1940s that he had just scored for a total rebuild.
These two pairs were all in such bad condition that we had to replace everything except for the uppers. But after restoration, they were ready for another decade or more of wear. In addition to the restoration, we also found the left and right foot of one pair came mismatched. The right foot and left foot looked identical at first glance, but the right foot was slightly larger than the left one. The buckles on these two feet were also different. We reported this issue to Eric, and then he discovered he was cheated by the seller who sold him the boots. We ended up sourcing similar buckles and aged them to make the two feet look as identical as possible.
For us, what we do is nothing different than restoring an old painting or a historical site. We are quite good and proud of it!
As you have grown in your skills and expertise in resole work, do you see yourself stepping into a coaching role when it comes to repairs and rebuilds?
L: I am a self-taught cobbler. My teachers are books and Youtube videos. I learn by practice. Team Bench-re-built is composed of four people now, including me. I prefer to recruit a new partner who is blank without any experience in shoe repair or shoe-making because I am not sure if my methods are correct or not. After all, I was not trained by any master or school. I always told the new teammate that my way might be incorrect or different than the orthodox, but it is the way I think that works most for me. You can follow what I taught you first. If you find another way you feel most comfortable with and can achieve the same or better result, go for it! I would even learn from you.
One thing I like the most about our team is that we are always evolving. We learn from each other. One of my coworkers learned how to polish dress shoes on his own, and later the results were good enough to become one of our services. Another example was that I learned how to use the sewing machines from a co-worker of mine who used to be a leather craftsman. There are lots of examples like these.
We do need to recruit more new blood to relieve the workload of resole, but before that, we need to relocate to a larger space. Our current site is too small to accommodate any new member.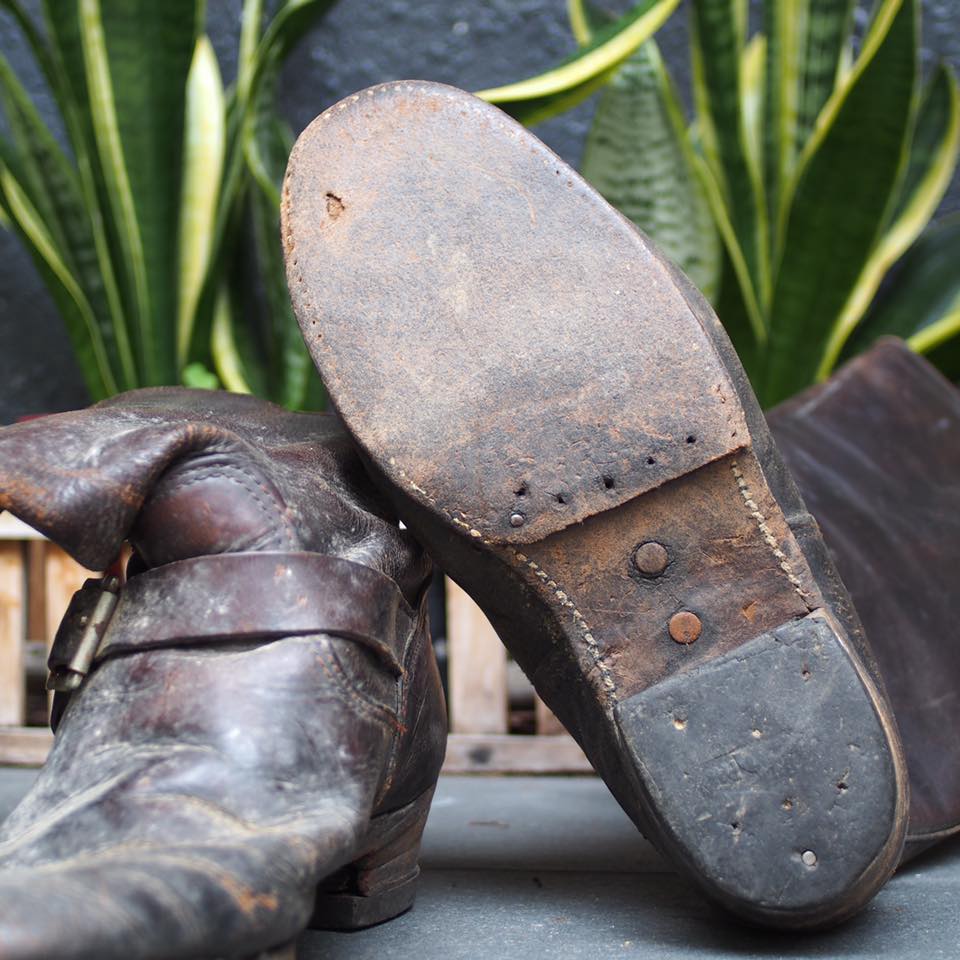 PERSONAL & PEOPLE
---
Can you share a little about how it has been being a business owner – overseeing Research & Development, building relationships with brands and cobblers, and working with the factory. What's your day-to-day look like?
L: One thing I learned from my master's program is that a business cannot be profitable and sustainable without the balance of science and art. The science here includes a lot of subjects, such as finance, accounting, management, and basically anything we can learn from a business school.
The art here involves many fields, including design, relationships, working environment, and anything related to how the company wants to be viewed. Betty and I happen to be good at science and art, respectively. Betty is in charge of our company's "science" portion, such as finance, budget, costs, or anything related to numbers. I, on the other hand, am the "art" guy who takes care of how to bring the beautiful sides of our company to the public. Dr. Sole can't be what it is today without any of us.
Except for art and science, we sort of complement each other in many ways. For example, I am not a social person and am not good at speaking in public or to strangers. But Betty can always handle any social occasion. She always says that I am an artist and I just need to do what I am good at. She is my manager who looks after the rest. I think this is quite a proper metaphor. We are lucky to have each as partners in both business and private lives.
Dr. Sole has a private Facebook club called "Sole-show Club". Can you share what events you usually hold? How did you decide that a Facebook group was the best way to engage with your customers?
L: We utilize different social media to target different customers. Our Instagram account is for international customers, so it is mainly used to raise brand awareness worldwide. Our Facebook fan page is for the domestic customers here in Taiwan, so we will put more emphasis on the resole and sales. However, both are quite formal and less intimate in connecting with our customers.
Using a Facebook group is a tool for us to interact with our customers in a casual and less formal way; just like communicating with friends. In Sole-show Club, we can chit chat, share some interesting news, offer a sneak peek of our new products, or even play quiz games with our customers. Since we only have a brick-and-mortar shop in Taipei, it is difficult for us to interact with the customers if we are not face to face. But using a Facebook group can easily help us engage with any members in the group as long as they are willing to interact with us. We found out this is a great way to build a community here in Taiwan.
What are some passions or hobbies you enjoy outside of shoe-making?
L: I enjoy reading. I always carry a book in my bag, so that I can read whenever I can. The books I read are not limited to a certain field. They can be business, popular science, social science, literature, philosophy, or anything I am interested in. I watch NBA and play basketball too. Let's go Nuggets! I also enjoy having a beer or Japanese sake with Betty on Friday or Saturday nights.
TAIWAN
---
Can you share what the heritage wear scene is like in Taiwan and in other parts of Asia? Any differences in terms of trends or customer habits that you have observed compared to Western countries?
L: It is sad to say the popularity of heritage style has been declining. Several shops specializing in heritage wear have closed or transformed to online operations only in recent years. I believe it is the same situation worldwide, which has worsened due to the pandemic.
In Taiwan, Japanese brands still dominate as some American and European makers have stepped out of the game. However, one thing worth mentioning is that vintage clothing has been very popular during the past years here in Taiwan, especially among the younger generation. American workwear and US military wear used to be the major players in the vintage clothing market. However, during this latest vintage boom, French workwear and European military wear are highly valued, and thus, have become much more expensive than they used to be.
I am optimistic to see this change in trend because leather boots still play an important role in vintage clothing. It is a great opportunity for us to reach younger consumers.
Can you recommend a list of must-visit stores that our readers should check out if they have a chance to visit Taiwan?
L: Below is a list of stores across Taiwan that I would recommend checking if the readers get a chance to visit Taiwan!
Faith
Thurs Taipei / Thurs Taichung
Washida
Classic Works
Groovy Store
Benny's Store Taipei
Black Venom Jewelry
Vintage 0311
The Anthology Taiwan
Syndro
Mr. Manners
GAME CHANGER BOOTS
---
As part of our 5 Year Anniversary Collaboration, we worked with Lin to have an exclusive Dr. Sole for Withered Fig Game Changer Boots. The Game Changer Boot, made under Dr. Sole's Pioneer brand, is Dr. Sole's first in-house made boot. The Game Changer takes inspiration from 1920s sports boots and the lace-to-toe predecessors of modern sneakers that were used for boxing and basketball. You'll find that the Game Changer shares the look of a monkey boot but with a minimalistic approach. Game Changer pays homage to the history of the sports boot design through a canvas-lined nubuck upper and a leather-lined unstructured toe area that collapses naturally.
We are very excited about this release and honored to be working with Lin. Lin notes that the Game Changer Boot is a milestone for them as it is their first in-house made boot. The success of its release has fueled their efforts to develop more in-house boots. Accordingly, Dr. Sole launched its second in-house style last year the OZ Troopers, which received wide-ranging positive feedback as well. Overall, these releases helped Lin and the Dr. Sole team to gain more confidence in making their own boots/shoes, and this all began with the Game Changer.
The exclusive Dr. Sole for Withered Fig Game Changer Boots feature black nubuck leather and their #1220/#1230 Supergrip Full and Half Heel Sole for a special accent underneath, but with black edge dressing for a clean appearance from the sides. These boots are canvas lined, have an unstructured toe, and with Goodyear welt construction. The Dr. Sole for Withered Fig Game Changer Boots are extremely limited and will retail for $480, available in sizes 7.5-12, and will be released on Wednesday, April 5th at Noon EST.
We're excited about these Game Changer boots, as they mark the beginning of our partnership with Dr. Sole. More to come from Dr. Sole – especially in regards to their bread and butter, outsoles!