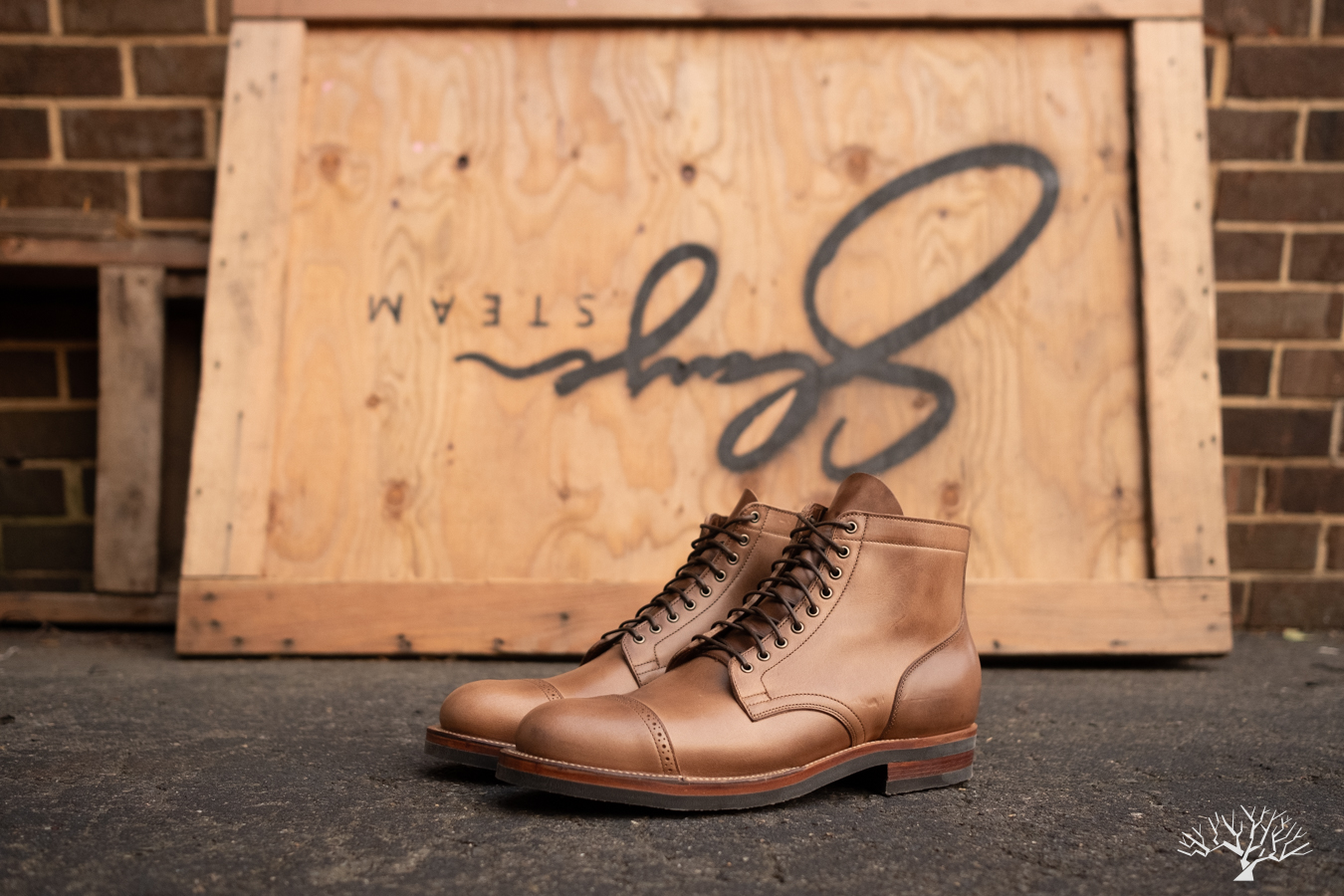 Viberg for Withered Fig Natural Chromexcel (CXL) Service Boot on Lactae Hevea, 2030 last, with Brogue Cap Toe. The second of our Viberg for Withered Fig special make-ups as part of  our 5 Year Anniversary. Releasing Friday, May 26th at Noon EST in sizes 6.5-13 (select D/E/EE widths).
Viberg for Withered Fig Exclusive
Natural Chromexcel (Horween, USA)
2030 Last (D/E/EE Width)
Smoke Lactae Hevea Sole and Heel
Full Gusseted Self Tongue (Natural CXL)
9x #2 Antique Brass Eyelets
Brogue Cap Toe
Partially Structured Toe
Natural Midsole
Stitchdown Construction
Includes a pair of Brown Flat Waxed Laces
Includes a pair of Brown Round Waxed Laces
Includes Viberg Dust Bags
We're getting back to the basics here with a Viberg Natural Chromexcel Service Boot, a beautiful patina-worthy pair. Arguably one of the most common first boots that folks pick up, or at least consider, especially once they move beyond the Red Wing tier ($200-400) and into the next tier ($400+). It's got a pretty neutral tan/brown color that makes it quite versatile to pair with, and it ages wonderfully with minimal upkeep. That said, because it's such a common leather, we think it's overdue for a solid make-up.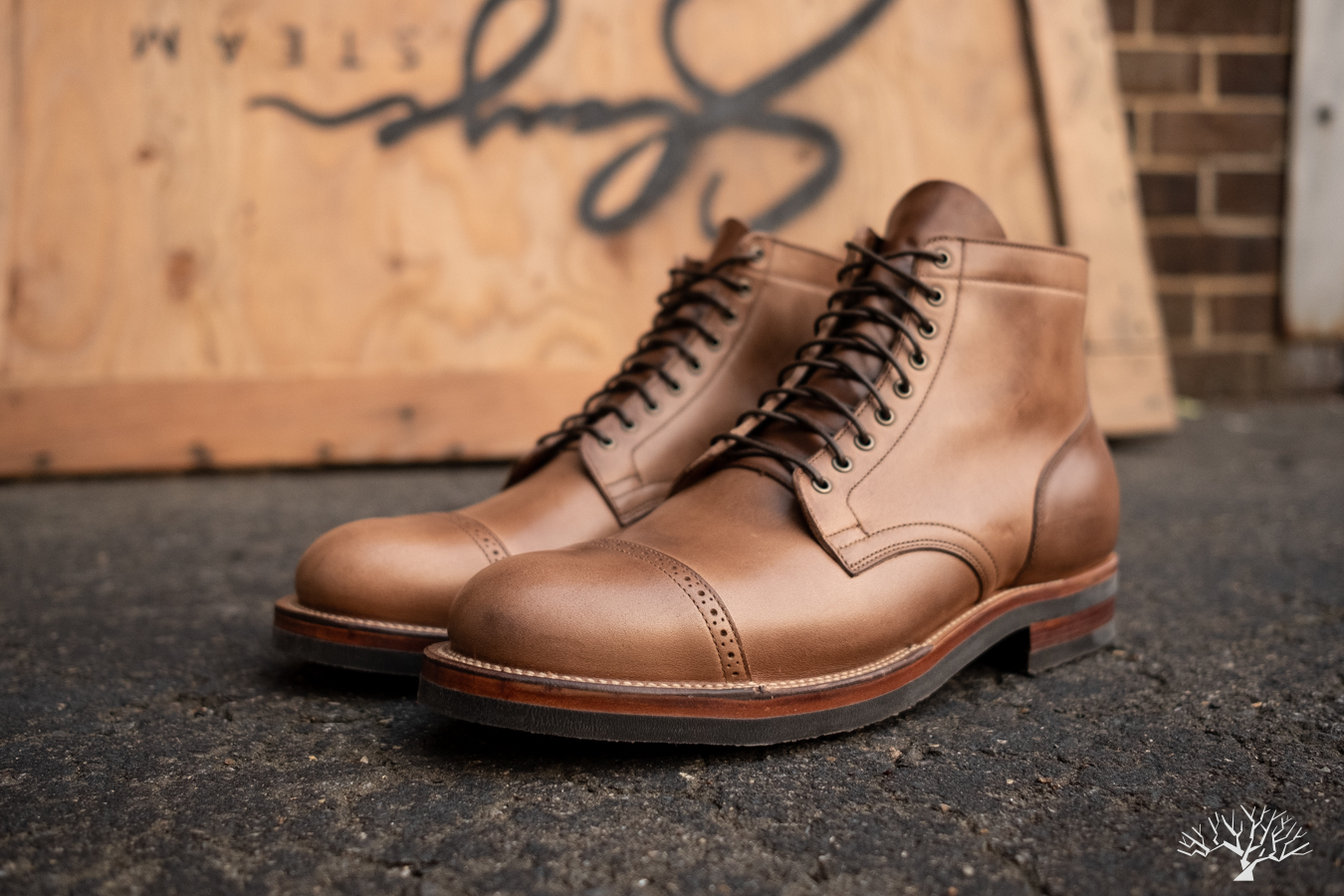 The result is a pair that we think could and probably should become everyone's favorite Natty CXL boot. It maintains the overall casualness of the leather, but gives it a slightly dressier kick with the 9x smaller Antique Brass eyelets and some brogue cap toe action. Put it on top of some Lactae Hevea soles for a comfortable stride, and you've got a make-up that is worthy of becoming a staple in our Viberg for Withered Fig collection.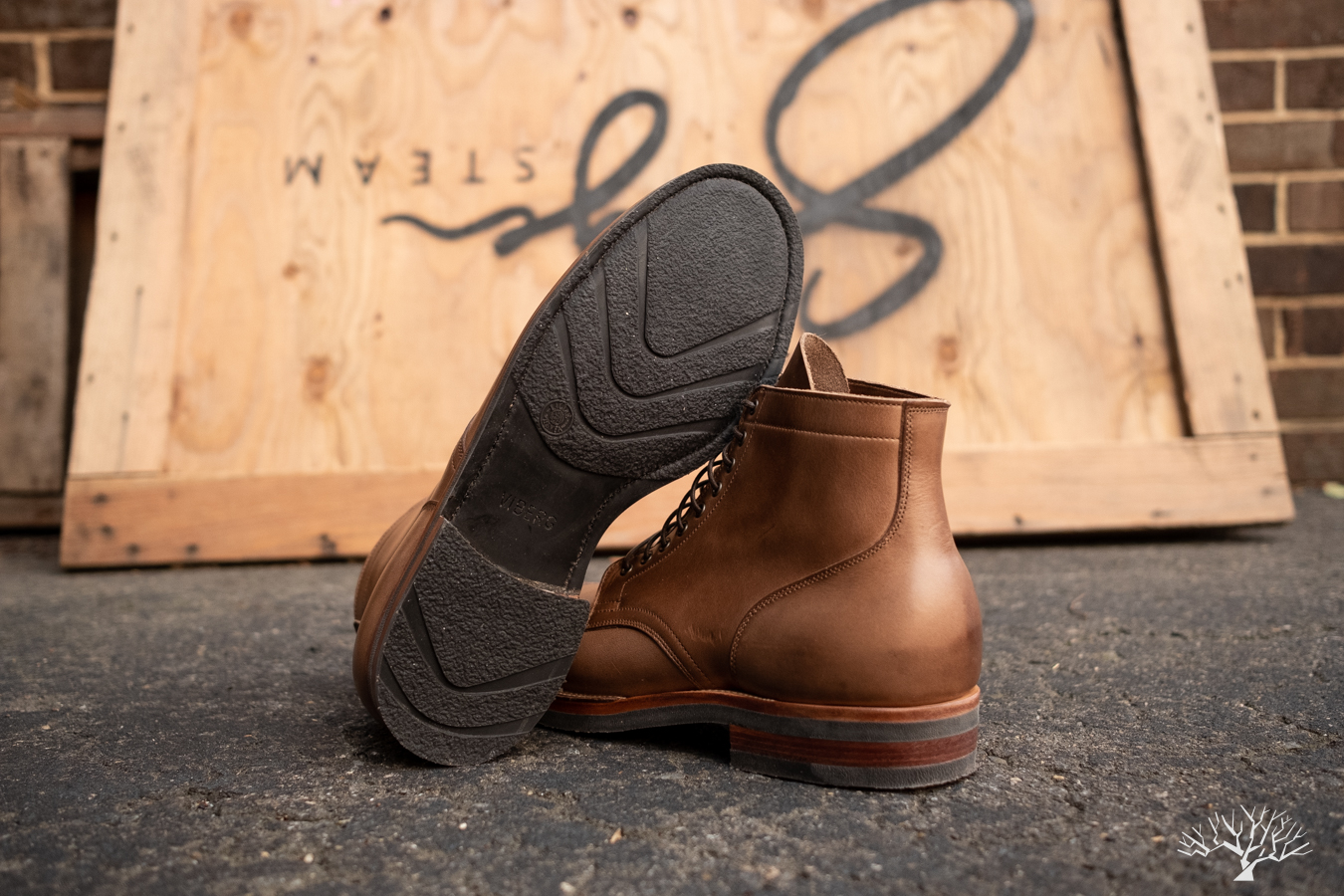 While we're not sure if it's just our eyes playing tricks on us, or if there's something about Horween's Natural CXL leather that brings out the curves that much more, but we absolutely love the proportions on these Service Boots and the curvature on that heel, oh my! In all seriousness, it's likely just our eyes playing tricks on us, but perhaps Viberg has slightly tweaked it unbeknownst to us.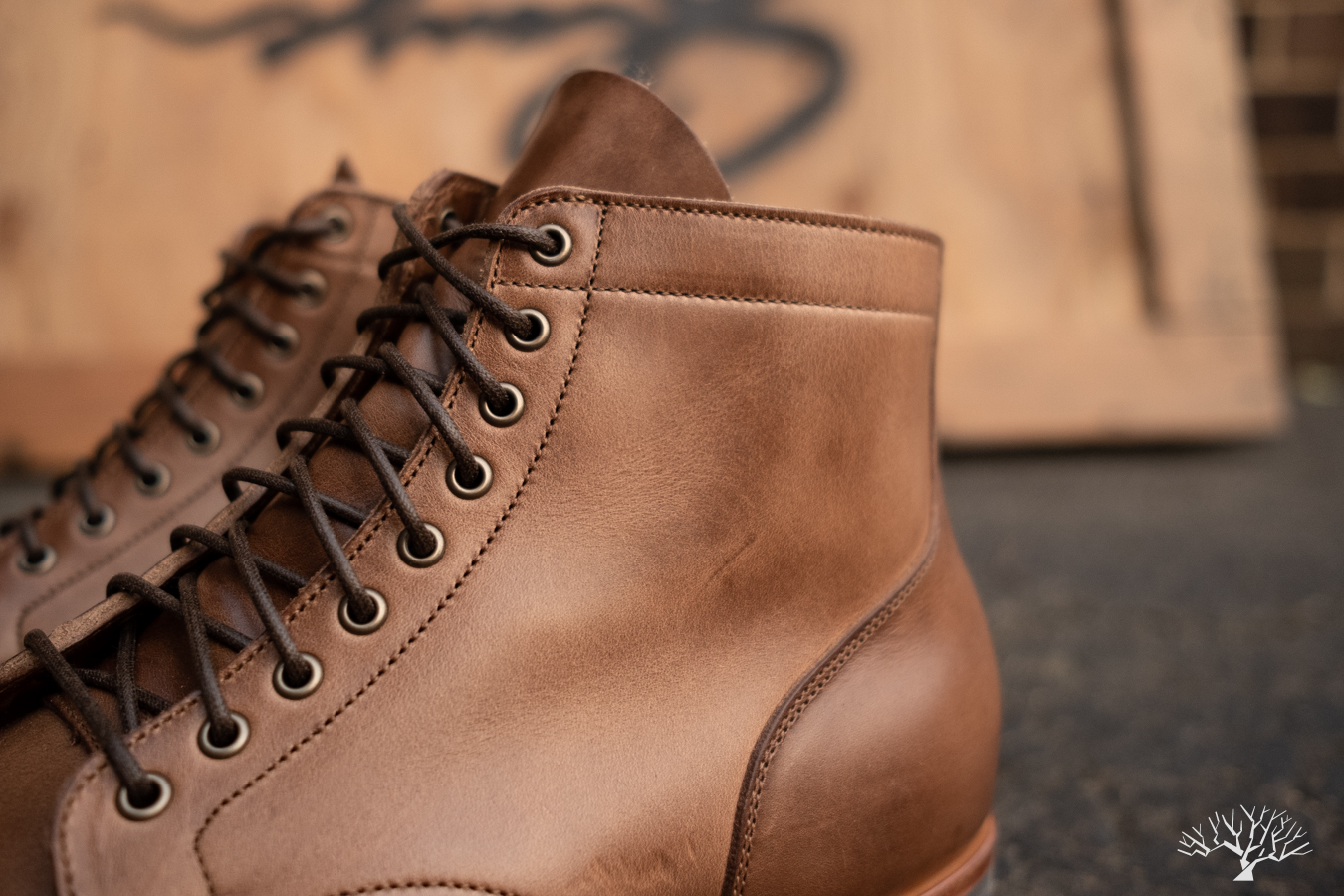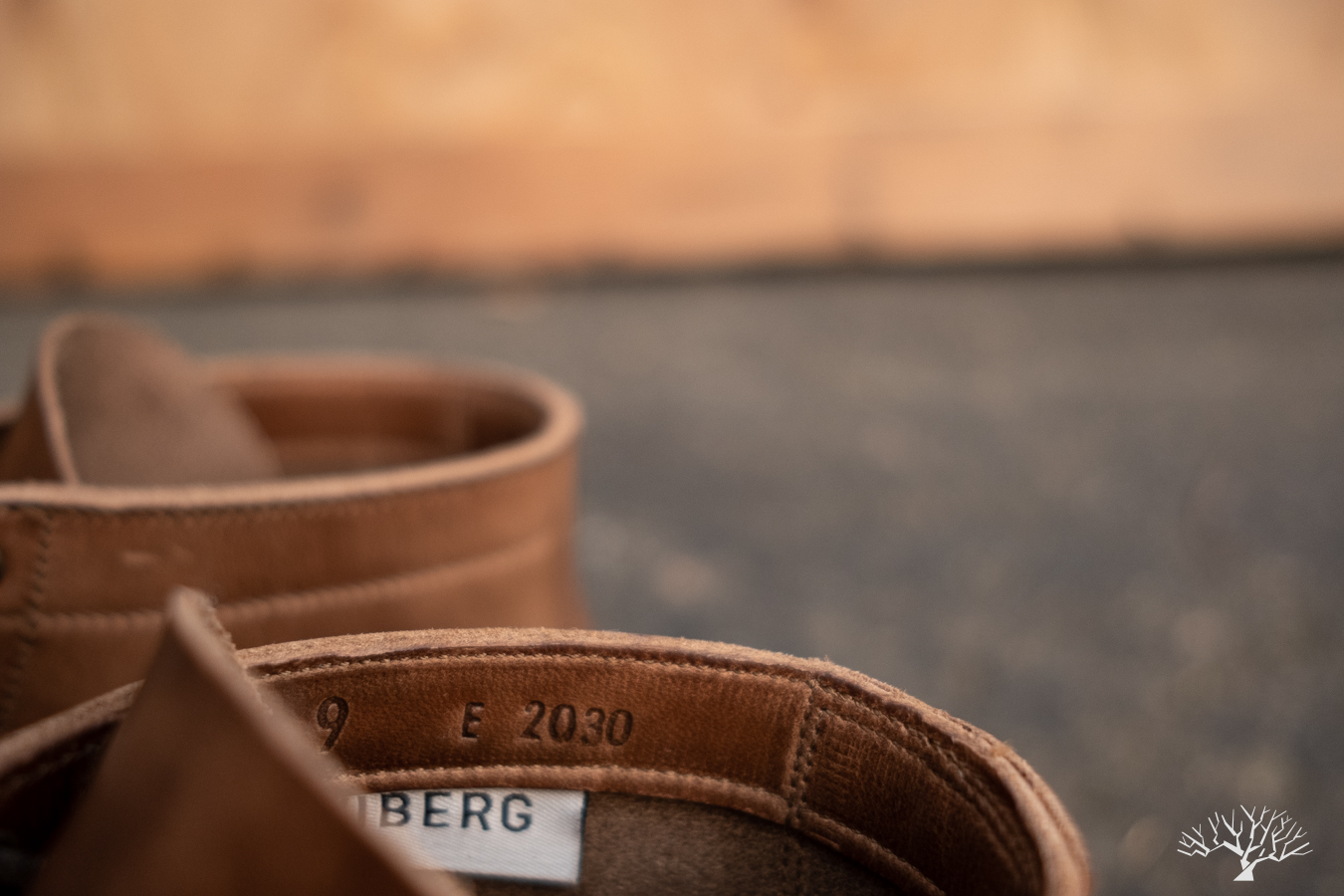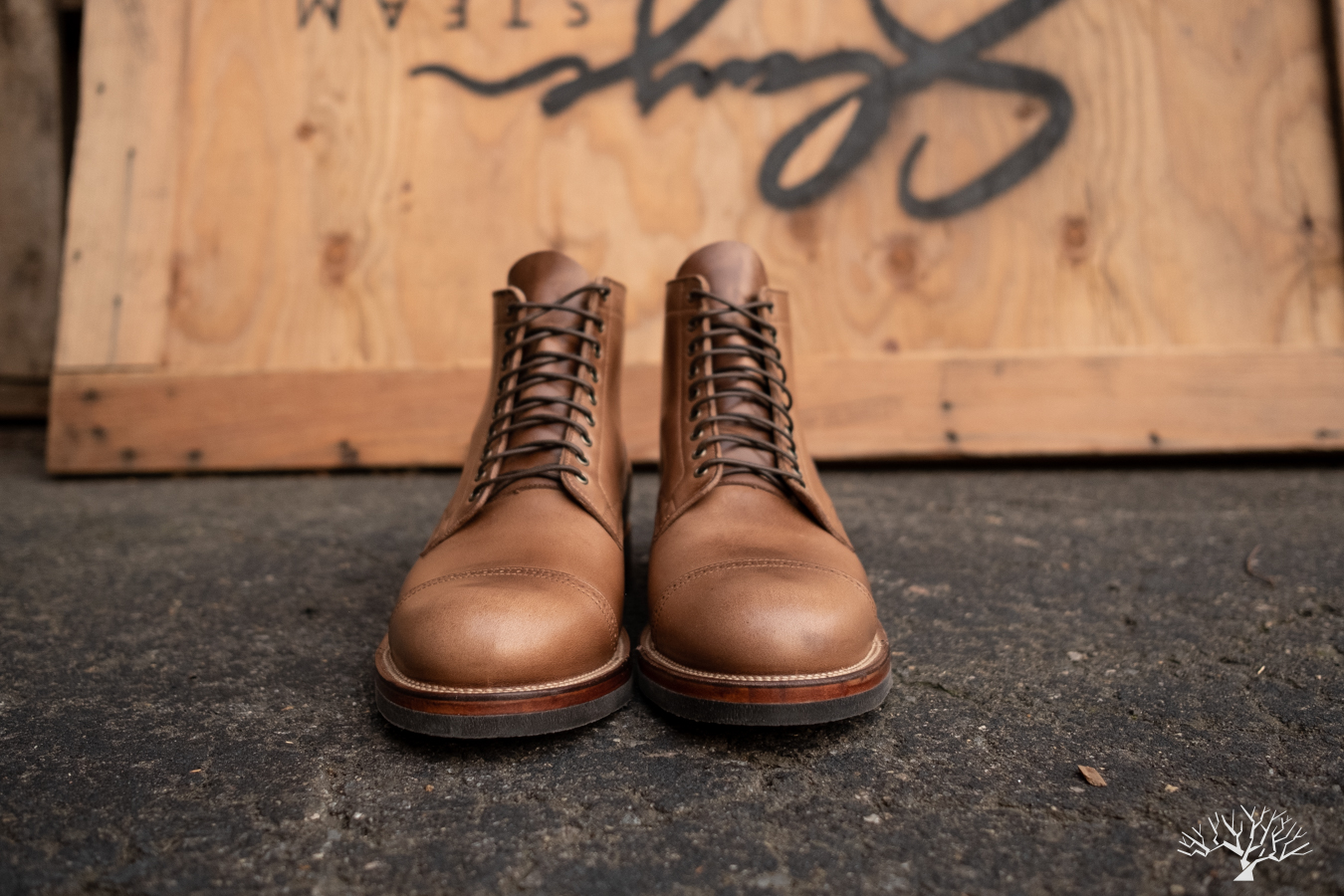 For sizing on this Service Boot in 2030 last, we recommend the standard one size down from your Brannock size. Or, if you already own a pair of well-fitting Viberg Service Boots, you can take the same size (2030 last or 1035 last). Of note, we did take the liberty to run these in all three available widths – D, E, and EE. Although, the D and EE widths are limited to a select range. The available sizes will be:
D width, 8-10.5
E width, 6.5-13
EE width, 8.5-13
We've always tried to accommodate as many folks as possible, going down to 6.5 and up to 13 on most of our exclusive make-ups, and since we hope for this one to be a staple in our collection, as well as a fantastic introductory pair to Vibergs for the first-timers, we hope to continue running this make-up in all three widths going forward. If you are missing your size/width combination, let us know so we can keep that in mind for a future restock.
The Viberg for Withered Fig Natural Chromexcel Service Boot (2030) on Lactae Hevea will retail for $800 and be available in sizes 6.5-13 (select D/E/EE widths). Releasing Friday, May 26 at Noon EST on Withered Fig. Shop our Viberg collection here.