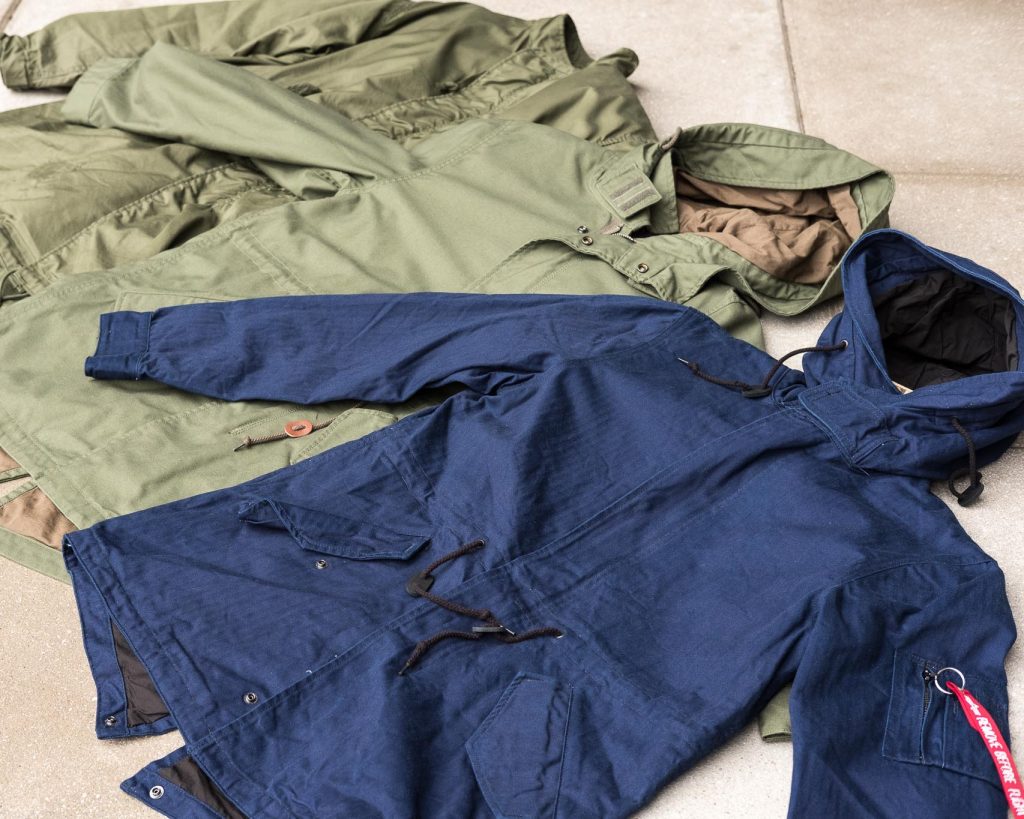 3sixteen and Alpha Industries have come together for a truly special project on the M-59, M-65, and the accompanying liner jacket, by bringing together 3sixteen's denim following with Alpha Industries military-inspired clothing. While 3sixteen is no stranger to military inspirations, we have found this project so interesting for Alpha Industries – the first time using indigo-dyed fabrics in their jackets, the first time since the 1990s where an Alpha Industries jacket will have been made in the USA, and a collaboration with a company (3sixteen) that has a heavy emphasis on denim, something that is unique from other brands that Alpha Industries have worked with in the past.  Withered Fig will be carrying the M-59 Fishtail Parka for release on February 23, 2018 at 10:00 am EST. Read on to learn more about Alpha Industries and the inspirations behind the collaboration.
INTRO
---
We had the privilege of visiting Alpha Industries headquarters, located just about 25 minutes down the road from us, where we chatted with a couple of the project leads that were an integral part in developing the Alpha Industries x 3sixteen collaboration jackets. To be honest, we weren't even aware they were in Northern Virginia until we heard about the Alpha Industries x 3sixteen jackets and started to look into where Alpha Industries was based. Being in an area primarily known for the government and not fashion, we were very interested to hear from them on the 3sixteen x Alpha Industries jackets, but also their perspective on being in Northern Virginia.
We sat down with Steve Sun [S], Product Development Manager for Alpha Industries and Matthew Pantoja [M], Vice President of Global Marketing at their headquarters in Chantilly, VA to briefly get their perspective on their collaboration with 3sixteen. Unfortunately Angelyn Fernandez, Vice President of Merchandising and Product, who was also an integral part of this project was not available during our visit.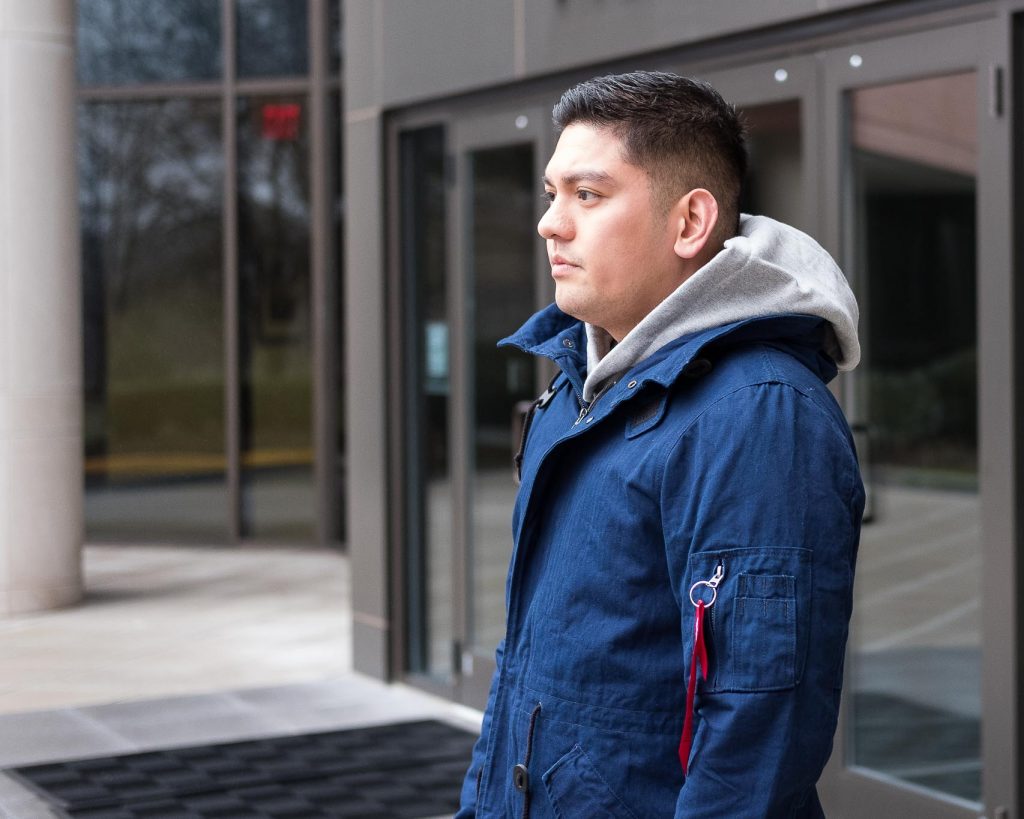 ORIGINS
---
Alpha Industries has a 50+ year history and tradition with our U.S. Military. For those who aren't familiar with you, could you give us a brief intro of Alpha Industries?
S: Since 1959 Alpha Industries has designed high quality, military inspired outerwear that remains true to its heritage. The authenticity of the brand's top styles, the MA-1 Flight Jacket and the M-65 Field Coat, were born of purpose as a result of the first contracts awarded by the U.S. Department of Defense (DOD) over 50 years ago. Even today, these two styles among many others have kept Alpha Industries in the forefront of military fashion offering new fits, silhouettes, colors, and detailing.
Are there plans to get back into the military-contracting side of things?
M: The thing about the official DOD contracts are that you have to make the product in the U.S. However, we still supply products to smaller groups such as the Navy SEALs and other special forces groups. If we did something for the Marines, Army, Air Force, it would have to be made in the U.S. However, we still provide military-contracted products to other countries' militaries.
S: Something that we've learned through our research is that certain specialized groups don't have to use the standard military uniforms; they can go out and get Nike boots if that works better for them because they are so highly specialized. So sometimes we do have an Alpha Industries version of a product made for them because of their specific needs.
M: For now, we want to continue on the commercial side and continuing to tell stories. We have some great silhouettes and a great heritage to go back to. What the brand has been doing is focusing on modern day interpretations. One of things people talk about is, how would Alpha Industries reinterpret this today? Whether it's fabric or technical benefits, those are things we look at going forward.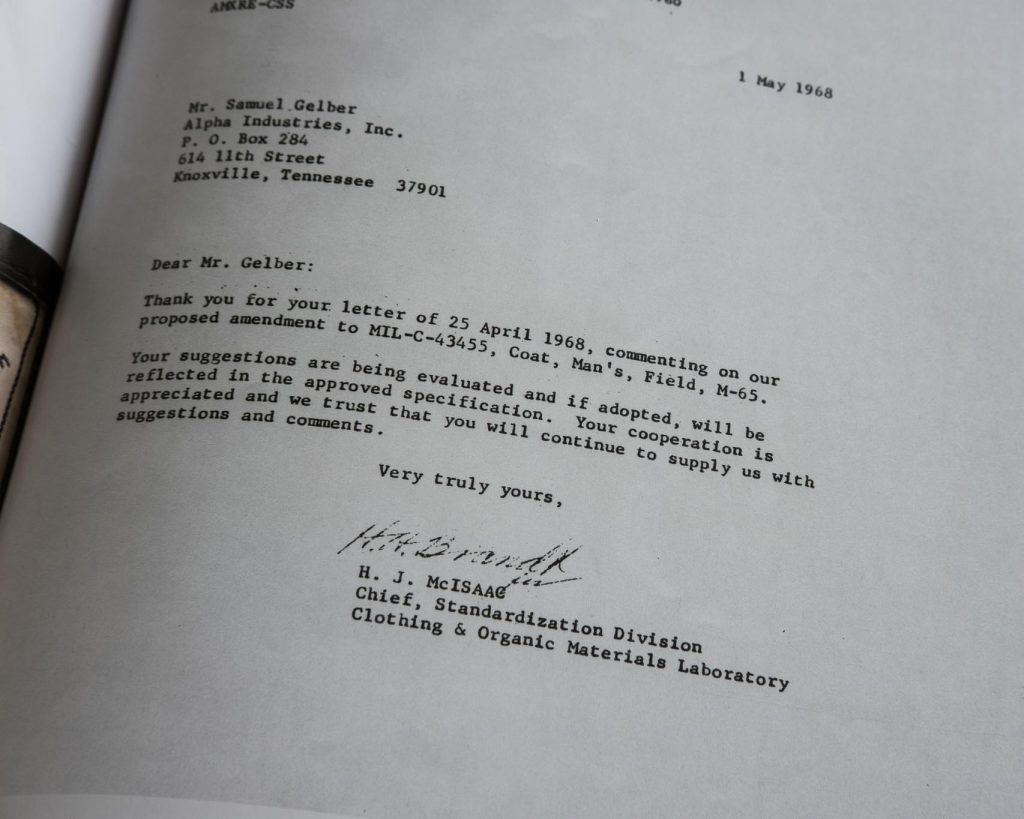 Other than supplying the U.S. military with clothing, how do you see Alpha Industries also playing a part in the culture?
M: Right now Alpha Industries has a lot of energy around the Bomber and the M-A1, but the M-65 is also one of those jackets that has been an integral part of fashion. It has been adopted since the late 60's and 70's where you began to see it in the civilian world. It's a silhouette that has a great heritage.
It was worn during the counterculture movement during the Vietnam War. When the soldiers were coming back, people were using M-65 field jacket as a canvas. Some said give peace a chance, or others saying anarchy. We didn't know it was going to happen at the time, but it's really culture adopting us.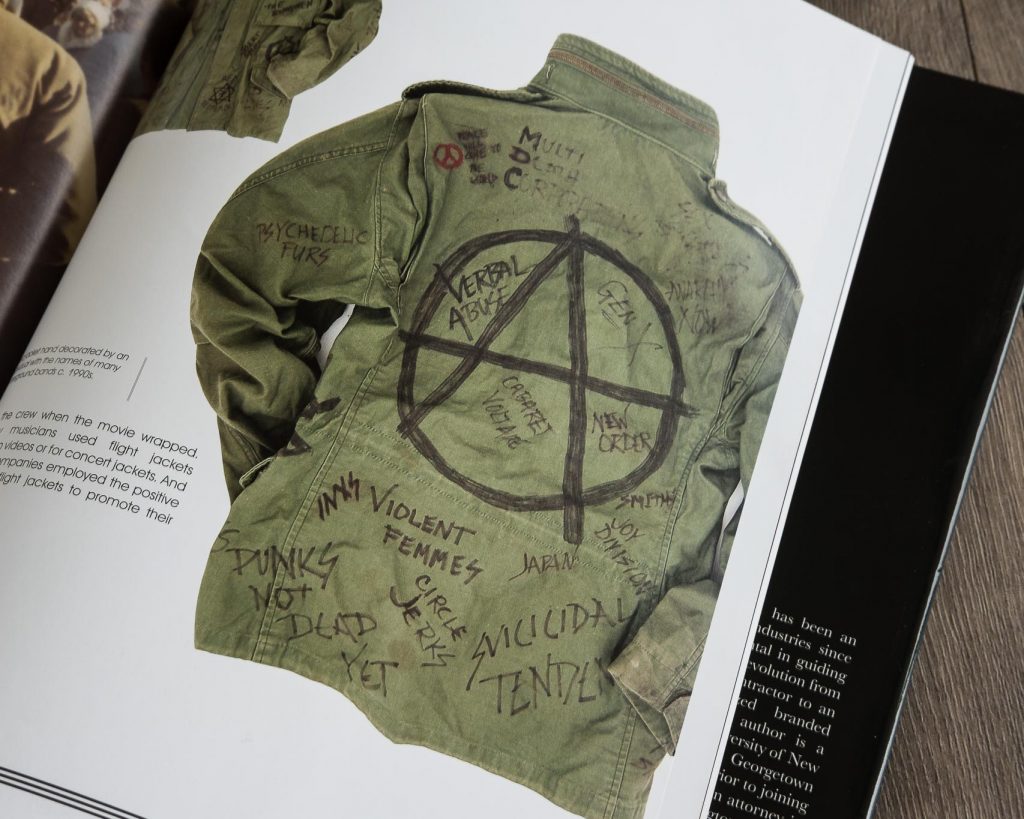 ALPHA INDUSTRIES X 3SIXTEEN
---
Alpha Industries does quite a few collaborations with other companies. How did the 3sixteen one come about and what really makes this one special for you guys?
S: I was introduced to Wesley and Andrew [of 3sixteen] through a mutual friend, and that very same day we met we were just spitballing and brainstorming ideas. It has been really cool to work with these guys as they are really passionate about denim and all the projects that they work on. And what I think makes this one really special is that, most brands that come to us say they want to do something with the M-A1 Jacket or the Bomber Jacket; but it was really cool that 3sixteen was down for showcasing some of these other styles. The fishtail parka and the field jackets and liners really tell the field story rather than the flight story.
M: We were really excited as I've been a fan of 3sixteen for a long time. As I travel across the country to various stores, I always see 3sixteen. And it just made me think, man I would love to do a collab with them. Exploring these pieces through the lens of denim enthusiasts and a great denim brand that is Made in the USA, is something that really excites us. For us, we always want to tell a story and not just produce something for the sake of doing a collab. I think we all got excited about this because Alpha Industries has kind of weaved itself into the conversation of utilitarian wear – if it's good for the military, it's good for everyday use – and the 3sixteen collaboration was another step in that direction.
Something special that not everyone may be aware of, is that denim has always had a place in the the U.S. military. Since WWI, the military uniform had pieces made out of denim, and so there's that tie-in with 3sixteen when they approached us. We were excited to work with a denim brand and enthusiast, and being able to make things in the U.S.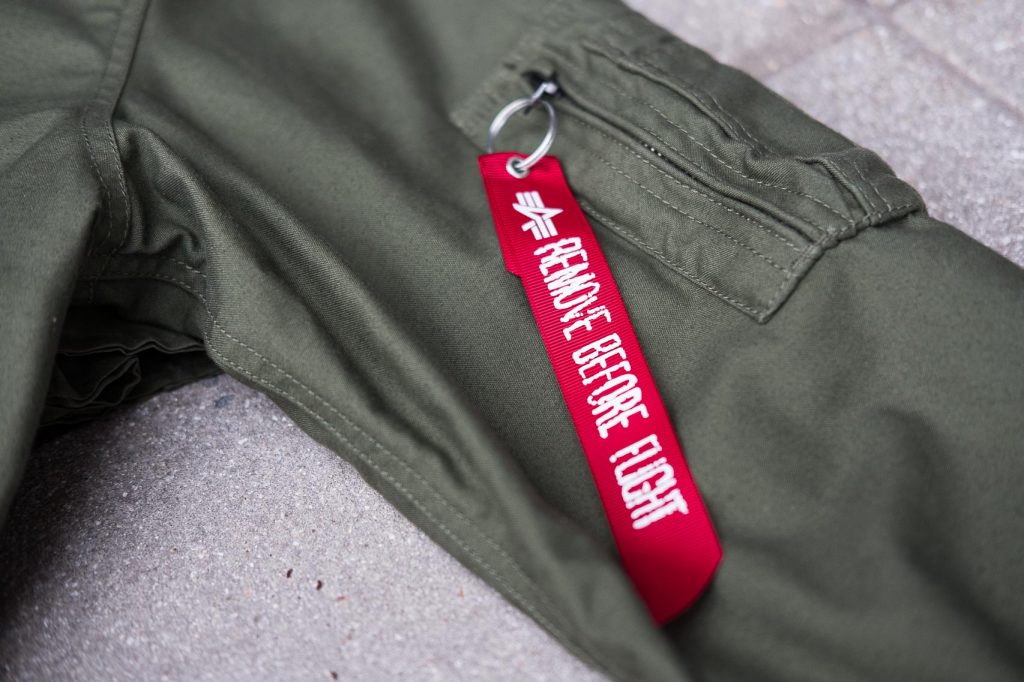 One thing that 3sixteen is known for is that most of their products are Made in the USA. These jackets are the first outerwear that Alpha Industries has produced in the USA in quite some time. Can you share a little more about this?
M: When we were still in the military-contracting side of things, as a U.S. contractor, we made all of our products in the U.S. We stopped most of our U.S. production at the end of Operation Desert Storm in the 1990s. During that time, the Clinton administration began to cut more funding for the military, and that's when the CEO at the time, had the vision to commercialize the brand a little more.
And so this collab with 3sixteen was a great opportunity, as one of the initiatives we've been looking to do is to get back into getting things made in the U.S. In Fall 2019, which will be our 60th anniversary, we will have a Made in USA capsule – this 3sixteen collaboration was a great opportunity for us to begin planting the seeds for that.
Another first is the indigo-dyed outer layer of the jackets. What are your thoughts on the fabric?
M: At the beginning, our initial thoughts on what we could do were naturally centered around denim. We were thinking why not just do the jackets in denim? But they [3sixteen] were very particular about the fabric and were adamant about this Japanese indigo-dyed herringbone twill. They really wanted to use it on our silhouettes. We didn't know what to expect, but in typical 3sixteen fashion, the fabric came out beautifully and adds to the overall attention to detail on the jacket.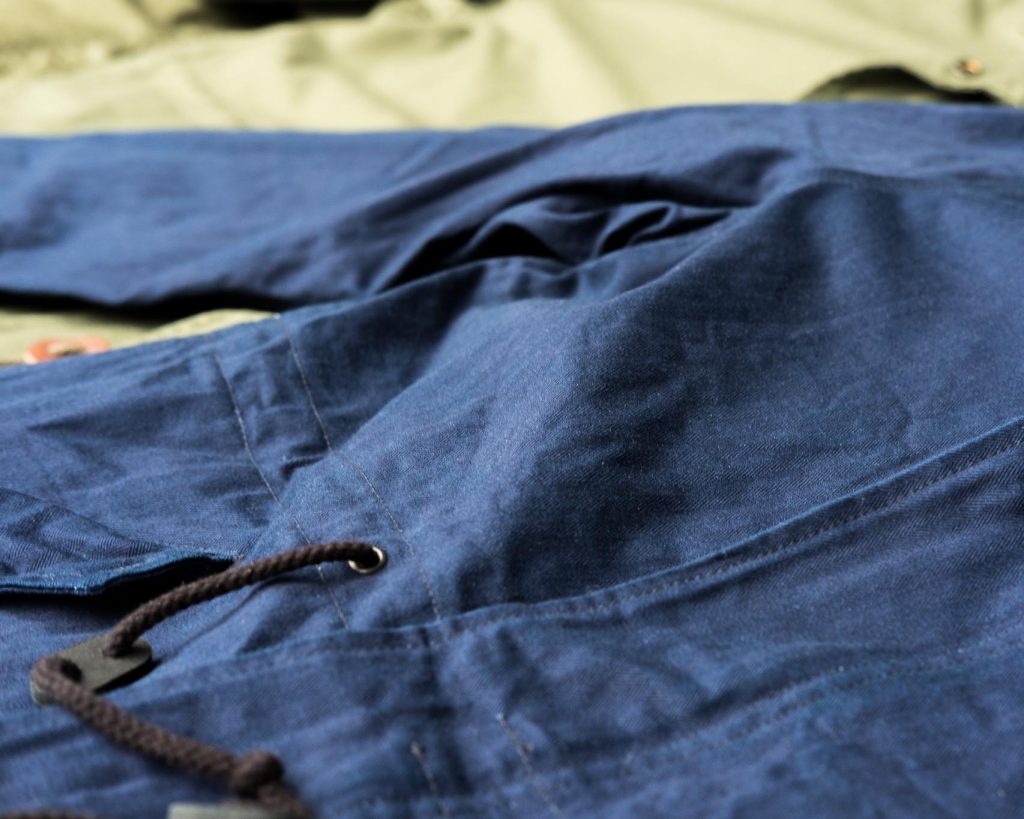 What was the original utility of the fishtail parka, and what are some specific changes made to the M-59 fishtail parka for this collaboration?
S: The M-65 fishtail parka was originally worn as an overlayer – extremely oversized – over the M-65 field jacket and the inner liner. The originals had a large snorkel hoody with a wire around the edge so that it would keep its shape and stay over the helmet. The reason why it's called a fishtail is because you would have the fishtail on the back used to tie tightly around your legs and keep water, critters, and other things from going up your leg; and if you weren't using the fishtail, you could snap it up to prevent it from being in the way.
Our 1959 version of the fishtail is named the M-59 fishtail parka. We gave it a more contemporary shape, a garment wash, an attached hood, a two-way zipper, but kept a lot of the other details the same. This is the silhouette that 3sixteen followed and used it with the indigo-dyed herringbone fabric for the outer, and a black cotton lining on the inside.
M: The original concept was to have the quilted liner fit into both the M-65 and M-59, but because of the modern fit we had to compromise. What we end up with is that all three are able to stand alone by themselves, but still be able to tell a story.
Do you anticipate this being a one-off thing or can people look forward to future collaborations with other brands that focus on denim, workwear, and heritage styles – whether that's another one with 3sixteen or some other?
S: I've always been a fan of denim and workwear so I think and hope this can be more than a one-off, but obviously I wouldn't be able to speak on what we have up our sleeves.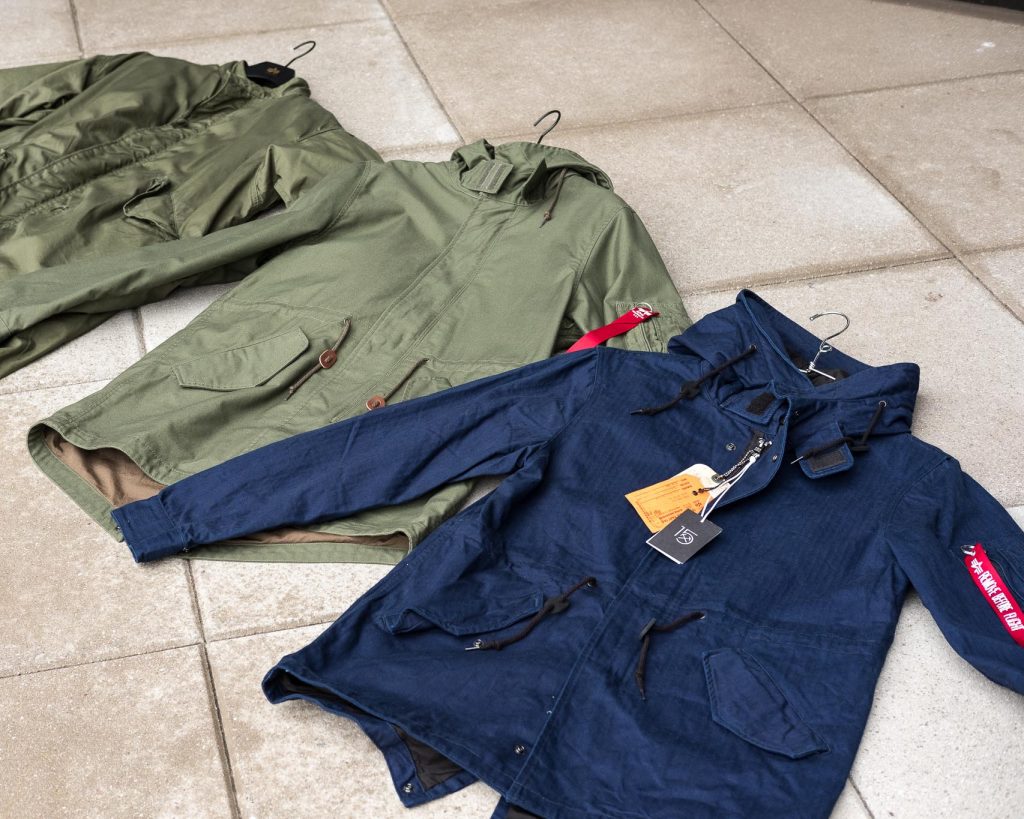 LOCAL
---
Alpha Industries is based here in Northern Virginia, just down the road from us. The greater D.C. area – Northern Virginia included – typically is known just for government work and not fashion. What keeps Alpha Industries here if there's not a large focus on getting back into military-contracted clothing?
M: We were originally from Tennessee, but we moved to this area at the time due to the increase in government contracts. We're always looking at options, but we are here right now and there has been a nice resurgence in the brand recently. So maybe there's nothing wrong with trying to develop this area how other companies have developed other cities – Nike developing Portland, Amazon developing Seattle. There's something here, you're [Withered Fig] here as well. So we want to develop our backyard and there's a great opportunity to do something here. There's a creative culture that is happening and continuing to happen, and we want to identify who those people are and to participate in our brand and help tell the story.
We're always interested in how brands and companies get involved in the local area. What are some things that Alpha Industries supports or does in the local community?
S: Alpha Industries does a lot of work with the community, both in our backyard and throughout the country. We work with the Warrior Flight Team, which is a charity in Maryland that helps wounded veterans pursue aviation. Alpha Industries also does events for Our Military Kids, which is a non-profit organization based here in Virginia that sets up events for children of military parents, and to help them cope with stress and anxiety.
We always like to end with helping readers know a little bit more about the local area. Northern Virginia is not really a destination tourist location in the U.S., however it's just outside of D.C. What are some of your favorite things in the area?
S: If a friend was in town for one day, I'd probably take them to ARTECHOUSE – it's one of those really hyped up places but it's really cool. You go into a room and they project lights onto the walls so it gives the room a hologram-like effect; it's hard to describe but worth it. Also, the Hirshhorn Museum had the Infinity Mirrors, which most people have probably seen pictures of on Instagram.
Food-wise, in D.C. I'd take them to Toro Toro, which is a latin steakhouse but it's really good for brunch. Another one is El Centro D.F. that does tacos. In Virginia, the best Italian spot outside of Italy is Ciao Osteria (also a Withered Fig favorite). I'm half-Taiwanese and half-Salvadorian, but my favorite food is Salvadorian. There's this place called Doña Azucena – with two locations, one in Arlington, VA and one in Manassas, VA – that have the best pupusas in the area.
The Alpha Industries x 3sixteen M-59 Fishtail Parka is limited to 100 pieces worldwide, and we are honored to be a part of this limited release. The collaboration M-59 Fishtail Parka will be available on our store here beginning February 23rd, 2018, 10:00 am EST. You can also find our Brand Spotlights on 3sixteen in Part 1 here, and Part 2 here.