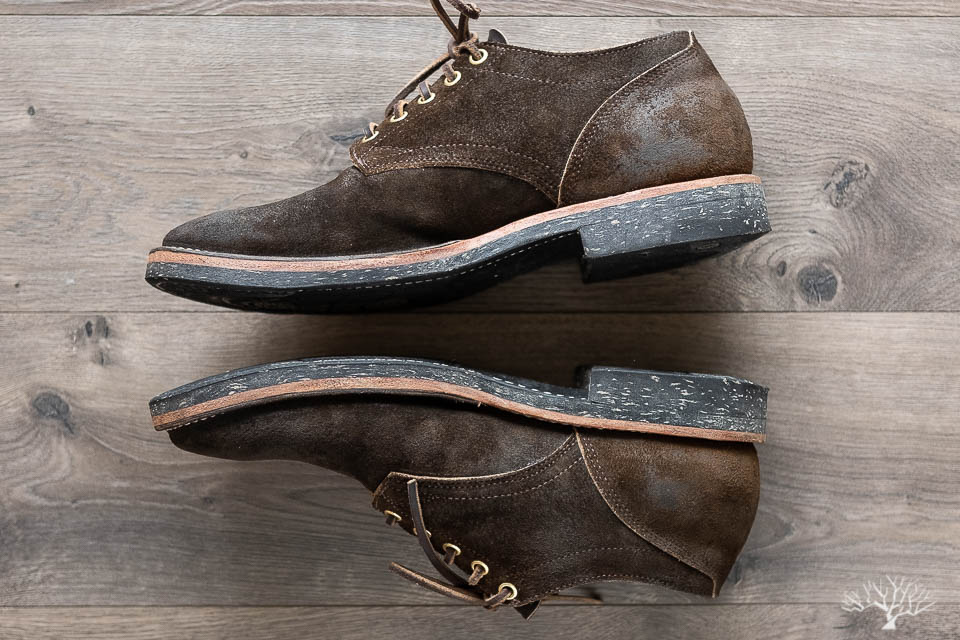 Viberg Mushroom Chamois Roughout 145 Oxford is our first shoe we introduced back in October 2018. In line with our first few make-ups, we've stuck to the 1035 last to continue servicing the 1035 community, who can't get enough of that extra space in the toe box. Similarly, we felt like the 145 Oxford has been overlooked in the overall Viberg line-up, and taking inspiration from some folks on Instagram who have the Viberg 145 Oxford make-up, we dialed in our design with the Viberg team. The result is a classy and refined 145 Oxford, while maintaining a credible rugged outfit to it.
These posts are part of our Worn series where we highlight and showcase some of the pieces we proudly carry to show how they wear over time. Not only so that you have a better idea of what to expect – or look forward to – as you wear them in, but also to have a larger space for us to go into what makes each unique in its own way.
INTRO
---
One of the first things that drew our attention to the 145 Oxford style was the chunkiness of it, which reminded us of a true heritage work shoe. Given that much of my wardrobe consists of heavy denim and work-wear trousers (rather than suiting and chinos), the 145 Oxford proved to be a better balance in versatility compared to the derby shoe. While we wouldn't necessarily suit-up with this specific Mushroom Chamois RO 145 Oxford, we could foresee a future 145 Oxford make-up where the design decisions lend itself to be more appropriate for more formal situations. For now, the Mushroom Chamois RO 145 Oxford has proven to be a crowd favorite among the Viberg for Withered Fig lineup, likely due to there being nothing quite like it on the market – from the 1035 last, to the Dr. Sole Full Raw Cord Sole, and our choice of a contrast/alternate tongue, which adds a nice detail to the overall makeup.
I've given these some pretty good wear in the last seven months, averaging 2-3 wears per week during that time. However, unlike the Marvington I Aged Bark RO Service Boots, I actually don't think I have the most wear on these pairs. Our good friend @imustbefrank has probably given me a run for my money with the amount of wear he's put in on his.
I won't go as far as to say there is a place for this make-up in everyone's lineup, as it is pretty unique and thus requires some forethought. But for sure a 145 Oxford, this or another, is sure to find a home in your closet at some point in your future.
STYLING
---
This shoe is very interesting to style with, and surprisingly fairly easy to do. Initially I was thinking that I'd primarily wear these with the Railcar Camel Flight Trousers – for those who know me, these are on my legs as often as denim. The contrast between the tan/orange color of the trousers with the muted-at-times gray-green-brown leather works quite well. I personally like to roll with a couple cuffs to allow the ankle to peak through, either with socks or skin. Socks for sure during the winter, but as it has warmed up I've liked to open up my ankles to the world and let them breathe a little. It's a nice way to keep yourself feeling cooler (temperature wise) if you're looking to alternate out of boots for the summer.
Surprisingly though, I've found that these also work quite well with denim. The leather provides just enough variation, texture, and color, that it doesn't look like the shoe just blends into your legs. To me, the more faded and lighter your denim looks, the better with these 145 Oxfords. I like the look of a classic looking pair of indigo denim with the oxfords, as seen here by @scwaudby_33. However, @thread.and.steel rocks our Mushroom Chamois RO 145 Oxford quite well with black denim, as does @imustbefrank (I would be remiss if I didn't give him a holler). It just goes to show that there's a lot of options to work with, and you just have to find what works for you and run with it.
Now enough about what works. What I don't do (although as I type this now, I'm tempted to try it) is pair these with an olive/green colored pair of pants. I've got several olive pants, ranging from some bright green olives to the more muted olives, and I'm just not sure I like that look. However, it's hard to knock something without trying it I suppose. But in general, as a personal style choice, I like to avoid the same color for my bottoms and footwear.
FIT & SIZING
---
Not much of a surprise, but another Viberg for Withered Fig, another 1035 last. We certainly appreciate the other lasts available, but we think that the 1035 doesn't get much love. And personally, a little selfish perhaps, but the 1035 last works very well for me, given my E width feet and that my feet tend to swell as I go throughout the day.
I've got 10E Brannock feet, with my right foot slightly wider than my left. For Vibergs, I size down half a size (to 9.5) in both 1035 last and 2030, to accommodate the wider feet and also because I prefer a slightly roomier fit than a slightly tight fit – that's pure preference. I can certainly go down to 9.0 if I had to, and it will fit and feel OK, but I prefer keeping it slightly more spacious. I have about an inch of space from the top of my toes to the end of the shoe (as show in the photo below). Keep in mind that this is not the general advice we give, as we tend to say size down one from your Brannock, unless you have E width or higher. But even then, some people may find one size down a better feel based on their preference of having their shoes feel snug rather than loose.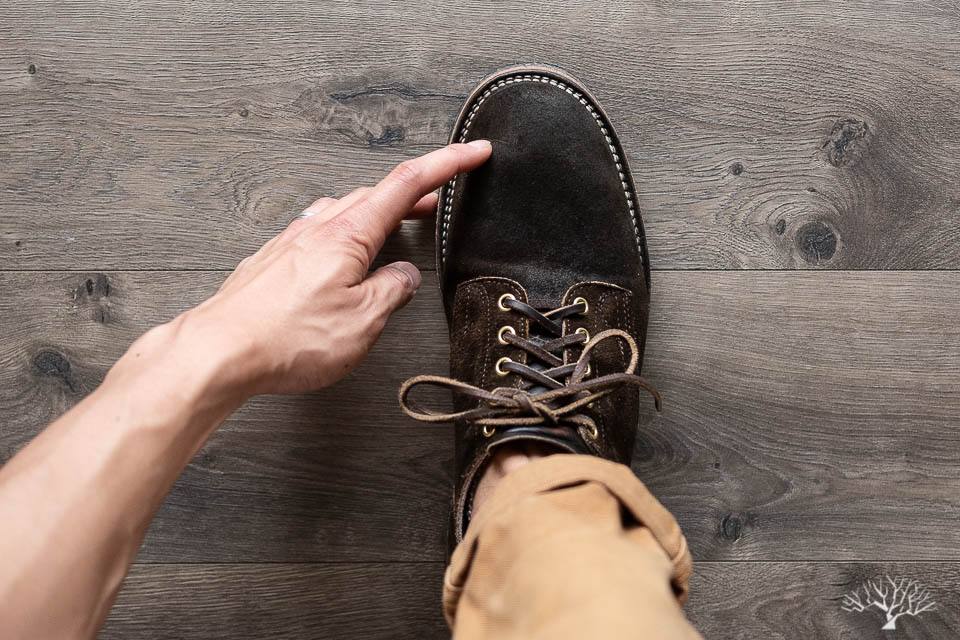 For this specific pair, wearing medium-to-thick socks (such as CHUP socks) results in a comfortable fit with a little extra room for my feet to move around. My heel slips ever so slightly, and if I push my feet forward there is a very small gap where I can squeeze my index finger behind my heel and lodge it in there. While I like my shoes to be on the slightly looser side, in all honesty I may opt to size down 1 for future 145 Oxfords rather than just 0.5, primarily for the reason below.
With thin socks (such as no-show socks) there is a greater heel slip that I've had to deal with. It's not a deal-breaker for these, as I will try to tighten up the lacing more than usual, and I'm still able to wear them quite often with no-show socks. However, I will say that I don't tend to do this if I know I'm going to be doing a lot of walking. The slight slip will cause my heel to rub against the top of the heel counter and cause some redness/bruising after long periods of walking. So I just have to adjust by wearing thicker socks more often or make sure I won't be walking miles that day.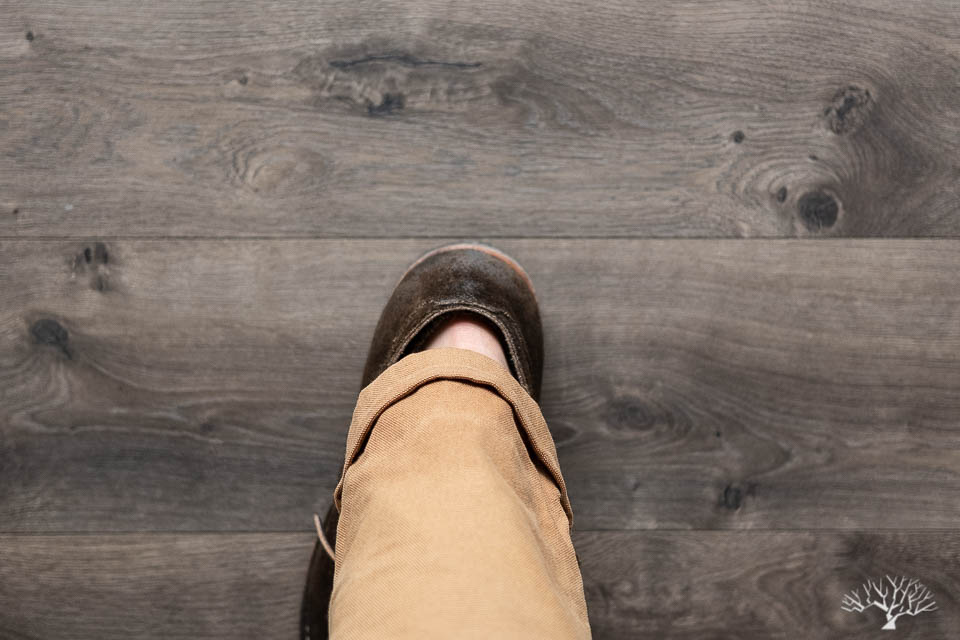 COMFORT & TRACTION
---
These aren't like walking with a pair of shoes made out of rocks, but at first it can sort of feel that way. It's not uncomfortable in the sense that your feet will hurt, but rather because the Dr. Sole Raw Cord sole is so heavy duty and stiff, there's not much flex at the beginning. Even now, where most other boots I can get a good flex of 45 degrees or more if I push up on the toebox and bend it back towards the heel, with the Mushroom Chamois RO 145 Oxford I'm barely hitting 30-35 degrees. By no means do people really need 45 degrees of flex, but I point that out just to show how stiff this outsole can be.
Once the outsole has had a chance to break in a bit (I'd say a good 30-40 hours), there really isn't much noticeable issues with the stiffer sole. What is noticeable is how heavy the shoe is. These oxfords are about ⅓ pound (6 oz) heavier than my Aged Bark RO Service Boots. Most of that is obviously coming from the corded sole. It is significant, but makes for a very durable and rugged-wearing shoe.
In seven months, I've probably worn through about ⅛ of the heel, which is where I get the most wear on the outsole. This is in contrast to the Vibram 2060 soles on the Aged Bark RO Service Boot, which are more comfortable, but resultantly not as durable with ¾ of the outsole being worn down in less than nine months.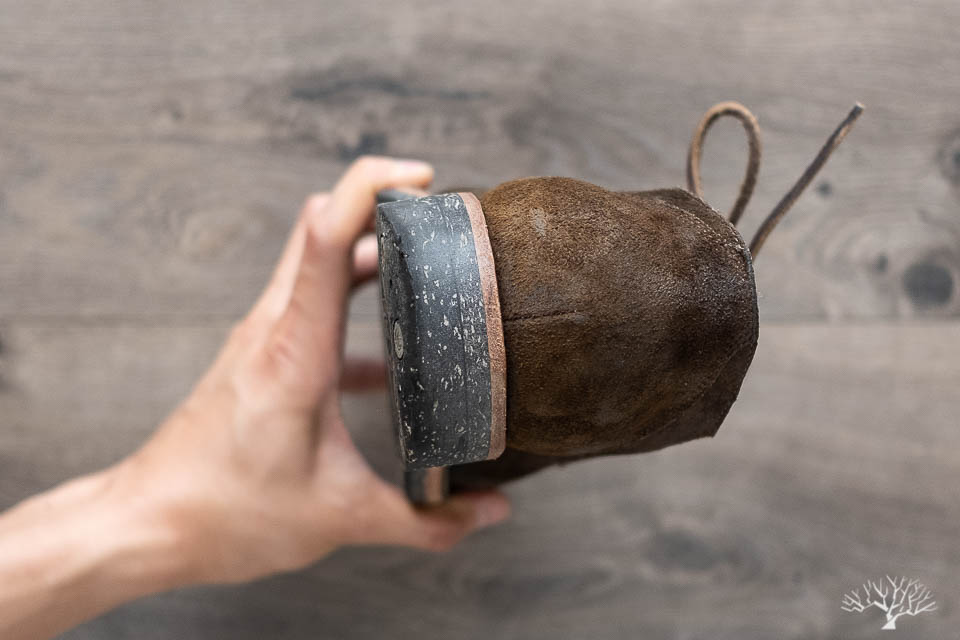 Traction-wise, these are pretty solid in rain and snow. Over the last winter, I've had the "opportunity" to shovel snow a couple times in these shoes. These generally performed better than expected, with minimal slip except when the snow was really packed down and was more like ice. Don't get me wrong, make too quick of a movement or attempt to slide, and the shoes will give. But generally walking and shoveling at a regular pace, there were no issues. In my view, these are much better in the rain than Dainite, on normal pavement and other improved sidewalks and roads.
LEATHER
---
Horween's Mushroom Chamois on the roughout (reverse) side has a beautiful short and dense nap to it. The chamois leather looks fairly uniform at first (in terms of length and the direction of the fibers), but as it is worn and scuffed up, it gains a lot more texture and raised nap. This is similar to most other roughout leathers, but on a lesser scale visually due to how fine the nap is.
On the color, this leather is such a hard one to describe. In different lighting it can range from an olive-brown, all the way to a deep olive-black. I suppose the common thread is that there is a hint of olive/green is every shade that you see. Earlier batches of Mushroom Chamois RO that have been on the market appear to favor the olive-brown colors rather than the olive-black (see @thread.and.steel's side-by-side of his Viberg x Miloh Shop Mushroom Chamois RO Service Boot next to our 145 Oxford in the same leather). It's also possible that more time in the sun and general wear will result in the boot lightening a bit – unknown for my pair at the moment!
As we do with all our Viberg for Withered Fig make-ups, we selected an alternative leather tongue that is not the same as the main upper leather, reversed or smooth. We went with the same Brown Oil Tan leather that we thought would give it a nice contrast look. As it turned out, due to the Mushroom Chamois RO leather being much more on the olive-black side, it didn't give quite the contrast we were looking for and resulted in more of a tonal tongue. Nevertheless, we're happy with the selection as we still love how the leather patinas and shows a burnt orange color in the worn areas where the lacing meets the tongue.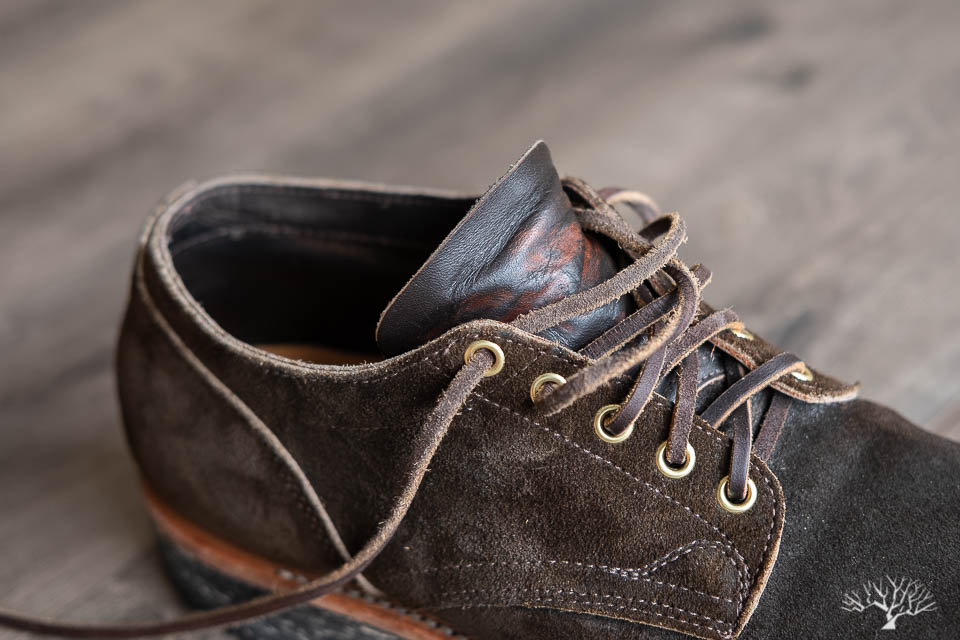 Caring for this pair has been pretty minimal. Due to the heavily oiled nubuck leather, the Mushroom Chamois RO really does not require any upkeep. While not waterproof, I'd say it's between water-repellent and water-resistant. The leather does bead water if you pour it on, but sustained water will dampen the leather and you'll need to set it out to air-dry (well-ventilated area, i.e. not your closet) to make sure it doesn't stay that way and grow anything nasty. Every couple months I'll just give it a light brushing with a horsehair brush, which doesn't do that much except removes some of the larger and loose particulates off.
SEVEN MONTHS
---
As I've worn in this pair over the last seven months, the leather hasn't really changed or evolved that much. However, the heel counter does appear to have a slightly more brownish-tone to it than the front/toe portion. Looking real closely at it now, it's as if it's a spectrum from dark olive to brownish-olive as your eye moves from the front to the back. Pretty neat if I might say.
While the toe is unstructured, it hasn't had any noticeable "collapse" as of yet. The leather has worn in a bit at the ball of my feet where it flexes, so there's some slight creasing there; as well as the leather above the heel counter, there's some creasing there too. Rather than a natural creasing, it's more likely due to my feet trying to get the shoe on without a shoe horn.
The Dr. Sole Raw Cord Full Sole has broken in a bit, but I don't want to give the impression that you'll have similar flex and feel as any of the Vibram composite foams. This is a serious, heavy-duty, outsole. The closest comparison I'd give is probably the Commando sole, but the Dr. Sole feels heavier, yet not quite as clunky. The flatter outsole, in contrast to the larger lugs on the Commando, makes for a smoother feel on strike. To me, it feels more comfortable than Dainite on strike, likely due to the thicker sole that is absorbing more of the impact. All that said, this was meant to be a rugged shoe you can walk in, but also work in. To me, this is a true 4-season shoe that will work just fine during the summer months, but will also hold its own during the winter season.
At the current rate of wear on the outsoles, it's unlikely I'll be needing to resole these anytime soon. I could see these going another 2 years before needing a resole, if not longer. Overall, these have held up extremely well and are probably one of my most ruggedized boots/shoes at the moment.
Viberg for Withered Fig Mushroom Chamois RO 145 Oxford is available for pre-order now through 5/19/2019 (5pm EST) through our pre-order product link (not listed on our Viberg collection page).