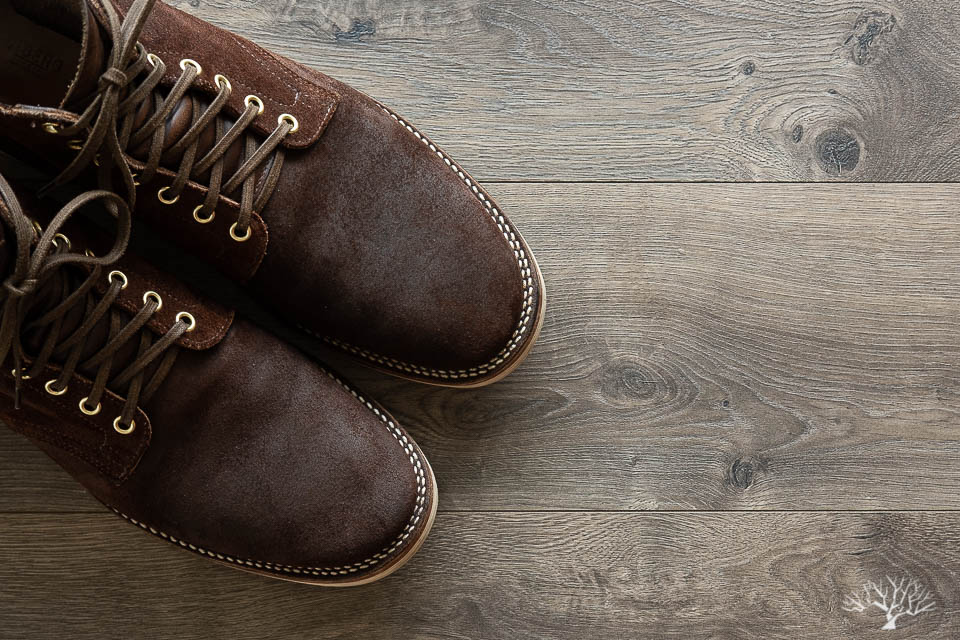 Viberg for Withered Fig Tobacco Chamois RO 'Marvington II' Service Boot is restocking on Friday, July 1st, 2022 at Noon EST. Note that any mentions of a pre-order below are from the original post from 2019 (left unedited), and there are currently no available pre-orders as of July 2022.
Viberg Tobacco Chamois Roughout Service Boot is the second iteration of the "Marvington" boot series that we brainstormed in collaboration with @marvaments and @cuffington. The 'Marvington II' boot was first introduced just a few months ago in March 2019. As with all Viberg for Withered Fig footwear thus far, you've got the usual 1035 last for all of us who have come to find this as the ultimate 'tweener for looks and comfort. Typical of our make-ups so far, things sound pretty good on paper, but without ever seeing a proper make-up, it's sometimes hard to visualize the end result; but after seeing them in person, the love for these has grown even more. As we're running pre-orders on these service boots right now, we wanted to give readers a chance to see how these boots have worn in over the last three months.
These posts are part of our Worn series where we highlight and showcase some of the pieces we proudly carry to show how they wear over time. Not only so that you have a better idea of what to expect – or look forward to – as you wear them in, but also to have a larger space for us to go into what makes each unique in its own way.
INTRO
---
I like to think of this boot as a refined but casual service boot; a little bit of modern with a flair of vintage. Overall, it's a pretty safe make-up, but all the pieces fell in place for this to just work. The ideas that we come up with always sound and look good in our heads, but it's always somewhat of a surprise that first time we open up that black Viberg box and we either have a sigh of relief or even better, a "oh damn, this is fire." Even though we thought this was a relatively safe make-up that people would enjoy, it has grown on us a lot more as we've seen more photos of it, especially as it gets worn in. Our initial reaction when they first came in was probably something along the lines of, "oh man, this is pretty good." Fast forward three months, it's a little better and more along the lines of, "damn these are nice!"
We'll be the first to admit our bias for our make-ups, but we'd like to think we can moderate our commentary when appropriate. In general, we've found that as the leather has worn in, gotten dirty, been brushed up, there's a larger contrast between the high's and low's of the brown tones. Pardon the food imagery for a little, but chocolate dark coffee roast is how I would describe the leather. The oil, the slick look, the variation in color, and the smell (albeit not for everyone) are some of the things you come to love about it. The Cream Vibram Mini Ripple Sole is the vanilla cream on the side, just enough to sweeten up the pair and balance out the bitterness of the upper.
I generally like to give my items a bit more wear before writing up a Worn blog post, but figured it'd be a good opportunity with the pre-orders going on to give these boots a little more limelight.
STYLING
---
You can pretty much count on me saying that the Railcar Camel Flight Trousers go well with any pair of boots/shoes that I wear, but honestly that's not really the case. There are some things that don't go as well. However, this Tobacco Chamois RO Service Boot is another winner in terms of styling with the flight trousers. Initially I was a bit skeptical about this pairing, given that the dark brown and the camel colors are more tonal offsets of each other, rather than opposites or contrasting colors. This is one of those cases where somewhat common themes of colors (in this case, brown, orange, tan, etc.) flow from one to the next, and is a bit easier on the eyes. I think styling in this manner, for me personally, is always a bit more difficult than rolling with contrasting colors. I think you have a bit less leeway when you're trying to make the colors meld together in a way that flows without seeming tacky. Think of it like the denim-on-denim dilemma. There are ways to do it, and there are ways to do it right – it's not always easy to find that line, and I certainly don't have the answer. I just try things out until I find one that works. So there's that. You can check out how I styled the Marvington II boots with a full outfit on the original blog post.
Separately, of course we need to address denim. I've found that I'm not as big of a fan of these with denim, but I still do it from time to time. Because all my denim are dark for the most part, and the boots are dark, it gives an overall serious and moody feel to the lower-half. I don't necessarily try to avoid that, but I prefer to balance things out. Accordingly, I like to throw on a white tee or something lighter and fun up top to break up all the dark colors below. The cream sole definitely helps with this as well. Having said all this, I think @marvaments and @cuffington of course rock these just about as good as anyone with their denim. Maybe they just take better pics than me, could be, probably. Also one of our loyal customers, @feratinctoria rocks these hard with denim as well, but occasionally throws in some canvas trousers as well.
Aside from the overall look, speaking to the outsole itself, the Mini Ripple is a bit more edgy. Although the ripples are small (much smaller than Vibram's regular Ripple Soles), they are still noticeable. Accordingly, these wouldn't be the first pair of boots I reach for when I'm looking for something a bit more formal. But in almost every other case down from business casual, there are ways you could fit these in without looking too casual.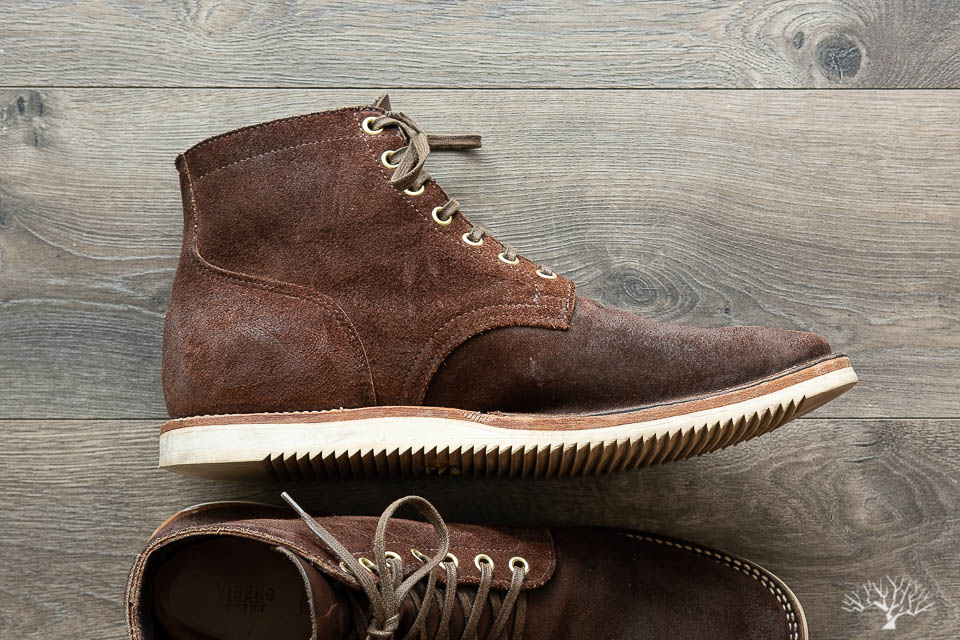 FIT & SIZING
---
Sizing for these is pretty standard, and something that we've covered in our other reviews for the 1035 last. I won't belabor it, so in short:
I've got 10E Brannock feet, with my right foot slightly wider than my left. For Vibergs, I size down half a size (to 9.5) in both 1035 last and 2030, to accommodate the wider feet and also because I prefer a slightly roomier fit than a slightly tight fit – that's pure preference. I can certainly go down to 9.0 if I had to, and it will fit and feel OK, but I prefer keeping it slightly more spacious. I have about an inch of space from the top of my toes to the end of the shoe. Keep in mind that this is not the general advice we give, as we tend to say size down one from your Brannock, unless you have E width or higher. But even then, some people may find one size down a better feel based on their preference of having their shoes feel snug rather than loose.
COMFORT & TRACTION
---
One of the immediate things I noticed about the Vibram Mini Ripple soles are that they are much firmer and "sticky" than our previous Vibram 2060 sole on the first Marvington Aged Bark RO Service Boot. Whereas the Vibram 2060 sole had more "give" and "cush," the Mini Ripple has a firmer and steadier feeling when you strike the ground. It's not as hard wearing as the Dr. Sole Raw Cords – far from it; but, for a foam composite it just feels solid. I would venture to say that I prefer the Mini Ripple over the 2060 in most cases in terms of how it feels and wears. Perhaps being slightly lower to the ground helps, but I haven't noticed much issues with traction and slipping. Then again, I've only worn these in the Spring months and there hasn't been much rain to test these out in. I'll probably adjust my opinion once I get a good rainy day to walk around in. But for now, comfort, traction, and even appearance, in most cases I would give the edge to the Mini Ripple.
LEATHER
---
Horween's Tobacco Chamois on the roughout (reverse) side is pretty muted in color when it's in darker lighting. Everything tends to start looking like the same dark brown. However, once light starts shining through and hitting the surface, all shades of brown start to come out. The more direct the light, the leather tends to have more reddish hues. The heel counter tends to be more lighter in general compared to the front toe area. I suppose this may be due to where they cut different parts of the leather for different parts of the boot. We saw something similar to this on the Mushroom Chamois RO 145 Oxford, where the olive-brown (lighter) tended to be more towards the rear, and the olive-black (darker) towards the front.
Similar to the Mushroom Chamois RO, all the same characteristics apply – heavily oiled, a strong "scent," and a short and dense nap. Rubbing your fingers over the leather can leave "prints" on the leather as all the fibers bend in the direction your fingers went. The heavily oiled characteristics of the leather tend to make this effect stronger than in other roughout leathers.
For the tongue, we changed it up and used Horween's Natural Chromexcel leather for an added detail. The leather darkens up quite a bit, and you'd almost think it was more of a Brown CXL than Natural after a bit of wearing. Pressing your fingers up against the backside will reveal a lot of the standard CXL pull-up though. This makes for a nice effect as your feet put pressure on certain areas, while being bounded by the laces, to produce some distinct cross-hatching patina.
THREE MONTHS
---
Given that it has only been a few months, there's only a few areas that tend to be more distinct as I've worn it in. The shaft of the boot has collapsed some, apparent from the creasing. The toebox, being unstructured, was already pretty low, but it has wrinkled and collapsed a bit. If you pull up a new one next to my current pair, you'd see that it is noticeably less structured.
The Mini Ripple outsoles have fared pretty well. I have a decently heavy heel strike, which is apparent in the back part of the sole wearing down much faster. Based on comparing the heel strike area to the area with the thickest sole remaining and assuming that is close to like-new, I've probably worn through about 1/4 to 1/3rd of the back heel.
Extrapolating out, it means I'll probably get another 9-12 months out of the Mini Ripple – assuming the same rate of wear – before I may have to resole to avoid touching the foam wedge sole. I've been averaging 2-3 wears/week with this boot, just to give you a sense of what the wear is like. 
The "scent" that chamois leather comes with is very strong out of the box, but it's generally not noticeable now unless I've been handling the boot a lot (during a brushing), or if I'm purposefully smelling it. Some people love the smell; personally, it was a bit toxic-like to me when they were brand new, but now they are a decent "leather" smell, although still heavier on the oil smell. All that said, I don't pick up these boots to smell them, usually just to wear them.
Viberg for Withered Fig Tobacco Chamois RO 'Marvington II' Service Boot is restocking on Friday, July 1st, 2022 at Noon EST.