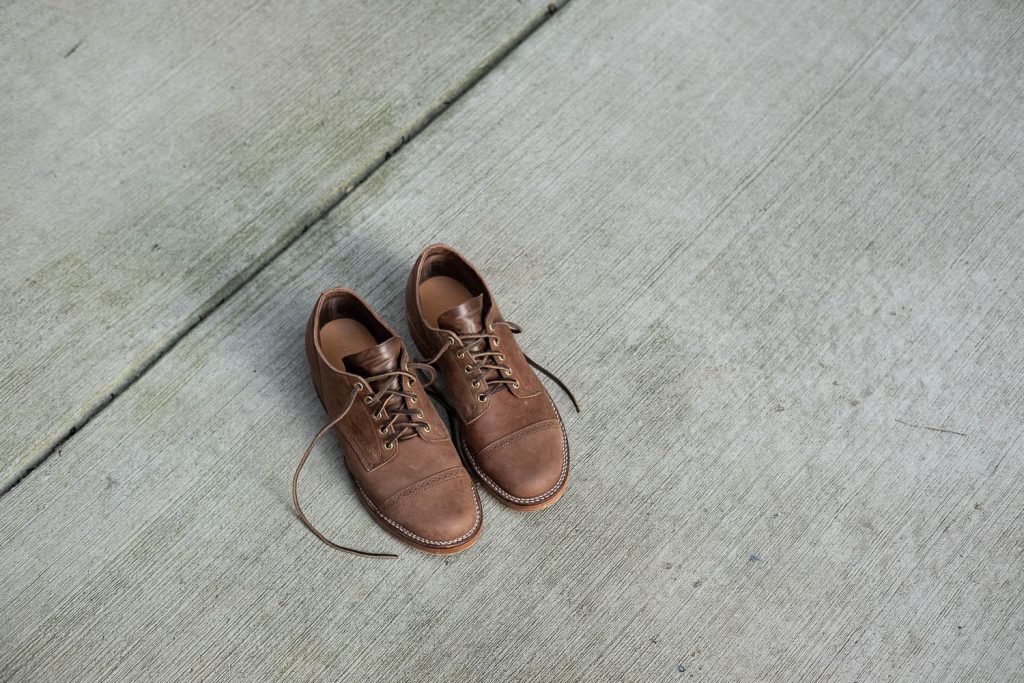 Our newest Viberg for Withered Fig has been a long time coming. We started outlining the details with Viberg back in February, and after seven months and many emails back and forth, we have exactly what we were looking for. Although we originally code-named it the "Summer oxford," it's obviously dropping now, just in time for the Fall season. This 145 Oxford is a blend of classy and rugged, but with an overall leaning towards a more formal shoe. As you pick apart each of the details, you begin to see what we mean. Introducing, the Franklin 145 Oxford. The full bulleted details are listed below:
Viberg for Withered Fig Exclusive
Horween Crust Horsebutt (USA)
1035 Last
Leather Outsole and Cat's Paw Heel
5 AA Brass Eyelets
Alternate Tongue in Horween Natural CXL
Brogue Cap Toe
Unstructured Toe
Natural Leather Midsole
Stitchdown Construction
Includes a pair Rawhide Laces
Includes a pair of Brown Flat Waxed Laces
Includes Viberg Dust Bags
Includes a bottle of 1 oz Venetian shoe cream
Made in Victoria, B.C, Canada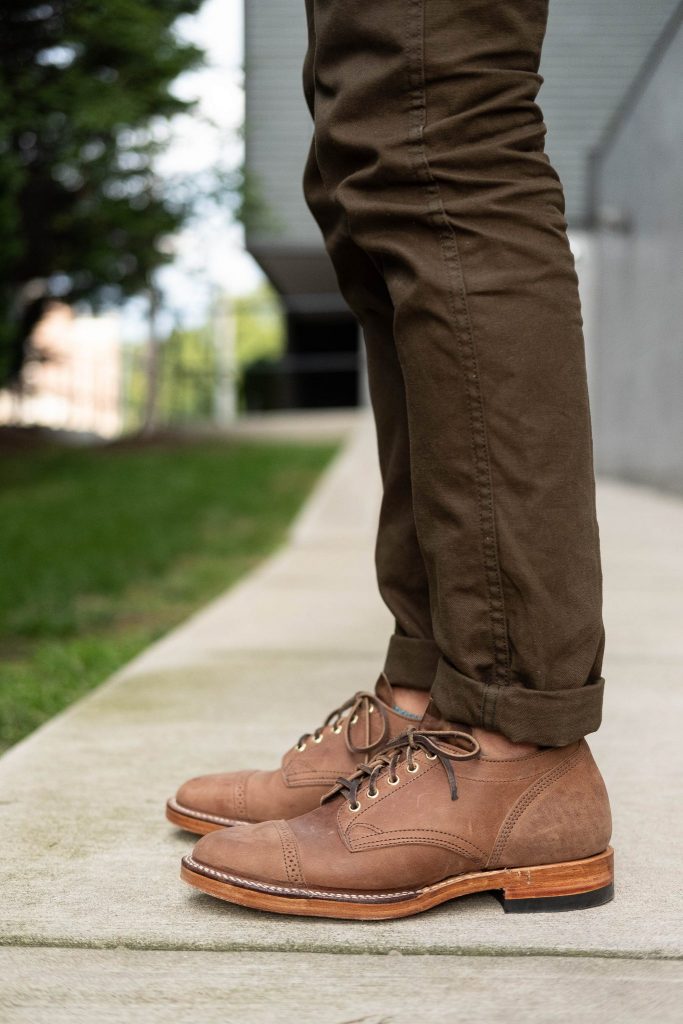 The leather is always the first thing you notice, and we were excited to be able to nail down this make-up using Horween's Crust Horsebutt. This natural horsebutt leather comes with a highly inconsistent appearance. You will quickly notice these irregularities within each pair, as well as from pair-to-pair. Given the amount of irregularities in the leather, we encourage folks to take a good look at the photos here and on the product page to be comfortable with how the leather may look. Any blemishes and markings you see on these shoes are as-is and should be somewhat expected with this leather.
Additionally, the Crust Horsebutt leather is thicker than your average leather. As such, it may feel a bit tougher to break in at first, but we're hopeful it'll break in properly over time for a more comfortable pair.  Now aside from the leather being our first true smooth-side Viberg make-up, our usual Withered Fig details apply. A 1035 Last, Natural CXL Alternate Tongue, and a slightly different selection for the outsole.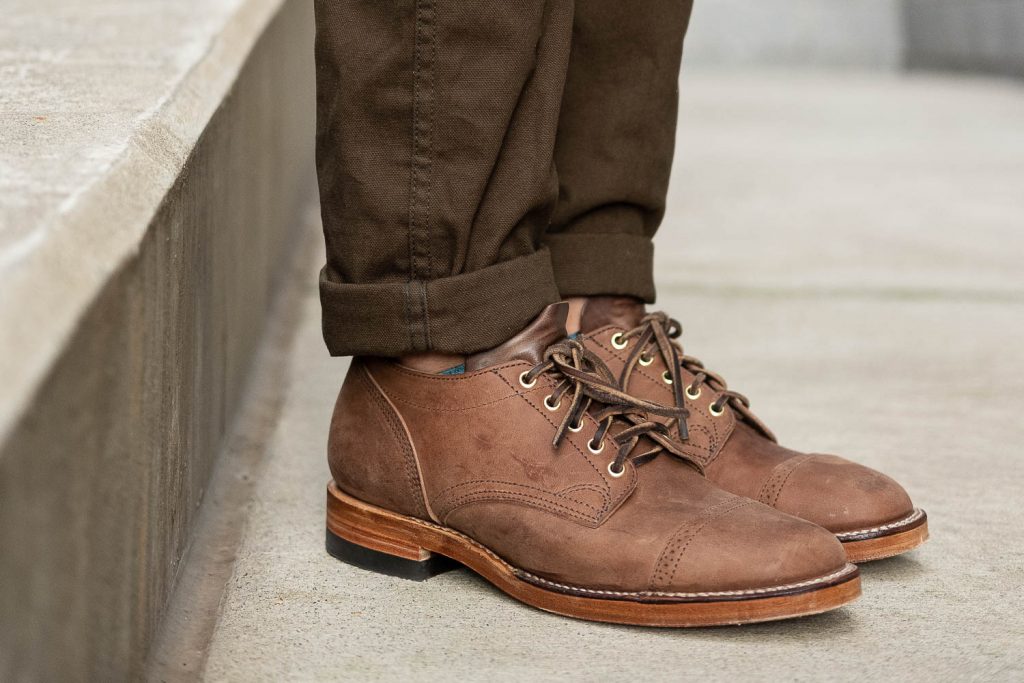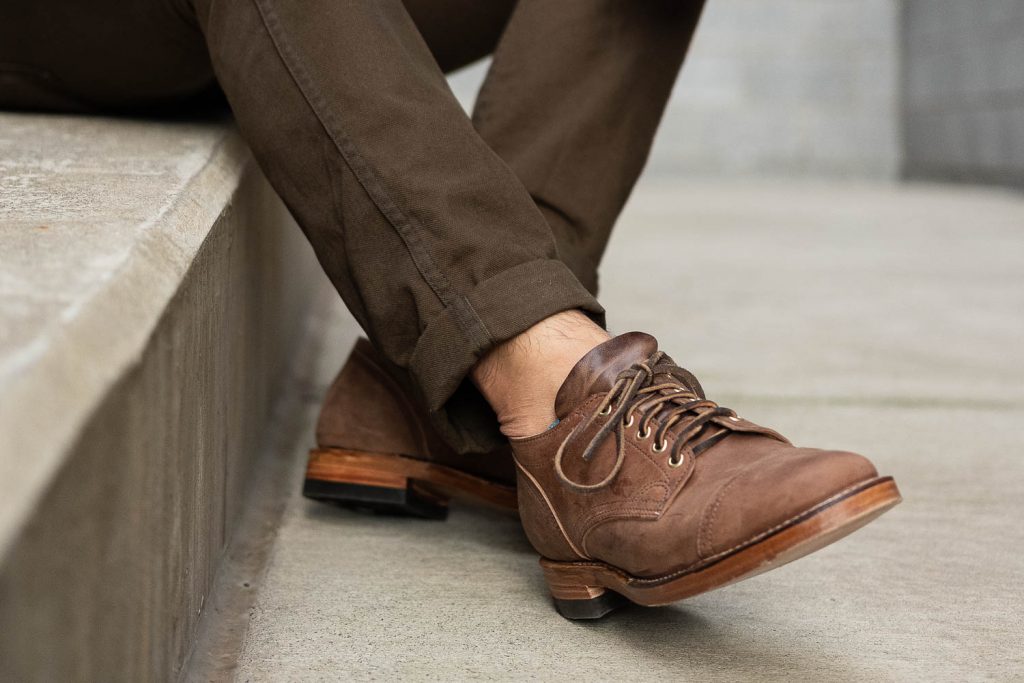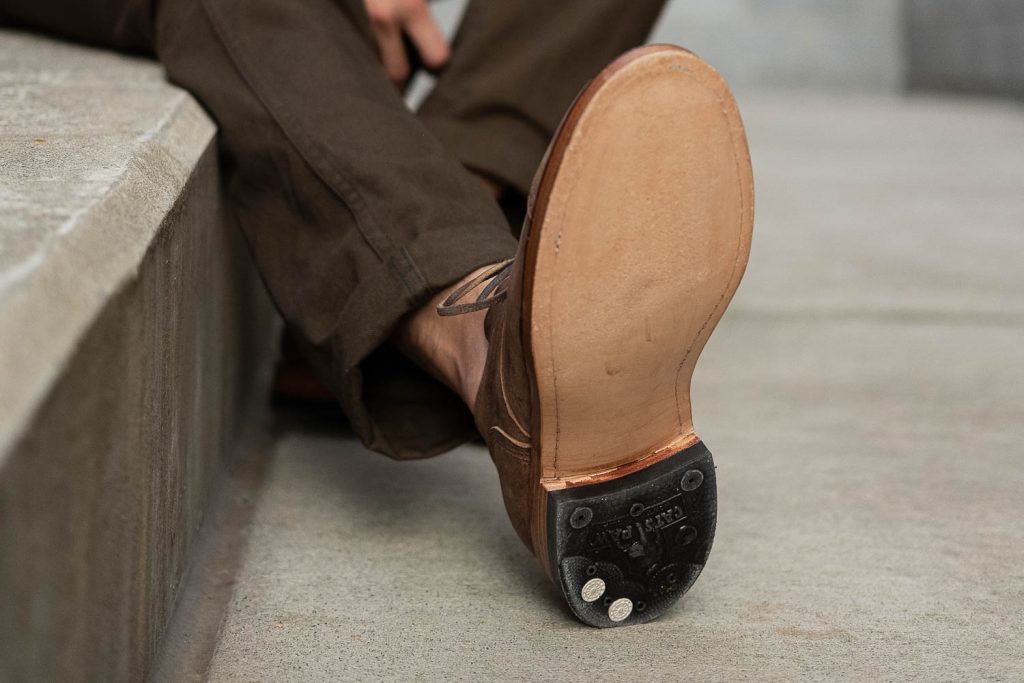 Given our interest in making this a "Summer oxford," we knew we wanted a leather sole. Something a bit more refined and one that was arguably more comfortable. This selection became part of the long delay in bringing these 145 Oxfords to fruition. Without getting into too much details, the combination of the thick horsebutt leather and two plys of leather resulted in some initial difficulty stitching through all the layers. In the end, things worked out and we pulled through with the original plan for a leather sole. Leave it to the geniuses over in the Viberg factory to figure out how to make it work.
We opted for the Cat's Paw heel for added traction over a full leather sole. It also adds a nice vintage/heritage aspect to this shoe, which we are certain some folks will appreciate.
Out of the box, the leather sole will feel pretty stiff in your hands – like how the Dr. Sole Raw Cord soles came on the Mushroom Chamois RO 145 Oxfords. Do not be dismayed though, once you get them on your feet and start stomping around, you'll quickly find them loosening up. Of course, it isn't all fun and games with a leather sole. You'll be slipping and sliding if you think you can run around on these fresh out of the box. We'd recommend taking these straight to the concrete pavement and giving them a skate around the block to ensure they are nice and scraped up for that extra traction you'll need when you finally hit those smooth surfaces.
If you're still with us and you're ready to Add to Cart, one last thing you'll need to know is your size. For this run, these 145 Oxfords run about 1/4 to 1/2 large in length, comparing to our previous 145 Oxfords. This might make for some difficult choices, but hopefully the following can guide you towards the right size.
In general we recommend sizing down one from your Brannock device measurement (e.g. if you are a 10D Brannock, take a 9 in these 145 Oxfords). This is the starting point for most folks before we get into some specifics:

For B/C width (narrow) feet, you could possibly go down 1.5 from Brannock, but we'd really only recommend this if you have narrow feet. The width of the toebox is most concerning if you size down 1.5; with the B/C width narrow feet, there's a decent shot you'll be okay.
For D width (normal) feet, we recommend staying with one size down from Brannock, even though this pair may then feel a little long. If your pair ends up feeling a little long, we recommend trying thicker socks or adding tongue and heel pads to narrow that gap a little. We've had success (personally) with this when it's just a tad too long. Sizing down another 1/2 size will result in a very tight toebox.
For E/EE width (wide) feet, we recommend going one size down. In this way, you'll probably end up with a similar type of situation as the D width feet (as above), but the toebox may feel slightly snugger. Unfortunately sizing down only 1/2 from Brannock will be too long, and sizing down 1.5 from Brannock is a non-starter with your wide feet.

Now for customers who own our previous Mushroom Chamois RO 145 Oxfords (Mushrooms), you have something to go off of. The advice below is pretty similar/redundant as above, but hopefully it gives you a few more data points to consider:

If you sized down one from Brannock and your Mushrooms are on the tight/snug end, this pair should be a little better for you as it'll be a bit more spacious – so take the same size. If however your Mushrooms are on the loose end (length-wise), and if you have B or C width feet, you may want to size down another 1/2 (i.e. a total of 1.5 down from your Brannock). Note that we do not recommend this for D width folks, as going down another 1/2 size will probably make the toebox too tight.
If you sized down 1/2 from your Brannock, given that your shoes probably run on the longer/looser end of things by nature of only going down 1/2, you will probably want to size down another 1/2 size on these pairs (i.e. a total of 1 down from your Brannock). This situation should primarily only apply to those who have E width or greater and prefer a looser fitting shoe.

Additional considerations:

Given the horsebutt leather, we do not anticipate this leather stretching much at all. We do not recommend buying these with the hope that they will stretch to accommodate your feet.
Take into account the type of socks you generally wear. You can usually compensate to some degree by wearing thicker socks; if they are too snug, you can try wearing thinner socks.
As mentioned above, tongue and heel pads can help narrow the gaps if your pair will run a little long. If you're thinking you will just size down another 1/2 so that you don't have to use pads, the danger for most folks in sizing down 1.5 from Brannock is the toebox being too tight unless you have narrow feet.
That's all we have for now. Thanks for taking a gander and hope you enjoy the Franklin 145 Oxfords – Crust Horsebutt – 1035 Last – Leather Sole w/ Cat's Paw Heel.
Releasing Wednesday, October 9th at Noon EST* on Withered Fig. Shop our Viberg for Withered Fig Collection here.