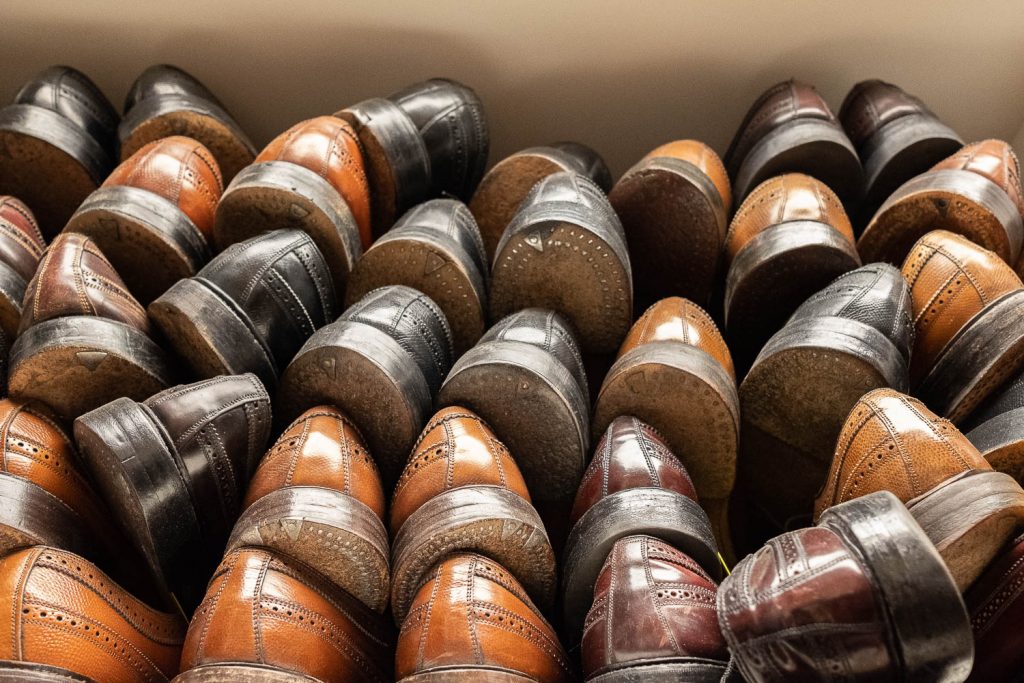 New for 2020, Withered Fig "Shorts." In the first of our short-format posts, we checked in with Steve Doudaklian of Bedo's Leatherworks in downtown Falls Church, VA. Steve has been in the business of shoe repair and custom leather repair work for over 30 years. Regarded as one of the best in the business, Steve's dedication to his work is meticulous and thoughtful, putting quality above quantity and ensuring every pair that leaves his hands is the best that he can do.
For this Short, we spent an hour chatting with Steve [S] while he effortlessly added Lulu Toe Taps to our Viberg Crust Horsebutt "Franklin" 145 Oxford. Toe taps are one of those things that you never knew you really needed until you see it. Without further delay, read on for the basics of how a metal toe tap is added to your shoe, sprinkled with some random questions and tidbits from Steve throughout.
As you'll see, these Shorts are a fair bit more unstructured than our Brand Spotlights; but it gives us an opportunity to generate some non-traditional content at an informal level, which we hope will be an interesting and valuable read.
---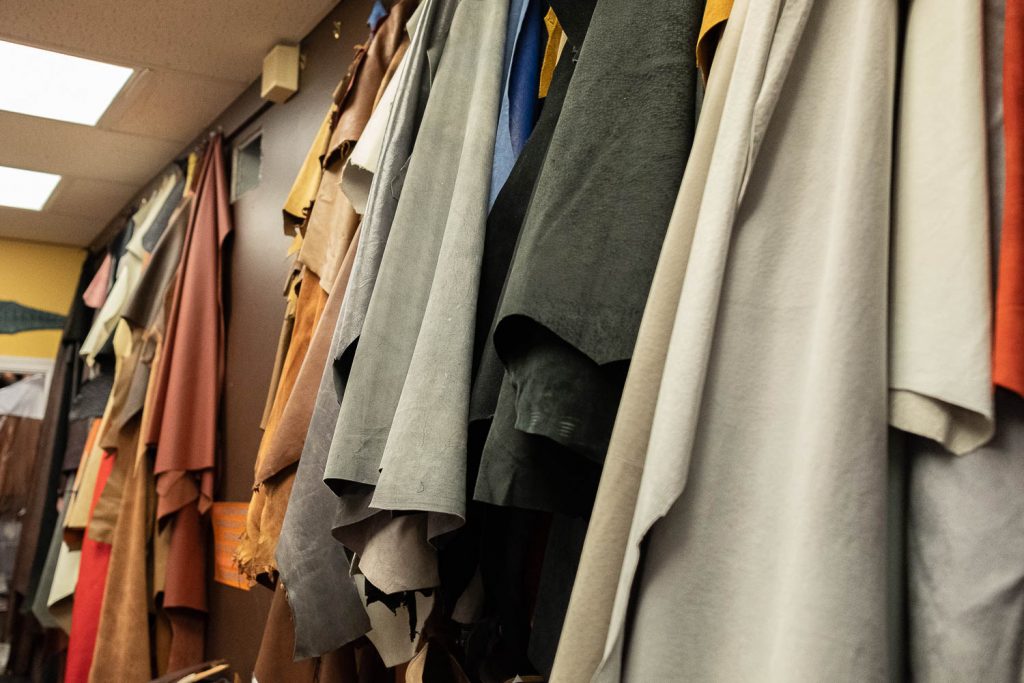 We start off with a little background. For those who might not know Steve and his shop, Bedo's Leatherworks, he does quite the range of leather repair work and standard maintenance (resoles, refurbishing, etc.) of shoes, boots, and purses, you name it. If you do a search for him, you'll likely find a lot of work he's done posted on Reddit and Instagram. Let's get to it.
From Humble Beginnings and Four Generations Later, His Own Leather Repair Shop
S: My dad was a shoemaker, but I never studied to be a shoemaker. I've made shoes for customers before, smaller work like slippers and slip-on types. But I'm not trained to be a shoemaker, not yet at least; maybe I will when I retire.
S: But my dad, he made shoes back then and that's all he did. That's how he started when he moved to the States. He just opened up his own shop repairing shoes since he didn't have the money to start his own factory. The logo of our [Bedo's Leatherworks] shop is basically a black and white drawing of my dad from one of these old photos of him.
S: Today we're a fourth generation shoemaker/repair company. My mom's dad and my mom's grandfather are all shoemakers. It's sort of funny, since my grandfather is a farmer and he got upset that my dad met a city girl. So my grandfather said he wasn't going to the wedding. My dad said, here's the date, time, place of the wedding – if you come, come, if you don't so be it. So interestingly, my mom ended up marrying a shoemaker just like her dad.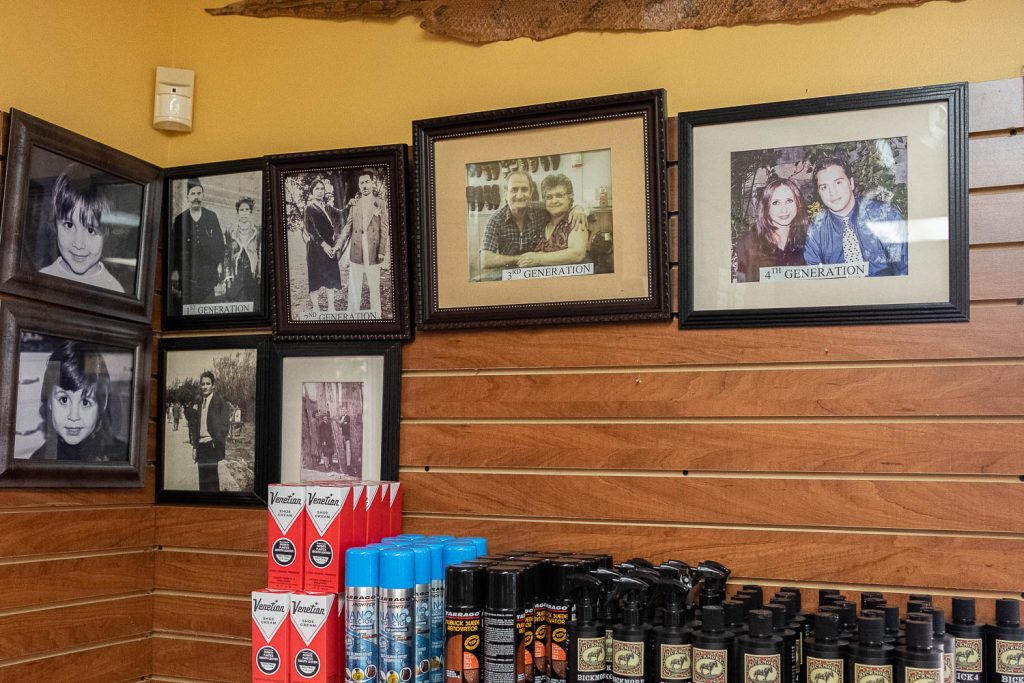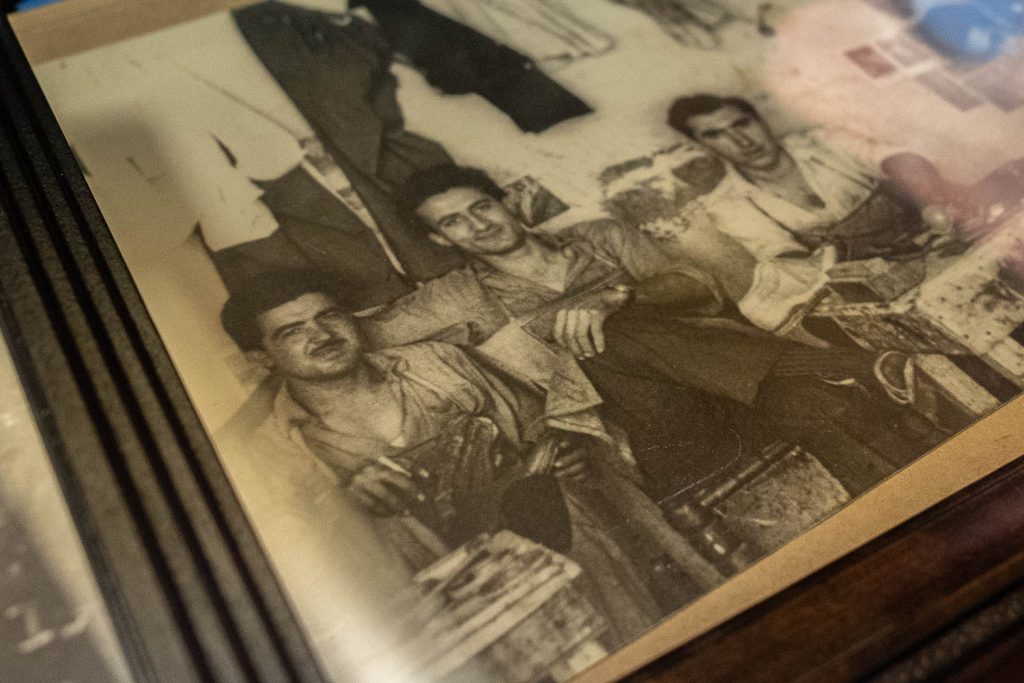 S: Back then, it was a good living. My dad had 4-5 employees and he wouldn't retail them himself. He would sell them to a retail shop and they would then sell them. One time a Japanese customer came here and my dad – who spoke half-english – said, "those were my shoes!" And the Japanese customer said, "no my shoe!" It turned out, it was a pair that he made back in Lebanon. Back then, there were a lot of Asian tourists in the Middle East. The guy happened to buy it in Lebanon, be in America, and bring it to the shop where my dad was. But it was the shoe that he made. It was just funny – the back and forth about, it being "my shoe."
S: So that's how I started. I started helping my dad during High School – about 18 and 19 – picking up shoes from dry cleaners and doing wholesale work. I would take the shoes and do the jobs at my dad's shop, and then deliver them back. Eventually I told my dad, you know what, you have to let me run the shop. But he didn't trust me. So I went to work elsewhere, a bunch of places, but eventually I came back and asked my dad to let me do it. Slowly and eventually, he let me do it.
Fast Forward… Swamped With Work, Bedo's Leatherworks Temporarily Closes for January 2020
S: We had a great year last year. Sort of unexpectedly received a lot more work and went through a little growth spurt. It was difficult because at one point, as soon as one of my employees had left and we were on a skeleton crew, we suddenly got more work in. As I am getting more behind, Christmas comes around and I decide to shut down for a week. But I realized a week is not going to cut it. So I decided to shut down for a month and do what I can. So we're closed for all of January with me trying to catch up on the work. Unfortunately, I don't expect to get through all the backlog, but it's progress.
Now What About These Lulu Toe Taps on the Viberg Crust Horsebutt 145 Oxford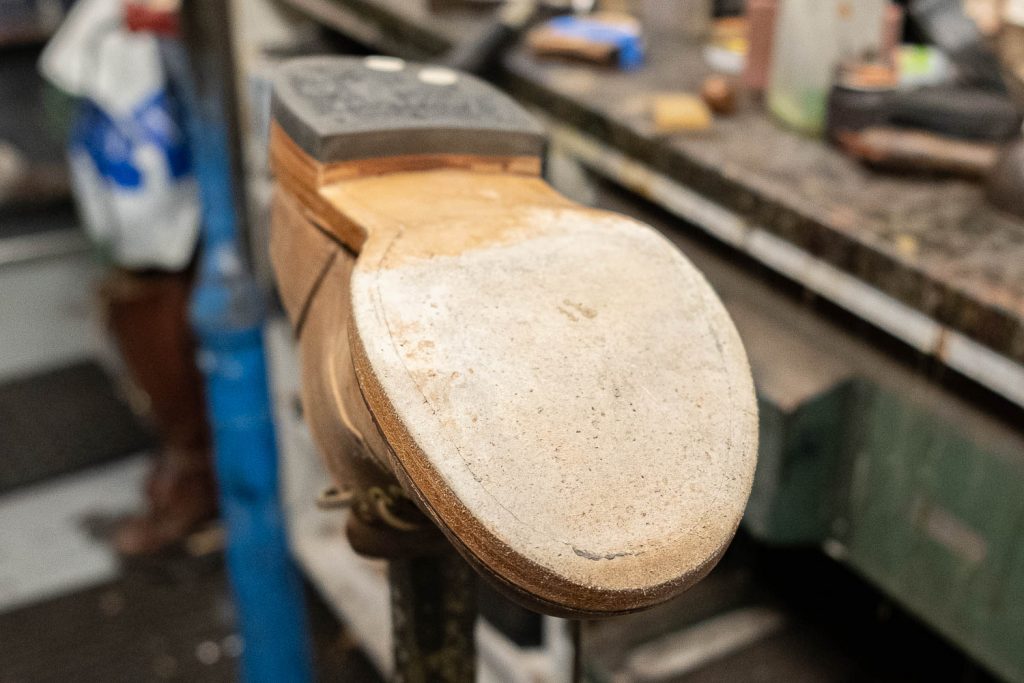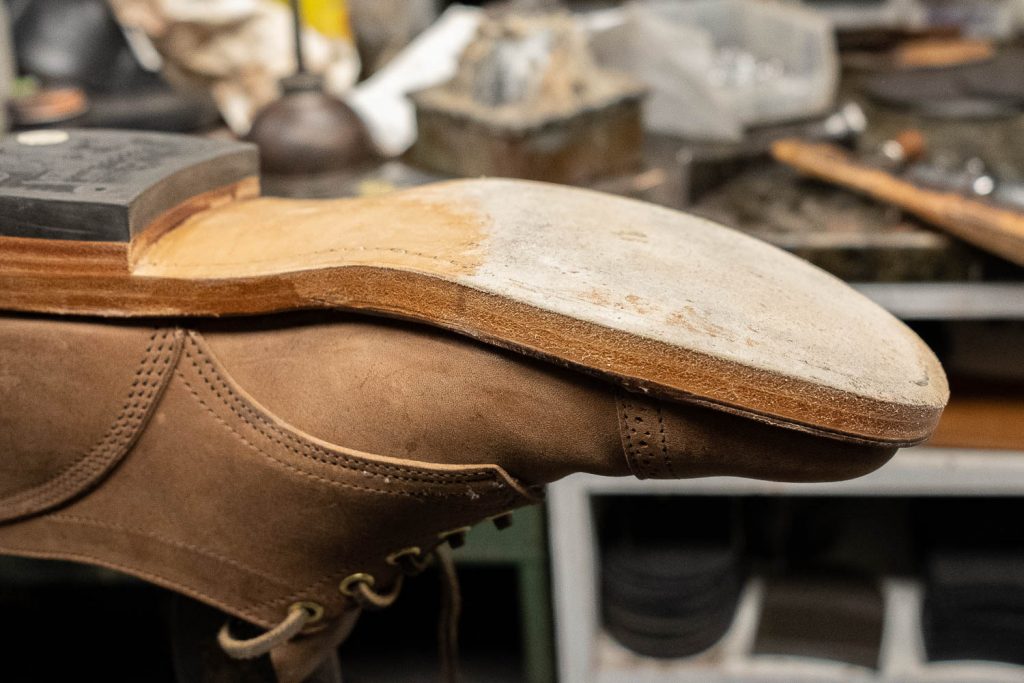 Lucky for us, and out of Steve's generosity of time, he allowed me to stop by and chat while he worked on our pair of the Viberg for Withered Fig Crust Horsebutt 145 Oxford. We'll walk through the process here with some commentary from Steve.
Brand new, adding metal toe taps is no issue, requiring minimal repair and only some cutting, aligning, drilling, and sanding. Luckily for my pair, with roughly a month of wear on it (3-4 wears per week), I hadn't worn down the toes quite enough, which avoided having Steve build back up the leather sole.
S: You were right at the tip of not needing a build-up. If that was worn down just a little more, we would have to build that up to level the surface (the leather sole). It just depends on how much you've worn it down. If it's not past that line (the thickness of the toe tap), we don't have to build it up.
After placing the desired toe tap on the bottom of the shoes and using it for a reference, a cut is made across the straight-edge of the toe tap. From this incision, towards the top of the toe, is where a layer of the leather sole will be sliced out.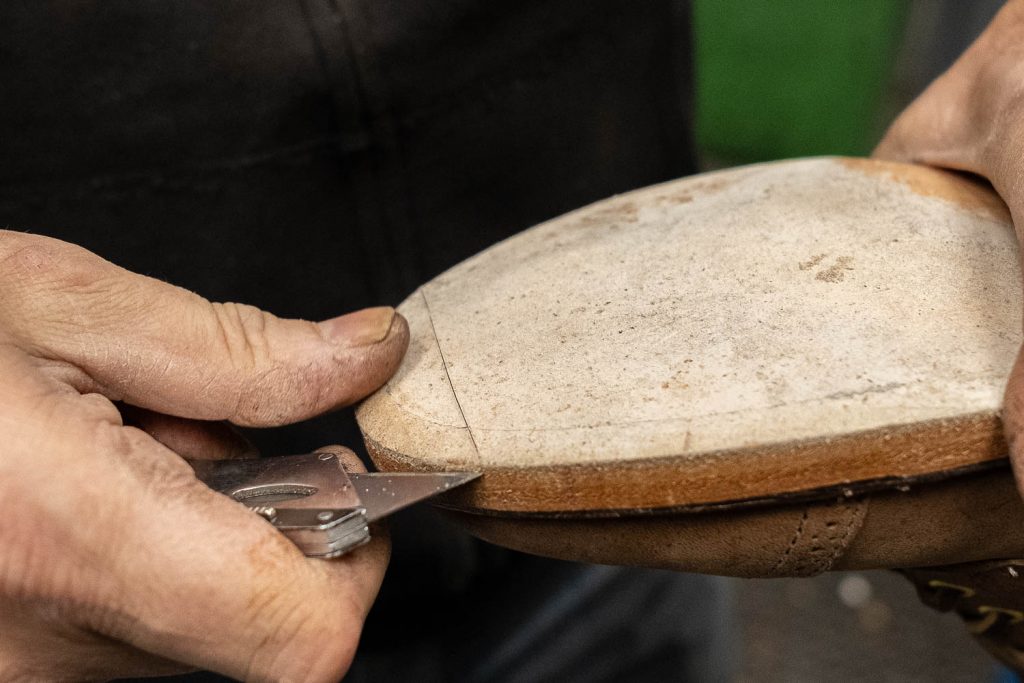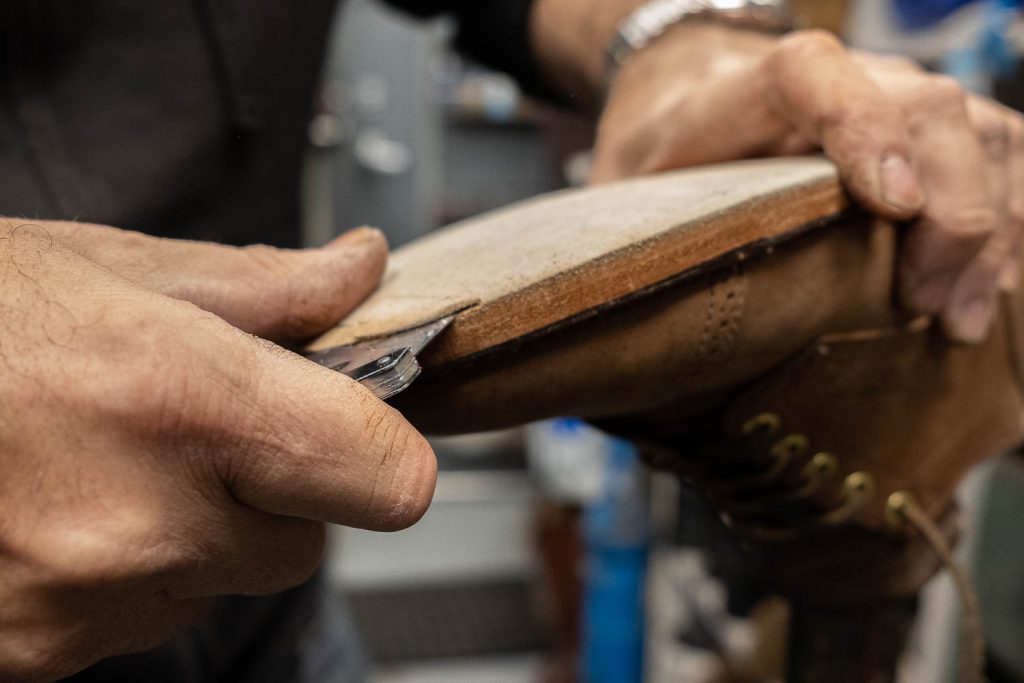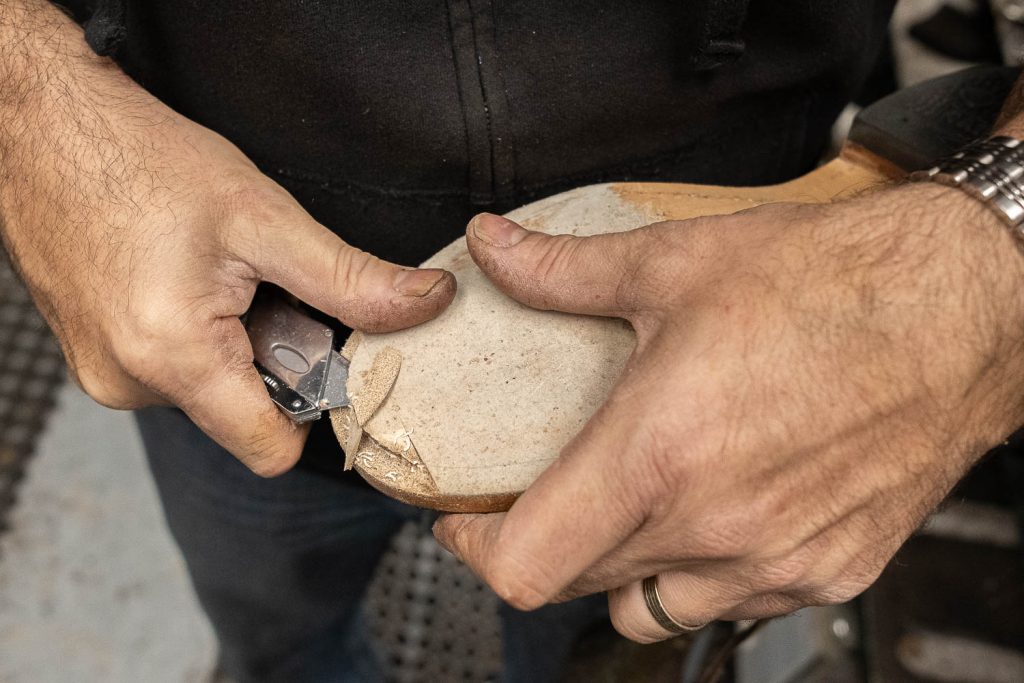 Steve noted that over the last year, he's seen a lot of requests come through for adding toe taps. Even beyond local customers, he's had mail-in work just for toe-taps. Given the amount it costs to ship something back and forth, it's pretty amazing the lengths people will go through to get a pair into Steve's hands, even for something more basic such as toe taps.
After the layer of leather sole is sliced out, Steve sands down that area to create a smooth and flush surface for the toe tap to sit on.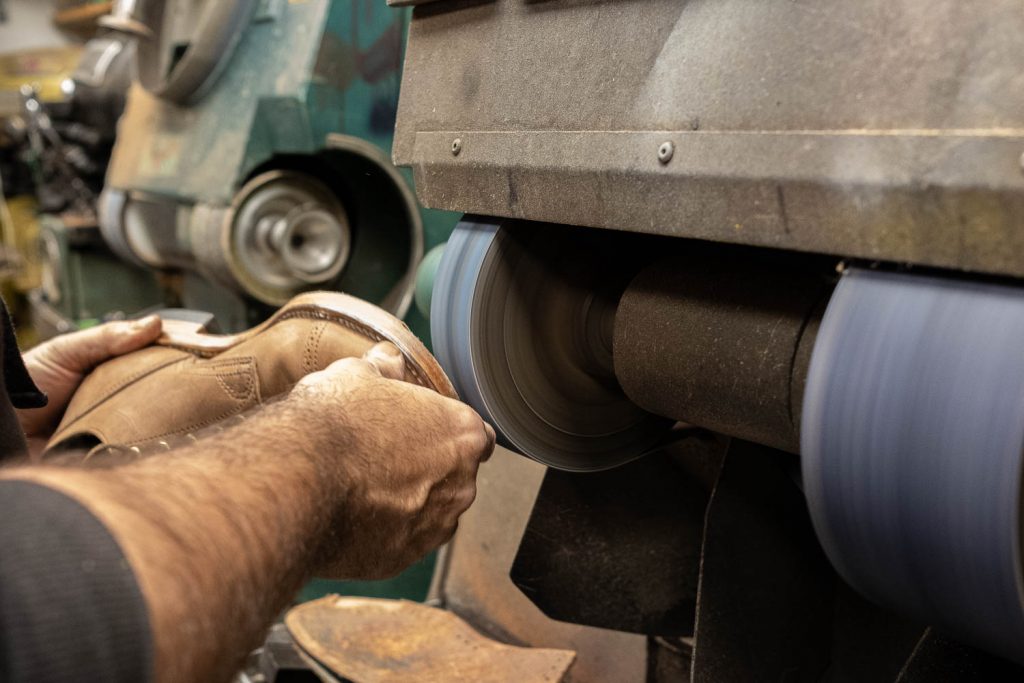 Aligning the toe tap on top of the newly cut-out wedge, it's temporarily held in place. It's now "hammer time!" (more on that later). Steve hammers in five pilot divots for the five holes in the toe taps. Five short screws are then drilled in one-by-one to secure the toe tap into place with the leather outsole. In this case, Steve removed a couple screws for a do-over to try and re-seat them for a more flush seating. Nevertheless, Steve admits he can't always get it perfect.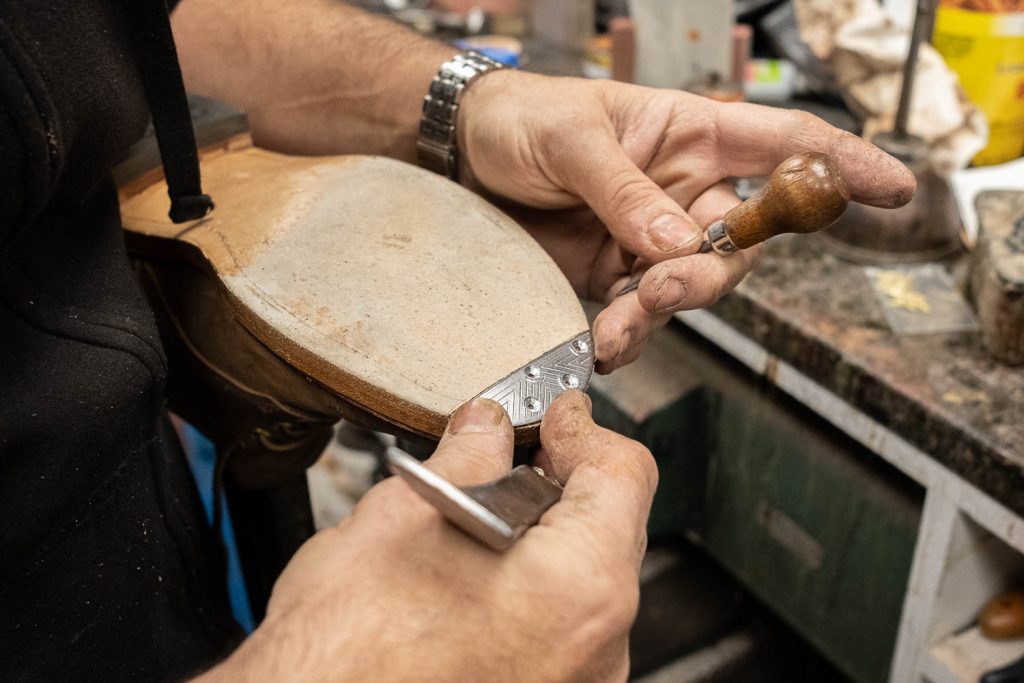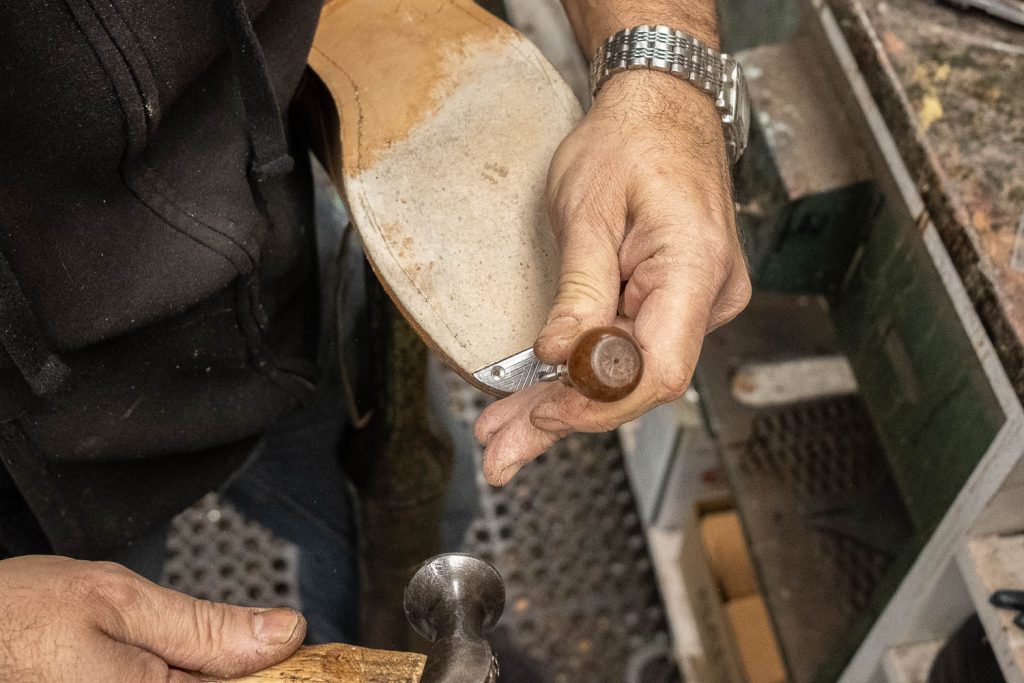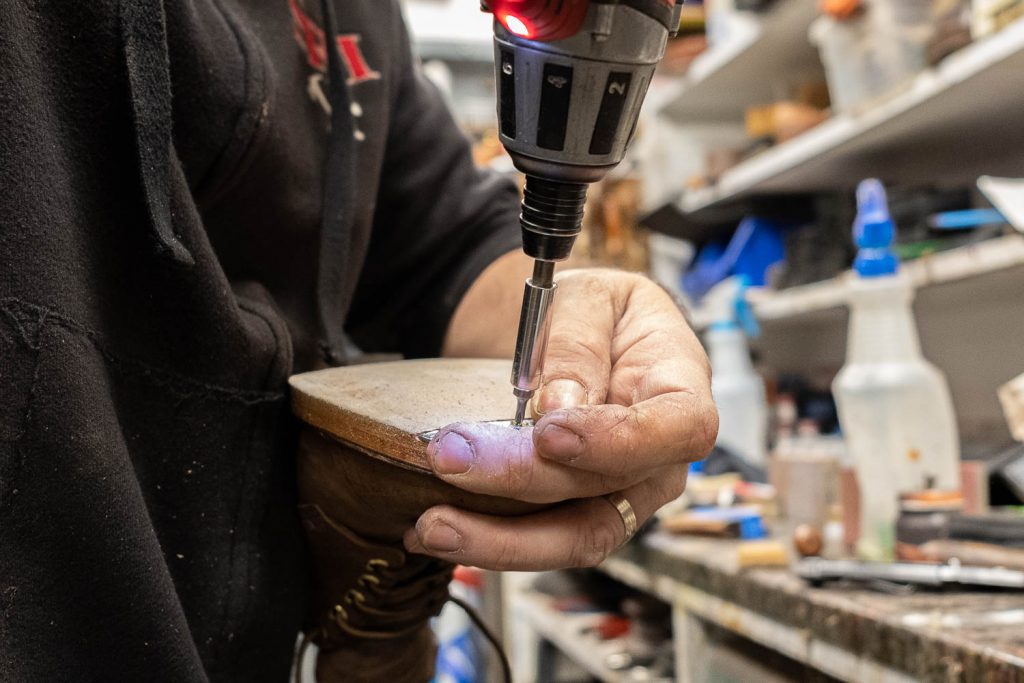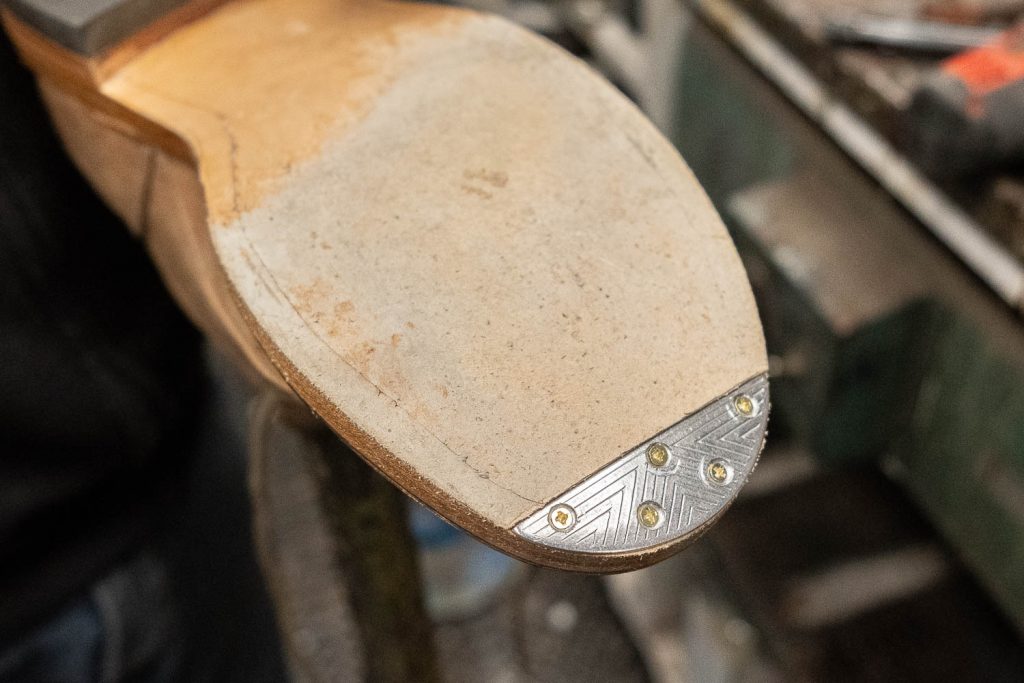 S: I make mistakes too sometimes. We all have to learn somehow. It's just a matter trying to keep it consistent and getting it done right. This leather is so hard and the screw is soft. If it misses and keeps on turning (strips) then it's not going to look good. You see the Philips screwhead? The crossholes are not crisp. One time I had a customer – an engineer, noticed all the details – he told me I did a great job, except for that one screw. That screw was like running fingernails on a chalkboard for me. So I went back and I changed it. It wasn't bad, but it wasn't good – at least good enough for him.
Once the toe taps are secured, the shoe is then taken back to the sanding machine to ensure the edges of the welt, midsole, and now metal toe tap are all vertically flush. Basically running your fingers around the edge of the shoe should feel very smooth with no noticeable bumps are gaps.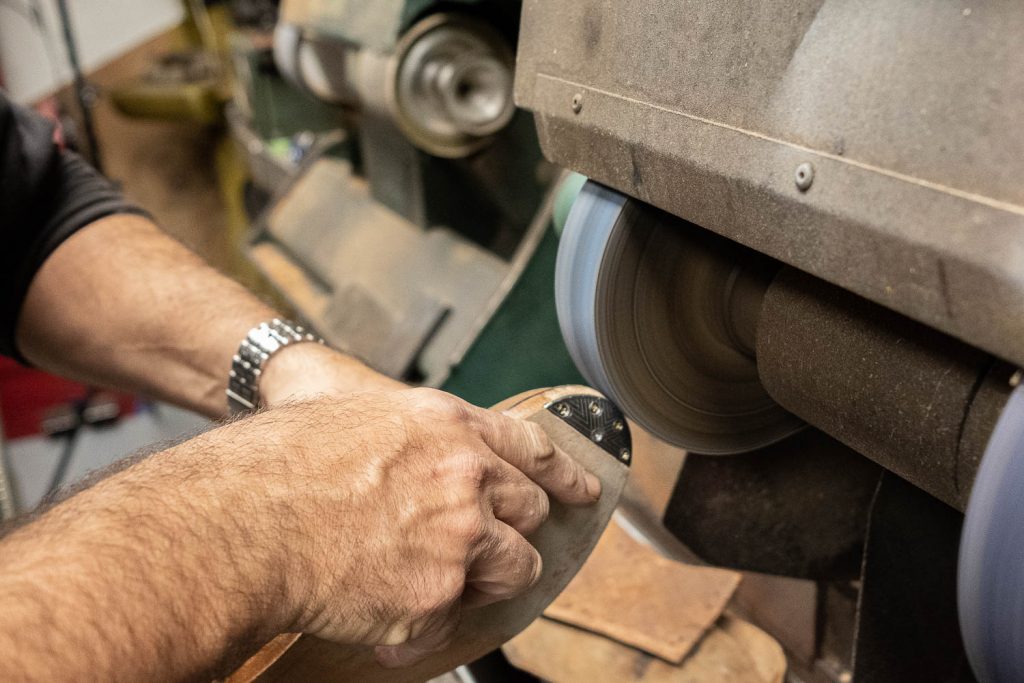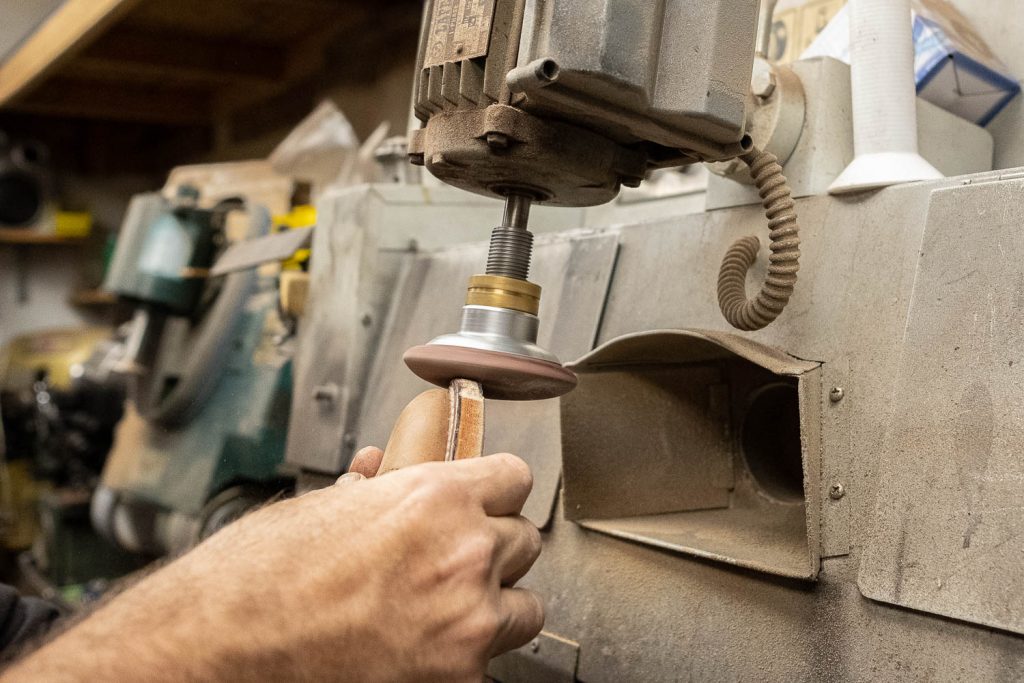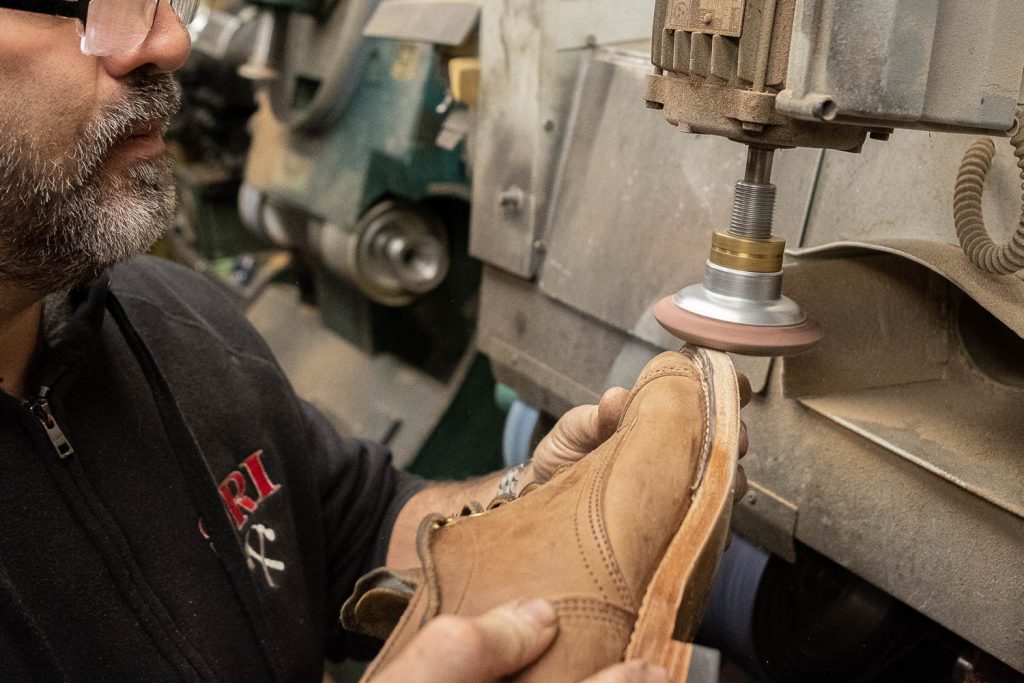 About finished with the toe tap install, the pair is then taken to a brushing station to ensure all the small particles from the sanding are removed from the surface. Steve then applies a light layer of cream polish on the edges for a finished look. Steve will generally try to match the staining of the bottom with that of the edges and vice-versa depending on the work being done.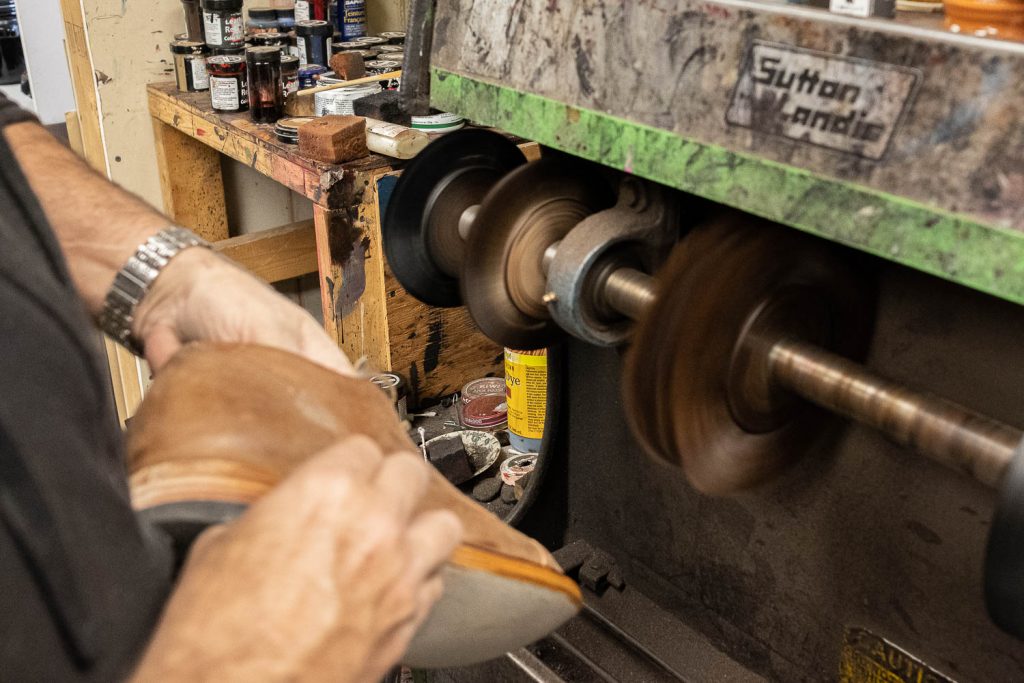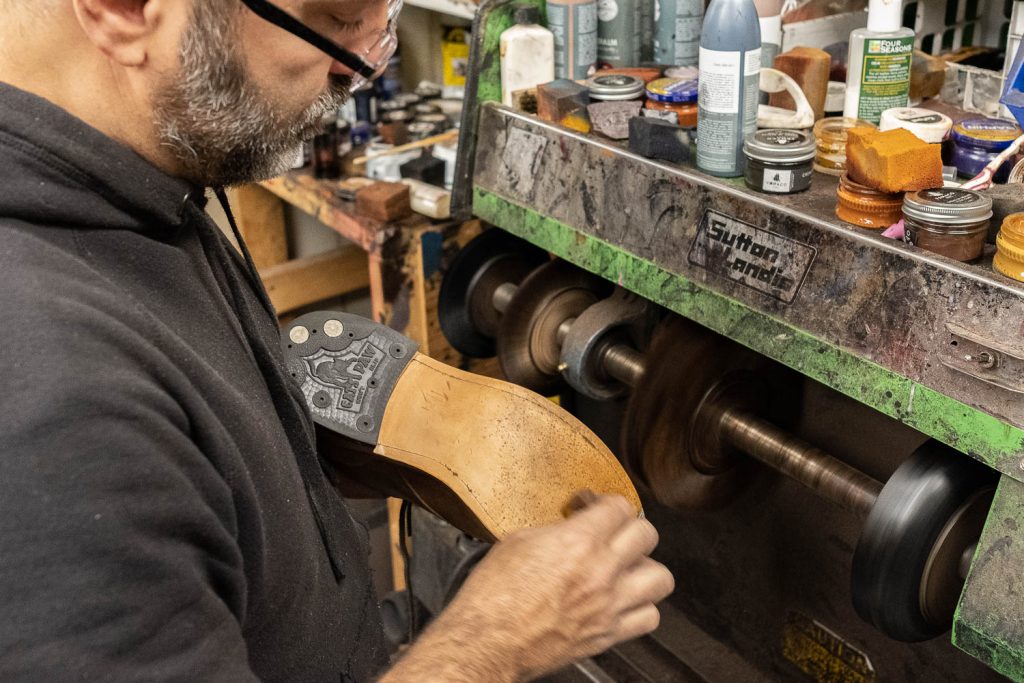 Depending on the service you want, Steve will also brush up the upper leather and apply conditioner for a pseudo-quick restoration. Generally, Steve likes to make sure that every pair that leaves his shop is as good quality and looking as can be.
In this case, I opted out of any additional work on the upper as I currently like the raw state of the Crust Horsebutt and the somewhat matte look. Eventually I'll apply some cream to it, but for now all is well. With that, Steve was finished.
S: If I apply any neutral conditioner, it's going to darken it up. But otherwise, we're done. One down, about 40 more to go!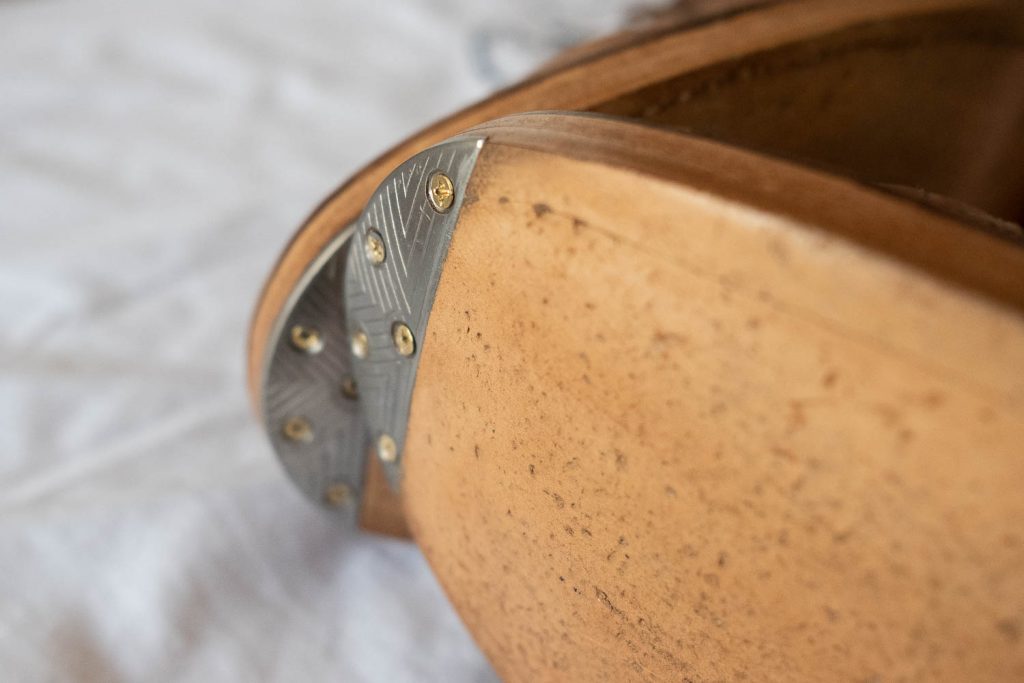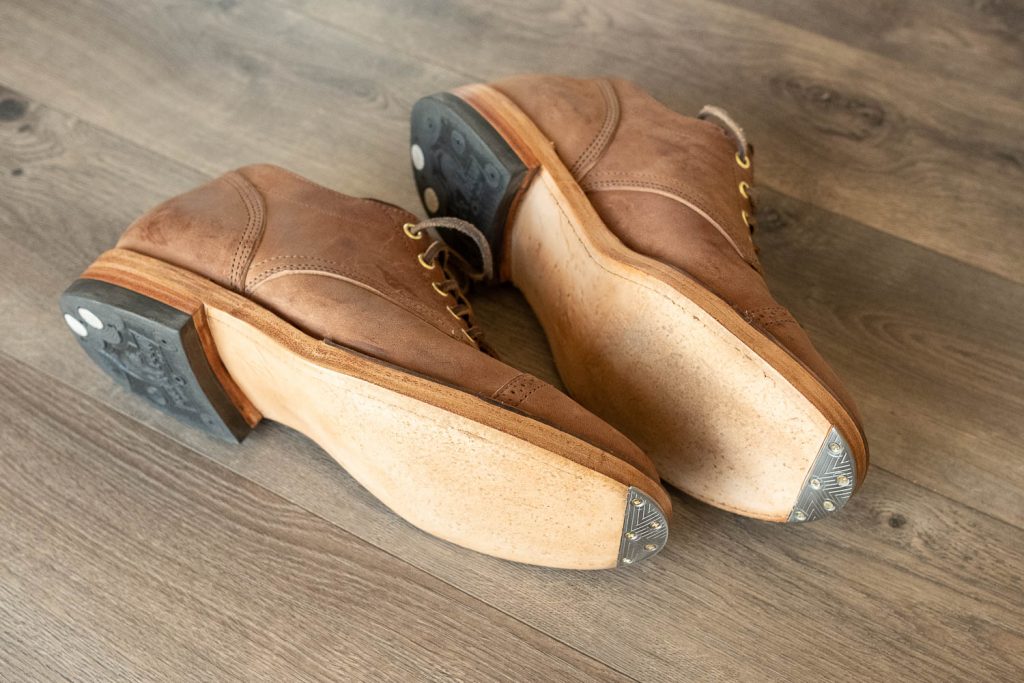 After that, Steve quickly kicked me out (in a very friendly way of course) knowing that he and I both had more work to get done. Although I'll quickly admit, I'd have been happy to keep loitering around listening to more stories and learning from Steve. He's got a wealth of knowledge about leather working and shoe repairs, but also some interesting stories he's accumulated throughout his life. It's no wonder that he's a staple of the local community and people all over the world send their most cherished leather goods to him.
Now before we close this out, about "Hammer Time"…
Hammer Time T-Shirts Inspired From YouTube Comment
It's likely that you've come across Steve's work through Instagram or YouTube. Steve recalls one of his videos where someone commented that he should turn the volume down when he uses the hammer.
S: I was like really? You want me to turn the volume down? Why don't you turn the volume down on your computer. So that became a big thing, and people started saying, "we want hammer time!" And in my videos, I say, "it's hammer time!". I made these t-shirts about a month ago. Everybody wanted to know when merchandise was coming out for "Hammer Time."
S: I don't know where that guy is or if he still watches my videos, but he started a big thing for me. So I appreciate that!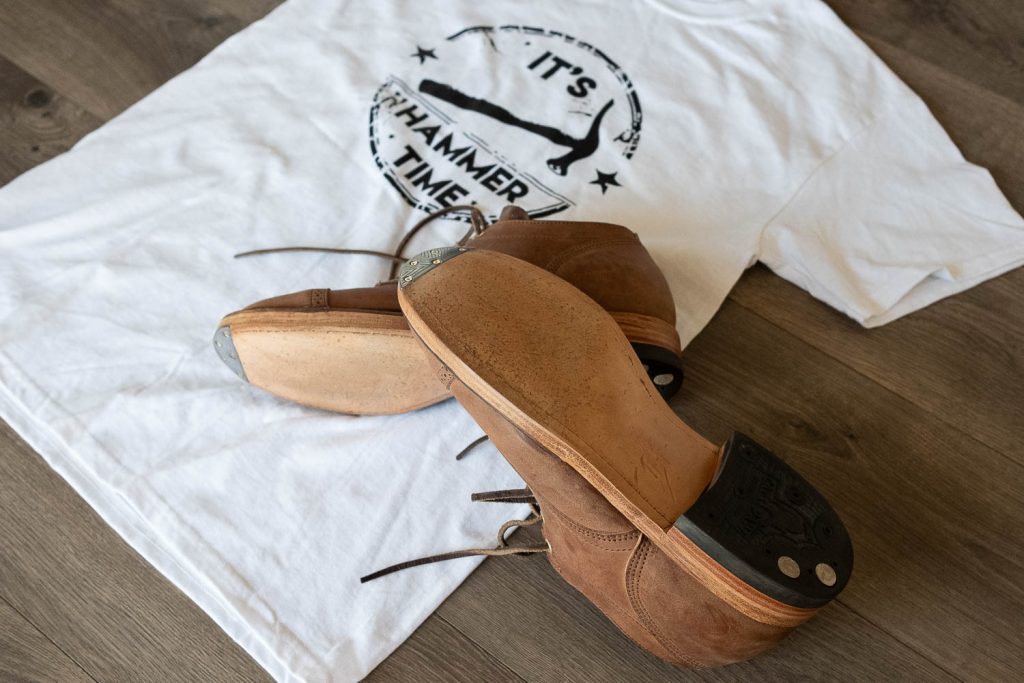 Thoughtful Gifts From Customers and Friends Online
From time to time, Steve gets random gifts from his customers and online viewers who are appreciative of the work he's done. Most recently, he received a painting of himself.
S: I had no idea she was doing that. I was floored! She originally wanted a painting of my dog and asked me if I could send her a photo; and eventually it just came in. It had a custom wrapping paper, and a couple paintings with a custom t-shirt! Some folks were like, "stalker!" But I've spoken with her before, and she was a disabled woman and took up painting. It's more like a hobby-business for her. She definitely put some time into it and I appreciated it. The painting is at home, but once I clean up the shop, I'll make some room for it here.
You can see Steve's real-time unwrapping of Cindy Harmer's gift on his Instagram here.
His Work Looks Great, How Do I Get My Pair To Him?
While Steve is certainly in no need of additional work, he does accept mail-in work. While Steve does have a website where you can find some information, since the website is not really kept up to date, Steve will generally be more responsive via Facebook, Instagram, or YouTube. You can find his accounts below:
Facebook: @bedosleatherworks
Instagram:@bedos_leatherworks
YouTube: Bedo's Leatherworks LLC
Website: http://bedosleather.com/
I happened to ask about soles that he doesn't carry, such as the Dr. Sole Raw Cord soles that we used on our Viberg Mushroom Chamois RO 145 Oxford, and whether he would work on them if a customer sent them in.
S: Yeah, well it depends on what they bring in. But what I want to avoid is what happens if a customer brings in a cheap material and I do all that work, and after a bit it falls apart and doesn't last because of the material they brought in. But as long as they understand that I didn't make the material, then yeah I can do it.
So there you have it. Lulu metal toe taps, some past and recent history with Steve, and some random tidbits about his online fame. We hope this was an interesting and worthwhile read, thanks for reading along and let us know if you have any questions on the toe taps or anything else related to this Withered Fig Short!