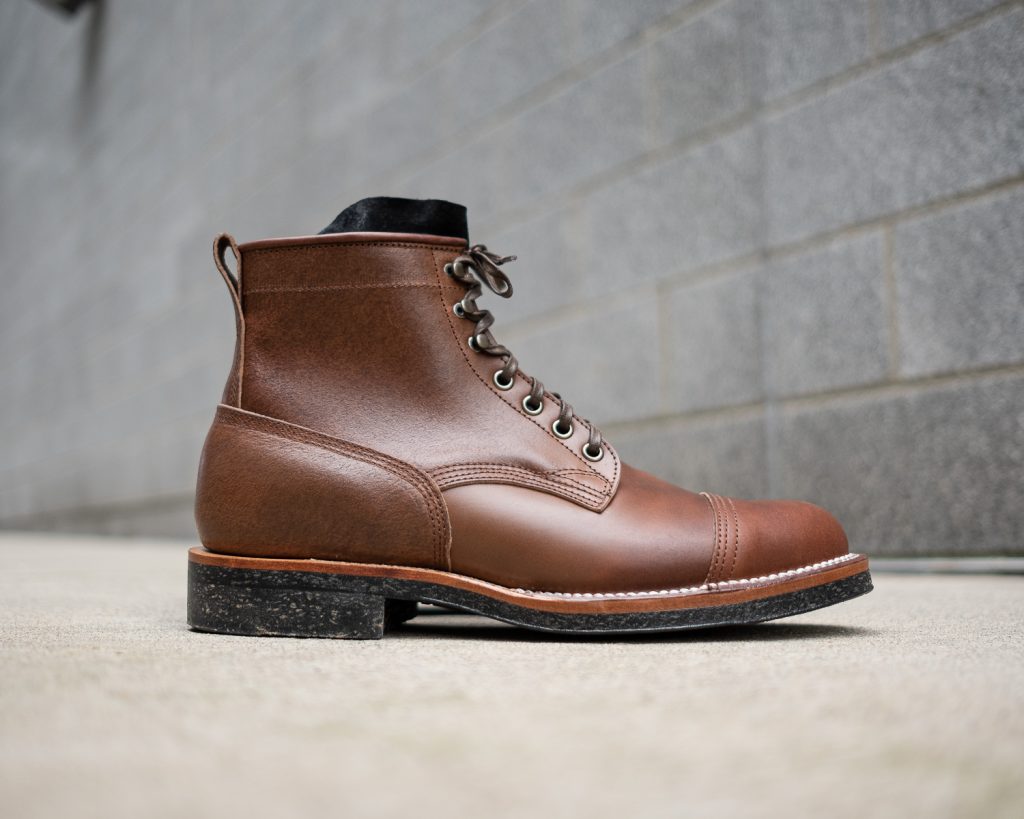 Just in time to show off at your next online video hangout, we bring you the latest Viberg for Withered Fig. This Viberg Bobcat make-up was inspired from one of my original Goodyear welted (GYW) boots from way back when, the Red Wing Beckman. Obviously there's a lot of differences from the leather to soles, the speed-hooks to the pull-tab, but the inspiration is there and we thought it only proper to give the nod to the OG inspiration. After all, I think many of us probably have or previously owned a pair of Red Wing Beckmans or the half-brother Iron Ranger early on in our GYW career.
That said, there are marked departures from the original inspiration, and that's where we – along with Viberg – try to see how we can make it uniquely ours, within the construct of how Viberg approaches their footwear. So let's get the details out of the way.
Releasing Friday, April 10th at Noon EST* (limited sizes, see below) on Withered Fig, the Viberg for Withered Fig Brown Waxed Flesh Horsebutt Bobcat Boot w/ Dr. Sole Raw Cord Soles.
Viberg for Withered Fig Exclusive
Brown Waxed Flesh Horsebutt (Horween USA)
1035 Last
Dr. Sole Full Raw Cord Sole and Heel
Full Gusset Tongue
4 AA Vintage Brass Eyelets and 3 Speed Hooks
Contrast Tongue in Black Waxed Flesh
Partially Structured Toe
Natural Leather Midsole
Stitchdown Construction
Includes a pair of Rawhide Laces and Brown Flat Waxed Laces
Includes Viberg Dust Bags
Includes Viberg Polishing Cloth
Includes a bottle of 1 oz Venetian shoe cream
Made in Victoria, B.C, Canada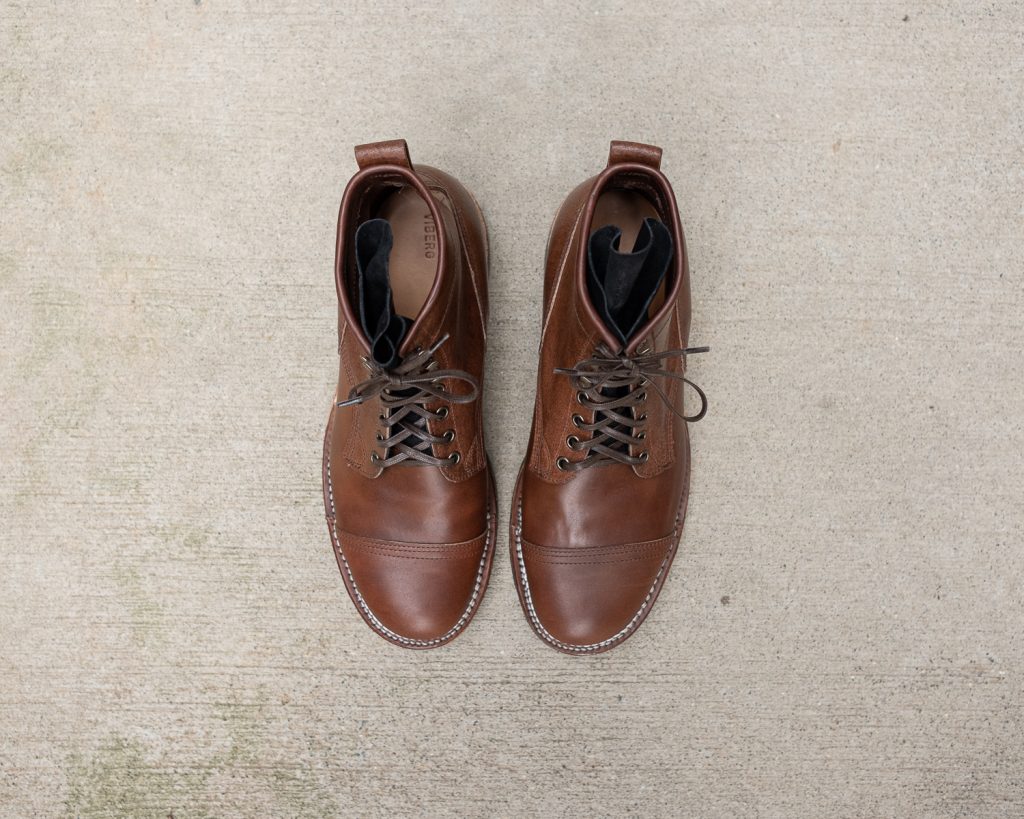 A few of you may be wondering about the Viberg Bobcat style. It's not as well-represented in the Viberg line-up, but as you've seen we've tended to find some niches where we think we can offer something unique. The Bobcat style was selected for two primary reasons; one, because of the added height in the shaft that it has over the Service Boot; and two, for the chunkier work boot look that I felt the Red Wing Beckman had. The Beckman was not necessarily a work boot, but compared to the sleekness of the Service Boot, the Bobcat style fit the bill much more closely. While pull-tabs may not be for everyone, given the utilitarian work boot effect we were after, we figured the pull-tab would be a nice addition.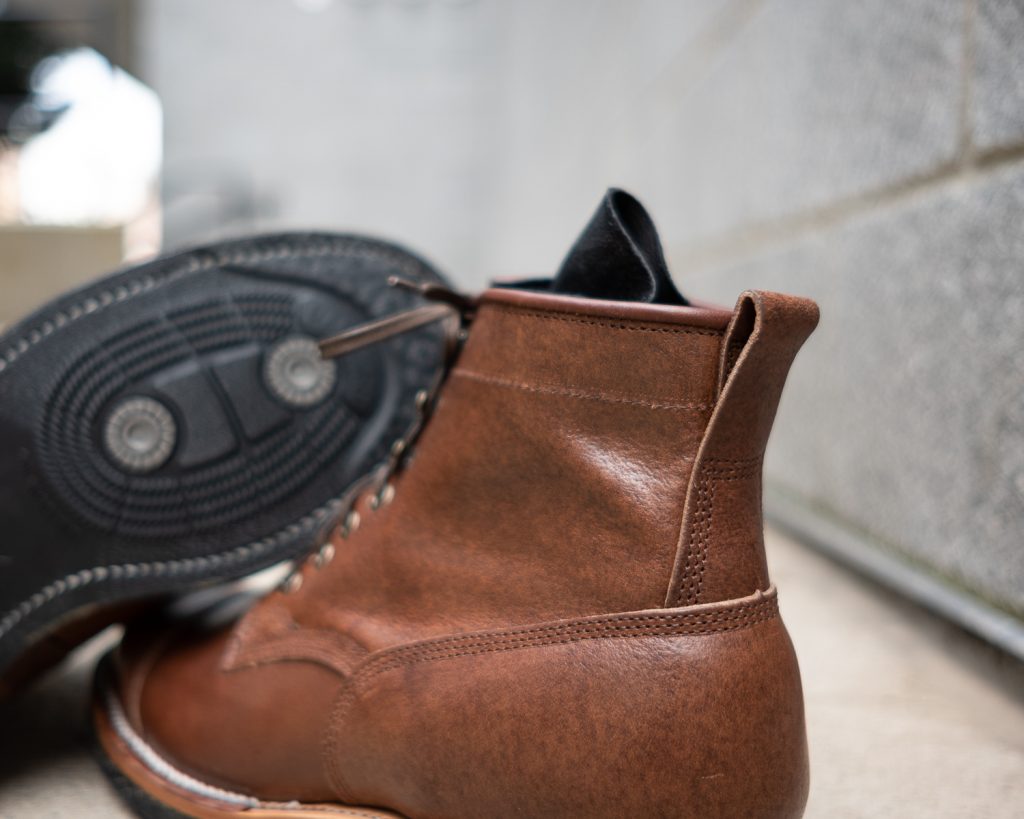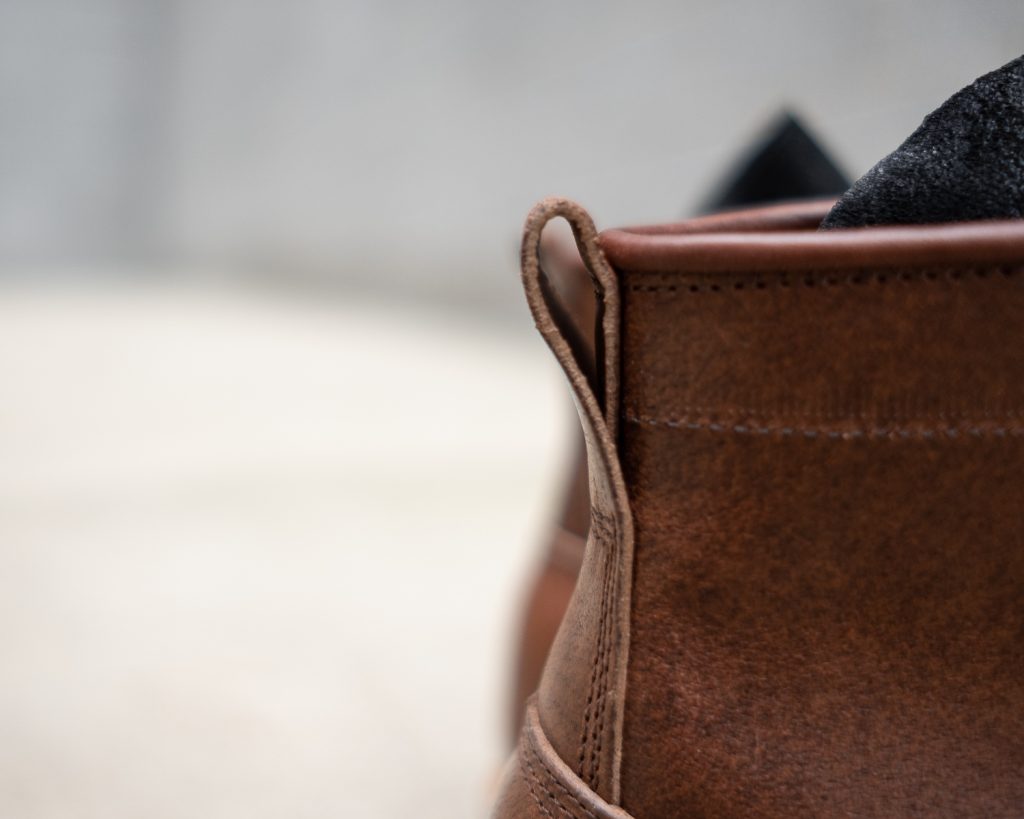 On to the leather, you may notice that the leather has quite a few different appearances depending on where you look. The vamp – towards the front – tends to have more of a smooth-looking finish, while the quarter – towards the back – has more of that traditional waxed flesh look that you may be accustomed too. We're always a fan of textures and variations, and we found this to be a nice detail that you will sometimes find in other leathers and make-ups where the leather may differ a bit in each panel. Furthermore, you'll see some areas – as pictured below – where the natural imperfections of the leather are apparent.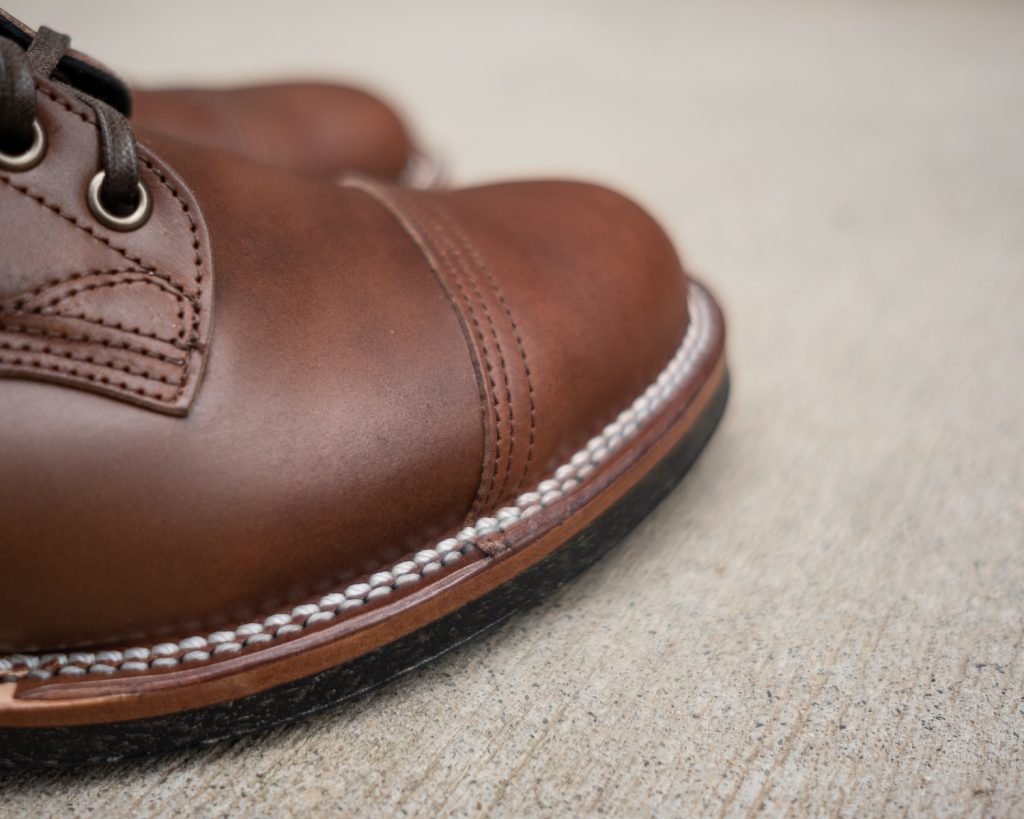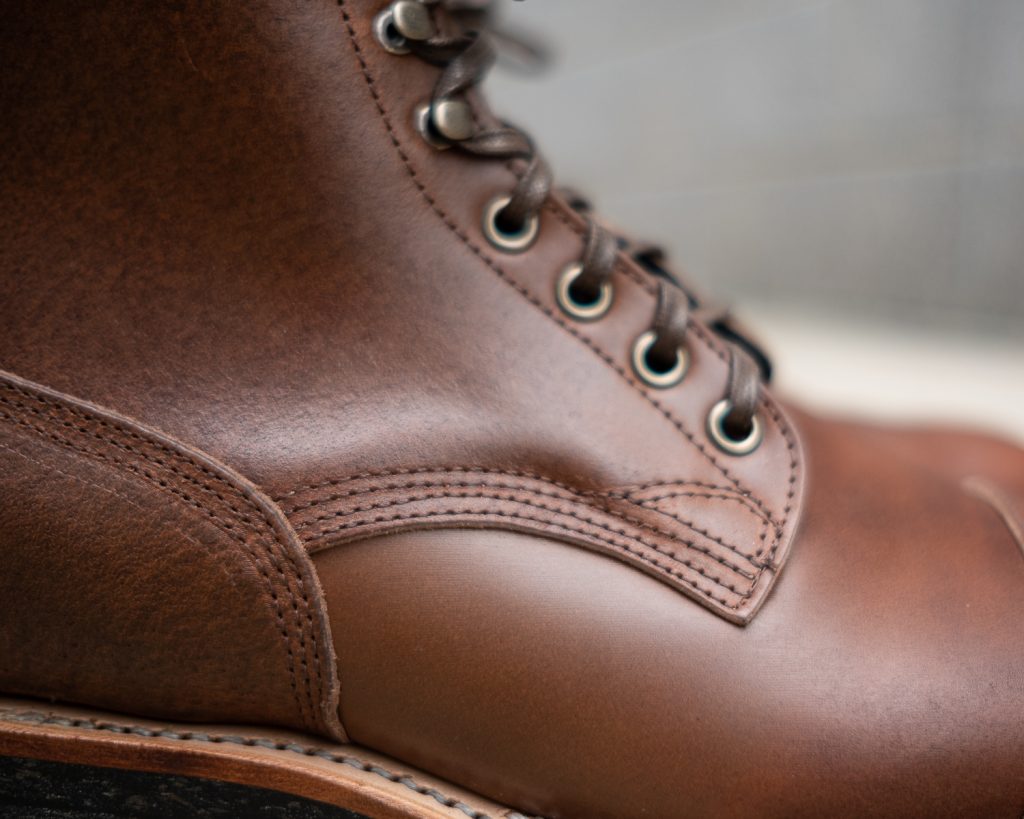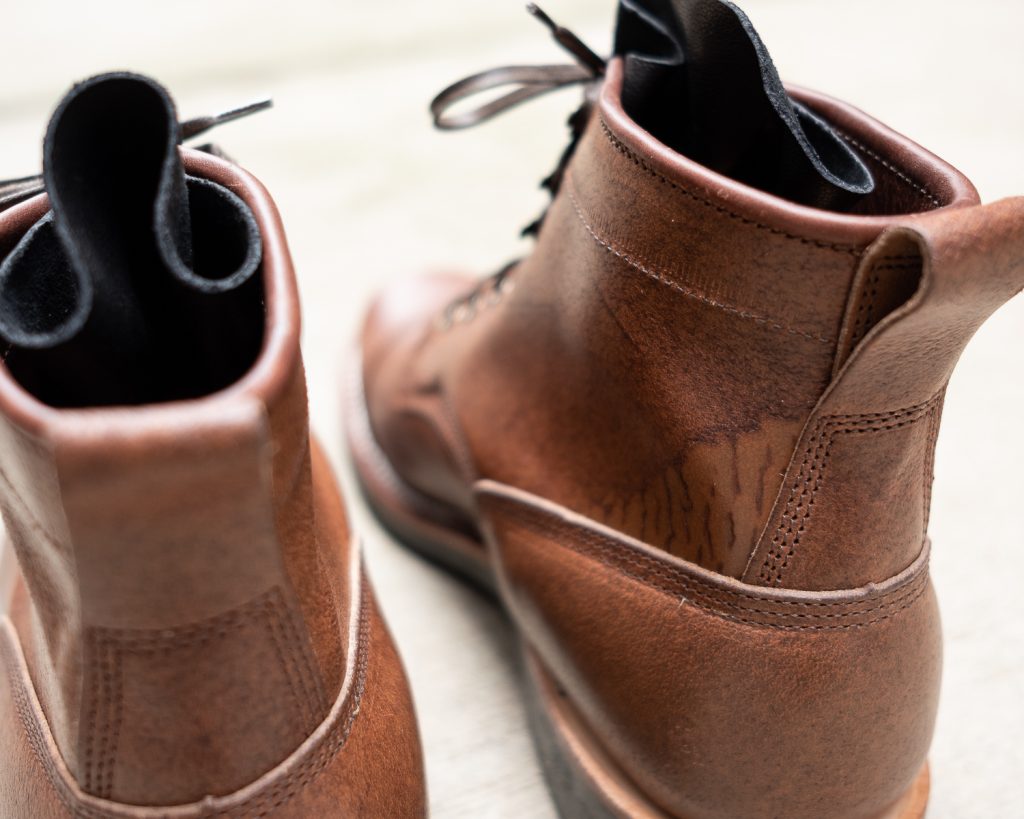 As to how the leather feels, it's a nice medium-to-heavy thickness leather, much like most of the other horsebutts you may or may not have felt before. However, it's not quite as hefty as the Crust Horsebutt on the "Franklin" 145 Oxford that is a bit more rigid. This waxed flesh version is a bit more malleable and will likely be much easier to break-in. In general, the Red Wing leathers I've seen tended to be more along the lines of a medium-to-thick weight and a bit more matte looking at first and not super oily. This waxed horsebutt gives a similar impression.
The Dr. Sole Raw Cord sole was a bit tougher for us in deciding. We went back and forth a little on which sole to use. In the end, we settled on the full raw cord sole and heel primarily due to how heavy-duty these soles are. As we've found with the Mushroom Chamois 145 Oxfords, these soles are the most durable of the bunch that we stock, and they add a nice vintage look to the boots. Given that we were going for a work boot look, feel, and functionality, we wanted something that will stand the test of time.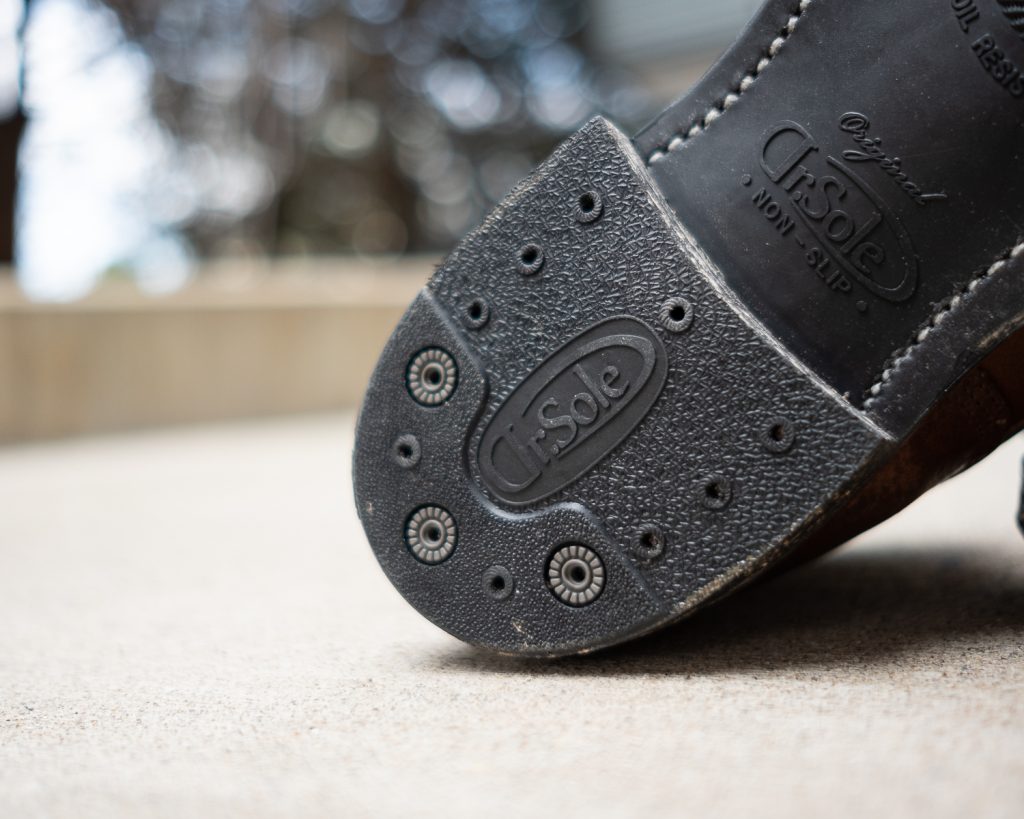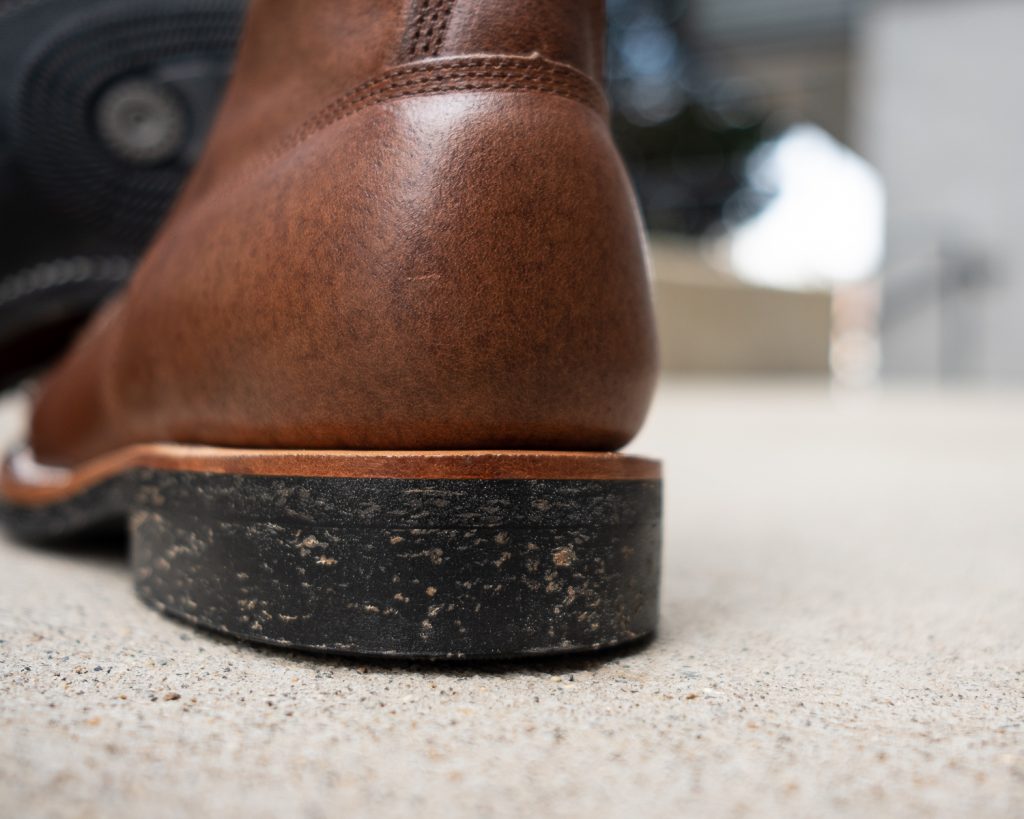 Lastly, worth mentioning is our continuation with an alternate tongue. For this go, we went with a Black Waxed Flesh tongue for a nice contrast with the upper leather, but matching up with the raw cord soles. We think this makes for a nice balance between the soles and the upper.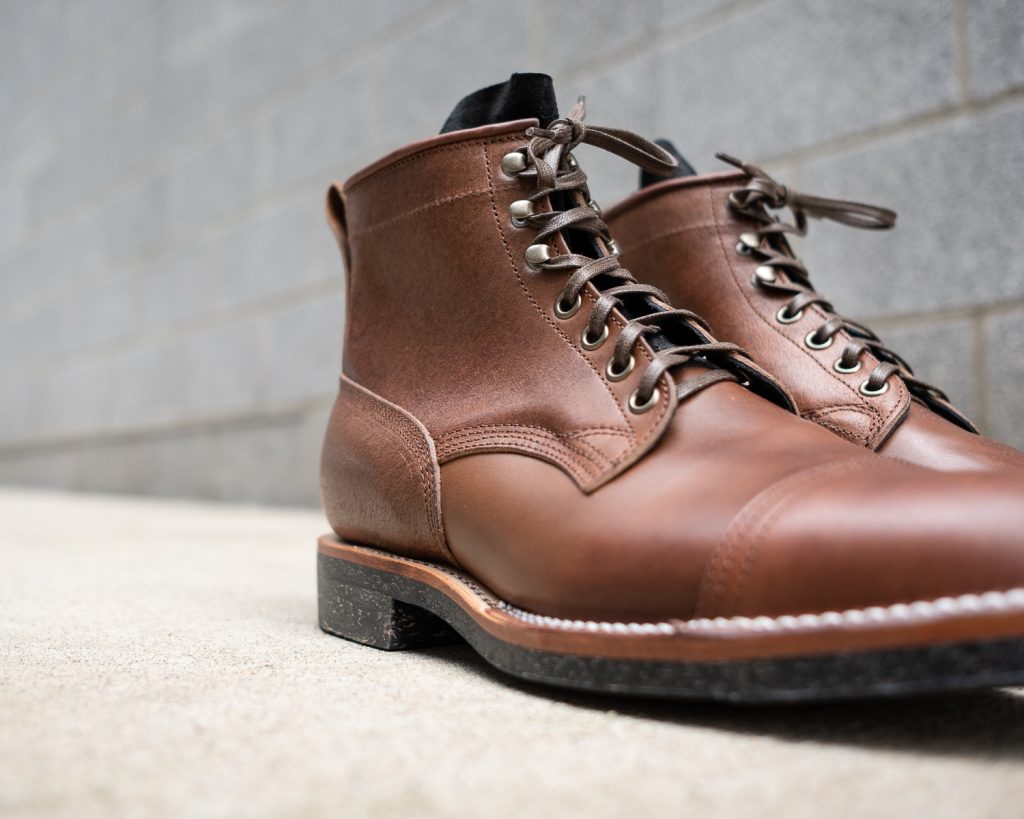 Now to the all import of sizing. Similar to the last Viberg Bobcat we had – the Tobacco Chamois RO on the Vibram Gloxi Sole – these fit about a 1/4 size large in length. After our experience with the first Bobcats, we confirmed with Viberg that the Bobcat style does indeed run a bit longer due to the pattern difference between their Service Boot and the Bobcat. Accordingly, we recommend almost all folks take the standard 1 size down from Brannock, and it's possible that some folks who typically size down 1 from Brannock could potentially take another half-size down if you prefer that snug/tight feel, however we'd venture to say that this would be a very small percentage of folks. Consistent with Viberg's recommendation, we'd say that taking 1 down from your Brannock should be most people's choice, the only exception is if you are perhaps on the smaller end of your Brannock size or in-between Brannock, then you could go down 1.5 from your "higher" Brannock size.
For me, I'm a 10E Brannock with my right foot being slightly larger than my left foot. I generally wear 1/2 down from Brannock (9.5) in 2030/1035 Service Boots. This works out well for me in the 2030 because of how narrow the toebox is, but in the 1035 it does make the boots feel a bit roomy. However, I make a conscious choice to go with the extra room due to how my feet tend to swell with any prolonged period of walking. In the case of these Bobcats, I would size down 1 from Brannock to a size 9 to get a similar feel as the 9.5 in the Service Boots.
Interestingly, I also tried on the 8.5 for kicks and they do fit quite snug, but doable. I'm not sure my feet would survive the constriction though after a half hour of walking around. This is a departure from the Service Boots where I can barely slip into an 8.5, and right away I know it's the wrong size as my toes are butted up right against the tip of the boot.
Anyways, that's all folks! Thanks for your continued support during these times. The e-mails, DMs, and other communications wishing us well has been encouraging. It has been humbling to know that the Withered Fig community that has come up around us continues to keep us in mind, even as we all have our own situations and problems to deal with. We hope you'll enjoy this Viberg for Withered Fig release!
Releasing Friday, April 10th at Noon EST* on Withered Fig, the Viberg Bobcat Brown Waxed Flesh Horsebutt. Shop our Viberg collection here.
*As of April 8th, we have a partial shipment of this release, so we will have limited sizes available (6.5-8.5) on Friday unless the remaining show up prior. We will hopefully follow-up with the remaining sizes (9-11.5) when they arrive). Unfortunately we did not order any sizes 12 and up due to the limited amount of leather Viberg had in stock for this make-up. Thanks for your understanding!