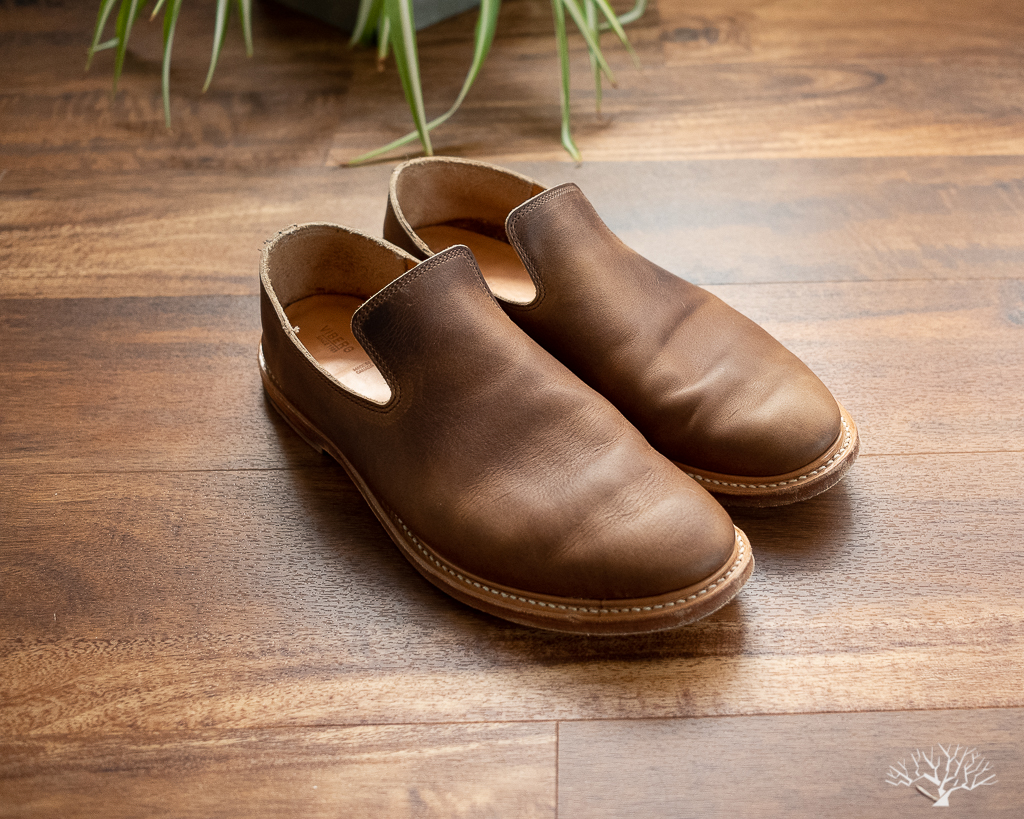 We've got a one month review of these Camel Oiled Calf Viberg Slippers lined up for you below, but alongside we took the time to figure out how to fix those pesky insoles that have become an issue on some of the more recent pairs of Vibergs. It's pretty simple, but just something we thought we'd add for future reference if you ever have the same issue. We basically used some all-purpose rubber cement to re-attach the current insole to the base of the shoe. Simple and easy, fixed and done. Read on for more, and as always we thank you for taking the time to check out our blog posts!
INTRO
---
The Viberg Camel Oiled Calf Slippers are part of Viberg's seasonal offerings for SS20, and this leather is used on three separate styles – the Derby Boot, the Derby Shoe, and this Slipper style. For this review, we'll walk through the typical areas we pay attention to for footwear – styling, sizing, comfort and traction, and the leather. We're big fans of the Camel Oiled Calf leather and it's got a lot of character that makes for a nice brown pair of boots, shoes, or slippers. The great thing is that even if you don't find the Viberg Slipper to be your thing, you have the option to pick up the same leather in a Derby Boot or Shoe. While we typically don't do reviews on pairs that are one-and-done, since if a review piques your interest you have no way of getting a hold of a pair, this review serves a double purpose in addressing the insoles that seem to be slipping and not staying put on some of the more recent Viberg styles.
As noted, these are part of Viberg's seasonal offerings so other retailers may have carried this style as well – notably we know that Miloh Shop carries them. You'll notice seasonal styles will continue to be offered by stockists, and so we encourage you to always reach out to your local retailers to ask about certain styles you may be interested in. Viberg typically previews the seasonal styles prior to us receiving them and we can definitely let you know what we picked up. We always think that it's best to pick up styles from your local retailers whenever possible, and that doesn't just apply to us. Whether it's us or any other stockist, we'd encourage you to support them on these seasonal releases whenever you can. It helps keep us going and enables us to do our custom make-ups as well.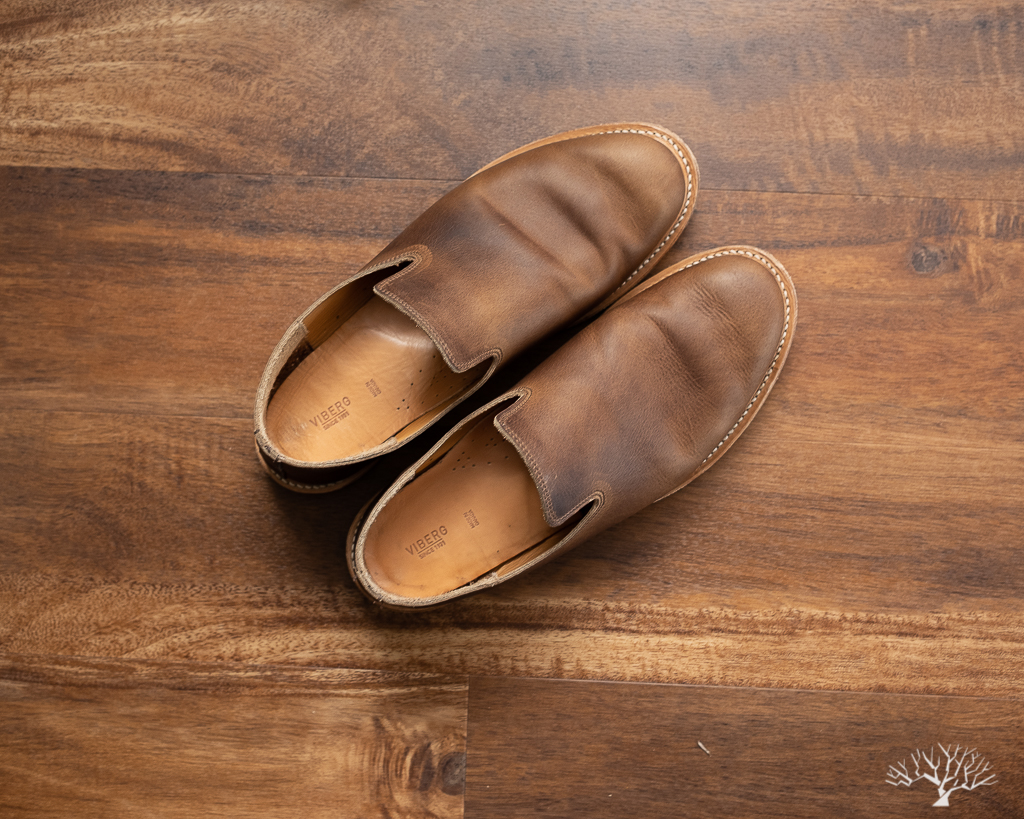 STYLING
---
I'm a big fan of these Viberg slippers with a pair of worn in denim, especially if it's got some lighter fades or comes in an overall lighter wash. The colors go very well between the two. Some might be hesitant going "casual" with these slippers, given that they have leather soles, but honestly I think it all depends on how the rest of your outfit goes. You could certainly dress up with some navy blue chinos and a tucked-in Oxford Cloth Button Down (OCBD) and I think that would be a clean look. I've yet to do that just because there's not much need these days for tucking in your shirts. However, once we're back in the office and things start to return to the good ole' days, I could see myself rocking these with some clean slacks or chinos, and the OCBD.
Until then though, you'll find me most days strolling around the block with these slippers on, especially now that we've reached 90 degrees here in Northern Virginia. I'll do them justice with my worn-in pair of Railcar Fine Goods X034 Denim, or throw on some shorts (gasp!) if I'm really feeling the summer look. I think the one thing that does make a difference when trying to wear these slippers with a casual look is that you want to get some colors, patterns, and textures for the top. I think going with the slippers, denim, and a plain white tee is OK, but your overall look ends up being quite plain and vanilla.
If I'm going for a basic outfit with just a tee, I'll probably throw on some type of jacket up top to keep things more balanced and away from have all three pieces looking like solids. See here where I'm just doing a basic tee and denim, but if I can throw on the corduroy jacket it pulls things together much better. Alternatively, I can throw on a patterned flannel and you'll end up with a solid look as well. Here's one example of where I wore nearly all solids, and it didn't quite hit the mark for me.
FIT & SIZING
---
The Viberg slippers are made on the 2010 last (formerly the 40288 last). A random side note, I love how Viberg is beginning to streamline the last numbering so that they make a bit more sense now. Sizing for these is generally straight forward, but the devil is always in the details. In general, we recommend 1.5 down from Brannock as a good starting point. Many of you probably will reference your 2030/1035 last Vibergs, which is fine; however, the issue is some of us take 0.5 down from Brannock for the 2030/1035 Service Boot, while others may take 1 down from Brannock.
I'm a 10E Brannock and generally wear 9.5 in my Viberg 2030 and 1035 Service Boots. For the slippers, I sized down 1 from my typical Viberg size, to 8.5. I always wear the slippers with no socks and it fits well. I can also wear a thin no-show sock and it will be slightly tighter, but not too tight. My feet tend to swell over time as I walk around, and especially during the summer it can get sticky inside so having some room is appreciated. I think at the beginning I had some very slight heel slip, but as I've worn it in, it's less noticeable. The leather sole has broken in nicely and flexes well as I step. Additionally, I think some heel slip is to be expected with slippers, but in general it shouldn't be a major concern as the whole front of the shoe stays with your feet pretty well. The low-profile 2010 last hugs your feet, and the bump-out tongue helps secure your instep.
I did try on a size 8, which I had to use a shoe horn to squeeze into. It was very tight/snug, and I could see how some people might prefer something that snug. The thinking being they don't want the heel to slip and expect the leather to stretch a bit. However, after wearing in my pair of 8.5 for about a month, I wouldn't say the leather has stretched much, but more so that it has loosened up and is less stiff. I'm not sure I would recommend many folks take 2 down from their Brannock, but it's certainly possible if you want that air tight fit. Unfortunately I can't speak to how that would fit over time – perhaps it would stretch a bit more given the tension your foot is creating from within.
COMFORT & TRACTION
---
The leather soles are easy on the feet and no issues as far as comfort. At times I barely feel like I'm wearing some leather-sole slippers and it almost feels like I'm in some sneakers. I find leather soles to be more comfortable than most soles, but of course there's a trade-off. On one of my recent walks, I wanted to take a short-cut and scale a grassy knoll that had a moderate incline (maybe 20-30 degrees). I did manage to get up more than 3/4 of the way, however as I reached the top where the incline was greatest, the slippers gave way and fittingly, I slipped. I should have known better, but I just forgot the fact that I was wearing a pair of leather sole slippers. I was happy to give all the folks nearby a good laugh at my expense. No sweat.
Much like the Crust Horsebutt 145 Oxfords with the leather soles, the same applies here. I'd recommend taking these straight out to your concrete pavement (of course after you've assured yourself of the right size) and start scuffing them up. It helps a little as the smooth surface gets a bit more rough and some tiny holes/indents start to appear. I'd like to think those help with the traction, but probably not to the extend that you'll be able to safely and assuredly scale some grassy knolls anytime soon.
LEATHER
---
When we first saw these at Market Week back in July 2019, we were immediately drawn to the leather. It's got a similar appearance as CXL, although with a slightly darker brown shade than the CXL, which tends to look a tad more milky and caramel at first. Additionally, the Camel Oiled Calf leather tends to have more variation in the grain with noticeable – what I'll call "streaks" – or stretch marks in the leather. We're always a fan of more texture and variation as we think it gives the pair a bit more character.
The right pair had a bit more noticeable grain break (shoutout to Stitchdown for this useful article) than the left pair, and you can continue to see that below as it's worn in. It can appear as "loose grain," the term we'll often use to describe noticeable highs and lows in the creases in the leather. However, in this case I'm fairly certain that is not the case. The leather is tight and doesn't feel loose.
Ah, the smell of leather. In this case, the scent is strong but subtle out of the box. It doesn't have that chemical smell that the chamois leather tends to have, rather it's a pure unadulterated leather smell that most of us enjoy.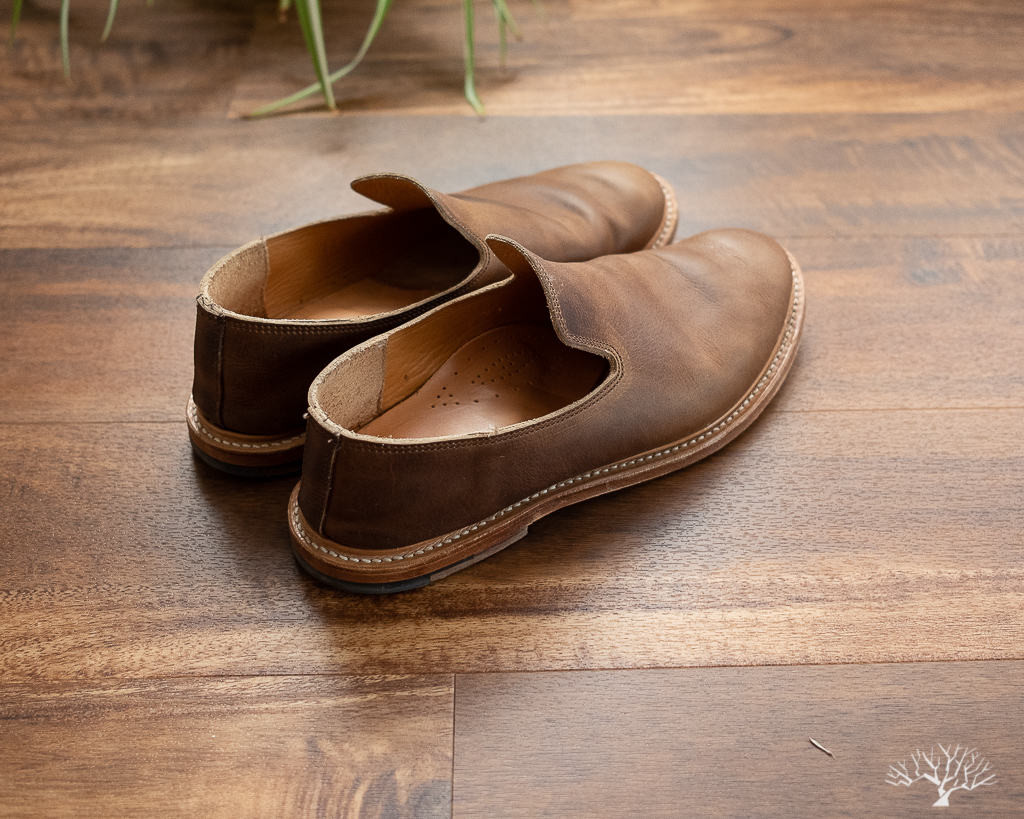 ONE MONTH
---
This pair is only about one month old, but has been my most worn pair over the last couple fortnights. Pretty much anytime I am out these days, I'm in these Viberg slippers. A stroll around the block, a trip to Costco, grabbing the mail, slippers slipper slippers. They're just an easy pair to slip on and off, convenient, and an easy-going pair to roll with during the warmer months.
The leather over the vamp has formed some nice wrinkles and rolls. The toebox is unstructured, so you'll see a slight collapse; but given that the last is already rather low-profile, the collapse may not be as noticeable as what you typically see on a service boot or other Viberg styles. The wrinkles from the bending of the leather reminds me of what happens to us when we get old and wrinkly, exactly that. Of course, in this case it's not a bad thing, and I think gives it quite a bit more character.
Compared to my Aged Bark RO Mini Ripple Slipper, I tend to reach for these more often. The main reason being that I took a size 9 in the Slippers and it's definitely the wrong size. It's wearable but not quite a good fit. I can notice the heel slip readily, and although it doesn't affect my gait too much, it's just a tad too bothersome. Eventually I may let the Aged Bark RO slipper go, but I'd like to have a different Mini Ripple slipper to replace that before I do.
PESKY INSOLES
---
Now we can get to those pesky insoles. There's been some known issues with the insoles on Viberg slippers and perhaps some other boots over the last 6-9 months. Essentially the insoles' adhesive seems to be weak and doesn't stay put, causing the insole to slide around inside your shoe as you walk. Viberg switched insoles at some point in the last 6-9 months, which is the reason for these popping up. Unfortunately it seems like there are still some of these bad insoles that are making its way into production, however if I understand correctly they've fixed the issue for the most part. Nevertheless, with these faulty insoles, it makes for a very uncomfortable walk. Once it starts to slip, it gets worse, so much that it bunches up underneath your arch, and your heel is now sitting on the hard leather base instead of the cushioned insole. This is what my slipper insoles usually looked like after a 15-20 minute walk.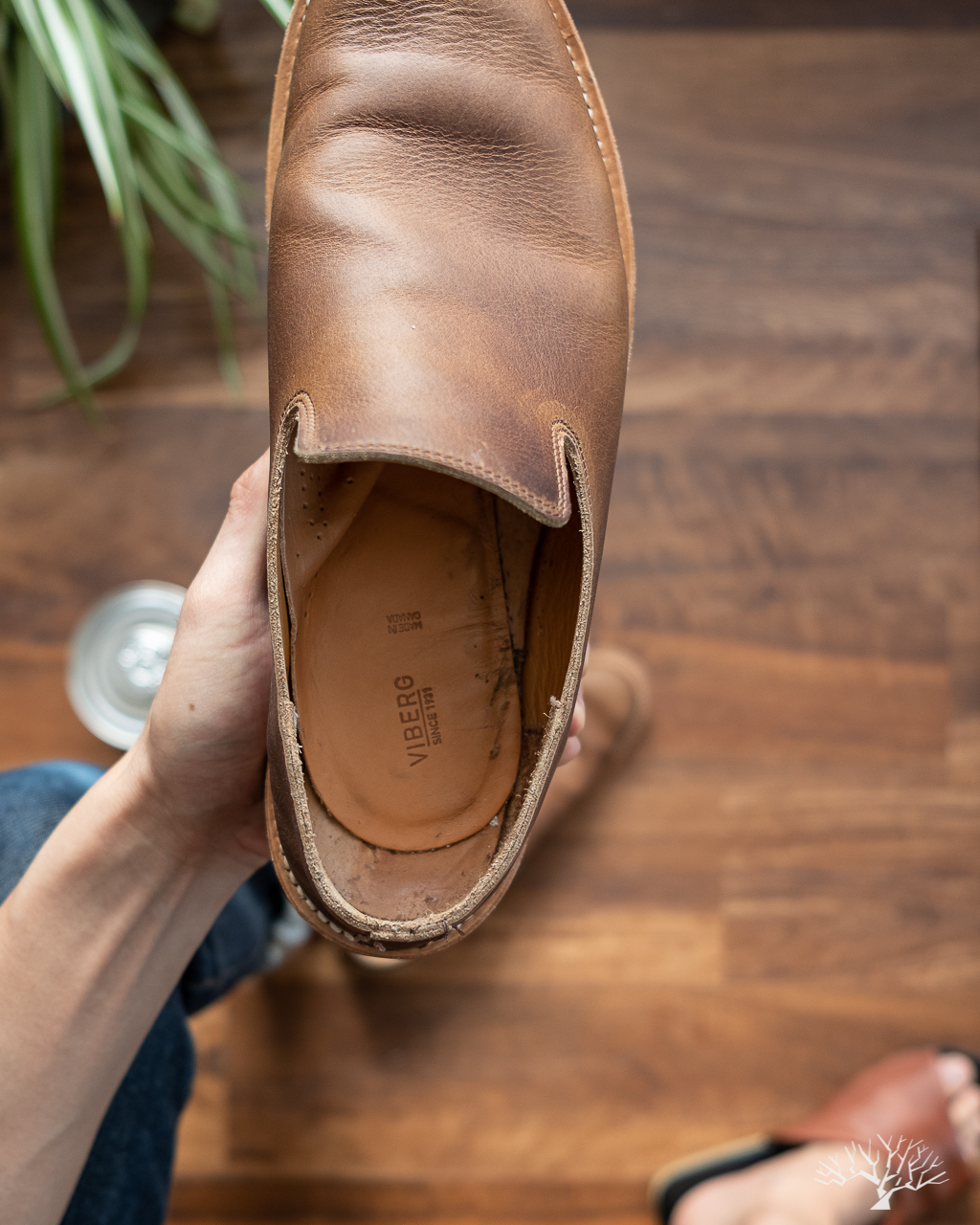 The first several wears on these Viberg slippers held up fine, so I was hopeful I didn't have that issue. However, after the fourth or fifth time I wore them they began to shift. I sort of have a feeling that the hotter and stickier it is in your shoe, which can be a combination of reasons – weather and how your feet warm or don't as you walk – the more the adhesive gets activated and causes it to slip. As they shifted and I adjusted, it seemed to make it worse. I would guess that once that initial adhesive has been broken, the more they move around, the more dust and other random particles they pick up while it shifts around in your shoe and eliminating more of the adhesive power each time.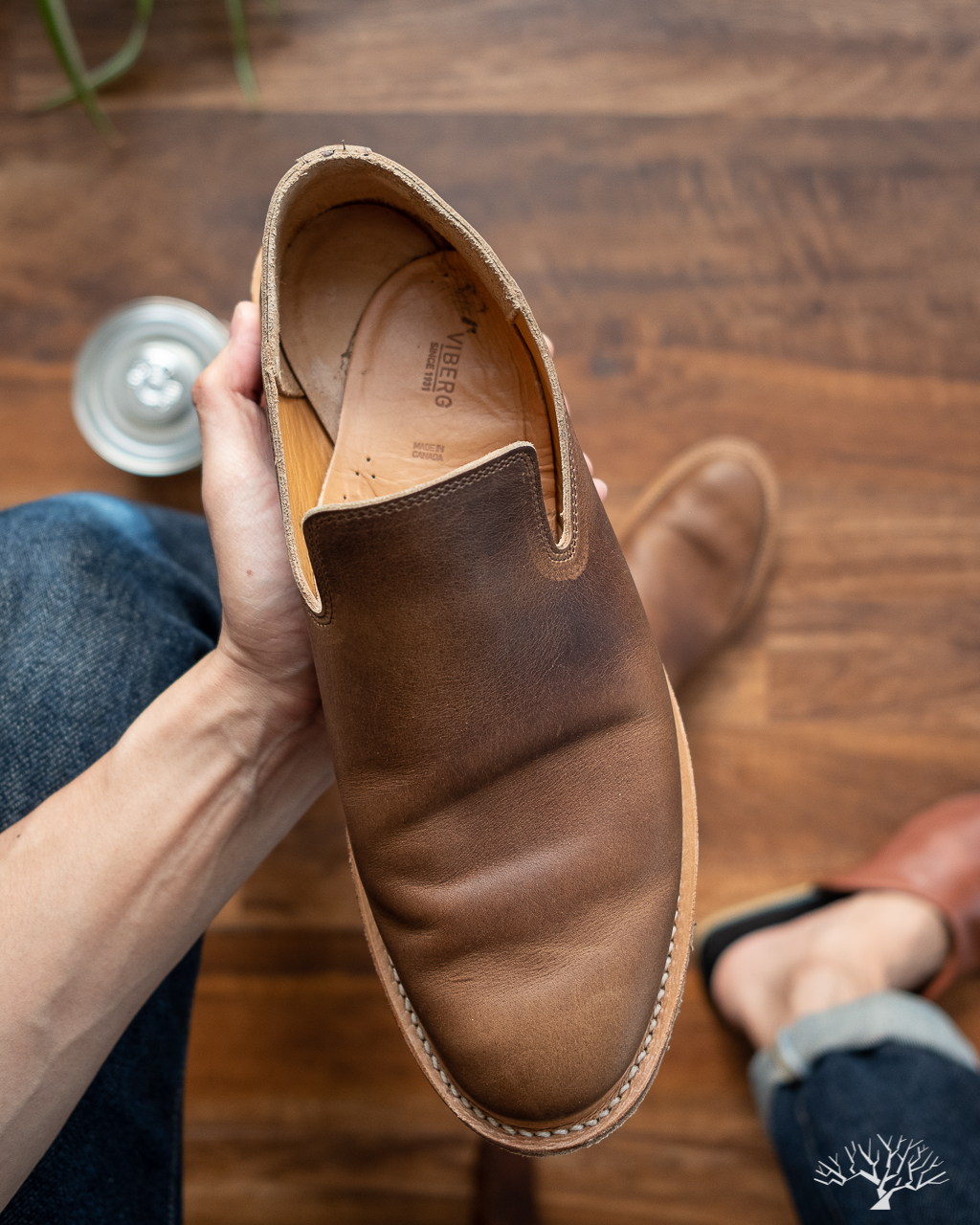 After messing with them for three-plus weeks and getting tired of having to continually adjust the insoles, sometimes even when I'm out and having to take a adjustment-break, I decided to just pick up some heavier-duty glue. I did a quick google and picked up a can of the Barge All-Purpose Rubber Cement. This is a common type of all-purpose glue that is used for many applications to include leather work and shoe repair. I reached out to Bedos Leatherworks and they said it's similar to the stuff they use – Master's Cement – and both should be just fine for the purposes of securing the insoles to the base of the shoe. That said, the Barge does have a longer curing time, about 30 minutes, compared to Master's, which is about 10-15 min.
Applying the adhesive is fairly simple and there's not much to it. Admittedly I didn't do much reading on the best way to ensure a strong adhesive, but I figured removing as much crap as possible – the dirt, grime, previous adhesive, etc. – prior to applying the new adhesive would be best. I lightly wet my fingers and rubbed the insides of the shoe to try and scrape off the old adhesive. I also took the time to clean up the surface of the insole itself as well. It had some of the residue from the adhesive built up on top, probably due to the shifting insole and my feet transferring some of the adhesive onto the top.
After spending 5 minutes or so cleaning up everything, I let it dry for another 10-15 minutes so that it wasn't wet. I applied what I thought was a light layer of the rubber cement on the interior of the shoe and tried to spread it thin. Unfortunately, being the first time I picked up the glue and spread it on, I think I probably went a little heavier than necessary. I read that you don't necessarily need a lot and a thin layer would probably be fine for this purpose. Nevertheless, after the layer was spread, I carefully positioned the insole back into the slipper and applied solid pressure onto all parts of the insole to get a good bond. After, I let it sit for a couple hours. At the time, I wasn't sure what the curing time for it is, but I'm sure it probably doesn't require two hours, but I didn't need to use them earlier in any case.
My first trip out with them on a 30 minute walk around the neighborhood was promising! After getting back home, the insoles were still in place, with no signs of having slipped. A second and third trip to the grocery store on separate days went perfectly as well. I'm pretty confident, although only three significant outings so far, that the rubber cement application will do the job and keep the insoles from slipping around any more. Overall, I'm pretty well pleased with the rubber cement and resolving the slipping insoles. I'd highly recommend this as a solution if you're dealing with it.
The Viberg Slippers in Camel Oiled Calf are available in select sizes on our website here. We anticipate receiving sizes 6, 6.5, 7, and 7.5 within the next week, for release on Monday, 15 June at Noon EST.