Our final 2020 custom make-up comes in this Viberg Mocha Light Oil Tan Country Boot, built on the 1035 Last with a Ridgeway Sole. This leather is tanned by the Milwaukee-based Seidel Tanning Corp and is a new leather and the first make-up using this Mocha Light Oil Tan leather from Viberg. With a very streamlined dark brown overtone, some small details provide an accent that give this boot a polished and clean aesthetic. While we have yet to see how this ages, Viberg claims this leather should patina nicely with wear. We're excited to see how this one ages going forward.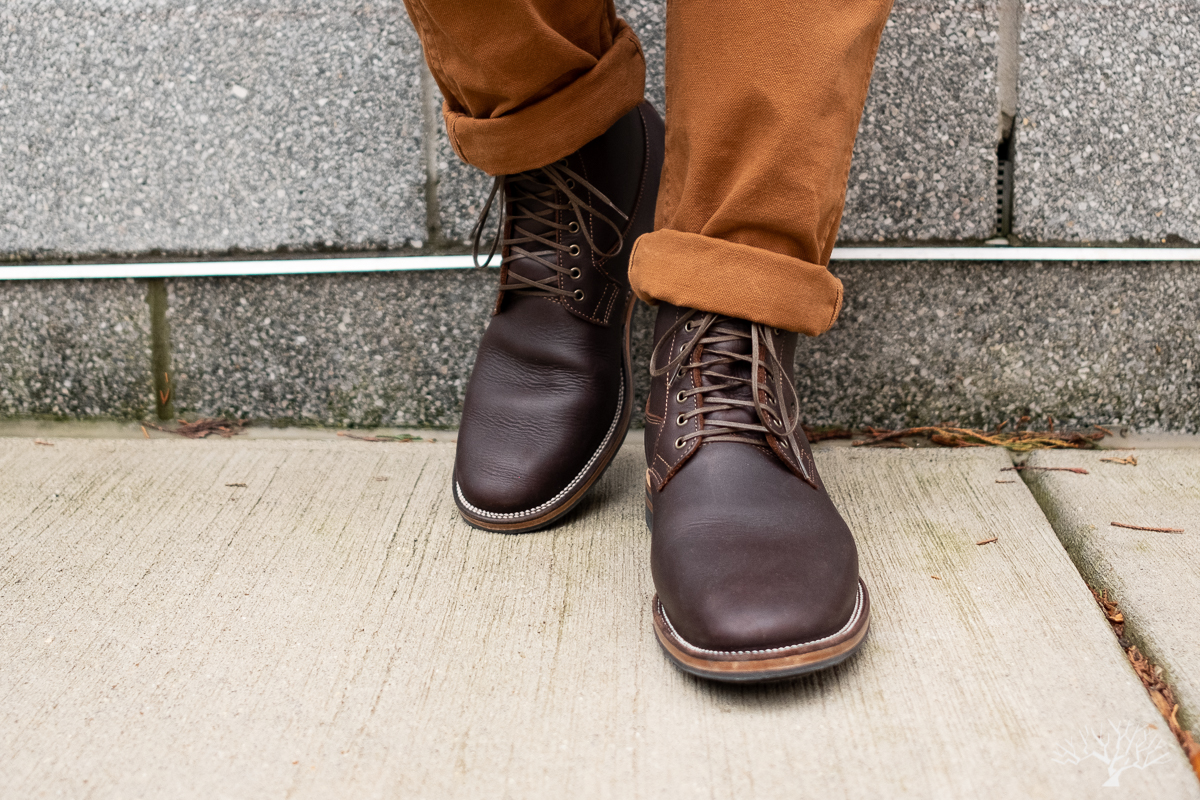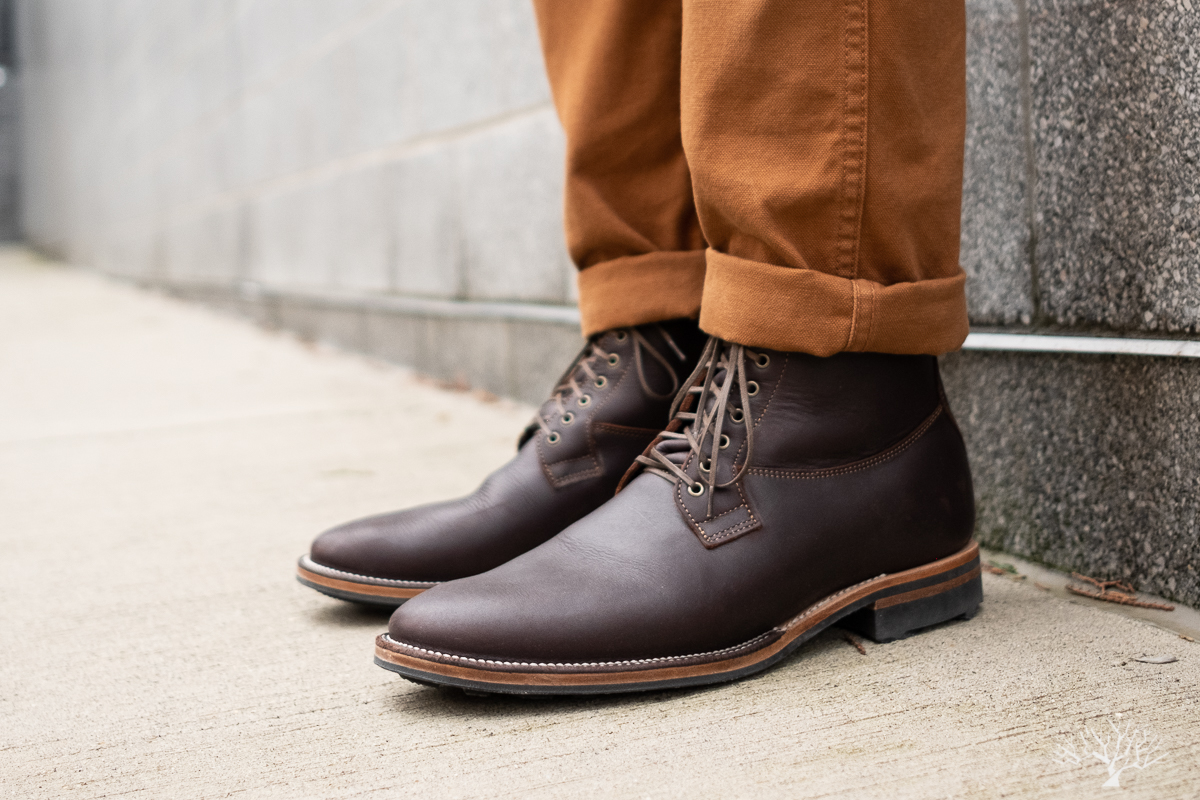 Releasing Friday, December 4 at 5pm EST, the Viberg for Withered Fig Mocha Light Oil Tan Country Boot w/ Ridgeway Sole.
Viberg for Withered Fig Exclusive
Seidel Mocha Light Oil Tan (USA)
1035 Last
Ridgeway Sole
8 #2 Antique Brass Eyelets
Self-tongue
Unstructured Toe
Natural Leather Midsole
Stitchdown Construction
Includes a pair of Round Flat Waxed Laces
Includes a pair of Brown Flat Waxed Laces
Our original intention with this Viberg Mocha Light Oil Tan Country Boot was for a dark brown boot that could be quite versatile in both casual and slightly dressier situations. A few details were selected to give this boot a slightly dressier bent, such as the eyelets and the self-tongue. Instead of the larger AA eyelet, we selected the smaller #2 eyelets for a total of eight antique eyelets. Add in the self-tongue, which we usually don't do as we prefer a bit more contrast, but in this case holds closer to the dressier edge we were looking for with a tonal look. That said, while we could have opted for an antique dressing on the midsole, we felt keeping the natural midsole would add a nice accent to the overall look. It's a careful balance that can be hard to figure out or make the "right" decision for, but we like the resulting appearance.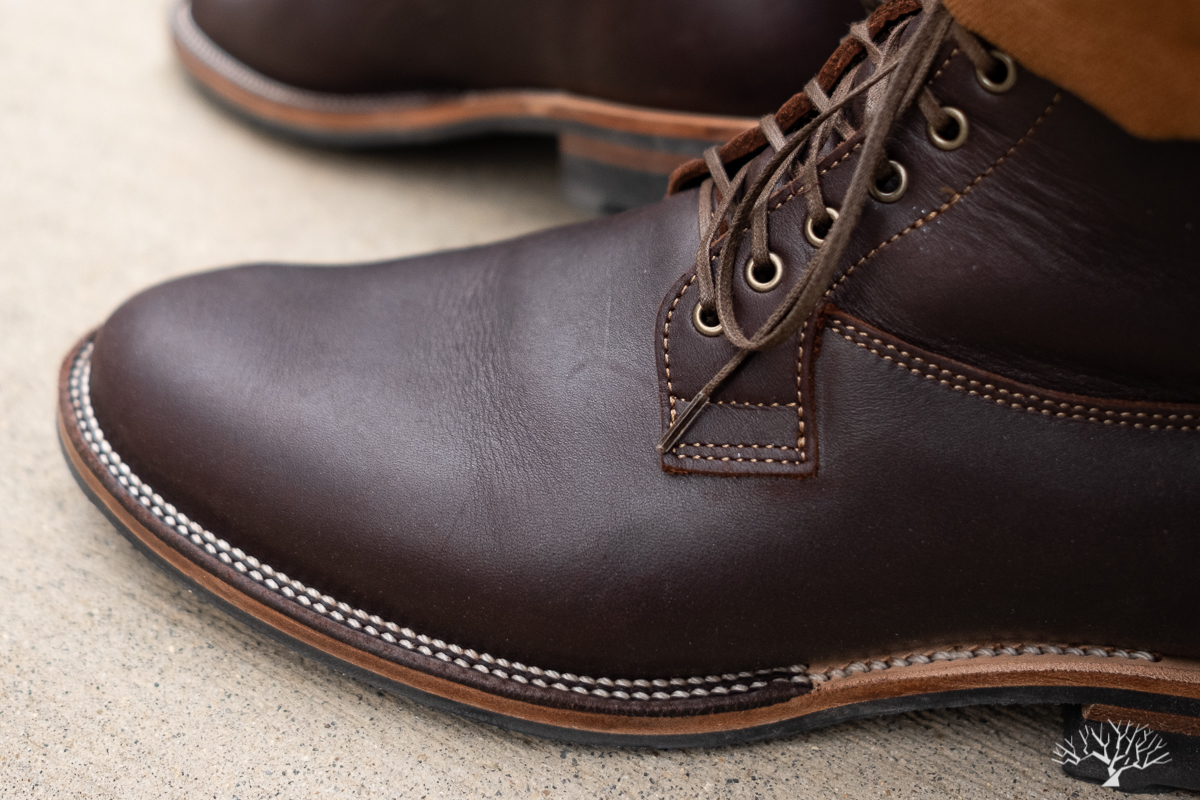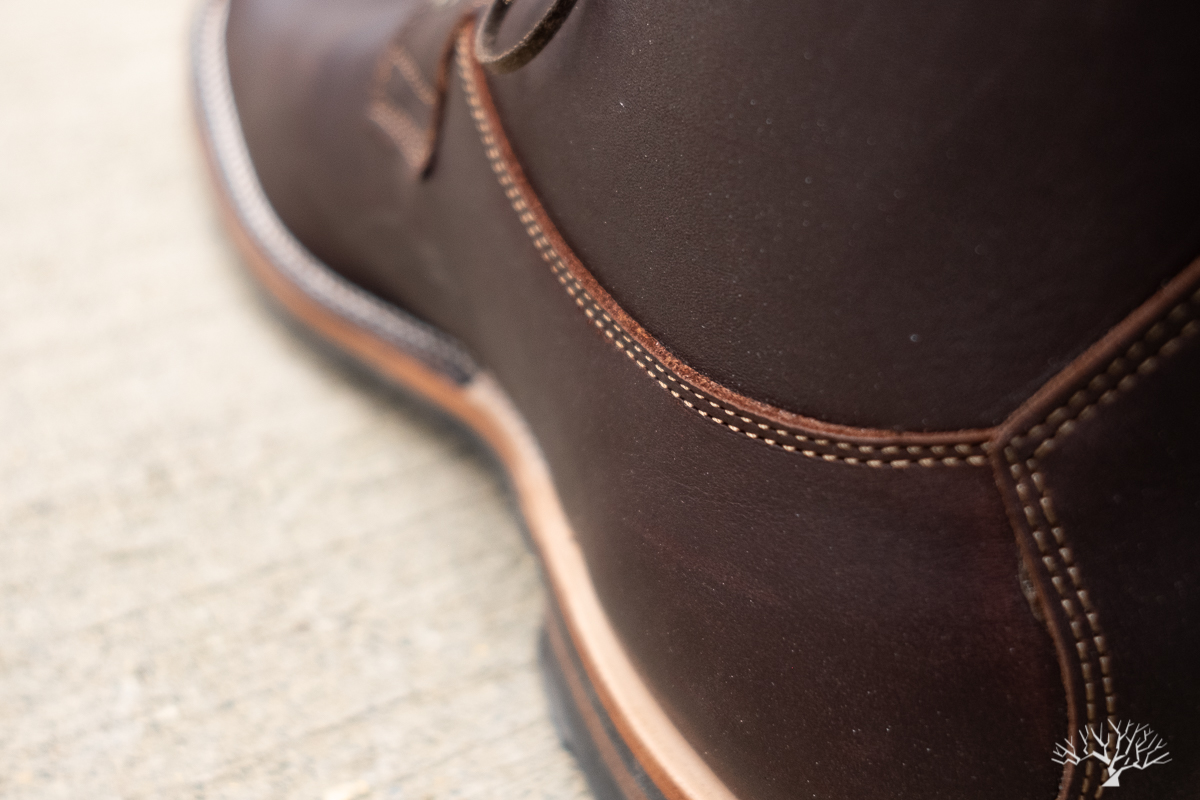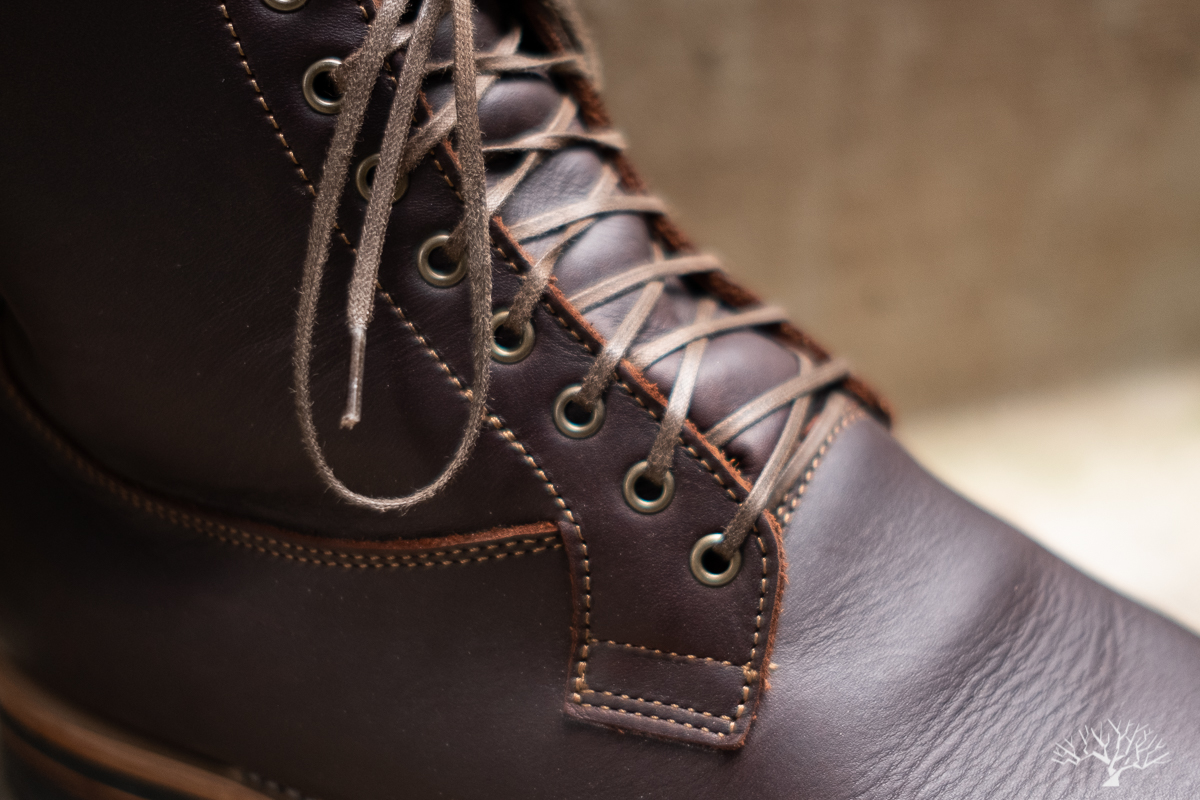 As far as the leather itself, as mentioned the Seidel Mocha Light Oil Tan is a new leather for Viberg. We don't have much to go off of as far as how the leather will patina and age. The Mocha Light Oil tan leather starts off extremely supple, with a somewhat dry yet buttery feel to it. On the feel, it doesn't have a smooth texture like you would find on most other "smooth-side" leathers; instead, it's almost suede-like as you run your fingers across the leather. It's got some resistance to it, but not so much as you would find in an actual suede. A sort of sticky-smooth leather if you will.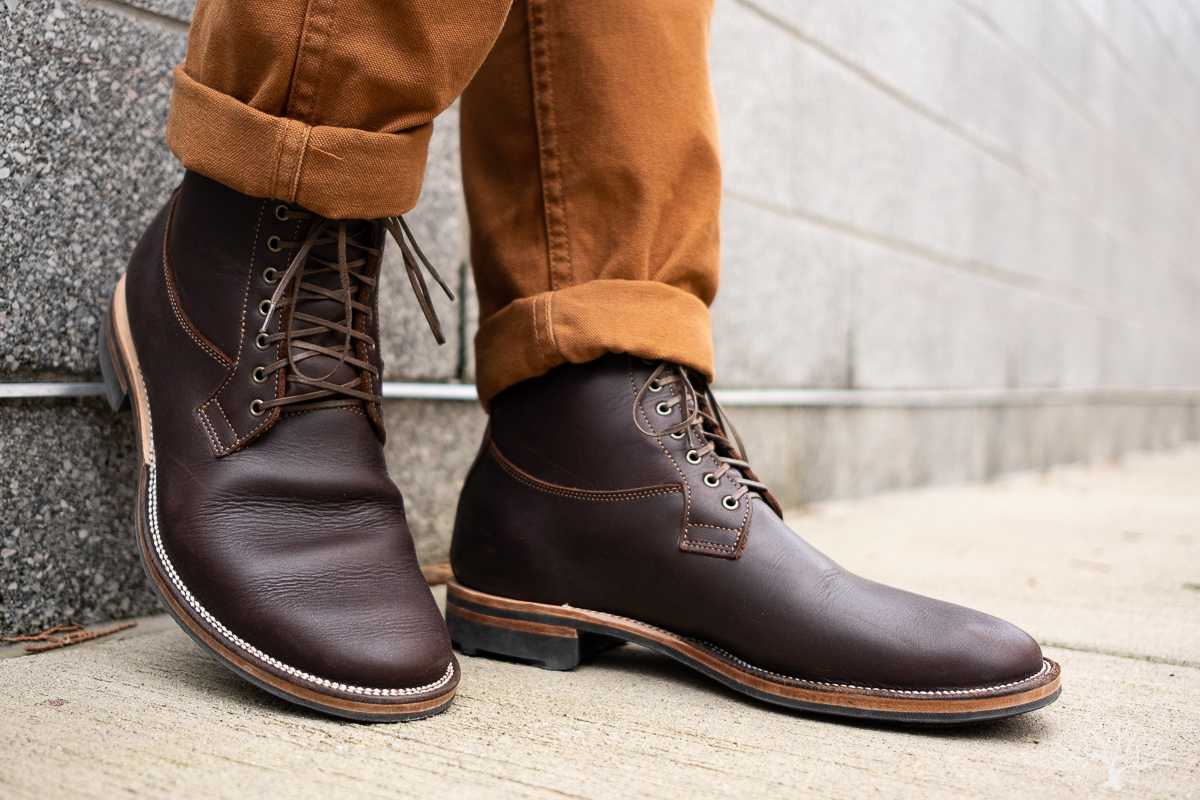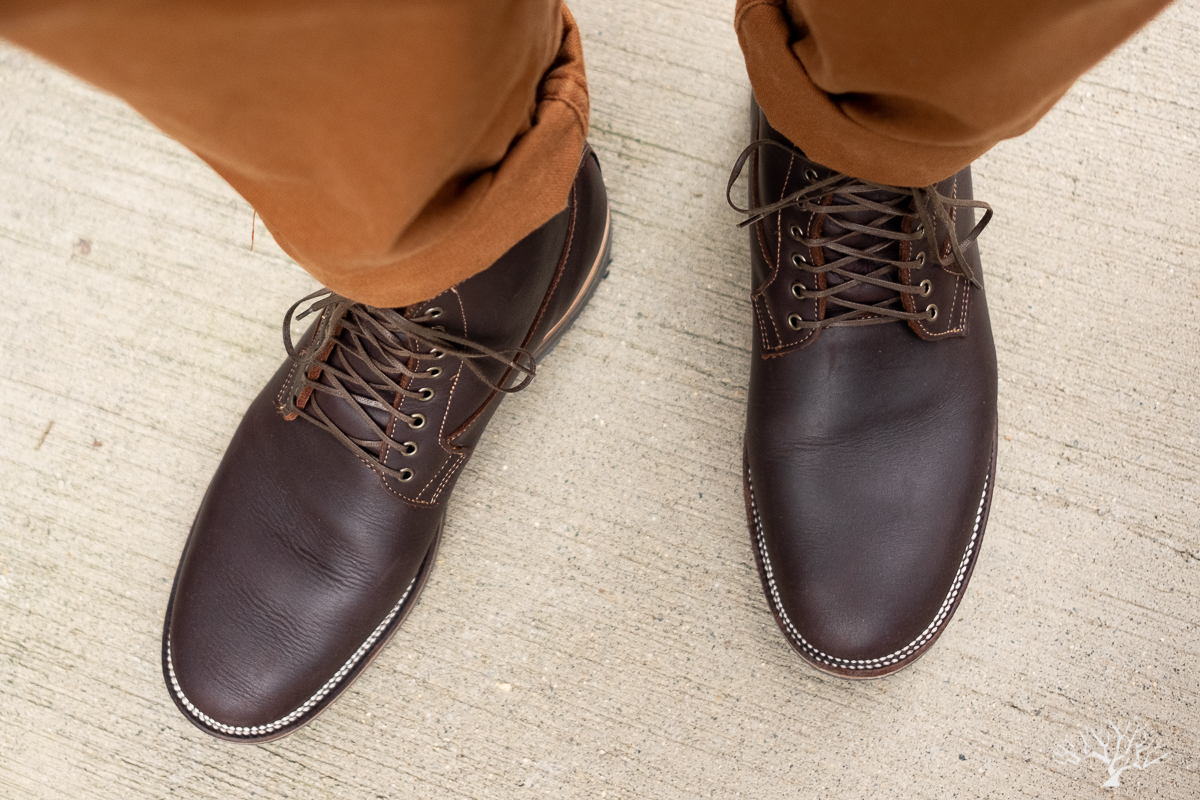 Appearance-wise, it's got a matte look but when viewed at certain angles it does have some sheen to it. In shade, the leather will be almost a very dark brown, perhaps close to what a smooth-side java waxed flesh might be like. Of course, I suppose the name of the leather, mocha, is appropriate here. In direct sun, a reddish-purple hue/tint comes into play and the areas with scuffs/light wear are more apparent with a lighter reddish-brown color slightly peeping through.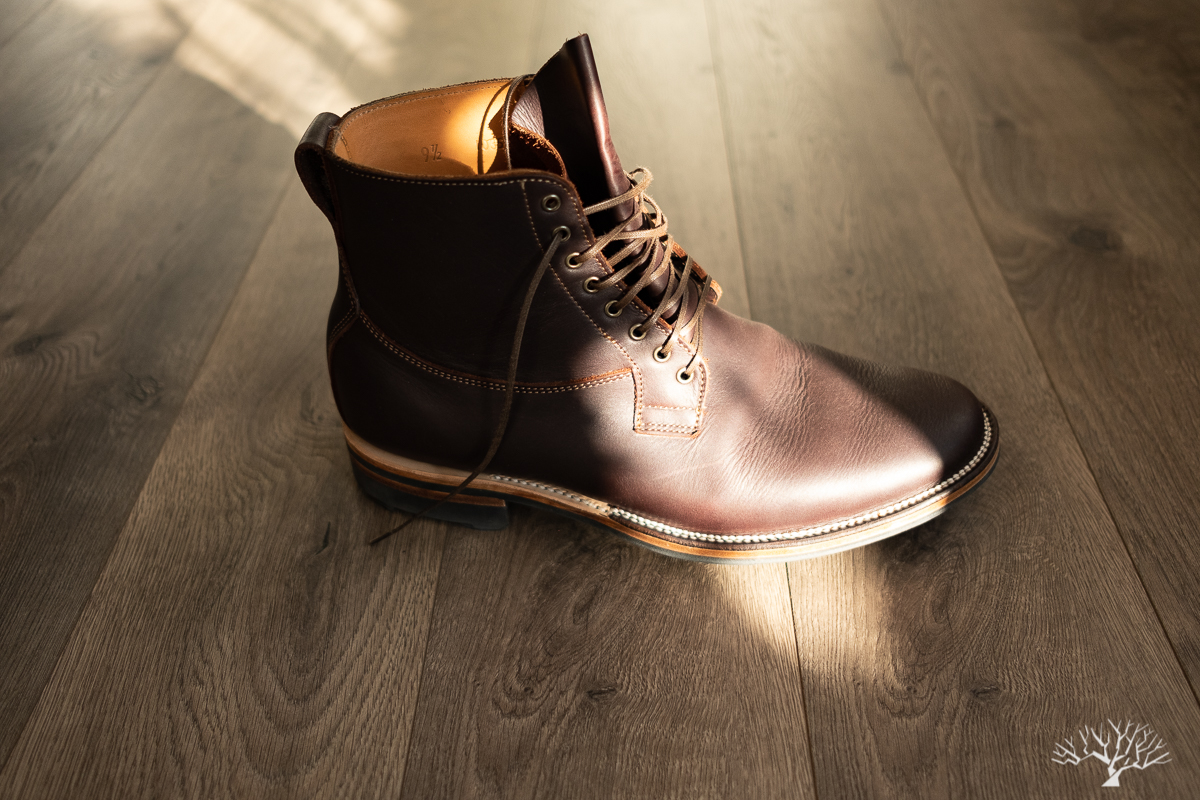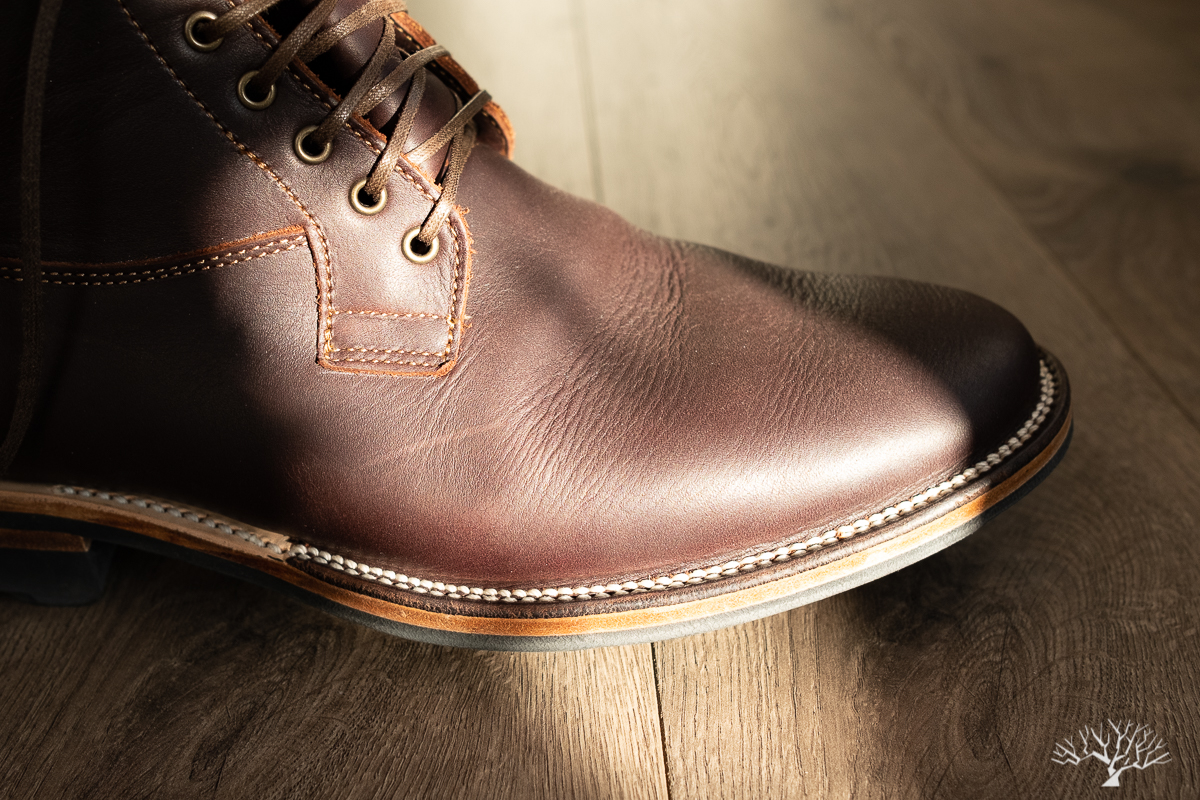 For those who haven't tried out a Ridgeway sole, we highly recommend these over what is more common on boots – the Dainite Sole. While the Dainite does have a slight edge in terms of a low-profile rubber sole, to us we find the Dainite quite harsh on the feet and very hard-wearing in a not-comfortable way. Strikes to the ground as you walk are felt and do not absorb much of the impact. The Ridgeway is a nice alternative here in terms of comfort, but at the cost of a slightly more beefy sole that is not as low-profile.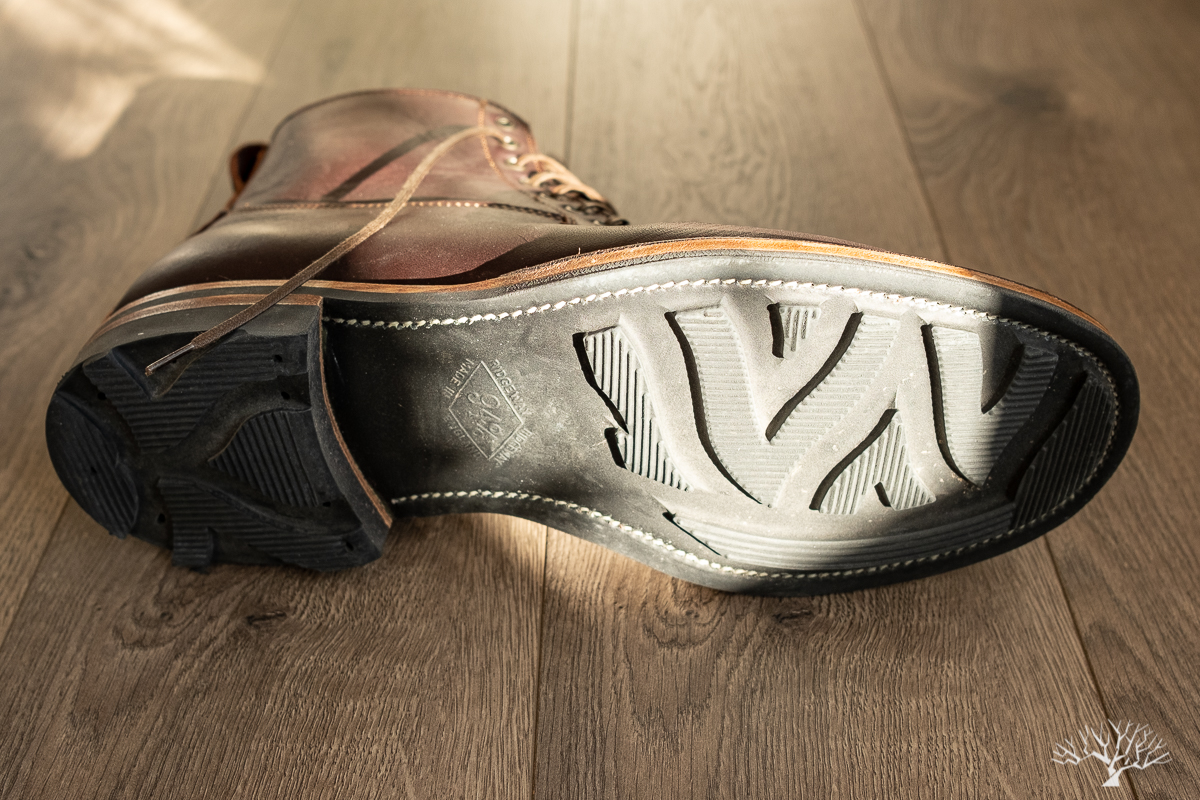 Overall, in the last two weeks it's maintained most of its original color and look, although with a few more wrinkles/rolls from normal wear. There was little to no break-in period with these at all. The leather is just as soft as it was out of the box, and the Ridgeway soles are an easy-wearing hard rubber sole. The Ridgeway sole certainly has broken-in a little more, with more flex; but they were easy to wear from the get-go.
On the styling front, these boots pair well with our favorite Railcar Duck Canvas Flight Trousers or any other light-colored chinos. Dark denim may subdue some of the pop and appearance of this pair, but a worn-in faded pair might look quite well. Due to how dark these look, you'll need to be more judicious in how you pair with these to avoid that black and blue pairing which can look a bit off, especially when your denim is very dark. But of course, to each his own! See what works for you and run with it.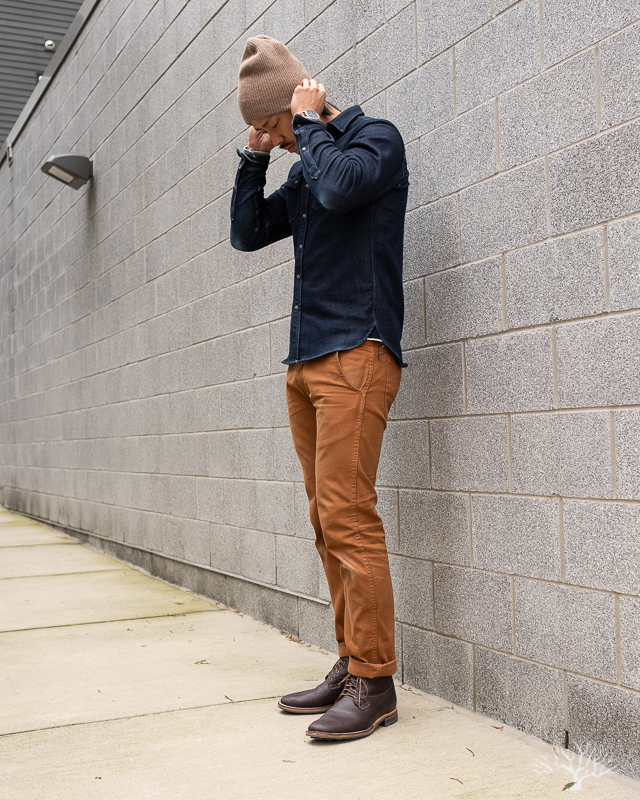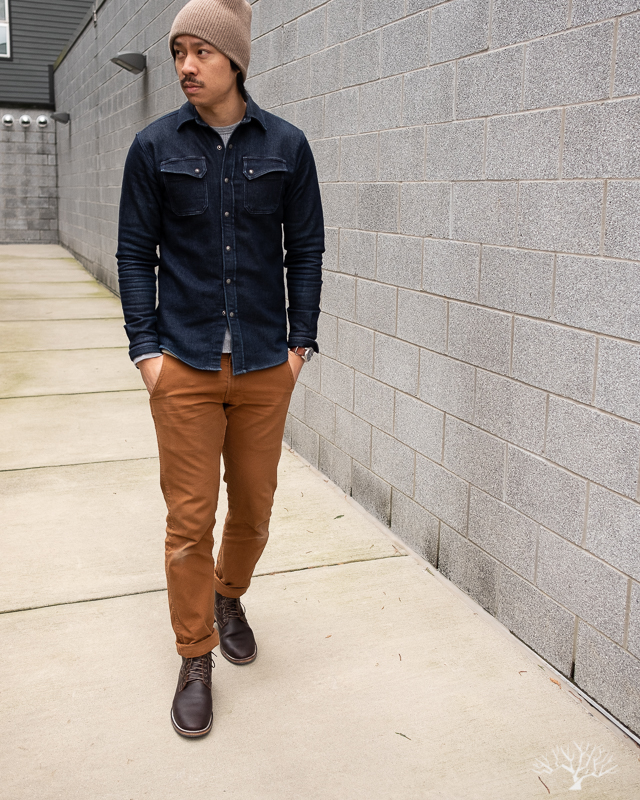 As far as sizing, these are standard Viberg Country Boot sizing. If you already have a pair of 2030 or 1035 Country Boots, you can take the same size. If you own a pair of Viberg Service Boots, you can likely take the same size as you do in a well-fitting pair. That said, the Country Boot style does have a feeling of being a little longer than the Service Boot, but most people should not size down because of that. Similar to the prior Prairie Country Boot, we would say a small percentage of folks who currently only take ½ down from Brannock and desire a slightly snugger fit, could go down another ½ size for a full 1 size down from Brannock.
The Viberg Mocha Light Oil Tan Country Boot will retail for $700 and be available in sizes 6.5 – 12. Releasing Friday, December 11 at Noon EST on Withered Fig. Shop our Viberg collection here.