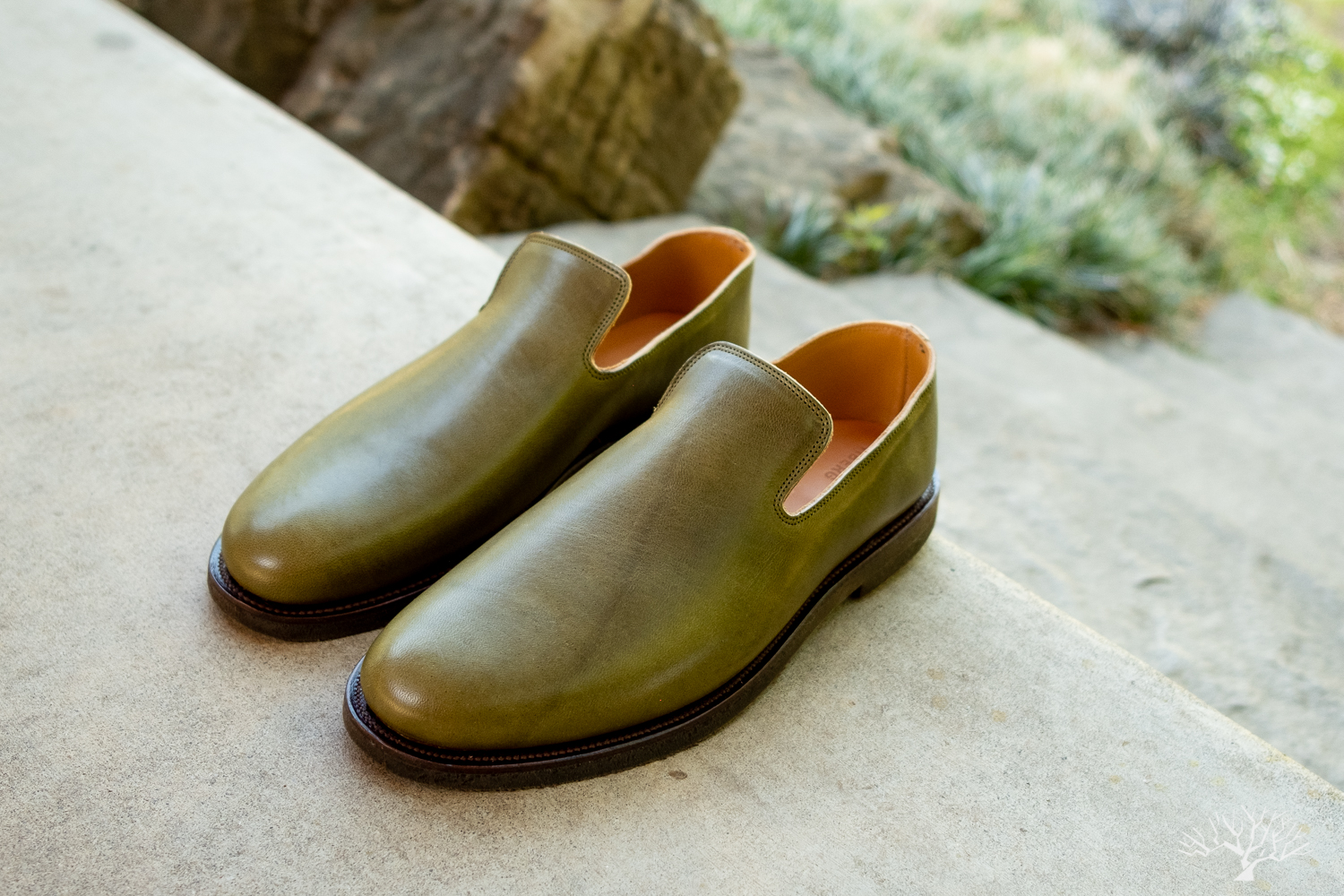 We're kicking off the Spring/Summer Viberg for Withered Fig collection with this Shinki Olive Latigo Horsehide Slipper. Made in a beautiful and rich olive-colored leather and sitting on top of a Black Lactae Hevea sole, these slippers are supremely comfortable and will be one of the easiest Viberg you'll break-in. We flipped through a few different swatches earlier this year looking for a leather to use on a Viberg Slipper. Once we reached this one and felt it in hand, we immediately knew this needed to go on a slipper.
Releasing Tuesday, May 4th at Noon EST, the Viberg for Withered Fig Shinki Olive Latigo Horsehide Slipper on Black Lactae Hevea Crepe Sole:
Viberg for Withered Fig Exclusive
Shinki Olive Latigo Horsehide (Himeji, Japan)
2010 Last (40288 Last)
Black Lactae Hevea Crepe Sole
Kip Lining
Unstructured Toe and Heel
Channeled Insole
360 Degree Antique Flat Welt
Goodyear Welt Construction
Includes Viberg Dust Bags
Includes Viberg Polishing Cloth
Includes 1oz bottle of Viberg Shoe Cream
Made in Victoria, B.C, Canada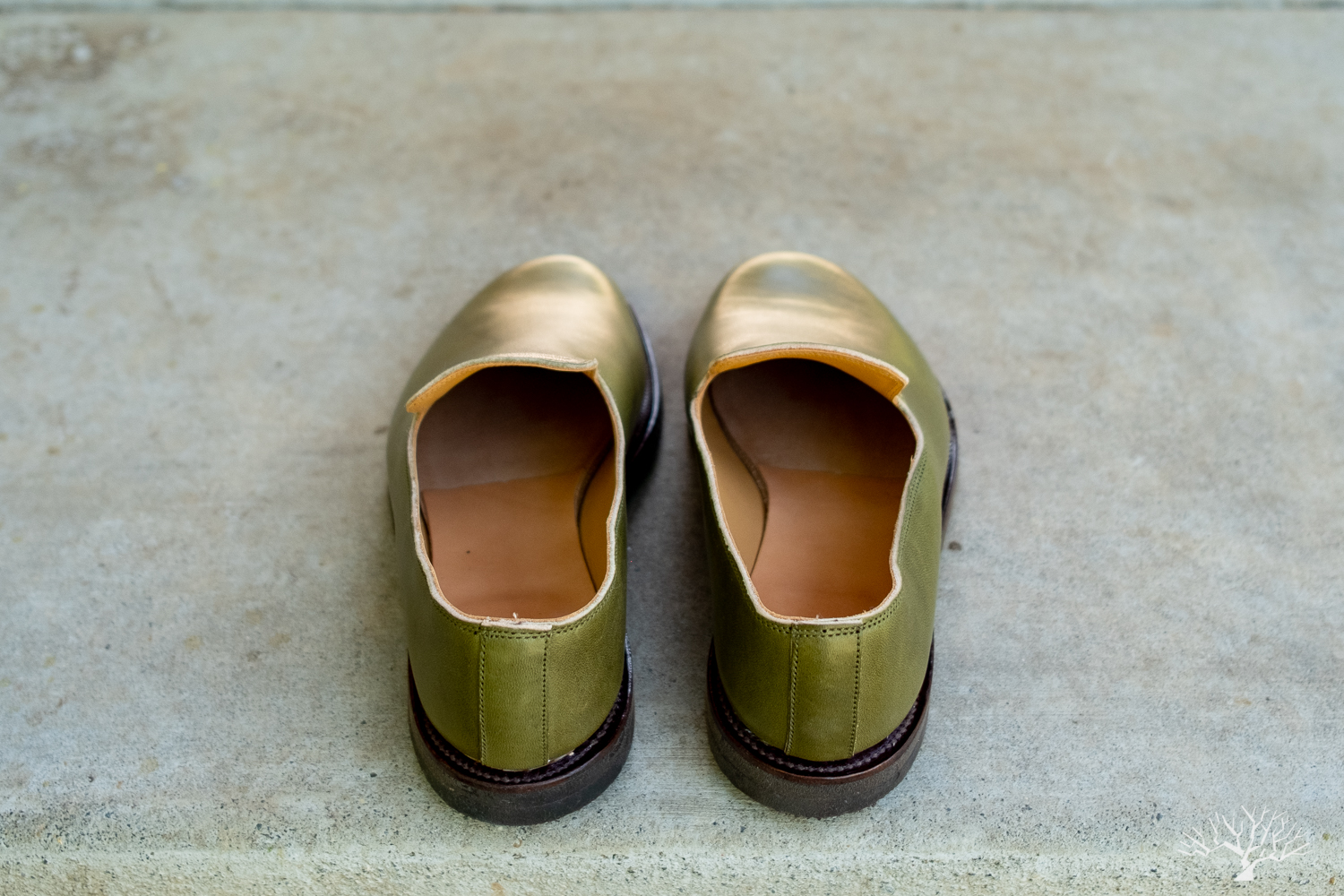 The thing that made the last Viberg Slipper we carried (Camel Oiled Calf Slipper) extremely popular was the soft and flexible leather that broke in very well, making for a very comfortable pair. When you think slipper, you think something easy to slip on, slip off. Something that isn't hard and rigid. This new Shinki Olive Latigo Horsehide fits that bill. The leather is soft yet plush, a slight give to it when you sink your fingers into it. There's a bit of pull-up to the leather, so we expect the leather to develop some nice colors over time where the creases and bends set in, much like the Camel Oiled Calf.
The color of the Shinki leather is pretty consistent throughout, whether in direct sunlight or in shade. In the shade, its got a somewhat muted olive green color. Throw it under some sunlight and it's still that similar olive green, but perhaps with a bit more of the lighter undertones coming through, to include some yellow. Overall, its a solidly olive colored leather and will work well with some worn-in faded pair of jeans.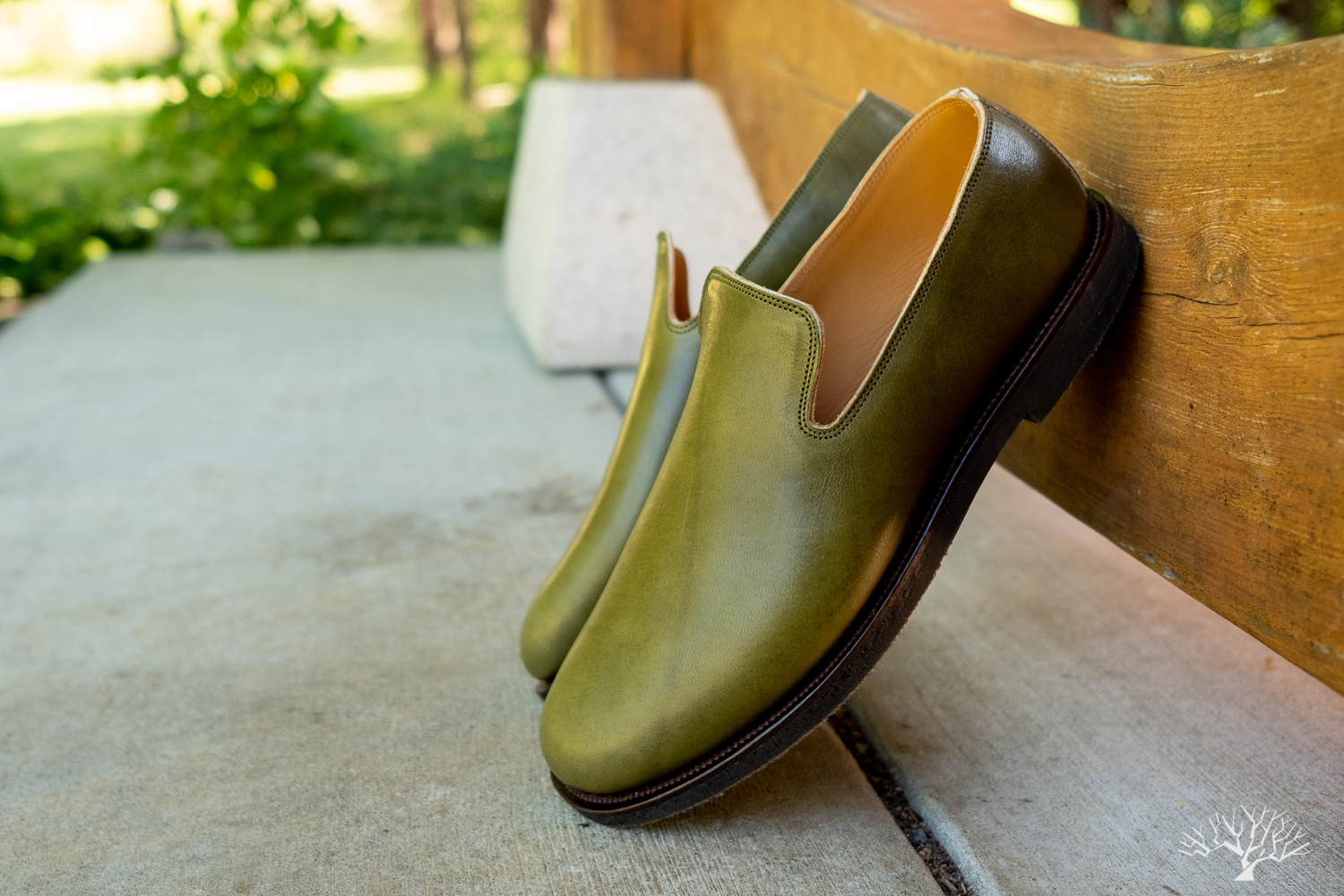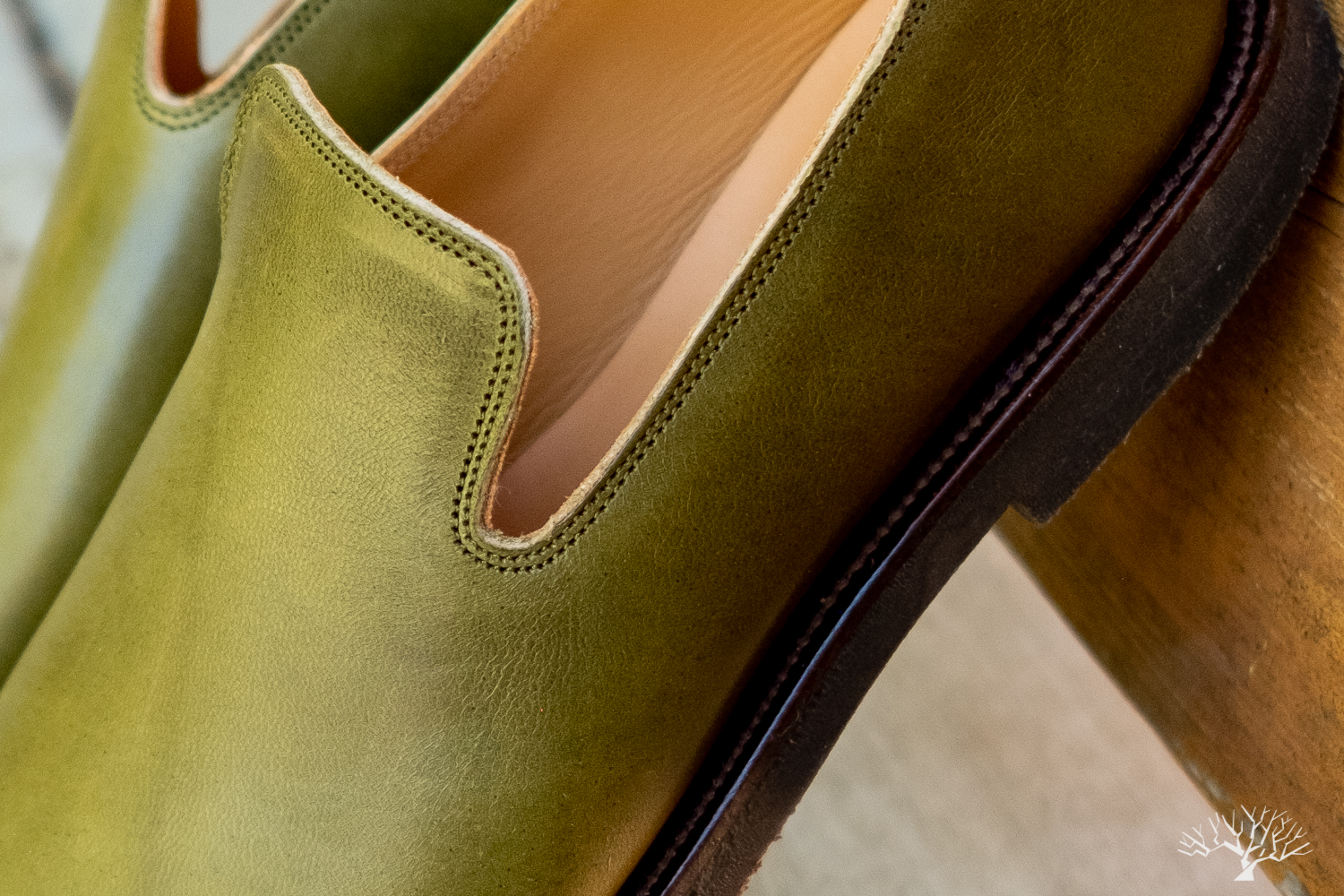 Aside from the leather, the only other main detail we can talk about is the Lactae Hevea sole. As one of the newer options available from Viberg, we knew we wanted to utilize this sole in a variety of make-ups (you'll be seeing more of this sole on future make-ups) due to its low side-profile and much more cushion than a hard rubber sole. It's super comfortable from the get go, with a bit of bounce and stickiness to it. It's quite unlike any other soles that we've had on Vibergs. The closest thing we would compare it to would probably be the Clarks Desert Boot and the crepe soles used on that. It has that similar sticky feeling with a hard-yet-soft give to it.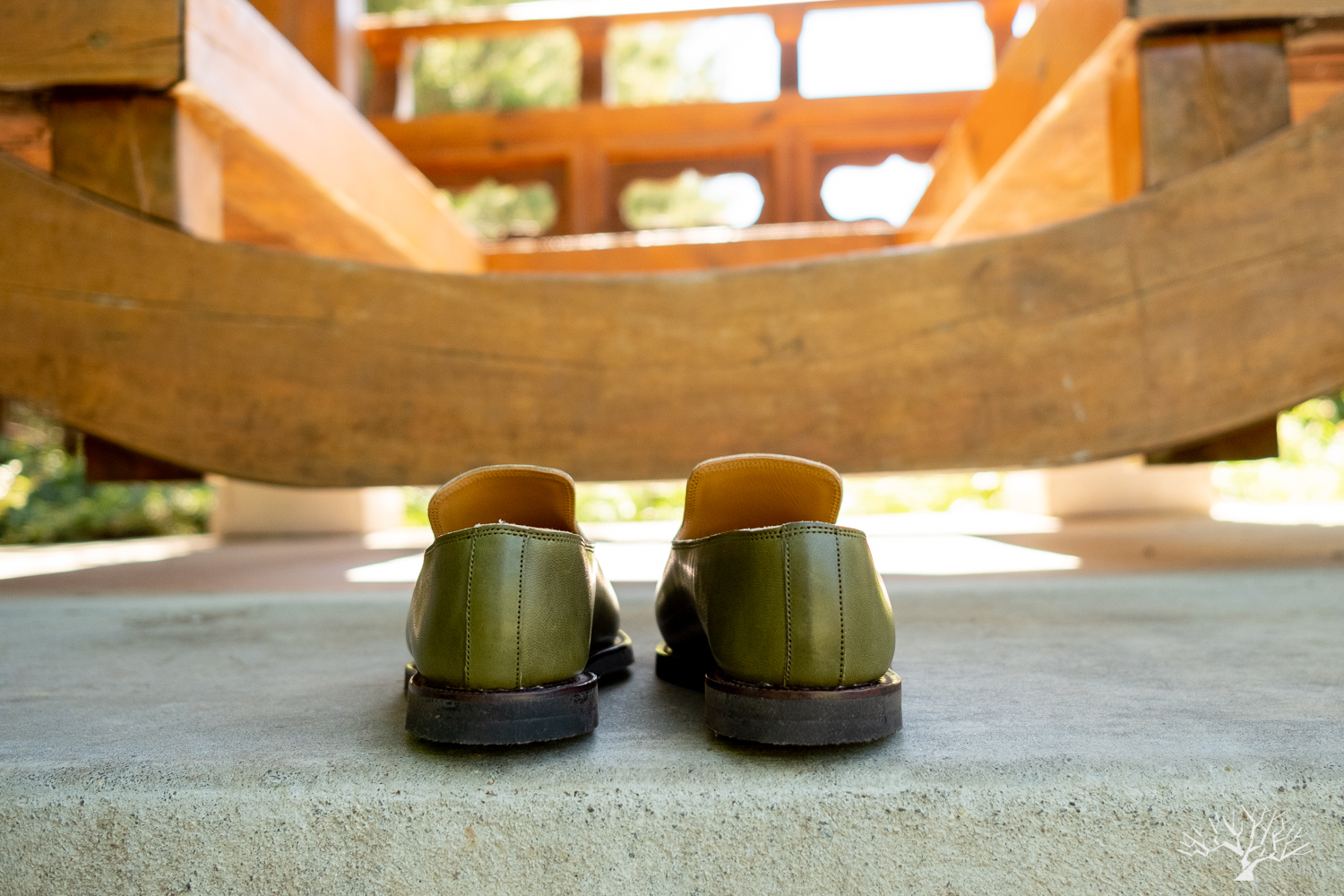 Viberg Slipper sizing can always be a bit tricky. Being our second slipper we've carried, we were hoping to streamline this buying process for those who had picked up the previous slipper. That said, it seems like these slippers do run 0.5 size larger than the Camel Oiled Calf Slippers. As a reminder, for the previous slippers we generally recommended folks take 1.5 down from Brannock as the initial starting point (you can read our sizing recommendation for those here). For these Olive Latigo Horsehide Slippers, we'd say 2 down from Brannock is the initial starting point.
I'm a 10E Brannock and generally wear 9.5 in Viberg 2030 and 1035 Service Boots with thick socks. For these slippers, I sized down 2 from my Brannock and wear the size 8. This gives me a secure feel throughout – a little wiggle room in the toebox with a heel cup that hugs the back of my feet better than the 8.5. Given that these are unstructured throughout and the leather feels like there's some give to it, I wouldn't be surprised for these to break in a little more and stretch a bit.
For kicks, I tried on a size 7.5, which was possible with a shoe horn. Very tight throughout. I can't imagine anyone liking that feeling unless you were absolutely certain your feet weren't going to sweat and swell as you go about your day. Even then, the heel does come up a little as I walk.
One of the comments we've heard back from our customers on the previous Viberg Slipper is that their heel comes up a little and they aren't sure whether it was the right size or not. In our view, these slippers were never built to hold your heels completely in place. The heel cup is not structured (no additional materials in the heel to help shape it) and has no real curvature to it. The way we look at fitting and sizing for Slippers is that the forefront of the slipper generally holds the pair in place and keeps you from falling out of or stepping out of it. Much like a flip-flop or other open-heel slippers, the Viberg Slipper doesn't ride up with your heel as you take each step. It separates and sort of snaps back to your heel as you go through the natural motions of a step. So in this sense, we'd just caution those who think sizing down might be their solution if they currently have the heel coming up a little, and thinking they need to go down another half-size. Accordingly, if you're looking for a pair that just sticks with your feet as you walk, the Viberg Slipper just might not be the right pair for you.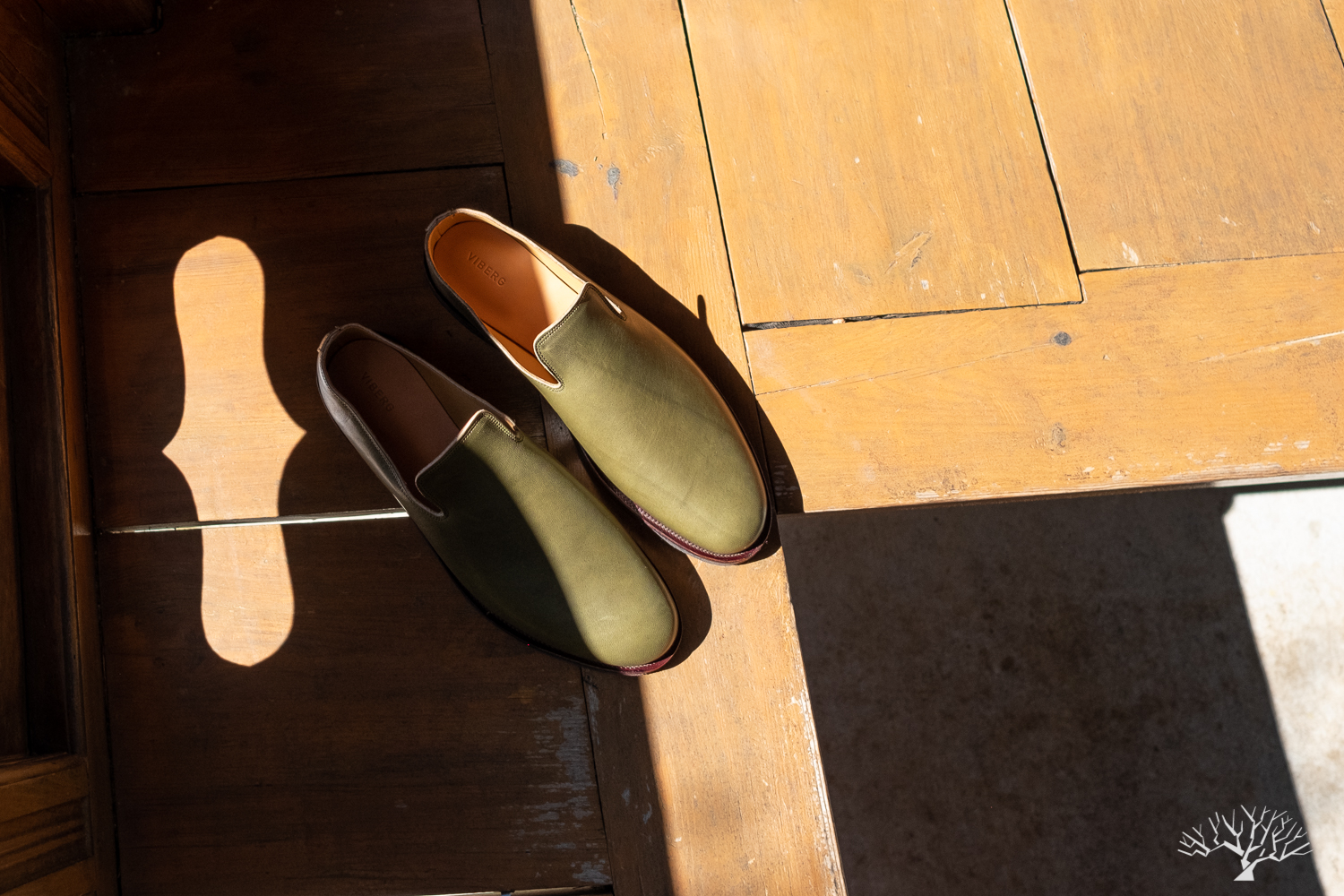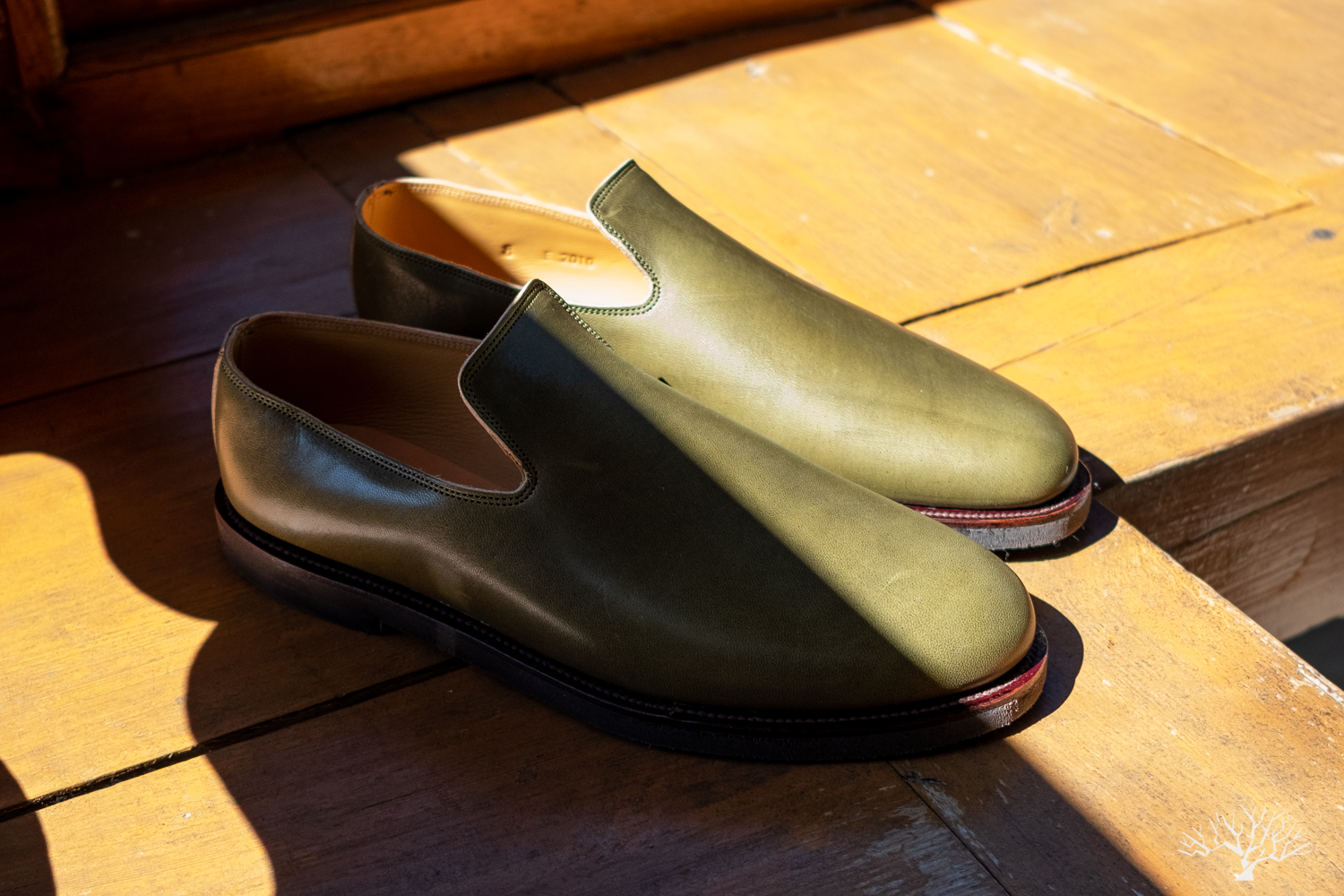 Finally, consistent with Viberg's price increases on their overall line-up, these slippers will run a tad pricier than in the past. Part of that is due to their overall price increase across their line, and the other part is due to the premium on the Shinki leather. All-in-all though, if you know you're going to get multiple wears out of this slipper each week this summer, that cost per wear quickly goes down. We think you'll agree too as these grow on you.
The Shinki Olive Latigo Horsehide Slipper will retail for $710 and be available in sizes 5.5 – 12. Releasing Tuesday, May 4th at Noon EST on Withered Fig. Shop our Viberg collection here.