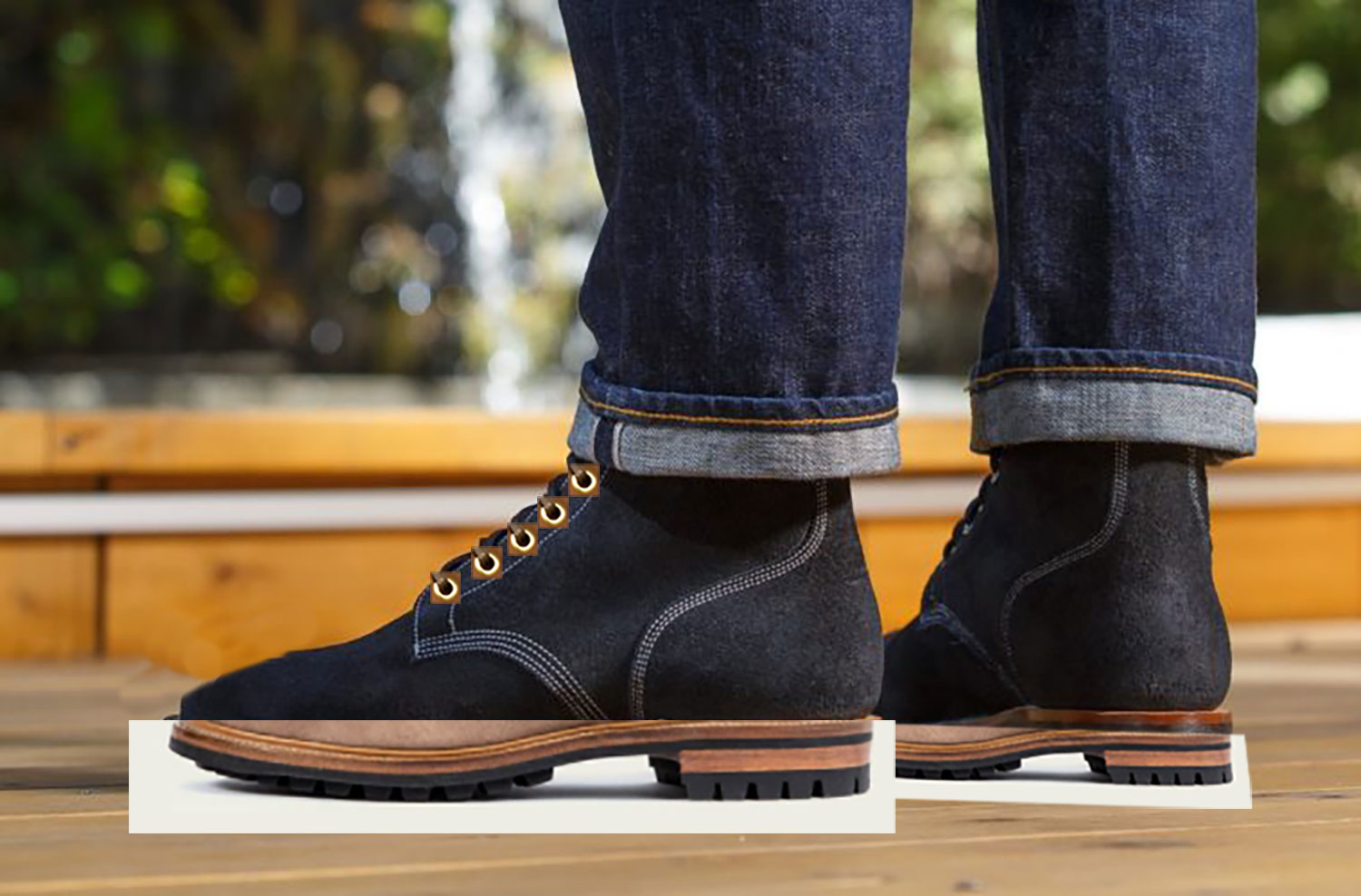 At last, we have arrived at the final Viberg for Withered Fig special make-up for this season. This would have been our most highly anticipated release for this Spring/Summer, but as (terrible) luck would have it, the make-up specs for our boot were leaked by the guy who cleans up the outsole trimmings after the Viberg factory closes, to Ben at Stitchdown and Neil at Standard & Strange. Those two scoundrels colluded to release a highly similar Viberg Petrolio Chamois Roughout Boondocker (PCROB) – the Midnight Gasfire – and used their outsized influence to receive their delivery a month before ours. The wind was pulled out of our sails (and sales!), the air leaked out of our whoopie cushion, and the butter in our croissants was replaced with margarine. Literally, an actual stick of the stuff made in the 80s.
So, we actually considered just having Ben and Neil announce this for us, but every time we tried to bring up this topic, Ben seemingly demurred and started talking about how we were 9 months late on payments for ads on Stitchdown.com (Hah! Joke's on him, our ads are still up!).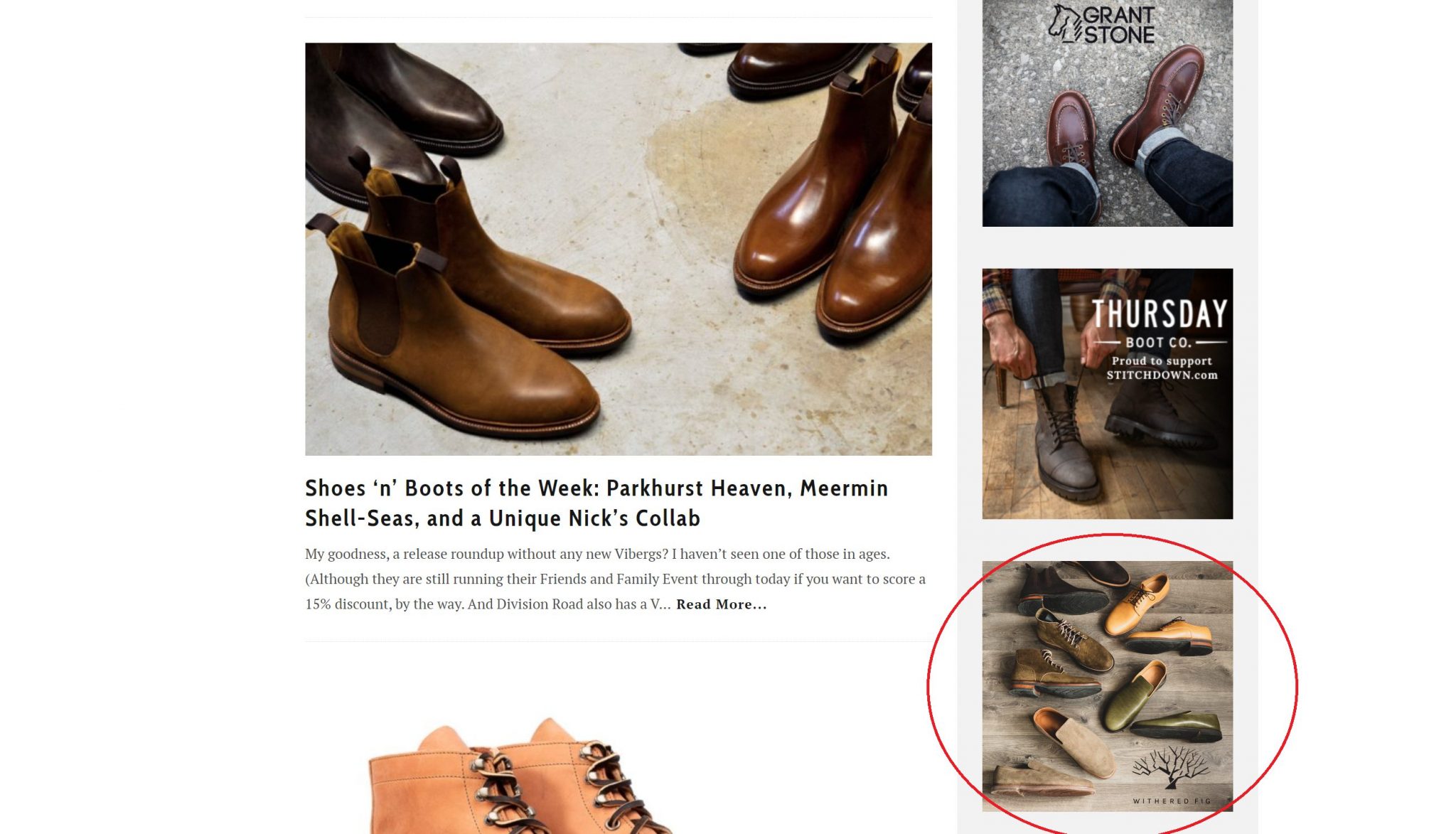 The point is, we were devastated because we knew the PCROB would be a hit, and we knew we had to strike back. Well, fear not. We've outdone ourselves with a devious yet wonderful plan:
Step 1: Acquire a highly complex Russian bot by trading our last remaining pair of brand-new-in-box Viberg for Withered Fig Crust Horsebutt 145 Oxfords on earth. Using this fine piece of bot, we purchased every single pair of Midnight Gasfire Boots available at S&S (ever wonder why you haven't seen a single photo of them on Instagram, other than Ben's pair?).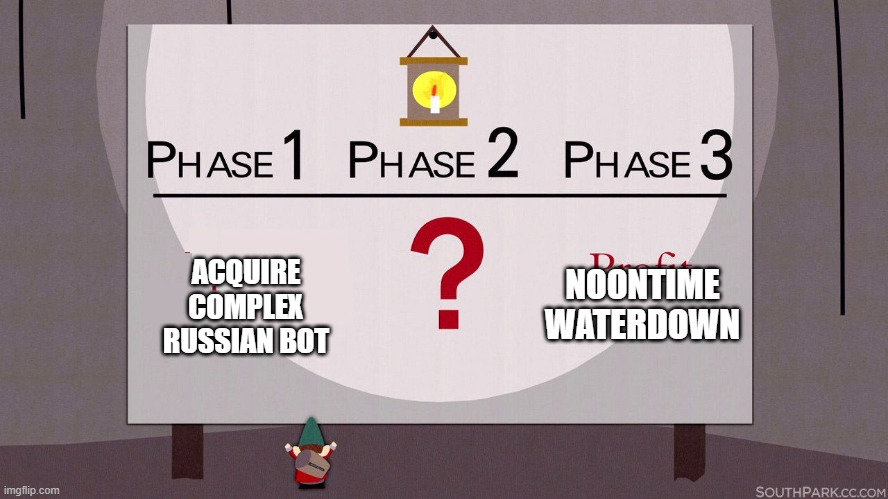 Step 2: Recruit a highly skilled local cobbler (who requested anonymity to do this job) to alter the entire run that we just "copped" (NikeTalk lingo), just enough to evade detection. Said cobbler re-lasted the PCROB onto a Viberg 1035 last, which conveniently was DHL'd to us by "accident" from a former Viberg employee, and swapped out the nickel eyelets for brass, and tossed on commando soles.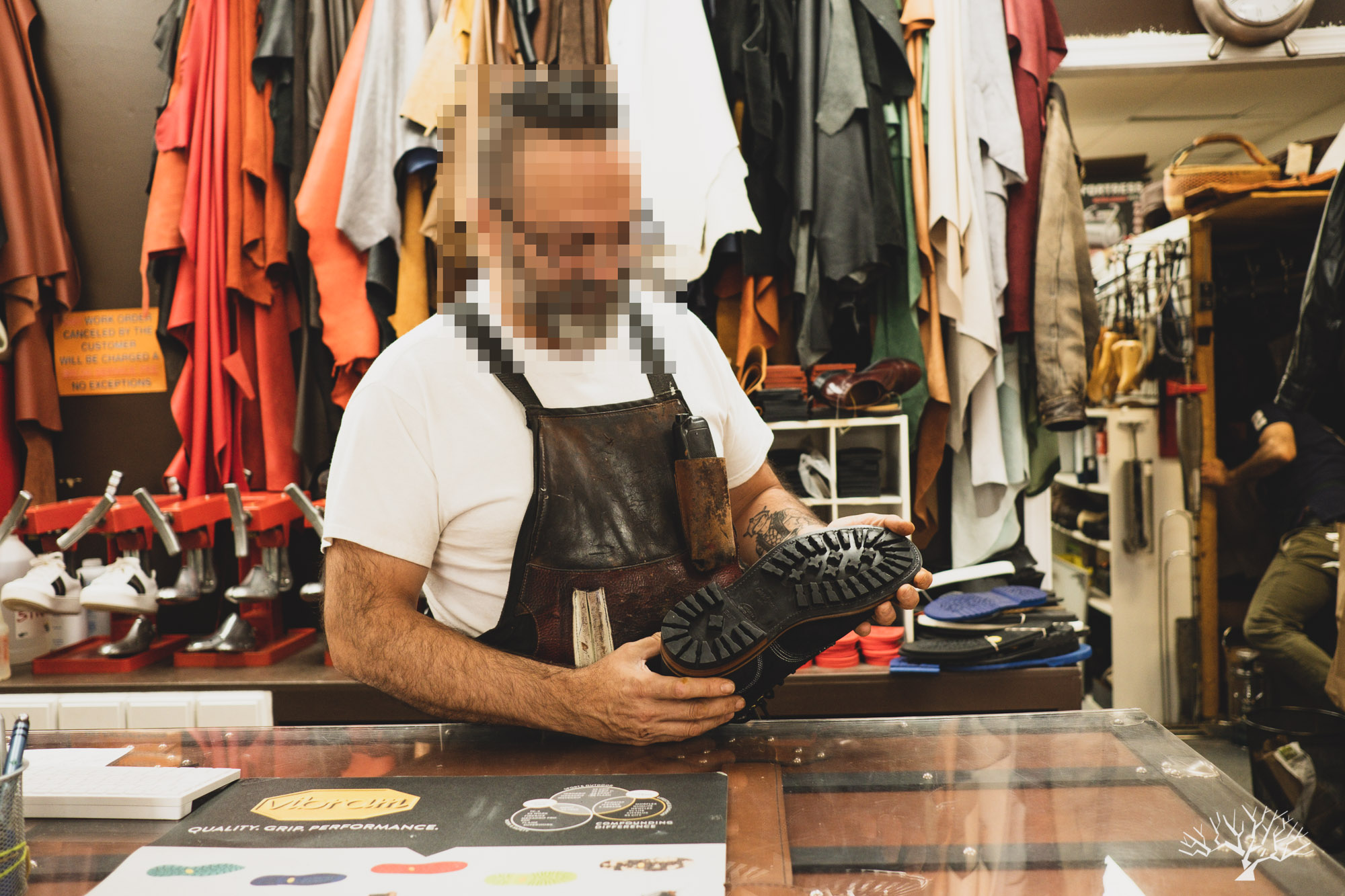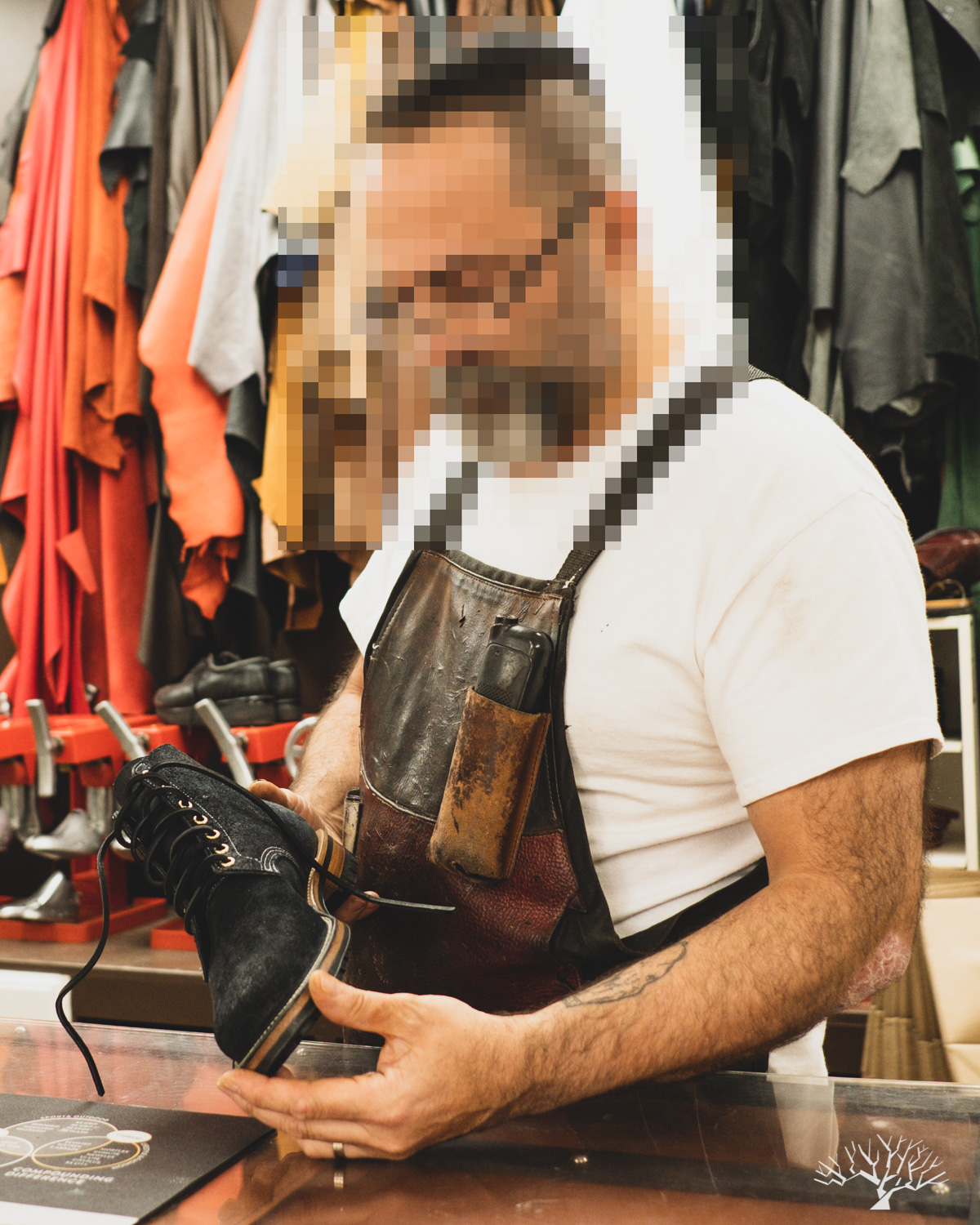 Step 3: Invest heavily in cyber security infrastructure for our .com so they couldn't just bot-buy-back all of our pairs and switch them back.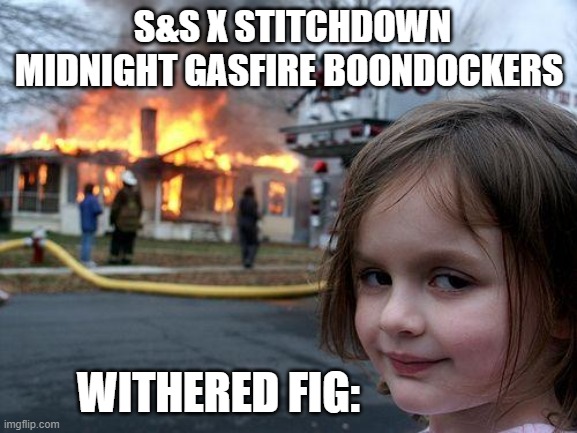 This was the only way we could douse that pesky midnight gasfire (what does that even mean?), and celebrate the phoenix-like emergence of the Viberg for Withered Fig Noontime Waterdown. We would explain Noontime Waterdown, but it clearly is common knowledge and we won't belabor this.
All of this work came at a substantial premium, but instead of passing that extra cost onto our customers, we are swallowing it – to show Stitchdown and S&S that we are not to be trifled with. We're committed to keeping our make-ups the best in the industry and exclusive to us – no matter the cost or effort required.
I'm sure Ben and Neil won't be too pleased, so it'd be awesome if we all kept this on the down-low (or is it low-down?). Whatever the case, it's 2021 and it's time to party! Also, apparently supporting Asian American Pacific Islanders is a thing this year, so yeah. Thank you!
Without further delay, announcing the Viberg Petrolio Chamois Roughout Boondocker, aka the Noontime Waterdown Vibergs for Withered Fig, because Noontime is better than Midnight (everyone is asleep anyways).
Releasing Friday, July 23rd at Noon EST in sizes 6.5 – 13.
• Viberg for Withered Fig Exclusive
• Horween Petrolio Chamois RO (USA)
• 1035 Last
• Goodyear Commando Sole and Heel
• Self Tongue (Petrolio Chamois RO)
• 7 AA Brass Eyelets
• Partially Structured Toe
• Natural Leather Midsole
• Stitchdown Construction
• Includes a pair of Black Rawhide Laces and Black Flat Waxed Laces
• Includes Viberg Dust Bags
• Includes Viberg Polishing Cloth
• Made in Victoria, B.C, Canada
Shop our Viberg Collection here.