Our last Viberg 145 Oxford to be released for the foreseeable future, the Viberg Toscanello (Crust) Horsebutt 145 Oxford, aka the Franklin II Oxford. Coming off the heels of the OG Franklin, some slight changes were made primarily out of production practicality. We're incredibly happy with how these turned out, and are a nice "stamp" on the 145 Oxford as we see this style sunset.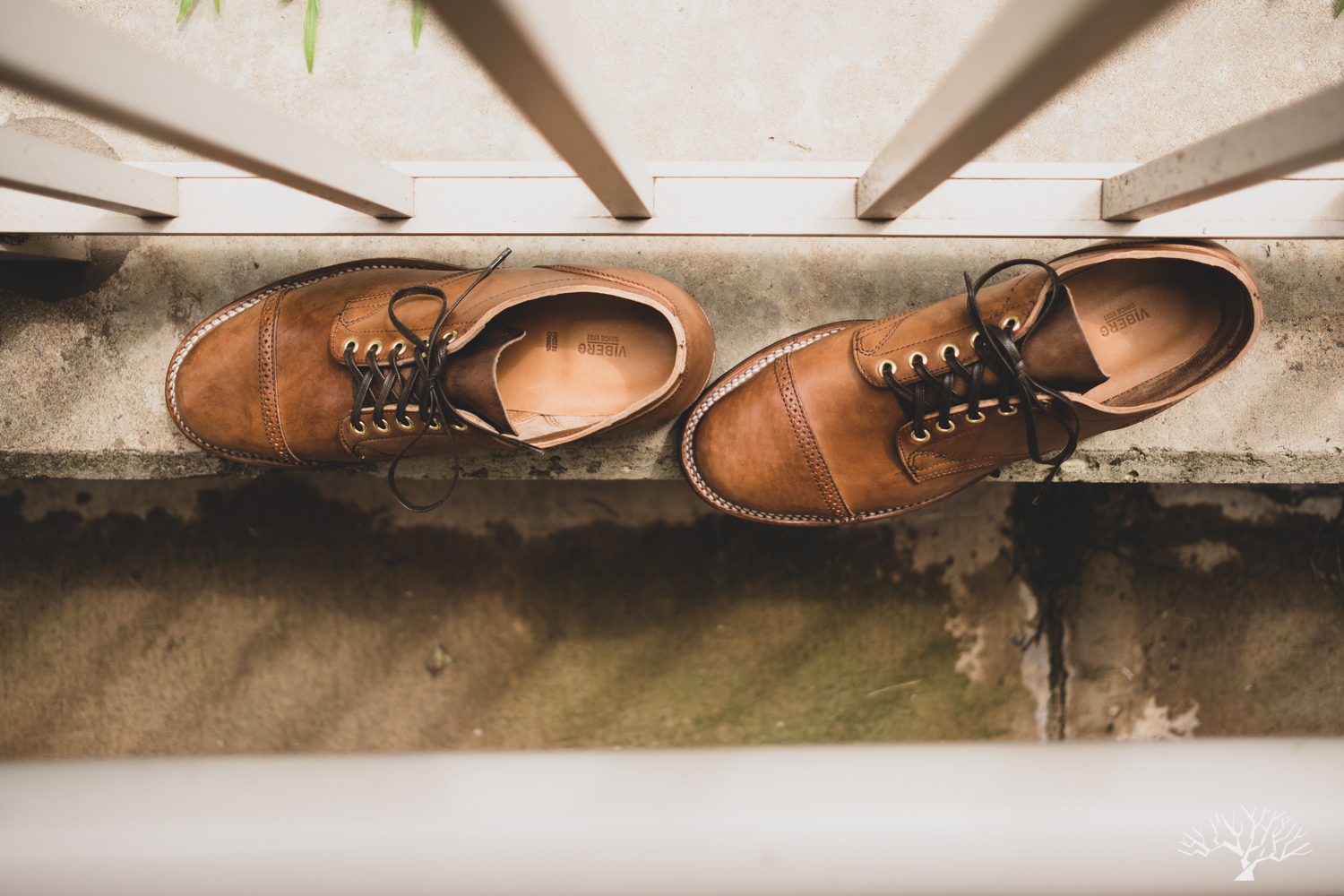 Releasing Friday, August 21 at 5:15pm EST, the latest Viberg for Withered Fig, the "Franklin II" Crust Horsebutt 145 Oxford w/ Vibram 705 Half Sole and Cat's Paw Heel.
Viberg for Withered Fig Exclusive
Maryam Toscanello (Crust) Horsebutt (Italy)
1035 Last
Vibram 705 Tygum Half Sole and Cat's Paw Heel
5 AA Brass Eyelets
Alternate Tongue in Horween Natural CXL
Brogue Cap Toe
Unstructured Toe
Natural Leather Midsole
Stitchdown Construction
Includes a pair Rawhide Laces
Includes a pair of Brown Flat Waxed Laces
The original Horween Crust Horsebutt leather was difficult to work with given the thickness of the leather, causing several issues throughout the production of that first run. While Viberg was eventually able to work through the issues, it was nonetheless difficult and created the long delay in getting those from factory to floor. Accordingly, while we were originally hoping to make this a simple restock, instead we have a second iteration with everything the same except for the leather and outsole.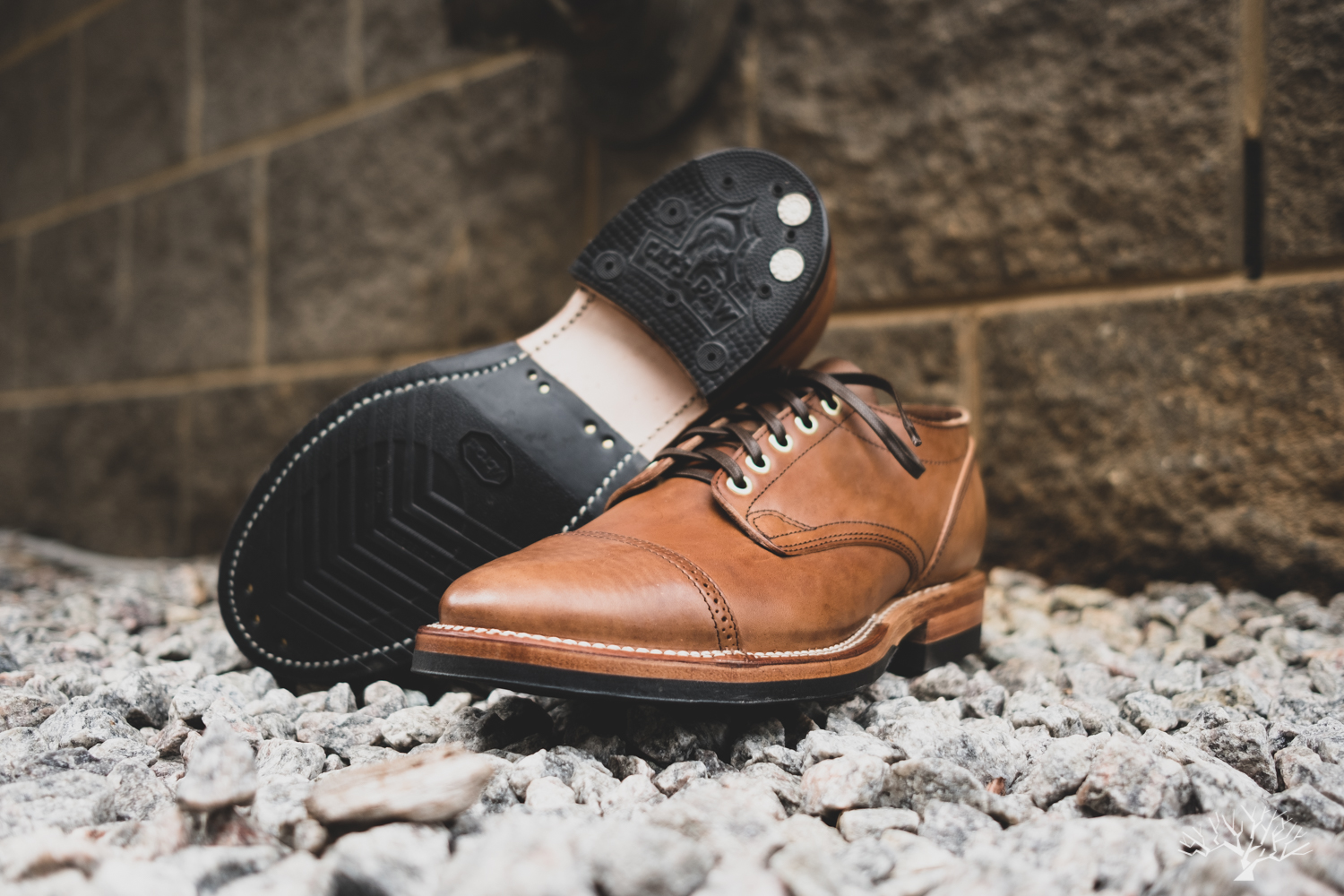 The Horween leather was swapped for this Maryam Toscanello Horsebutt leather, which is their version of the "Crust" Horsebutt leather. So you'll see these referred to here and on product pages, online, etc. as either Toscanello or also Crust. We're going with Crust for the most part, just because we are trying to keep things streamlined between the two versions. That said, you'll see these referred to as the Toscanello Horsebutt on the Viberg shoe boxes. You'll find that this Franklin II version out of the box looks quite a bit different in appearance than the original. First off, these have already been polished with Venetian Shoe Cream from the factory and buffed, which is why they don't look as "crusty" as the original Franklins with the matte look. Our general comparisons of the two are that the Horween is much thicker and has a denser hand than the Maryam. While both have quite a bit of natural variation and inconsistency in the leather, the Horween version tended to have slightly more blemishes and scarring. The Maryam Toscanello Horsebutt still has quite a bit of variation as well, but perhaps due to the polishing some of it is hidden a little better than if it were left in its unpolished state.
The Maryam leather does have a softer and more supple feel to it, again perhaps due to being polished and buffed already but I think even beyond that it has that characteristic on its own. My initial impression out of the box was that of a high-end luxury leather bag from your local department store, with that distinct "luxury" smell and soft hand to the leather. In this case, we're talking real full-grain leather, whereas the department store, maybe not. In any case, it's an interesting sense, since it does give this pair a more luxurious feel to them over the Horween version. My guess is that these will break-in easier with the softer, malleable leather.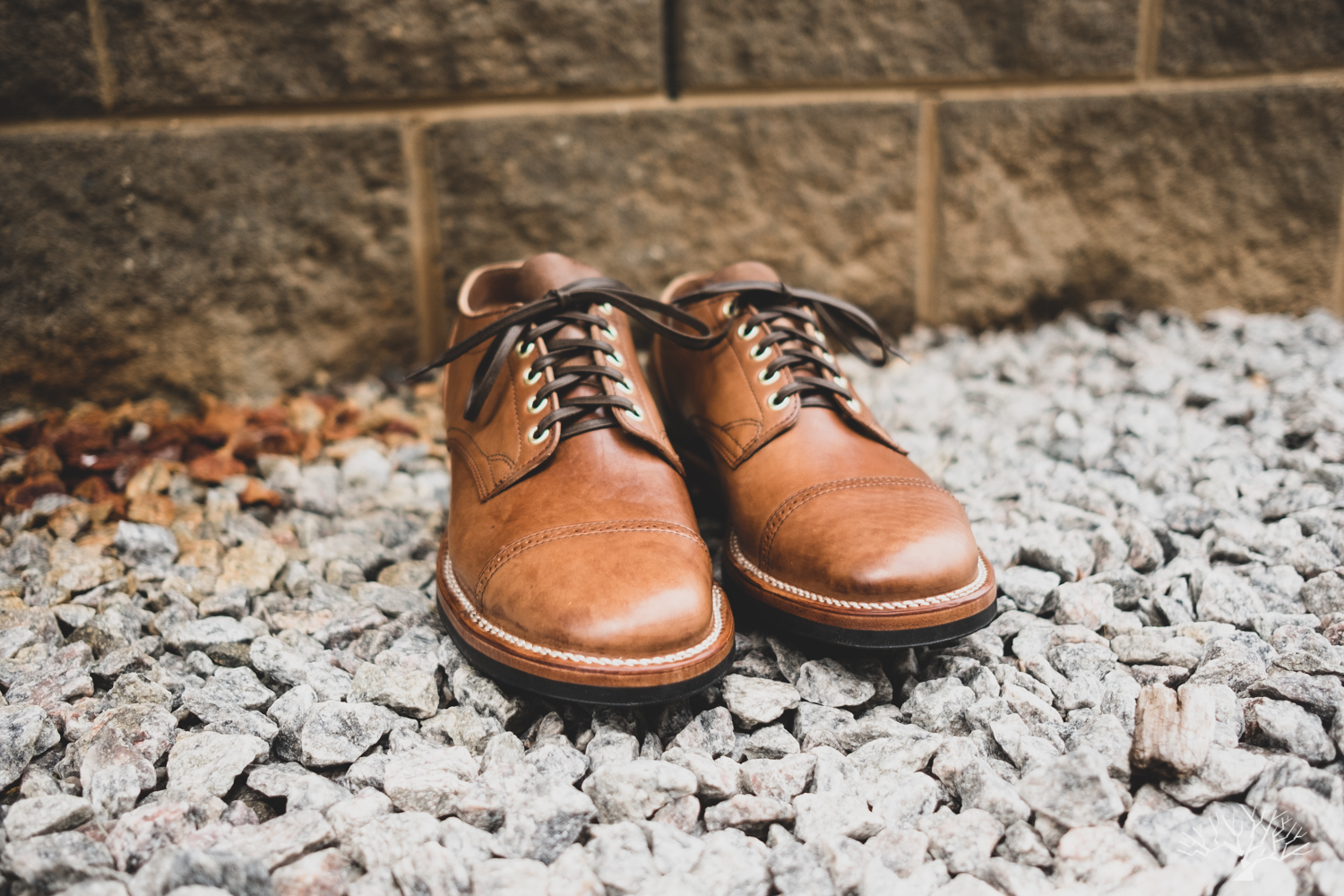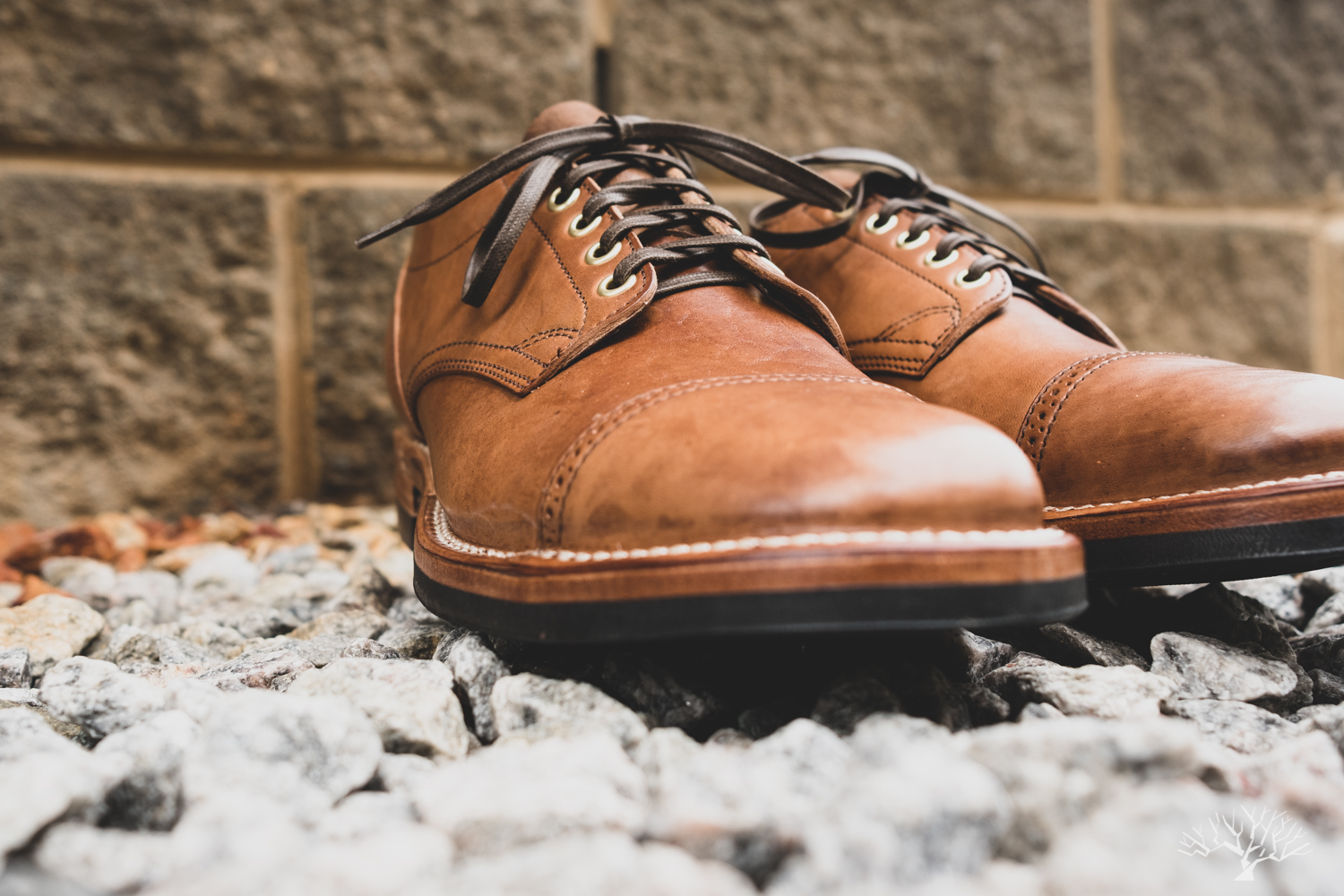 From the original, the leather outsoles were sacrificed due to the difficulty of stitching through the multiple layers with a thick leather like horsebutt. This second iteration of the Franklin throws on some Vibram 705 Tygum Rubber Half Soles instead of the original leather soles, which should make it somewhat more versatile in terms of usage. The 705 soles should give some added traction over the leather soles, while not being too chunky and keeping a low profile. The original Cat's Paw Heel was kept even though we could have gone with a Vibram 700 heel to pair with the 705, but we chose not to primarily just to give a nod to the original Franklin Oxford. We also still think the Cat's Paw heel is just a nice vintage detail to have, and from the side you probably won't be able to tell whether it was a Vibram or a Cat's Paw heel anyways. Perhaps if this was a completely new make-up, we would have sync'd up the 700 and 705s.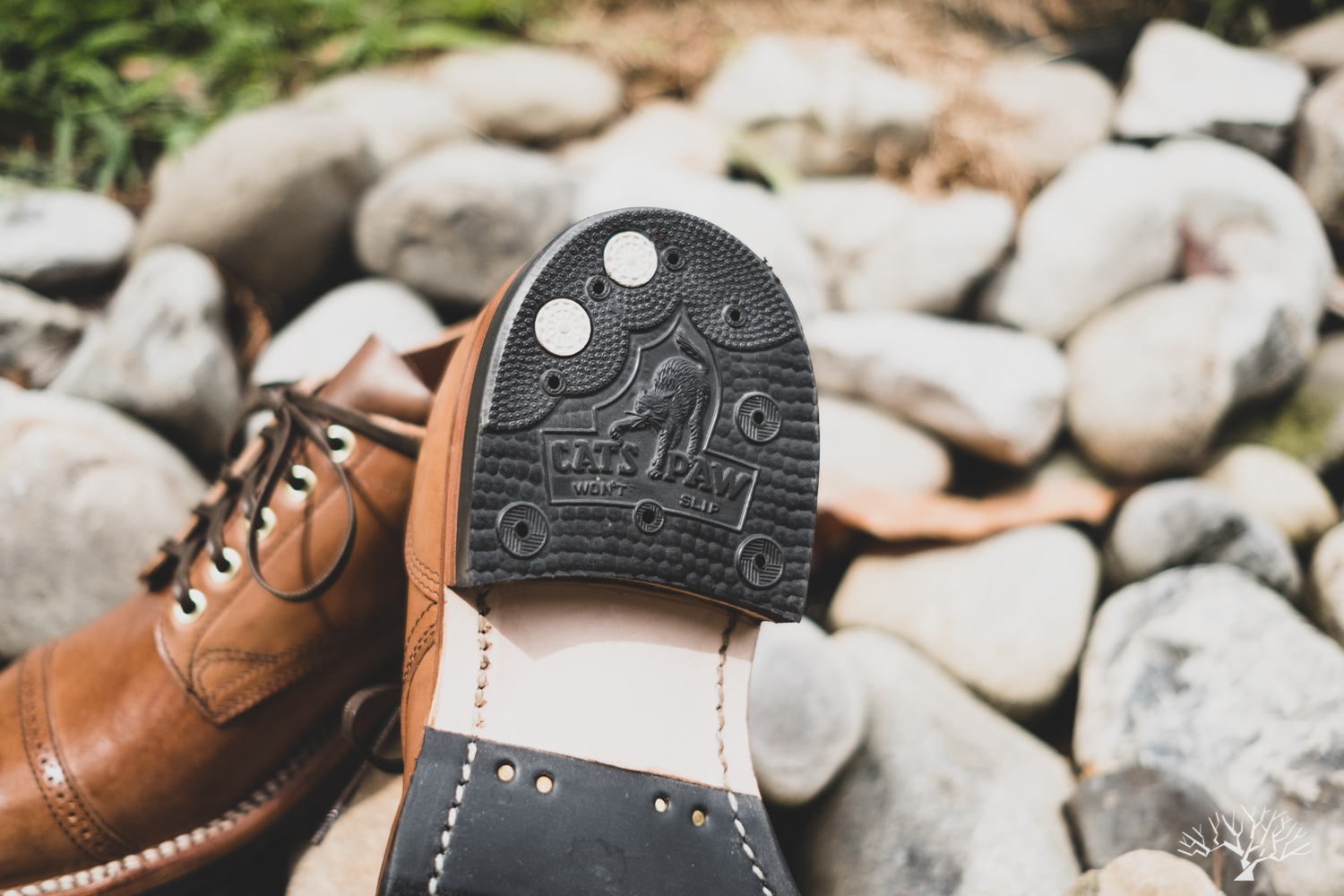 Beyond those two changes, everything else should be the same as the original Franklins, to include the 1035 Last, unstructured toe, and the alternate Natural CXL tongue. On the tongue, the difference is not as noticeable as we think it was on the originals. The current shade of the Maryam Crust Horsebutt seems to match or blend a little more with the Natural CXL. In hindsight, we may have just chosen to skip the alternate tongue, but it's hard to completely understand how something will look when most of your decisions are done in your head without something physical to look at and compare. Nevertheless, one thing we do keep in mind is having a softer leather for the tongue, which we think increases the comfort level as it can mold a little easier to the shape of your feet. But as with most things in life, there is a trade-off.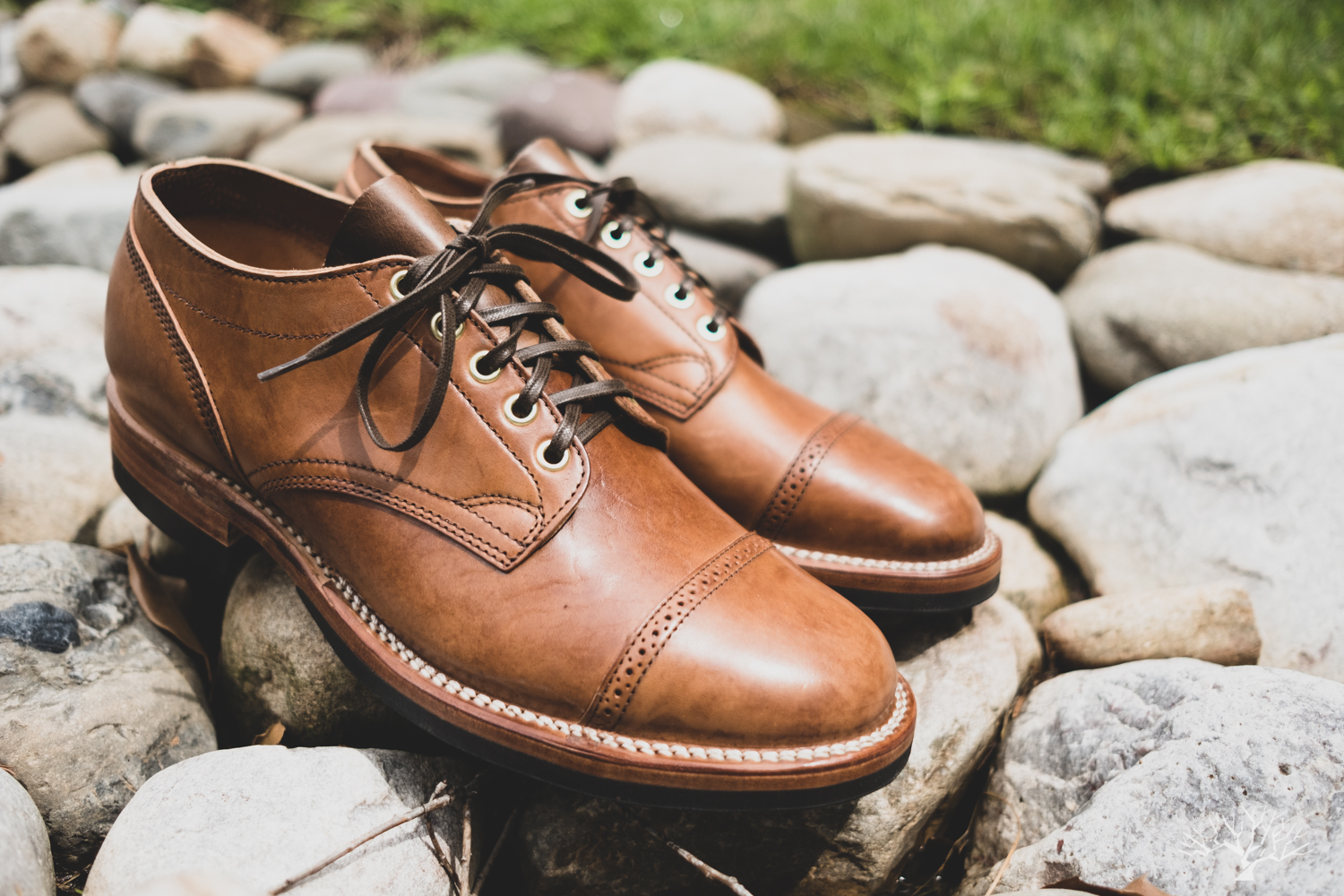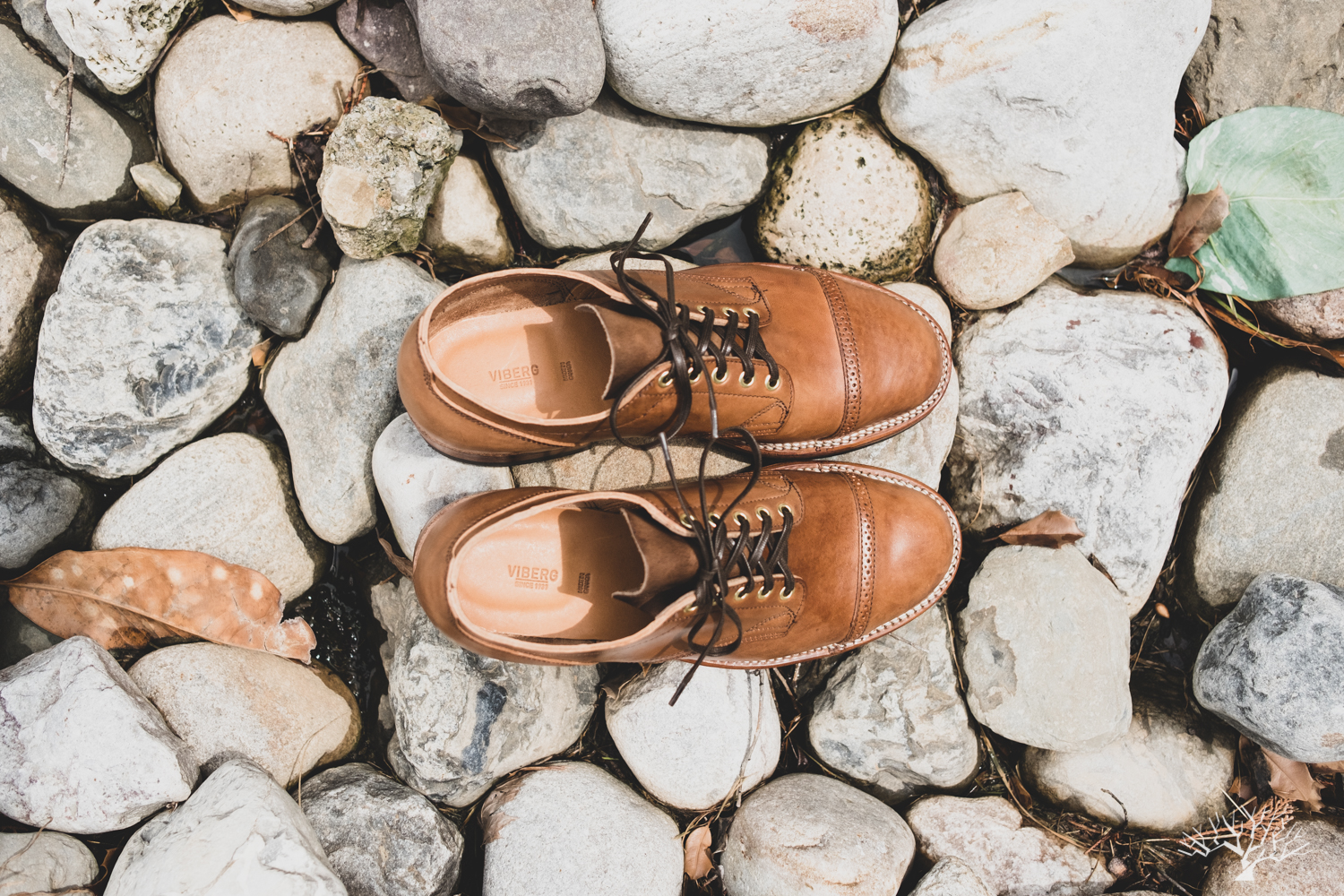 On sizing, our general recommendation for these Viberg Maryam Crust Horsebutt 145 Oxfords is our typical 1 down from your Brannock size. These fit very similarly to the Franklin Crust Horsebutt 145 Oxfords, as well as the Mushroom Chamois RO 145 Oxfords. Consistent with our recommendation on the other oxfords, if you only size down 1/2 from your Brannock for the 2030 or 1035 Service Boots, you may want to consider going another 1/2 down for the Viberg 145 Oxfords. Because of the lack of a shaft for your ankles to be secure around, you may have a feeling that a heel slip is more pronounced with only 1/2 down from Brannock.
As we bid adieu to the Viberg 145 Oxford, the Franklin II Maryam Toscanello (Crust) Horsebutt 145 Oxfords will be a perfect way to mark the end of this beautiful run for us. We've been lucky to have the handful of our 145 Oxfords be so well received, especially given that we still think this is one of the more underutilized styles for Viberg that has a lot of potential for some creative and stunning make-ups. We'll keep asking about it on our end, no doubt. But until then, hopefully this is not a true goodbye, but just an, "until next time…"
The Franklin II 145 Oxford will retail for $700 and be available in sizes 6-5 – 11.5 (sorry to those 12 and up, we promise we'll be bringing in some new styles later this year with full size runs up to 13). Releasing Friday, August 21 at 5:15pm EST on Withered Fig. Shop our Viberg collection here.