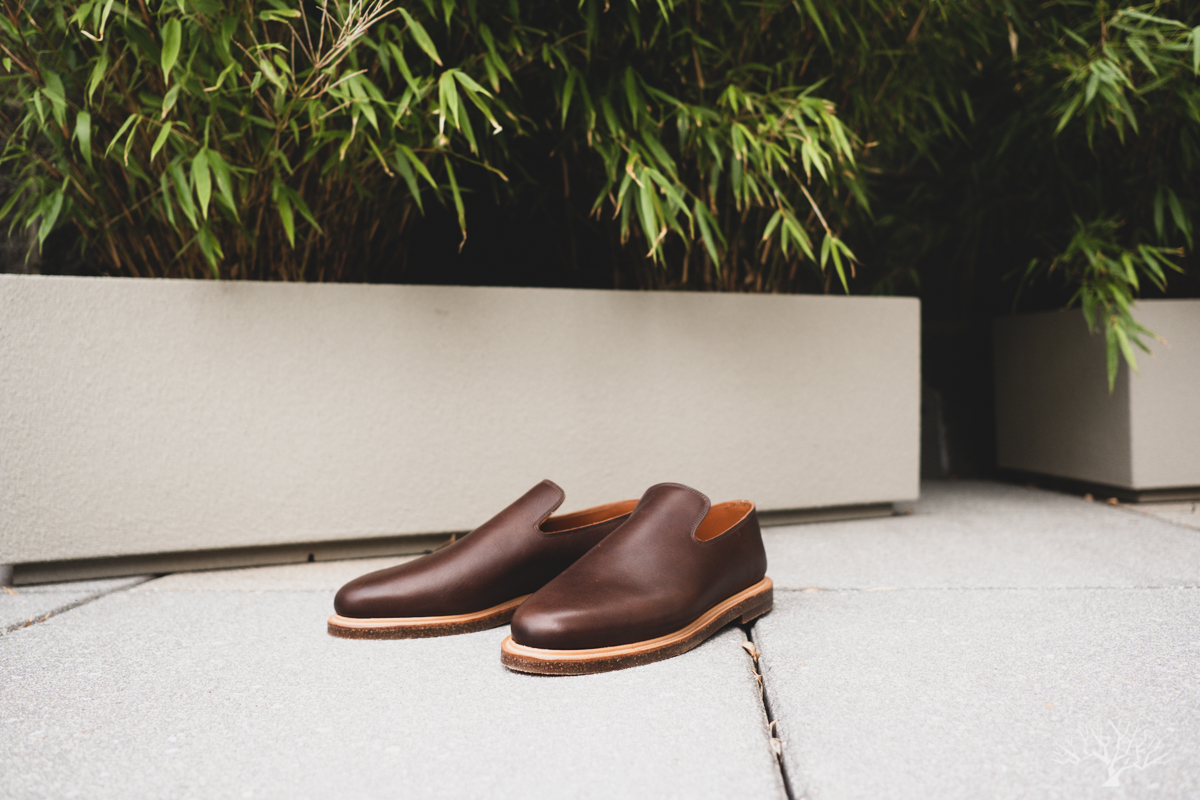 It's been a while, but we're glad to be back with a new and exclusive Viberg Slipper Brown Oiled Calf, with Saw Dust Lactae Hevea Sole on the 2030 Last. Releasing Sunday, June 5th Noon EST in sizes 5.5-12 (some sizes will be delayed, see bottom).
Viberg for Withered Fig exclusive
Brown Oiled Calf (U.K.)
2030 Last
Saw Dust Lactae Hevea Crepe Sole
Kip Lining
Unstructured Toe and Heel
Channeled Insole
Goodyear Welt Construction
Includes Viberg Dust Bags
Includes Viberg Polishing Cloth
Includes 1oz bottle of Viberg Shoe Cream
Made in Victoria, B.C, Canada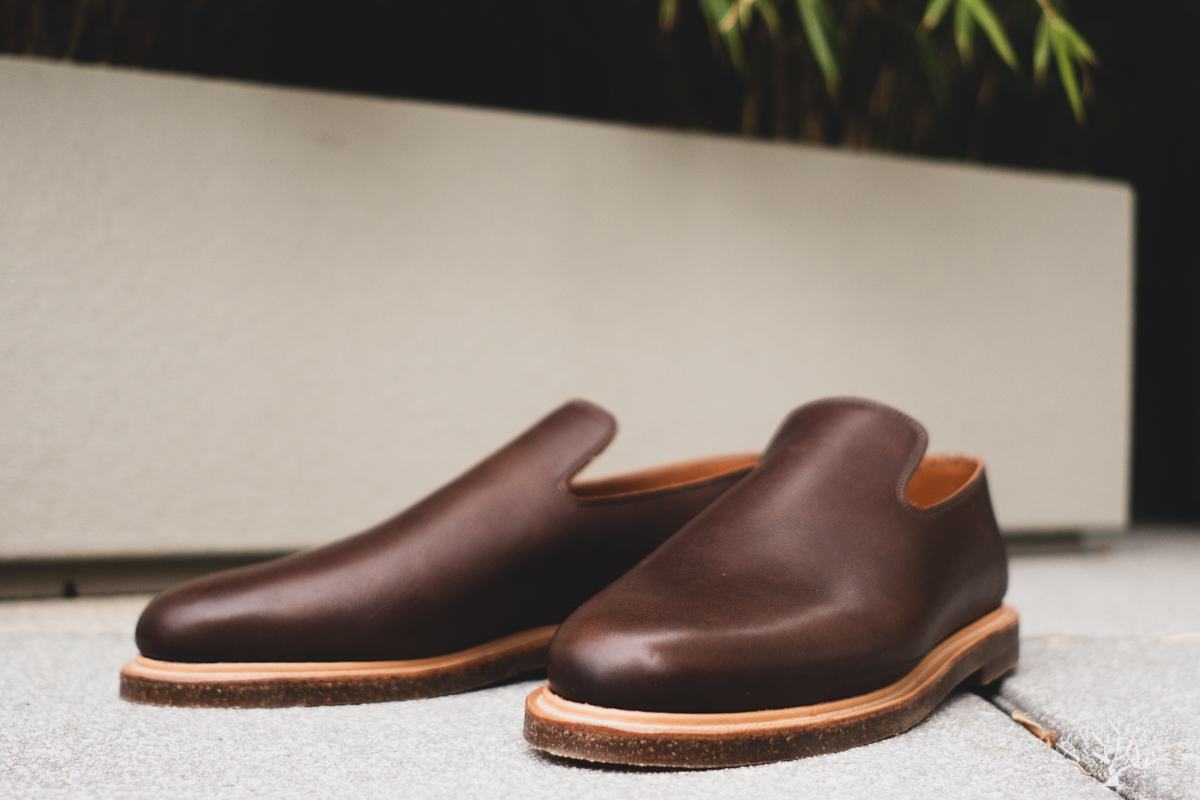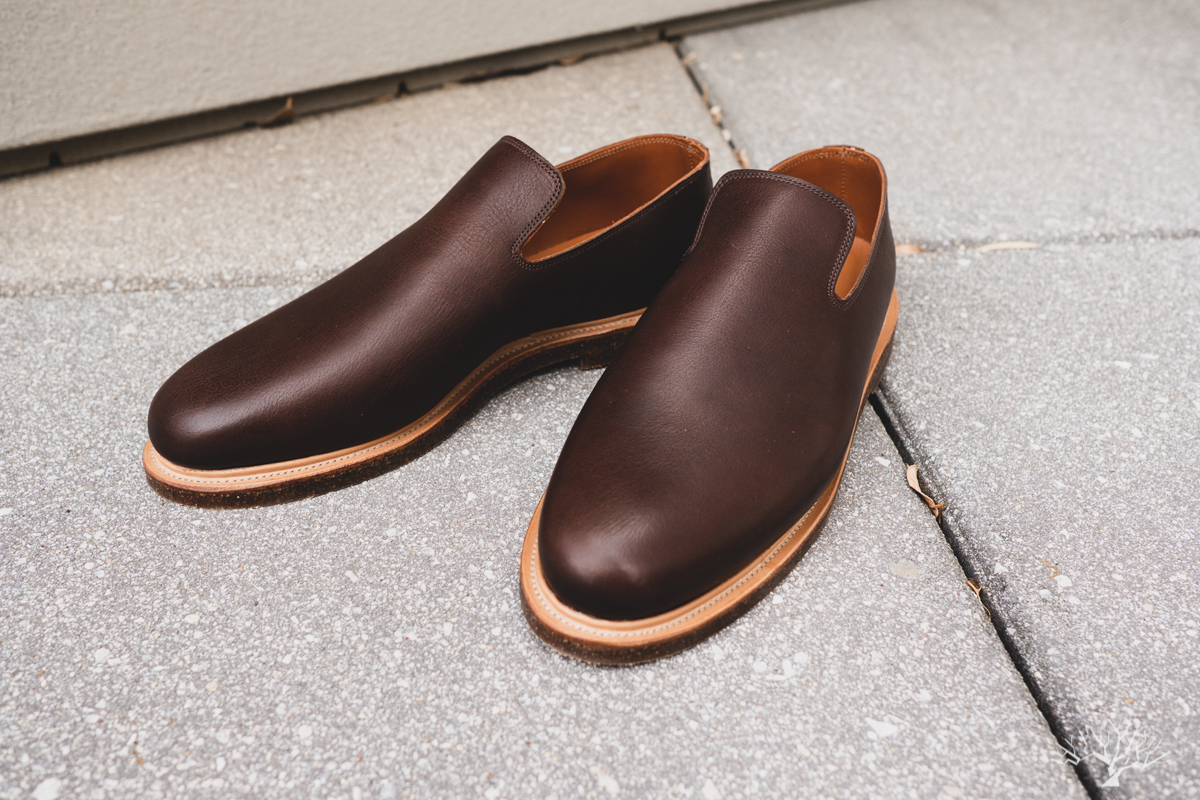 This Viberg exclusive comes just in time for all your summer events – whether that be vacations to the beach, weekend getaways to the next town over, evening dinners out in the town, or a fancy wedding to celebrate your friends and family. We continue with our obsession with the Lactae Hevea sole, a supremely comfortable sole that will lighten your walk and soften the blows as you go through the paces. To some degree, these are a no frills pair that might not seem like much at first, but the Brown Oiled Calf leather should age nicely as you put some time into them. We're certain you'll soon be fending off complements left and right.
Being a slipper, you'll find yourself reaching for these day-in-day-out during the warmer months. By summers end, we're looking forward to seeing some of these pairs out on the internets with some beautiful patina, scuffs, and oiled goodness in the pressure areas. These are one attractive pair of brown slippers that will be sure to make the rounds.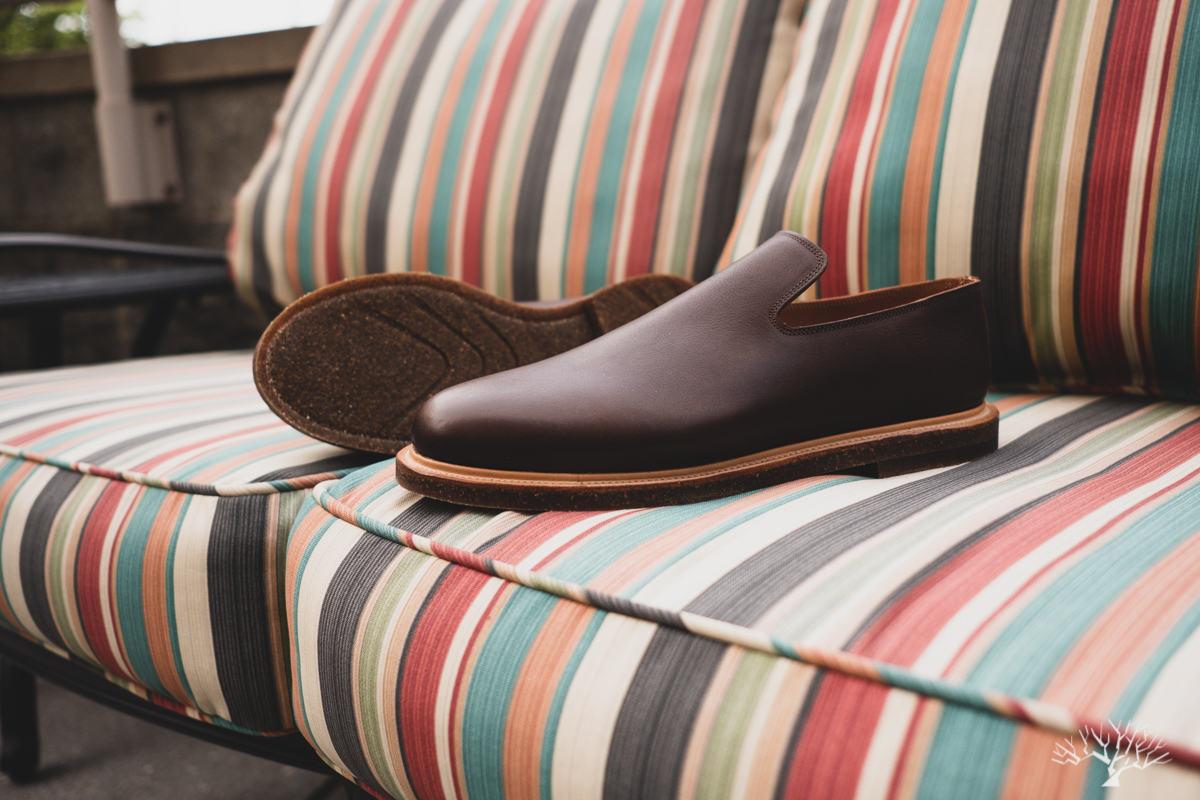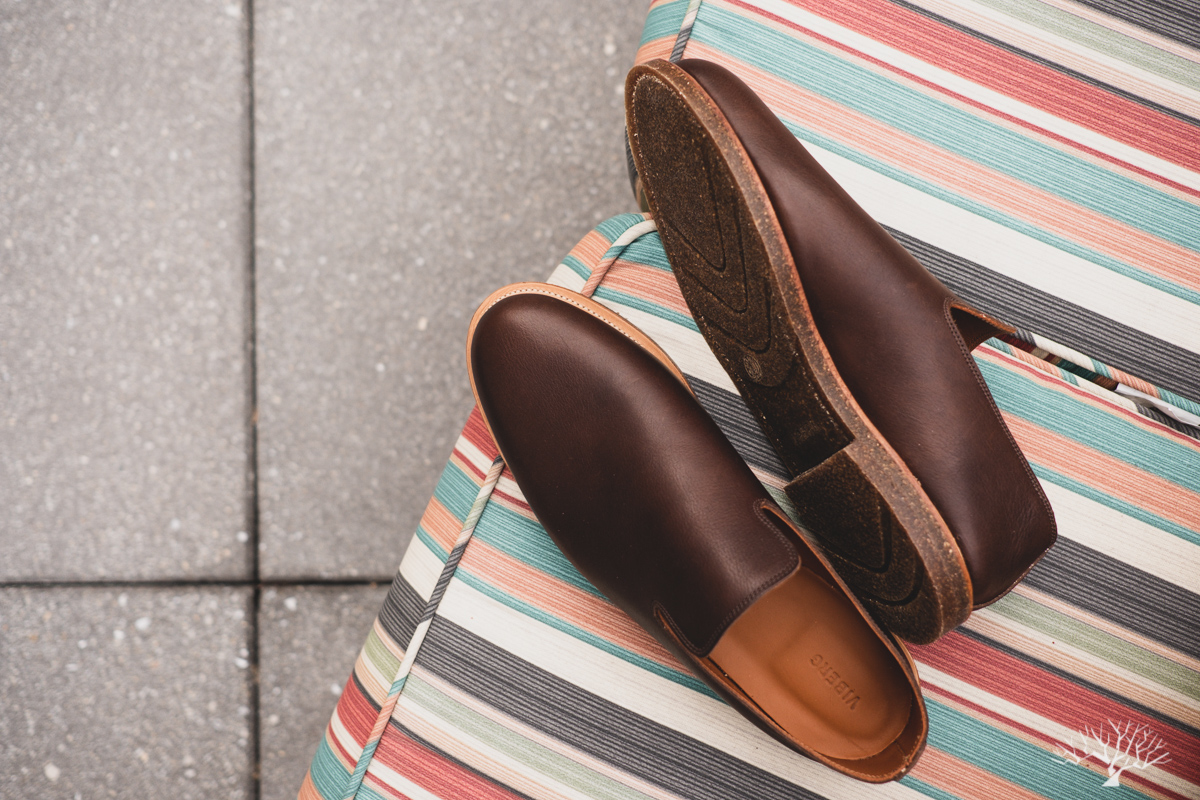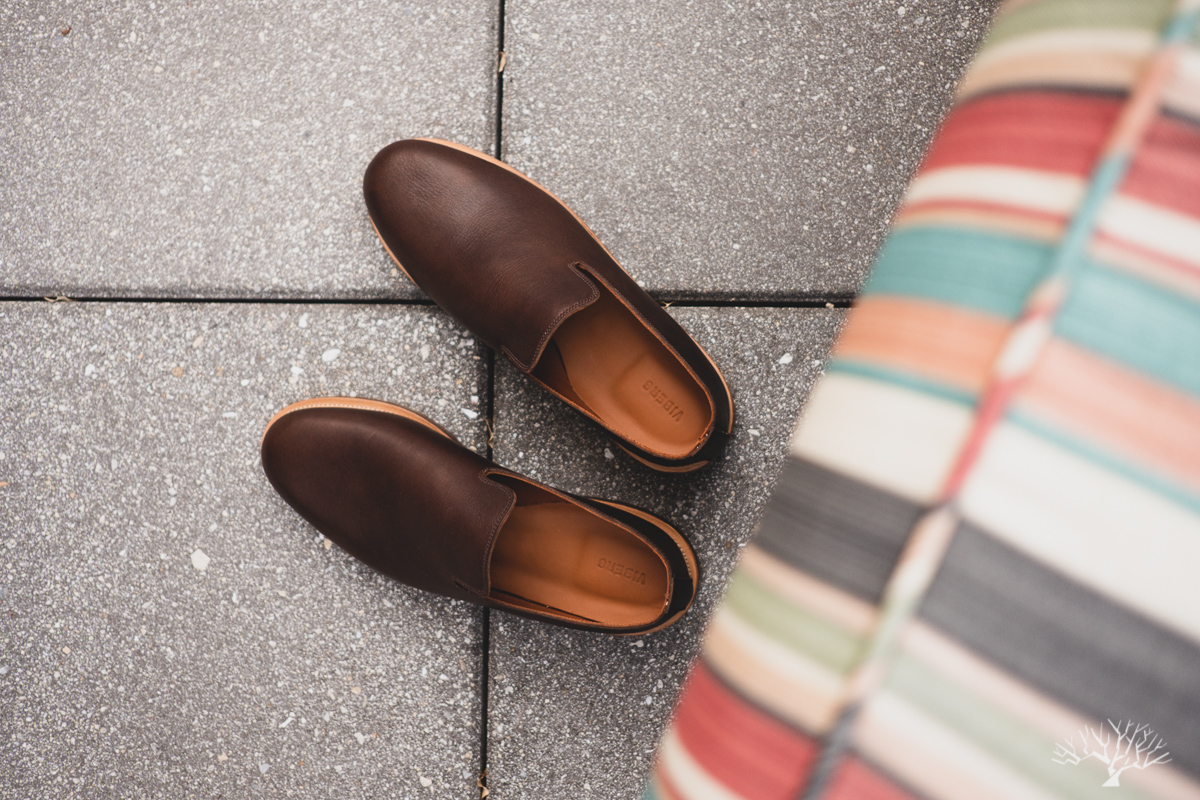 The leather has some subtle grain (although can be more pronounced depending on the pair you get) and a decent pull-up to them. These are pretty similar to the Camel Oiled Calf Slippers that was our first Viberg Slipper that we carried – similar texture and grain, and pull-up consistency. If you run your fingers on the underside of the leather, you'll see the pull-up come through. So if that Camel Oiled Calf Slipper was the one that got away, here's your chance to pick up a darker brown version of a similar leather. Even better, now sitting on the Lactae Hevea sole.
With many more Viberg pairs out in the wild with Lactae Hevea soles, there's much less to introduce about them. But for those who aren't familiar, these Saw Dust Lactae Hevea soles are excellent for comfort and traction. On dry pavement and dry conditions, these will fair just as good as any other sole. For wet conditions, you might want to be a little more conservative in your walk, but in general they'll be a much better all-around sole to wear than the other most common option, the leather outsole.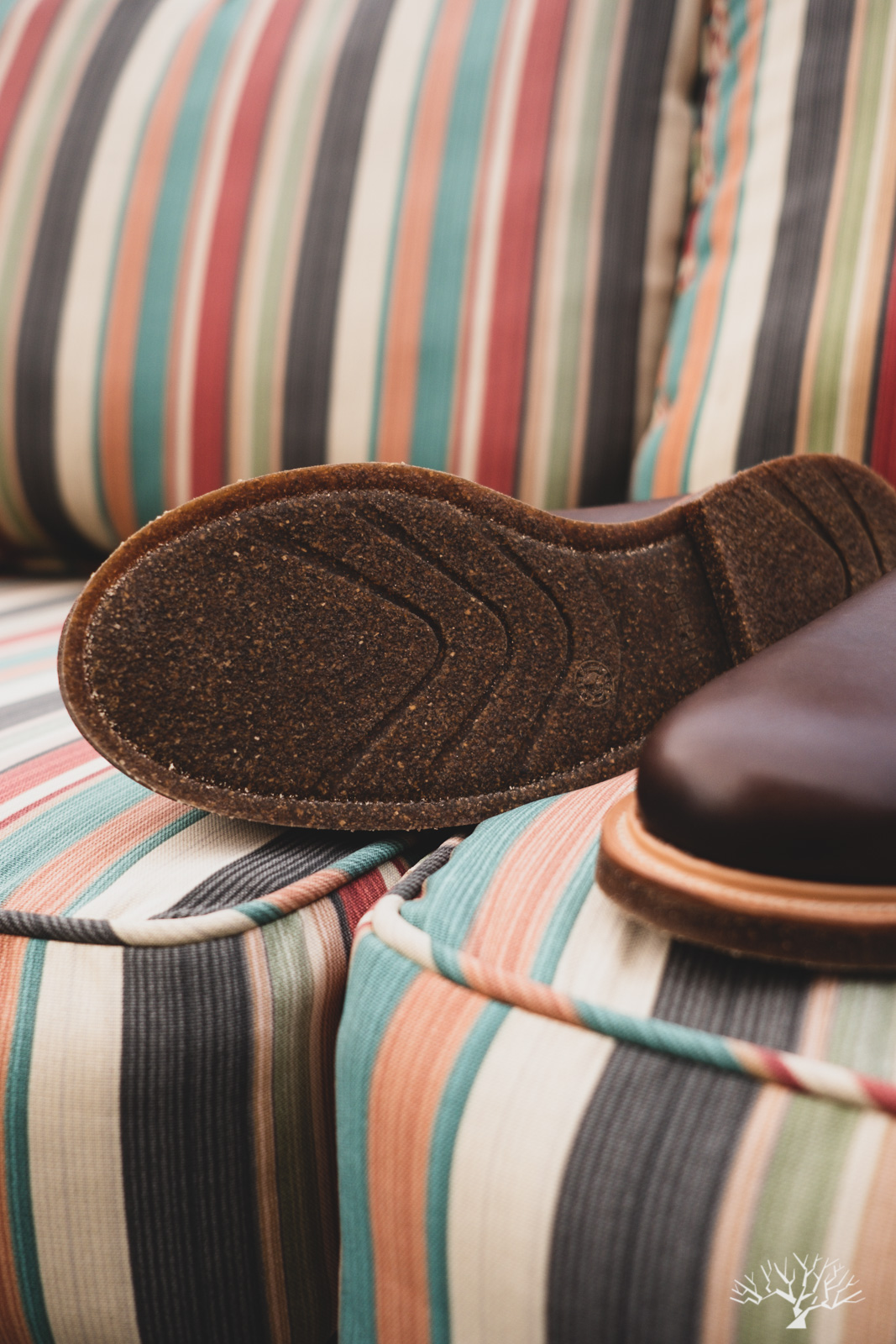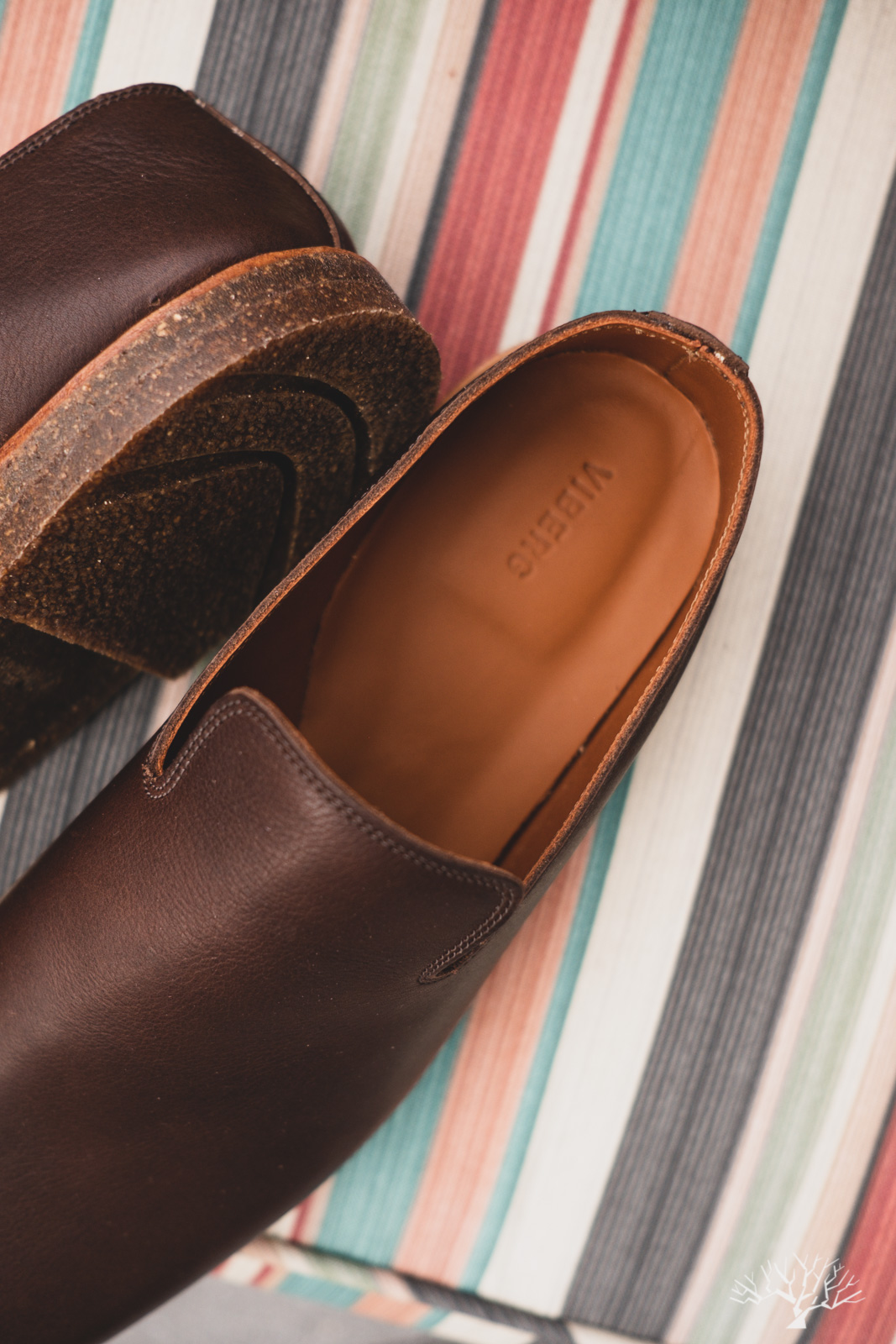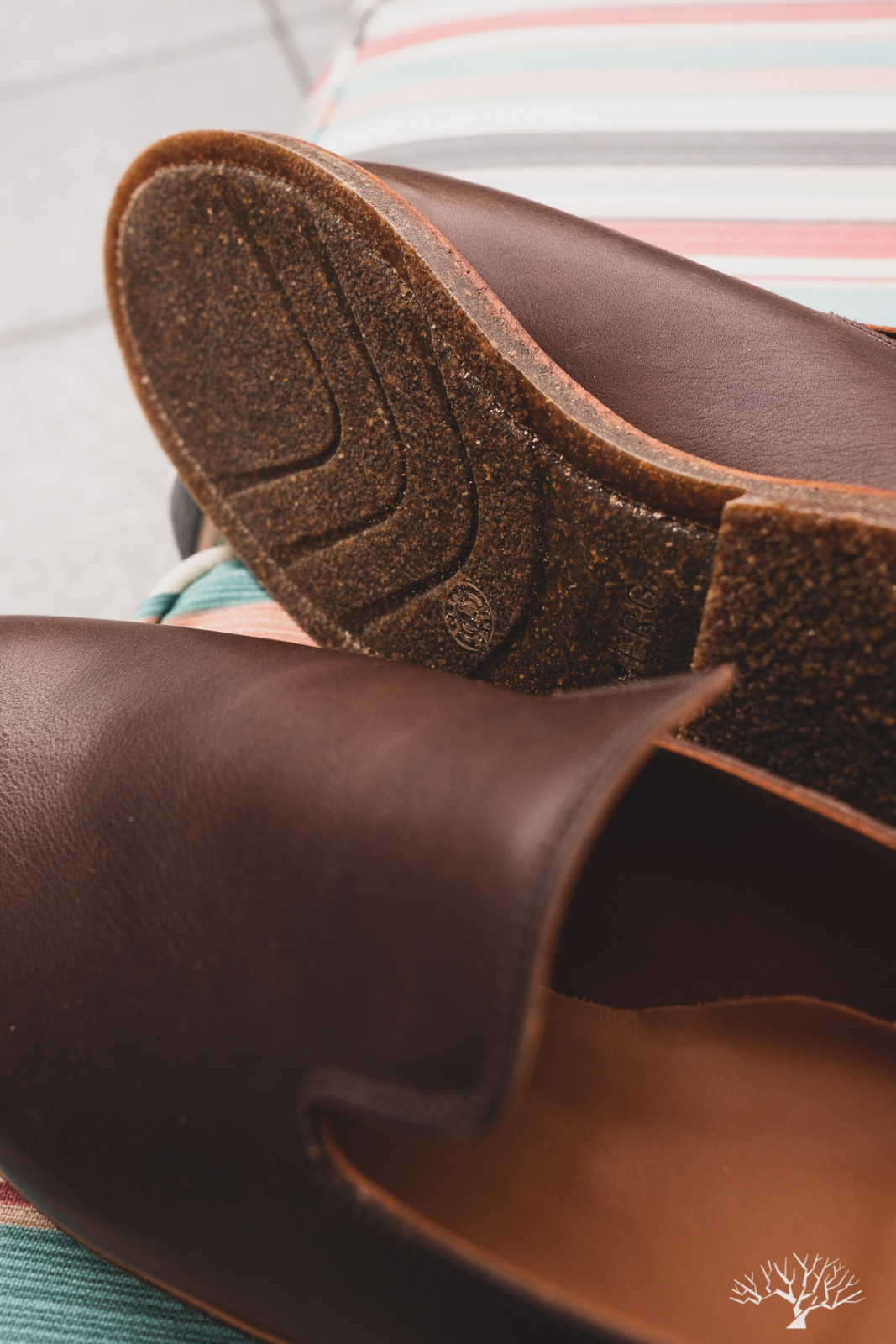 With Viberg switching their Slipper style to the 2030 last (and away from the 2010 last) starting with their SS22 seasonal collection, there's been a slight shift in how the slippers feel, as well as the sizing (more on that below). As the 2030 last is more symmetrical, they actually fit a bit more tight in the toe box. Accordingly, the 2030 last makes the slipper a bit more refined with that almond-shaped toe that many Viberg wearers are familiar with. For reference, my previous pair of the Camel Oiled Calf slippers (2010 last) in size 8.5 measure 4.25″ in width across the toe box. In the Brown Oiled Calf Slippers (2030 last) in size 8.5 measures 4″ in width, and the size 9 measures 4.2″ in width.
On sizing, we'll first note that Viberg recommends taking 1 down from Brannock for the slippers. After trying on a few sizes, our recommendation would be to take 1 down if you plan to wear with thin socks, on the larger end of your size, or prefer a slightly roomier fit when wearing with no socks. Otherwise, you can take 1.5 down from Brannock if you plan to wear with no socks and want a snug fit, or on the smaller end of your size. As noted above, you might want to opt for 1 down instead of 1.5 down if you have wider feet (E or EE width and higher) as the toe box is a tad more narrow than the previous 2010 last.
I personally am a Brannock size 10 with E width feet. Generally with the more recent Service Boots that Viberg has put out over the last year, I would take size 9 in the 2030 and 1035 last. For these Viberg Slippers, for a similar fit and feel as my previous size 8.5 Camel Oiled Calf Slippers, I would take a size 9 in the Brown Oiled Calf. That said, I could also take 1.5 down from Brannock, going down to size 8.5 for a snugger feel. Spending some time trying on both the 8.5 and 9, I would say the main difference is felt in the heel, with the size 9 having similar feeling of the heel coming up as my old slippers, and with the size 8.5 cupping my heel a little better. Additionally, I do notice that in the size 8.5, my pinky toes can feel the edge of the insole – that slight gap between the insole and the vamp. It's not egregious, but it is something to note if you are considering going with 1.5 down from Brannock.
Given that there's been several iterations of the last used on Viberg slippers, as well as general changes to the sizing over the last few years, we'd highly recommend not basing your size for these Brown Oiled Calf Slippers purely off of your prior slippers (2021 or older). However, if you did pick up one of the more recent 2022 (SS22) slippers in 2030 last, then you'll probably be good taking the same size in that (see edit below). If you still aren't sure based on our recommendations, please feel free to e-mail us for additional assistance.
6/7/2022 Edit: After some additional discussion with customers who've picked up the SS22 Slippers (specifically the Camel Waxed Kudu Slippers), we've concluded that the sizing might actually be different despite the SS22 Slippers also being on the 2030 last. We compared the length of the outsole on the SS22 slippers to the Brown Oiled Calf Slippers, and the SS22 Viberg.com slippers were a tad longer (meaning they fit large, and thus you potentially would size down more in the SS22 Slippers vs these Brown Oiled Calf). The difference on a size 8.5 was about 1 cm in length (the Camel Waxed Kudu Slipper was about 1 cm longer than the Brown Oiled Calf Slipper). However, we are pretty confident that the Clove Eco Veg Suede Slippers (that we stocked from SS22) are similar in sizing as these Brown Oiled Calf Slippers. In summary, we always tailor the sizing recommendations to our current run, and we recommend basing your purchases off our current recommendations if at all possible.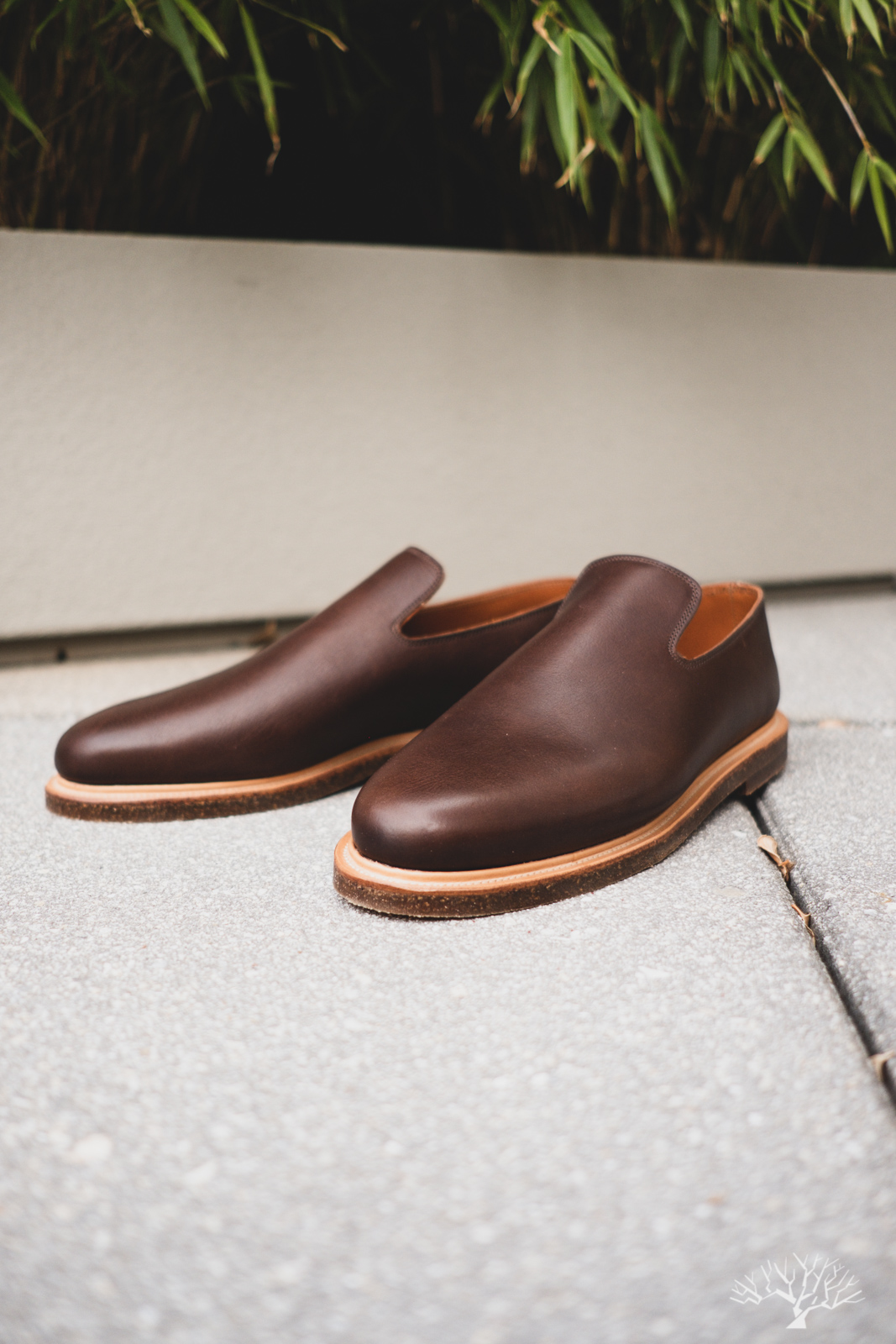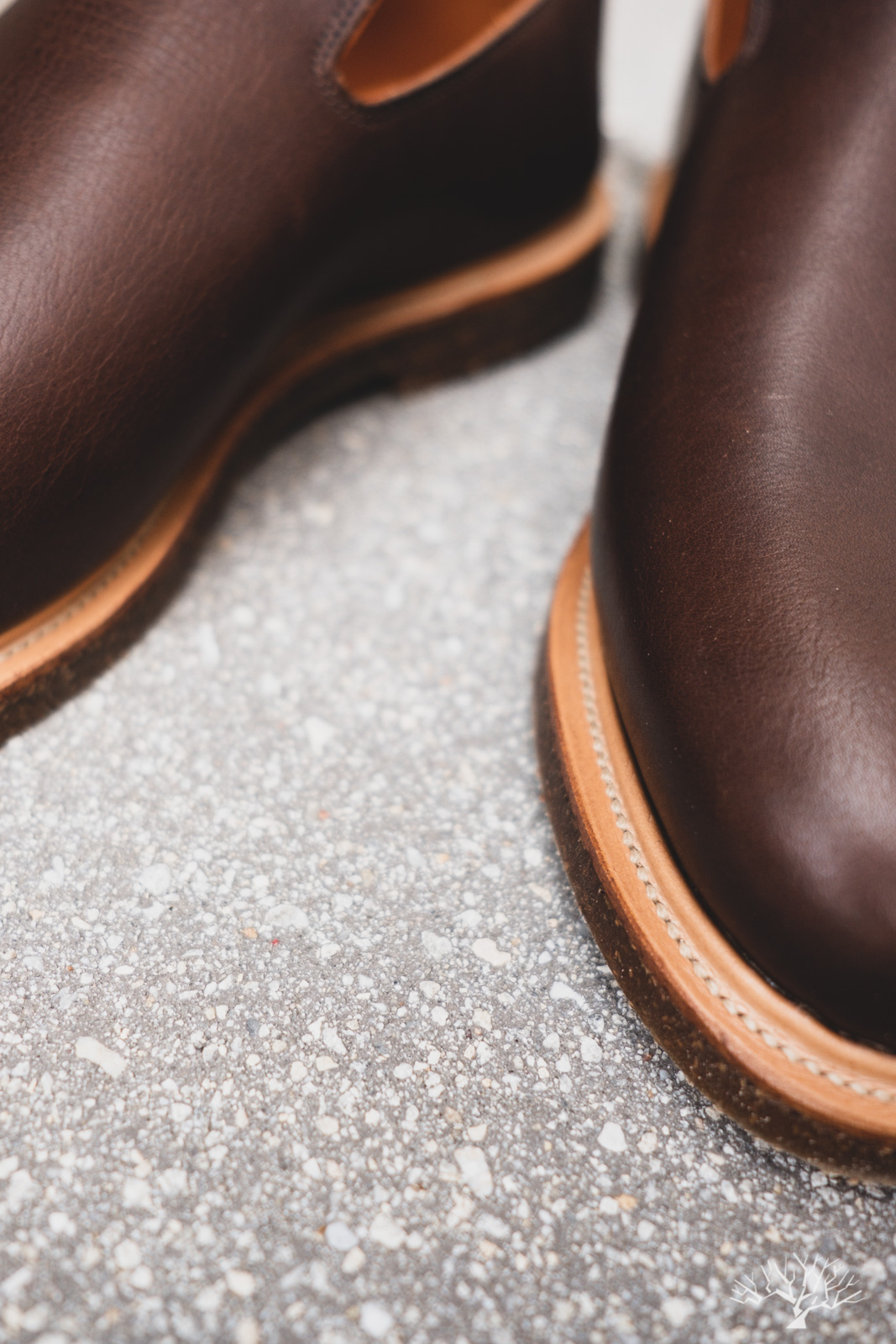 To apply your Withered Fig points, we ask that you pick up the Viberg Slippers at release and send us an email afterwards to apply your WF points as a refund.
The Viberg Slipper Brown Oiled Calf on Saw Dust Lactae Hevea Sole will retail for $580 and be available in sizes 5.5 – 12 (sizes 7.5, 8, 11.5, and 12 are delayed), and will release on Sunday, June 5th at Noon EST. For the sizes that are delayed, will will load them once we receive them; please keep an eye on our newsletter for the release date for those four other sizes. Shop our Viberg Collection here.