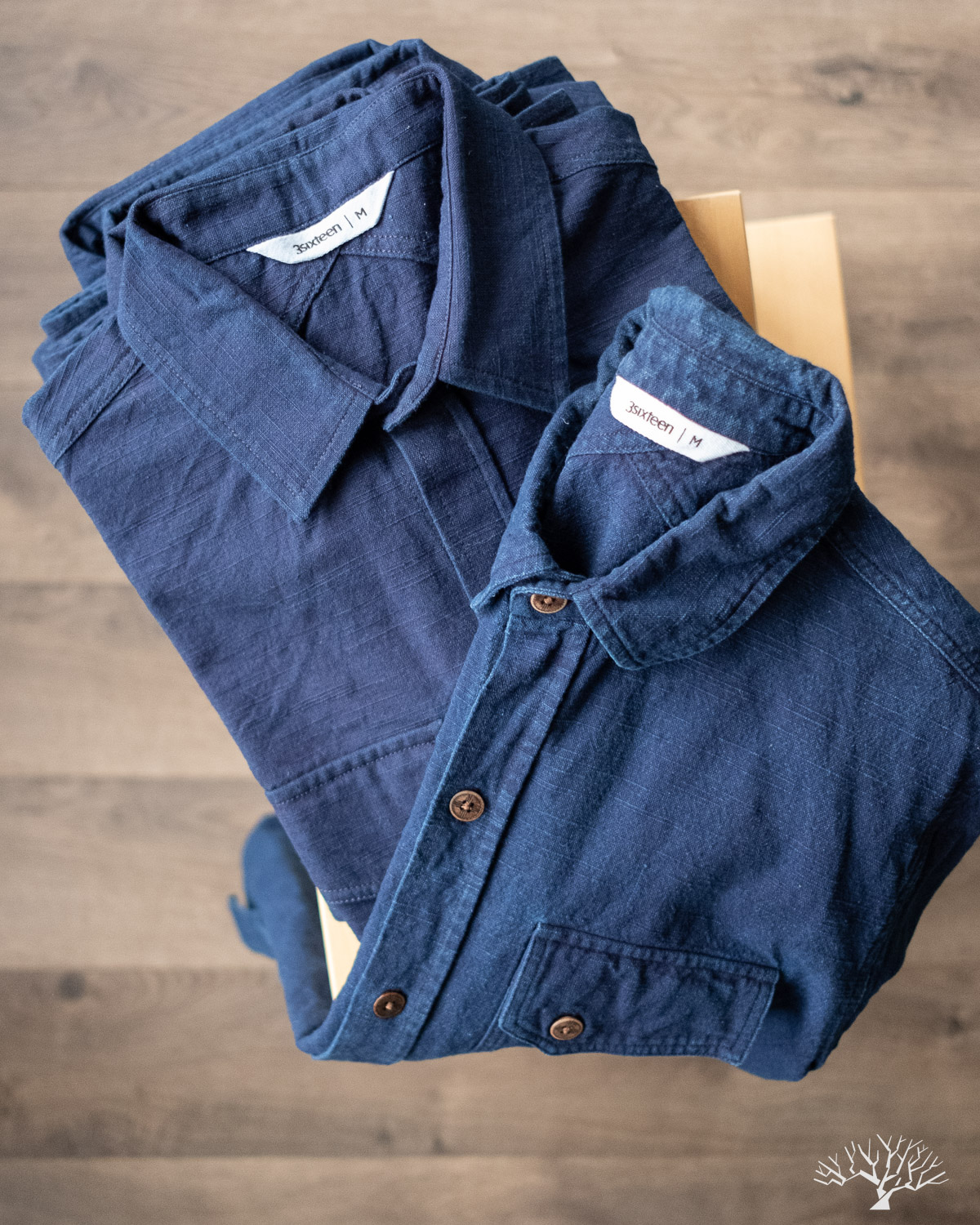 Releasing this Wednesday (February 1) at Noon EST, the Natural Indigo Slub Canvas Crosscut Shirt. As part of our 5 Year anniversary collection, this first piece comes from our good friends over at 3sixteen, who have been foundational partners with us since the beginning and also one of the first brands we ever did a collaboration with (recall the Indigo Nep Ranch Jacket – Overdyed Black) back in 2019.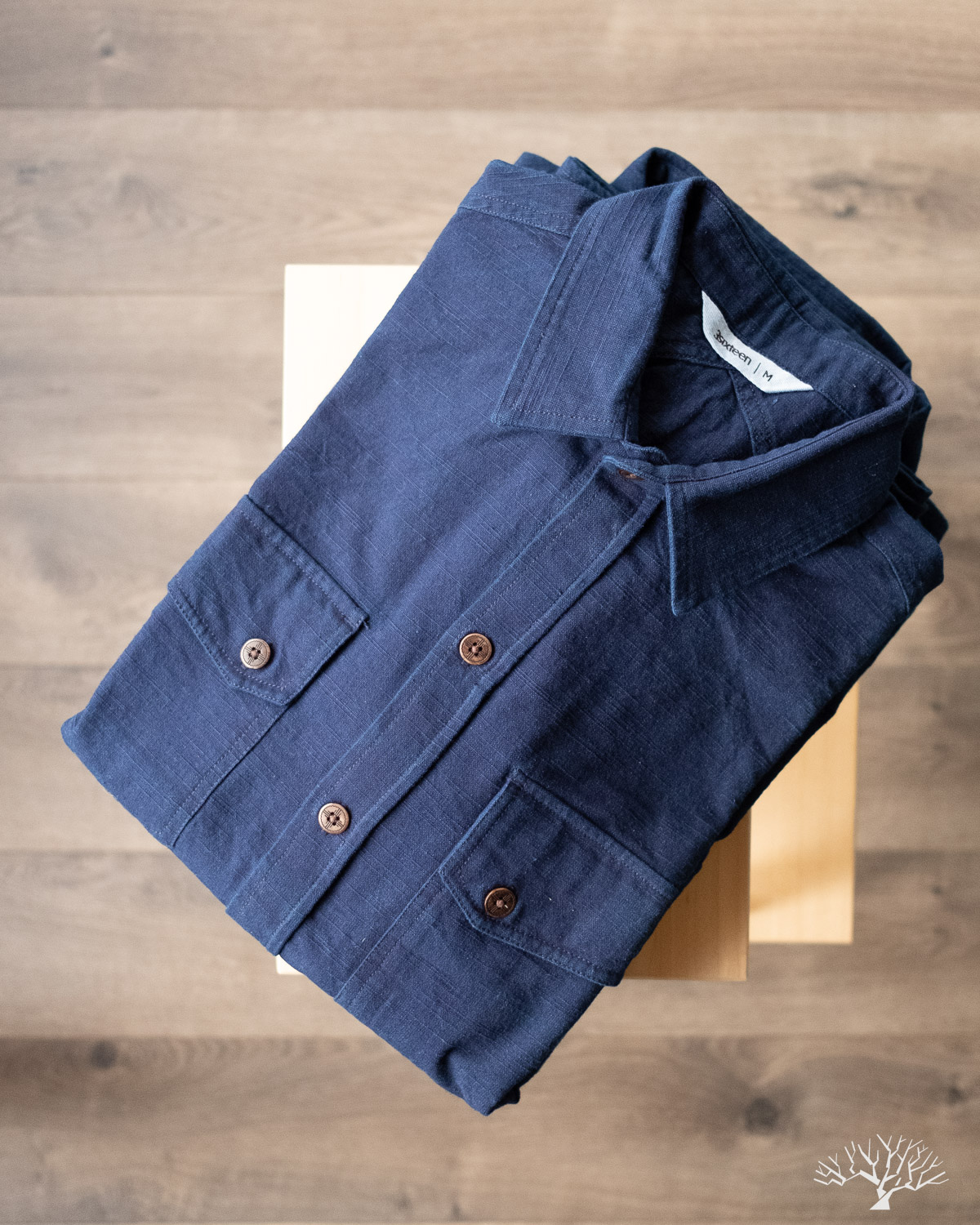 Both 3sixteen and us have come a long way from just a few years back, and the latest collaborative piece – the Natural Indigo Slub Canvas Crosscut Shirt – showcases some of the evolution that both brands have made and the values we have.
For 3sixteen, this piece not only continues to highlight their world of new possibilities with their Made in India capacity, but also exemplifies the value they place on their partnerships with retailers. It's not necessarily an easy thing for 3sixteen to allocate their time and resources to a small project like this, so we are certainly honored and grateful for their friendship and support to us.
For Withered Fig, this Crosscut Shirt is a shirt that continues to highlight the value we place on pieces that we hope will age well as you wear it in. We love to document and write about how these pieces fade and patina, how they stretch and shrink, and how they become uniquely yours. Through our Worn series, we hope to relay not only how "cool" a pair of jeans or a well-worn shirt can evolve over time, but also to emphasize that well-made clothing can and should be pieces that you can wear day-in-day-out, year-over-year. Almost always, our favorite pieces end up being ones that have gotten extensive wear over the course of years, rather than pieces that are justifiably well-designed and aesthetically appealing, but perhaps don't get as much wear.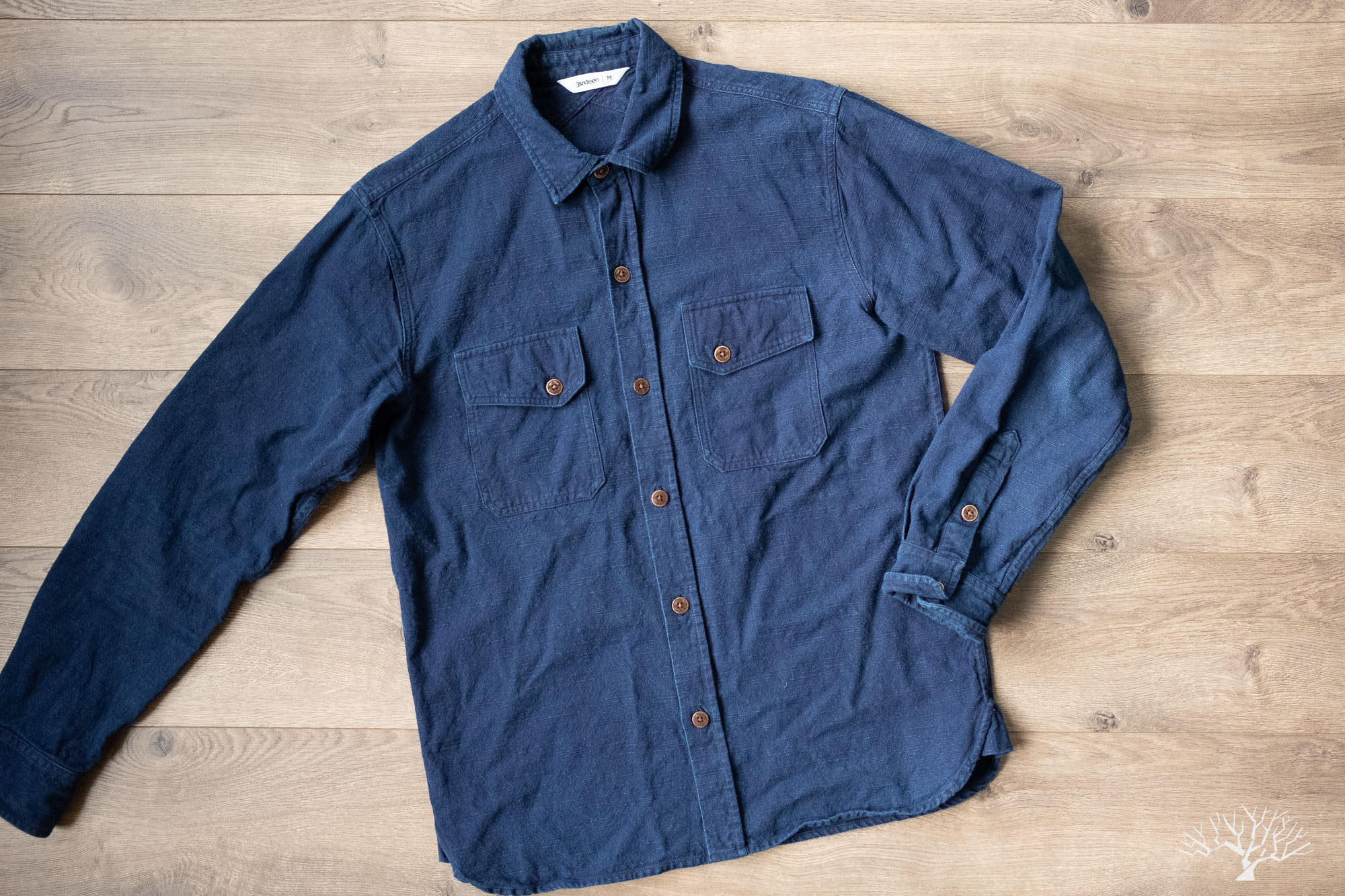 Our initial inspiration for this shirt was a mix between 3sixteen's Frog Camo Fatigue Overshirt (FW18) and their Indigo Knit Crosscut Flannel in terms of seasonality and overshirt functionality, and some design cues from the Brown Twill CPO Shirt. What came out at the end looks nothing like either of these, but hits the mark in terms of finding an all-season shirt (overshirt) that is neither too light nor too heavy, and knocks it out of the park with the aging aspect.
The fabric is a custom woven medium weight (7.6oz) slub canvas shirt, which has been natural indigo-dyed to give it its deep-indigo color. Similar to 3sixteen's other indigo-dyed pieces in the last few seasons, this natural indigo will start fading immediately upon wear for an adventure from the get-go. We stole the same custom stamped bone buttons that were used on the Brown Twill CPO Shirt (FW19) for this project, but had 3sixteen dye them brown for a complementary look between the indigo and brown.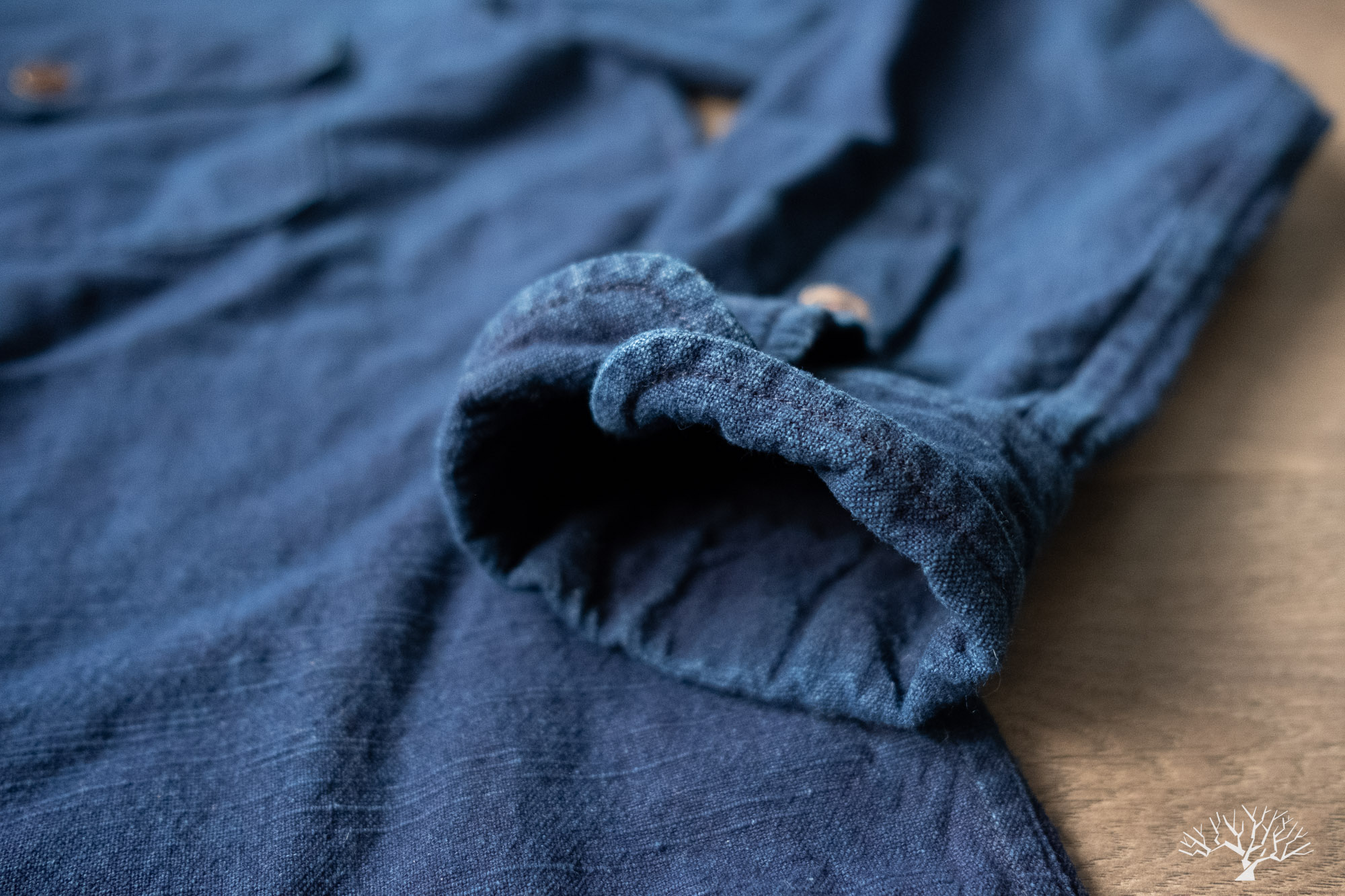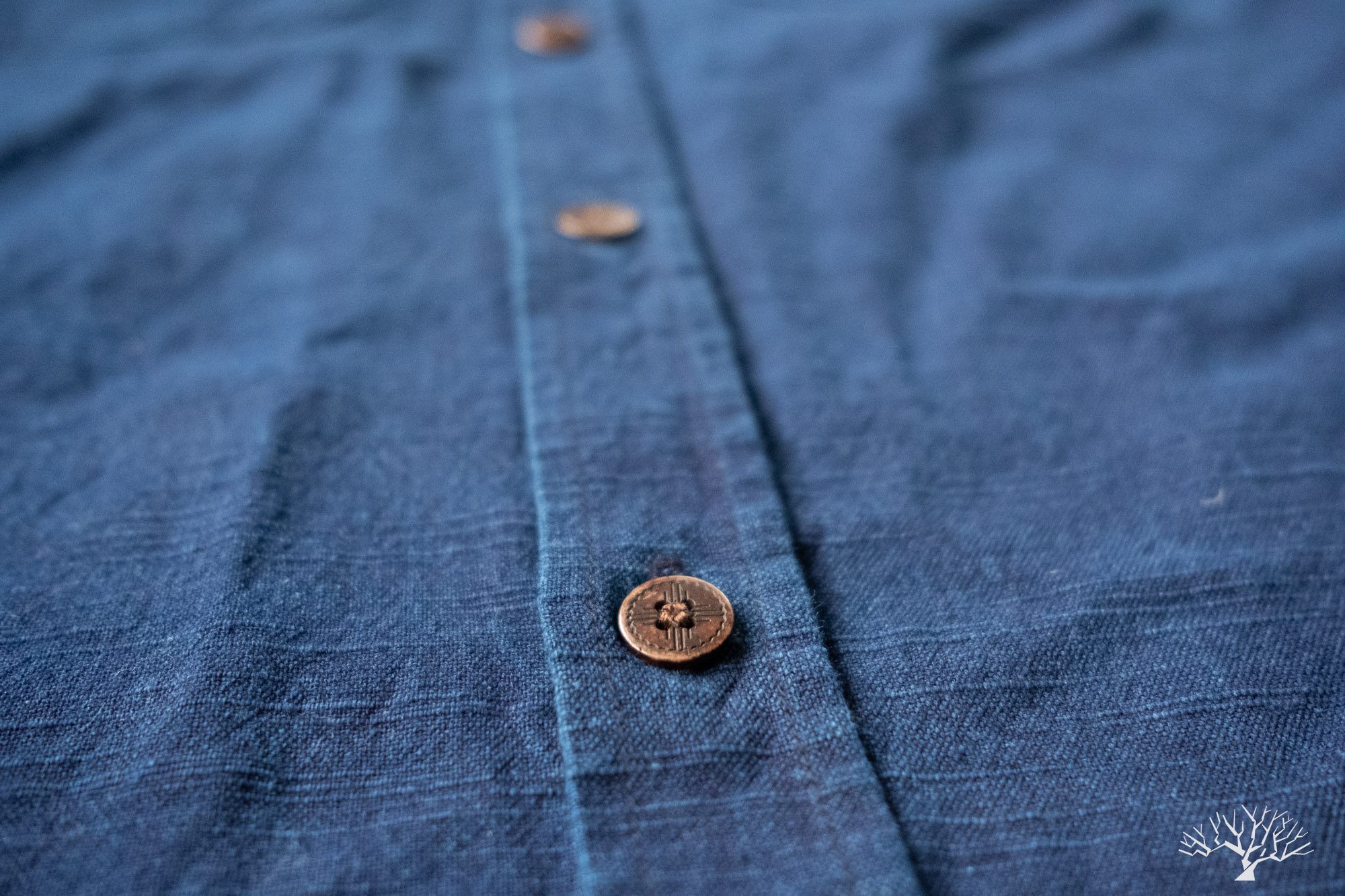 Curious how it might look and feel after some wear? We took the shirt for a spin and wore it over the course of about a month, plus giving it a wash (and accidentally getting throw in the dryer as well). With only a few weeks of wear, it does notably shed some indigo, especially in the high-wear areas. Upon wash, the slub texture gets a bit more pop and the overall hue changes from a deeper indigo to a brighter indigo. Given how quickly this shirt fades, you can take this shirt in a couple different routes. It's likely that you can get a high contrast appearance with this shirt if you avoid frequent washes, but if you want a more vintage-washed out look you can give it regular washes. See more photos below for side-by-side comparison with a worn (left) and unworn Natural Indigo Slub Canvas Crosscut Shirt (folded, or to the right).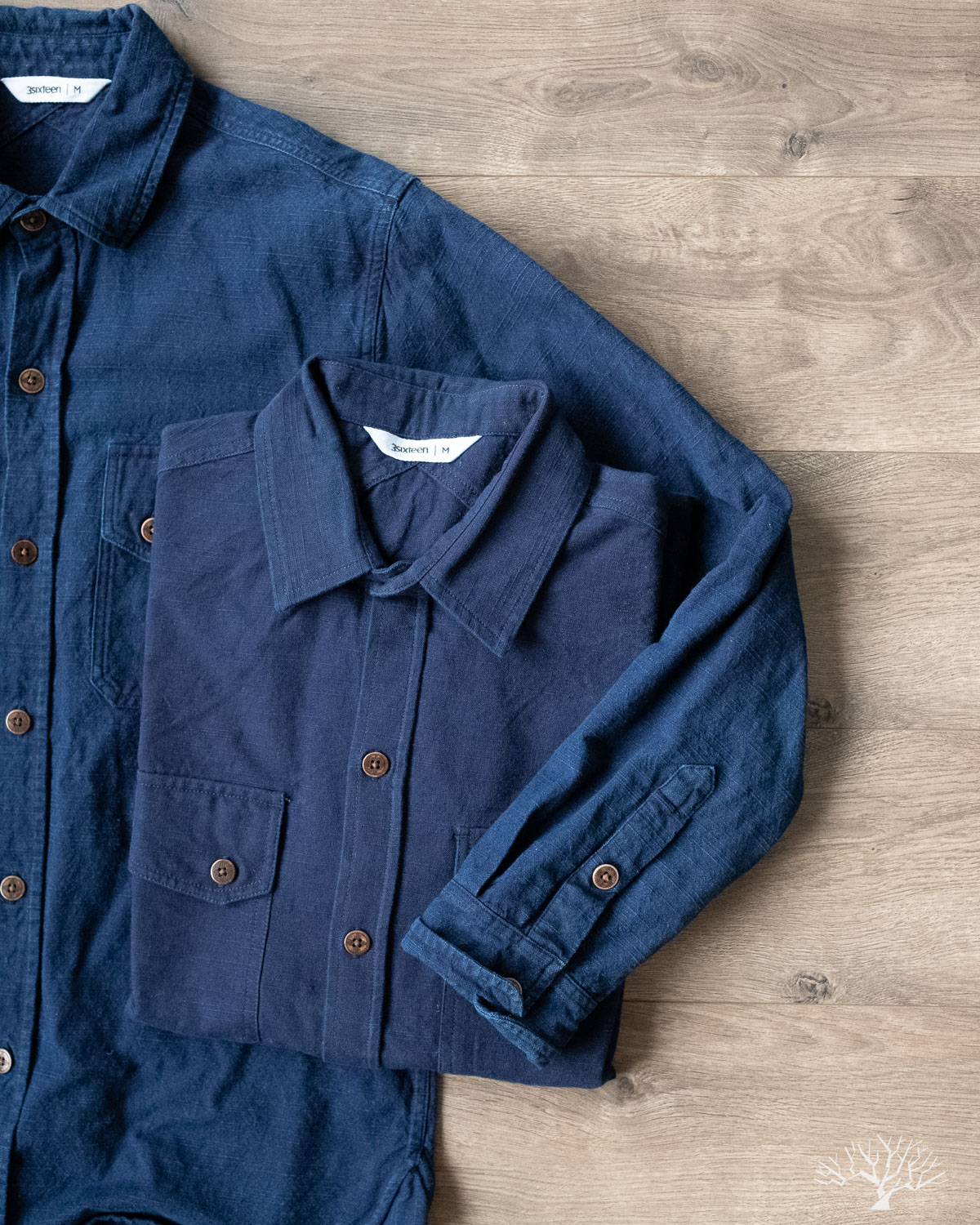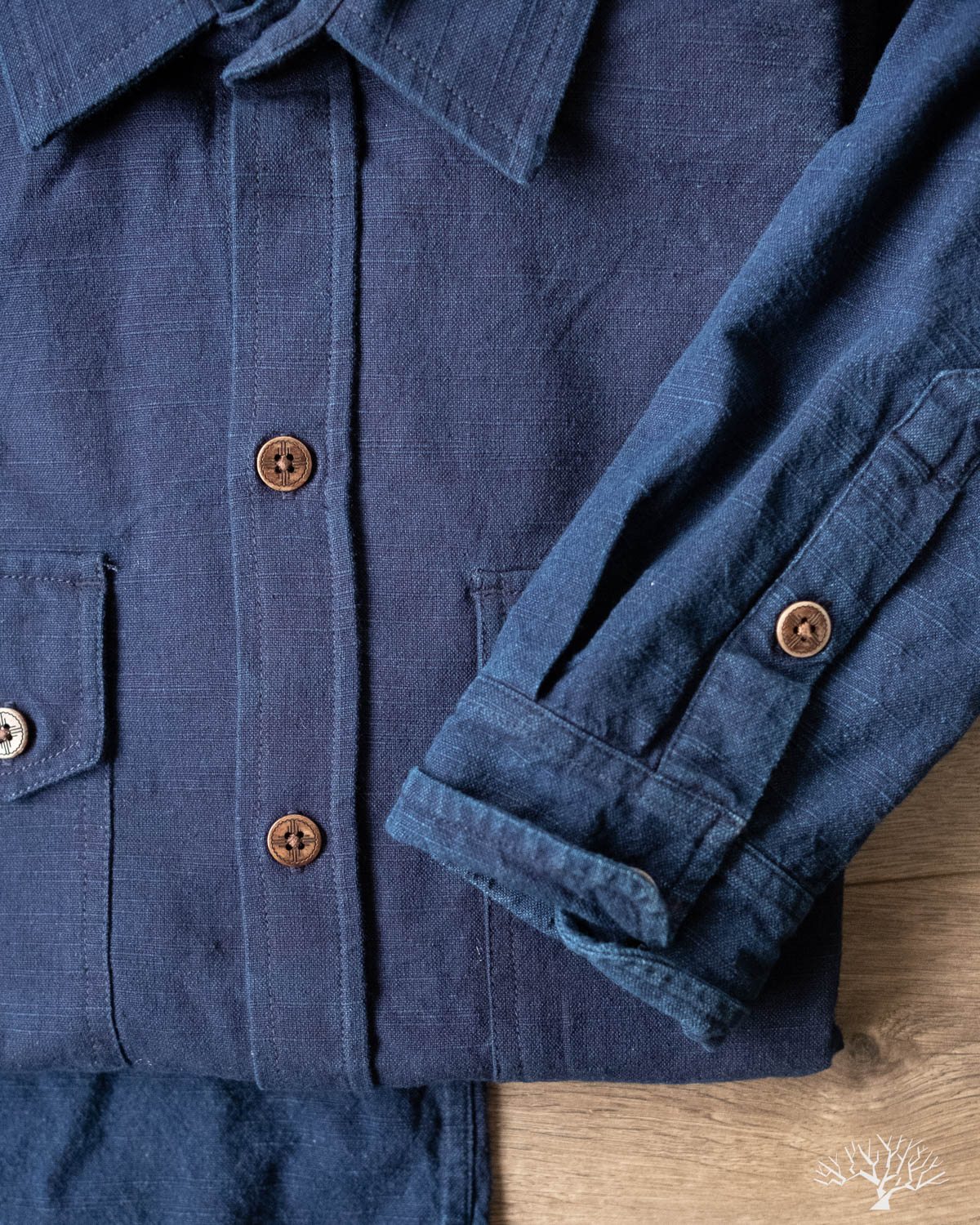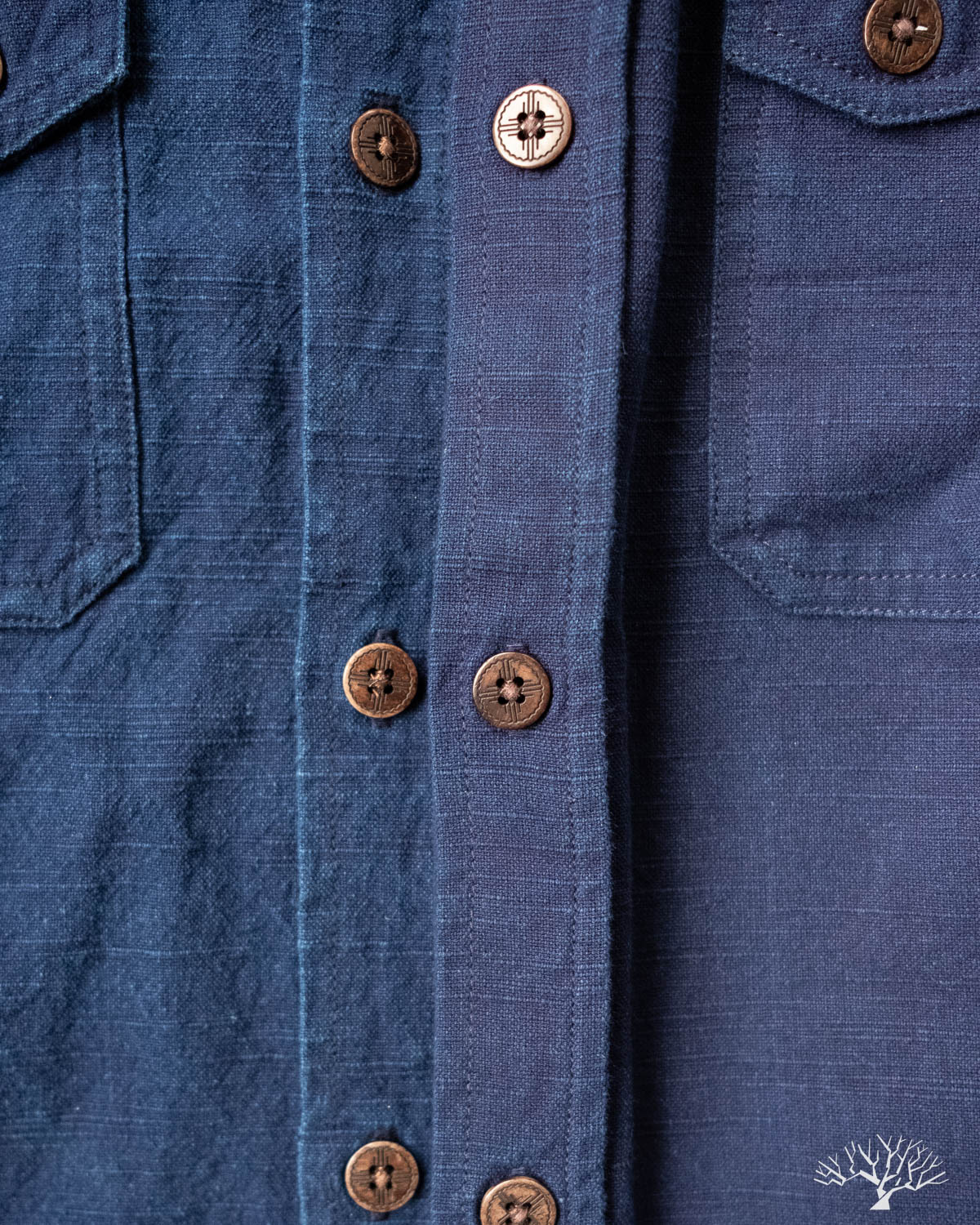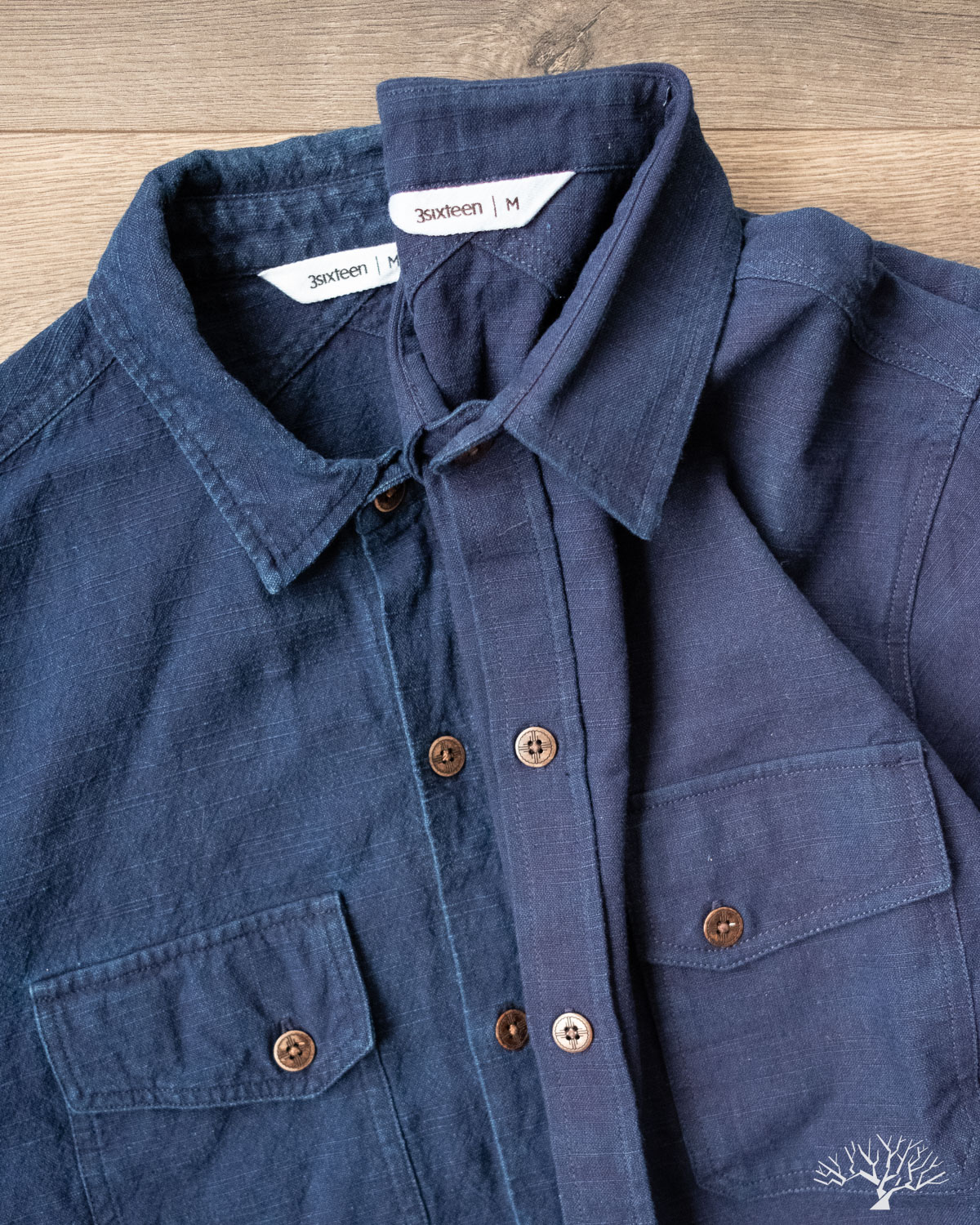 These are cut in their standard Crosscut Shirt pattern, but with the natural indigo dye and the pre-rinse, we do think these run a little smaller than your average 3sixteen shirt. Accordingly, please double check the size chart as you may consider sizing up one from your typical 3sixteen size depending on how you want it to fit. While these are pre-rinsed to eliminate most shrinkage, if you do throw it in the dryer on high heat, you'll get additional shrinkage of up to 0.75" in the chest, and 1.5" in length. In general we recommend hand-wash or machine-wash on gentle, followed by a hang-dry to maintain sizing.
Richard (model photos below) typically wears Medium in all 3sixteen tops (flannels, button-ups, etc.), and is wearing a size M here that fits well. The shirt did accidentally go through the dryer so it has shrunk in length, but otherwise would be a good slim fit.
| Size Chart (inch) | Chest | Bottom | Shoulder | Sleeve | Length |
| --- | --- | --- | --- | --- | --- |
| S | 20 | 20 | 17.5 | 24.75 | 27.6 |
| M | 20.75 | 20.75 | 18.2 | 24.75 | 27.75 |
| L | 21.75 | 21.75 | 18.6 | 25 | 28.25 |
| XL | 22.5 | 22.5 | 19.25 | 26.25 | 29.2 |
| XXL | 23.75 | 23.5 | 20.25 | 26.2 | 30 |
The 3sixteen Natural Indigo Slub Canvas Crosscut Shirt retails for $220 and will be available exclusively on Withered Fig this Wednesday (February 1) at Noon EST.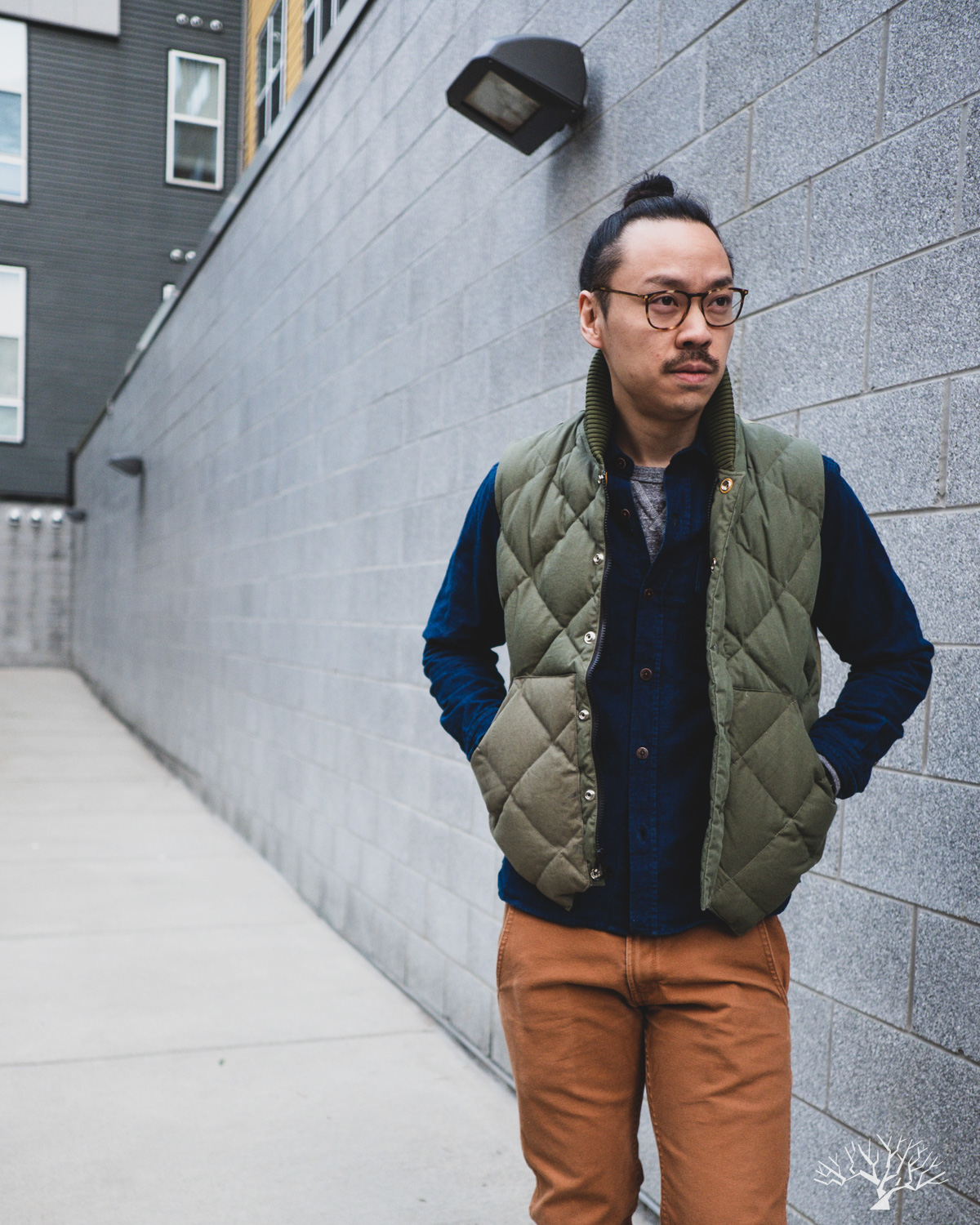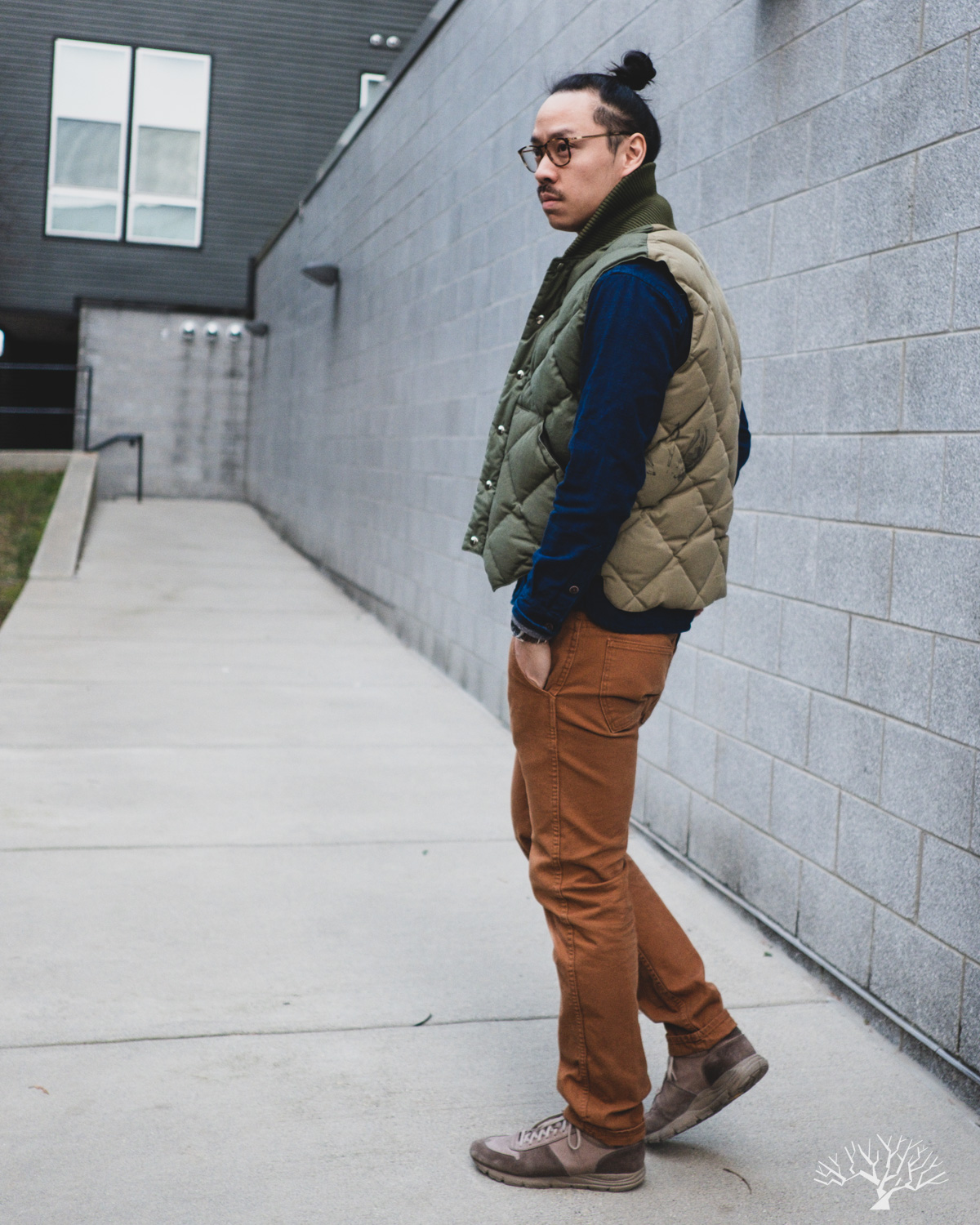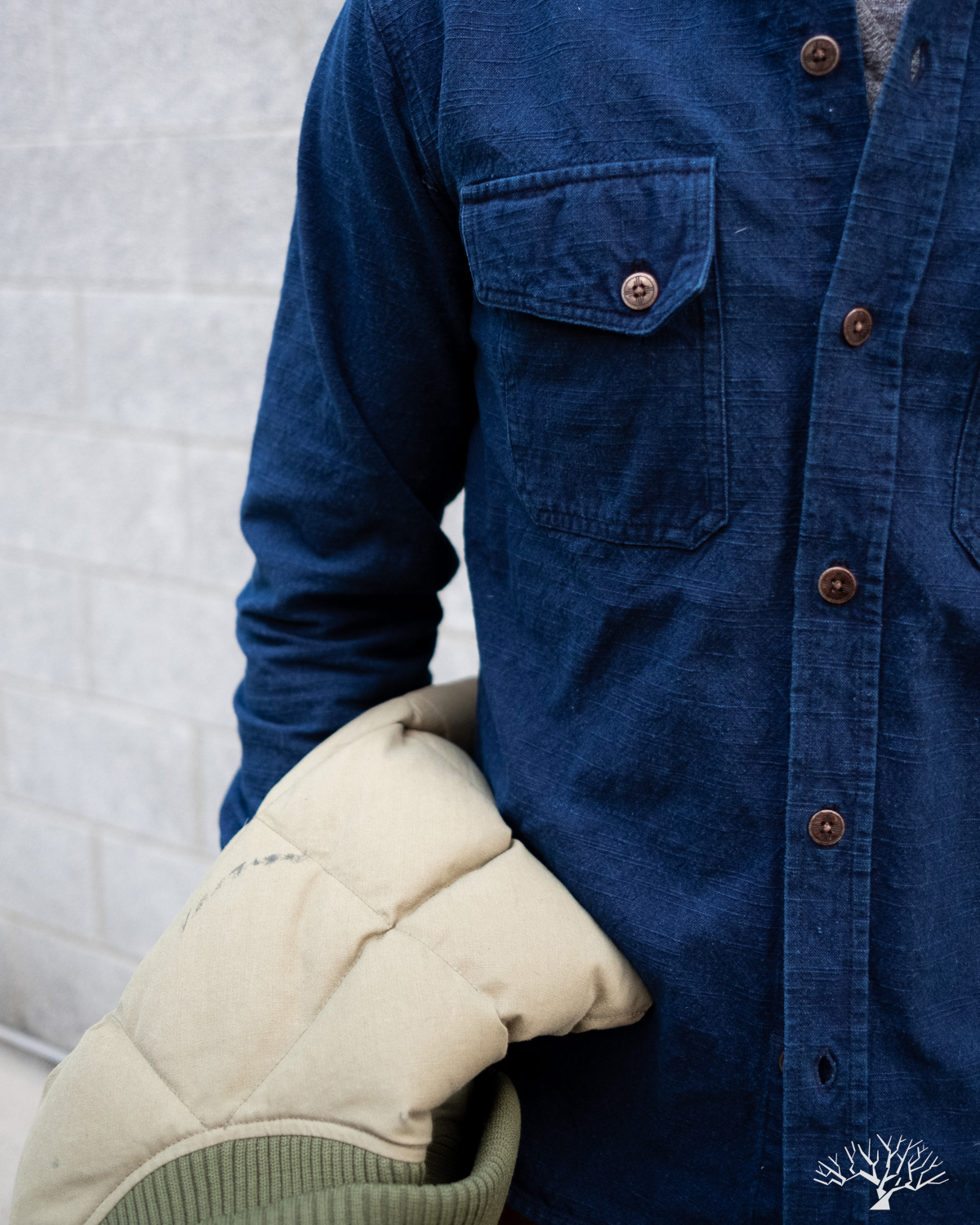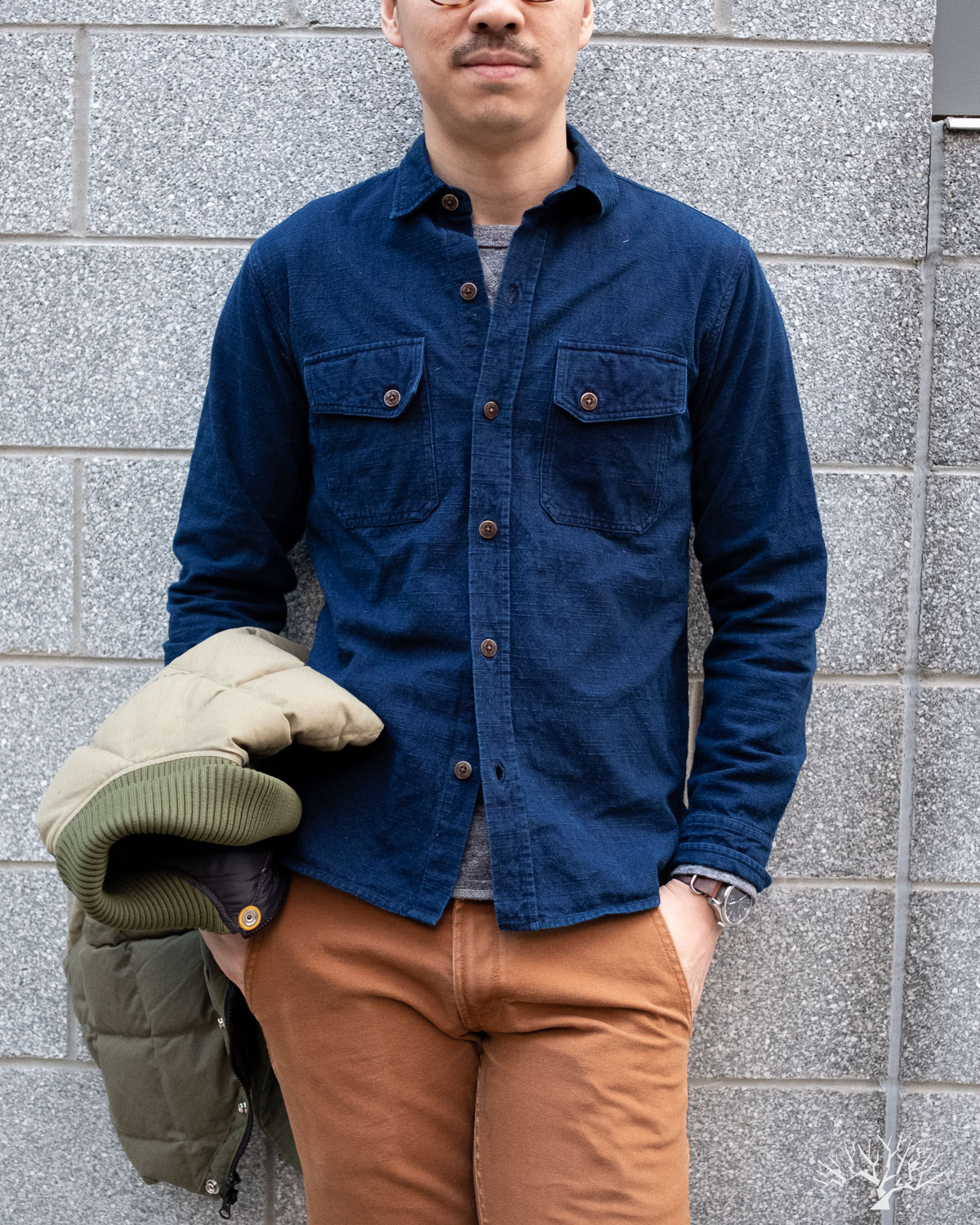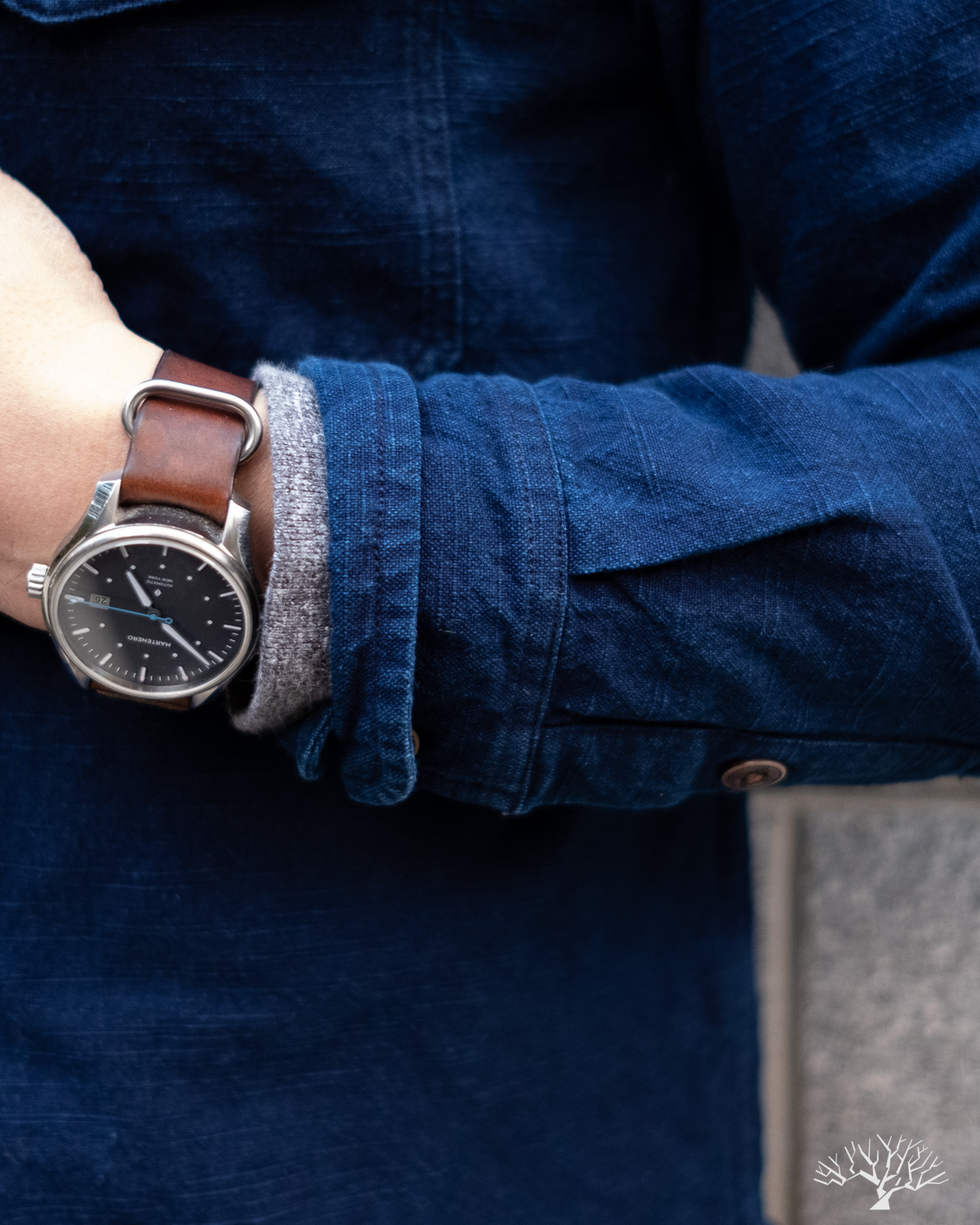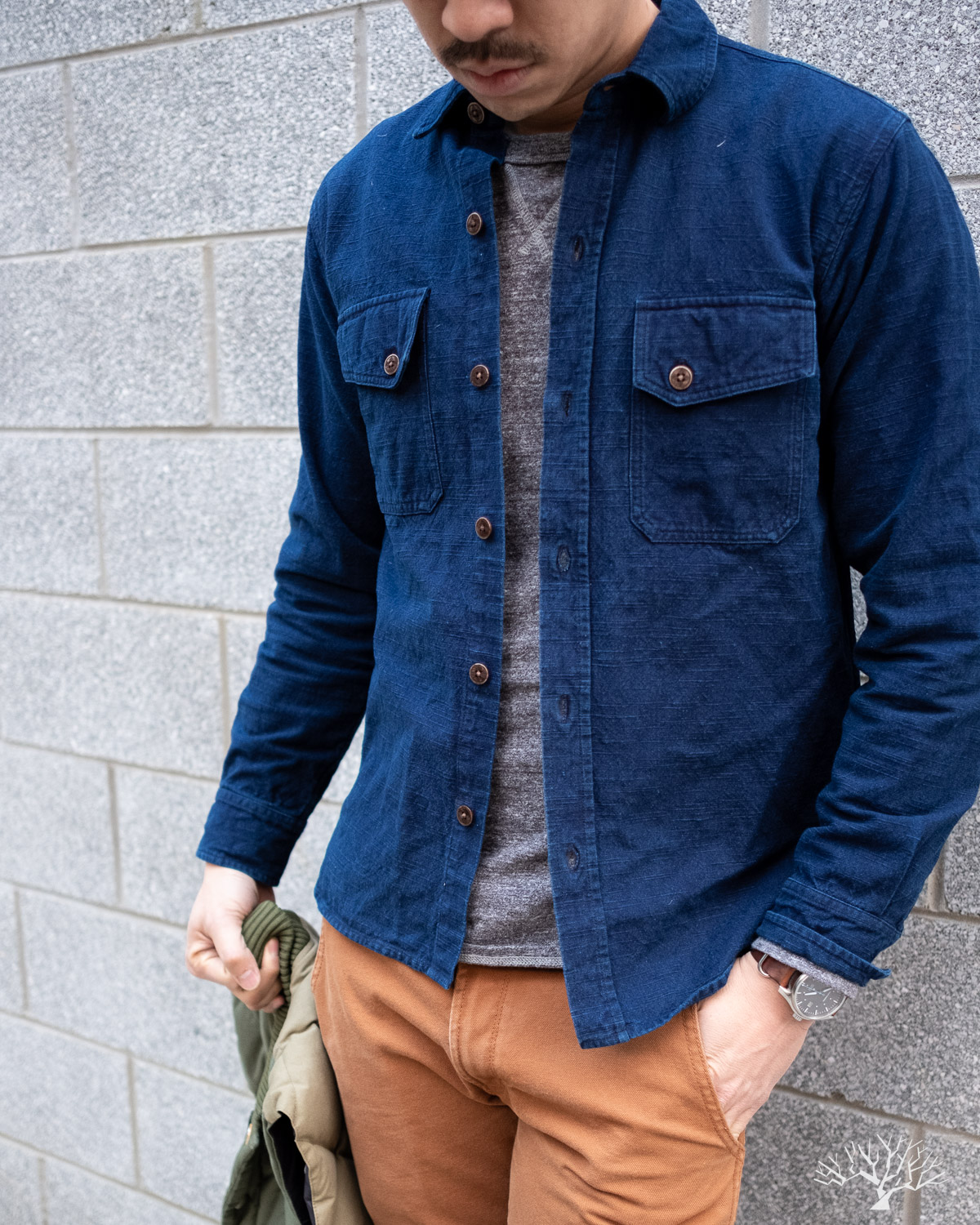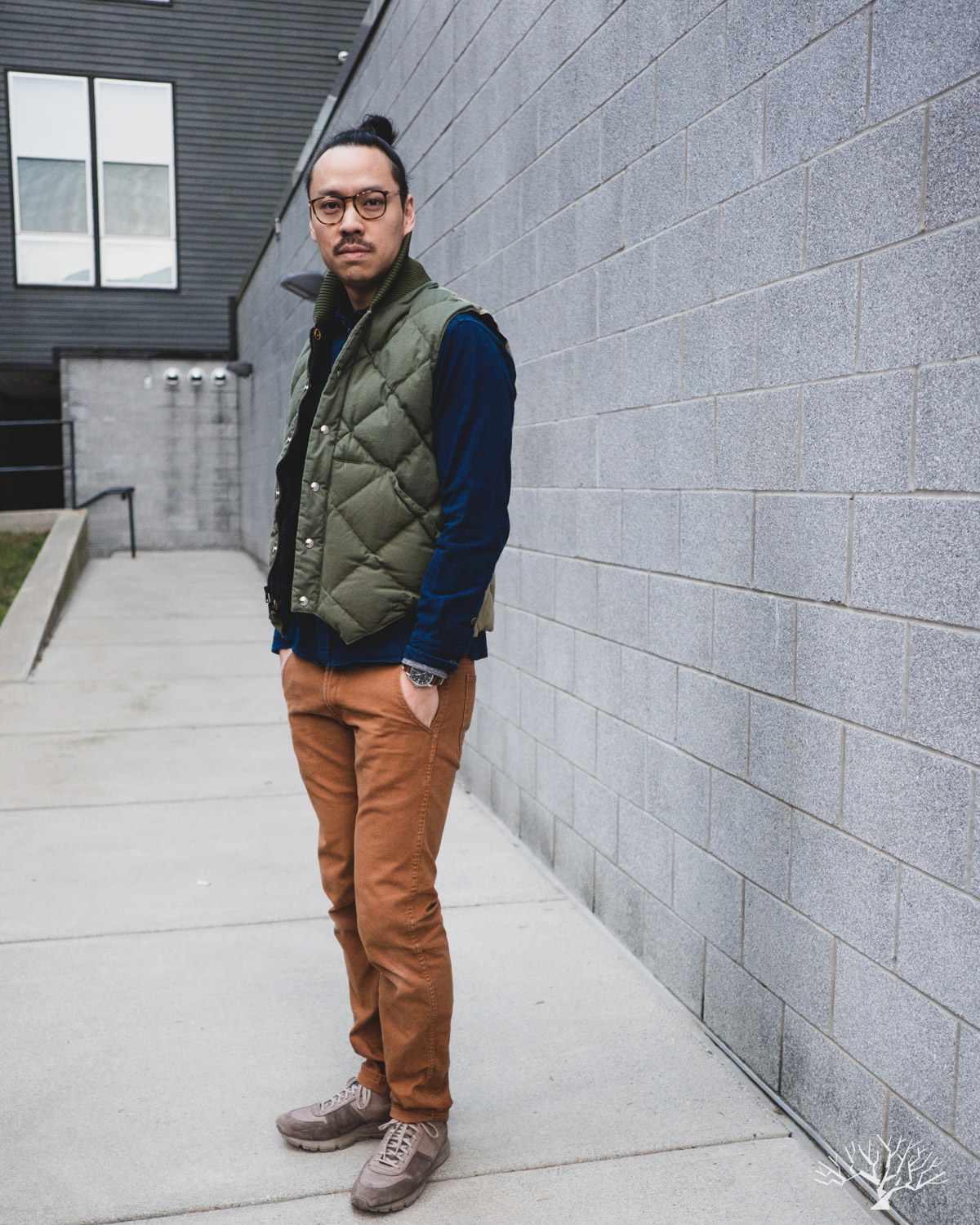 ---
What's the 5 Year Anniversary Collection? We're celebrating 5 years of Withered Fig with a collection of exclusive collaborative pieces from head to toe. We technically passed our 5th year anniversary back in October 2022, but with some setbacks on our end in getting our new showroom up and running, as well as general supply and manufacturing issues with our brands across the board, we figured a collection of rolling releases throughout the year would work perfectly in lieu of one giant drop of releases.