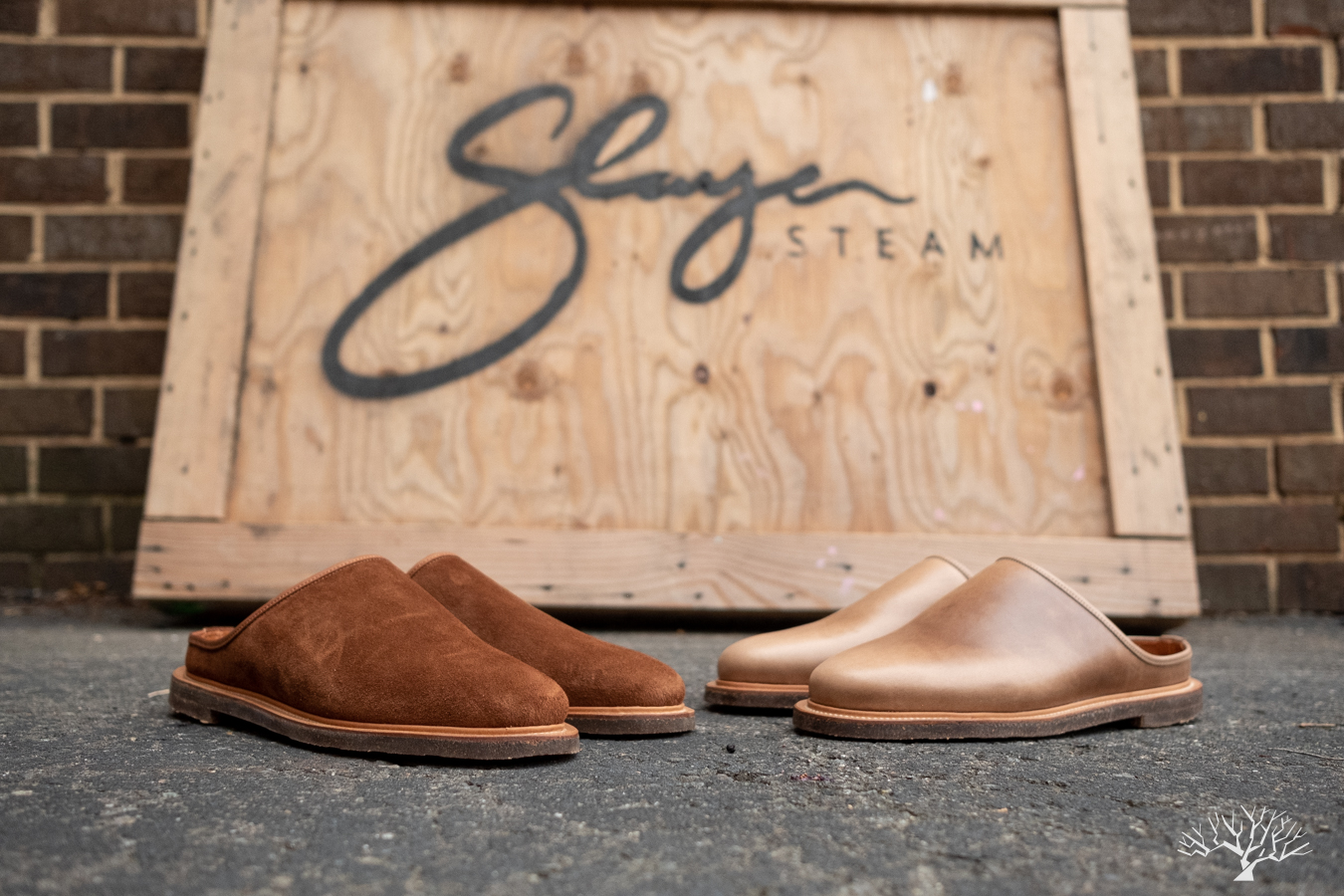 Two Viberg for Withered Fig Mules, both on Sawdust Lactae Hevea, in your choice of Chestnut Calf Suede or Natural Chromexcel (CXL). The third of our Viberg for Withered Fig special make-ups as part of our 5 Year Anniversary. Releasing Sunday, June 11th at Noon EST. The Chestnut Calf Suede Mule will be available in sizes 5.5-12, and the Natural Chromexcel in sizes 7-11.5.
Viberg for Withered Fig Exclusive
Chestnut Calf Suede (C.F. Stead, UK) or Natural Chromexcel (Horween, USA)
2030S Last
Sawdust Lactae Hevea Sole and Heel
Tan Kip Lining
Light Brown French Binding on Chestnut Calf Suede or Tan French Binding on Natural Chromexcel
Unstructured Toe
360 Natural Storm Welt
Natural Midsole
Channeled Insole
Goodyear Welt Construction
Includes Viberg Dust Bag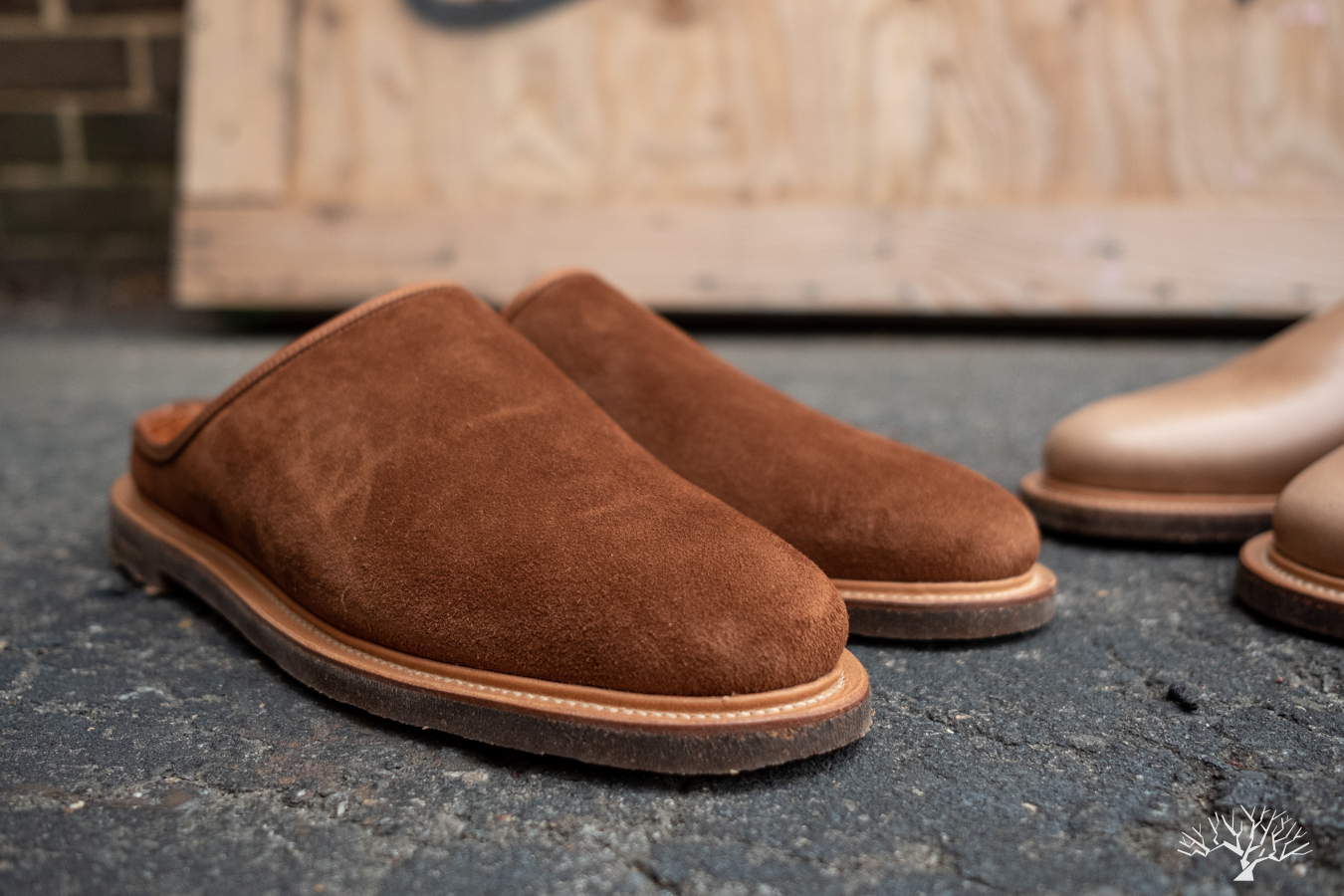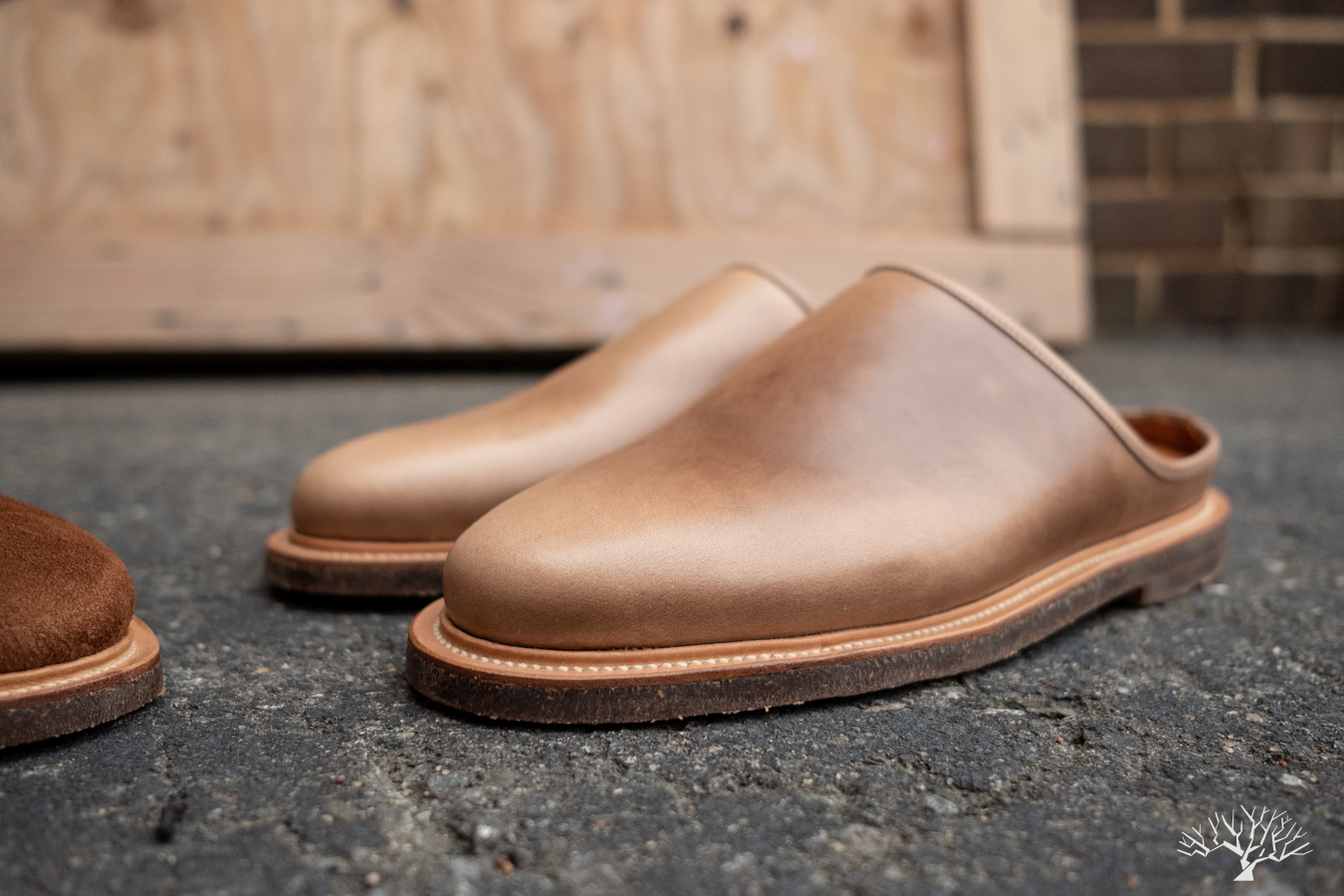 We're full on into summer and there's no better time than right now to grab a pair of Mules. We've leaned heavily into Mules this Summer, with two make-ups in slightly different directions, but both with versatile appeal. Partly from personal interest in getting an easy-on, easy-off pair due to now having a little one in the house, but also because we love tapping into new styles that we've never carried. We kicked off SS23 with a well-received pair of Safari Janus Calf Suede Mules (the worn pair shown below, in front of the Chestnut Calf Suede Mule). Continuing as part of our 5 Year Anniversary collection, we've got two new exclusive Mules in a lovely chocolate brown Chestnut Calf Suede and a neutral-tan Natural Chromexcel.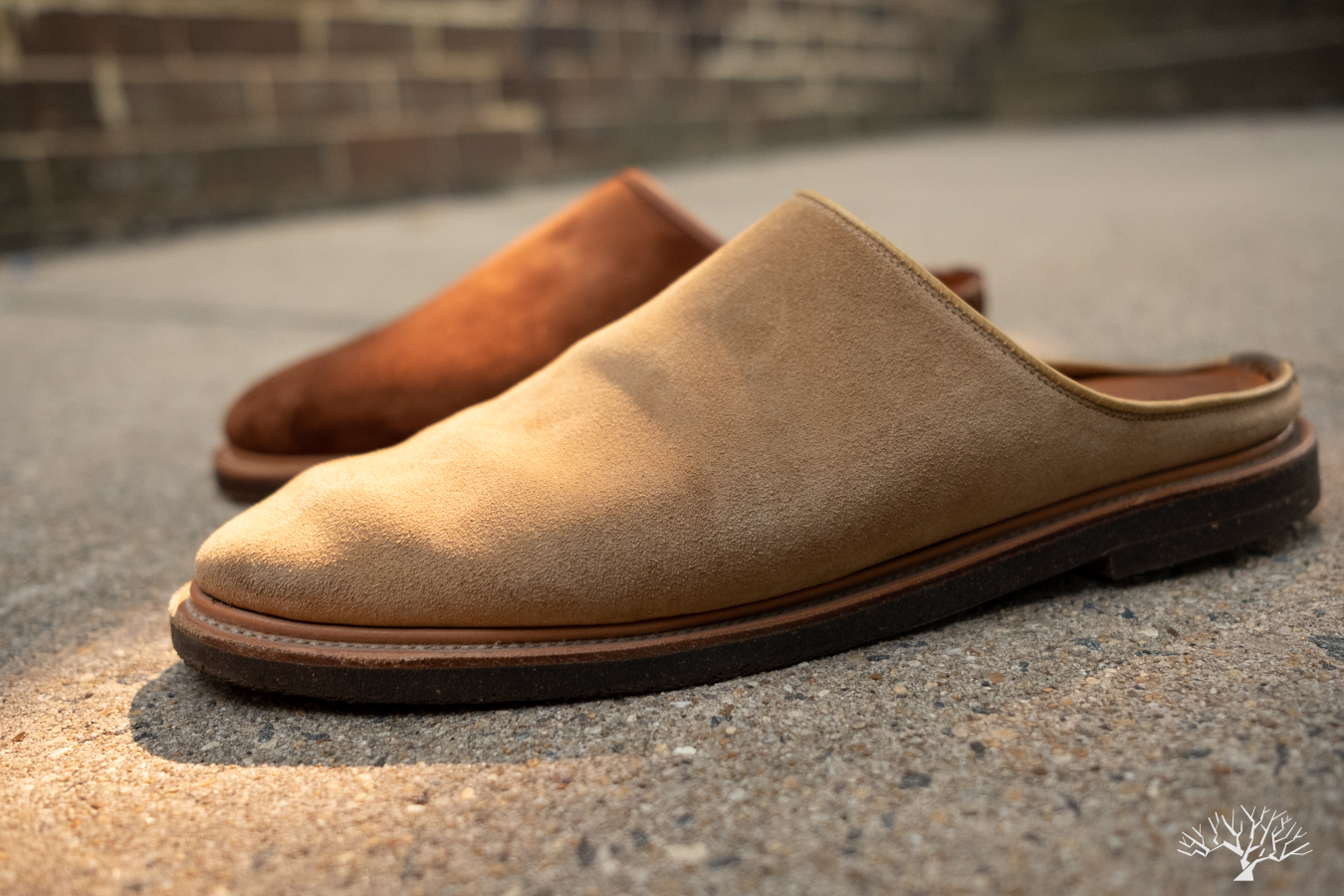 So what's the deal with the Viberg Mule? In short, it's a chopped version of the Viberg Slipper. Well, sort of but not really. It has similar characteristics of the Viberg Slipper in the wholecut pattern and the unstructured toe and similar construction (generally most will be 360 Storm Welt), but with some small notable differences. The edge of the upper if finished with French Binding and there's the obvious lack of a heel on the back-end of the Mule. More importantly, there is some fit and wear differences between the two, which we'll get to in the sizing portion a few paragraphs down.
Style-wise, we would offer that the Mules are an excellent option if you generally wear more casual outfits and straight/relaxed cut pants. The Mules' open heel and slightly beefier appearance than the Slippers makes for a suitable pairing with these easy-going, loose-fitting, comfortable feeling outfits. You can certainly also pair the Viberg Mule with some slim-fitting denim or pants and it'll look just dandy. Au contraire, we find the Viberg Slippers to be better suited for the slim-fits, and they can look a little off when paired with wider fitting pants.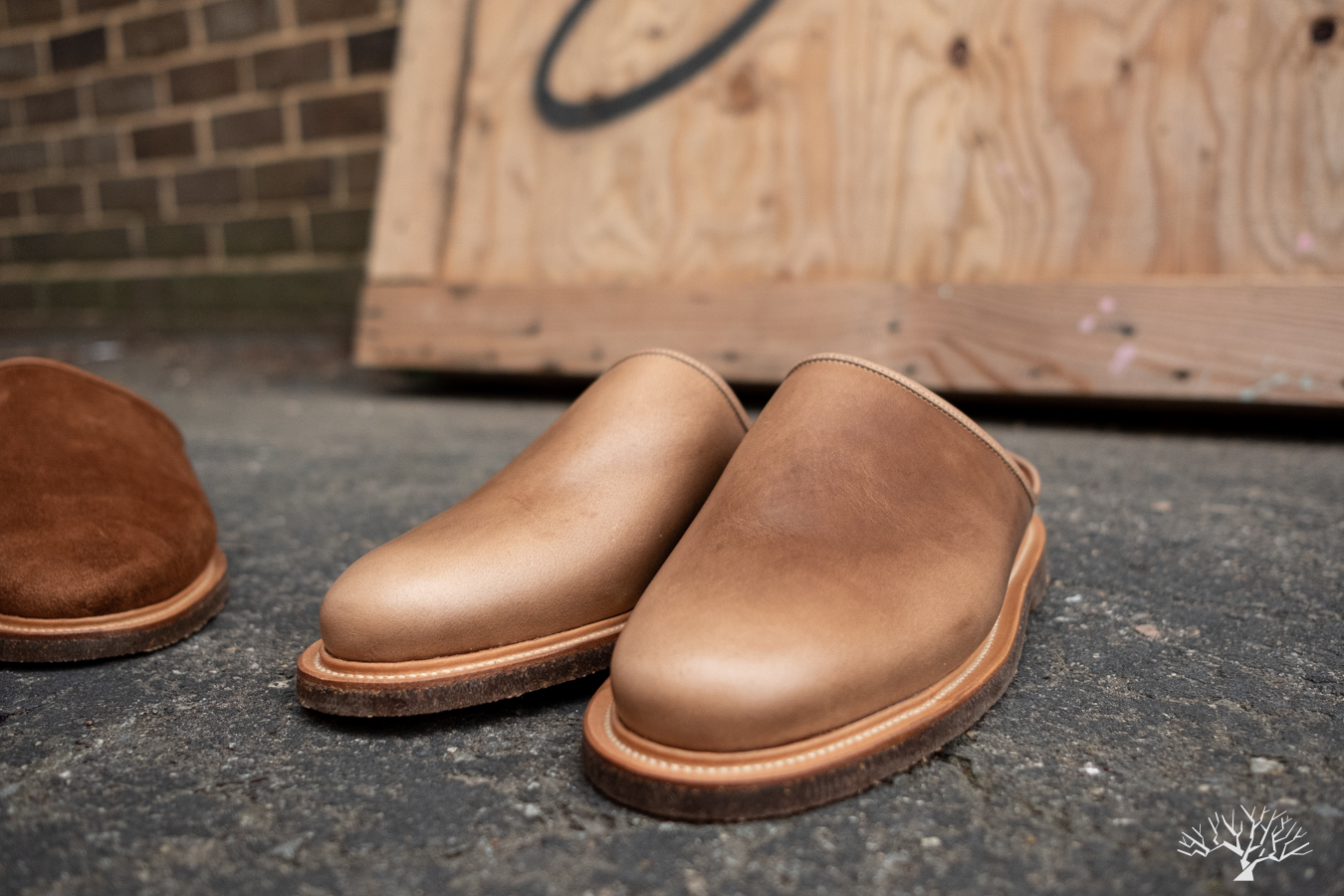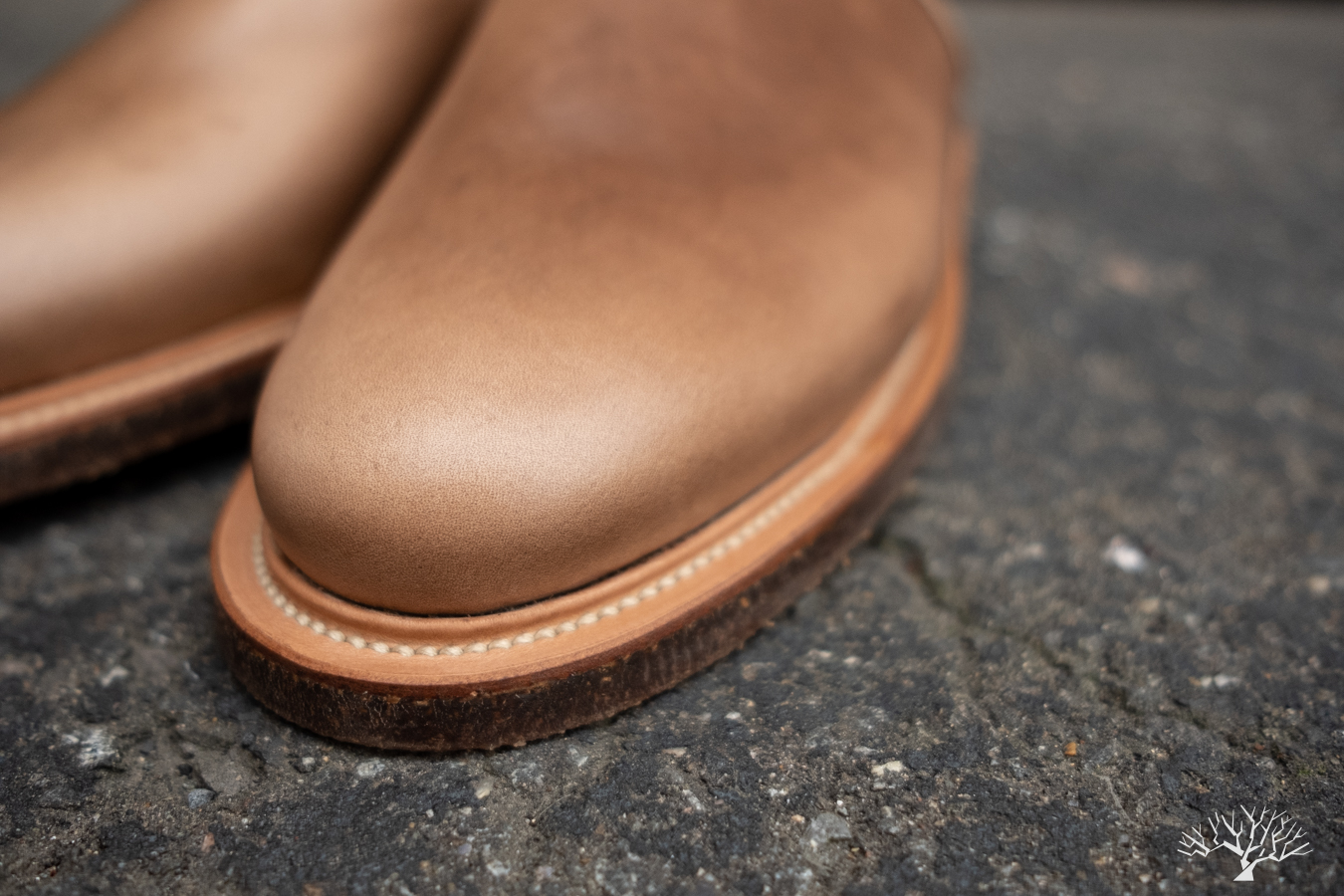 The selection of a suede and a smooth-side leather was purposeful in giving our customers options. We know some of you are just down for any and all, while others are specifically looking for a smooth-side option. Many Viberg Mules of yester-year seem to be produced with suede leathers, so having a non-suede option was something we really wanted to pursue. If that's what you're looking for, then the Natural CXL will be your obvious choice. But if you could go either smooth or roughout (suede here), then you've got some decisions to make.
Generally we think the Chestnut Calf Suede will be a little more versatile, yet with a slightly more formal feel to it due to the dark brown leather. It does have some slight orange undertones in direct sunlight, which helps give it a nice pop. The color will work well with light and dark colored denim, a wide range of pants from olive/green to navy, and light-colored pants and shorts will definitely shine. As well, Khaki pants will fair pretty well given the darker brown. While dark brown suedes tend to come across as slightly more dressy and formal, the use of this leather on the Mule is an interesting juxtaposition that will allow the wearer to take it in very different directions. Think of these in a summer wedding with your linen blue suit, or going the other way, throw them on with a pair of straight-legged green fatigue pants and a white tee.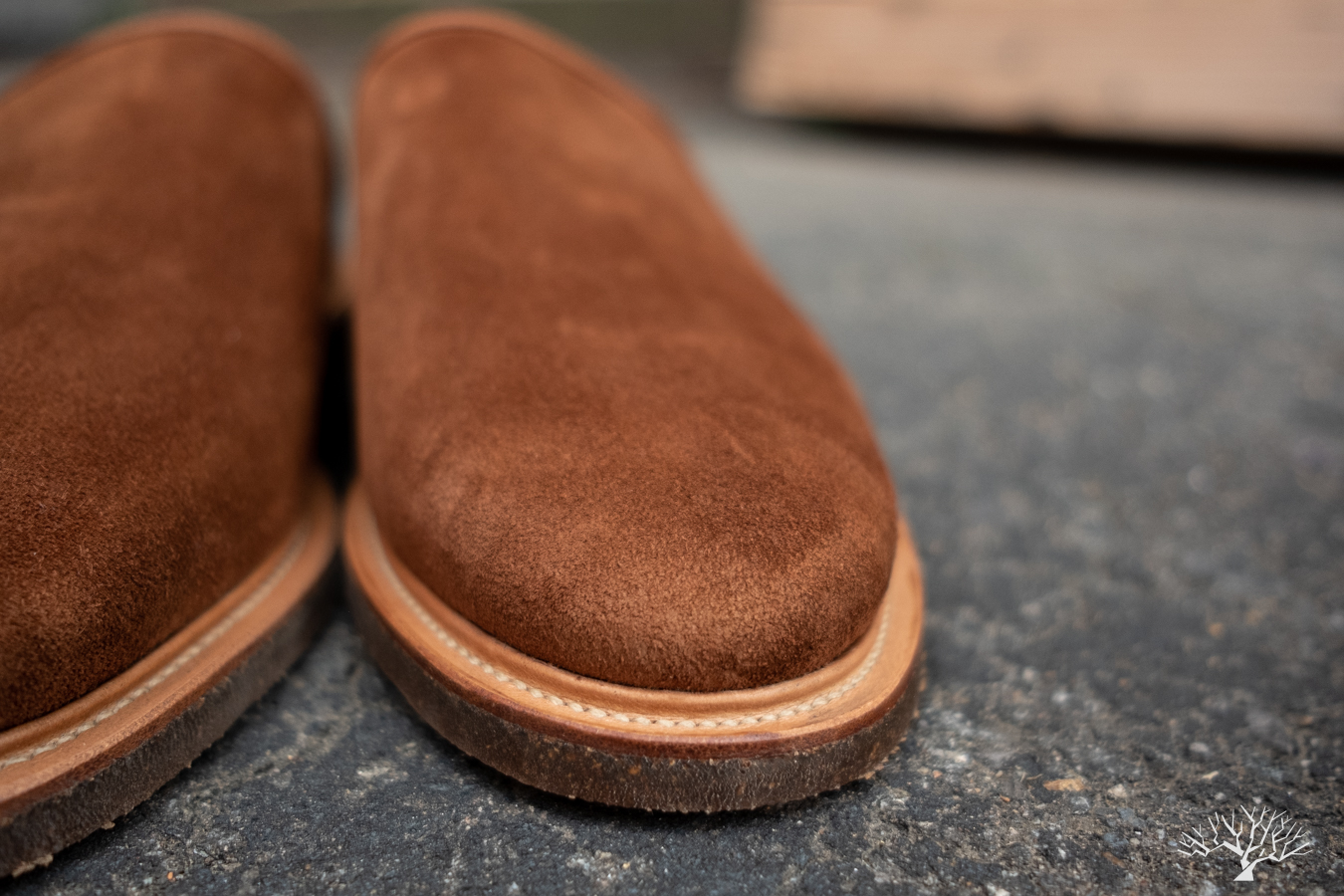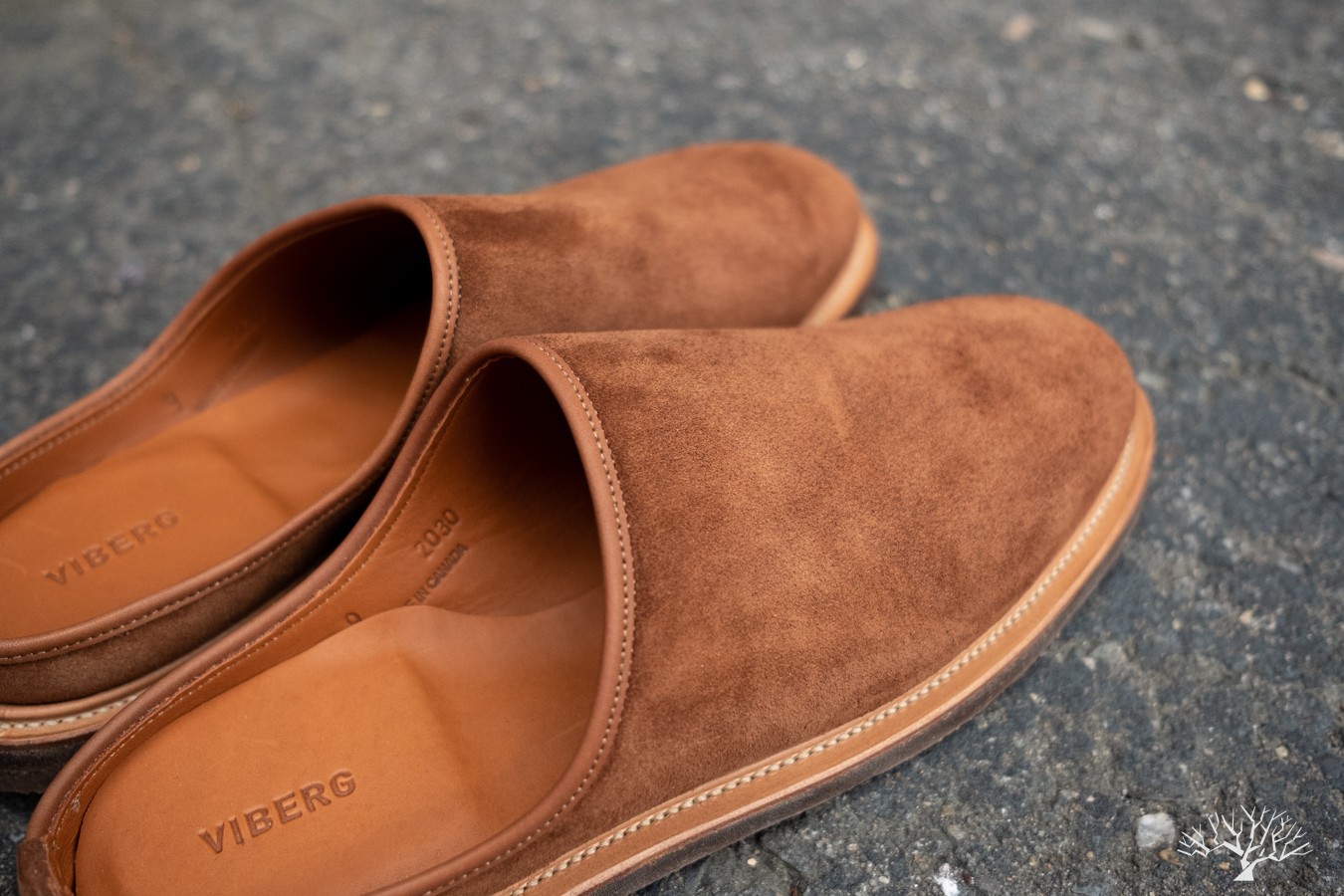 On the other hand, the Natural CXL tends to be a leather that we love to pair with some good ole' denim or navy-colored pants. Perhaps the more casual-pair of the two. The neutral-tan color make these a perfect pair with many typical pants colors such as navy and green. The only one that might look a bit too tonal and off is with khaki or duck-colored pants. But this would be the case with most brown/tan colored shoes or boots.
On the fit/feel, notably the Natural CXL leather is a thicker and sturdier leather that isn't as pliable and soft as the calf suede leathers. This will likely make break-in a little longer with the Natural CXL. With the calf suede leathers, we've found break-in to take 3-5 days of consistent wear for the leather bed to soften up and allow the pair to flex as needed, and for the upper to soften around the edges. With the CXL, you may want to add a few extra days to that timeline.
One thing to note on fit with the Mules is that if you have a high instep, you may need to reconsider these or opt for the softer leather (Chestnut Calf Suede). Our experience with the instep is that you may experience some discomfort at first with the upper rubbing on certain areas of your instep, but once you've passed the break-in period the leather should have broken-in pretty well and molded to your feet much better. Any discomfort in the instep should be gone by that point.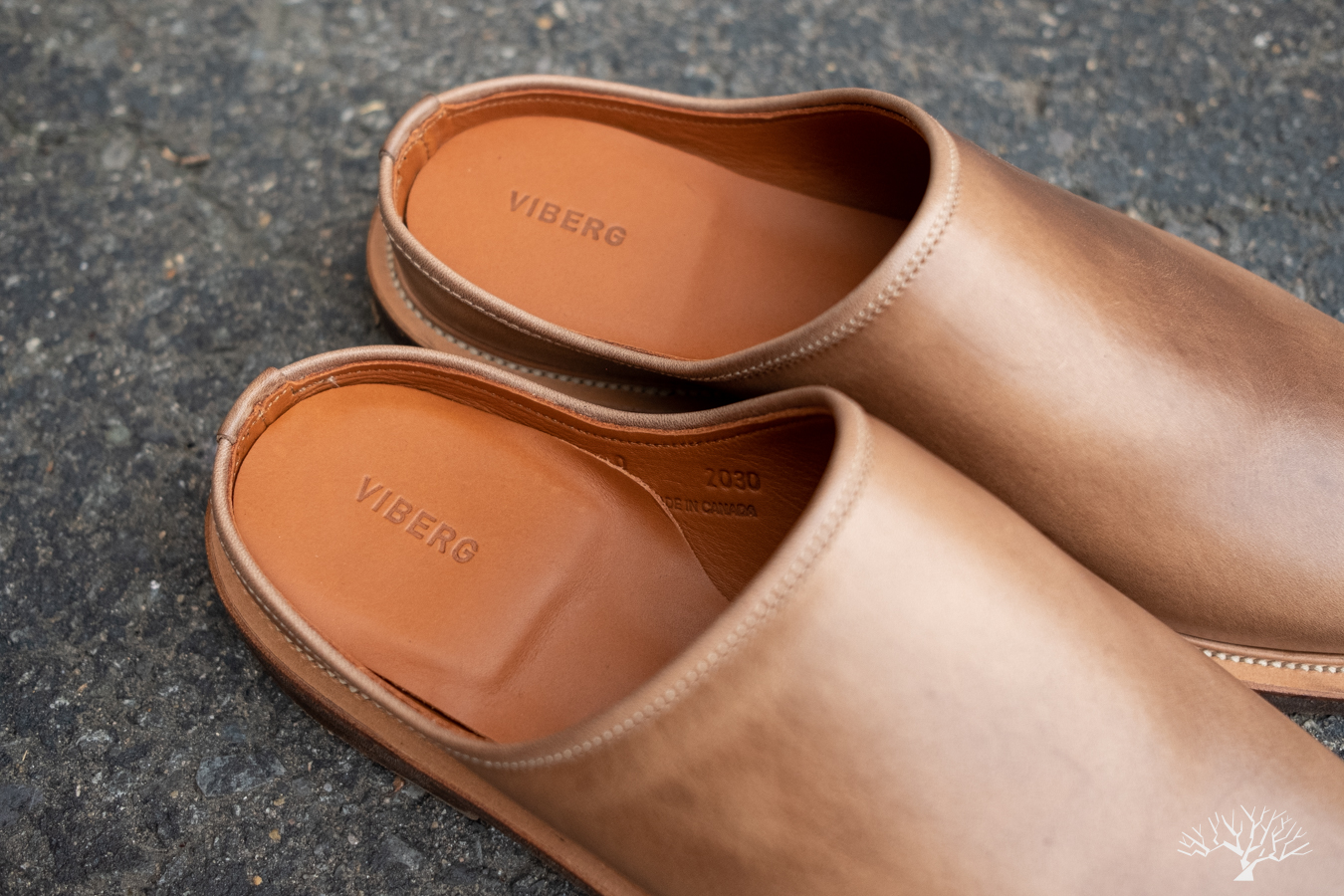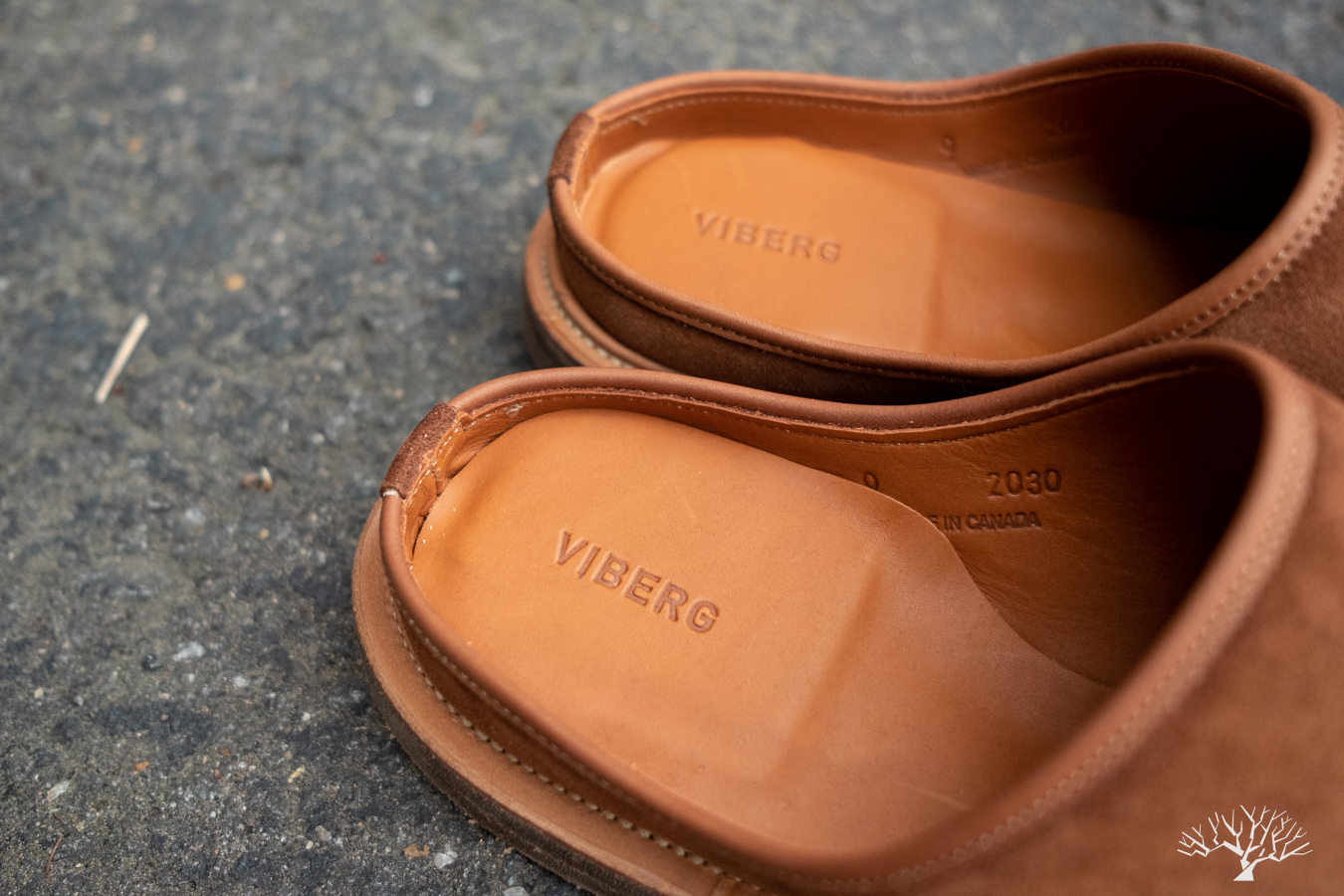 The main reason for the Viberg Mule requiring some break-in is due to the lack of any heel support (the heel lip on the back-end really doesn't do anything, other than for aesthetics). Prior to being broken-in, it can feel somewhat like a flat board on your feet, flopping around. You might find your feet slipping out of the pair as you walk. This is pretty normal from our experience wearing in the Mules. The Viberg Mule doesn't really begin to shine, fitting well and feeling good on your feet, until the sole is loosened up and flexing with your feet. Until then, you'll want to take it easy the first few wears (ideally wearing around the house and short-trips out the house before going on an extended walk with them). After which, the Viberg Mule will be a pair you reach for frequently during the warmer seasons of the year.
Let's talk sizing. We generally recommend 1 down from Brannock for most folks, and 1.5 down if you are on the smaller end of your Brannock. Originally we were thinking 1.5 down from Brannock for a heel that sat just right in front of the heel lip. However, after some real-life experience with them and feedback from customers, we think settling in on the pair that leaves a little room in the back part of the Mule is ideal. This is for two reasons. First, going with the larger of the two sizes will allow more of your feet to fit in the upper/vamp, giving your feet more to work with as far as doing the heavy lifting of keeping the pair on your feet (remember, there is no heel support). Second, based on our experience wearing the Viberg Mule, your feet will generally not stay in the same place all the time, meaning it will slide forward and backwards throughout the day, depending on what you're walking on, where you are walking, how you are walking. As a result, having your heel sit "perfectly" behind the heel lip will result in your heel actually stepping on the lip every now and then, which is not ideal. For these two reasons, we would generally recommend 1 down from Brannock. Of course, there's always exceptions and nuances to fit, so if you need further advice or suggestions, feel free to e-mail us.
Lastly, we do find the Natural CXL Mule feels a little more spacious than the Chestnut Calf Suede (and the Safari Janus Calf Suede that we stock). However, actually measuring and attempting to use hard numbers instead of "feels," they don't actually appear to be any different. It's likely that the Natural CXL with its structure is giving the overall Mule a more voluminous feel, whereas the calf leather tends to collapse a little more from the get-go, so it'll feel a bit more cozy around the feet.
The two Viberg for Withered Fig Mules in Chestnut Calf Suede and Natural Chromexcel will retail for $650 and $590 respectively, and will be available in sizes 5.5-12 (Chestnut Calf Suede) and 7-11.5 (Natural CXL). Releasing Sunday, June 11th at Noon EST on Withered Fig. Shop our Viberg collection here.