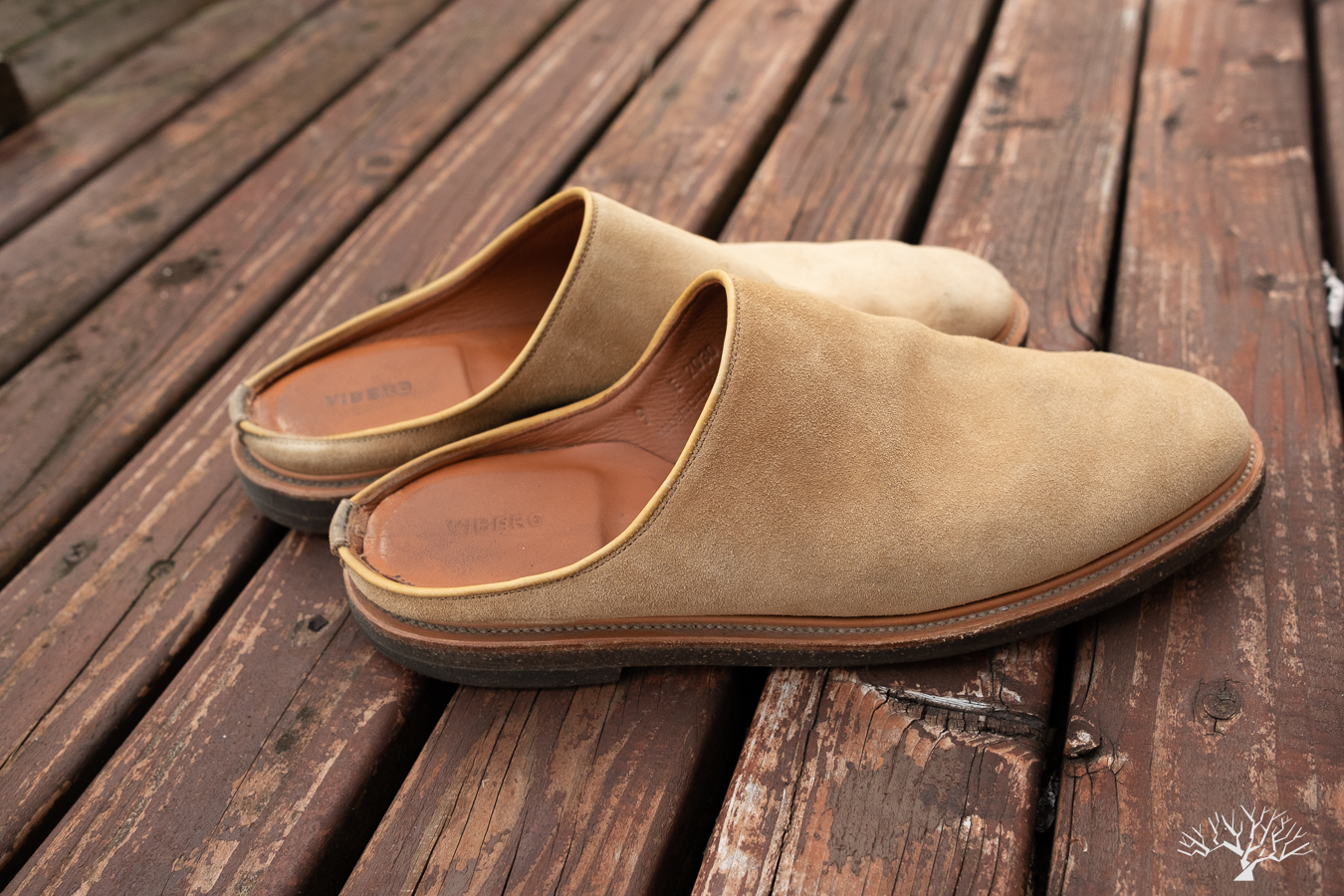 The Viberg Mule is one of the more recent additions within the last few years. Debuting in 2020, the Viberg Mule is now a regular in their Spring/Summer collection each year. It is one of their styles that can evoke some stronger opinions in regards to its functionality and price point. Generally we find most customers find the silhouette and pattern quite appealing, but perhaps get held up on the age-old question of value. Is it worth it? And if they can get past that, does it wear well? Well, we took a pair of the Viberg Mule in Safari Janus Calf Suede from their SS23 collection and wore it almost every day for 3 months. Read on to find out more about what's in a mule?
These posts are part of our Worn series where we highlight and showcase some of the pieces we proudly carry to show how they wear over time. Not only so that you have a better idea of what to expect – or look forward to – as you wear them in, but also to have a larger space for us to go into what makes each unique in its own way.
INTRO
---
Three years after Viberg first introduced the Viberg Mule, we finally brought in our first pair of Mules in the Safari Janus Calf Suede from their SS23 Collection. This pair sits on their 2030S last, which is similar to their 2030 last but technically modified for the lasting of their slippers – it has the same general almond-shaped toe with an E width. While Viberg originally built many of the Mules (and Slippers) with leather outsoles and dovetail heels, within the last few seasons Viberg has made generous use of the Lactae Hevea sole on many of their Slippers and Mules, as well as the occasional Service Boot. The Viberg Mule starts off a bit rigid in terms of wear and comfort, but breaks in like a champ with some patience. The Lactae Hevea sole has been a delightful sole to wear.
I've worn this pair of Viberg Mule in Safari Janus Calf Suede for the last three months, wearing them almost every day (with the exception of heavy rain). They've gone through easy days where it's a short walk to-and-from the grocery store, to longer days of walking around for 4-5 hours when visiting a new town.
I've been pleasantly surprised with how they've done. One could say the Viberg Mule has a lot of surprise to the upside, despite whatever preconceived notions you may have about them. These are certainly more of a three-season pair during the nicer part of the year, but if you're somewhere like California, these could easily be a year-round casual pair.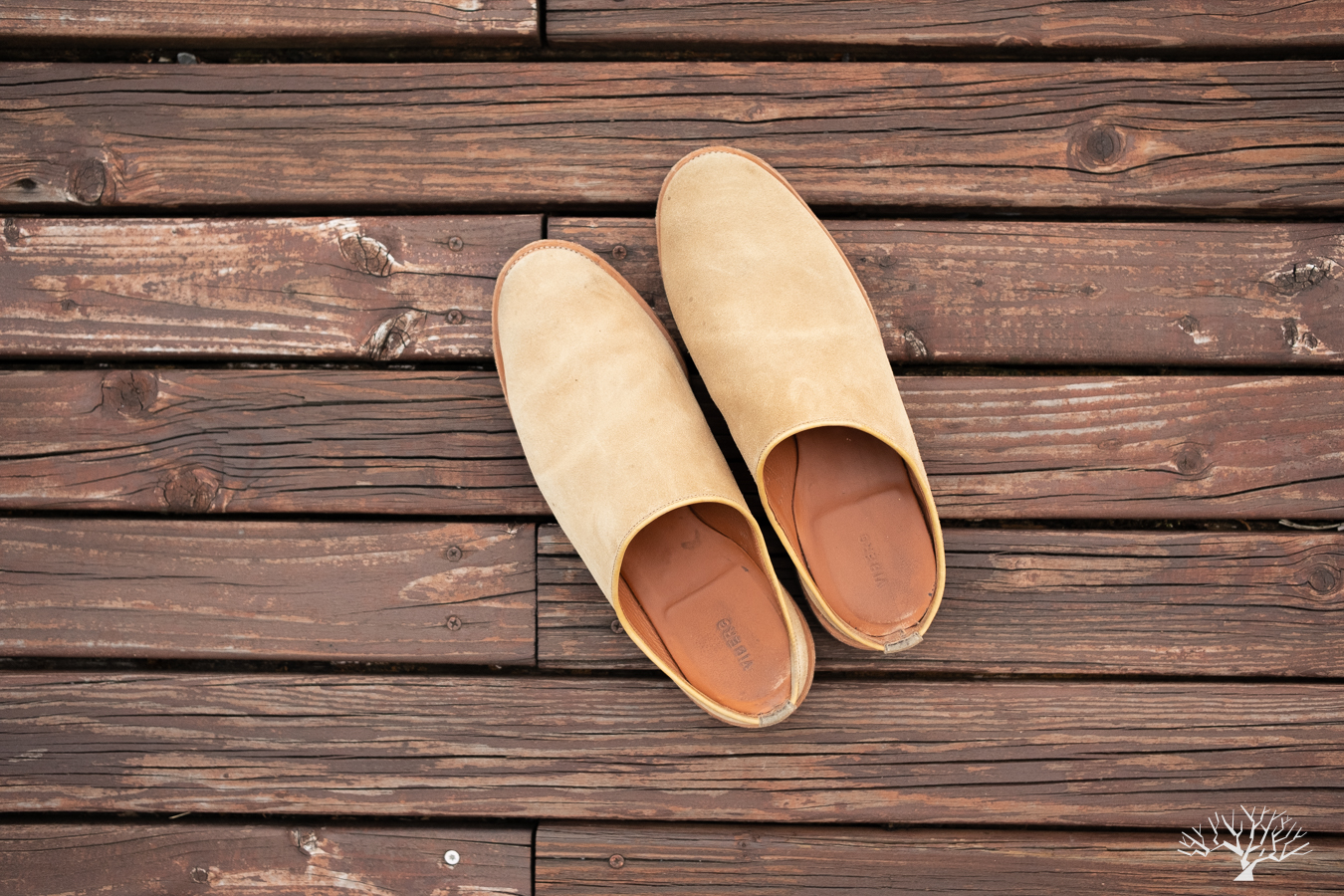 STYLING
---
The Viberg Mule is an interesting pair in regards to styling. The blend of a super casual slip-on style combined with a refined suede leather makes a transition from a casual beach day to a fancy evening dinner quite easy. The previous iterations sitting on top of a leather sole might have made these a little less desirable on a sandy beach, but doable. These Mules sitting on Lactae Hevea soles are much more versatile in our opinion. They've got a similar low profile, nondescript appearance from the side profile, but are magnitudes more comfortable than a leather sole, especially from the get-go.
With the Safari Janus Calf Suede leather, a relatively light-colored tan, they pair very well with denim, especially a washed / well-faded pair. During the warmer months when you'll most likely be wearing a mule, these mules with a washed pair of denim give that perfect summer vibe.
Alternatively, you can throw on some of our favorite green pants, the orSlow Slim Fit Fatigue Pants in Green. They give a nice contrast appearance. Green and yellowish-tan aren't quite complementary colors, but they give a harmonious vibe that just sits right with us.
As many know, we are big fans of the Railcar Flight Trousers in Duck, as well as more recently the orSlow Fatigue Pants in Khaki. Both of these are more adjacent and tonal to the suede/tan color of the Safari Janus Calf Suede. Accordingly, it sort of is too matchy-matchy, and can be somewhat off-putting if you're not sure how to go about it. Personally, I find that adding a high contrast top (such as a black tee) works well in balancing out the slightly matching pants and mules. Call it the Goldilocks Effect, or just figuring out what works after some trial-and-error. See also this article titled, "The Science of Style: In Fashion, Colors Should Only Match Moderately" (we always like to include some random tidbits in these Worn articles when we find something interesting).
So what works? Denim by far (see this photo here), followed by some contrast trousers (see green or black) – two very common pairs of pants in one's wardrobe. After that, the tonal colors are just as good (see Ecru and below for the Khaki). Just another reason why a tan or brown pair of Mules should serve you well.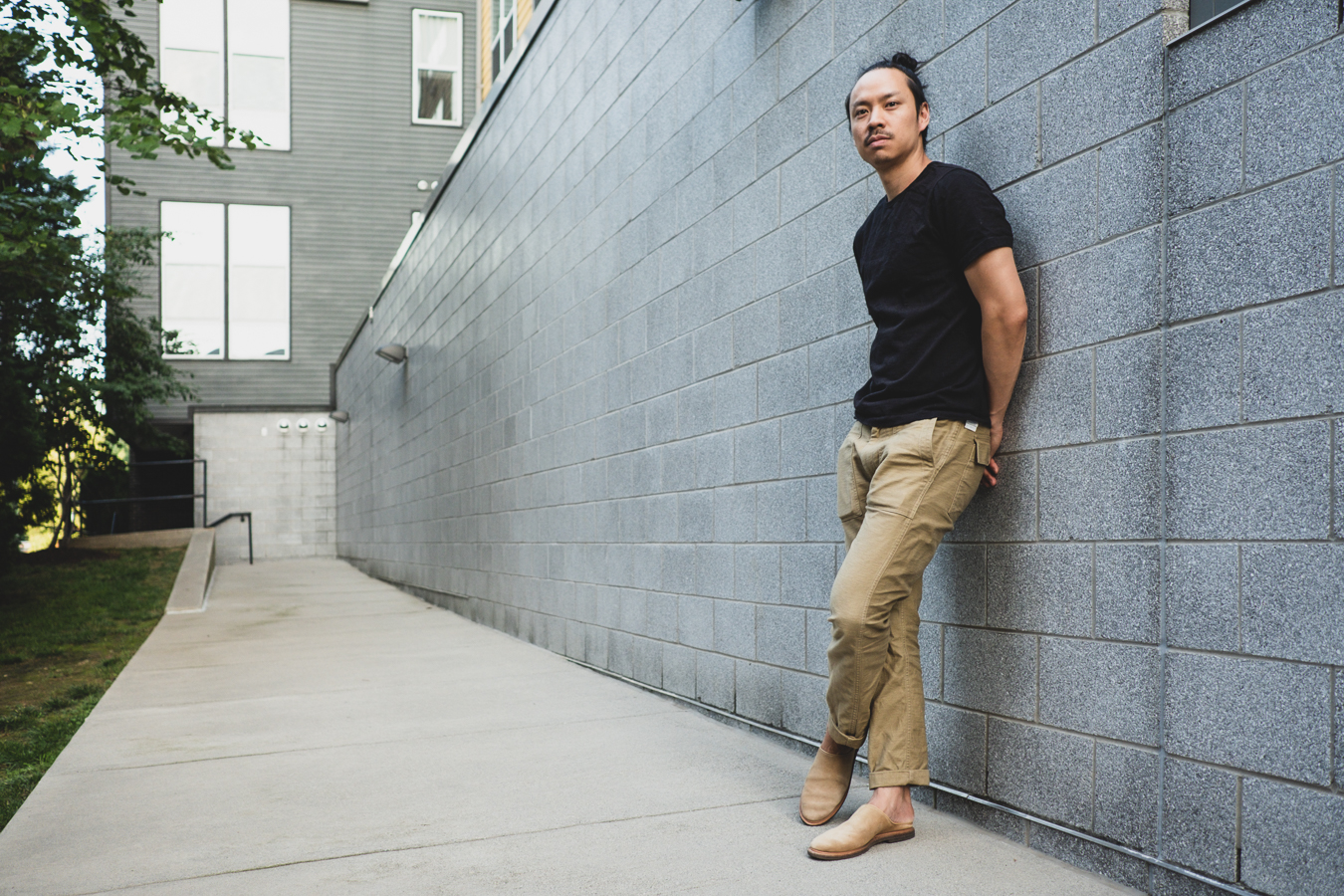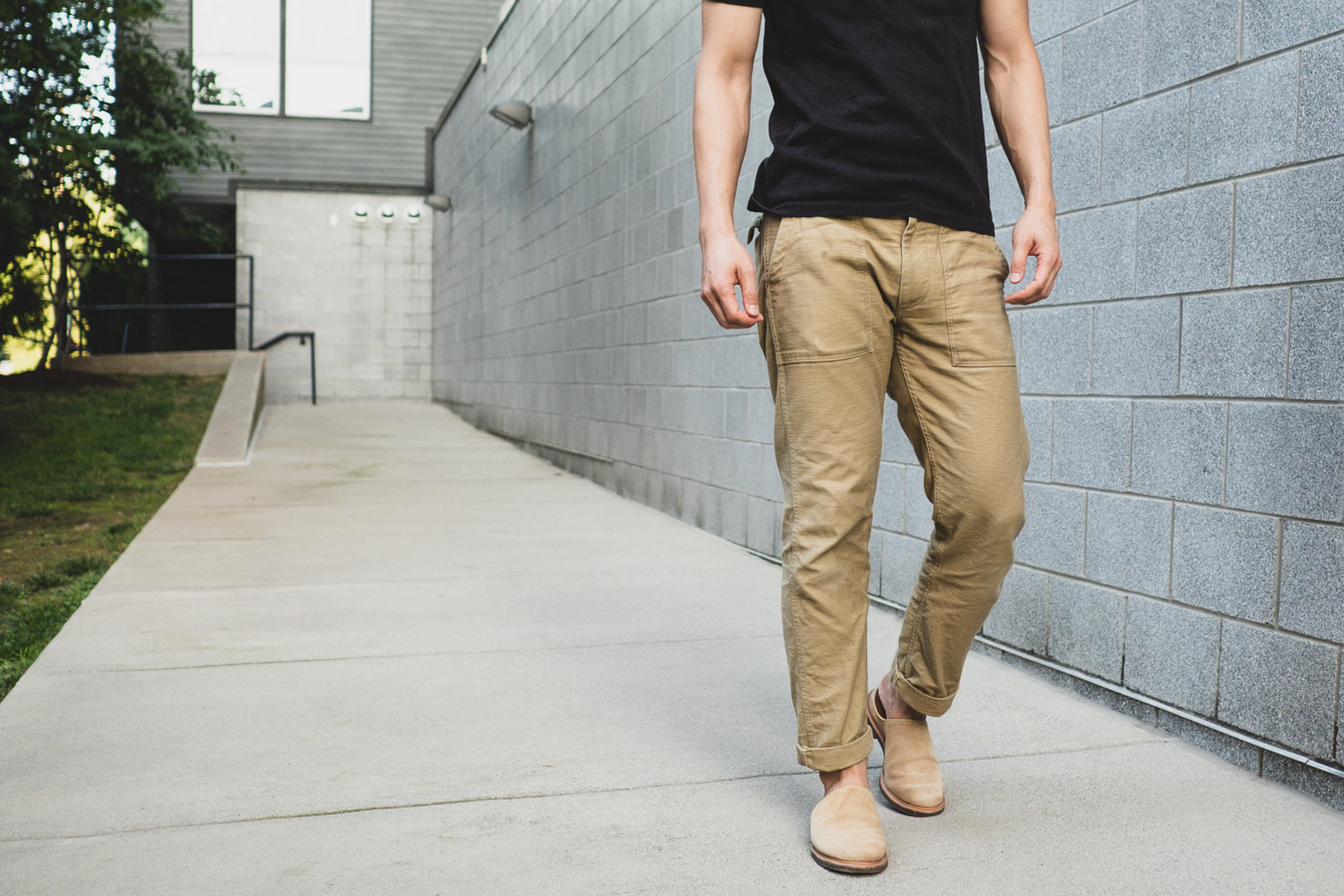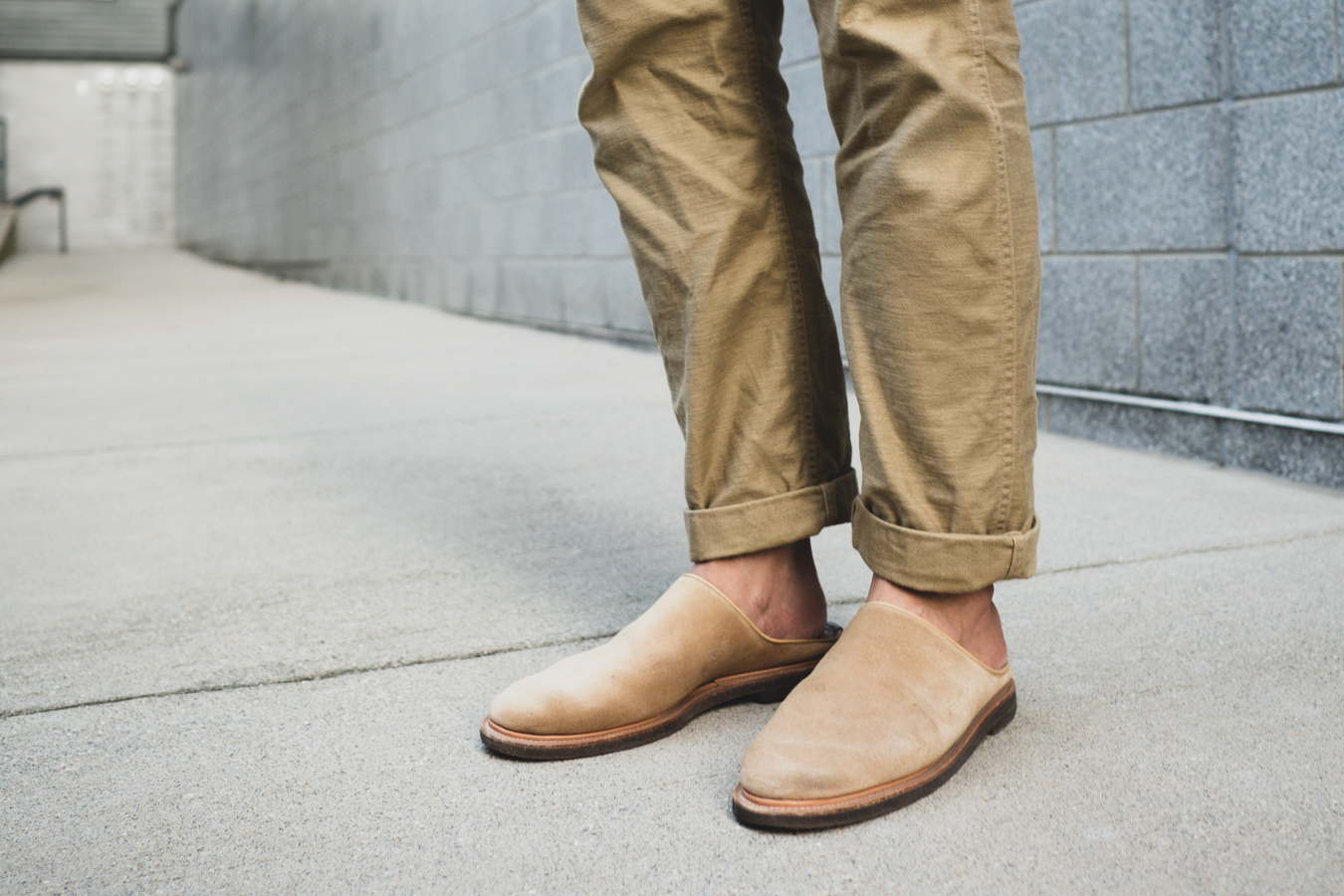 FIT & SIZING
---
The Viberg Mule is built on the 2030S last (the slipper version of the 2030 last). It's got the same almond-shaped toe as seen on the Viberg Service Boots. That said, the overall feel of the Mule is just a much more comfortable and accommodating pair than a pair of boots. These just feel like it was intended for a comfortable fit above all.
Based on our experience with a few mules, we've found sizing to be pretty consistent between your Service Boot size and the Mule size. I've got 10E Brannock feet, with my right foot slightly wider than my left. For Viberg Service Boots within the last few years, I size down one for both the 1035 and 2030 last.
There's a bit of nuance with sizing in the Viberg Mule. After trying out several sizes (8, 8.5, 9, and 9.5), my initial choice was to go with an 8.5, which would be 1.5 down from Brannock. This gave me a snug fit, with my heels just barely sitting inside the heel lip (note that the heel lip almost certainly serves no purpose as far as supporting your heel). This seemed like the right pair just from the perspective of spacing and length. Going up to size 9 (1 down from Brannock) provided a little more room in length, yet still generally felt okay.
However, after getting some feedback from a couple customers who had already worn previous pairs of Viberg Mules extensively, they noted that the Mules moved quite a bit, and actually having the extra room in length helped with having more of their feet volume (more mass) within the upper. This allowed the Mule to grab more of your feet as you step and reduced the likelihood of the Mules falling off your feet during a stride. Accordingly, these customers ended up preferring 1 down from Brannock over 1.5 down.
I tested this out and went with 1 down from Brannock (size 9), hoping that the additional room wouldn't be an issue. It turns out this worked out just fine. As I've worn my pair, I have noticed how my feet continually move or shift around depending on how I step, the speed at which I'm moving, and what I'm stepping on. What I mean by "move around" is that your feet will sometimes be right up against the top of the toe box, and other times will sit a little further back. It just depends on the aforementioned factors.
For example, walking at a leisurely pace, you can likely maintain a constant placement for your feet within the Mule. However, if you pick up the pace to a brisk walk or faster, you'll notice that your feet may shift towards the very front of the Mule, removing most of any extra room you may have had when you were walking leisurely. Another example is going up a hill in the Mule, and sometimes going up stairs. When going up a hill or stairs, because your feet movement has more of a vertical component, your feet end up lifting up and out of the Mule a bit more than when walking on a level plane. While we aren't completely certain what the mechanics of it are, the result of going up a hill or stairs is that you can end up with the possibility of leaving the Mule behind (aka barefooted). This was most notable during the first few days of wear, as the sole was still breaking in. However, once broken-in, this issue has mostly gone away, except for a few occasions in grass/dirt and more "sticky" surfaces.
One thing to note on fit is that for some folks with a medium-to-high instep, they may experience some pinching or discomfort at the high part of their instep, where the French Binding and opening is. Depending on the shape of your feet and how well of a Tetris-fit it has with the last, you might not experience any discomfort at all. However, for me this discomfort was apparent at the beginning when the leather was still fresh. During that first week, I did wonder if the discomfort would ever go away. However, perseverance prevailed and now the Mules feel fantastic on my feet.
All this to say, I do think some folks would be happy with going down 1.5, and it's just a matter of preference. Taking 1.5 down from Brannock definitely felt better at first, but I think knowing how the Mule wears now, my heel would have ended up on the back lip more often than with the size 9, which for me is not preferred. But, if you are okay with the occasional hit on the back lip, then 1.5 will likely serve you just fine. Go forth and be at peace with 1.5 down from Brannock!
As a visual reference (below), I've placed my feet in a comfortable position in the Mule, without hitting the back lip, and pointed at where the top of my toes are. There's a good 1.5-1.75″ of space between the top of my toes and the tallest point of the toe box. Even with this space, it does not feel big at all.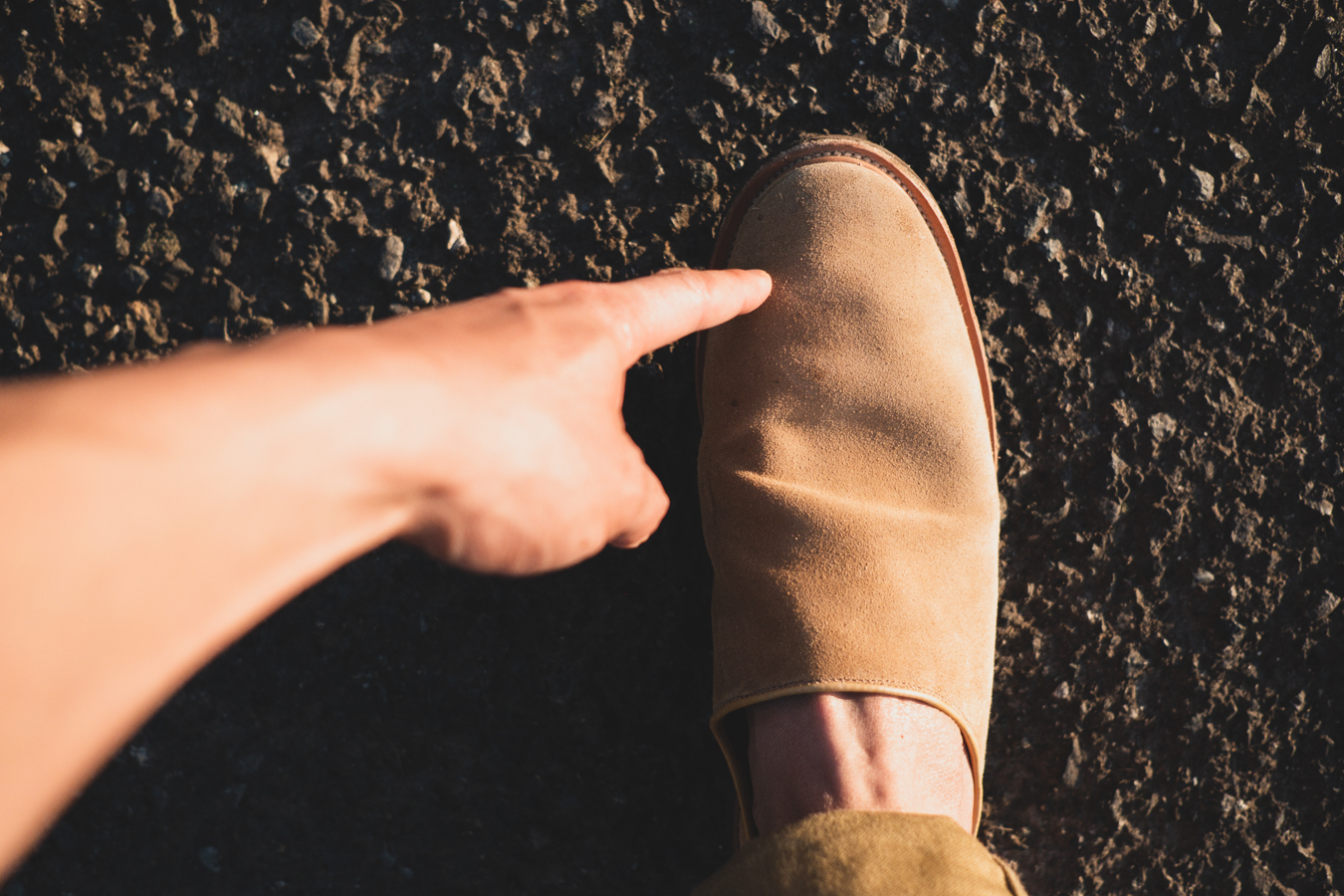 COMFORT & TRACTION
---
The Viberg Mule is a very comfortable pair. It feels like a true slip-on in comparison to the Viberg Slipper, which actually requires some finagling of your heel to actually slip-it-on. The closest comparison I'd make is probably a crepe sole (a la Clark's Desert Boots), but with a firmer footing and step. Other crepe soles tend to be more cushy and bouncy, whereas the Lactae Hevea has the same advantages of comfort, but with a little more firmness. As another relative comparison, for shock absorption the Lactae Hevea sole would probably be in between the Vibram 2060 (more shock absorbing) and the Mini Ripple sole (less shock absorbing).
The leather does a really nice job of molding to your feet over time. At the beginning, they might seem a bit too roomy, a bit too big and roomy, but once they've broken in they really do fit like a loose glove. The upper and toe box collapses and takes the shape of your feet – very similar to how the Viberg Slipper will collapse and mold to your feet.
Traction-wise, in light rain on sidewalks/concrete, the Lactae Hevea sole does surprisingly well. Even on slightly smoother pavement, the sole doesn't slip. I think this is notably different from the Vibram composite wedge soles (Vibram 2060, Vibram Christy, etc.), which are very slick on wet pavement and especially on smooth wet pavement. I would generally have no qualms taking the Mule out in wet weather, although with the Mule and the exposed heel, it generally should be reserved for dry conditions.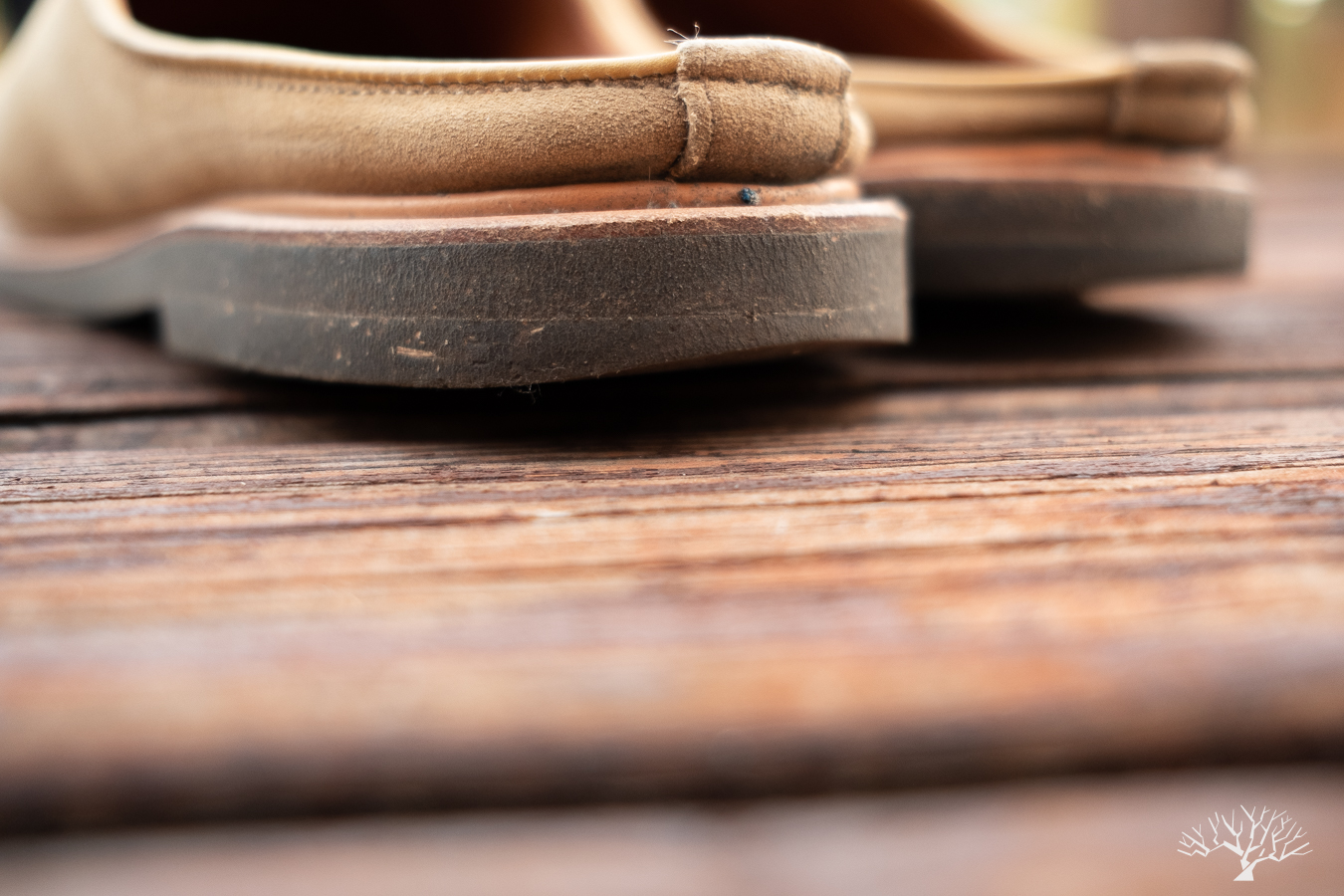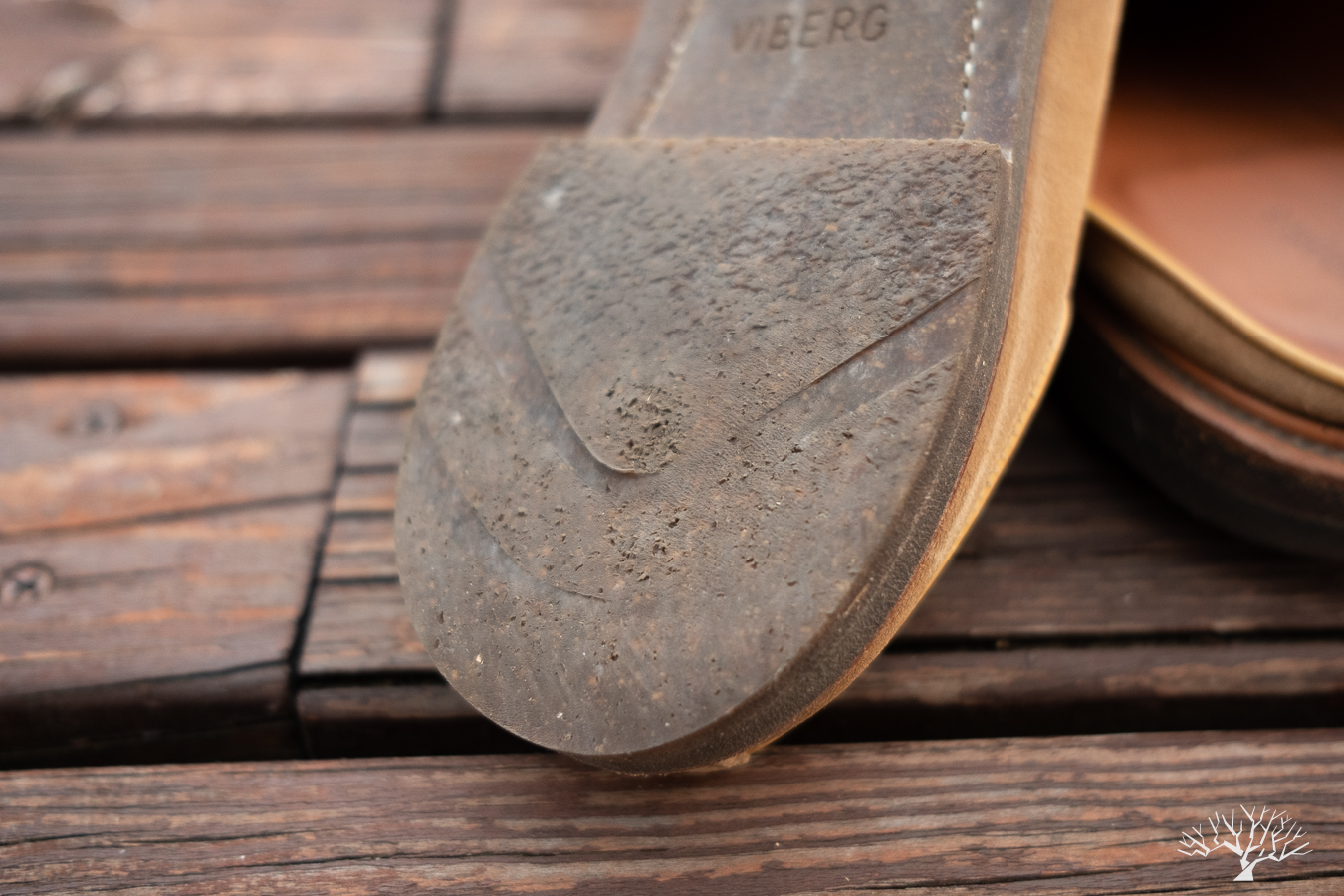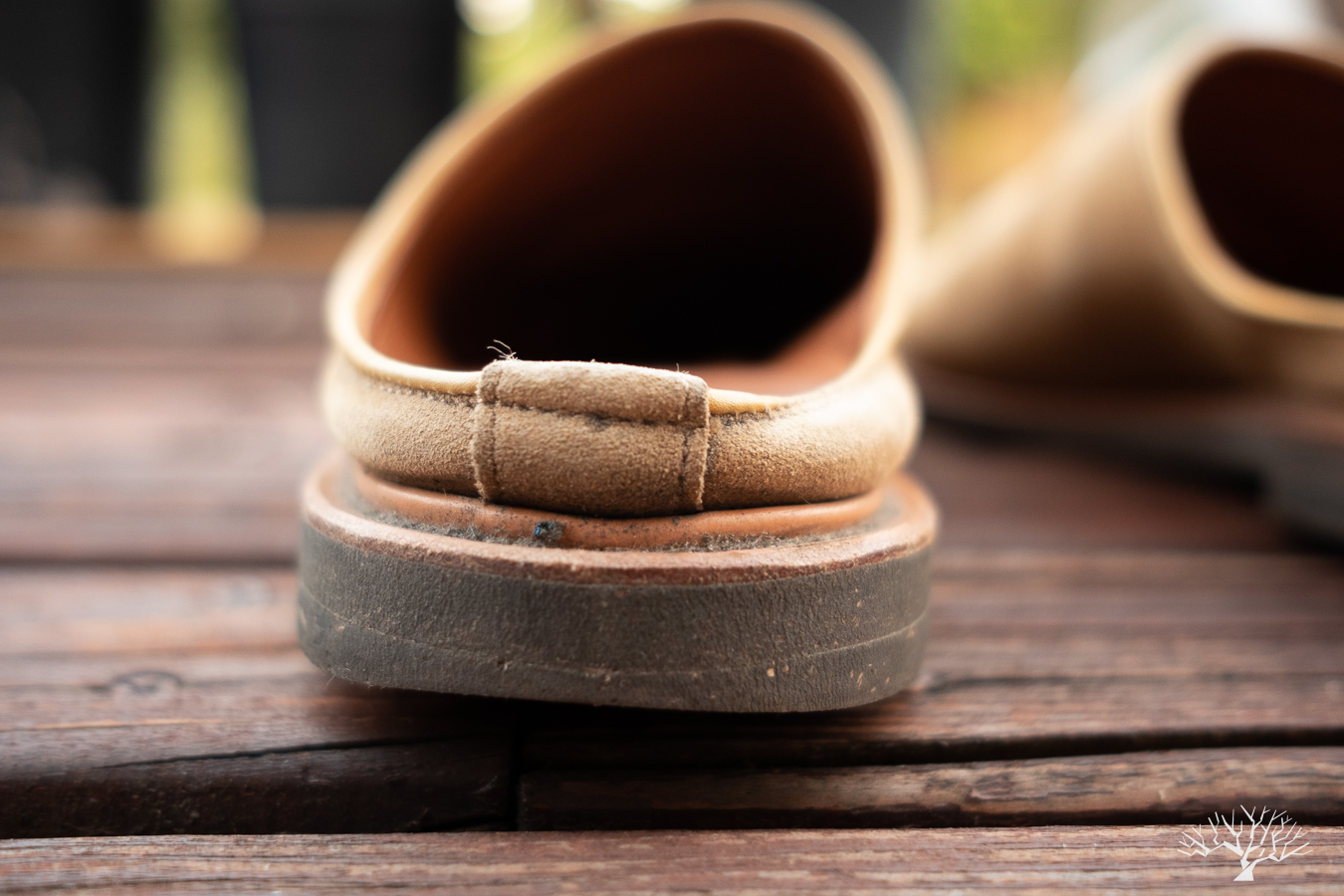 LEATHER
---
The Safari Janus Calf Suede is an excellent leather for the warmer season. A nice light-colored pair to go with your Ecru pants for a summer ensemble. Straight from Viberg:
Janus Calf Suede is a full-grain French calf skin reverse, that features a custom finishing that allows the suede to have strong water and weather-resistance as well as an incredibly soft touch, making this material an excellent choice for year-round wear.
I've taken the pair out in light rain a few times and they've held up well. They certainly are not rain-proof by any means, and the wet spots will show temporarily. But, once you've given them some time to dry off, the spotting goes away.
The Janus Calf Suede is a staple in Viberg's seasonal collection, and they typically run a few different make-ups with this leather each season. It's hard to beat a suede that can endure through seasons and also have some durability against the elements.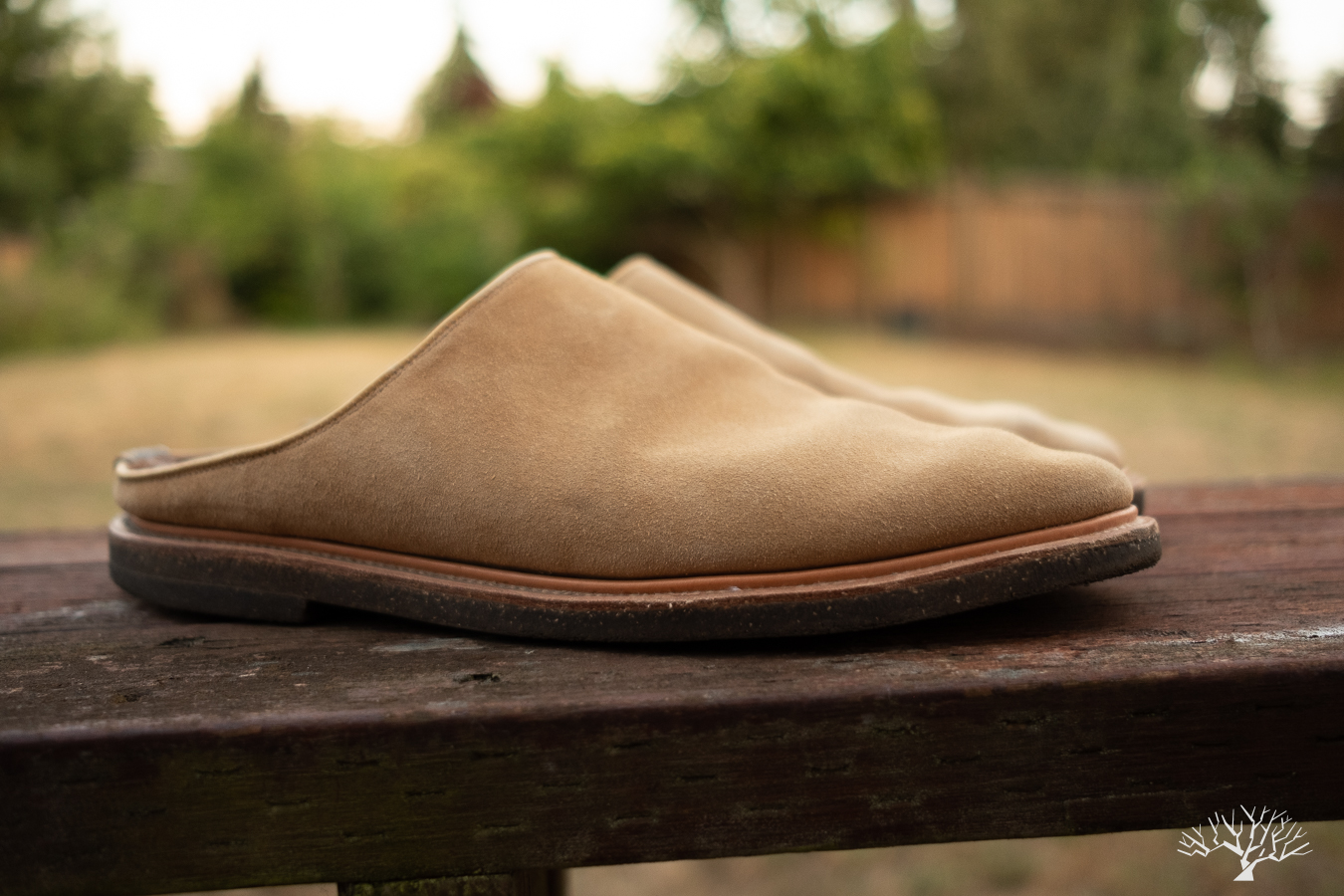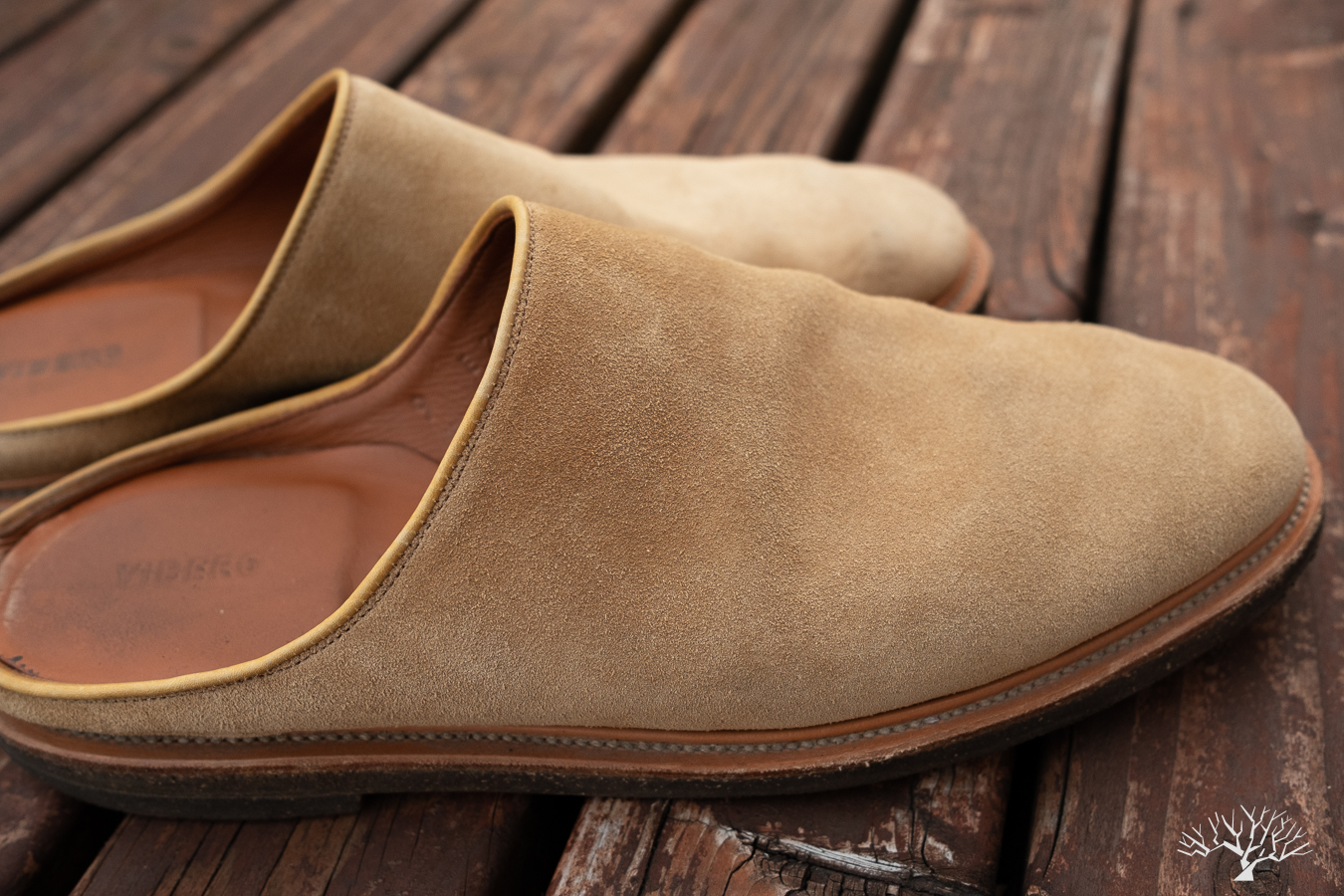 THREE MONTHS
---
The Safari Janus Calf Suede interestingly starts off with that yellow-golden tan that is quite vibrant. With some wear, I've seen the vibrancy taper off a little and the pair has gotten a bit more pale. I'm guessing it's primarily due to a build-up of dust and dirt that has muted the color.
I plan to give it a good brushing soon, as it has gotten quite a few water, food, dirt, and other random stains over the last several months. I've worn them pretty much every day, from mundane trips to the store, to long travel days on cross-country flights (these don't set off the metal detector!), and even some easy hikes on unpaved trails. I've really tried to give it a full go, to fully understand the capabilities and boundaries of where you might want to take the Viberg Mule.
What I can say is this. The Viberg Mule is an extremely versatile pair that will serve you well no matter the situation. However, if there's two takeaways I'd leave you with, it would be this:
The Viberg Mule does require some break-in, so if at first it doesn't quite feel like it's sticking to your feet and you're losing grip, that is likely normal and not a sizing issue (assuming you take our sizing advice). Bottom line is that you'll want to put in several days worth of break-in for the upper to soften up and mold to your feet, and for the sole to also break-in and flex appropriately with your stride.
Wear the Viberg Mule casually or dress them up. They are similar to the Viberg Slippers in this regard, although the Slippers probably have the edge for a more elevated look, while the Mule has the edge for a more casual look. I personally find the Mules to be much more versatile when it comes to the type of pants (slim tapered vs straight leg). The Mule, with how the upper flares up and out for a wide opening, makes it more compatible with wider leg opening pants. I find the Viberg Slipper to look a bit odd and too small/slim when wearing straight cut pants.
After three months of wear, I am pleasantly surprised at the durability of the sole. Initially I was very skeptical about how well this material will last, but after putting in a few months of regular wear, I'd say it holds up much better than other composite soles such as the Viberg 2060 sole, and probably a close comparison being the Vibram Mini Ripple sole. While the soles may look a bit worn down, keep in mind that these have been my daily drivers for three months straight. If you're rotating other pairs in and out each day, you definitely won't see the same wear on the soles after just three months.
Lastly, of note is that I've gotten more compliments on these Mules from other non-Viberg aficionados than any other pair of Vibergs I own. I think it's due to the Mule being a great casual style that looks fantastic, and is generally a more widely accepted style in today's world (I typically see more Birkenstocks (clogs) on any given Sunday than a pair of you-name-the-brand Service Boots).
Shop our Viberg collection on our webstore, to include all the latest seasonal and special make-up Mules. If you don't see your size in stock, e-mail us for information on possible restocks.