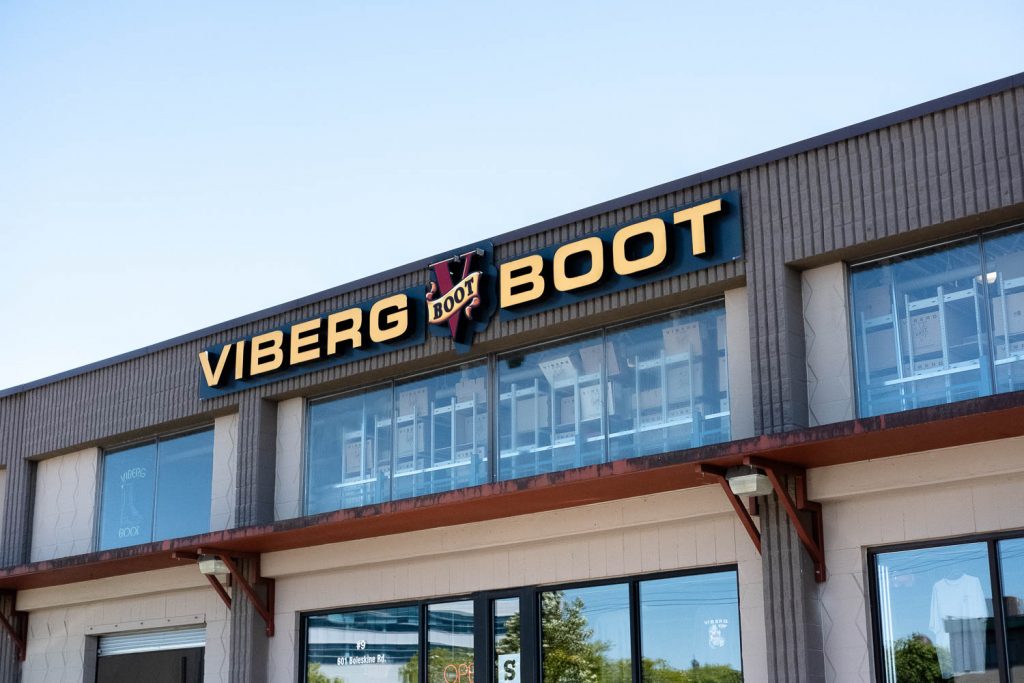 Our Brand Spotlights are where we share the stories of the people behind the brands that we carry. More than just buying a product, we want the Withered Fig experience to be deeper in purpose and meaning. We want you to know the people behind the brands that have made this their living. It is the men and women, from the top to the bottom, the owners, the designers, the cutters and sewers, that encompass everything that each brand is. As such, we hope that the stories we share will not only help you learn a little more about what makes each brand unique, but also encourages you to pursue your passions as well.
INTRO
---
Viberg Boot has a long and storied history, steeped in its roots of work boots for the common working man. It remains as one of the few namesake boot manufacturers left in North America. Beginning in 1931 with Edwin Viberg, this Canadian company operating out of Victoria B.C. is now in its 3rd generation with Ed's son, Glen Viberg, putting some of the finishing touches on every single pair of boots, and Glen's son, Brett Viberg spearheading the future of Viberg. It's that personal connection to the family that each and every pair of boots has that makes Viberg boots so unique. For us, knowing that every pair has passed through the hands of Glen has made Viberg a truly special brand for us to work with. We had the opportunity in 2018 to visit Viberg and gain a greater appreciation of their factory operations and educate ourselves on what makes Viberg one of the world's most well-known and high-end bootmakers.
For this Viberg Boot Interview, we sat down with Guy Ferguson [G], Brand Director, and Ryan Grifone [R], head of Viberg's wholesale operations, at their office in Victoria B.C. to tackle some of the toughest questions regarding the boot industry, customer expectations, and of course their views of the island.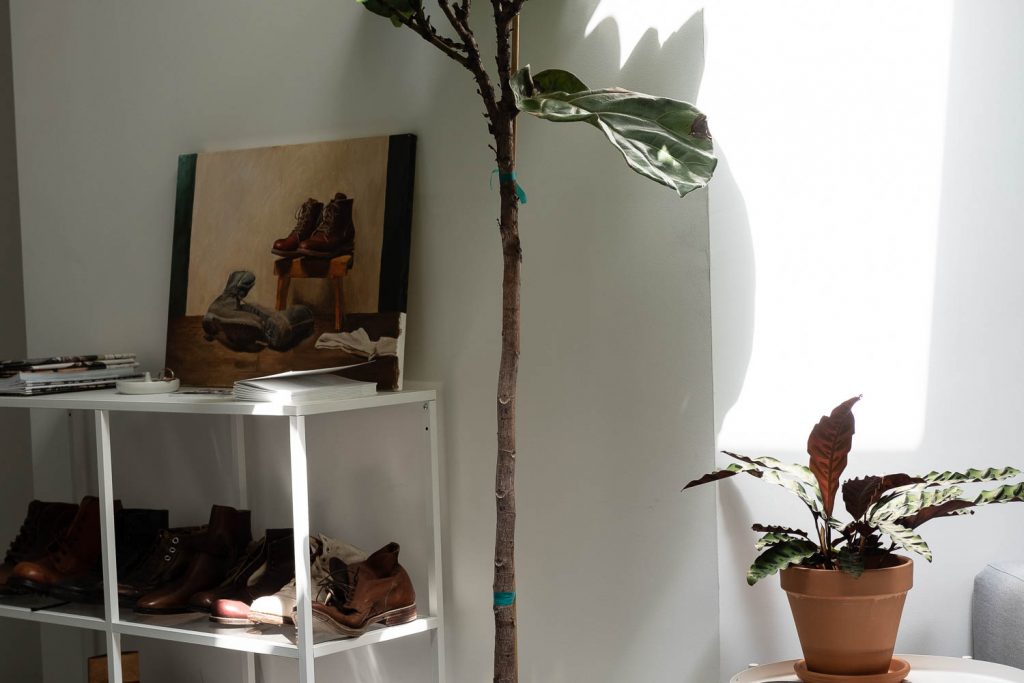 EXPECTATIONS
---
Many of our readers are likely familiar with Viberg in terms of what you make and some of your popular styles. But, most of us are also on the outside looking in. What is one of the major misconceptions about Viberg?
G: Right now there seems to be this misconception with the customer base about the scale with which we operate. I think the more visibility the brand has gained, the idea that we are something that we are not, has been somewhat of a focus for people. Despite what people might think, we're still very much a family run, small scale company. You'll see at the factory on any given day, Brett Viberg's mom, Brett's dad – Glen, and Brett's brother, Jason. Additionally, the factory is full of people who have been working there 25-30 years. I think when you start to see us in some larger shops, or look at certain things that could be impressionable of a larger brand, that reality of us being a small family run operation can sort of be lost.
G: That extends all the way down to the product where people expect something of the product because they think we are a larger company than we are. At the end of the day, when a complaint comes to us, it is probably going to get put in front of me, Ryan, or Brett. It's truly that very small generational company that we always have been. It's just that the visibility of Viberg has grown a lot.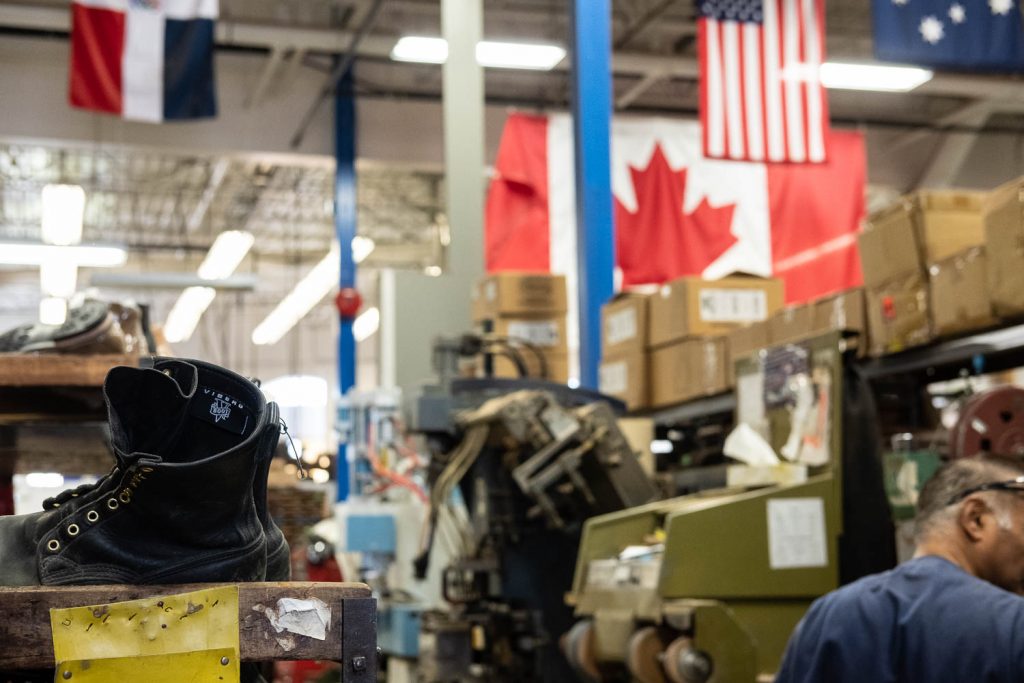 How have these customer expectations affected Viberg in the business sense?
R: People will see our product sitting next to an Alden's or Tricker's, and they will expect – because they think we're a bigger company – the finished product they expect of a company of a larger size. They lose sight of the fact that we're still very much a handmade, small-scale, producer and manufacturer, that's making stuff the same way we've been making it for years and years. It's still Glen at the end of the production line, hand sanding and skiving every boot. Both Guy and I have worked on the retail side for many years, and dealing with it on that side, I've been able to see the progress in Viberg's manufacturing. Looking at Viberg products seven years ago compared to now, is just insane how much we've improved.
G: This translates to a lot of other industries as well – the idea that the more expensive something is, the more perfect it should be. But it's really not true; in most artisanal categories, we're celebrating the inconsistencies and the characteristics that make something unique and special. I think that can be a difficult thing to translate to a customer when they're spending a lot of money. When you're not someone who is used to that concept it can be tough. For example we get people who send us photos of two boots with a ruler and measure the distance of the eyelets on one boot versus the other boot. But we have to understand that these are made with hands, so of course these are not the same.
G: This is something that we dealt with less when people thought of us as this little tiny company. I've been here for over 5-6 years now, and back then we had this very dedicated small following in Japan and Europe. Those customers were really celebrating the idea that we were this small craft product. But then, all of a sudden you are in a shop like Mr. Porter and you're sitting next to very-very finished manufactured goods and it changes the perception of what you do. That's been a huge way in how that has affected us. So we're trying to re-educate newer customers that we are not that type of product, and we probably never will be.
G: None of this is to say that our boots are not finished cosmetically well. So much effort goes into them and the improvement is constant. That is something that has really come to define the brand – this insatiable need to improve. We are never ever standing still, and it puts so much pressure on all of us within the company because there's never a moment where it's like, "this is good enough." In the five years I've been here, so many little details have changed and improved and people likely won't even realize we changed them.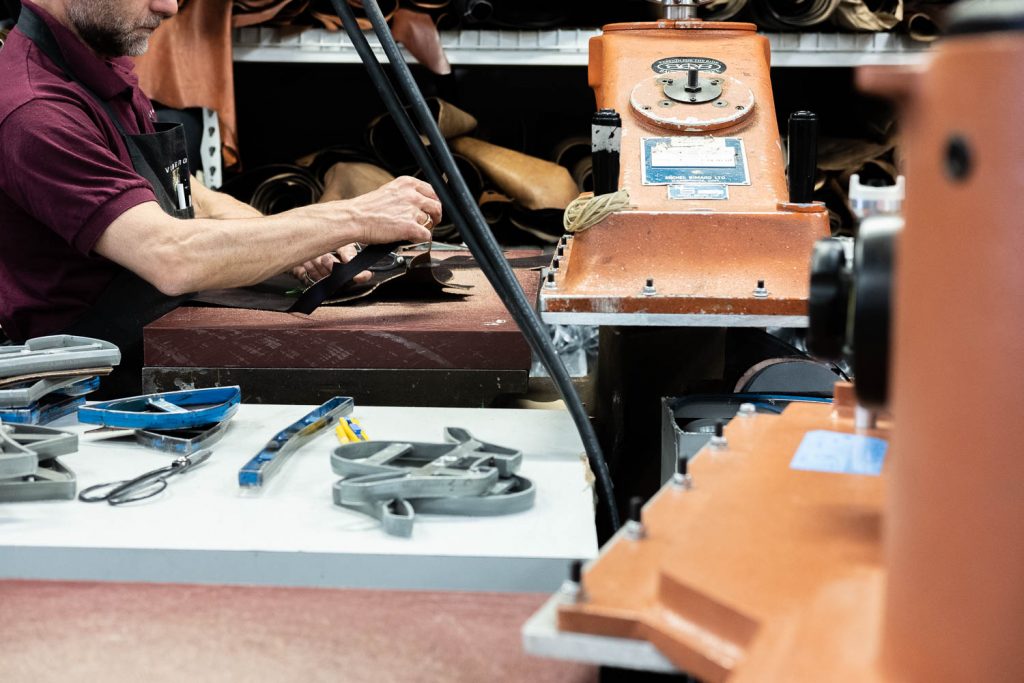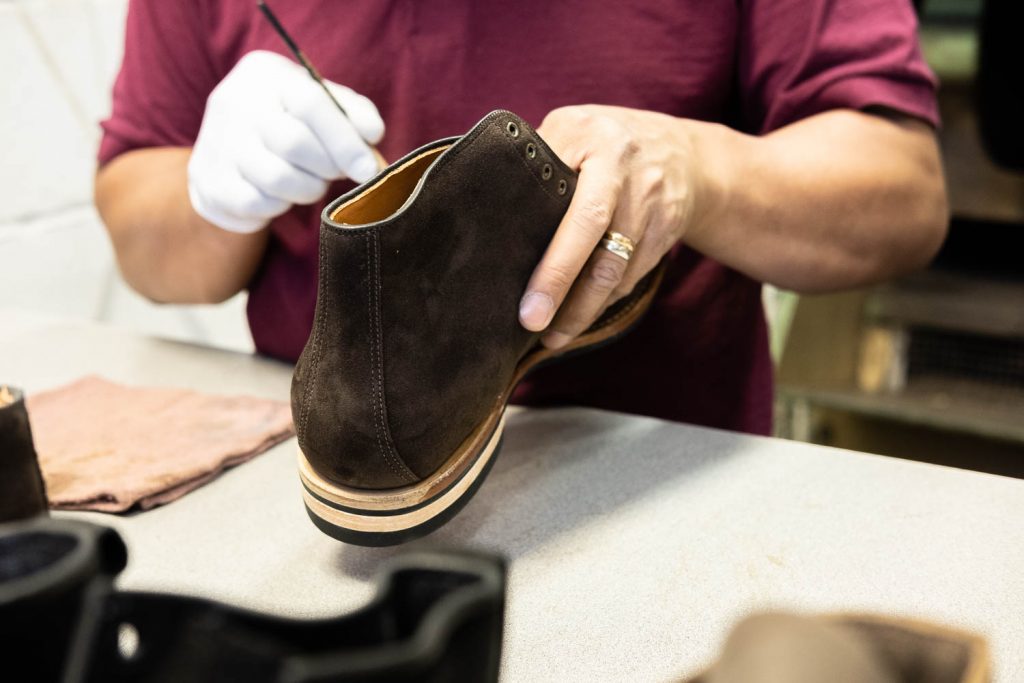 Bigger picture, what are some of the biggest changes Viberg has had in the last few years, and looking forward, what are you anticipating for the next 2-3 years?
G: The last 3-4 years have been a period of intense growth and change in terms of the foundation of the company. Almost ten years ago, was the beginning of the idea of us being a brand and selling casual products to the market. When I came onboard, there was an existing Japanese market that was very niche and all run through distributors there. We also had this emerging European market with Brett at the front of it. But there was almost nothing in North America, not a single stockist. I came on and started doing some sales stuff initially, and then I started to work on Viberg.com and getting our own retail platform. At that time, we hardly even had branding, no website, no social media, nothing. So five years ago it was putting the structure in place for all of those things. Just after that, we did a pop-up with 3sixteen in New York right when we first launched the site, and that was kind of the beginning of introducing the product to the North American market. Clearly there were people who wanted it in North America, and we just needed to give people access to it. So after that, it was really just opening the doors domestically and in the United States, and that took off. We started to do trade shows for the first time in New York, and then Las Vegas. New York has been a really important city for us with the largest market in terms of direct retail.
G: Now we have this larger wholesale network – Viberg.com is up and running – and the business abroad has been maintained but not really focused on. So the last 3-4 years has been looking at, what do we have that exists for the brand and how do we grow certain areas. It took Brett 7-8 years of working alone, before bringing me on; and then 4 years of me working alone, before bringing Ryan on. And now we've had Christian for about one year now working full time on customer service; and Duncan who has been there as well working full-time on the industrial side of things such as our imported line of work boots. So it's only been in the last couple years where we've been able to really assess where the company is at and focus on the areas where we want to grow. If Viberg.com is healthy and productive, it allows us to fuel everything else – going to trade shows, host MTO events, travel and source new things; that's really been the engine that has driven things for the last while.
G: Looking forward, it's continuing on that path and giving everyone in their separate areas the power to work on those things and improve on them. As a brand, the big thing right now is diversifying. You'll see it across our footwear offerings – sneakers, slippers, slides, and so much other stuff in development. The next big shift in 2-3 years is Viberg going from Viberg Boot – to where we've taken this concept of quality and tradition that is so dear to us and our DNA – and applying it across a broader scope. So we're making the only sneaker made in Canada. We're going to make the best possible accessories we can, using the same sourcing philosophy on the footwear. This idea that Viberg can be more than just a work boot brand is really key to our next steps.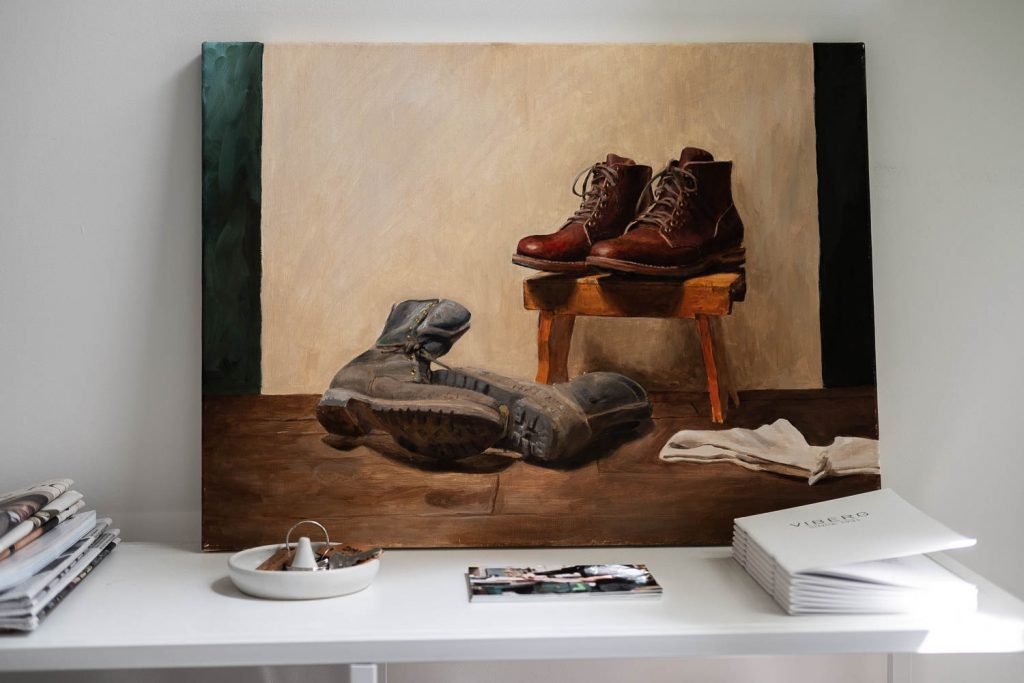 THE PRODUCT
---
For those who are newer to Viberg, what's your most popular style and how has it evolved?
G: Brown CXL on service boot with Dainite is by far is our signature product that we've sold the most of. We've been making the service boot since the 1930s and it sells like crazy. But, about 4-5 years ago, Brett decided he wasn't quite happy with the balance of the pattern – the counter used to come at a higher angle and was a little more squared – and he just did not feel like it was balanced. So he took our best selling product, threw out all the dies for it, to change this slight curve (on the heel). The whole time I was thinking, why are we doing this – this is insane, you don't take the thing that is your bread and butter and mess with it. Most people didn't even realize it, but it was an improvement and completely altered the appearance of the pattern and balance of it. It's those tiny tweaks like that are constantly being made on the millimeter level like stitch counts. And most companies, if they are tinkering it at that level, they're trying to cut costs or trying to make people in a boardroom happy. But, we're really just focused on the product more than anything.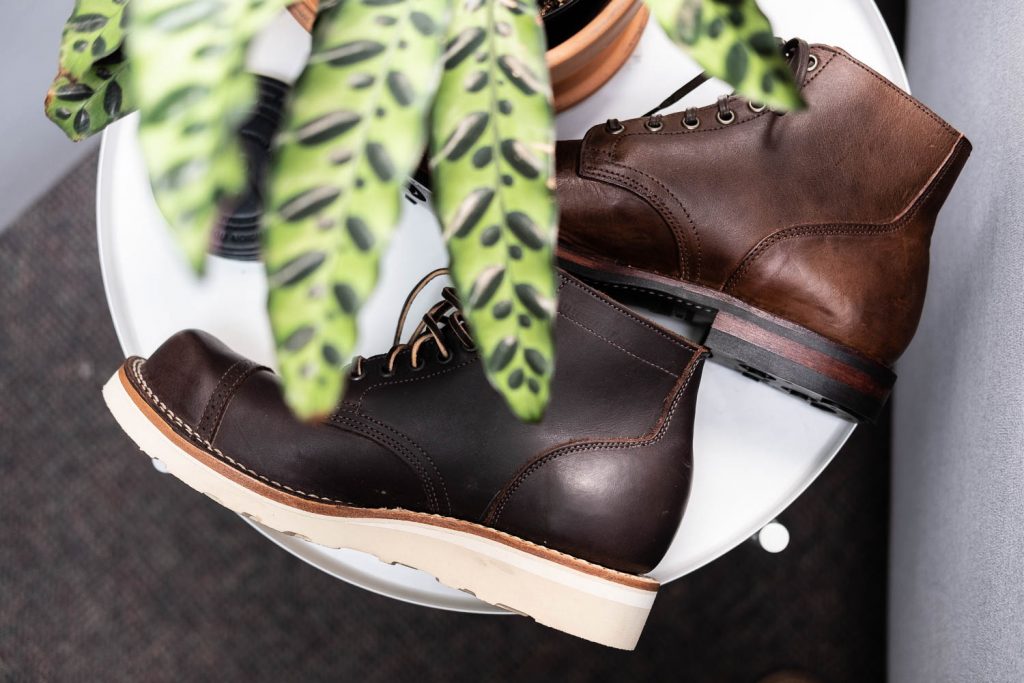 As Viberg has expanded into these new products, have you had to alter your manufacturing processes?
G: It has altered a lot, and it's sort of scary how much we spend on the factory, but that just goes back to how much we put towards improving the product. There's been a couple major shifts in production. When we started out we only made boots in a construction called naildown, the original heritage of the company. Naildown is still what we do on our logging boots and some of our industrial stuff today, and it actually has the same appearances of our welted boots – the upper tucks all the way under the same way it does on a welted boot. In the 1960s-1970s we started to experiment with welting and stitchdown; stitchdown in particular was well-suited to industrial footwear of the PNW because of its really robust, and essentially waterproof front where the vamp kicks out. It results in a really stiff midsole, which was great for certain industrial jobs where they are on their feet all day or climbing telephone poles or trees. There really was a benefit to not having your boots flex. They experimented with welting and then abandoned it, because stitchdown seemed like the thing that was really driving it at that point. To be honest, it's an easier style of production and a simpler process.
G: About 7-8 years ago, Brett had the idea to reintroduce a welted product because he felt we were really limited with the scope of what we could do with stitchdown – a whole category of footwear we couldn't get into. As he started to pursue that, there was a huge backlash when we first did it. Customers were reacting and saying, they only make stitchdown boots, why would they do this? But the truth is that welted boots has been a part of our history, and we wanted to get back to offering it. Now, in our single factory space of about 10,000 sq. feet, we produce naildown boots, stitchdown boots, welted boots, and now cemented footwear such as the sneakers. This has involved new machinery, new education process for some of the staff, and new understanding of how we approach things. So it's constantly evolving and it will continue to evolve. Everytime we feel like we're good and done buying stuff, we find some new machine and find something new we can do.
G: We're now looking at machines specific to leather accessories – specific folding machines and edge finishing. So it will never end, and that's just a reflection of the company and how Brett is, there's no off button. We won't just stand still, and the product will continuously be refined. So that means our production process will also have to continually be changed. But literally the machines that were making boots 50 years ago, are all still there and still being used. So it's not like when we get something new, that eliminates the old, that just means it allows us to do more things.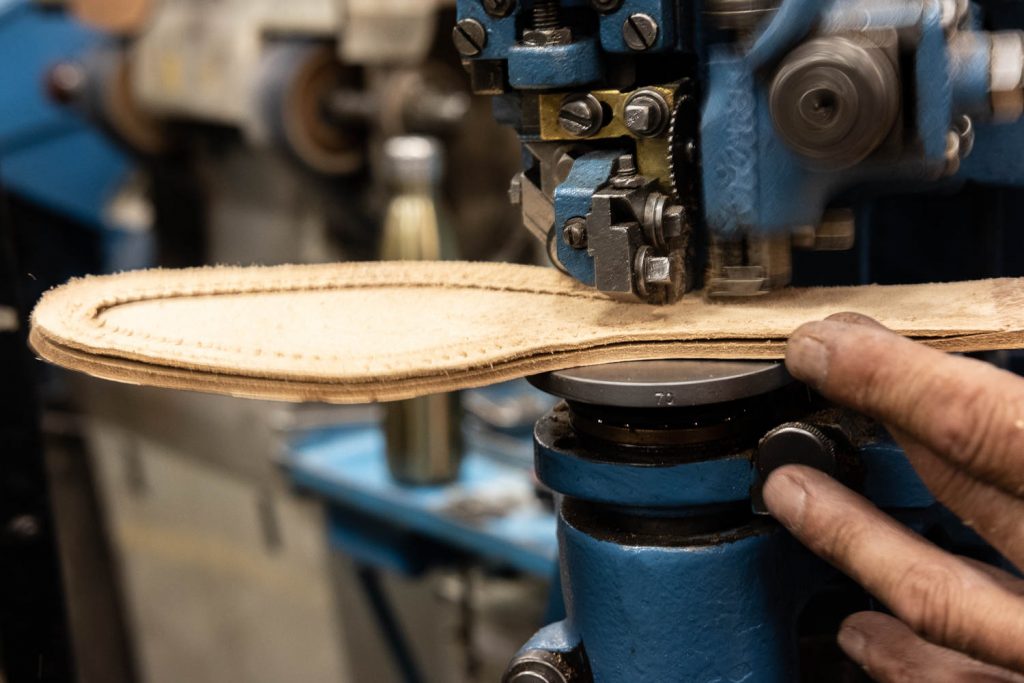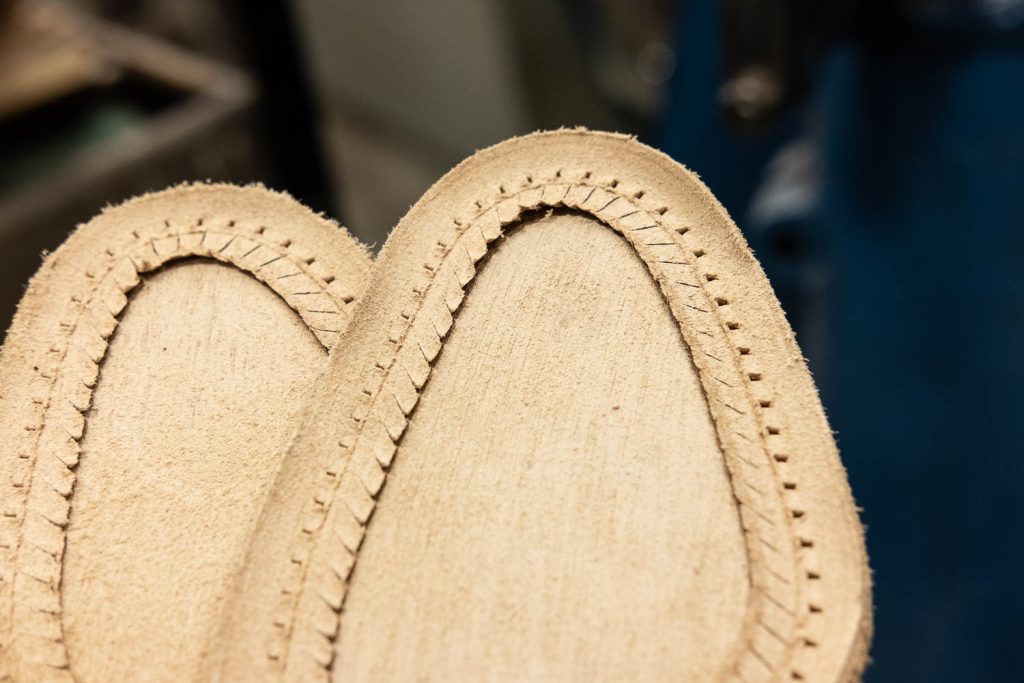 How do you distinguish yourselves from the other boot makers out there, the larger boot industry?
G: I think it's something that is fluid and that changes as the company changes. Our goal and brand identity was probably different ten years ago than it is today. But, the thing that sets us apart is a recurring theme of what we're talking about. Obviously we're an old company; so whatever you want to call that – heritage or whatever – we're old and we haven't changed hands. We're from the 1930s with the same people, same company, and same production methods. We're also still, for the time being, a namesake manufacturer. That means 'Vibergs' are finishing Viberg boots, and that's increasingly rare. We might be the only namesake footwear manufacturer left in North America; and one of the few anywhere. Unfortunately, that will end with Glen as neither Brett nor Jason will take that role on as they've shifted their interests. But for the time being, if you buy a Viberg boot – Glen Viberg made it. Edwin Viberg used to make every boot, now Glen Viberg makes every boot, but at some point in the next few years that will no longer be the case.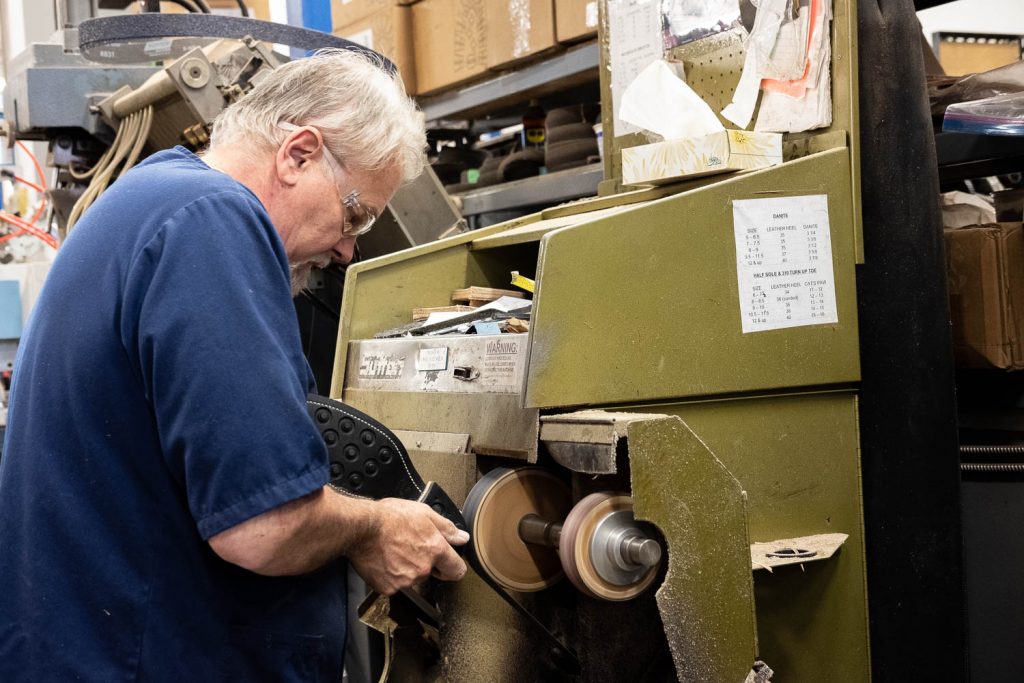 What is Viberg's general approach towards making boots?
G: I think the idea is to be able to combine tradition, which in our case is really all around quality, with trying to make the best product possible because our customer needed it. They needed to survive on the job, to get by, and so that was the most essential thing, this idea of quality. That extends to every component of all the manufacturing steps. As we modernize, the thing we try to accomplish is taking that tradition of quality and trying to apply it to something contemporary, rather than relying on signature products that we will keep on making without trying to push the boundaries.
G: There are obviously younger companies that are really focused on research, development, and innovation. And then there are older companies that are just focused on resting on what they've been doing forever – a signature product – it's popular, they know it makes money, if they change it maybe their customers might stop by it. However, we make changes constantly that could have alienated all of our customers, and have at times. And yet we do that all the time. It's very rare to find a company that is almost a hundred years old, third generation family run, that is also trying to push the boundaries of what can be done. I don't know of another company that captures both of those things.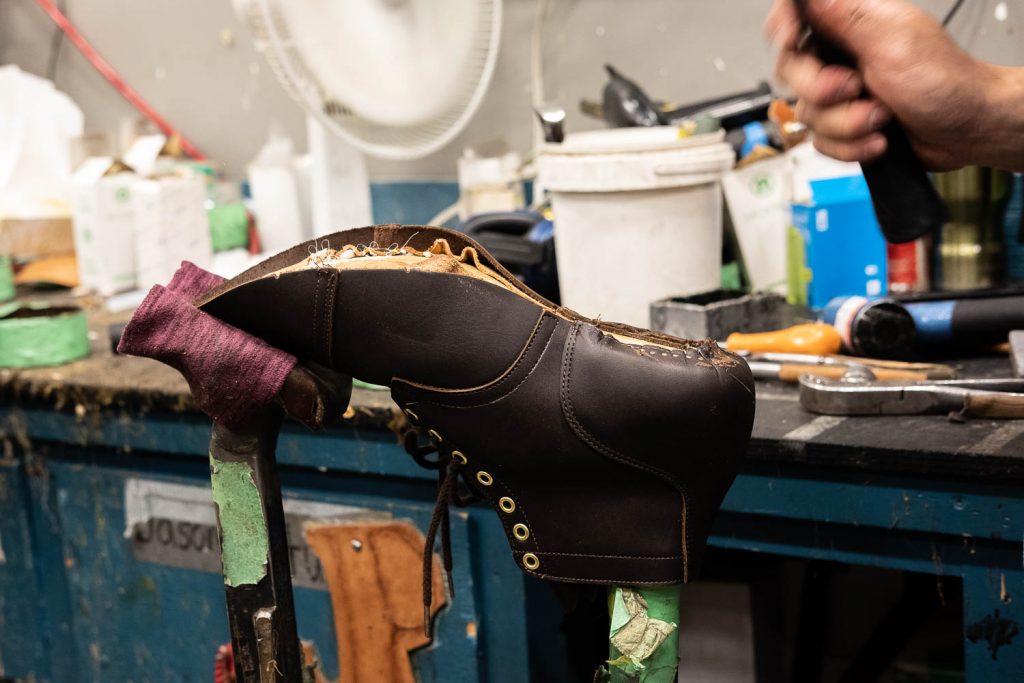 G: In the 1970s we were thought of as an innovative company because we made removable corks on our logging boots – that was new and people were confused by it. And then it went on to become a standard thing that people saw. Brett is very much at the forefront of that now, but it's always been in the company's makeup to do that. I think the same can be said of all the old companies who have lasted this long – no one started in the 1930s and operated the same way they do today, it's just not possible. So it's interesting that a lot of those companies tend to abandon the idea of innovation and experimentation as they look to become more secure in their placement in the market. For us, we want to experiment, push the boundaries, see what we're capable of doing. There's no footwear manufacturing in Victoria B.C., and almost none in Canada. There's definitely no manufacturing on the island at all – you don't put manufacturing on islands, it doesn't make sense and is a terrible idea. So when you look at all of these things, we don't have to play by any of the rules. We just make what we want and in the best way we possibly can. I think existing outside of larger fashion markets and outside of larger areas that have a more steeped tradition of manufacturing, allows us the freedom to do whatever we want.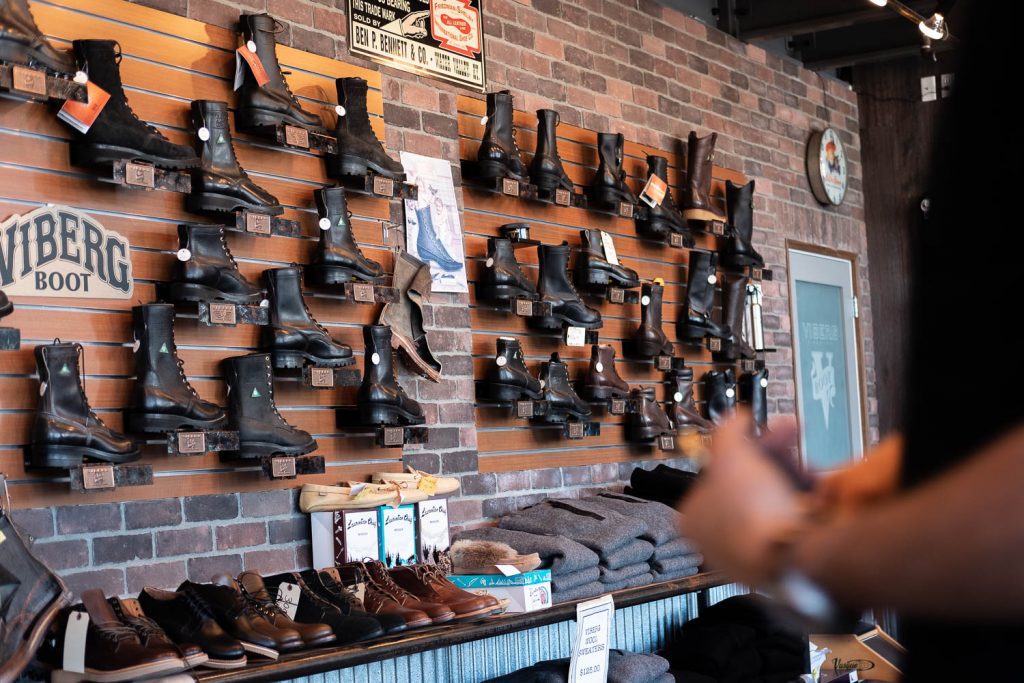 One might see another boot that looks quite similar to a Viberg service boot. We're curious, are patents on the patterns and style of the boot part of the overall equation in this industry?
G: You can't really patent it, especially if things have become part of the common spectrum of what a product looks like in the industry. For example, if you were the first person to put sleeves on a shirt, too bad, sleeves are part of shirts, that's just what you do. But there are very specific things you can protect sometimes. But then, you get into the discussion on what countries do we try and do that in – do we do that in Canada, do that globally? We have to ask ourselves, if we are a tiny company, are we going to devote time to this and form a legal team to try and protect the way we stitch the quarters of the service boot?
G: I won't speak for Brett here, because I know with him, this is very personal. This is his family's company – designs his grandfather made, his father made, he made. So he has a more personal attachment to the defense of those things and what makes them unique. But for me, I look at them and I think it's great that people make products that look at ours. As long as people take the time to research and understand who's first, and where it came from – what the trickle down effect actually is. Every company that I really value and think is doing a great job, has people that are following what they do and are doing similar things. It's just the nature of it.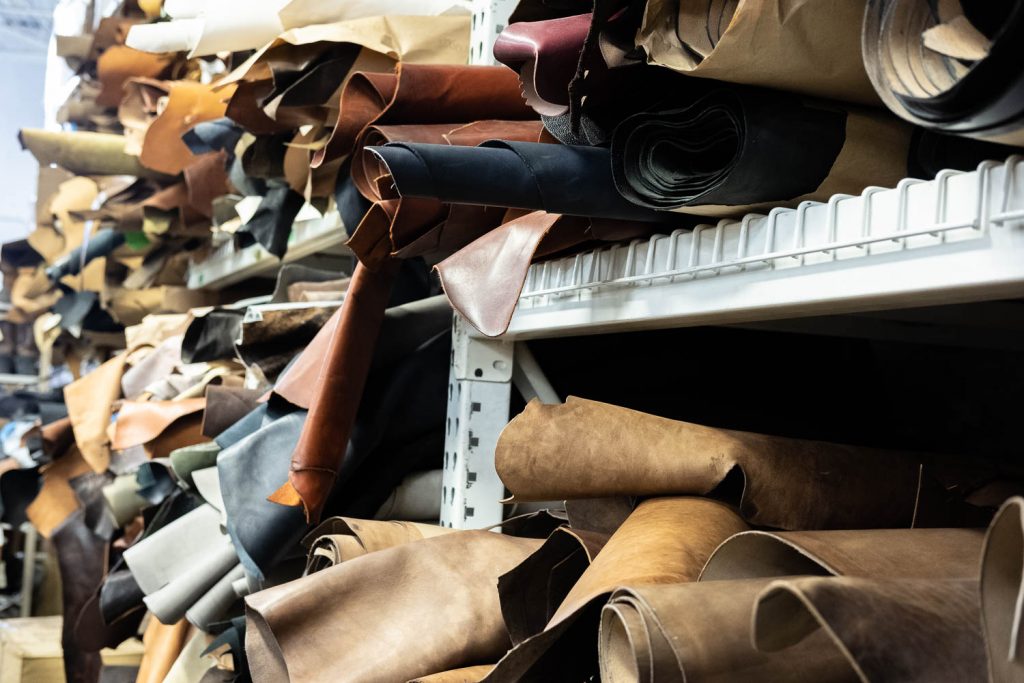 CUSTOM MAKEUPS
---
As mentioned earlier, Viberg has made a push with the wholesale retailers and custom makeups over the last few years. How has the response to that been?
R: To be able to have that level of customization as a shop on such a fine detail is so rare in this market. This is really one of the strongest points the brand has on the wholesale level. On the buying side, it's really alluring to me as you can have this completely customizable product that is unique to your store. It's one of the easiest selling pitches ever – yeah you really like those boots, there's only fifteen in the world. That to me is such a unique selling point of the brand and it's so oriented towards retailers. It's automatically one of things that most of our retail partners gravitate towards. It's only been in the last year that we've just now started to offer our core program and introduced more of a line. Everything has pretty much been custom since before that.
R: It's really something that is special for our retailers, and some people will put a lot more thought and detail into it. Some will take a previous boot we've made and say, let's throw a toe-cap on it and change the eyelets. It's good because it gives them a unique pair that they can really do something with. It's awesome to be able to have the flexibility as a manufacturer to offer that to our retailers because not everyone has the time or people/manpower to put into really hunkering down and putting a lot of thought into a collaboration. We're able to accommodate that as well as retailers who really want a special kind of project.
R: Moving forward, we're focusing more on the production side as that grows. We're now able to create a line – these are some of our best selling boots and styles that we have – and offer those to our accounts. These are the styles that are going to be around all the time, so we've also begun to create a collection every season that will change to showcase newer styles and leathers that we're working with.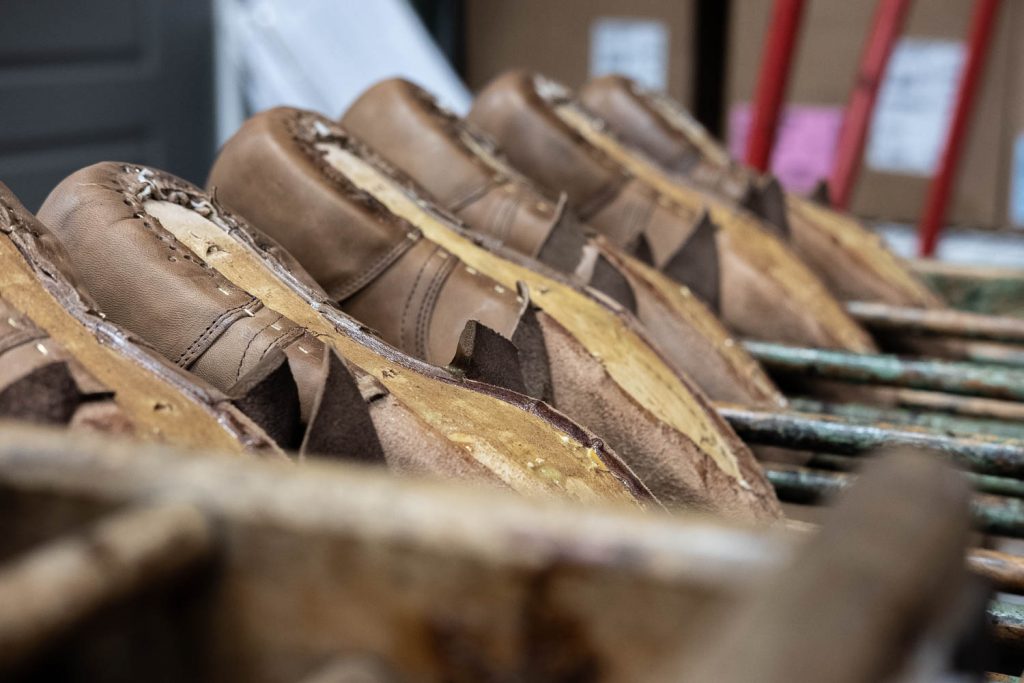 Has there been negatives to working with the custom styles and wholesale in general with retailers?
R: There's always going to be road blocks. One thing I find most challenging working with some retail partners, is just the understanding of the manufacturing process. There's so much that goes into these boots, and so many minute little details that go into the processes. For example, certain leathers don't go with certain lasts, certain soles can only be on a certain shape. Sometimes we'll have retail accounts come to us and say, this sole will be really cool on this boot. And I'll go to the factory and ask. Sometimes they'll respond with with maybe, or no, or sometimes they will try but it might end up looking weird. At the end of the day, a product at any wholesale account, is still a Viberg. It's a product of our manufacturing process, our brand philosophy, and everything else that goes into that. We work really closely and really hard with retail partners to share those same values and they believe in our products. So that to me is really key with any kind of process we go through with our retail partners.
G: Some of those things we don't even know until we try. Ryan is in a production meeting every week to talk about these things – figuring out what things work and what things don't. So trying to translate that all to retail partners, who then is trying to translate a fraction of that to their customer, becomes like a game of telephone. The biggest thing is trying to translate what the wholesale account's idea of what a boot will look like, and actually get it to look like that. We've actually had accounts that we no longer work with, where our process didn't work for them, or we didn't see eye-to-eye on how that process should look like. For us, it has to be collaborative. We're not a service for you to make your dream boot. We're trying to work with you to make a product that satisfies what you want and what your customers want, but also reflects how we want our products to look and how we make it. It has to be equal parts.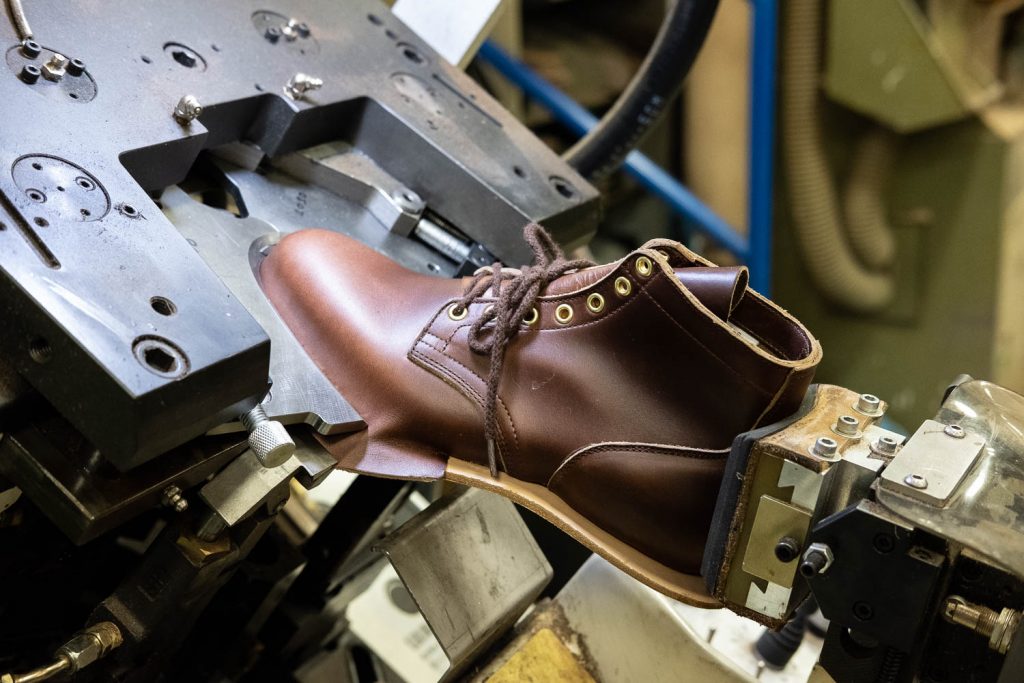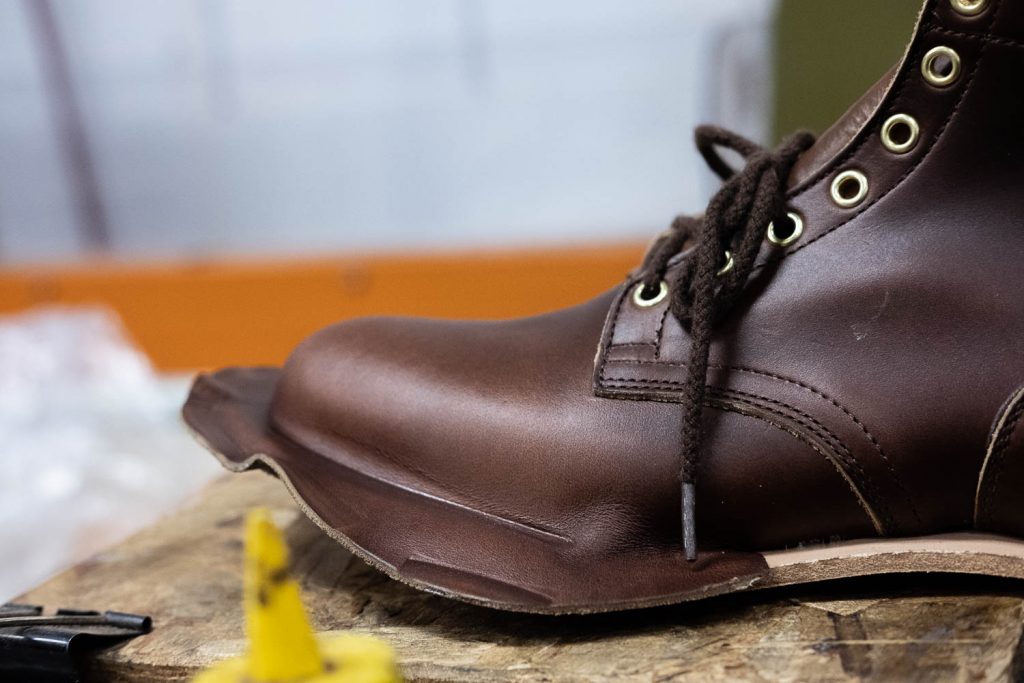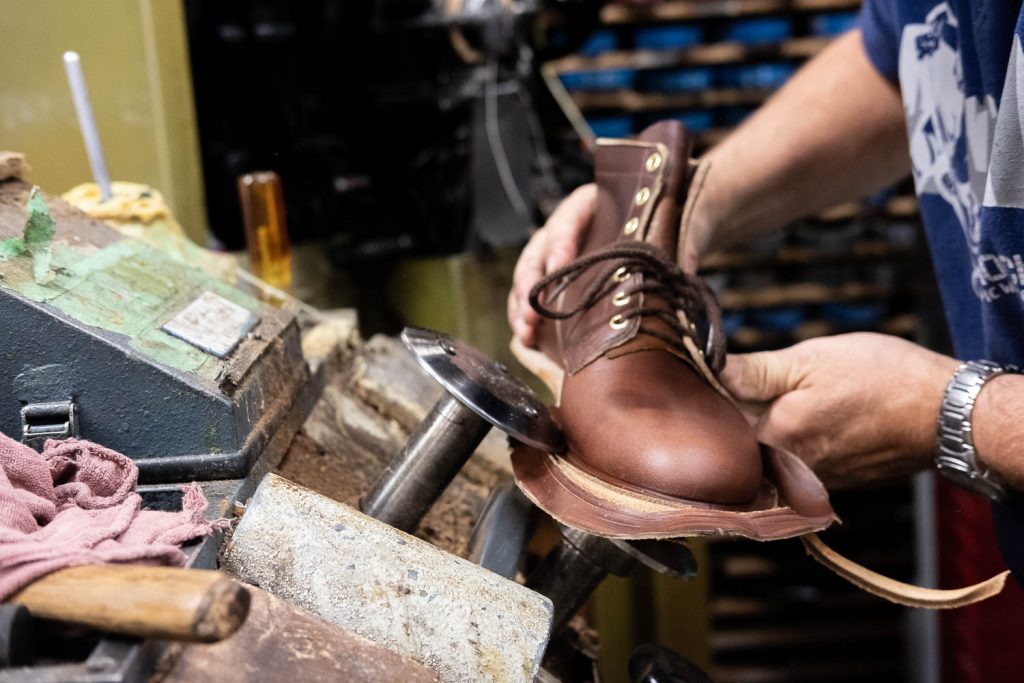 Is there a manufacturing process that you really want to do but for whatever reason – cost, labor, mechanics – you just aren't able to?
G: Initially when we first started doing welted again, we thought we weren't going to do Shell Cordovan stitchdown ever again because there's such a risk when you do it. That has been a really interesting process, because we're re-introducing that product and it's gotten everyone excited again. But then they get that boot, and they ask, why is there a wrinkle here in the quarter? And we have to explain that it's because in a stitchdown boot, we're cutting the vamp in half and stitching it, and lasted by hand. Originally, that's why we stopped doing it.
G: So there's this thing where customers want a certain product, and don't know what that necessarily means or looks like. So there are things we've stopped doing, or decided was too difficult to do, but sometimes we revisit it and come back around to it. But it's pretty rare that we think of something and think we can't do this. It might not reach the consumer, but we have done so many bizarre – can't even begin to explain – things. We've tied up boots, buried them, soaked them in water until they've gotten moldy; dipped stuff in rubber, indigo, any kind of dye you can think of; took the lining out of a boot and made it into a boot on its own; we flipped an upper inside out and finished it as a boot. That being said, that doesn't mean all those ideas are feasible, or even good. A lot of them end up being terrible.
How many of these one-offs/weird stuff end up at the Viberg Sample Sales?
G: A lot of them do – we finally sold a pair of the BOA lacing system boots that's on snowboarding boots. We made two pairs of boots with that, and sold those at the sample sale in 2018. We also did some indigo-dying for another project and had a sample slipper sitting around and just dipped the toes in. So we took those to sample sale and someone bought them. The majority of the sample sale is old inventory or an order that got messed up, like a wrong tongue was put on. The rest are comprised of cosmetic seconds and maybe 5-10% are trade show samples and one-off experiments.
We (Withered Fig) have done a couple makeups now with you, and are now about to release a third with the Tobacco Chamois Roughout. Could you educate us a little on the chamois leather and what makes this one of your favorite leathers?
R: The Chamois leather from Horween is a particular favorite of mine for a few reasons. The Chamois tannage is a nubuck, that's been fat liquored, so it has an amazingly supple and oily feel, which makes it comfortable and great for wet weather. It's usable on the roughout side as well, which to me is often more texturally interesting. Because of the heavy oil finish, the roughout on the Chamois gets this really nice depth to it, and a really interesting variation with some areas slicked down next to more typical roughout nap. It's an amazing leather both functionally and aesthetically.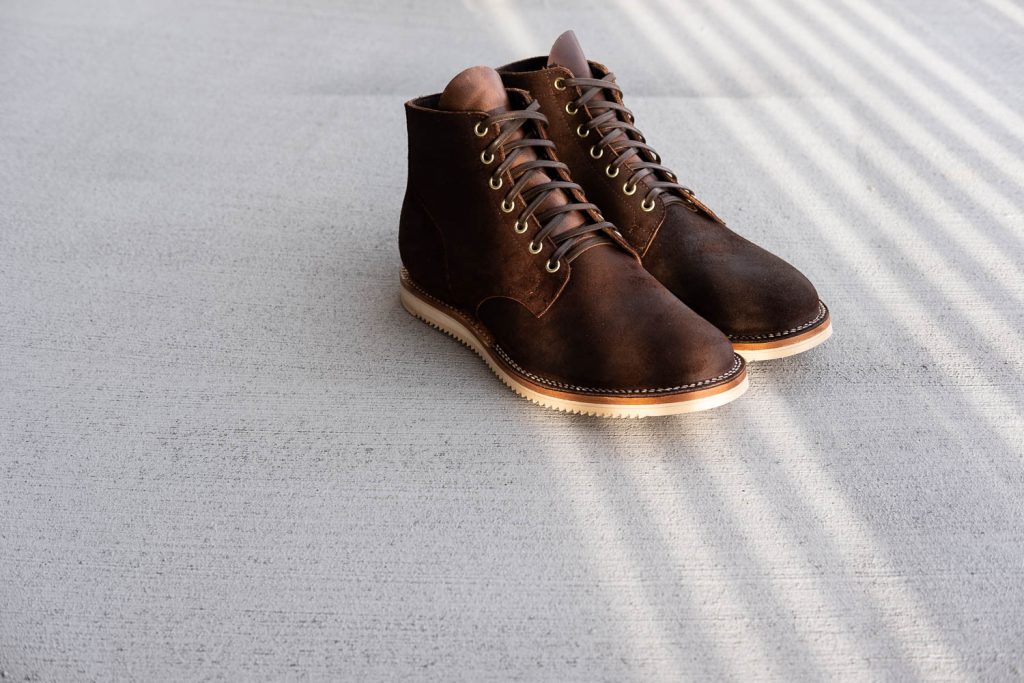 LOCAL ISLAND
---
Some folks might not realize that you guys are actually on an island. What's that like, is it mainly tourism? How does Viberg fit into the larger Victoria B.C. economy?
G: Tourism has been the history of this area for sure. It's starting to shift though, as we now have a huge technology sector that has popped up in the last 5-6 years. Now you've got people in the 30s and early 40s who aren't leaving and want to stay in Victoria. That's why we now have all of a sudden incredible restaurants and cafes, an actual thriving cultural community. So yeah, historically we've been a tourism industry, but now it's changing. Ryan and I are very engaged in the community here as individuals. But as a brand, it's very difficult for us to engage with the community on a deep level because our product is not accessible. It's really out of reach, not something people can support easily.
G: But we have really strong ties in the city and have friends who work in coffee, food, and furniture, other small scale manufacturing. I did a panel discussion that was moderated by the mayor about a year ago. It was about manufacturing in Victoria and it was us, a beer company that has been winning a ton of awards, a furniture manufacturer that is incredibly high-end, a woman who has started a company that does a natural-reusable-plastic-wrap alternative, and a company that does surf boards. So that community is here, and it's starting to be fostered more and more. But the money from tourists is being spent in all the wrong places. We have a a very touristy strip called the Government Street. People hop off the cruise ship, go there, buy a Canada t-shirt with a moose on it, eat at a terrible restaurant, and they're like "Cool, Victoria is nice." But that is not the city, you need to do a little more work than that. But what is here now is truly world class.
Are people who visit Victoria B.C. able to just show up to your Viberg office or factory?
G: Please make an appointment. We've had people show up and they're just like, "Is this a shop?" Meanwhile we're in the middle of a meeting or something. It's great to have people here, and we love hosting them, but we just need to be prepared for them. At the factory, there's a little retail shop up front, but that's all our industrial stuff. But you can walk in there at business hours, talk to them, buy those boots, but none of other boots are there. But if you wanted to see the factory, it would entail a little bit more of a heads up on our end, as we need to make sure we have a body to actually show you around. It's a proper factory that's running, so we can't just have people walking around. So if Christian, Ryan, or myself have time, we are excited to show somebody around and it's a really cool experience for them to see how it's happening. But, notice. Advanced notice.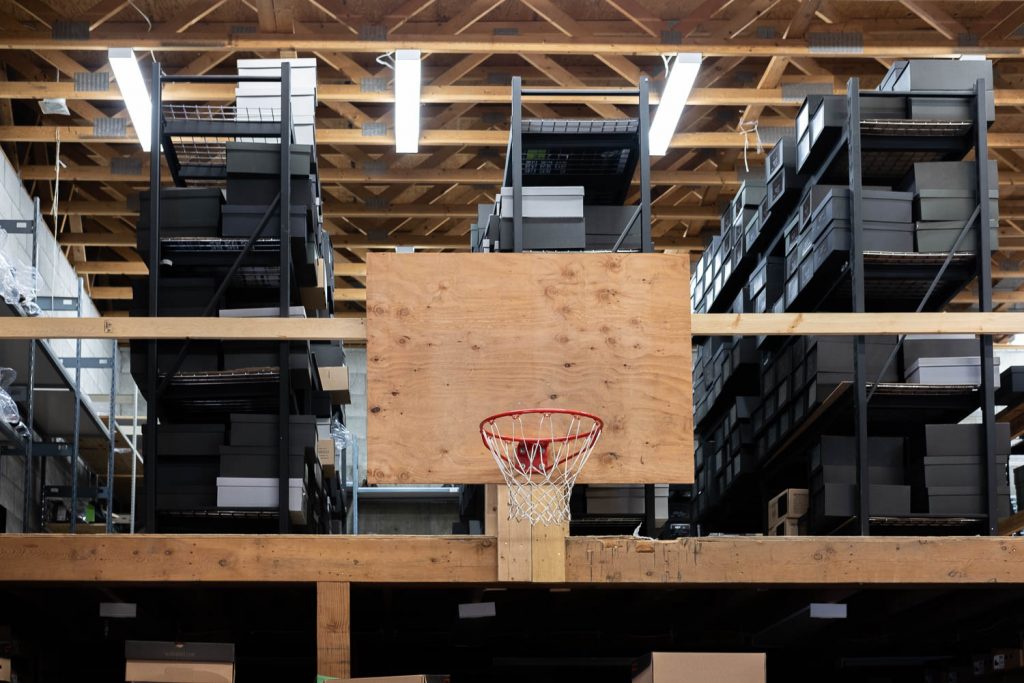 We're visiting from out of town, what's one (or a few) things that we should try out to eat and drink?
G: Part and Parcel is a restaurant owned by some friends of ours and they have a long history in food and high-end restaurants, and they finally got to open their own thing. It's really casual, counter service, lunch and early dinner. But I think it's the most inventive and interesting food being made in the city. They work with all local farms and suppliers, and it's really dependent on just what they can source for that day/week. It's incredibly affordable and casual, so it's a perfect spot to tell people who are visiting and it's also not downtown so it forces them to see another neighborhood. That would be my number one eat.
G: We also have friends that opened a restaurant downtown – Sherwood. They are the guys who are behind the cafe that we go to the most, Habit, who are partners with these guys Bows and Arrows. The chef is a close friend of ours and they're also big supporters of Viberg. So Sherwood is definitely worth a shout-out.
R: I would say Fol Epi and Agrius. Fol Epi is a bakery in town here, and in the last 2-3 years opened a restaurant in the downtown location called Agrius. They have amazing quality food, island-sourced ingredients, they smoke their own meats, their own charcuterie in house, and the bread obviously is crazy. Their baked goods are insane. They also serve Bows and Arrows coffee at the cafe location.
G: Both of those restaurants, I think, represent to me the island. They exist based around what is available on the island. So to me, if you're coming to visit here, we have this incredibly rich agriculture here that is unlike anywhere. There are places, but it's special here. And those restaurants both exemplify and celebrate that.
G: Breweries, we're spoiled as there's probably twenty plus breweries in this area. Literally across the street from us is Hoyne Brewing Co. and Driftwood Brewing Co. They are literally next to each other and share a parking lot. Driftwood makes one of my favorite local beers, called Farmhand, a saison. Another one is OLO – it's a really nice restaurant in Chinatown. The owners are again close friends and really great people. They're more known for their food, but their wine list, their wine program, and their cocktails are incredible. They apply the same philosophy of their food – local foraged ingredients and small batch – to their cocktail program. Ryan and I are both big wine nerds, and their wine program is amazing. You walk by and not really realize that you can just go in and have a glass of wine at the bar, so it's really good for people to know you could do that.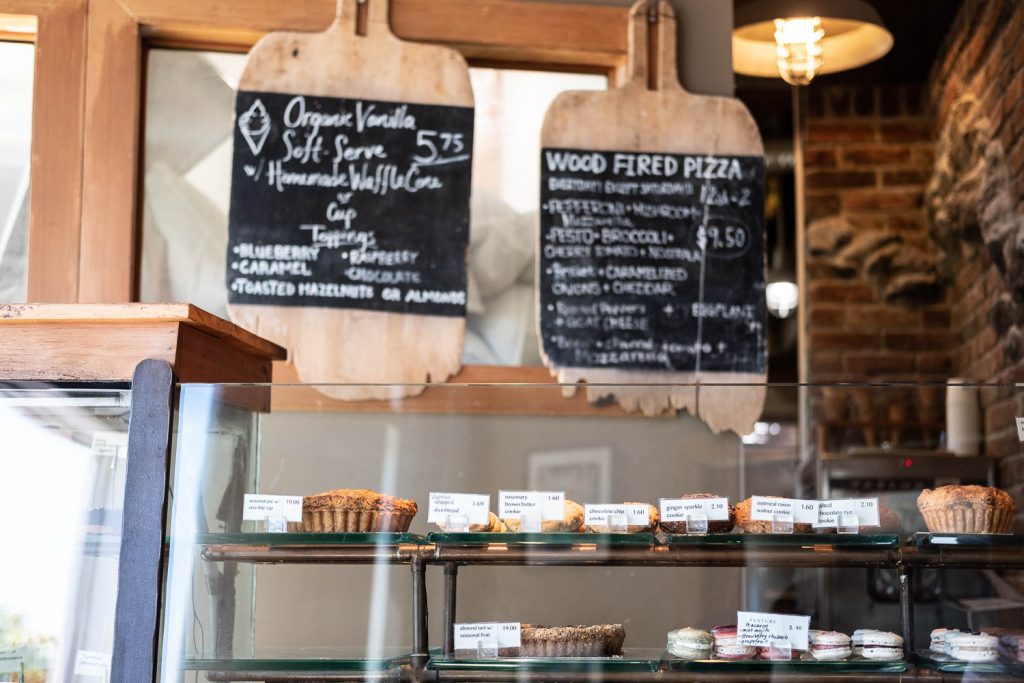 Outside of the usual touristy places, what are some places you'd recommend visitors check out?
G: My favorite area probably is Dallas Rd, and the whole coast along there. It's this beachfront road just past the James Bay area. You can walk down to the beach there and it's insanely beautiful and won't ever be that busy or overwhelming. In the summer, you grab an amazing pizza, or take-out burgers, and sit down at the beach with a bottle of wine and some friends. It doesn't feel touristy at all. If you keep going down Dallas Rd. you'll get to a couple spots that are really amazing. One is the Chinese cemetery. We have a very complicated and old history with the Chinese community. This is the oldest Chinatown in North America, and it's really kind of a bad history – a lot of Chinese immigrants came here to work and build the railroads, but a lot of them were dying and not making money. So there's this incredible piece of land right along the water that is the oldest Chinese cemetery and so beautiful. That's something you wouldn't know about if you weren't local. That's some place where I like to go and sit and have a little picnic – it sounds weird, but you're not so much in the cemetery.
G: Also near there is the old observatory, Gonzales Hill Observatory, up on a hill with this incredible building and all around it is this park land. It's this nice secret spot – people definitely don't really know about that one. Can't give away all our spots though, but those are two I'm comfortable with people going to. There are places that should be packed full of people in terms of lakes, swimming rivers, and stuff like that. You can drive an hour out of town and be in this amazing natural setting and with no one really around at all.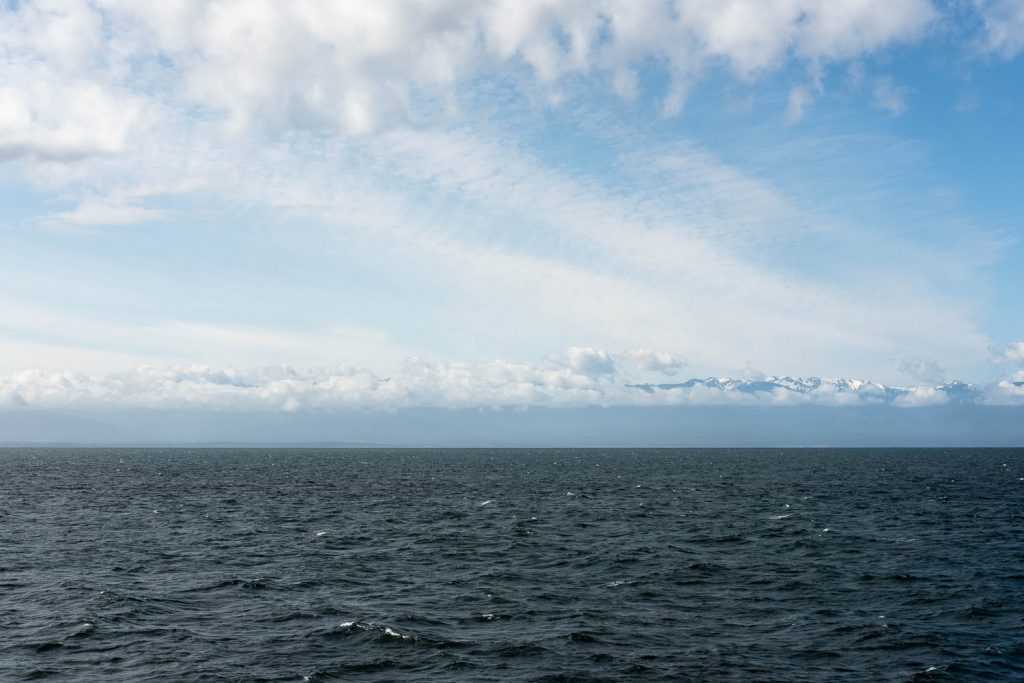 You can find our latest Viberg for Withered Fig releases over on the Withered Fig store. The Tobacco Chamois Roughout Service Boot, 1035 Last, Mini Ripple Sole will release on March 8, 2019 Noon EST. For more on our Vibergs, read our Worn series on the Aged Bark Roughout 'Marvington' Service Boot, and see our video on the Mushroom Chamois Roughout 145 Oxford on a Raw Cord Sole.