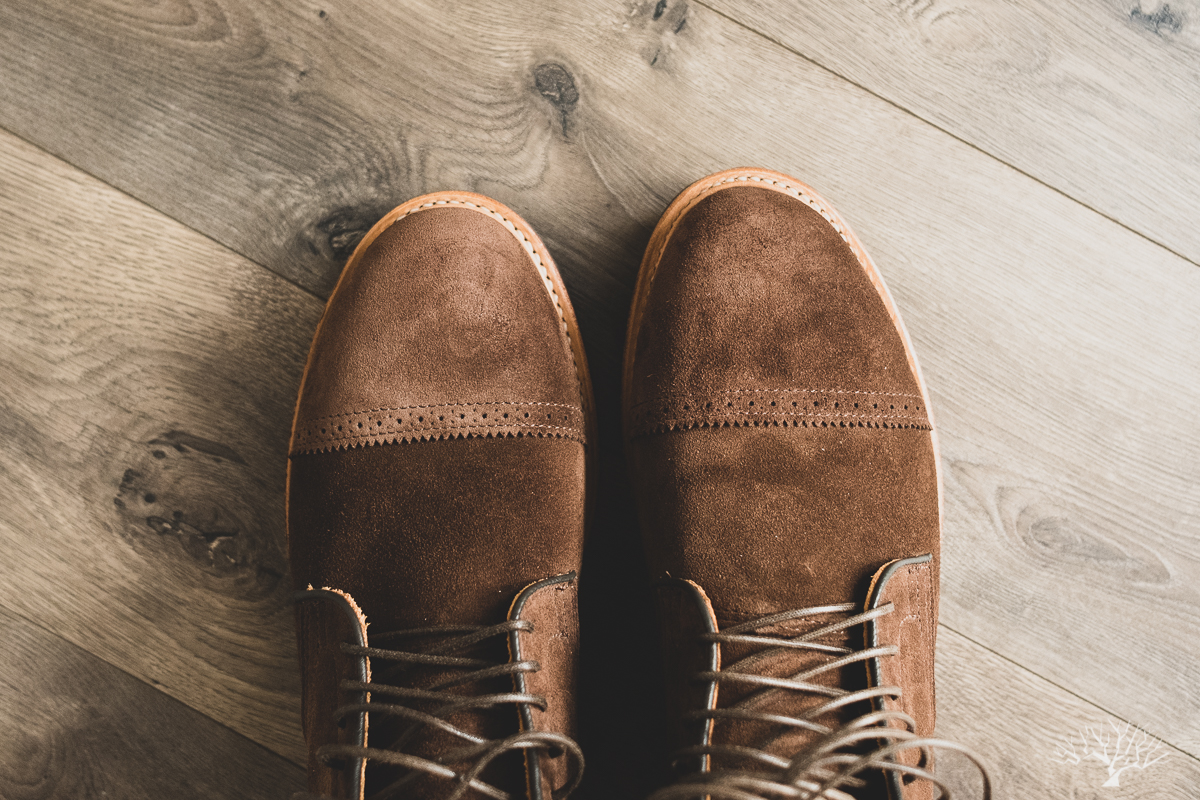 Viberg's 2020 Last in their boots and shoes is an anatomical take with a mold that bends and curves with the feet. While Viberg has made a big push in getting this last out to the masses, we'd venture to say it still has a lot of welcoming feet in waiting that just haven't had the opportunity to try it on. Read on for our impressions and sizing advice on the 2020 Last. For a limited time, get $100 GC back on the cost of this pair of boots, in a gift card to your local brewery or coffee roaster/shop. See full details at the bottom. Promotion ends March 31, 2021.
INTRO
---
Viberg introduced the 2020 Last (coincidentally?) in 2020 and quickly gave it several notable make-ups to help proliferate this last to the masses. Several Shell Cordovan Service Boots and Derby Boots/Shoes were created in the 2020 Last, as well as the beautiful Shinki Oiled Horsebutt Service Boot, which has been one of their only non-Shell pre-orders to date.
All this to say, the 2020 last, while not quite proliferated and "mainstream" accepted, has gotten notable makeups and we are guessing we will likely continue to see more of it over the next year. Especially with the move into some of their newer and dressier styles such as the Halkett Boot in the Bison Calf Suede and the Bastion Oxford, and away from some of the workwear styles such as the beloved 145 Oxford and Bobcat Boot, we think you'd be hard pressed to say that the year 2020 won't be the last of the 2020s we'll be seeing.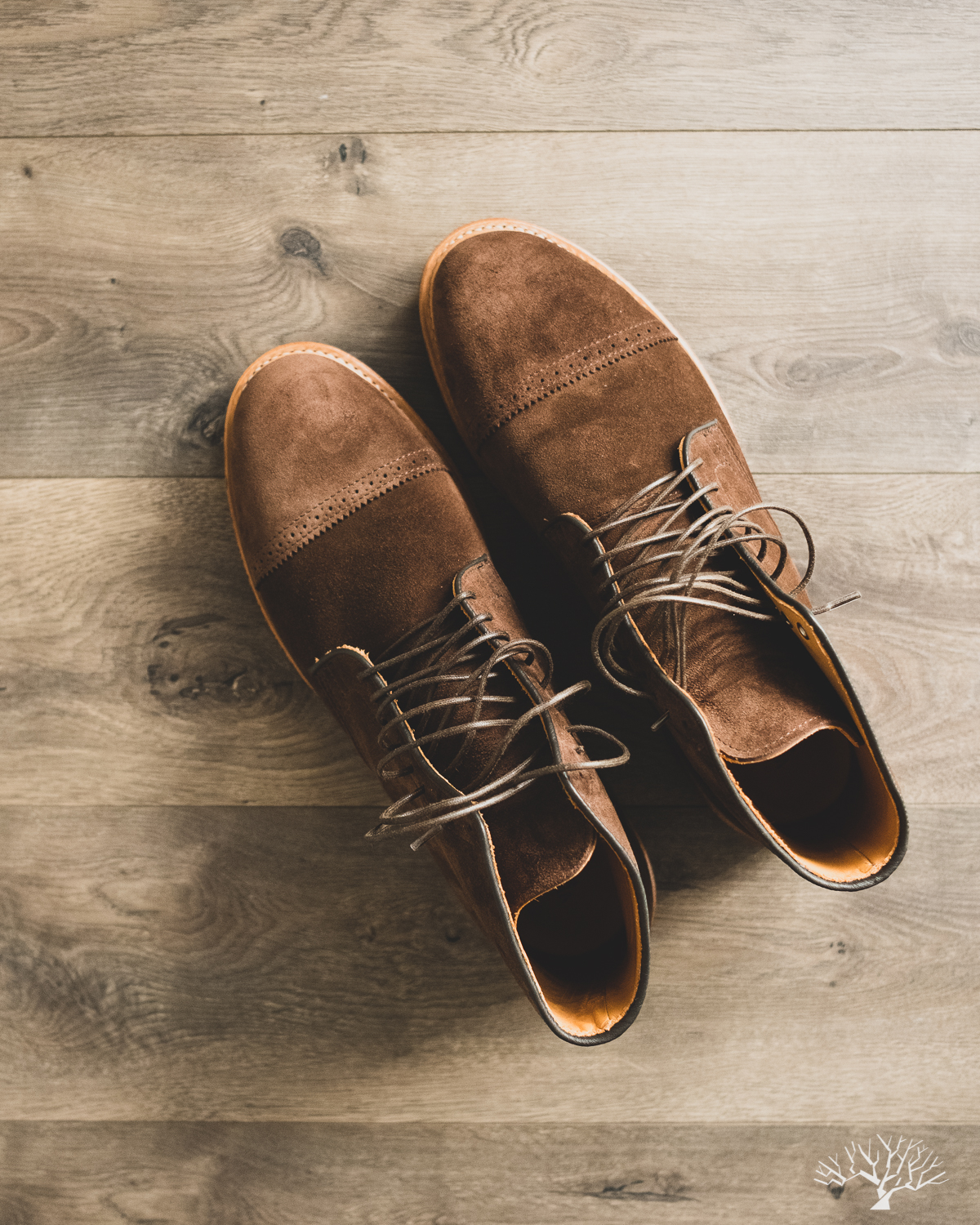 THE SHAPE
---
Something that has become more prevalent in running and cross-trainer shoes over the last few years, is the use of an anatomical last, or shape, for footwear. My last pair of running shoes and cross-training shoes that I've purchased both had this wider toe box that appeared to be a nod towards an anatomically shaped last. These have become more popular over the somewhat symmetrical and pointed toes, especially with those who have wider feet and like to splay their feet out in certain situations for working out. What has replaced that are these somewhat off-center, slanted outer slope, uneven looking toe boxes. This is what we've got with the Viberg 2020 Last, although perhaps not as aggressively slanted and egregious in the appearance as my running / cross-training shoes.
Given that Viberg boots are arguably just as much about form, as function (yes, we do actually want an attractive looking pair of boots that doesn't have clown-wide toe boxes), we should naturally expect that the 2020 Last, though in pursuit of an anatomical fit, is actually quite subtle in its execution of an anatomical fit.
From the side and at an angle, I'd be hard-pressed to quickly identify that these pairs of boots are a 2020 Last over a 2030 Last. Only when you're at an elevated position and with a top-down view of the pair will you see the subtle differences in how each side of the toe slopes away from the tip and back in towards the waist of the boot. Overall, I'd say the appearance of the shape is not as drastic as one might think at first brush. See below for comparisons of the Brown Calf Suede Derby Boot 2020 Last (left) next to the Grey Kangaroo Service Boot 2030 Last (right).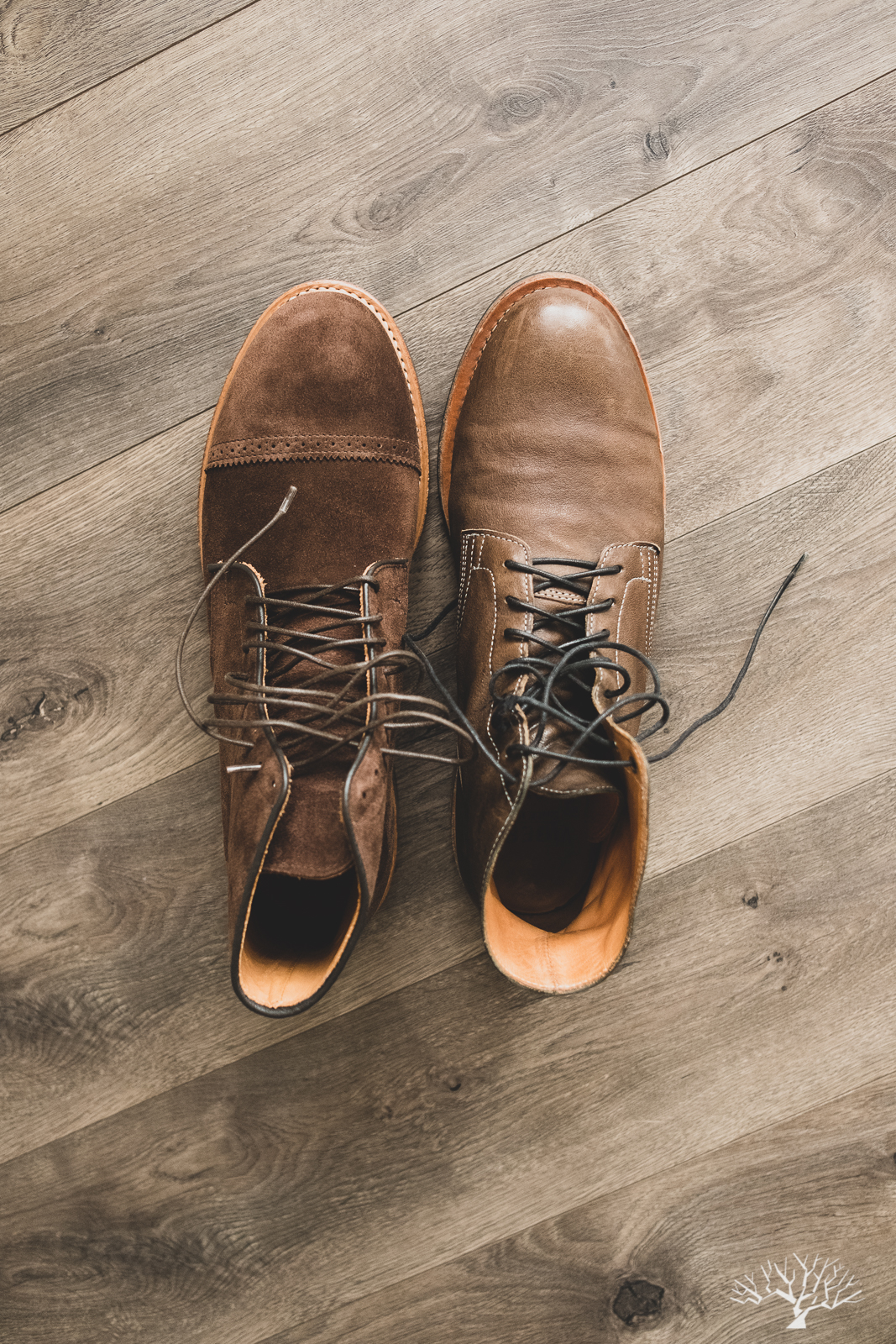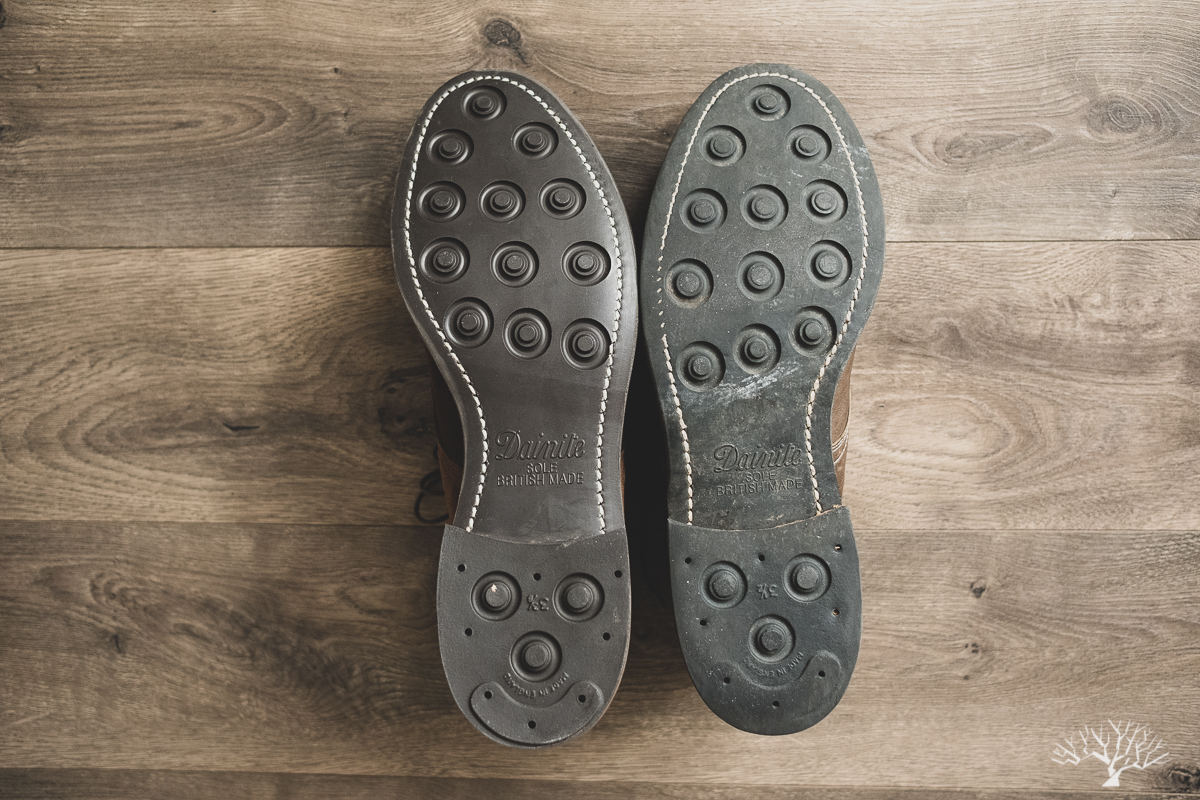 THE SIZING
---
The general Viberg recommendation on sizing is to take your same in the Viberg 2020 Last as you would in the Viberg 2030 Last. Of course there are a lot of nuances to this recommendation, which I'll try to unpack a little below based on my own experience trying on the 2020 Last, specifically the Viberg Derby Boots in Brown Calf Suede.
A brief background on my typical sizing: I have 10E Brannock feet with my right foot ever so slightly larger than my left. My left foot could be considered between a D and E width. I generally wear 9.5 in both the 2030 and 1035 Service Boots with medium-to-thick socks, which leaves me with some wiggle room in the boots (could also say it's a bit loose). I could also size down to 9s in both, but because my feet tend to swell as I spend time walking and on my feet, I tend to prefer the 9.5s. That said, for some of the make-ups like the Crust Horsebutt 145 Oxford, I size down to 9 due to them running slightly large, but also the lack of a shaft meant that the heel slip was more noticeable.
For the 2020 Last Derby Boots, I first reached for the 9.5 going with the general recommendation. I found it generally comfortable in all aspects, although with thick socks it felt quite tight such that I swapped out for some medium-to-thin socks. With the thinner socks, they felt good with a small amount of wiggle room for my toes and generally the upper half of my foot. The heel was much more snug than I was used to with the 1035 Service Boots, but not in a bad way. I actually wish I had a bit more of a close-fitting heel on the 1035 Service Boots similar to that on this 2020 Last.
Now, had I no ability to try on a pair of size 9s (the luxury of being a Viberg stockist I suppose), I probably would have just kept the 9.5s and called it a day. But, I laced up a pair of 9s to see how they fit.
Surprisingly, I found the size 9 to generally feel the same, if not slightly better in a weird way. It was definitely more snug all around, but I would call it more "secure" than "tight." The heel counter was once again cupping my heels, in a good way. I was afraid that the toe box would be too narrow going down another half size, given my E width feet, but actually it felt a little better. While the top half of the toe box was tighter all around, the area just above the waist felt less constricted. I'm guessing this is where the anatomical-shaped last comes into play. The way that the toe box and waist ebbs and flows with the curves of the human feet made this a slightly better fitting pair than the 9.5s. Again, it was tighter all around, but not in a bad way. I swapped out my medium-thickness socks for thin socks just to see how that felt, and it felt like a light glove wrapped around your feet. Enough for you to notice you're wearing it, but not enough to feel constricted. I was sold.
The difference in length between the 9 and 9.5 is only 0.25", which some folks may not realize (that going up/down ½ a size is not that big of a difference in terms of the physical length of the boot). However, it can make enough of a difference in how it feels and the placement of your foot within the bed of the boot. That said, given the stronger anatomical shape of the 2020 Last, I would have to give the slight nod to the Size 9 as my preferred size, which to summarize is 1 size down from Brannock (the general recommendation), but actually also ½ size down from my typical 2030 (which I typically wear 9.5s in).
This may be a bit counterintuitive, since I think the general consensus these days on Reddit is to take the same size as you do in the 2030 Last, if not possibly size up 0.5 However, keep in mind that my typical 2030 size is only 0.5 down from Brannock, which I think is generally not the majority of folks (majority being one down from Brannock). So by no means should everyone decide to size down 0.5 from their 2030 Last when it comes to the 2020 Last. I think for those who have generally have a "normal" shaped foot (no extreme wide feets, insteps, lack of narrowness through the waist, etc.) then one down from Brannock might actually be correct, even if you take 0.5 down from Brannock in the 2030 Service Boot. The reason being, that this last is pretty narrow through the waist, and so if the length is a bit off, your foot placement might be sitting too far back and getting wedged at the waist (like a bottleneck), but with the shorter length your foot "opens up" inside the toe box for a less constricted feel. Due to the more conforming last, I think socks play a bigger importance here in terms of what type of socks you want to wear with the pair of boots, or what your typical socks are. For example, with these Brown Calf Suede Derby Boots, a little dressier and classier, I would plan to wear these more often with thinner to medium socks rather than chunky thick socks. If I did want to go with thicker socks, I'd probably go with 9.5. Thick socks in the size 9 would just be way too tight.
INITIAL IMPRESSIONS
---
Being that I love the 1035 Last for the width and space it provides in the toe box, I was actually surprised at how much I didn't mind the lower volume toe box of the Viberg 2020 Last. But once again, I think the fact that these are shaped more-so for the human feet it's an entirely different feel and approach. For those who do not like a secure feeling boot, then this last is probably not for you. Admittedly, I was never a fan of a snug fitting boot, but perhaps that was just because it was snug in all the wrong places (not all, but you get the point). However, for those who like the feeling of a snug and secure boot, if you get the sizing right this might actually become one of your favorite lasts. A few more photos below comparing the 2020 Last (left), 2030 Last (middle), and 1035 Last (right), showing some of the subtle differences.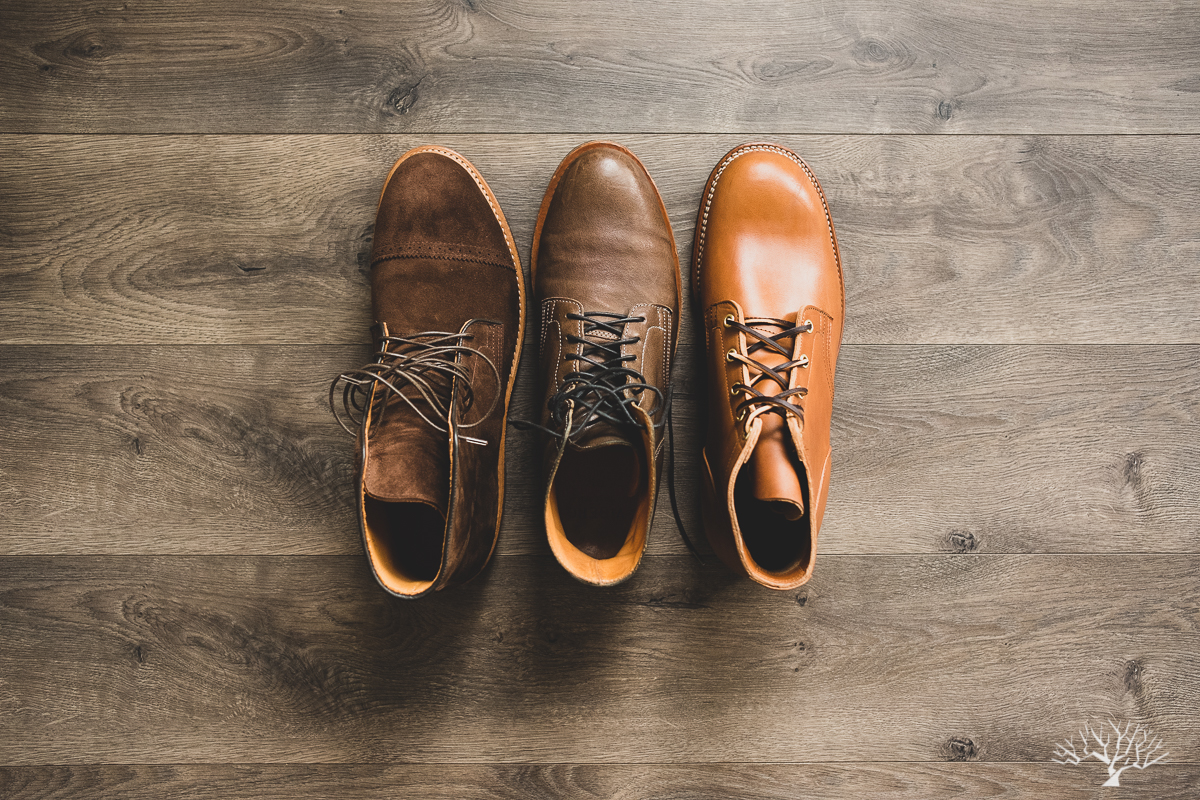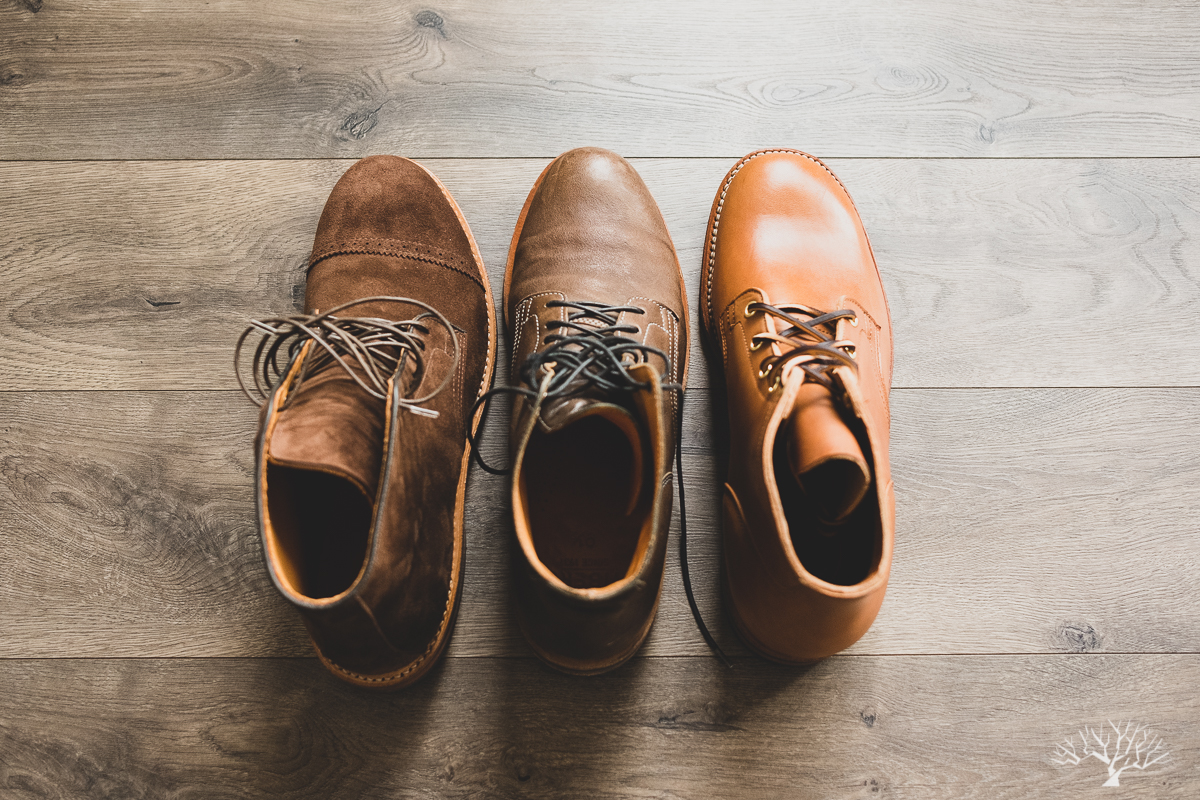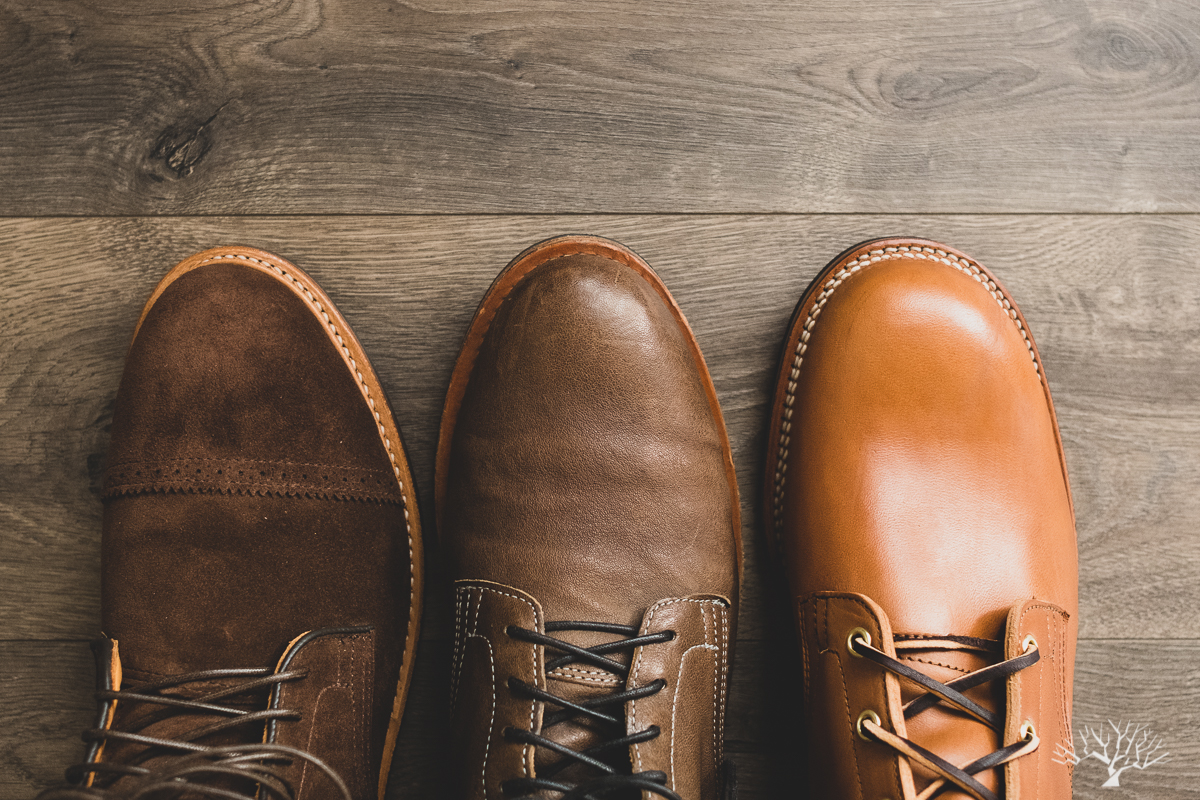 I do like the look of the sharper pointed toe, which gives it an even sleeker look and works well for the dressier Derby Boot. I'll be putting these through the ringer over the next few weeks and update with any new thoughts or advice. All that said, it is a very slight difference between the 9 and 9.5, and I could understand someone picking up the 9.5 over the 9. But, I think over time people will find and agree that placement is key with this last, more so than the 2030/1035 which can be somewhat up to personal preference. For additional information on the Viberg 2020 Last, check our our friends over at Stitchdown and their write-up here.
The Viberg Brown Calf Suede Derby Boot in 2020 Last retails for $760 and is available now on our website. As a limited time promotion, we're buying you back a $100 GC to a local brewery/coffee shop of your choice. when you pick up either the Brown Calf Suede Derby Boot or the Bison Calf Suede Halkett Derby Boot. All you need to do is mention in the comment box at check-out that you read this blog post and note your favorite local brewery or coffee shop near you. This promotion cannot be combined with other promotions such as the 10% discount for newsletter subscribers. Promotion ends March 31, 2021. See below for the obligatory terms and conditions.