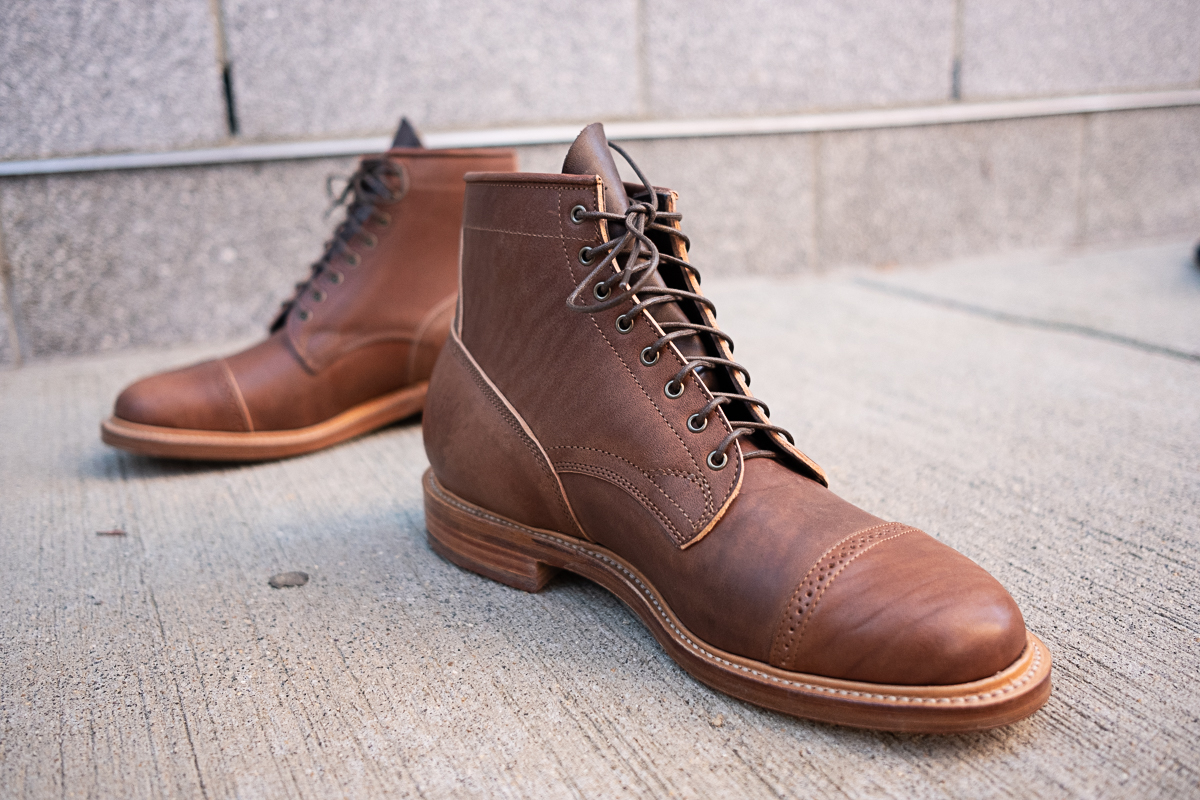 We're back with our first Viberg for Withered Fig make-up for 2021. Introducing the Viberg Brown Horsebutt Bobcat Boot from Maryam Tannery in Italy. We're kicking off 2021 with a unique take on the Bobcat Boot. Viberg's Bobcat Boot is their version of a true work boot pattern, which has tended to make its rounds as a casual-rugged boot. Often seen with a lighter composite foam soles from Vibram – as we did here with the Charcoal Chamois RO version – but, we'd venture to say, never seen with a full leather sole until now. This Maryam Brown Horsebutt Bobcat Boot is a beefy looking boot that can certainly pass for a dressier boot, but right out of the box it's more of a tweener. We won't kid ourselves in thinking we knew exactly what we were getting with this make-up, mixing the worlds of work and dress, but we're pleasantly surprised and happy with how these turned out. And once again, like the 145 Oxford's retirement, these Bobcat Boots are likely the last we will see of this style for a while. You can certainly still pick up an actual Bobcat work boot on their website. Full details of the boot are listed below and also on the product page here.
Viberg for Withered Fig Exclusive
Brown Horsebutt (Maryam, Italy)
1035 Last
Leather Sole w/ Dovetail Heel
Full Gusset Tongue
Port 1071 Oiled Horsebutt Tongue (Maryam, Italy)
8 #2 Antique Brass Eyelets
Brogue Cap Toe
Unstructured Toe
Natural Leather Midsole
Goodyear Welt Construction
Natural 360 Storm Welt
Includes a pair of Brown Flat & Brown Round Waxed Laces
Includes Viberg Dust Bags
Includes Viberg Polishing Cloth
Includes 1oz bottle of Viberg Shoe Cream
Made in Victoria, B.C, Canada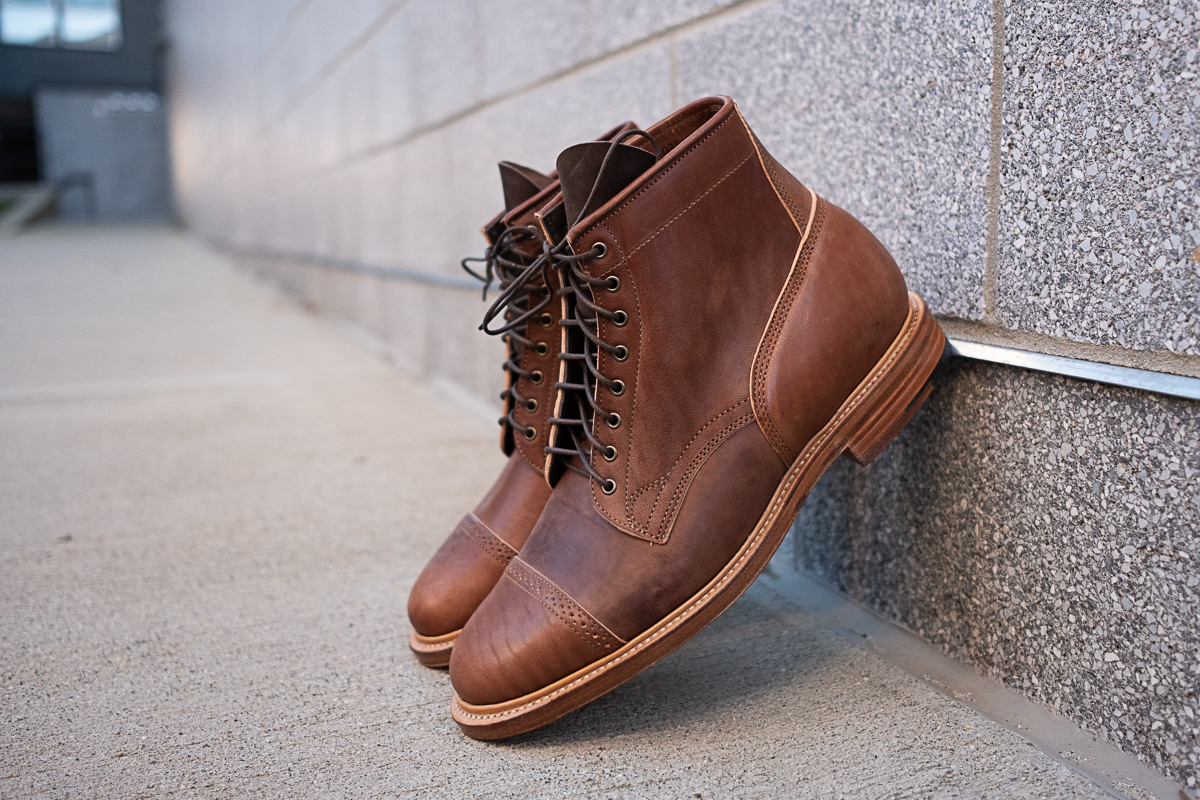 As noted above, we were pleasantly surprised with this Maryam Tannery Brown Horsebutt. This is a different leather than our previous Toscanello (Crust) Horsebutt from Maryam. The Toscanello is a bit more of an orange-brown color, while this Brown Horsebutt is more of a true light-brown color. It does remind me of a Natural CXL leather, but more crusty/dusty and a lot more of that natural variation in leather that we see from horsebutt. We'll repeat some of what we said with the prior Crust Horsebutt 145 Oxfords here because they very much apply. Like the Toscanello Horsebutt, this one also comes with various levels of irregularities, blemishes, grain and stretch marks, within a left-and-right pair, and from separate pairs to separate pairs. These irregularities on these boots should be somewhat expected with this natural leather. If you're one for highly consistent leather with zero cosmetic blemishes, this may not be the pair for you. However, if you can see this leather for its natural character, and the potential for it to age and patina, you will find yourself a happy camper.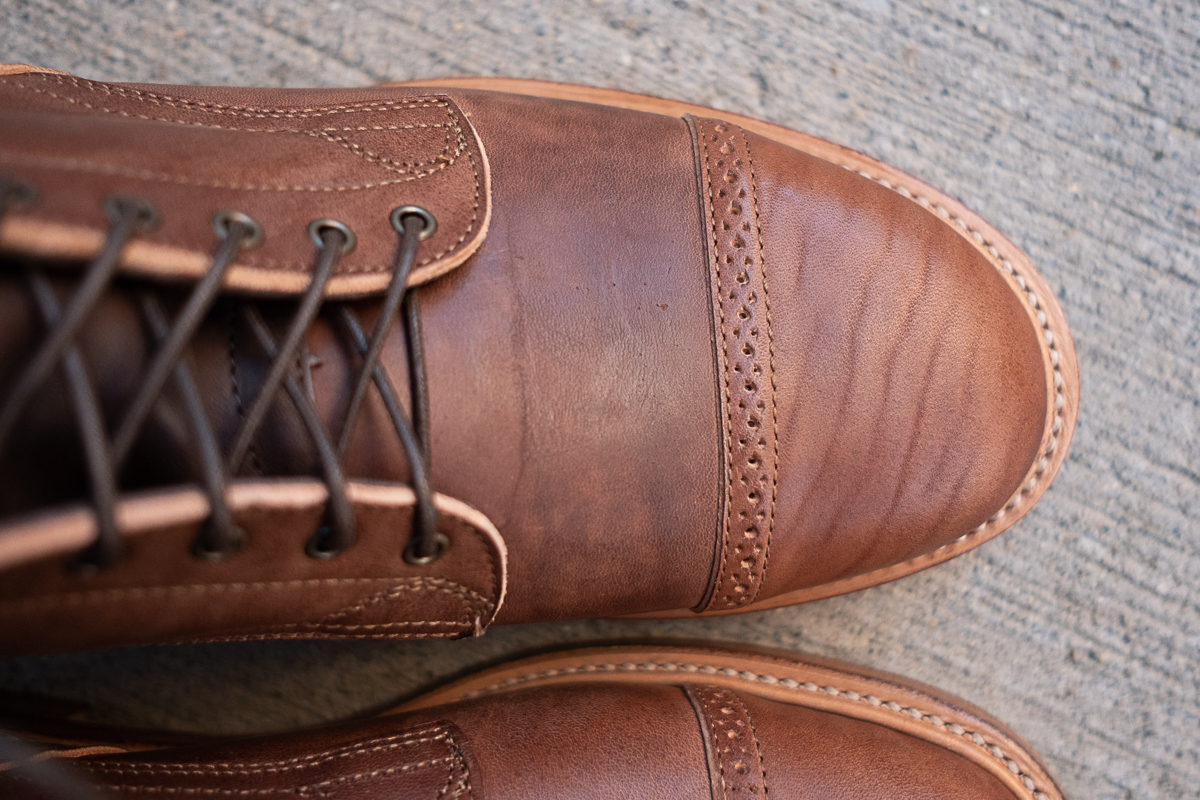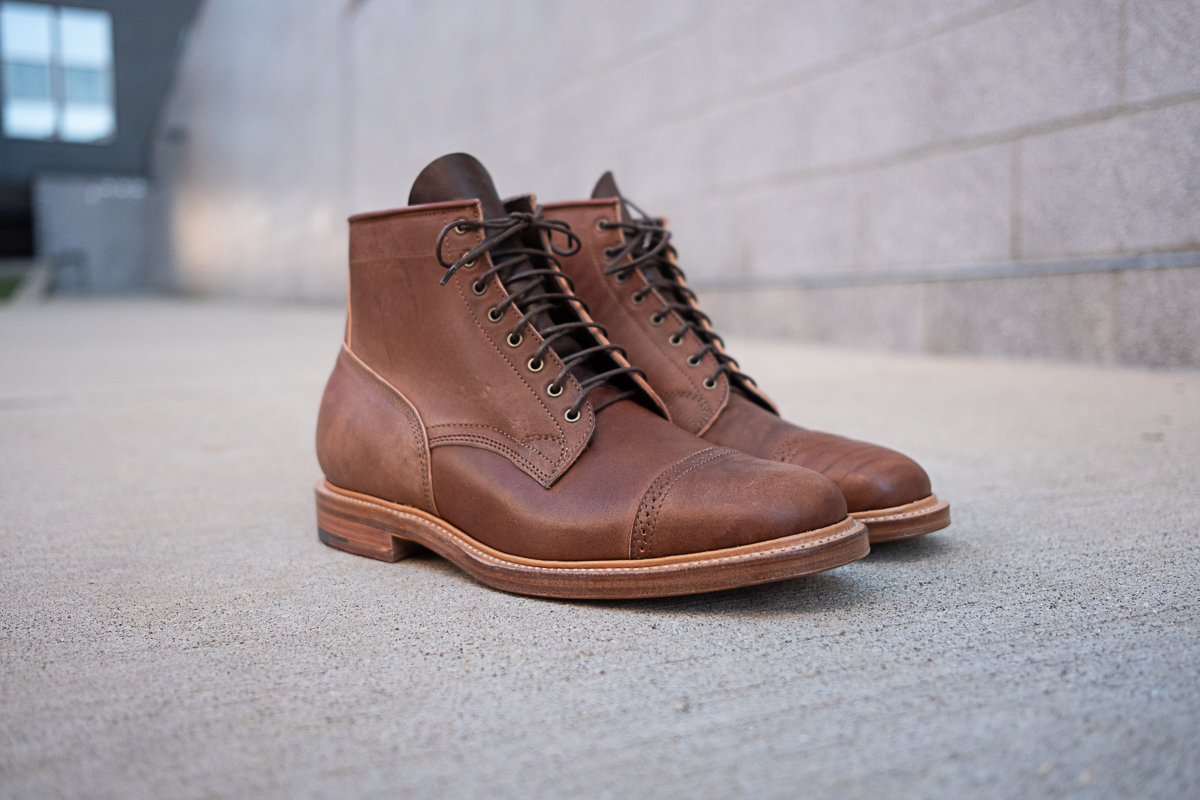 Another surprise was getting one pair of size 6.5 (the immediate three photos below, and in the very last photos on this page) that came from the factory looking like it got a nice conditioning/polish. We know some folks will love the lighter-brown shade, and others like the darker oiled look to it. At least now you know how these will turn out if you do want to polish them. All boots except this one pair of 6.5 will come in the virgin state that is more reminiscent of our horsebutts used on the 145 Oxfords.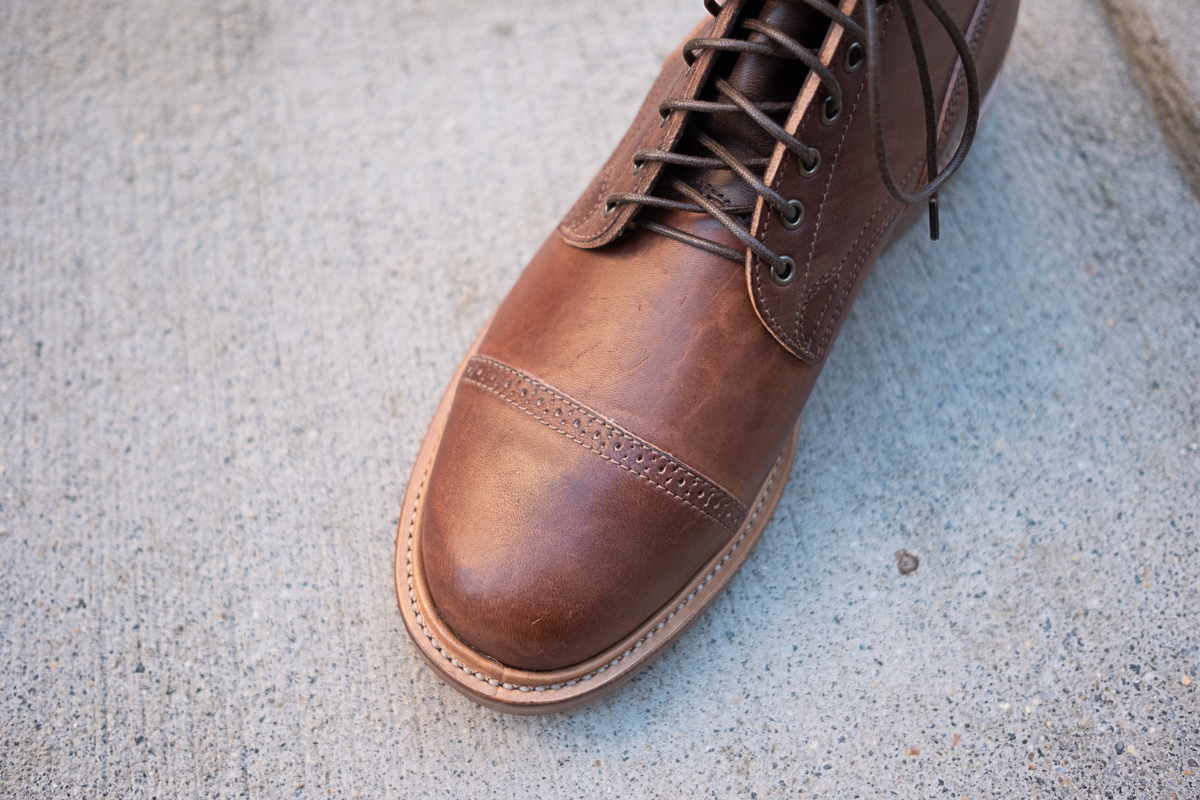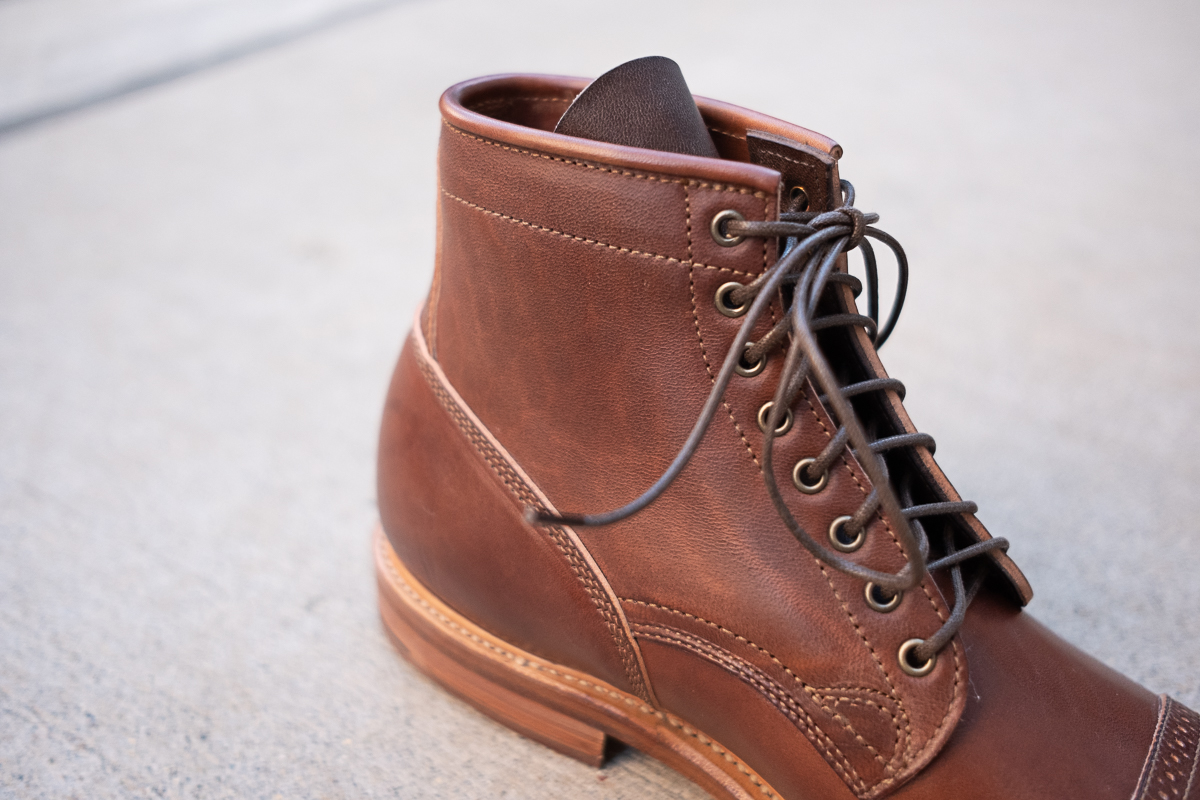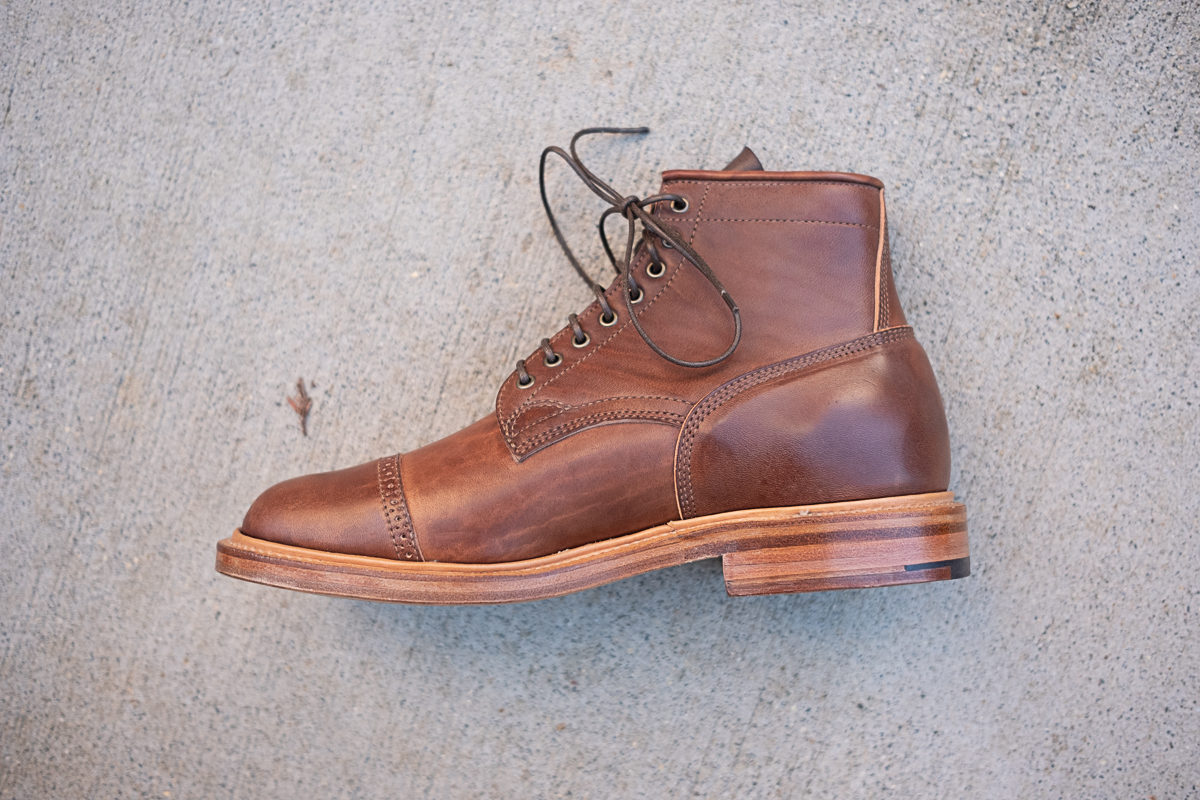 This pair comes unlined as Maryam's horsebutt does have a decent thickness to it. As far as the sole, Viberg's natural leather soles are thick as usual. These are pretty rigid at first and will take a few wears to break them in. They will flex more once broken in, but one thing that is noteworthy is that they definitely won't flex as much as a lighter sole like a Ridgeway or a Mini Ripple. A dove tail heel is used to give it slight traction. But overall, wearers need be wary of the slippery feeling straight out of the box. Viberg's leather outsoles are notorious for being an alternative to ice skating when used on carpet or other smooth, low-friction surfaces.
Some of the other smaller details are the x8 (eight) Antique Brass Eyelets of the smaller size, and also chopping off the leather pull-tab on the backstay, which we think helps push this further from the work boot look. However, we did opt for an alternate tongue in the Port 1071 Oiled Horsebutt to add some contrast to the boot. It's a muted dark brown/grey that looks great with this pair. Had we gone with a self-tongue, it probably would have gone even more towards the dressy end, but we'll leave that for a future boot. All that to say, it was sort of hard to imagine how it would all come together, but we are very happy with how it did.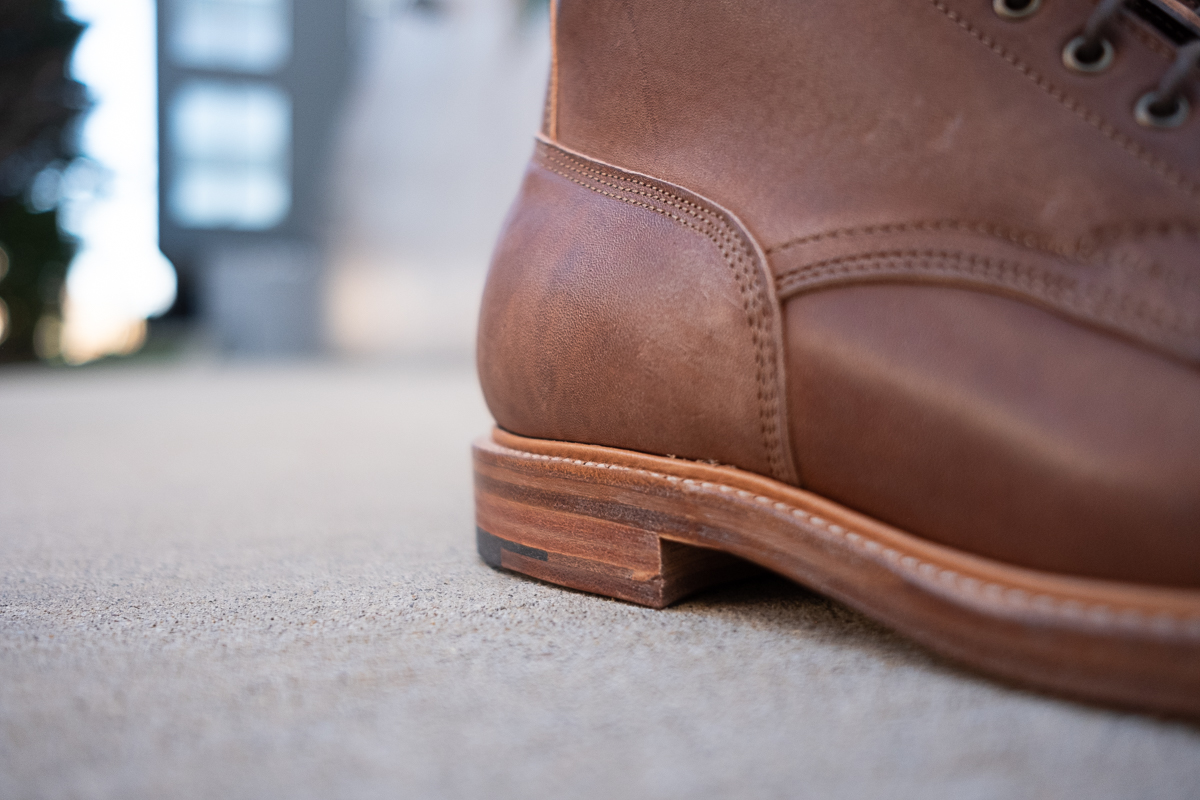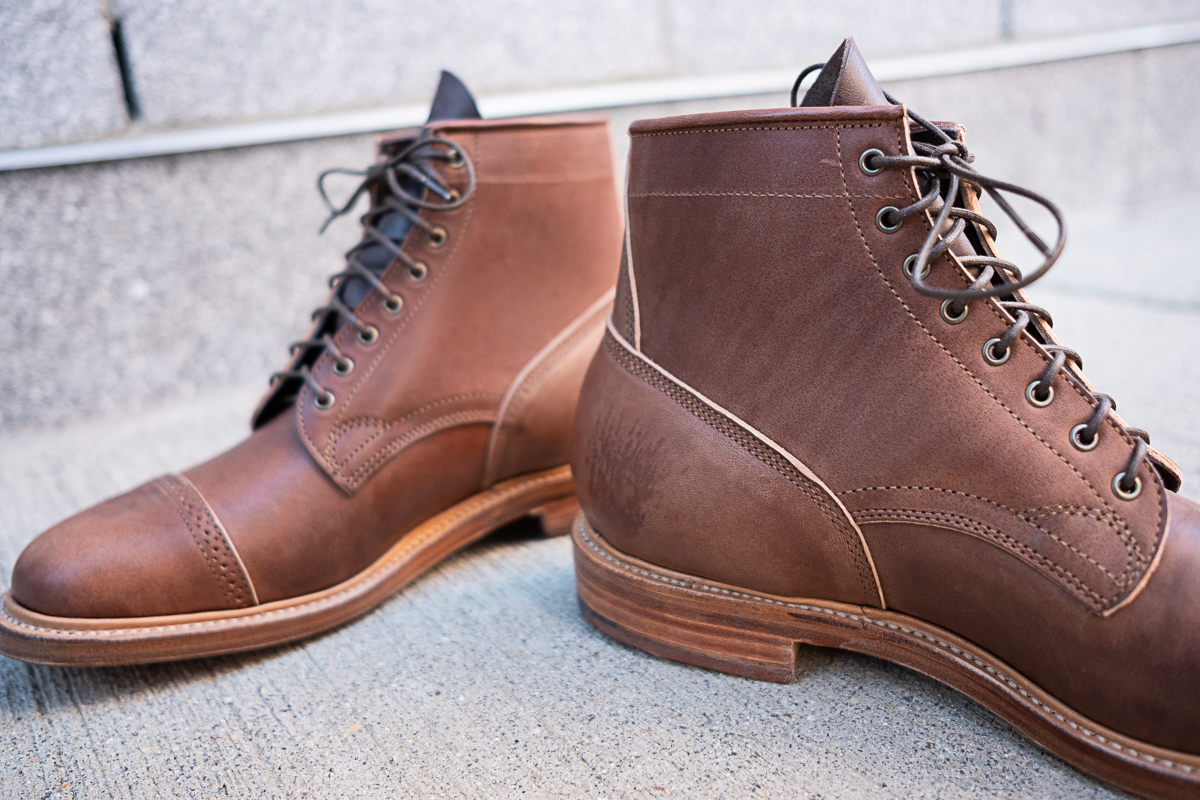 On to sizing. As usual with our Bobcat Boot recommendations – size down 1 from your Brannock size. The Bobcat style does run a bit longer due to the pattern difference between this and the Service Boots, but in most cases it's not enough to recommend people to size down 1.5 from your Brannock. In almost all cases, we would recommend taking 1 down from your Brannock, but only if you have very low volume feet and are on the smaller end of your Brannock size, might you be able to go down 1.5.
That's all we've got. Thanks as always for taking the time to read these write-ups and hopefully they answer some of your questions. If you have more, feel free to shoot us an email.
Releasing Friday, January 8th at Noon EST (full size run, 5.5-13) and 8pm EST (sizes 8-11) for a staggered release* on Withered Fig, the Viberg Brown Horsebutt Bobcat Boot. Shop our the Brown Horsebutt Bobcat Boot here.
*We will be testing out a staggered release for this Bobcat Boot per feedback. We have customers all over the world and one of the common requests is to change up the release time so that people not in the USA have an easier time logging in for a release. Well, Noon EST is our usual release time because it works best for us in getting shipments out the door for Friday pick-up, however we do want to try things out to improve the overall experience if we can. Accordingly, an initial full size run (5.5-13) will be available at Noon EST, while a second tranche of sizes 8-10.5 will be available at 8pm EST.
** Please note Sizes 6, 11, and 12.5 will not be available. We are hoping to get these replaced. As well, one of our size 9s has only x7 (seven) eyelets instead of eight. We will hold this one for the 8pm EST release for anyone who might want a seven eyelet version.