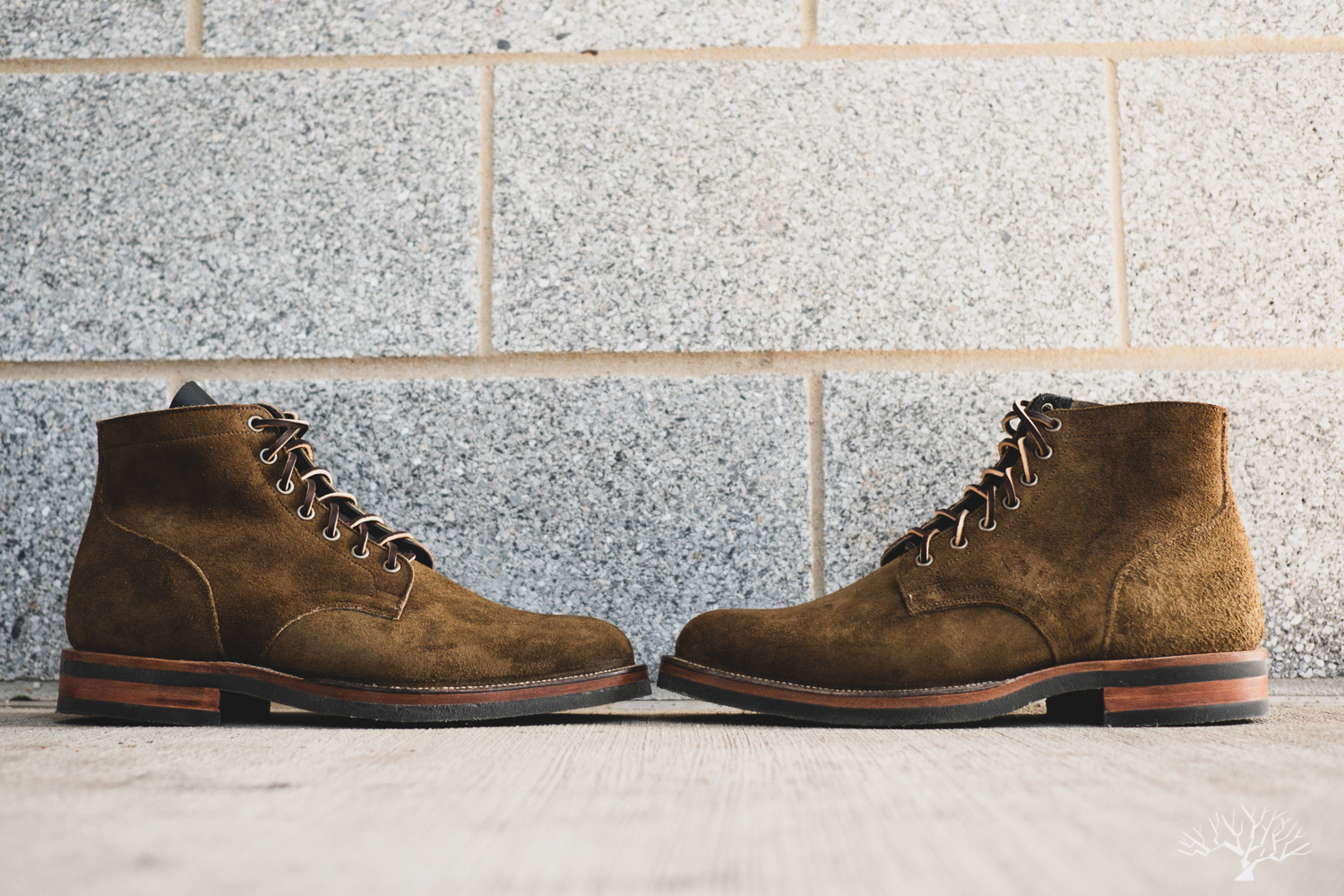 The Viberg for Withered Fig Mushroom Chamois Roughout Service Boot restocks on Friday, July 8th at Noon EST. Available in sizes 6.5 – 13 (ex-12.5).
We're picking up where we left off with our latest Viberg for Withered Fig Mushroom Chamois Roughout (RO) Service Boot. Although our best-selling Mushroom Chamois RO 145 Oxford has since been retired at the Viberg factory, we've decided to carry on with the same Horween leather that we've come to love. It's got that suede-like appearance, but with a bit more nap, and an appearance that changes like a chameleon depending on the light. For more info on this specific leather, you can read our seven month review of the Mushroom Chamois RO 145 Oxfords.
As you'll see with this release and the others to come this Spring/Summer, we leaned heavily into the Lactae Hevea sole this year. We thought the best way to ease this year's transition (hopefully) back to normalcy is through some comfortable boots. I'm sure many of you have got a line-up of boots and shoes stocked with Dainite soles, Commando soles, and perhaps even a Ridgeway. Those will keep you covered for when you need something a bit more substantial and suitable for winter weather. For now, these Lactae Hevea will give you a nice dry-weather boot to stomp around that is easy to wear and with a shorter break-in period. Full details of the boot are listed below:
Viberg for Withered Fig Exclusive
Mushroom Chamois RO (Horween USA)
1035 Last
Black Lactae Hevea Sole and Heel
Black Oil Tan Bellows Tongue
7 AA Antique Brass Eyelets
Partially Structured Toe
Natural Leather Midsole
Stitchdown Construction
Includes a pair of Rawhide Laces and Brown Flat Waxed Laces
Includes Viberg Dust Bags
Includes Viberg Polishing Cloth
Made in Victoria, B.C, Canada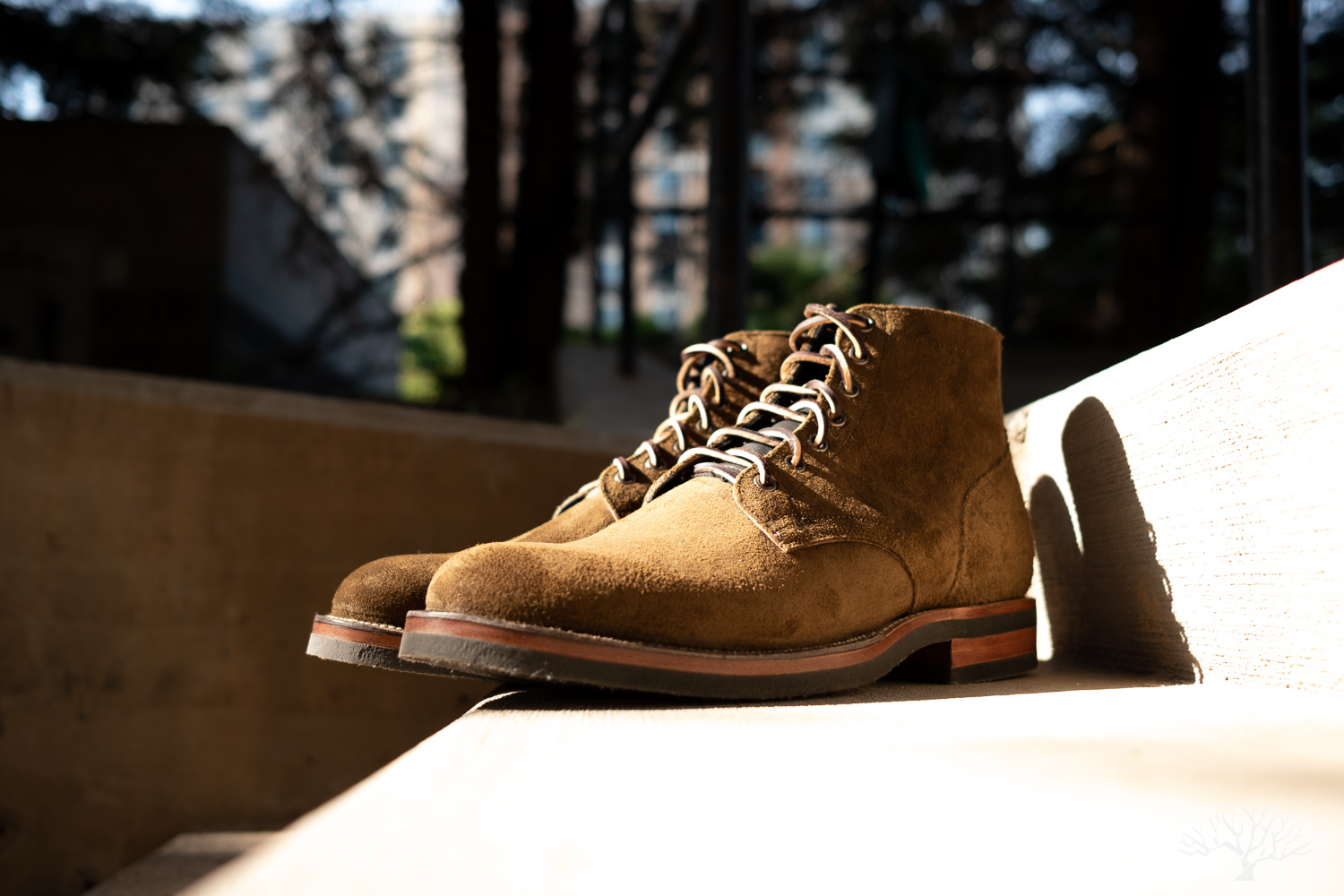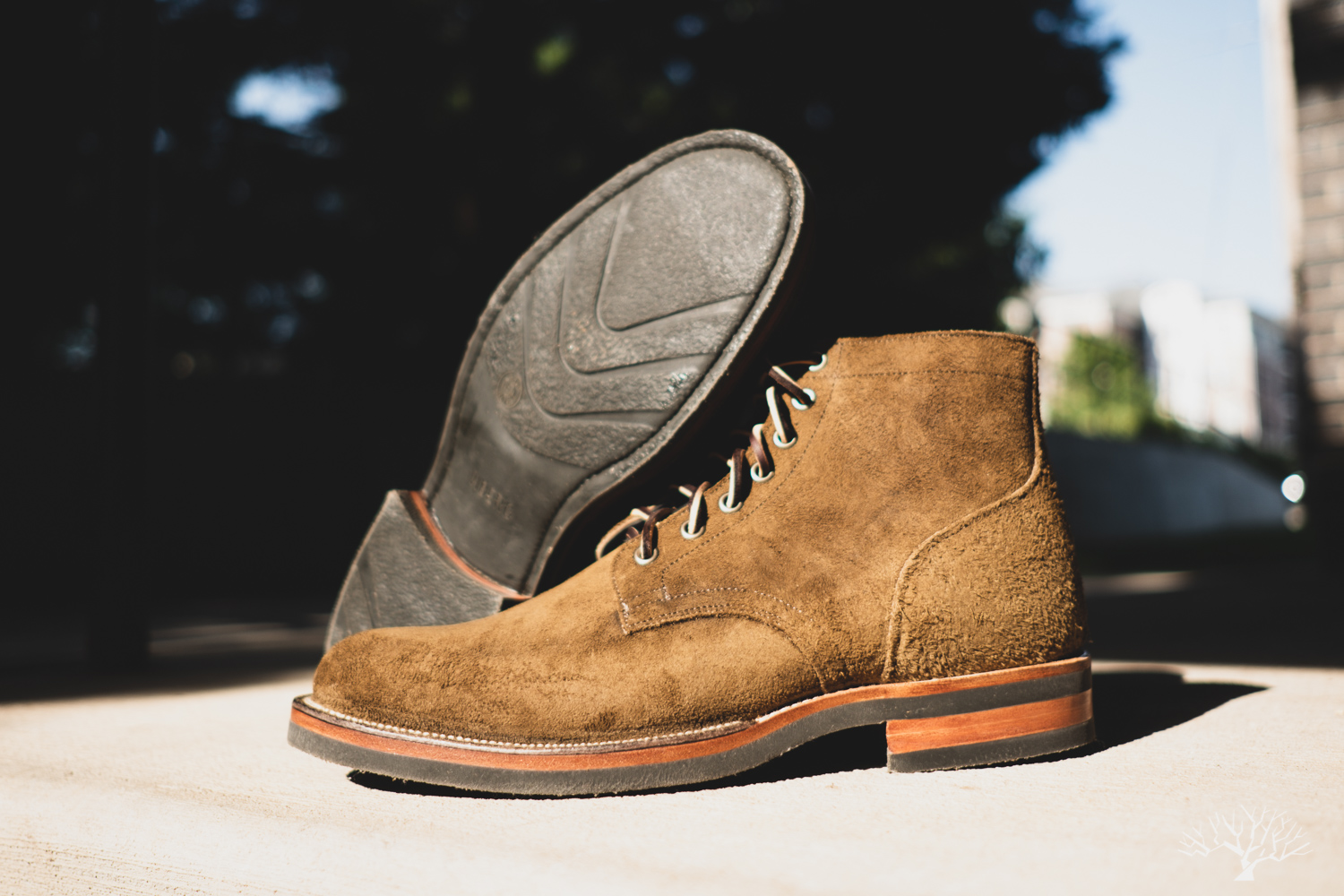 For those that are familiar with some of our very original runs of the Mushroom Chamois RO 145 Oxford, you'll recall that it was quite dark, coming in an olive-black shade. Subsequent runs came in a lighter shade of the Mushroom leather, which we'd call an olive-brown shade. For these, they come closer to the olive-brown shade, perhaps a tad darker than some of our most-brown runs. The good thing about the lighter shades is that it is just a starting point. You can apply some Neatsfoot oil to change the leather to the darker side of things. We've done the experiments before, and with 2-3 coatings of Neatsfoot oil, you'll probably get your leather 3/4 of the way to that olive-black shade, and another 2-3 coatings after, probably real close to the olive-black. The point is, you've got options starting out with a slightly lighter version of the Mushroom Chamois RO leather. Of course, the leather is quite different in direct sunlight (more brown) versus indirect and indoors (more green/olive).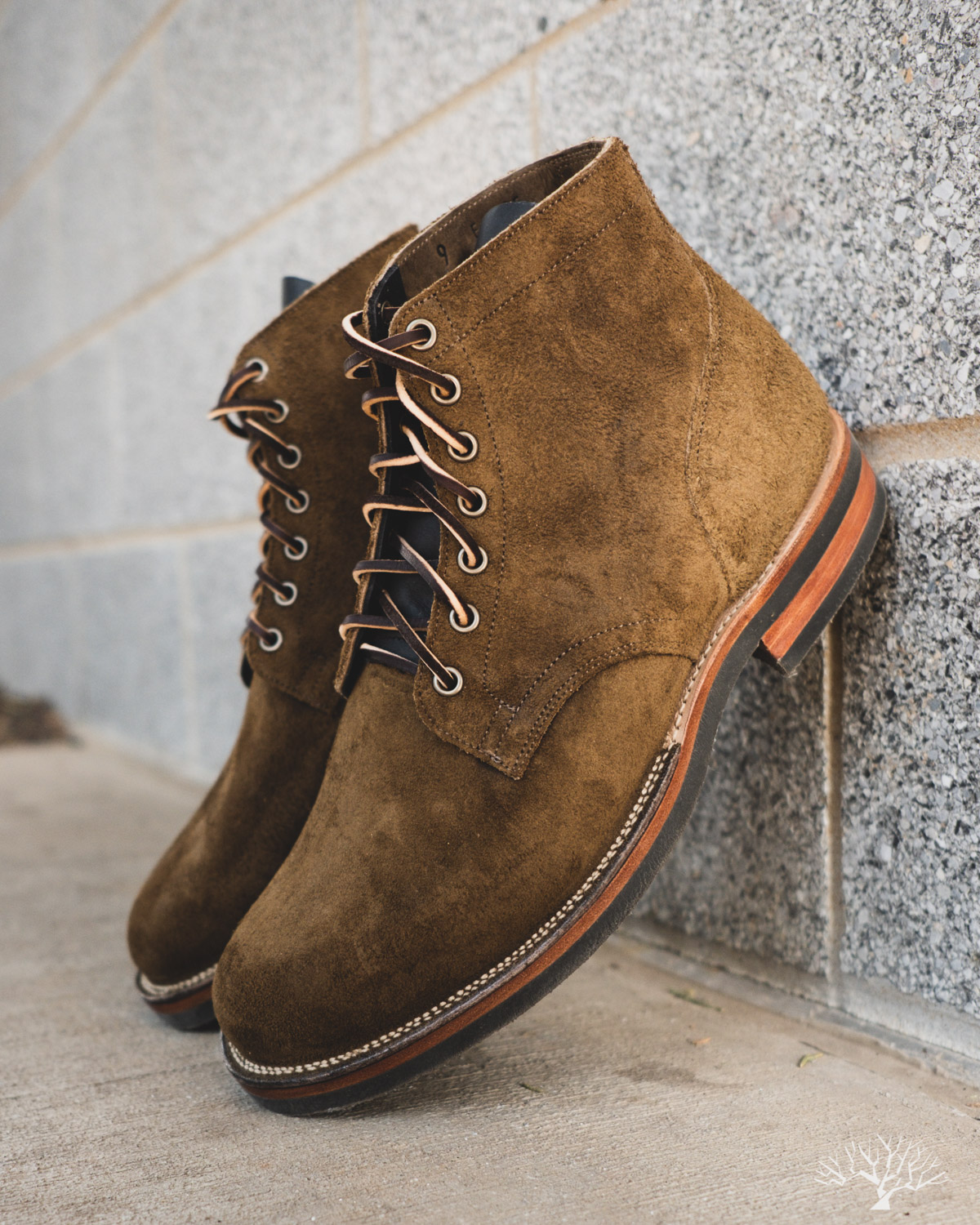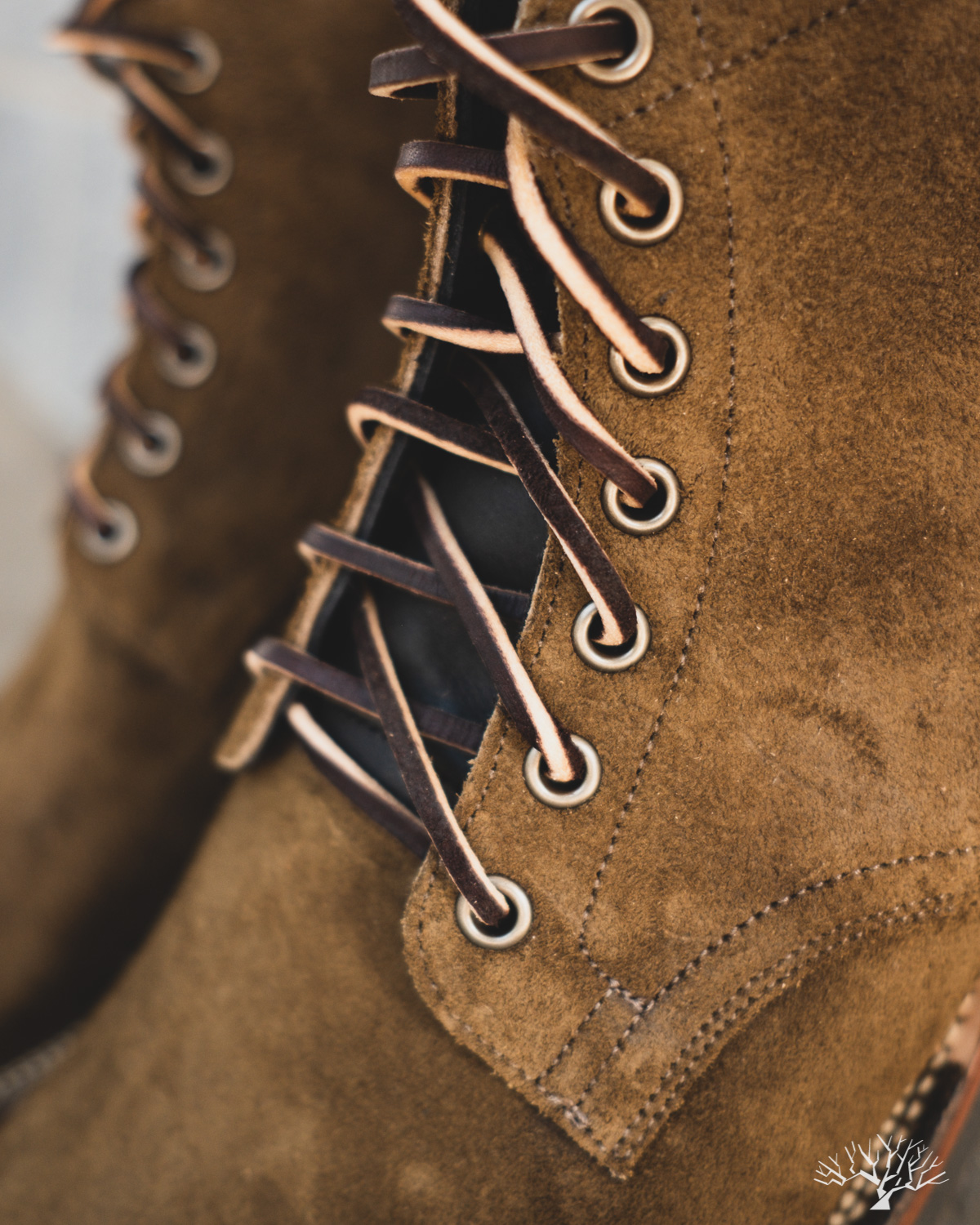 The selection of the antique brass eyelets and antique midsole dressing gives it a more refined look; less flashy in appearance than the 145 Oxford with its brass eyelets and natural midsole. One could say this is better suited as a Fall and Winter boot, which we can get on board with. But we'd still consider this a solid year-round boot made for dryer days, and one that has a slightly elevated look to it. Great for outings that you want to slightly dress up for this summer. Of course the roughout leather and the contrast tongue will keep things from being too uppity.
The Lactae Hevea sole is where we're going this summer. You'll find it on at least two, if not three, more make-ups from us this Spring/Summer. If you're anti-Lactae Hevea, well all we can say is that you'll be sidelined for a good portion of our make-ups over the next several months. That said, we absolutely love these crepe-like soles, as they are soft, comfortable, and pretty grippy on dry surfaces. There is a slight bounce to them to give you a pep in your step, and also quiet as a mouse. One thing I've noticed over time with the Mini Ripple sole is that it tends to squeak on certain smooth surfaces (such as hallways), which is a little annoying. You almost certainly won't have any issues like that with these.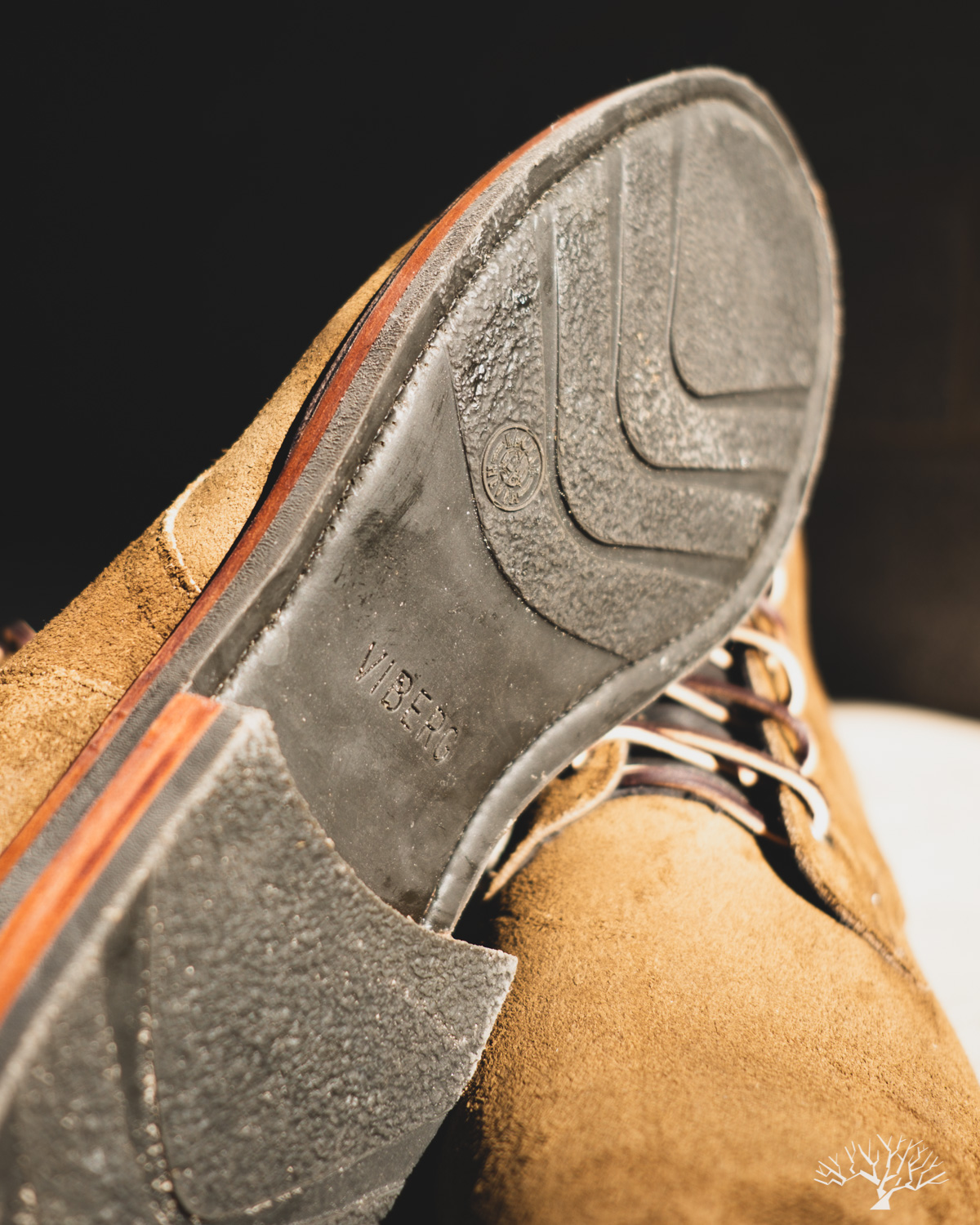 On the sizing front, we'd say these run similar to a typical 1035 Last Service Boot. For the majority of folks, that means you should size down 1 from your Brannock device size. Alternatively, if you have a well-fitted 2030 Last Service Boot, you can probably take the same size and you'll get a similar fit in length, but with slightly more volume in the toe box. A few folks may want to only size down 0.5 from their Brannock, but that's typically a very small percentage of you. Typically only 0.5 down would be for those who are on the larger end of their Brannock size or have more voluminous feet.
For other sizing questions or otherwise, please shoot us an email – we're happy to help! As usual, for Withered Fig points we ask that you pick the boots up at release and send us an email to apply your WF points as a refund afterwards.
The Viberg Mushroom Chamois Roughout Service Boot on Black Lactae Hevea Sole will restock on July 8, 2022 at Noon EST. The boots will retail for $780 and be available in sizes 6.5 – 13 (ex-12.5). Shop our Viberg collection here.