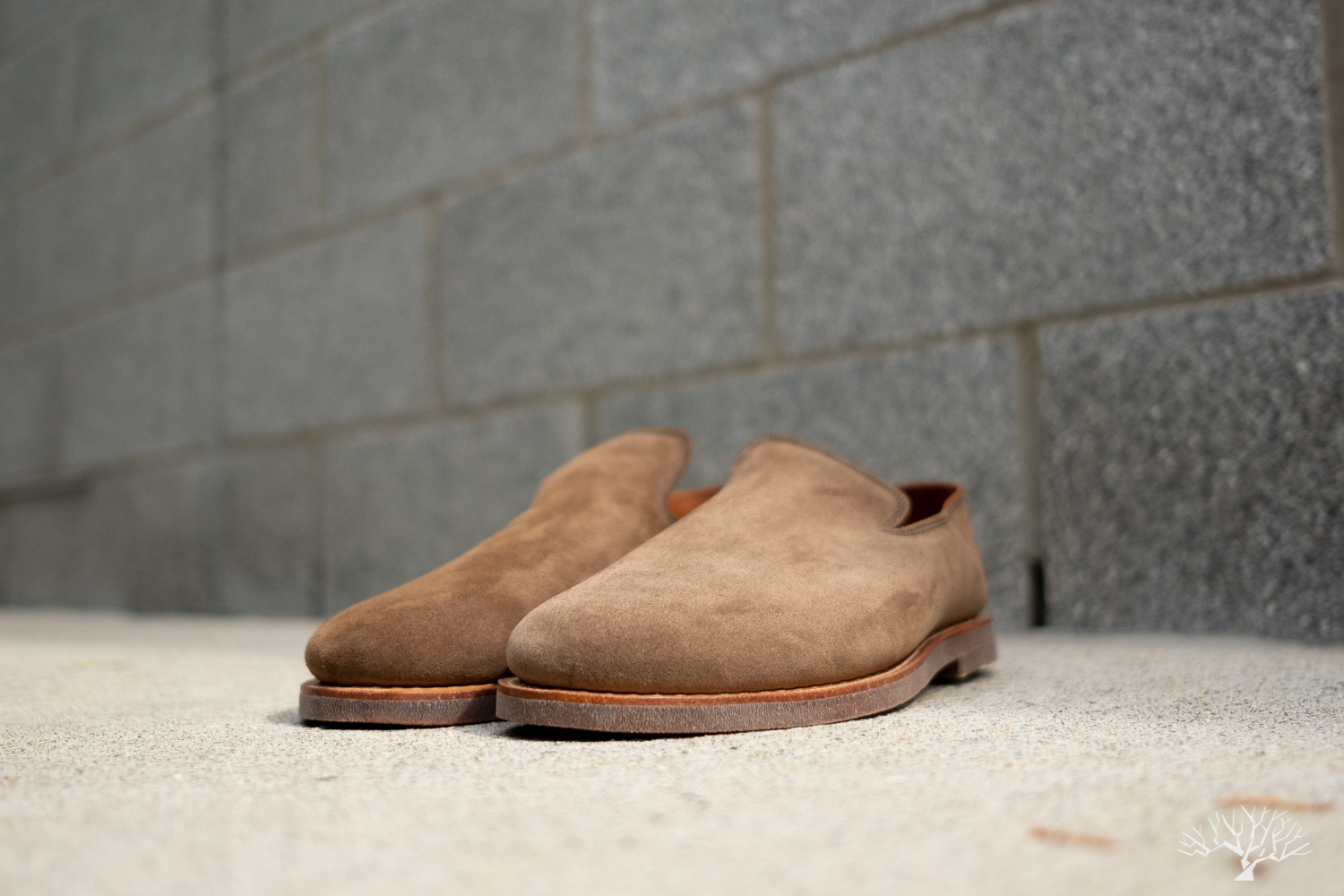 Our latest Viberg Slipper is this Zabri Antelope Calf Suede Slipper sitting on a Lactae Hevea crepe sole. Releasing Sunday, June 6th at Noon EST in a full size run (6 – 12).
Viberg for Withered Fig exclusive
Antelope Calf Suede (Zabri, Italy)
2010 Last (40288 Last)
Saw Dust Lactae Hevea Crepe Sole
Kip Lining
Unstructured Toe and Heel
Channeled Insole
360 Degree Natural Flat Welt
Goodyear Welt Construction
Includes Viberg Dust Bags
Includes Viberg Polishing Cloth
Made in Victoria, B.C, Canada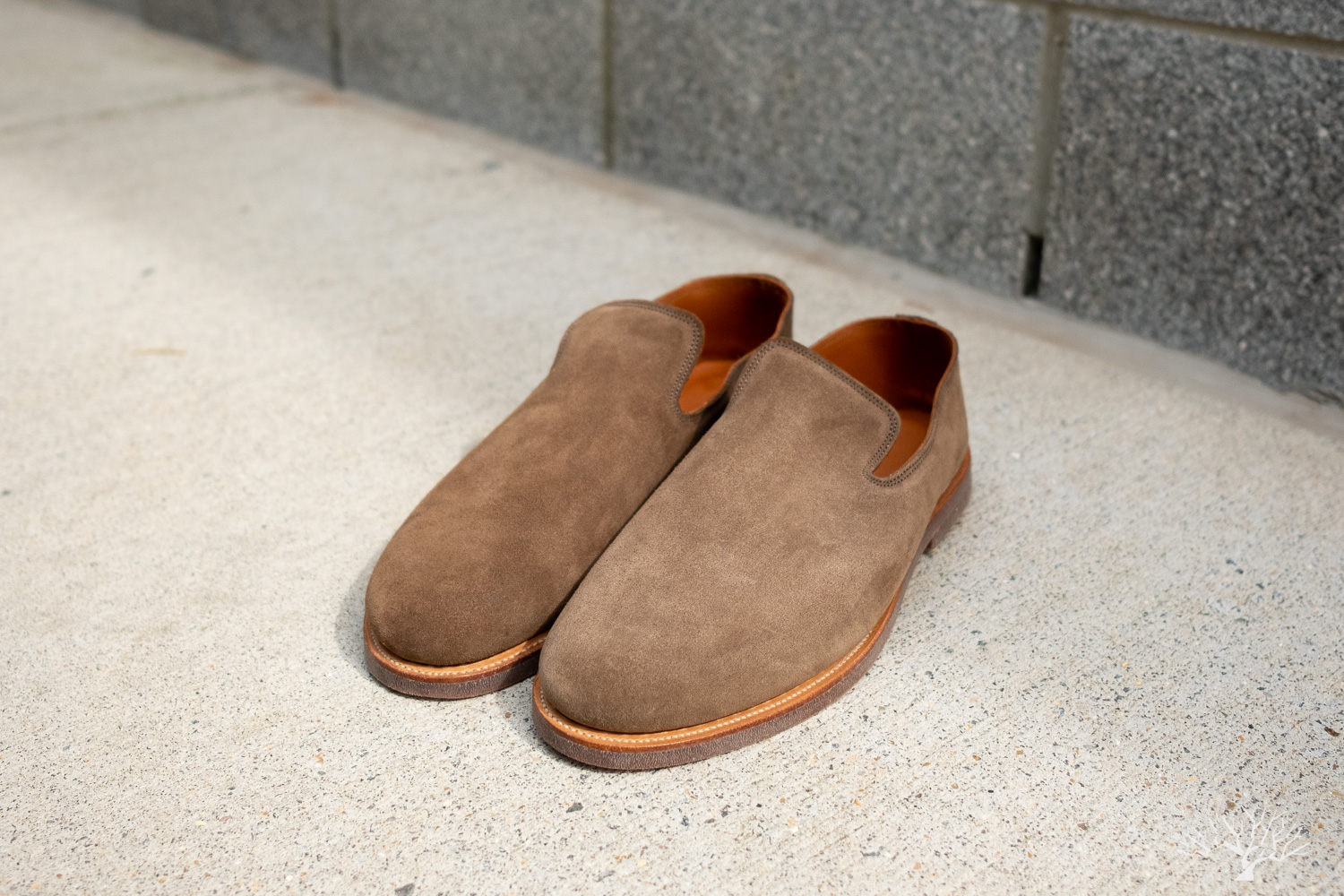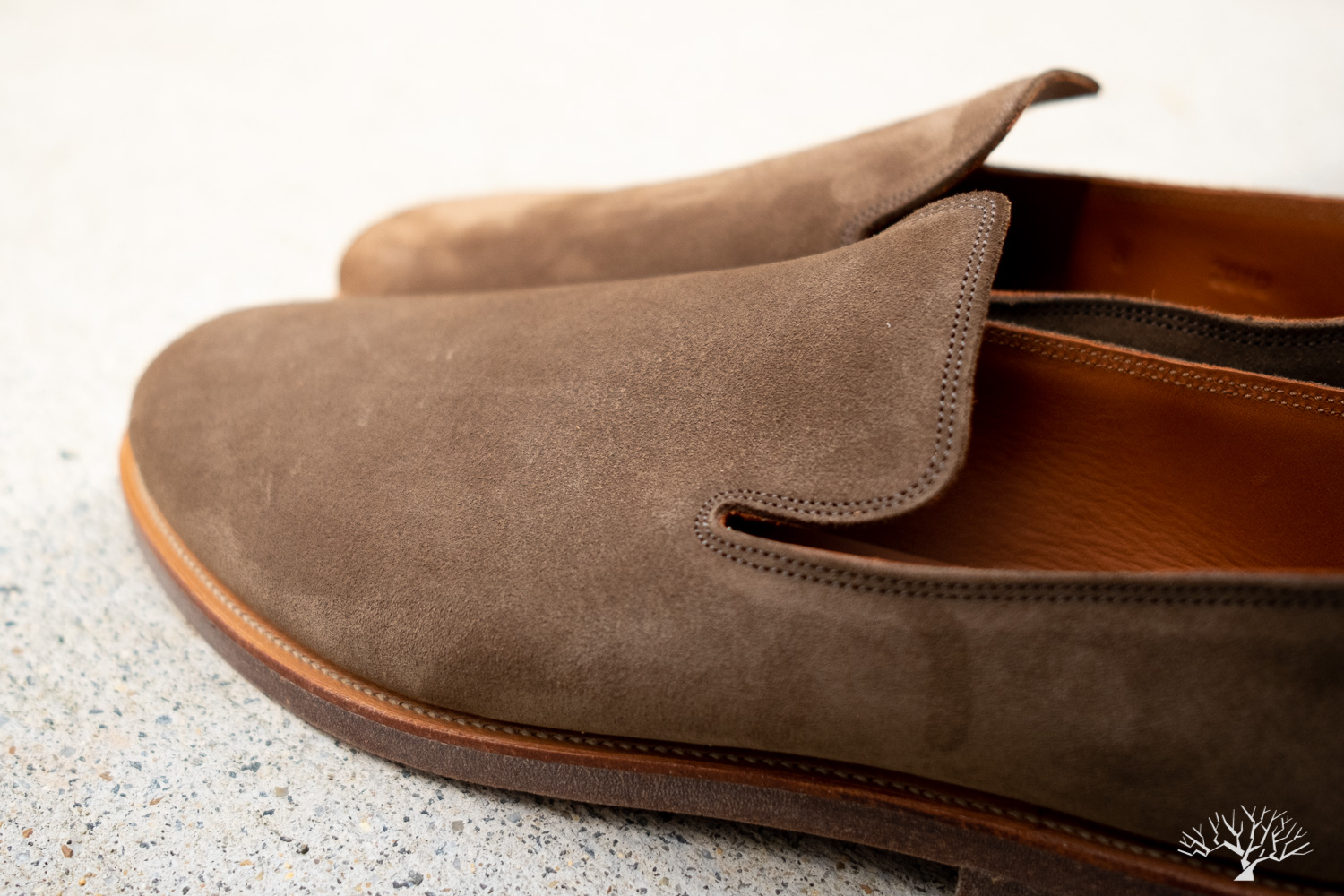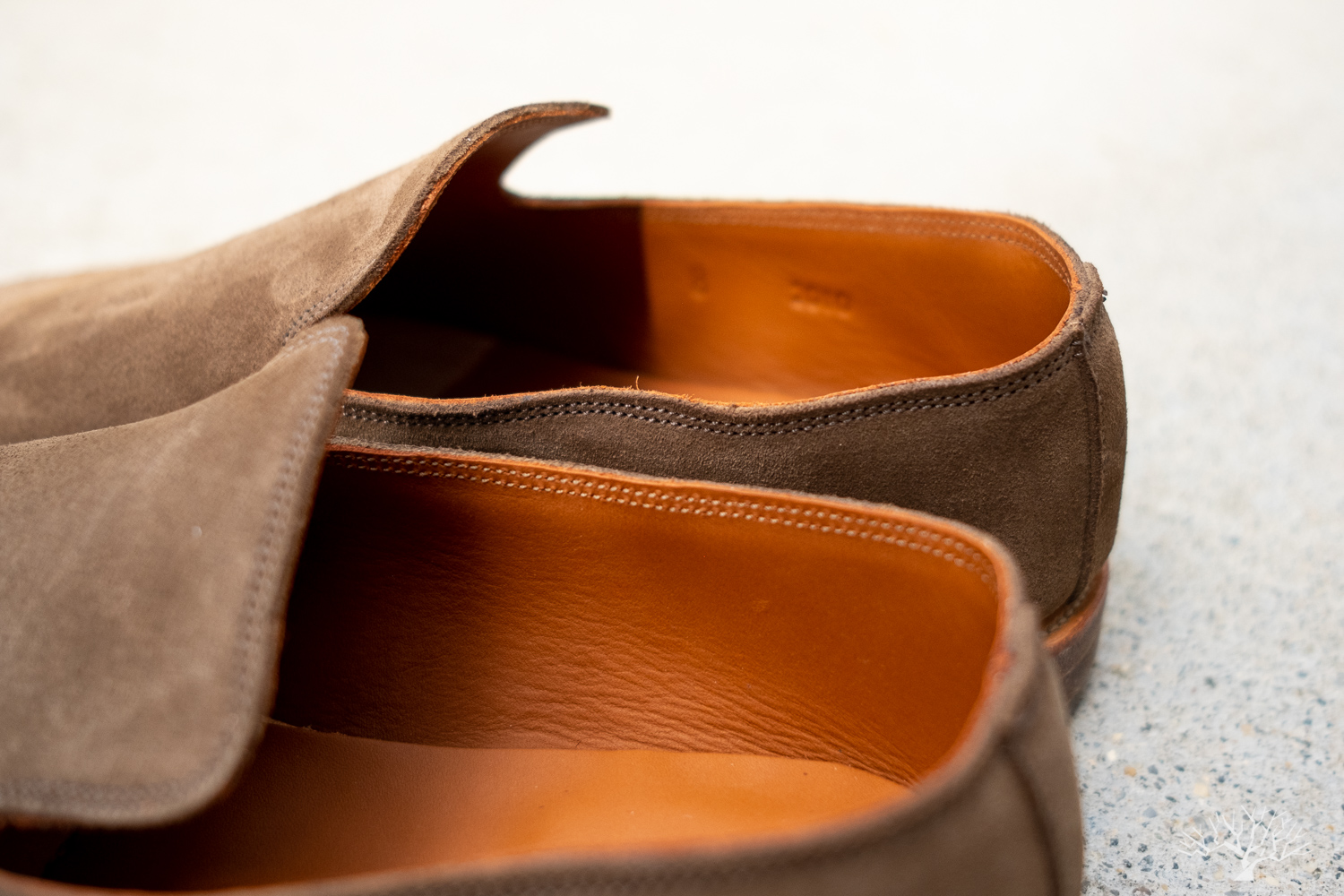 For those who prefer something a bit more toned down than our Shinki Olive Latigo Horsehide Slipper, these may very well fit the bill of what you're looking for. Sitting on the same Lactae Hevea crepe sole, but in the Saw Dust colorway, these Viberg Slippers will be just as comfortable as your next pair of soft leather slippers. Much like other calf suedes in Viberg's lineup, the Antelope Calf Suede leather is just as soft with a fine nap. Brushing your hand one way or the other (with or against the direction of the nap) will reveal a lighter or darker appearance. The color could be described as a grayish-brown, with some shades of green or olive to it. In the shade, it generally appears darker (obviously) with the olive and greenish undertones coming through, while in sunlight or slight overcast (as shown in these photos) they appear much more like a light-tan/light-brown shade. Of note, these are much more green/moss/olive-colored than the Halkett Boots in Bison Calf Suede.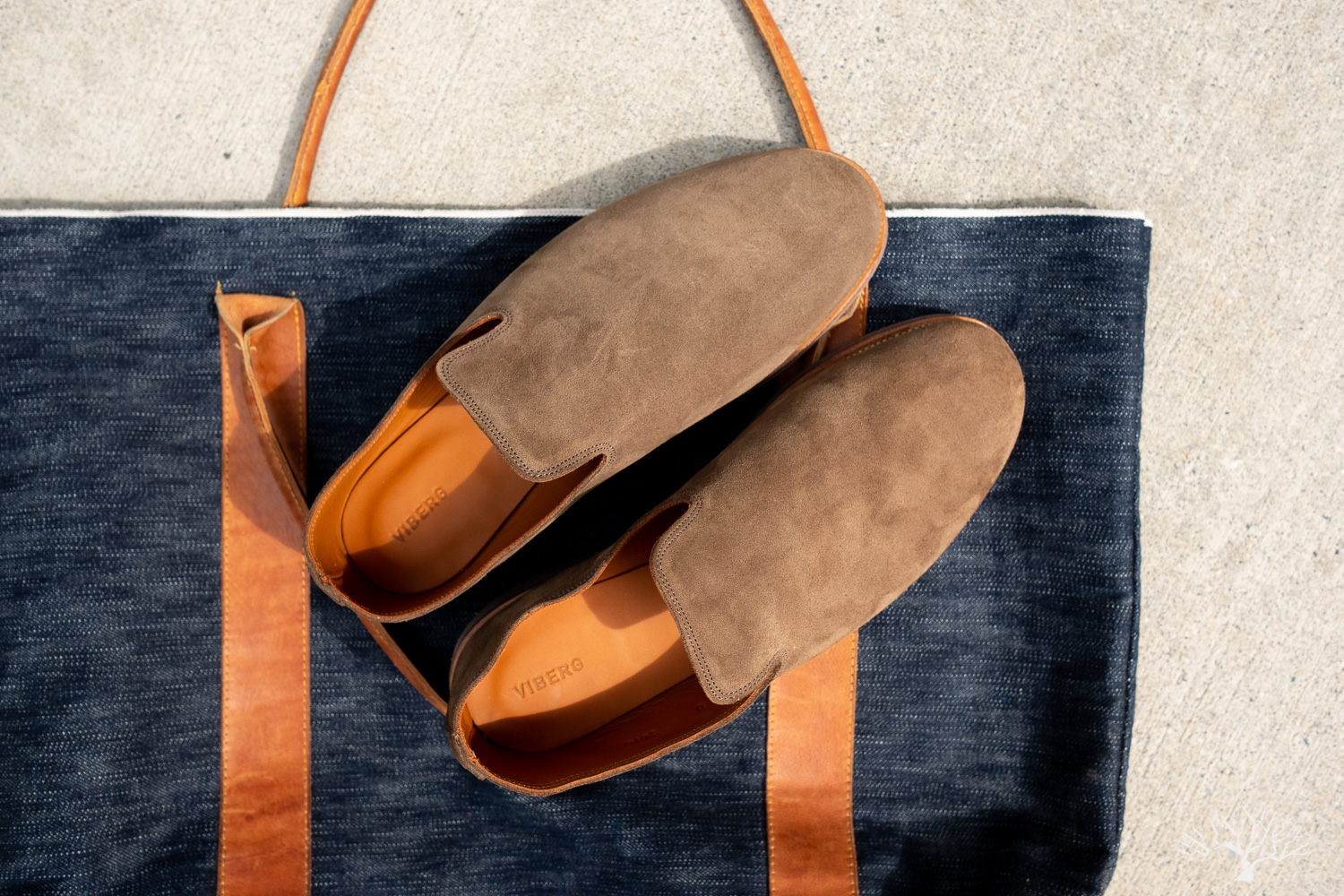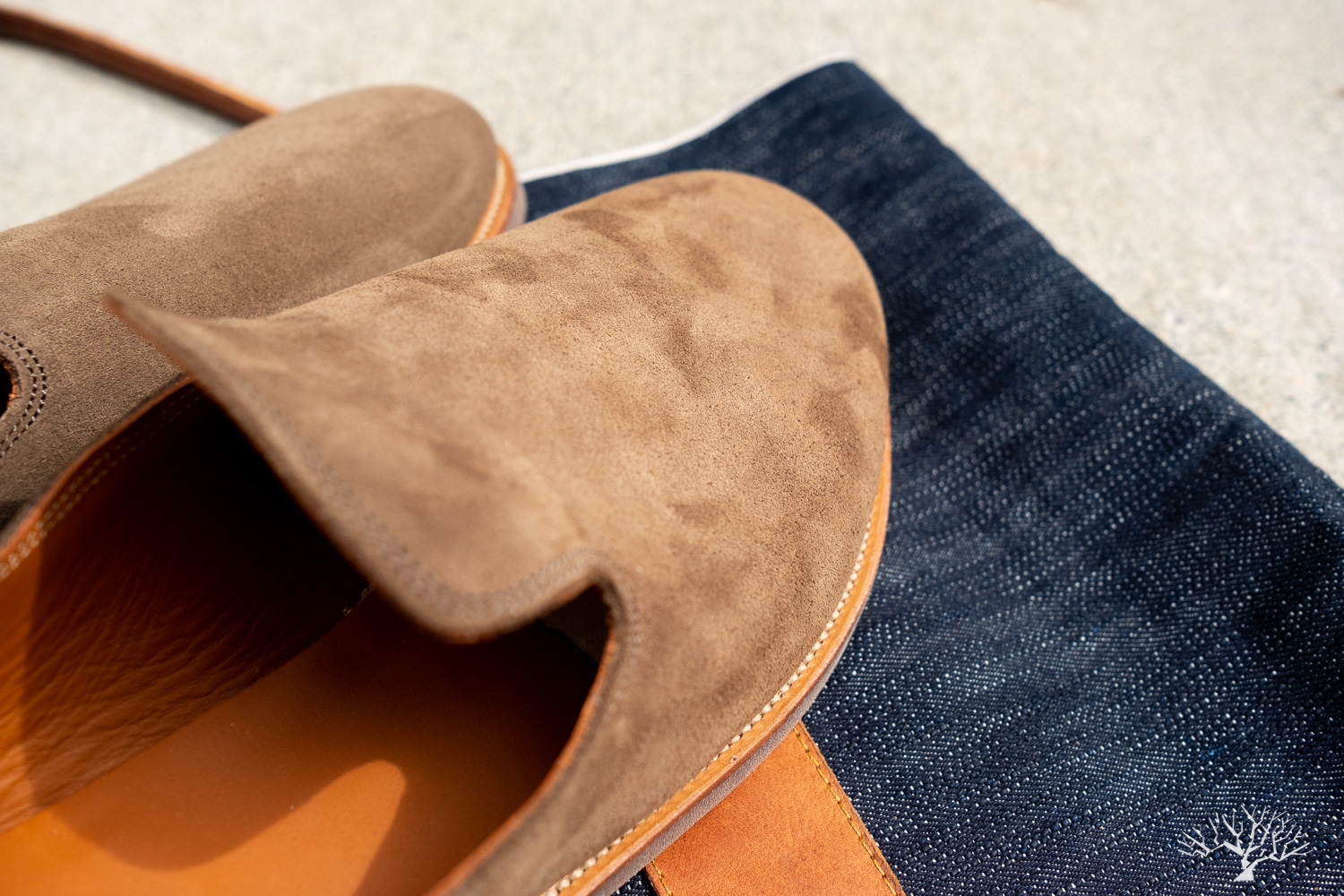 We've recently talked a lot about the Lactae Hevea sole, with our Olive Latigo Horsehide Slippers and the Mushroom Chamois RO Service Boots. But for those who are new to the Lactae Hevea crepe sole, these are extremely comfortable soles and will work well in dry conditions. They will probably fare ok on wet pavement or concrete, which does have some friction to the surface to help keep you on your feet. Although the color of the sole and the slight speckle to it gives it a more casual flair, we think these will work just as well in dressier situations as the occasion calls.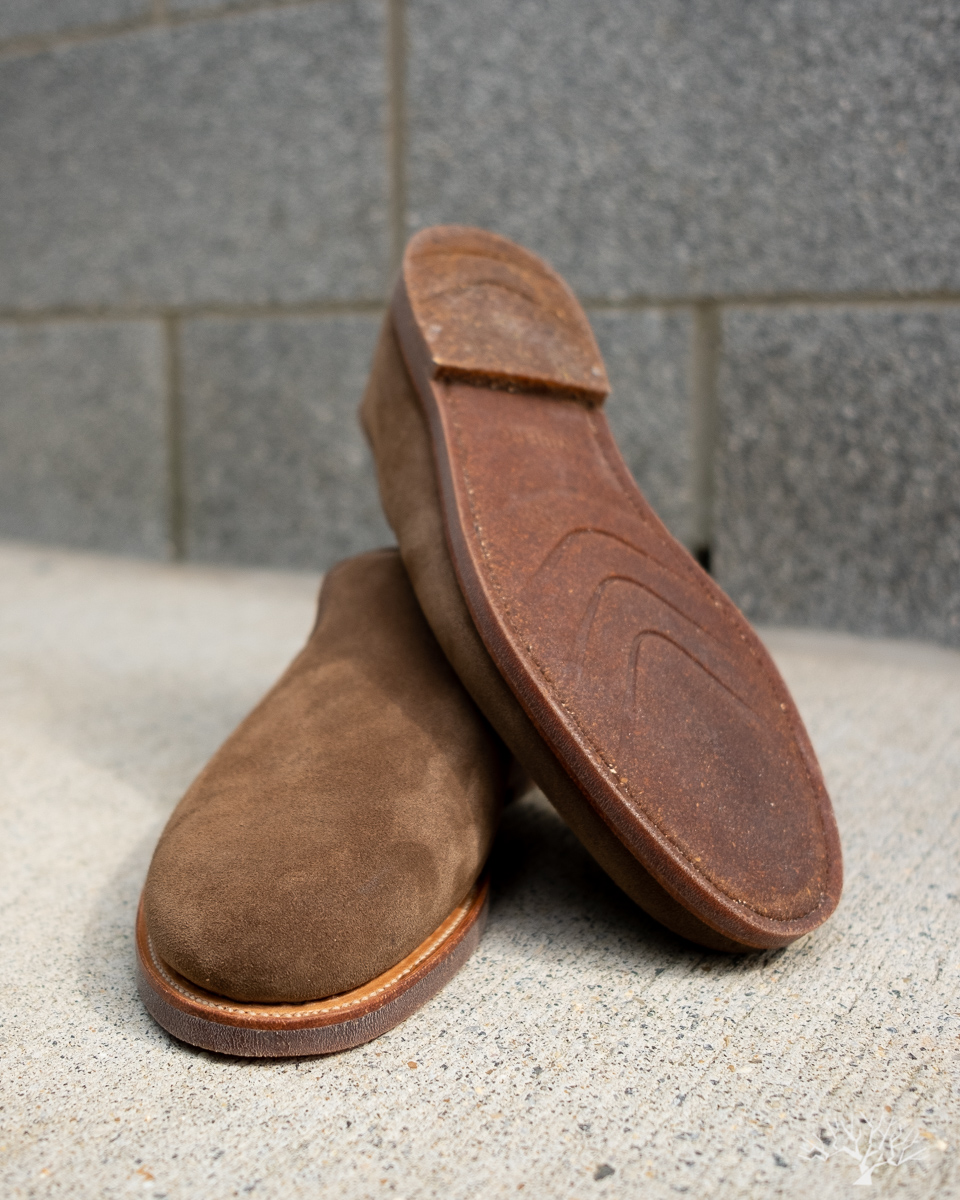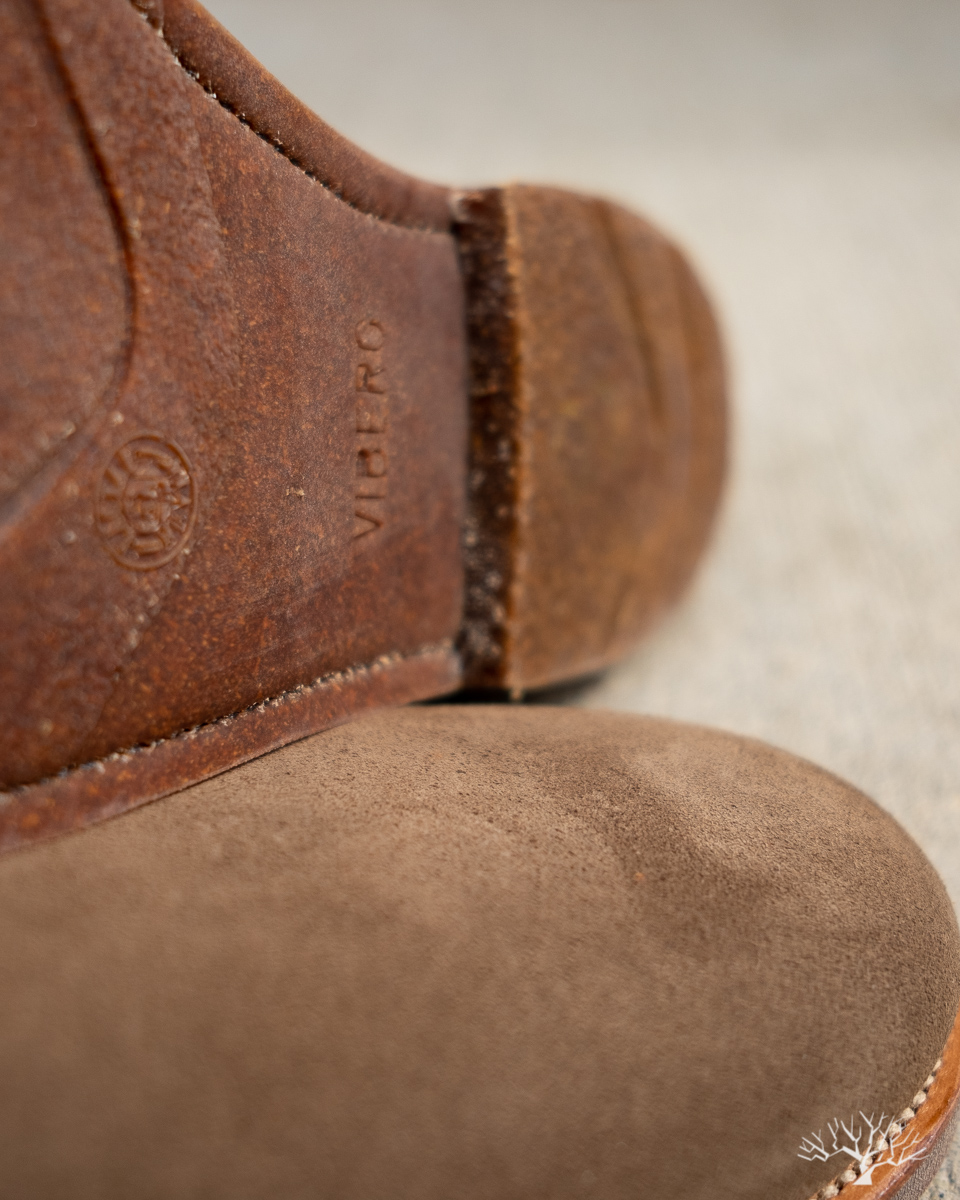 The Viberg Slipper will be a summer favorite in your rotation. Whether it's in a pair of denim and a spring shirt, a suit and tie, or with some shorts and a tee, you'd be hard pressed to find a more versatile pair of shoes to pack for your next trip. As an anecdote, I recently took a trip for a friend's wedding and the trifecta of scenarios named above were at play. A casual evening dinner, check; a wedding, check; time at a lake house, check. I'm all about efficiency and am somewhat of a minimalist packer (as much as I can), and a pair of Viberg Slippers are one of the most versatile pairs of shoes you can own. The cost per wear is extremely low for me, and I'd be willing to be if you pick up any pair of Viberg Slippers (not just this one), it'll be the same for you.
Sizing these are similar to the Olive Latigo Horsehide Slippers. We recommend 2 down from Brannock as a solid starting point for most folks. I am a size 10E Brannock, and the size 8s in these Antelope Suede Slippers feels snug and just right without any socks. If you are looking to wear the Viberg Slipper with thin socks, you might go with 1.5 down from Brannock. For those with a low instep or low volume foot, you might be able to go down 2.5 from Brannock, especially if you are in the rare case of sizing 1.5 down from Brannock for their 2030/1035 Service Boots. That said, this is not very common and we wouldn't recommend you do that for your first pair. In this case, 2 down from Brannock should be the baseline that you work with.
For additional sizing questions or otherwise, please send us an email. As usual, for Withered Fig points we ask that you pick the Viberg Slippers up at release and send us an email afterwards to apply your WF points as a refund.
The Viberg for Withered Fig Antelope Calf Suede Slipper on Saw Dust Lactae Hevea Sole will retail for $570 and be available in sizes 6 – 12. Releasing Sunday, June 6th at Noon EST on Withered Fig. Shop our Viberg Collection here.