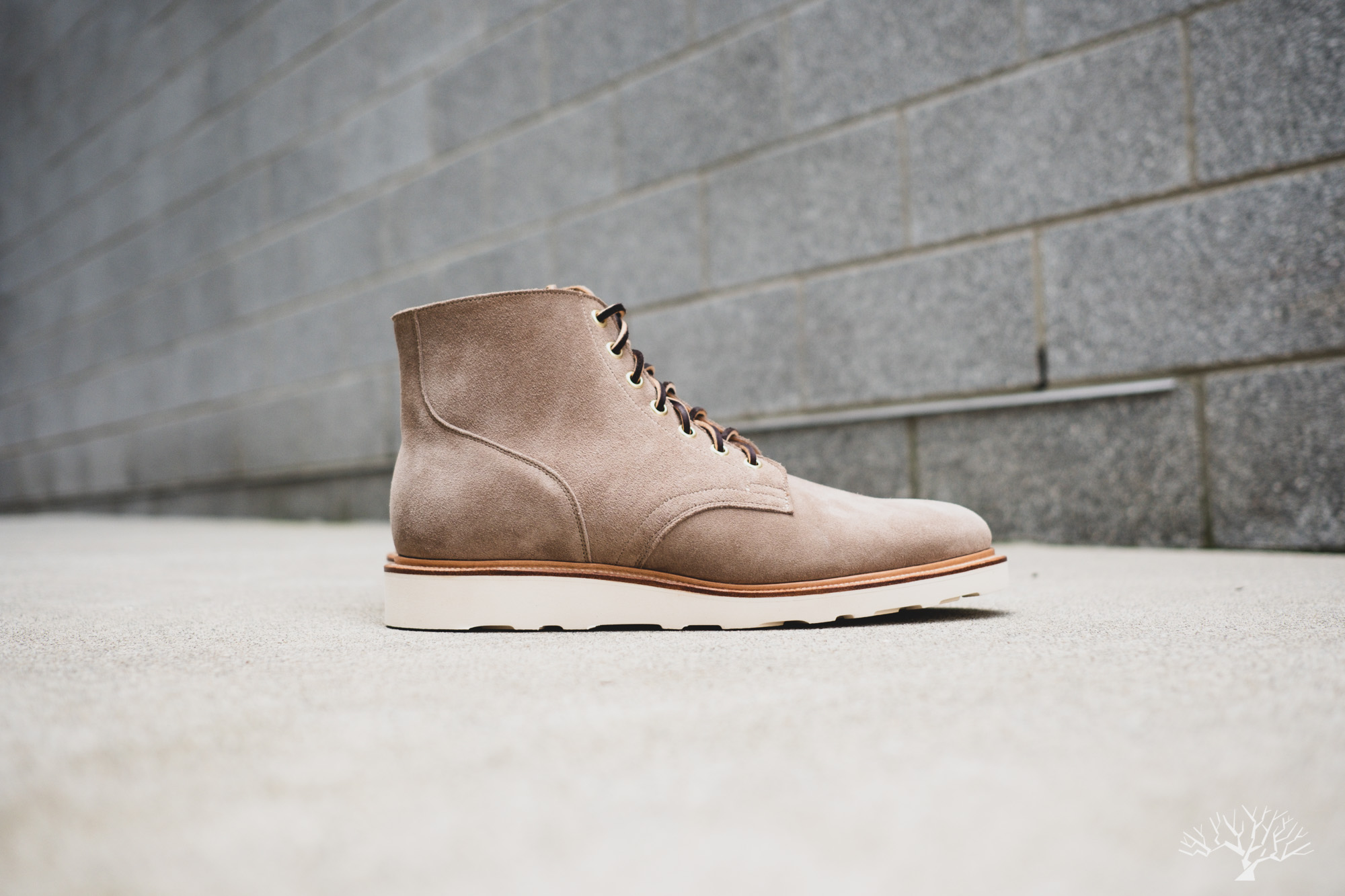 The Viberg for Withered Fig Mole Calf Suede Service Boot is a sneaker-style boot in terms of appearance and functionality, with a clean-looking suede leather from the famed C.F. Stead tannery.  Releasing Friday, July 16th at Noon EST in sizes 6.5 – 13.
Viberg for Withered Fig Exclusive
C.F. Stead Mole Calf Suede (UK)
1035 Last
Vibram Christy 4014 Natural Sole
Self Tongue (Mole Calf Suede)
7 AA Brass Eyelets
Partially Structured Toe
Natural Leather Midsole
Goodyear Welt Construction
360 Natural Storm Welt
Includes a pair of Rawhide Laces and Brown Flat Waxed Laces
Includes Viberg Dust Bags
Includes Viberg Polishing Cloth
Made in Victoria, B.C, Canada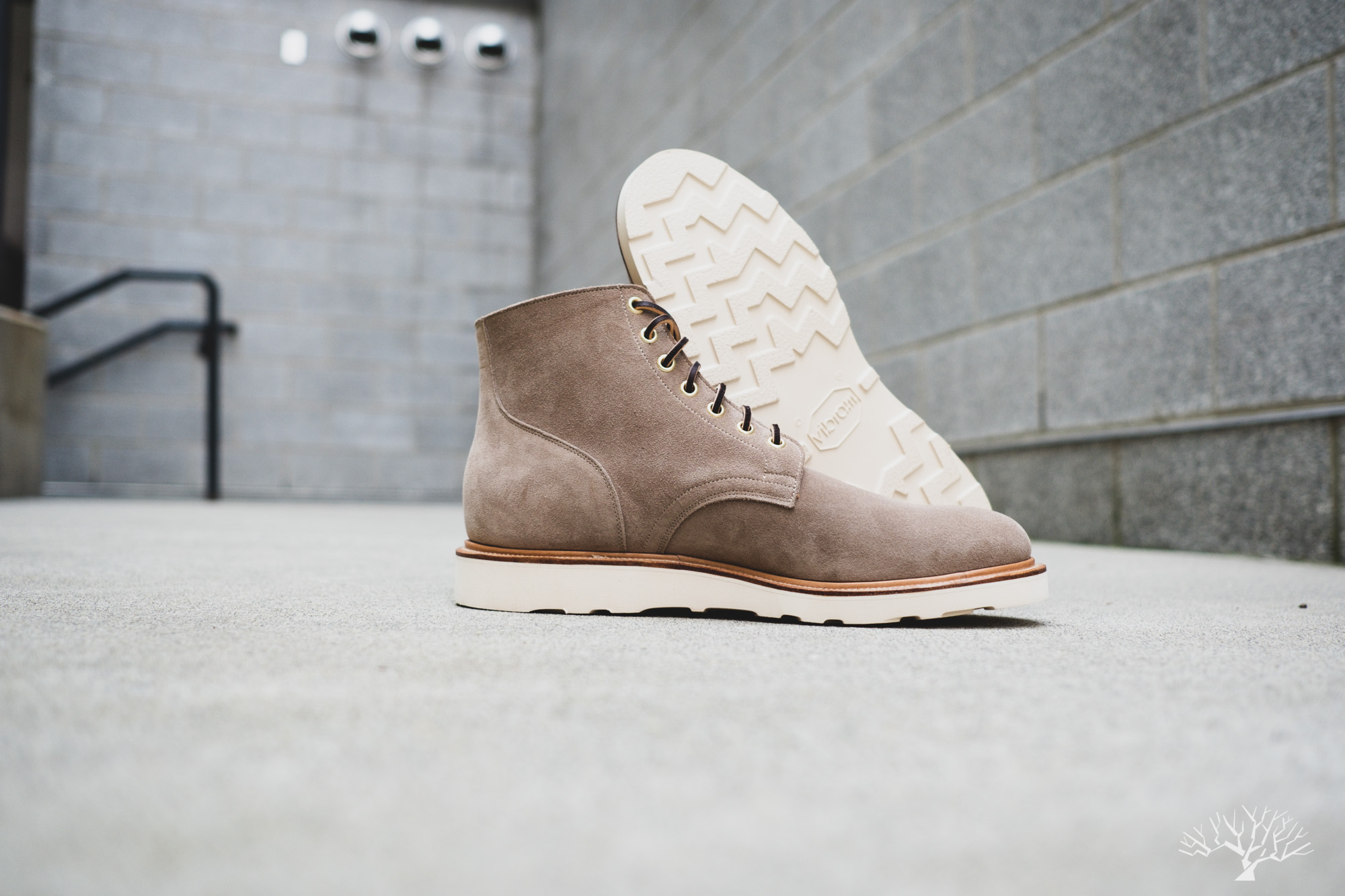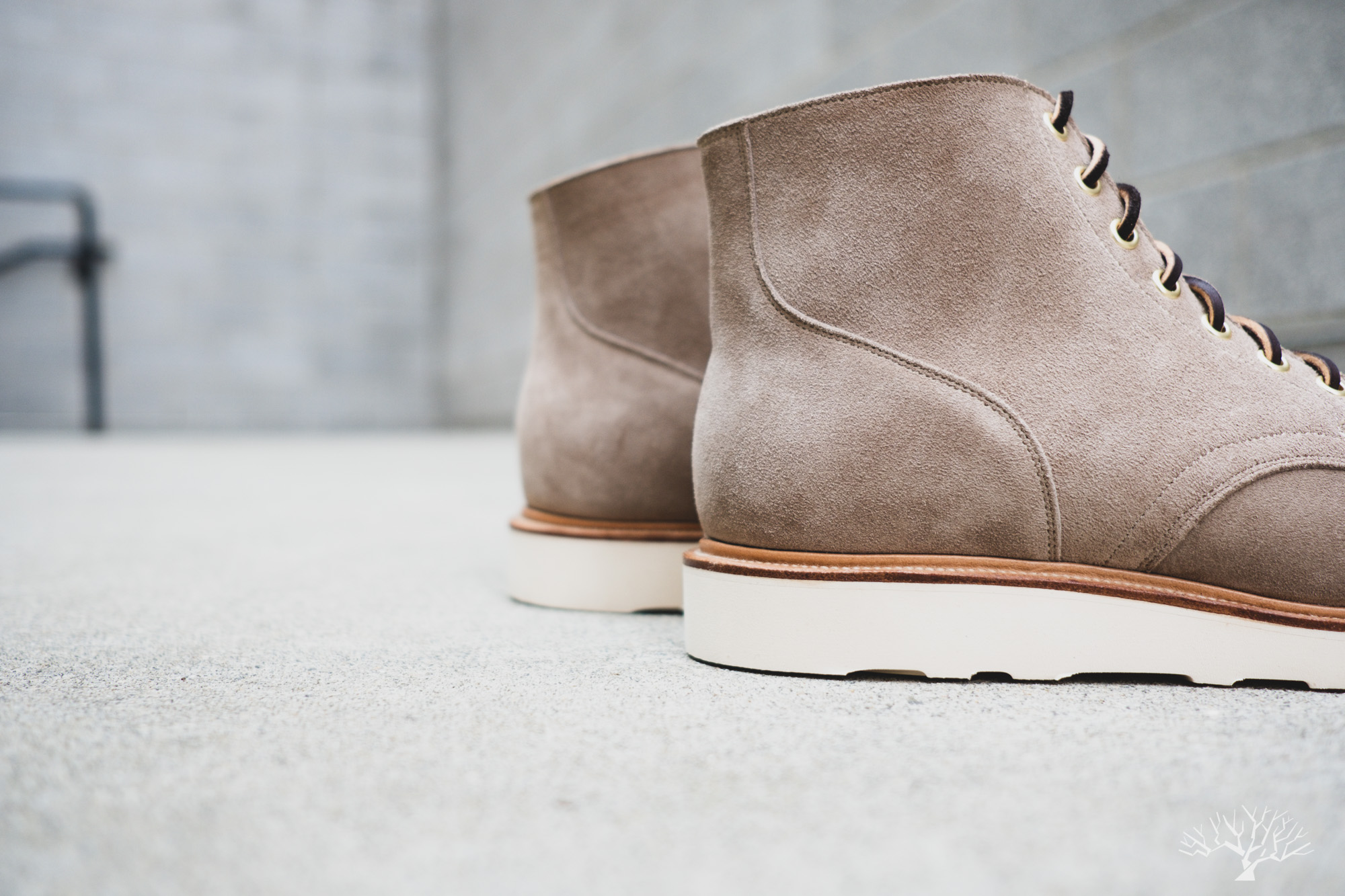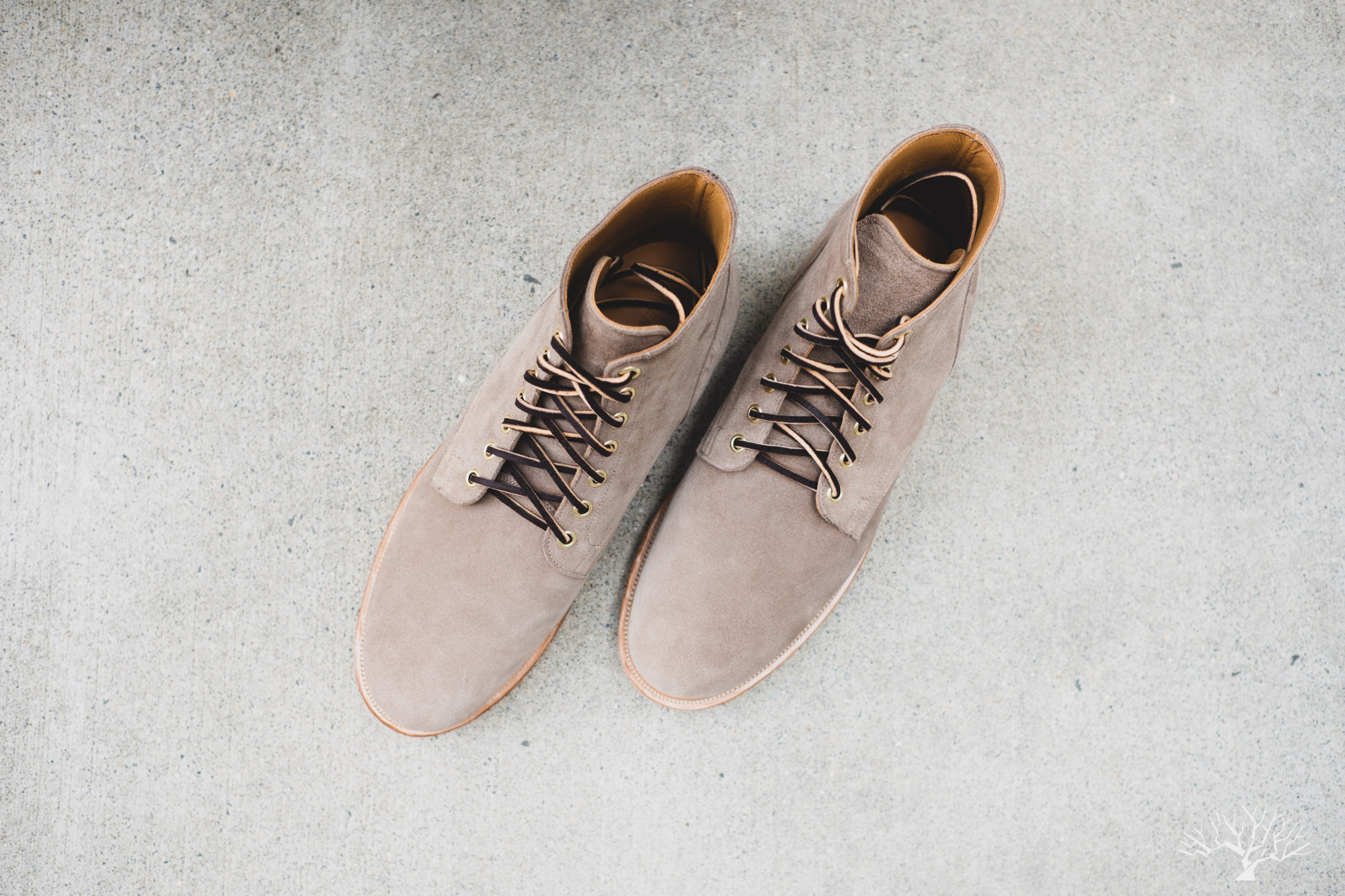 The Mole Calf Suede Service Boot is the latest iteration of some of our previous roughout Viberg Service Boots. Building upon the Marvington I (Aged Bark Roughout) and Marvington II (Tobacco Chamois Roughout) Service Boots, and the more recent Mushroom Chamois RO Service Boot, this suede Service Boot offers a clean and comfortable pair for stomping around. However, the Charles F. Stead's suede leather has become known for it's finely napped surface that breaks in beautifully, which will slightly darken over time for some unique highs and lows as it ripples and folds over. The result after several months of wear can either be just as refined as you want (brushed up with a horsehair/suede brush), or as rugged as you like (worn and untouched with any brush) for a work boot appearance. It goes without saying, but don't be afraid of wearing suede hard even though it's commonly seen on dressier shoes and boots. While the shade of this Mole Calf Suede is lighter and has that "refined" appearance, don't take a pass on this just because you're hesitant about keeping this pair nice and tidy.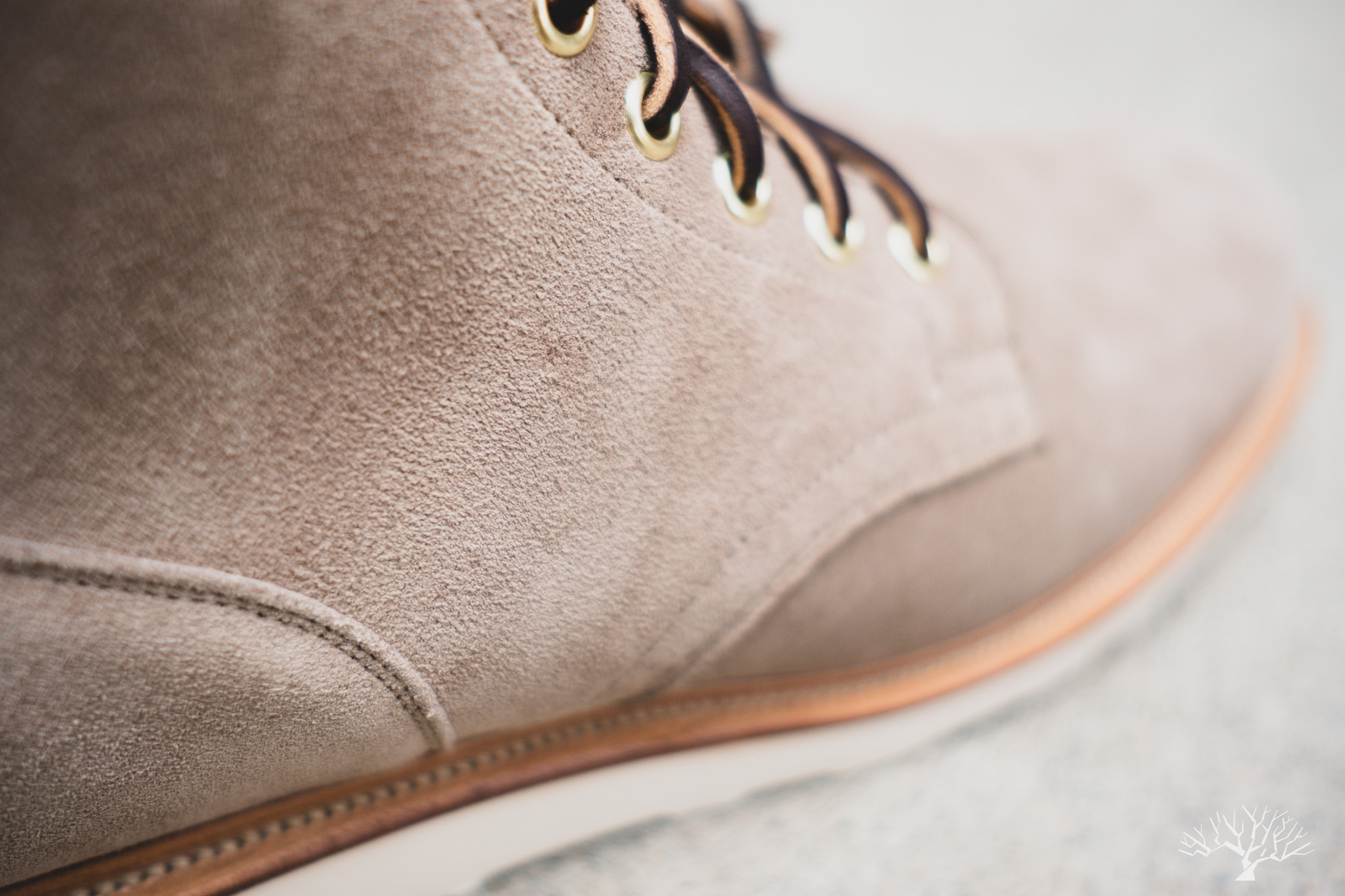 We opted for a new sole that we haven't used before, the Vibram Christy 4014 Sole. Based on our personal experience feeling them in hand and on the feet, the Christy sole is sturdier and slightly less flexible than the Vibram 2060 sole we used on the original Marvington I Service Boot. It has a Mario/Wario type zig-zag pattern on the bottom for traction, and is probably better than the 2060 in this regard. As far as rain/snow, you'll likely want to wear something different. But the Christy sole should hold up just fine in light rain on paved sidewalks and concrete.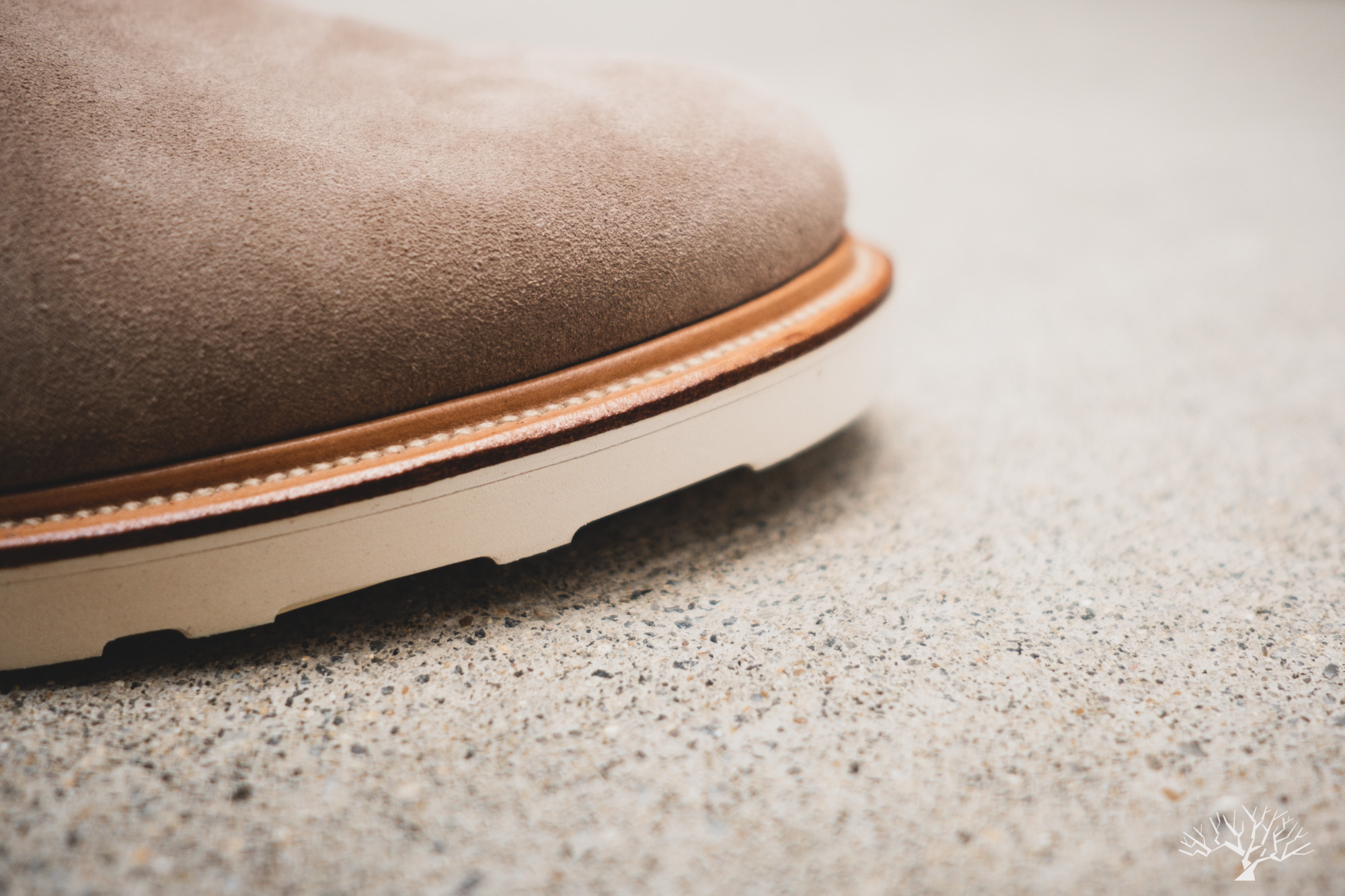 Some of the finer details are the x7 Brass Eyelets which add a nice pop to the look, and melds nicely with the 360 Natural Storm Welt for a cleaner look between the soles, midsole, and upper. Rounding out some of the softer details that may not be as clearly visible are the ping-pong toe (Viberg's nomenclature for partially structured), fully lined interior, all on the 1035 last. While we considered going for an alternate tongue as we often do, we kept the tongue the same in this case due to maintain that clean and refined look (to only be broken-in for a rugged/distressed look later on).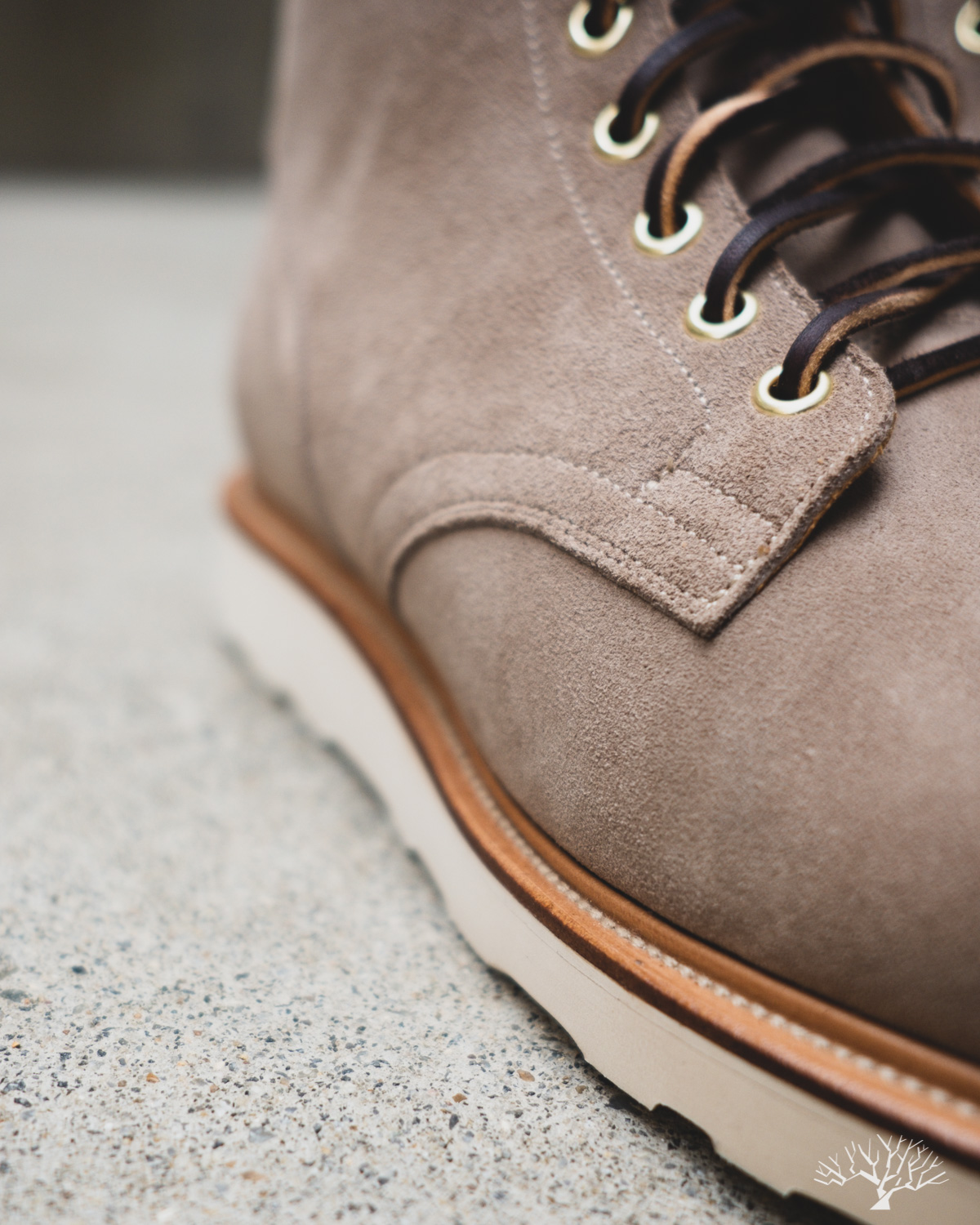 This Viberg Mole Calf Suede Service Boot is probably one of the easiest pairs of boots to pair with due to its light-but-not-white color. Throw it over any pair of pants or denim that isn't too close in color, which for most people is almost everything you own. Light and dark pairs of denim will do just fine. Wearing these boots with a dark navy pair of chinos or fatigue pants will add a nice pop to your look, or go with an olive-colored trouser or pants and they will just flow together. You could even throw these on with a dark pair of brown pants, and it would still look pretty awesome with more of a tonal look that has enough contrast to not clash. All said, these are the perfect summer boot if you're looking for something casual and easy-going to walk, run, and work in. Love them cleanly as a "nice" suede boot, or love them with disregard for keeping them clean for a more "work" suede boot.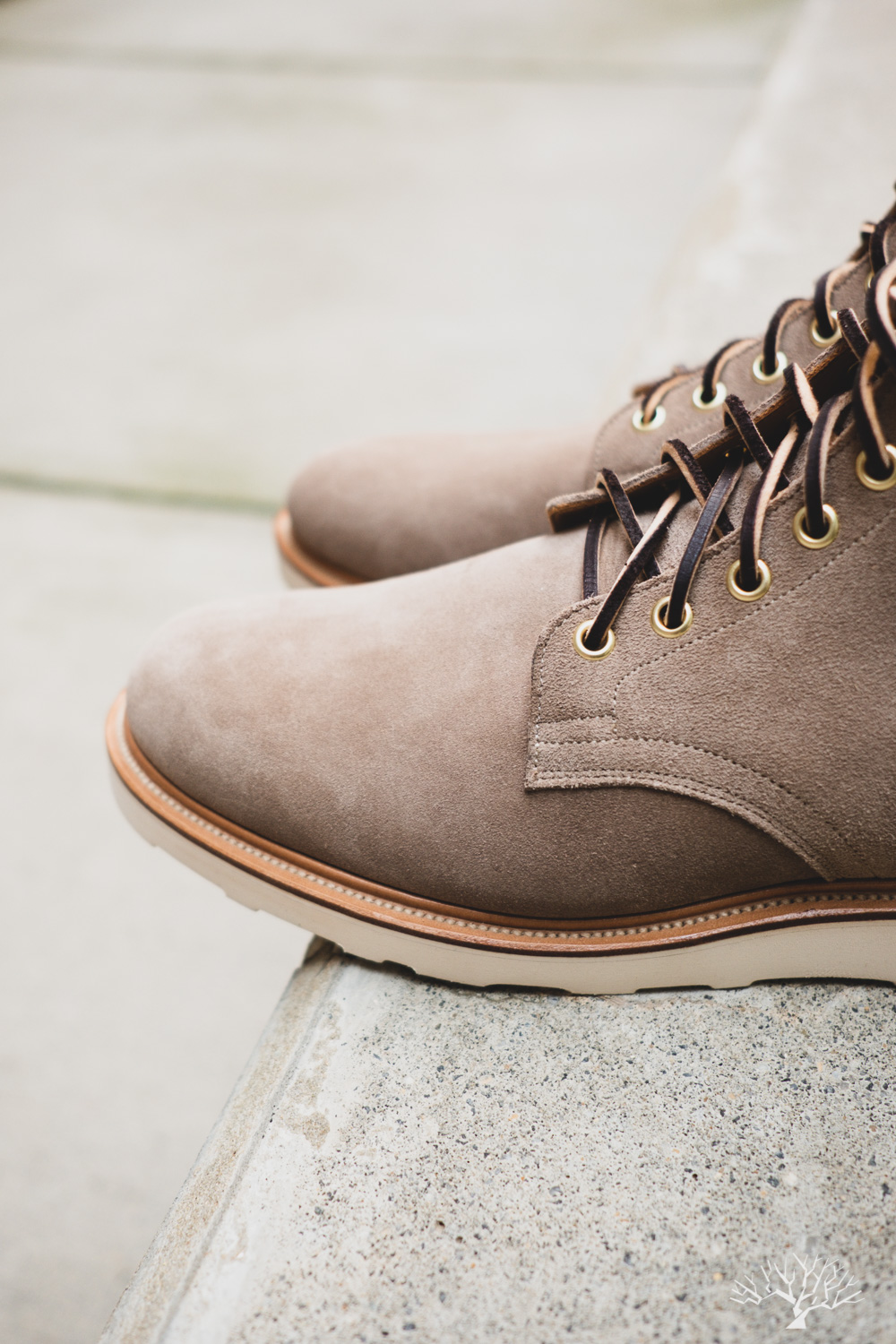 On sizing, we recommend you take 1 down from Brannock for these 1035 Last Viberg Service Boots, or the same size as you do in your 2030 Last Viberg Service Boot. I am a 10E Brannock and generally wear 9 or 9.5 in Service Boots depending on the last and make-up. For these Service Boots, I would wear a size 9.5 if I planned to only wear with thicker socks (like CHUP) or preferred a more spacious fit; I can also size down to a 9 (1 down from Brannock) size 9 for a snug fit with thin-to-medium socks. My preference would probably be to go with thin socks and size 9, given that these are lined and I'd probably be just fine wearing these with thinner socks as a result. Typically I prefer thicker socks (CHUP or equivalent) for some added comfort, but with the kip lining I tend to prefer wearing them with thin socks.
For additional sizing questions or otherwise, please send us an email. As usual, for Withered Fig points we ask that you pick up the Viberg Service Boot at release and send us an email afterwards to apply your WF points as a refund.
The Viberg for Withered Fig Mole Calf Suede Service Boot on Vibram Christy Sole will retail for $750 and be available in sizes 6.5 – 13. Releasing Friday, July 16th at Noon EST on Withered Fig. Shop our Viberg Collection here.