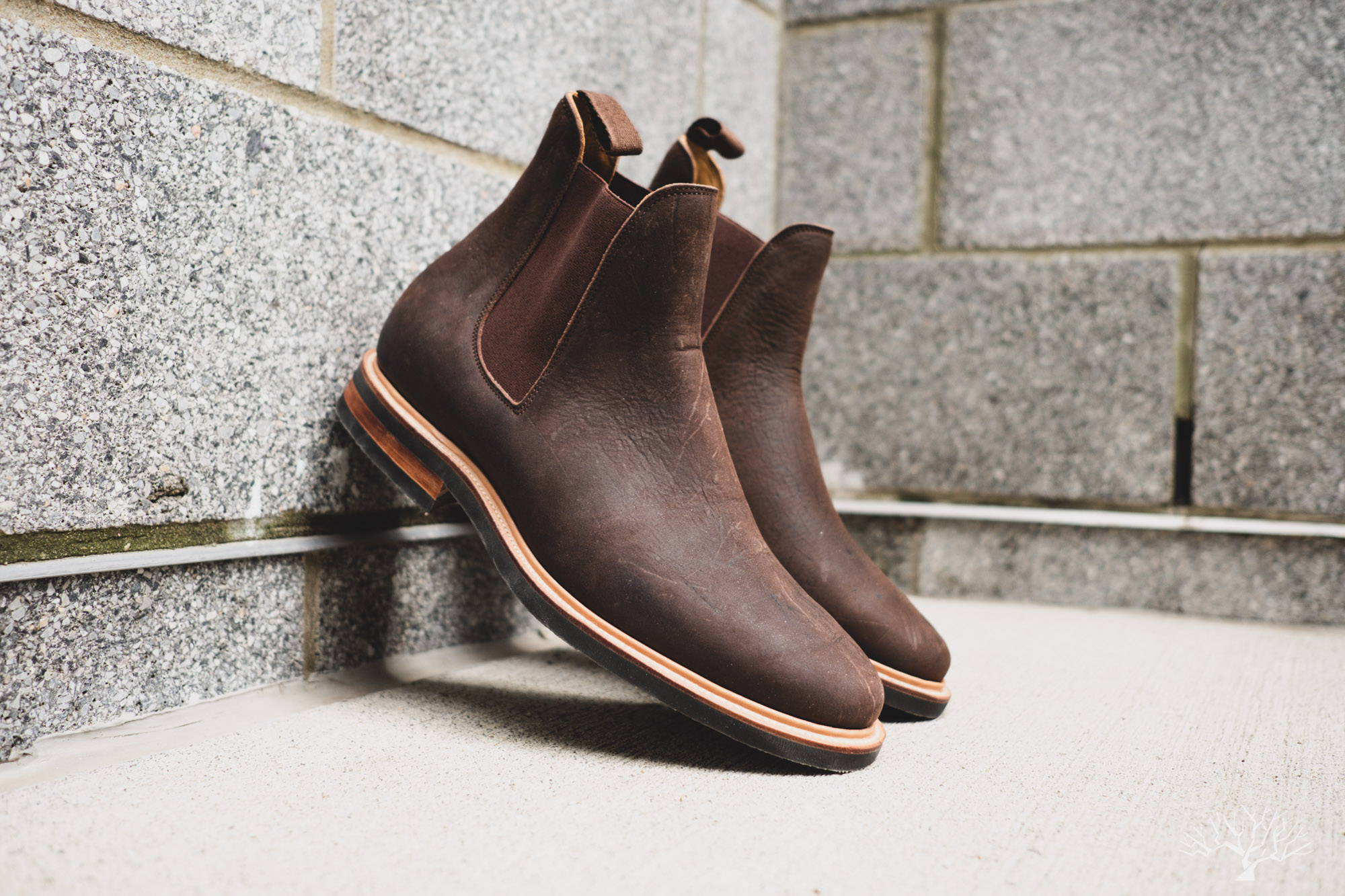 The Viberg for Withered Fig Cigar Waxed Kudu Chelsea Boot is the final special make-up as part of our five pair Lactae Hevea summer collection. Releasing Friday, June 25th at Noon EST in sizes 6.5 – 12.
Viberg for Withered Fig exclusive
C.F. Stead Cigar Waxed Kudu (UK)
*2030 Last (please see note below on Last)
Black Lactae Hevea Crepe Sole
Kip Lining
Brown Elastic and Pull Tab
Partially Structured Toe
Natural Leather Midsole
Channeled Insole
Goodyear Welt Construction
Natural 360 Storm Welt
Includes Viberg Dust Bags
Includes Viberg Polishing Cloth
Made in Victoria, B.C, Canada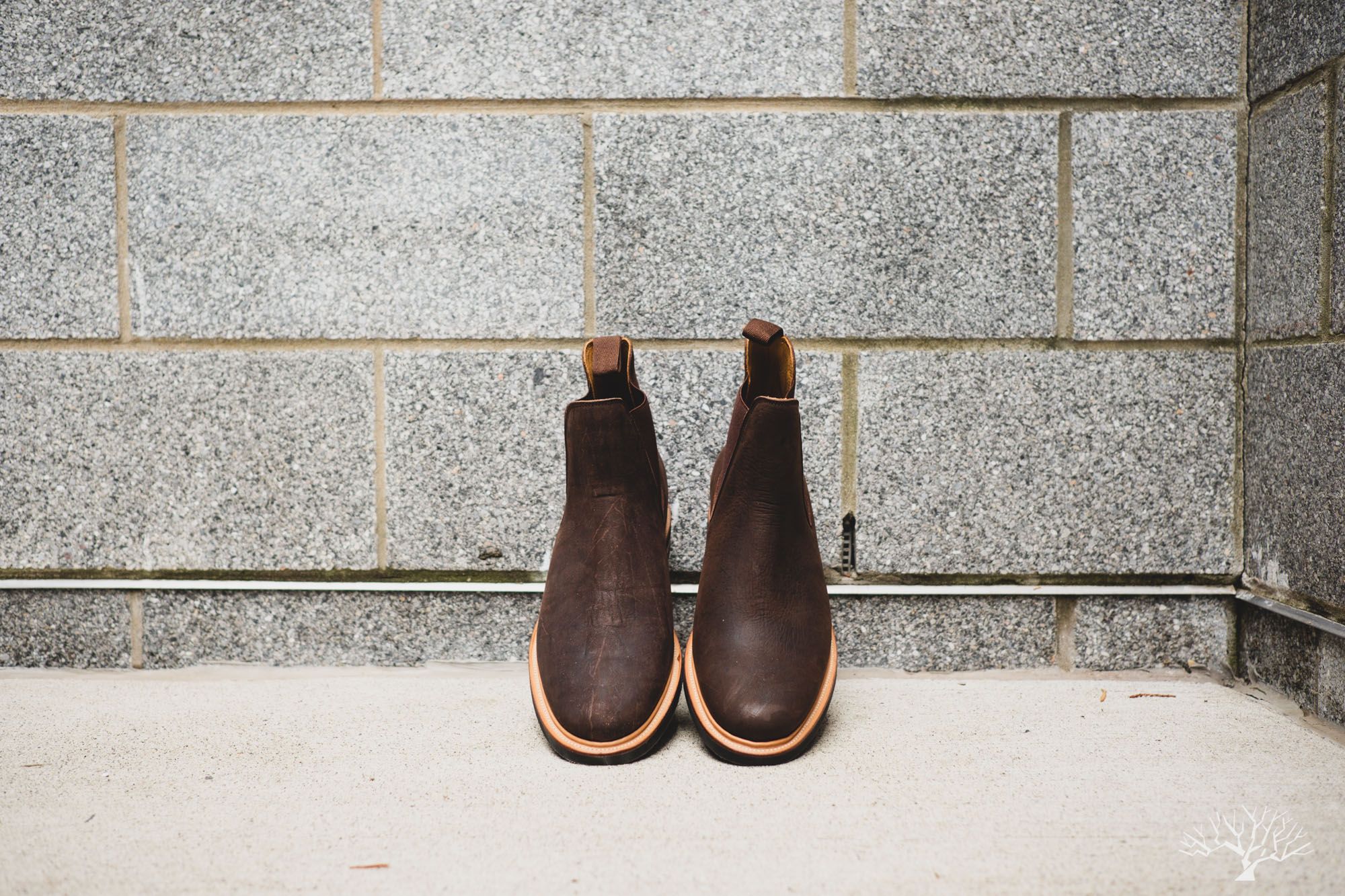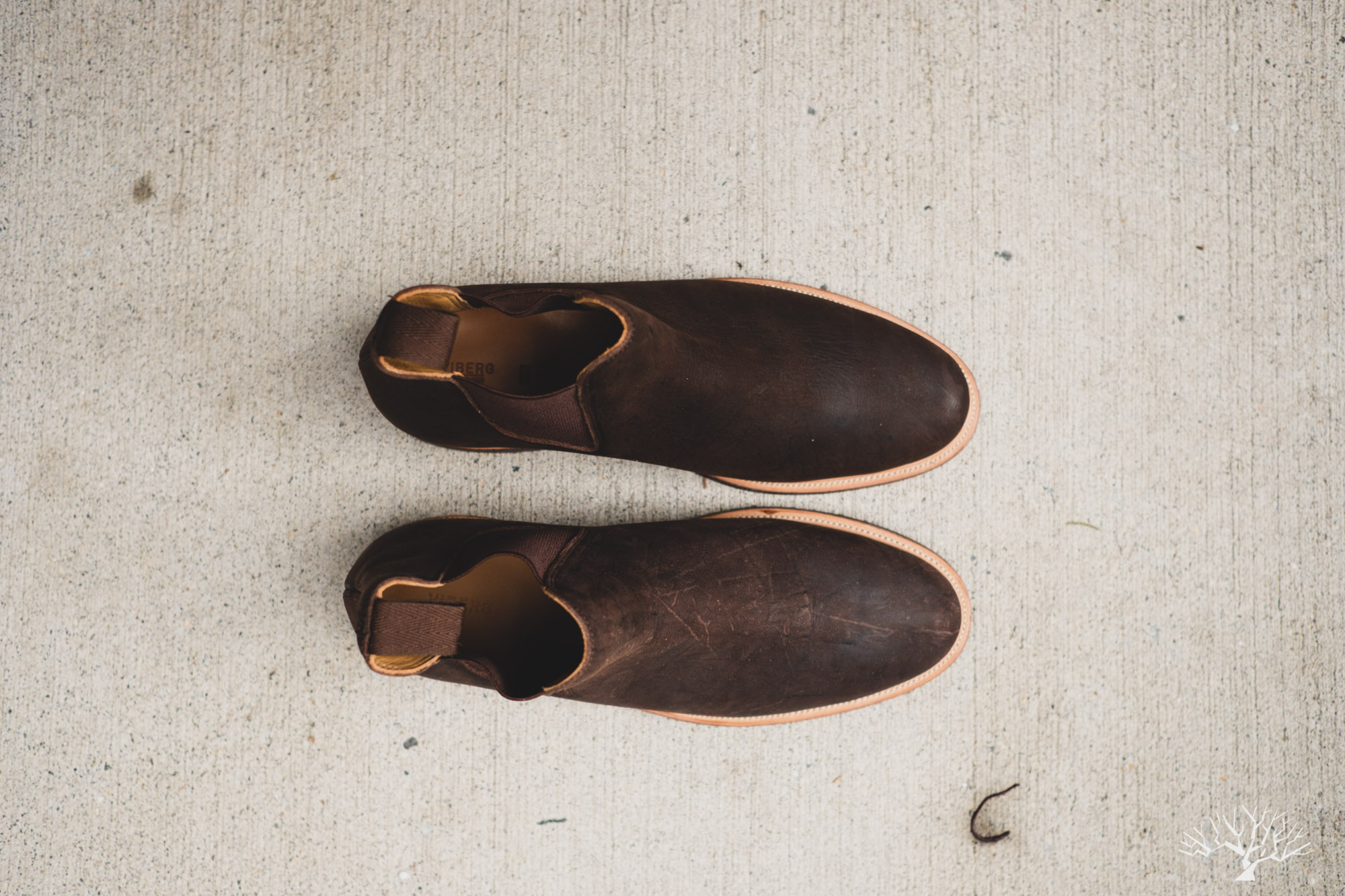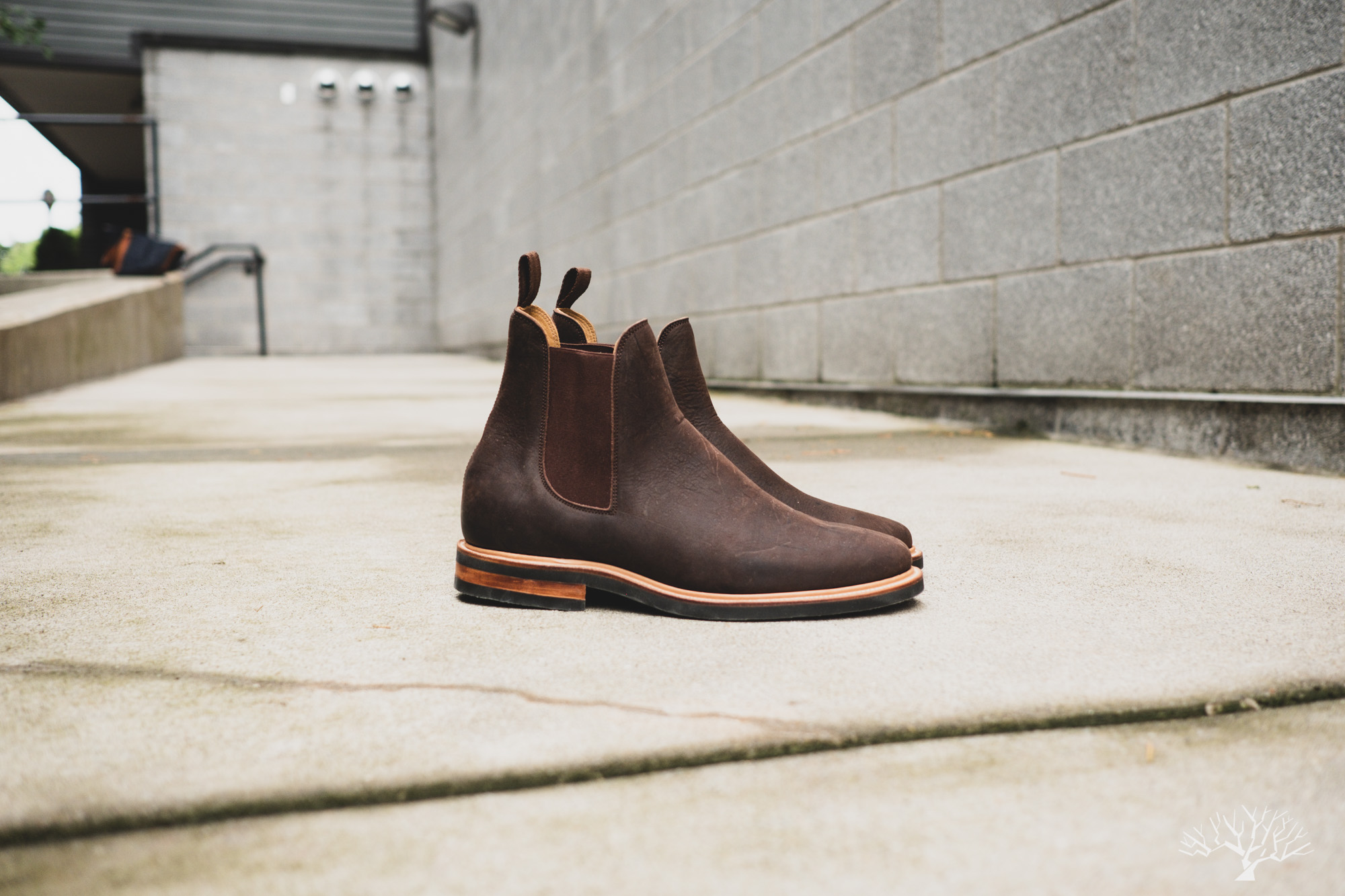 The Cigar Waxed Kudu Chelsea Boot is our first custom make-up in this iconic 6″ lace-less ankle boot. If you have yet to delve into the world of Chelsea's, or perhaps own none, believe us when we say that Chelsea's are a fantastic pair to add to your collection. The Cigar Waxed Kudu is a rugged looking leather featuring high variability in its grain, scarring, and other markings. It truly is a leather for those who love the natural aspect of real leather.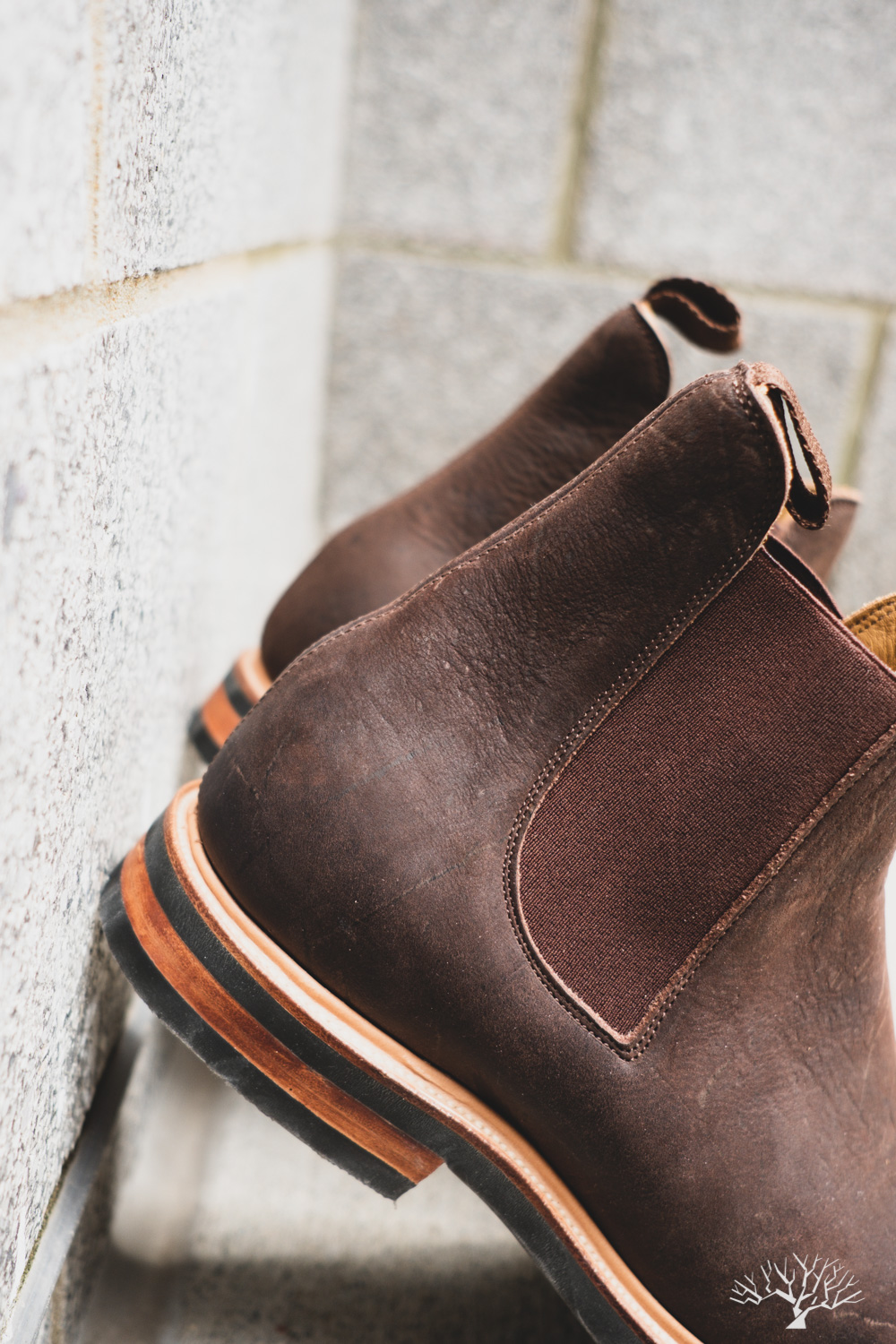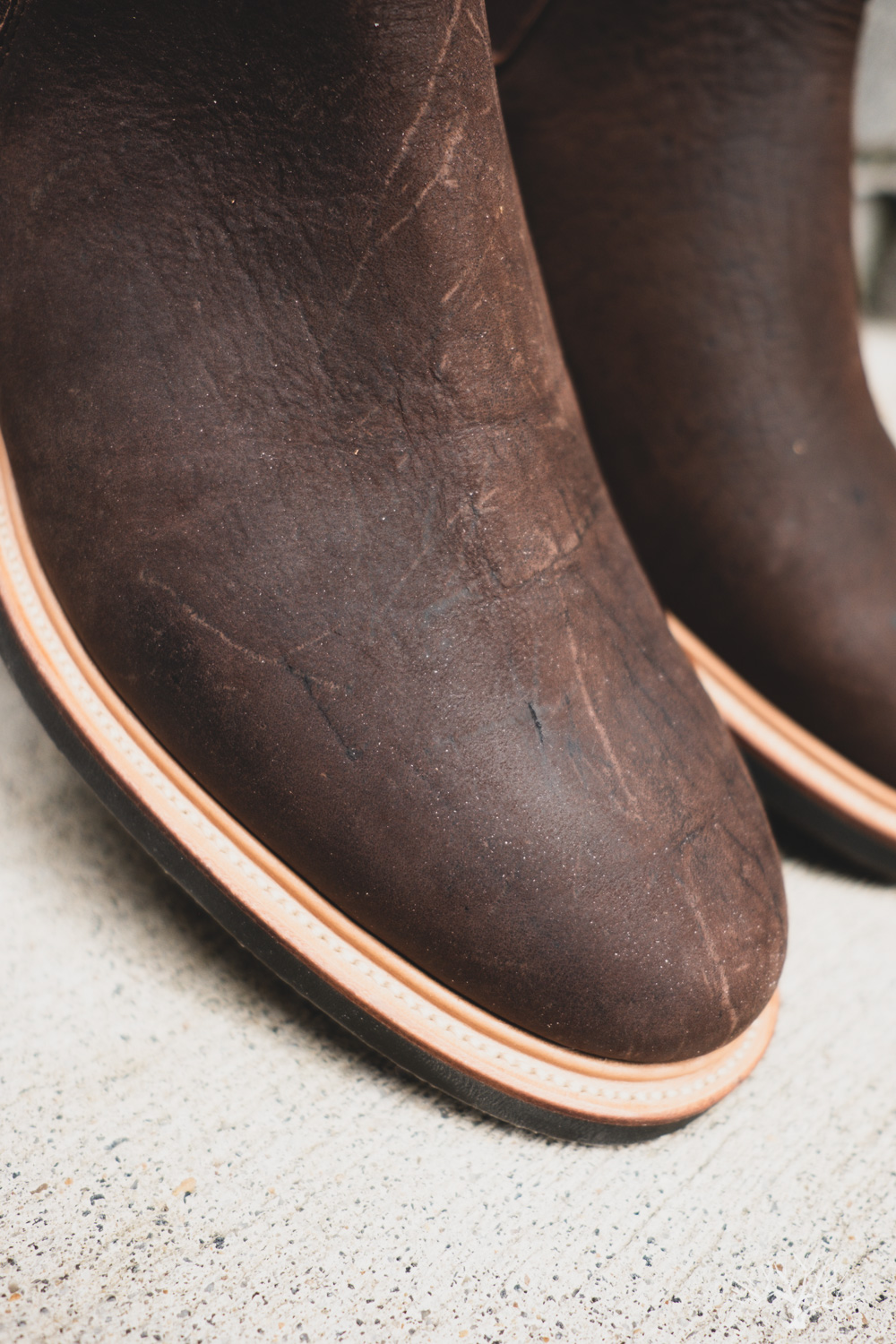 This leather comes from the Charles F. Stead tannery in Leeds, UK, which has made a name for itself in suede leathers, but also a prolific producer of specialty leathers (Kudu, Elk, Deer, etc.). In this case, we have their Cigar Waxed Kudu leather harvested (is that the right term?) from South African antelopes. The leather has a matte look and feel, with a touch of rigidity combined with malleability. We would generally consider this a soft leather, but probably with a thickness slightly more than their suedes. The leather is finished with a full wax impregnation that further accentuates the natural grain blemishes, as C.F. Stead calls it. The result is some highly variable but incredibly beautiful leather that will only age better with time. As well, because of the infused wax, the leather should be relatively fine in wet conditions.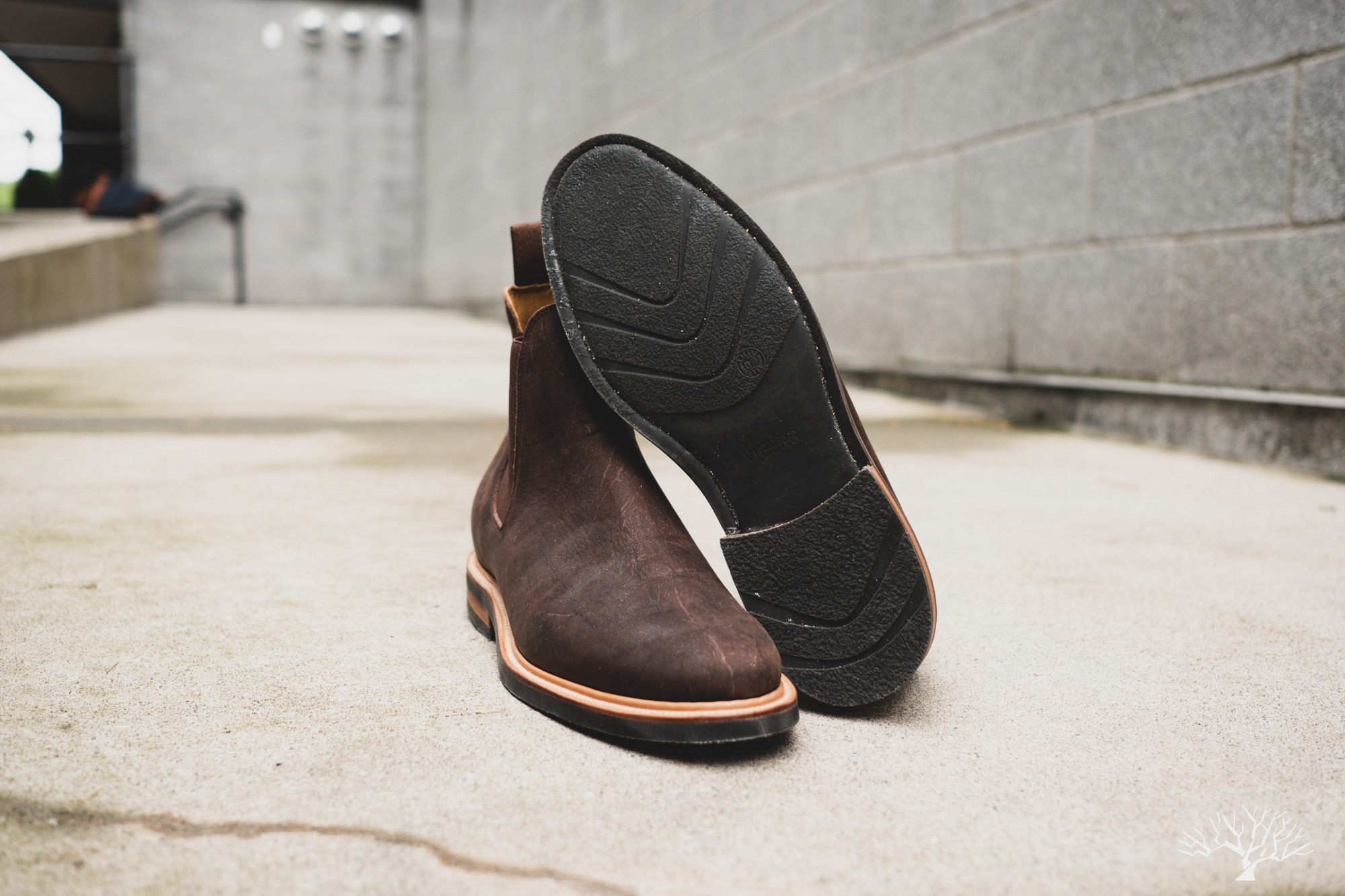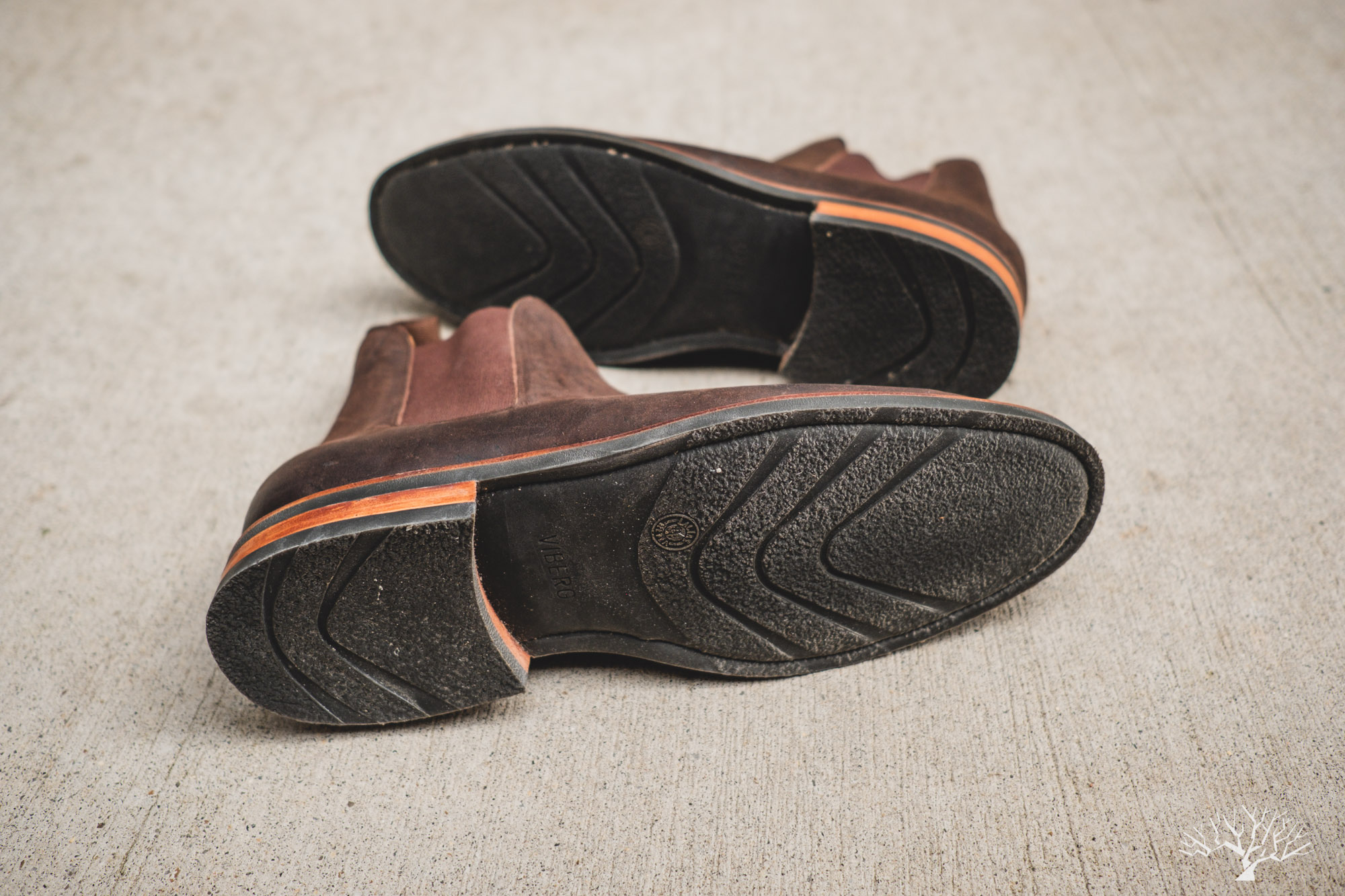 Wet conditions aside, the Lactae Heave sole is an excellent material for comfort and traction. While we haven't road-tested it in wet conditions, we'd venture to say that it should fare quite well in wet pavement/concrete conditions as well. That said, our intent with the Lactae Hevea soles were for an easy break-in and extreme comfort for the wearer. With a slew of five different styles, we're hopeful that this one, if not one of the prior four make-ups on Lactae Hevea sole, would make it into your collection for wear this summer. From Viberg's iconic Service Boot in Mushroom Chamois Roughout, to two Viberg Slippers in Shinki Olive Latigo Horsehide and Antelope Calf Suede, to a Derby Shoe in Camel Latigo Horsehide, we've tried to hit in different ways that highlight these common styles with an uncommon sole.
We opted for this whole cut pattern boot to be molded onto the 2030 Last, a departure from the typical 2050 Last you will find on most other Viberg Chelsea Boots. Without having a 2050 Last Chelsea to compare to side-by-side, we'll have generally go off our previous recollections of how they look and fit. For the most part, it will be hard to differentiate between the two as they are similar lasts with the almond-shaped elongated toe, but the 2030 should have a slightly wider toe-box compared to the 2050. Recalling that I wear a 9.5 (0.5 down from Brannock) in the 2050 Last Chelsea Boot, the same size here in the 2030 Last feels a little roomier. I could also size down to a 9 (1 down from Brannock) if I was planning to wear with thin dress socks only, however it does give me a slightly tighter fit all around. Given my preference for wider toe-boxes, I'd opt to stay with the 9.5 and wear with medium thickness socks for a secure-but-with-room feel.
*July 15, 2021 Update: Please note that our order and production sheet showed that this was produced as a 2030 Last Chelsea, and Viberg confirmed this was produced as a 2030 Last. However, after reviewing a 2050 Last Chelsea next to our 2030 Last Chelsea, we believe it is very likely more similar to a 2050 Last. Accordingly, we would recommend purchasing this pair as if it is a 2050 Last. The sizing recommendation below still applies.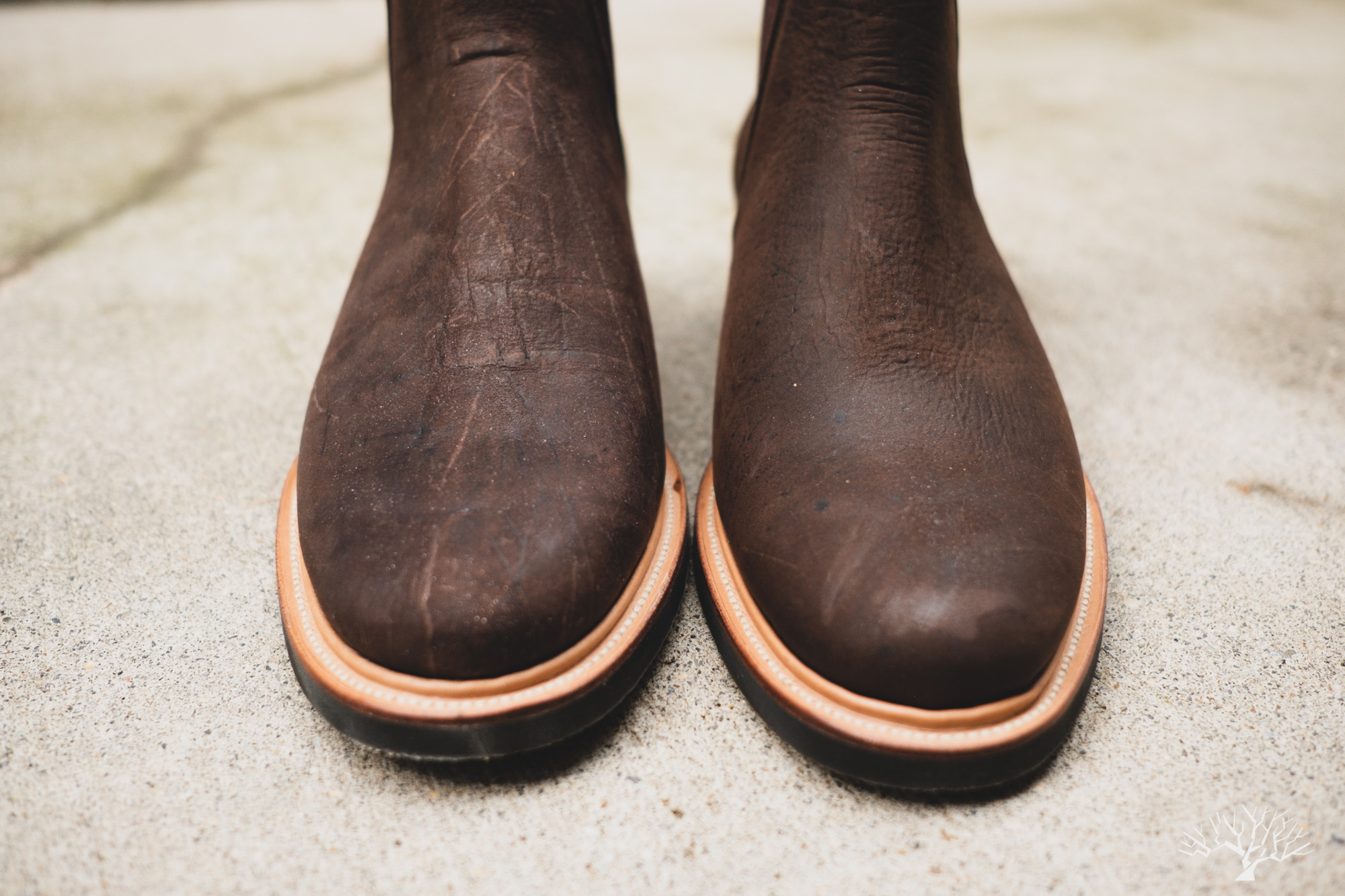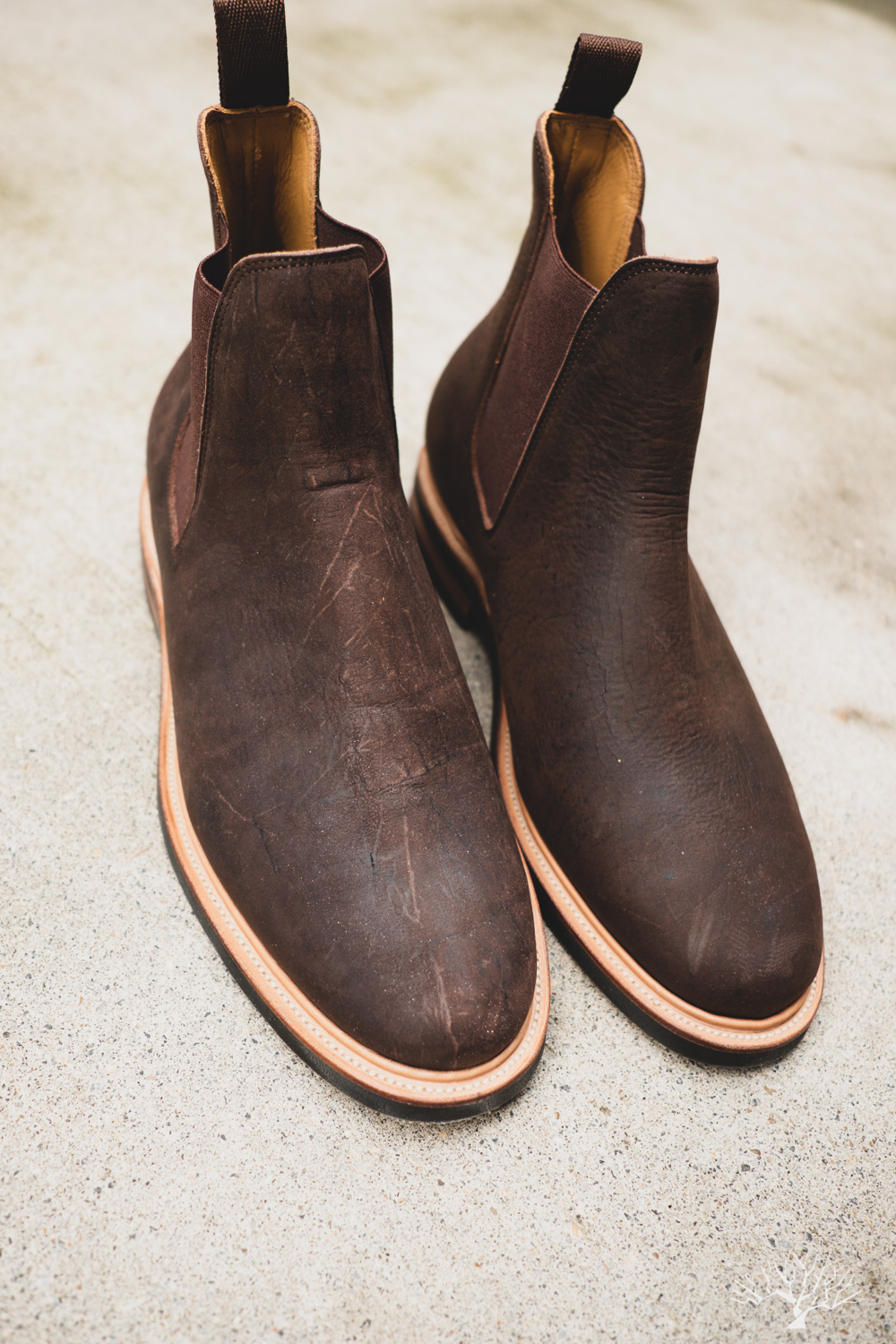 In general, if you already own a pair of 2050 Last Chelsea Boots, we recommend taking the same size if you like how your current Chelsea feels, but wouldn't mind a little extra room in the toe-box. For those who don't currently own a pair of Chelsea Boots and have no other reference point, we recommend taking 0.5 down from Brannock if you have wider feet (E width or higher) or if you are on the larger end of your Brannock size. On the other hand, if you like a snug feel, plan to wear with thin socks, and/or if you are on the smaller end of your size, taking 1 down from Brannock should fit snug and well.
For additional sizing questions or otherwise, please send us an email. As usual, for Withered Fig points we ask that you pick up the Viberg Chelsea Boot at release and send us an email afterwards to apply your WF points as a refund.
The Viberg for Withered Fig Cigar Waxed Kudu Chelsea Boot on Lactae Hevea Sole will retail for $790 and be available in sizes 6.5 – 12. Releasing Friday, June 25th at Noon EST on Withered Fig. Shop our Viberg Collection here.